My favorite take on Niçoise Salad with salmon (specifically slow-baked salmon), fried capers and a punchy lemon vinaigrette. This is a great way to use up leftover salmon and all of the ingredients are easy to make-ahead - hello meal prep! This nicoise salad with salmon is a meal itself, especially alongside some delicious crusty bread.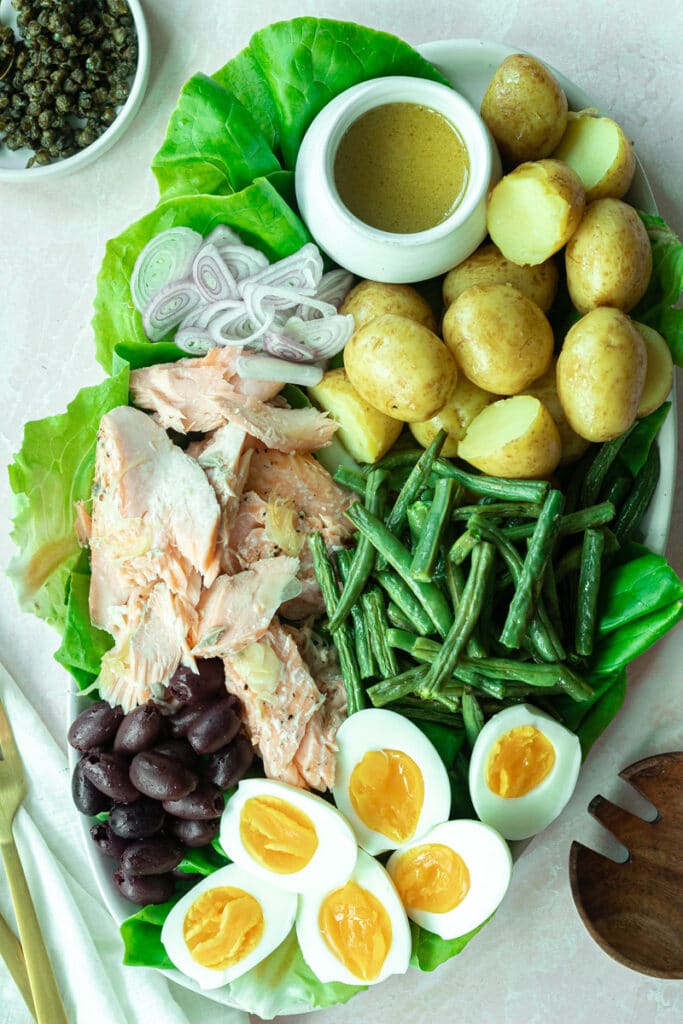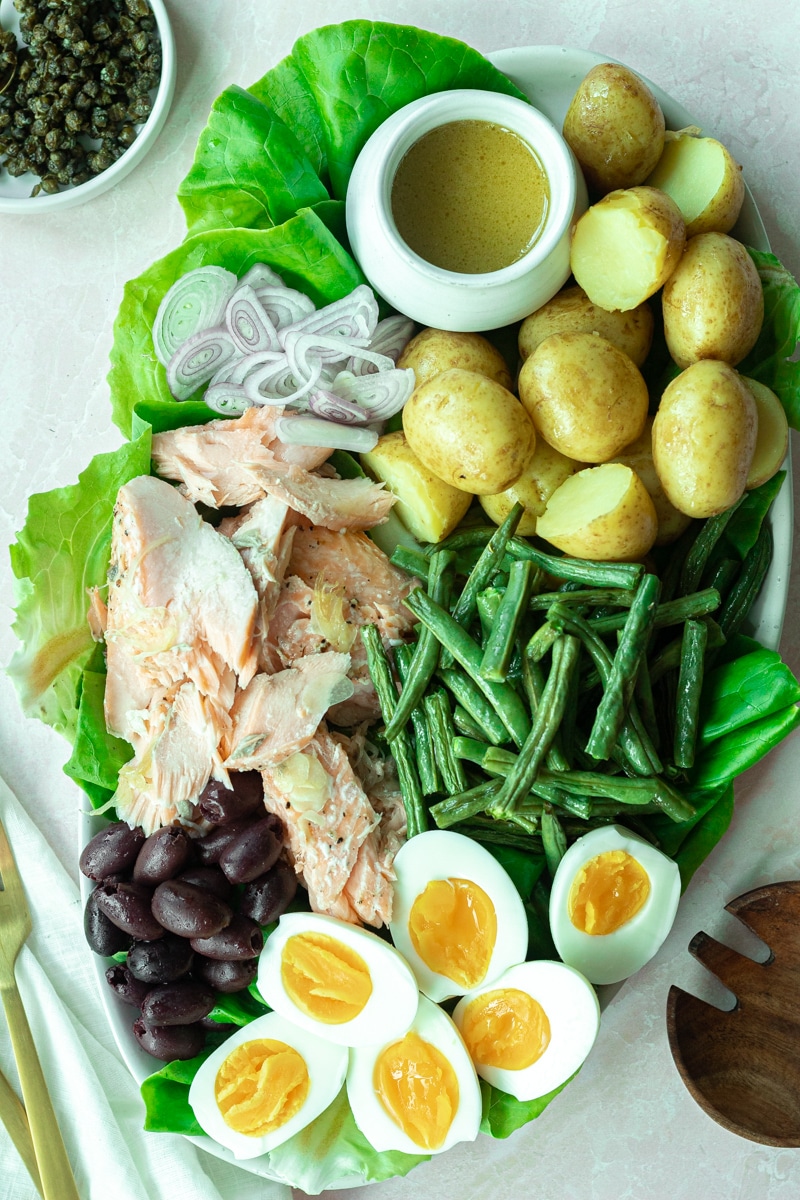 Print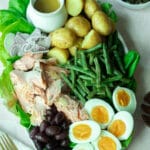 Salmon Nicoise Salad
---
Description
My favorite take on Niçoise Salad with salmon (specifically slow-baked salmon), fried capers and a punchy lemon vinaigrette. This is a great way to use up leftover salmon and all of the ingredients are easy to make-ahead - hello meal prep! This Niçoise salad with salmon is a meal itself, especially alongside some delicious crusty bread.
---
1

lb salmon, skin on or off*

½

lb green beans, cut into

2

-inch pieces

1

lb baby potatoes

6

eggs

¼ cup

lemon juice

¼ cup

+

3 tablespoons

olive oil, divided

1

garlic clove, grated or minced

2 teaspoons

dijon mustard

½ teaspoon

salt

½ teaspoon

sugar

½ teaspoon

black pepper

1

anchovy filet or ½ teaspoon anchovy paste (optional)

½ cup

nicoise or kalamata olives

1

small shallot, thinly sliced

¼ cup

capers

4

-

6

cups butter lettuce
---
Instructions
Preheat oven to 300. 
Add 1 lb salmon and ½ lb green beans to a large baking sheet. Pour 2 tablespoons olive oil over everything and season with 1 teaspoon salt. Bake for 30 minutes, or until salmon is just cooked and green beans are wilted and look roasted.
While salmon and green beans cook, add 1 lb baby potatoes into a large pot with 10 cups of water and 2 teaspoons salt. Set heat to high and bring to a boil. 
Once water is boiling, add 6 eggs and boil those for 8 minutes. Remove eggs and rinse under cold water until cool so you can peel them. Keep boiling potatoes until they are tender.
While potatoes/eggs boil, make dressing by combining ¼ cup lemon juice, ¼ cup olive oil, 1 minced or grated garlic clove, 2 teaspoons dijon mustard, 1 anchovy filet or ½ teaspoon anchovy paste (if using), ½ teaspoon salt, ½ teaspoon sugar and ½ teaspoon pepper. Whisk or shake to combine. Set aside.
When potatoes are done, drain and then return to pot. Prick potatoes with a fork or small knife and then toss with 3 tablespoons of your dressing. Set aside. 
Heat remaining 1 tablespoon olive oil in a small frying pan. Add ¼ cup capers and fry until they get a little crisp, about 3-4 minutes. Drain capers on a paper towel and then add remaining oil in pan to your dressing.
To assemble salad, arrange torn butter leaves on a large platter or in individual bowls or plates. Flake salmon into large pieces and place on lettuce. Cut potatoes and eggs in half and add to salad, along with ½ cup olives, sliced shallots, roasted green beans and fried capers. Drizzle with dressing or serve on the side.
This salad can be served with ingredients warm, room temperature or cold. 
Notes
This Nicoise Salad is a great way to use up some leftover slow-baked salmon! If you do that, you can just roast the green beans on their own AND you can totally roast them at a higher temp for less time (400 for 12-15 minutes)! You can also just boil the green beans if you prefer. 
To prep this salad ahead of time, prepare all the components and store separately. I'd wait to cut the eggs until you are ready to serve, but you can totally store the potatoes, green beans and olives together if you'd like. If you have the time, frying the capers at the last minute is fun but you can definitely do that ahead of time too.
Sometimes I use my lemon garlic vinaigrette (if I have it on hand) instead of the dressing here to make things even easier.
Prep Time:

10

Cook Time:

35 minutes

Category:

Salad

Cuisine:

French
Are we ready for another big ol' salad? YES. Allow me to share my favorite Niçoise salad with salmon - aka the summer (and other seasons, of course) salad of my dreams!
I'll tell you right now this one's got a bunch of steps that might seem overwhelming, or just straight up annoying. But I promise it's much easier than the directions make it seem and, more importantly, so so worth it.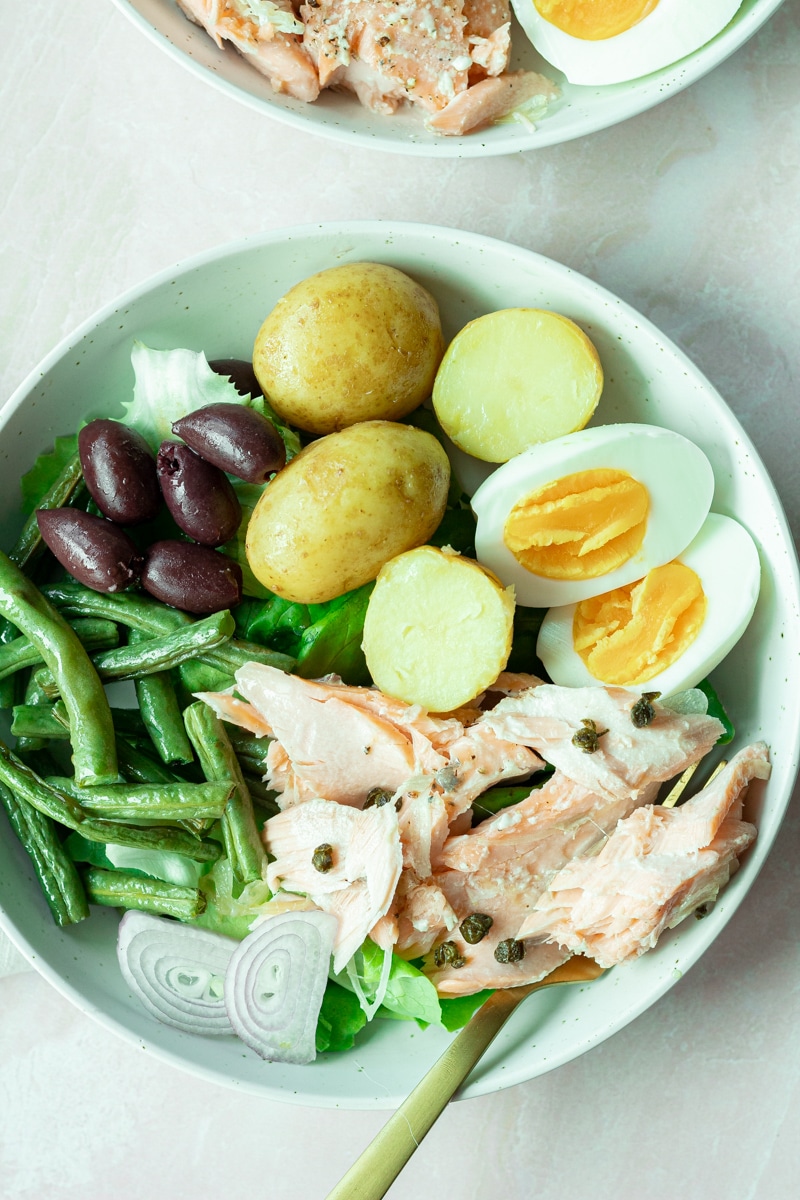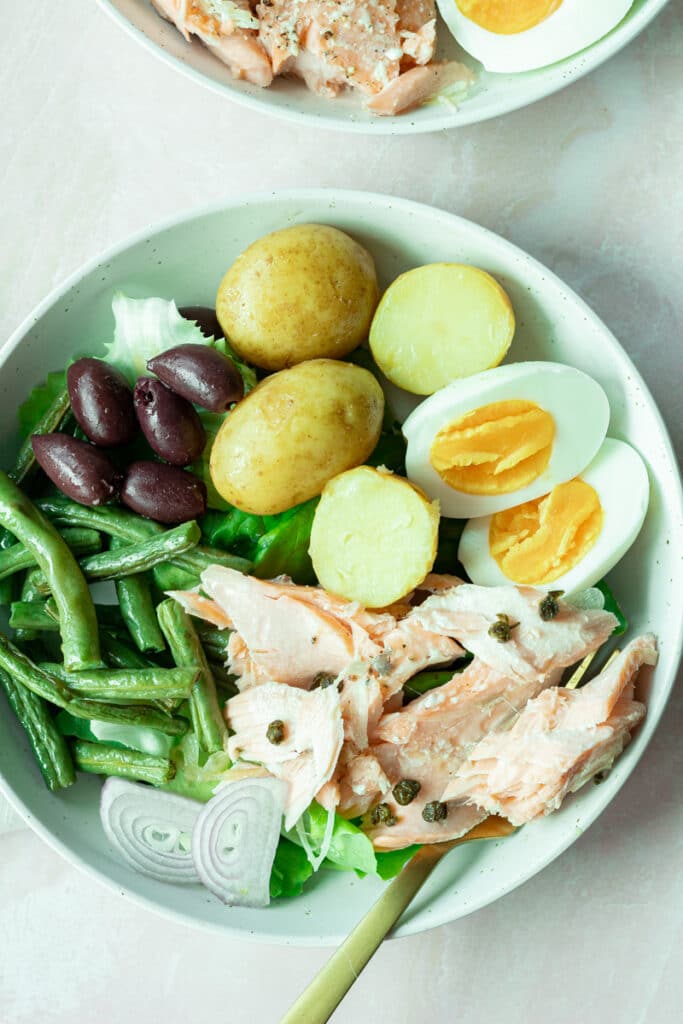 Let's talk about a Niçoise salad
To me, the true beauty of a Niçoise salad (or salad Niçoise, as it's also commonly referred to as) is in the structural elements. This is a hearty salad where the greens play a supporting role. More of a background character, if you will.
Instead of a bowl of greens topped with a few things, this is a bowl of hearty vegetables and protein with a few leaves to bring it together.
While it's generally served like any other regular ol' salad (i.e. in a bowl all mixed up), I actually think niçoise salads are so much more fun in platter form - kind of like my favorite taco salad! Arrange your salmon, potatoes, jammy eggs, olives and more on a big platter and let everyone pick and choose exactly what they want in their dish.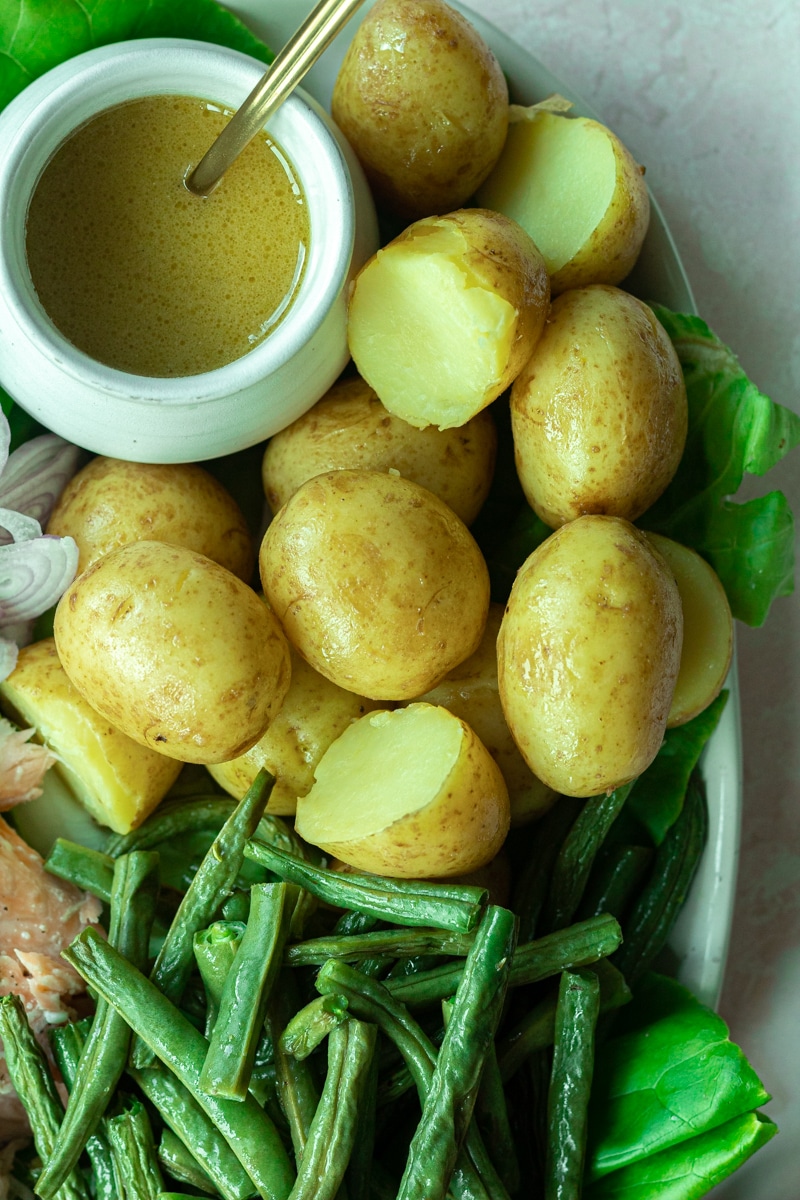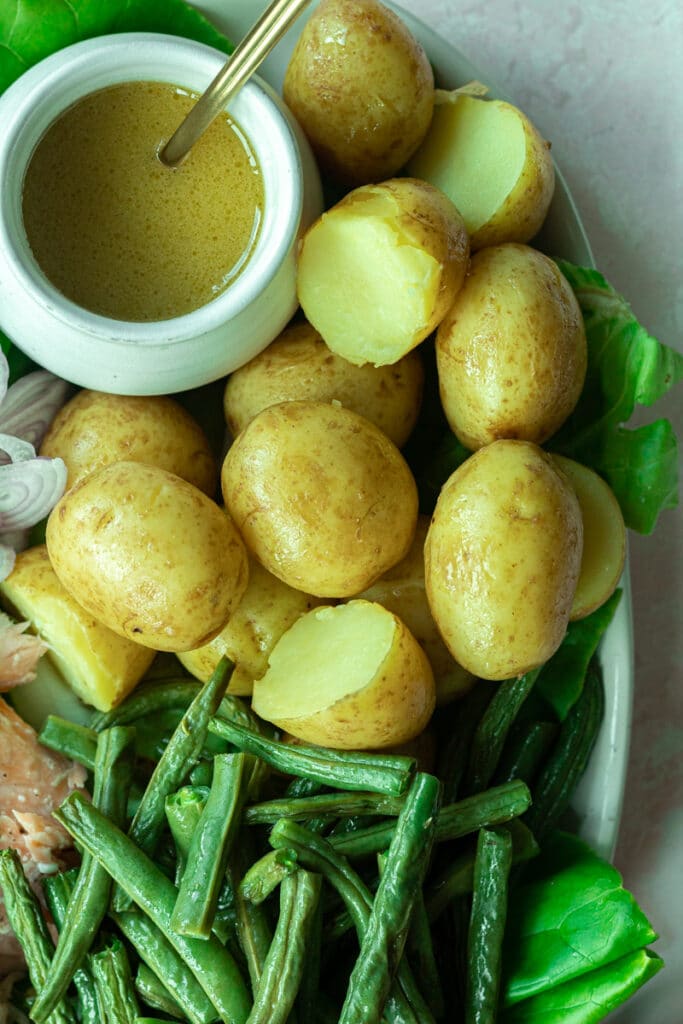 What you need
Salmon: I love using slow-baked salmon for this recipe because it makes the butteriest, most tender salmon that is perfect with all of the other components. If you happen to have it, use leftover slow-baked salmon!
Baby potatoes: I tend to go for small yellow potatoes, but baby red or even fingerling will work too. If all you have are big (adult?) potatoes, go ahead and use them but I'd peel and chop into big chunks before boiling.
Green beans: Go for hericot vert if you can find them!
Eggs: Boil as many as you want - I generally plan for at least 1 egg per person + 1-2 more for good measure.
Olives: Obviously Niçoise olives would be best, but those can be hard to find. Kalamata are a great substitute and widely available.
Capers: Don't sleep on the fried capers in this salad - such a great vinegary bite!
Shallots: These are technically optional, but I love a little raw onion-y bite. If you don't have shallot, red onion is a great substitute. Or you can leave them out!
Lemon juice: The salad dressing is a lemon-based so it tastes fresh and punchy with all of the boiled/roasted components here. Note: If you happen to keep some lemon garlic vinaigrette on hand, you can definitely use that instead of the dressing here.
Olive oil: While olive oil can often be a "duh" ingredient, it's a star here. You need it to prepare the salmon and green beans, it brings the dressing together and is also used to fry up those capers!
Butter lettuce: You can use your favorite green, but I love to spring for butter lettuce with this dish. I like that it's tender without being too delicate.
P.S. You probably noticed I didn't include tomatoes here, even though they are a traditional ingredient in Niçoise salad. I'm just not a huge fan so I leave them out, but feel free to add if you want! Even I can admit a juicy summer tomato would be great.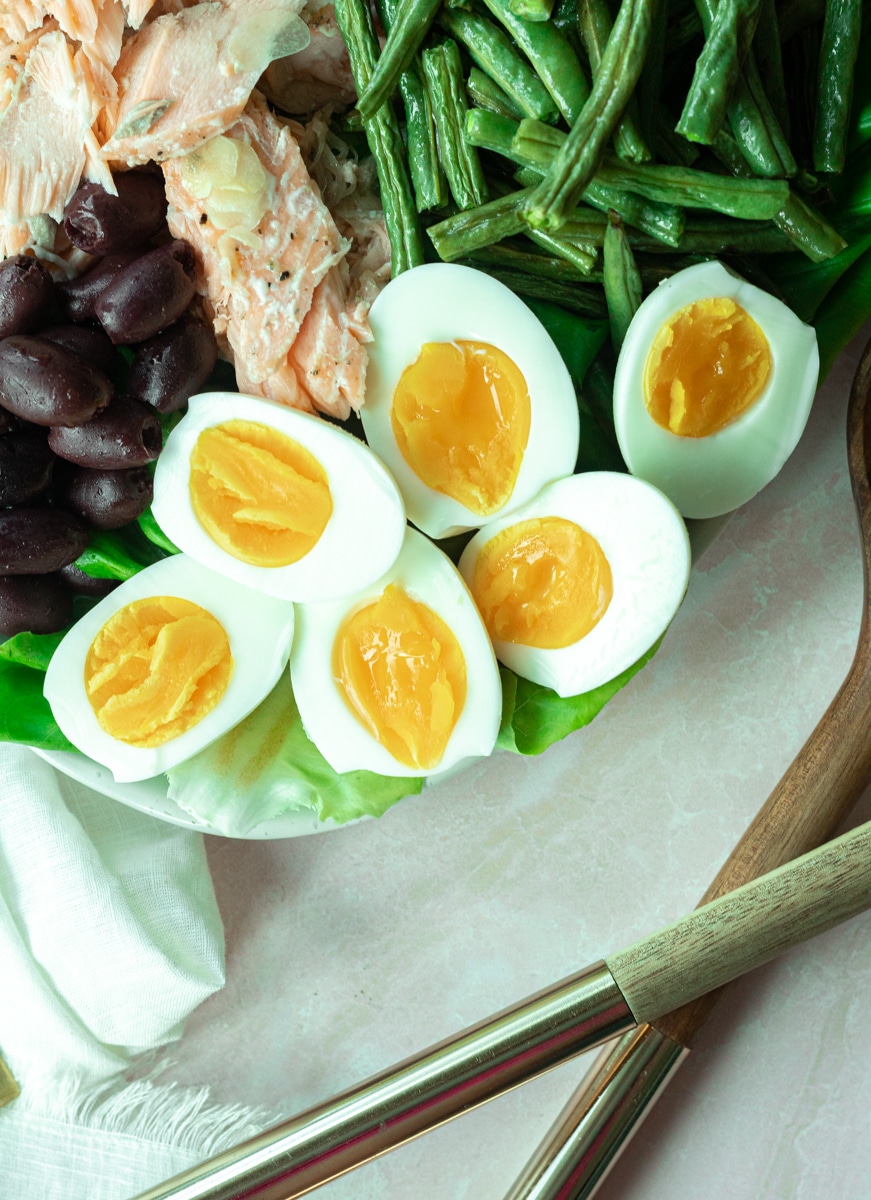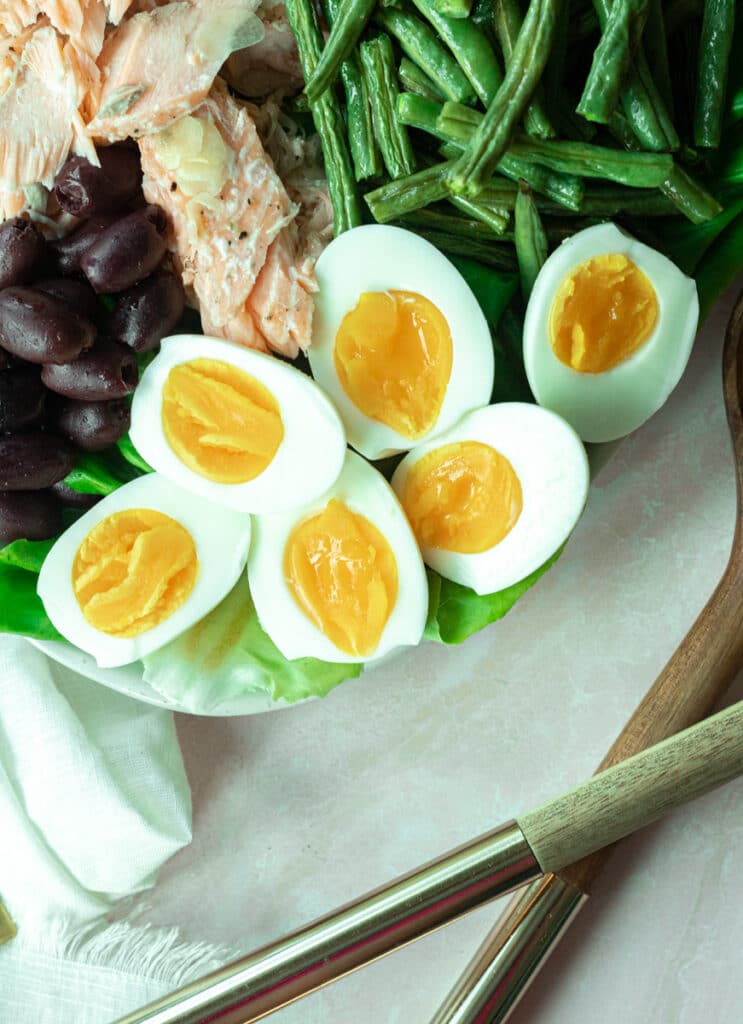 Salmon vs. tuna in Niçoise salad
Classic Niçoise salad calls for either canned tuna or anchovies, and both are absolutely delicious. I actually like to throw a little anchovy in my dressing (totally optional!) for that extra flavor, but if you really love anchovies you can go all-in and add some filets straight to the platter.
Personally, I am just a big, big fan of salmon so I almost always lean toward a Niçoise salad with salmon. As I mentioned, you can use some leftover cooked salmon, or you can use canned salmon as well.
If you prefer tuna, go for it!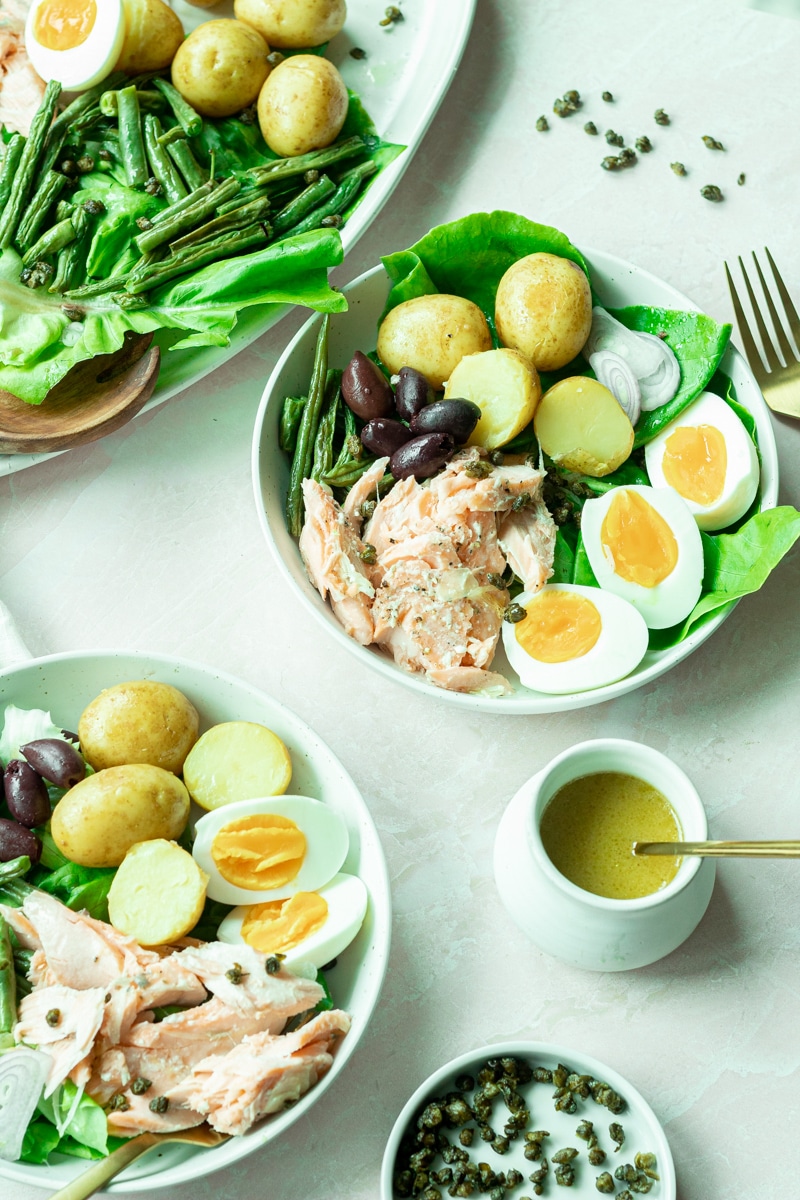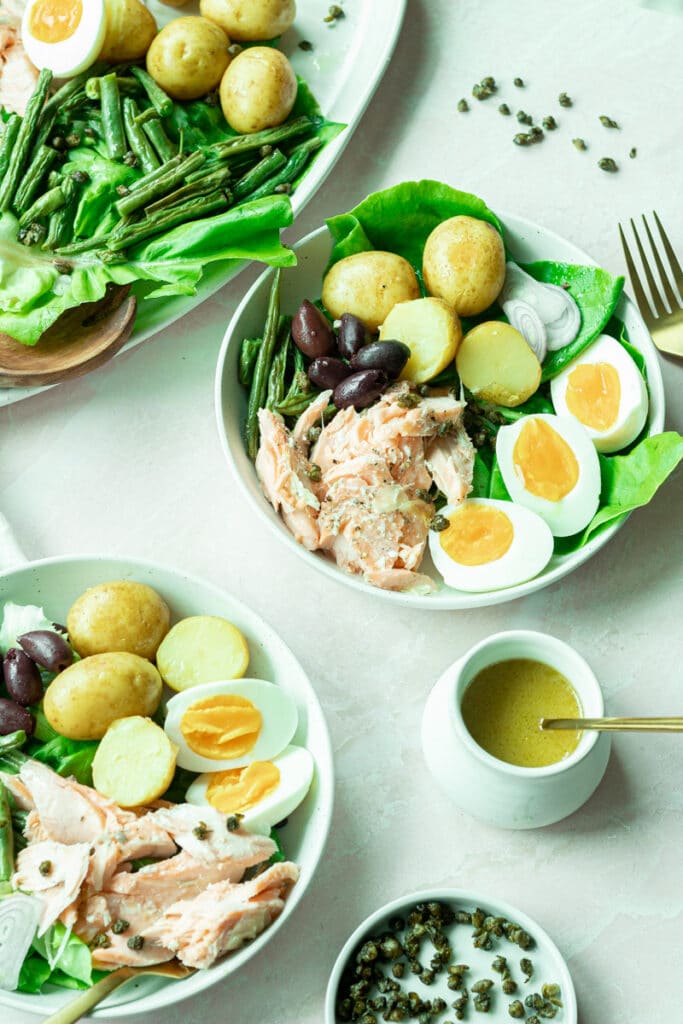 How to make this salmon Niçoise salad + tips for prepping ahead
There are a few steps with this one, but we're going to be efficient!
First, get your salmon and green beans in the oven
For ease, I like to do this on one big baking sheet. Arrange the salmon on one side and green beans on another, drizzle with olive oil and season with salt and pepper and they are good to go. Bake for about 30 minutes, until salmon is tender and flaky and green beans are roasted.
Prep ahead: You can do this 1-2 days ahead and just keep in the fridge until needed. Both can go into the salad cold or room temperature so no need to warm them up. To really make life easier for you, go ahead and flake the salmon before storing so you can quickly throw it on the salad.
Boil the potatoes and eggs
While the salmon and green beans cook, get your potatoes started on the stove in a large pot. When the water comes to a boil, add the eggs and set a timer for 8 minutes. When time is up, fish out the eggs and run them under cool water while you let the potatoes finish boiling. That should take another 10 minutes or so.
Prep ahead: Both can be boiled and stored ahead of time as well. Dress the potatoes and let them cool before storing so they can soak in some flavor. I prefer to peel my boiled eggs before they get cold and then store them, but up to you!
Make the dressing + flavor the potatoes
While the potatoes and eggs are cooking, you can make your dressing. Combine all ingredients and whisk or shake away. Pour over a few tablespoons on the drained, pricked potatoes to help season and flavor them. Set both the potatoes and remaining dressing aside.
Prep ahead: This dressing stays well for a few days, so you can absolutely prep ahead. Do everything but add the caper oil.
Fry the capers
When everything is just about done, the last cooking step is to fry the capers. This will only take a few minutes - you just want the capers to shrivel up a little bit and get crispy. Drain the fried capers and add the leftover caper oil to your dressing!
Prep ahead: This is one of the few steps I'd suggest waiting on, but if you really want to you could fry these ahead of time OR skip this step completely and just add capers straight from the jar. Still delicious (and you can skip the extra oil in the dressing as well!).
Finishing details
Lastly, chop or tear up the lettuce of your choice (I prefer butter) and get your kalamata olives ready. I keep them whole, but you can roughly chop them too. And if you haven't already, peel and halve your boiled eggs.
Prep ahead: Wash and dry your lettuce if you really love your future self.
Assemble and serve!
For a platter-style salmon Nicoise salad , arrange each component in piles on a large platter. I like to halve my eggs and potatoes, and flake the salmon into large pieces. Drizzle everything with a few tablespoons of dressing and keep the rest on the side for people to add extra if they desire.
Serve warm, cold or at room temperature.
Love a hearty salad? Check these out!
See more of my favorite salads here!