Sweet, buttery vanilla shortbread cookies with a floral spin thanks to lavender and rosé touches. This shortbread cookie dough comes together really fast, and is great to freeze to bake off later!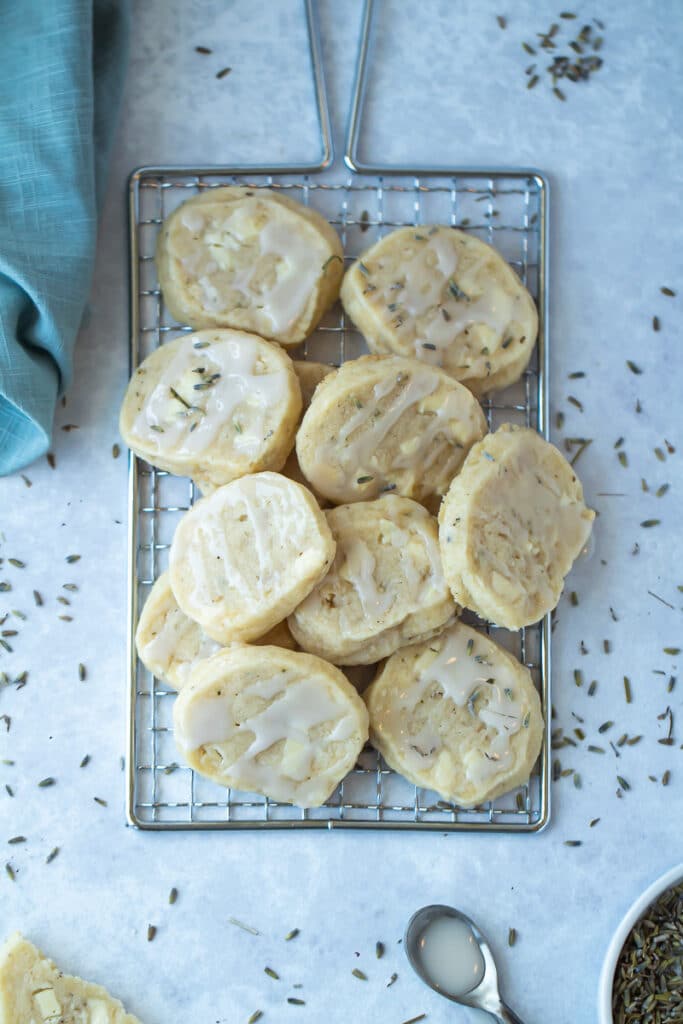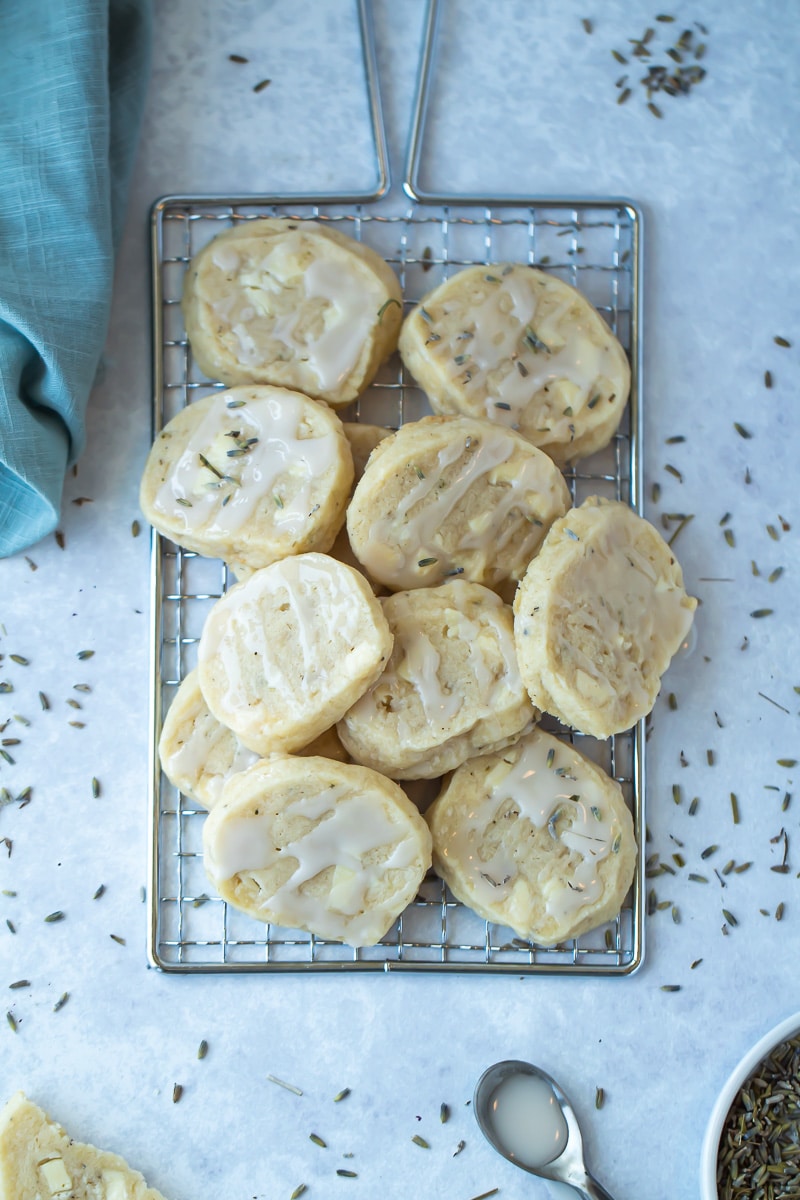 Print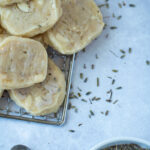 Lavender white chocolate shortbread cookies with rosé glaze
---
Author:

Mansee

Total Time:

2 hours 25 minutes

Yield:

2

4

1

x
Description
Sweet, buttery vanilla shortbread cookies with a floral spin thanks to lavender and rosé touches. This shortbread cookie dough comes together really fast, and is great to freeze to bake off later!
---
½ cup

sugar

1 ½ teaspoons

dried culinary lavender

1 cup

(

2

sticks) butter, cubed

1 teaspoon

vanilla 

2 cups

flour

1 cup

white chocolate chunks 
Rosé glaze
½ cup

powdered sugar

2

-

3

tablespoons rosé wine
---
Instructions
In a large bowl or the bowl of a stand mixer, combine ½ cup sugar and 1 ½ teaspoons lavender. Use your fingers to combine and make sure lavender is dispersed throughout. It won't completely turn into a powder, but this ensures you won't get clumps of lavender in the cookies. 
Add 2 sticks of cubed butter and beat on medium-high speed for 3-4 minutes until light and fluffy. This might take a little longer with a hand mixer. Note: You butter doesn't actually need to be softened for this! However, it will also take a little longer to get it light and fluffy if starting from cold. 
Add 1 teaspoon vanilla and combine.
Slowly add in 2 cups of flour and mix on low until just combined. Fold in 1 cup white chocolate chunks using a rubber spatula. Make sure to fold well and get any remaining flour at the bottom of the bowl.
Turn dough out onto a clean surface, and divide into two. Roll each portion into a 6-inch log and wrap tightly in plastic. Chill for at least 2 hours. 
When ready to bake, preheat oven to 350.
Slice each log into 12 ½-inch pieces and arrange on a parchment-lined baking sheet. A serrated knife helps to get through the chocolate, but if you have some start to crumble, no worries! Just push extra dough back together on the pan.  
Bake for 10-12 minutes, until the edges just start to get light brown.
Let cool on pan for 5 minutes and then transfer to a wire cooling rack. Let cool completely before glazing.
To make glaze:
Sift ½ cup powdered sugar in a bowl. Add 2 tablespoons rosé wine and stir to combine. If glaze feels thick add another teaspoon wine and stir again. Keep adding and stirring as needed to get the right consistency. I like to test it on my finger and if slowly drips down, I know it's ready. If you drips very quickly, add more sugar and vice versa!
Drizzle glaze on cooled cookies and let sit for a few minutes to harden a bit before serving. 
Notes
This shortbread cookie dough freezes beautifully! Once you roll it into logs, you can just stick that in the freezer as-is. When ready to bake, take out and let sit until soft enough to cut through. Bake as directed, but add a minute or two of bake time (depending on long you let the dough sit out)
Alternatively, you can let the dough chill in the fridge for an hour and then slice as if you were going to bake. From there place cookies on a baking sheet and flash-freeze for at least 30 minutes. Place cookies in a large bag and then bake off a few at a time whenever you want! You can go straight from freezer to oven, just add two minutes to the bake time
Prep Time:

2 hours 15 minutes

Cook Time:

10 minutes

Category:

Dessert

Method:

Baking
Clearly, I am having a moment with lavender. And rosé. And (always) cookies.
I was never a big fan of shortbread until I realized how EASY it is to make. A simple shortbread cookie has just a handful of ingredients and the dough comes together so quickly. Yea, there's a little chill time before baking, but the hands-on time of this cookie is so fast!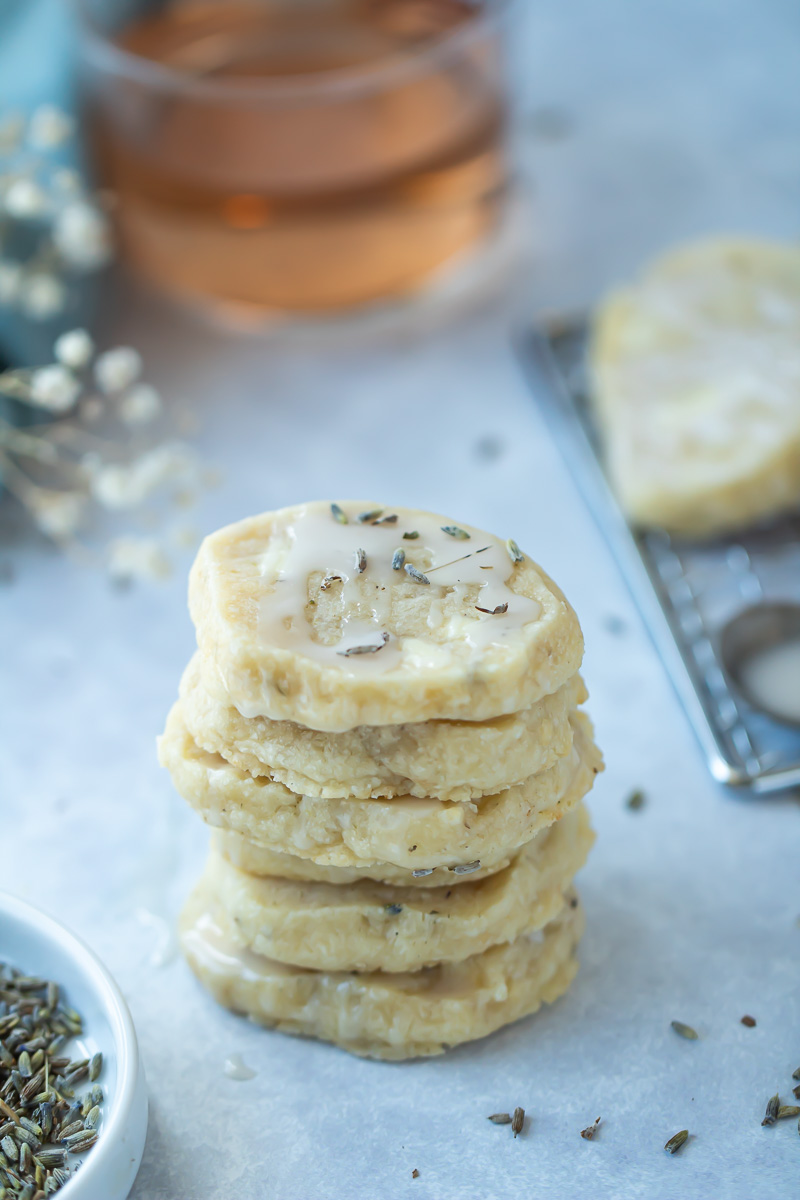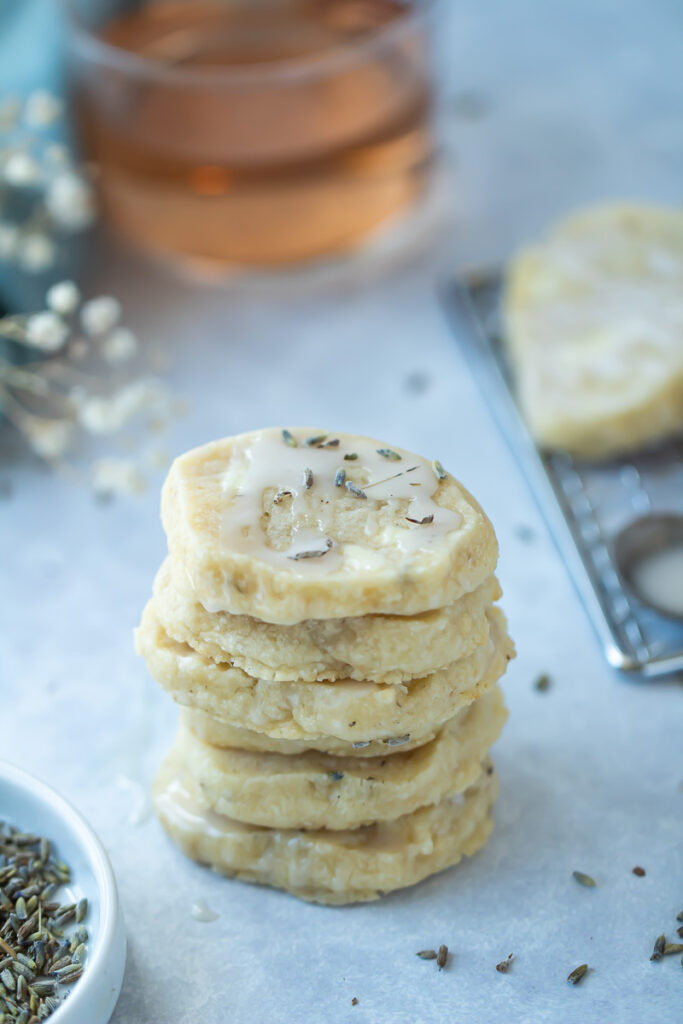 Baking with lavender
I know the idea of baking with a legit flower makes some people feel sick, but I think everyone should try baking with lavender at least once! Yes, it's floral. No, you won't feel like you're eating a flower.
You can easily find baking lavender online, but I've also found it in places like Whole Foods or smaller health food stores. Just make sure you're grabbing a culinary grade lavender!
I don't worry about crushing the lavender up too much when I bake with it because I think the little floral specks are beautiful. But if it makes you feel weird, feel free to blitz it in a food processor or grind in a mortar and pestle. What I normally do is use my fingers to lightly crush and mix it with the sugar in the recipe.
Lavender and vanilla are a match made in heaven so I knew it would make the perfect shortbread, which often relies heavily on vanilla as the main flavor. Did I add chocolate? Of course I did. But it's white chocolate! Slightly more delicate, but still so perfect.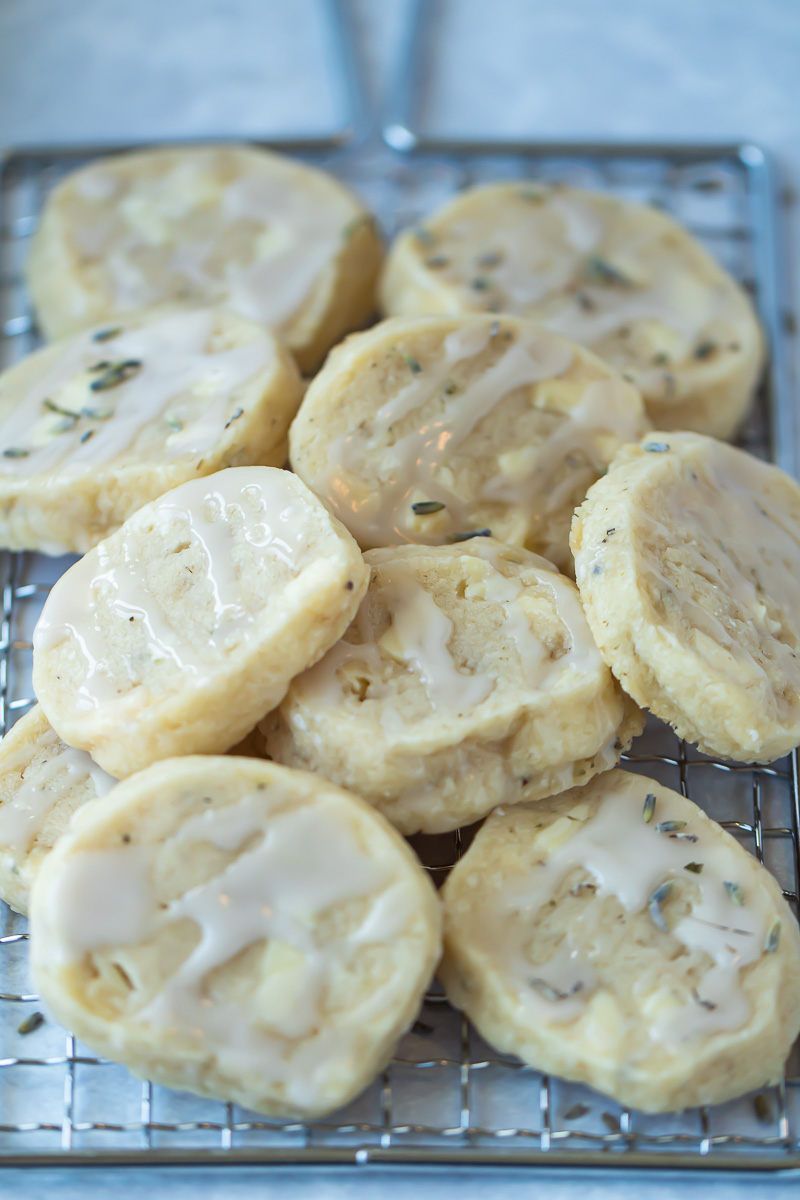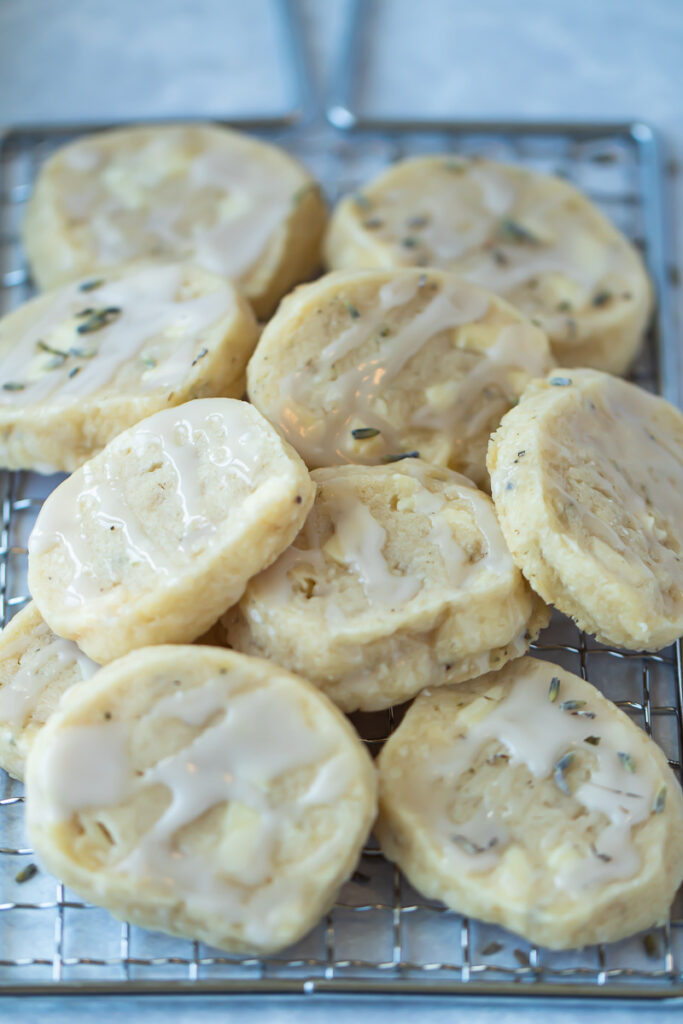 Making shortbread cookies
Like I said, shortbread cookies are super simple to make!
Most shortbread cookies start by creaming together butter and sugar. In this case, you'll add the lavender to the sugar and crush it together to evenly disperse.
Cold butter: Yea, you heard me! You don't have to wait for butter to soften for this one! It might take an extra minute or two, but cold, cubed butter will mix with the sugar just fine. Of course, you can use softened butter, but if you happen to forget to take your butter out, it's no problem! You just want the butter and sugar to combine and become light and fluffy.
Once the butter and sugar is mixed (you'll also add vanilla!), it's just about adding your flour and mixing until just combined. Seriously, do not overmix. Also, yes shortbread doesn't have eggs!
Mix-ins: I added chopped white chocolate to these shortbread cookies, but you can also add nuts, dried fruit, etc. I wanted the lavender (and eventually rosé) to be the star and sometimes other mix-ins can overpower. But, I think pistachios would be delicious here too!
Shape the cookies: Like most shortbread cookies, the dough is rolled into a log and chilled before baking. I find it easiest to make two logs out of this dough. Just roll them up, tightly wrap in plastic wrap and let chill for at least 2 hours before baking. When ready to go, carefully slice into ½-inch cookies. A serrated knife helps to cut through any chocolate chunks you might run into to, but if anything falls apart just gently push it back together. It's just cookies, people!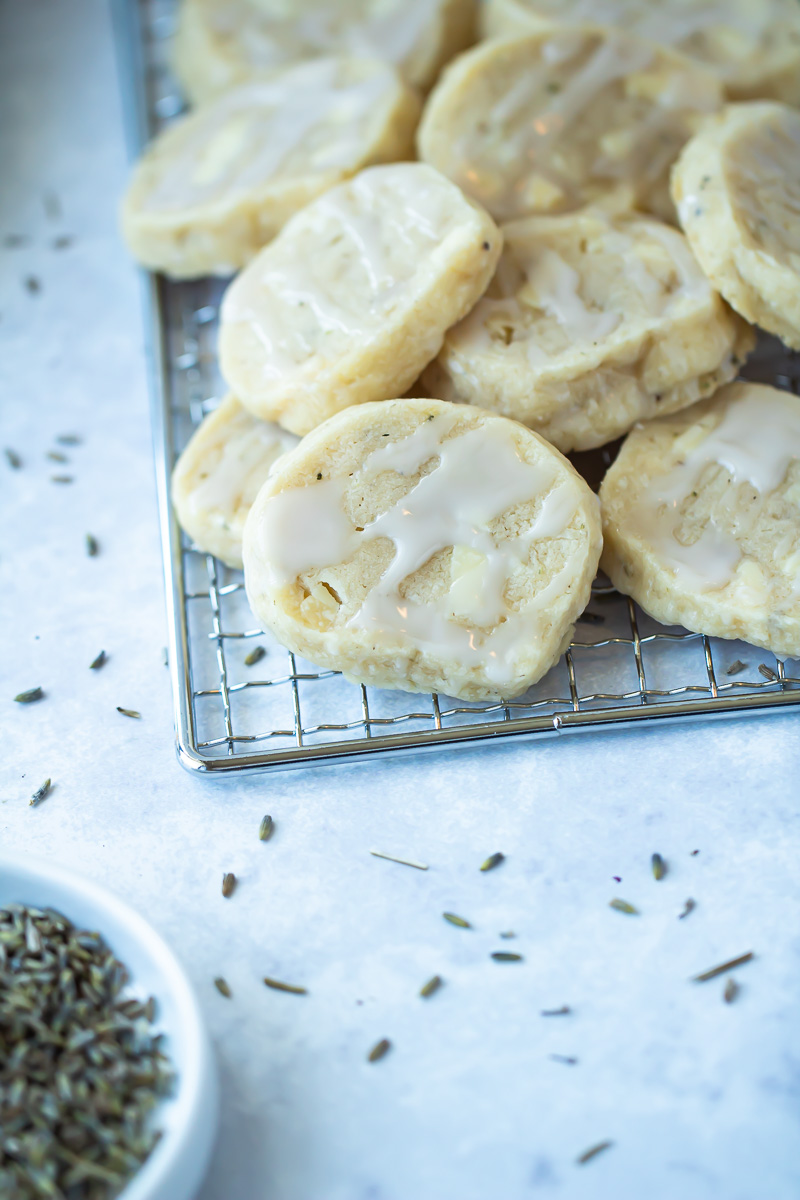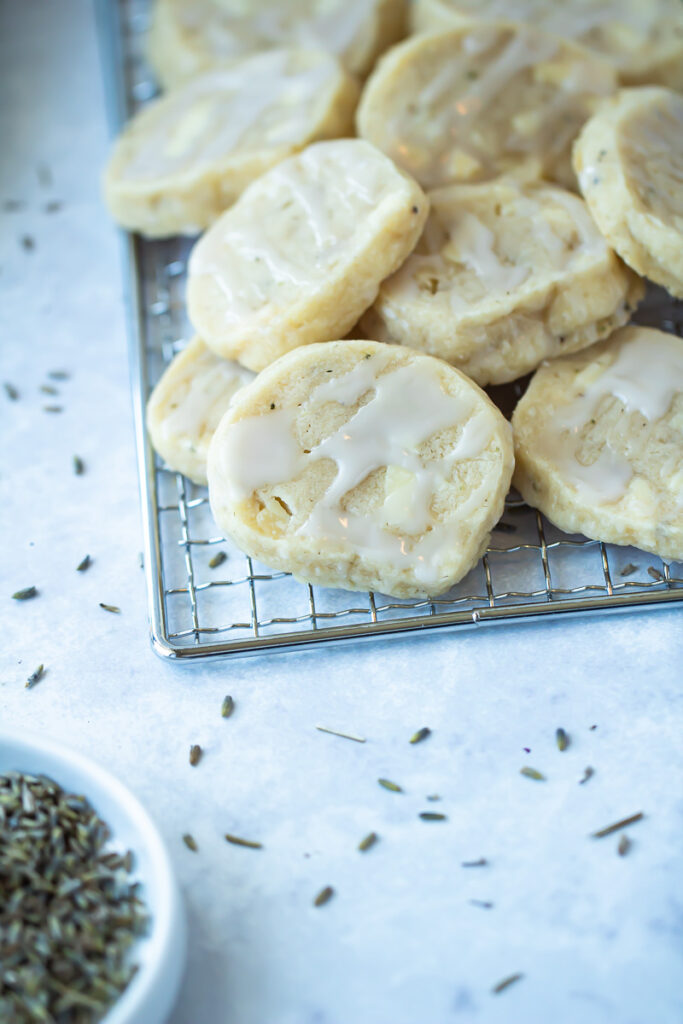 A rosé glaze, you say?
YES. This was originally another Rosé Week recipe, and one of the first ideas I had when I started to plan for it. Floral lavender with sweet, rosé? Yes, please! The glaze is as easy as whisking together powdered sugar and your favorite rosé wine. Drizzle on cooled cookies and thank me later.
Super into rosé? Sign up for a FREE ebook with fun rosé cocktail recipes!