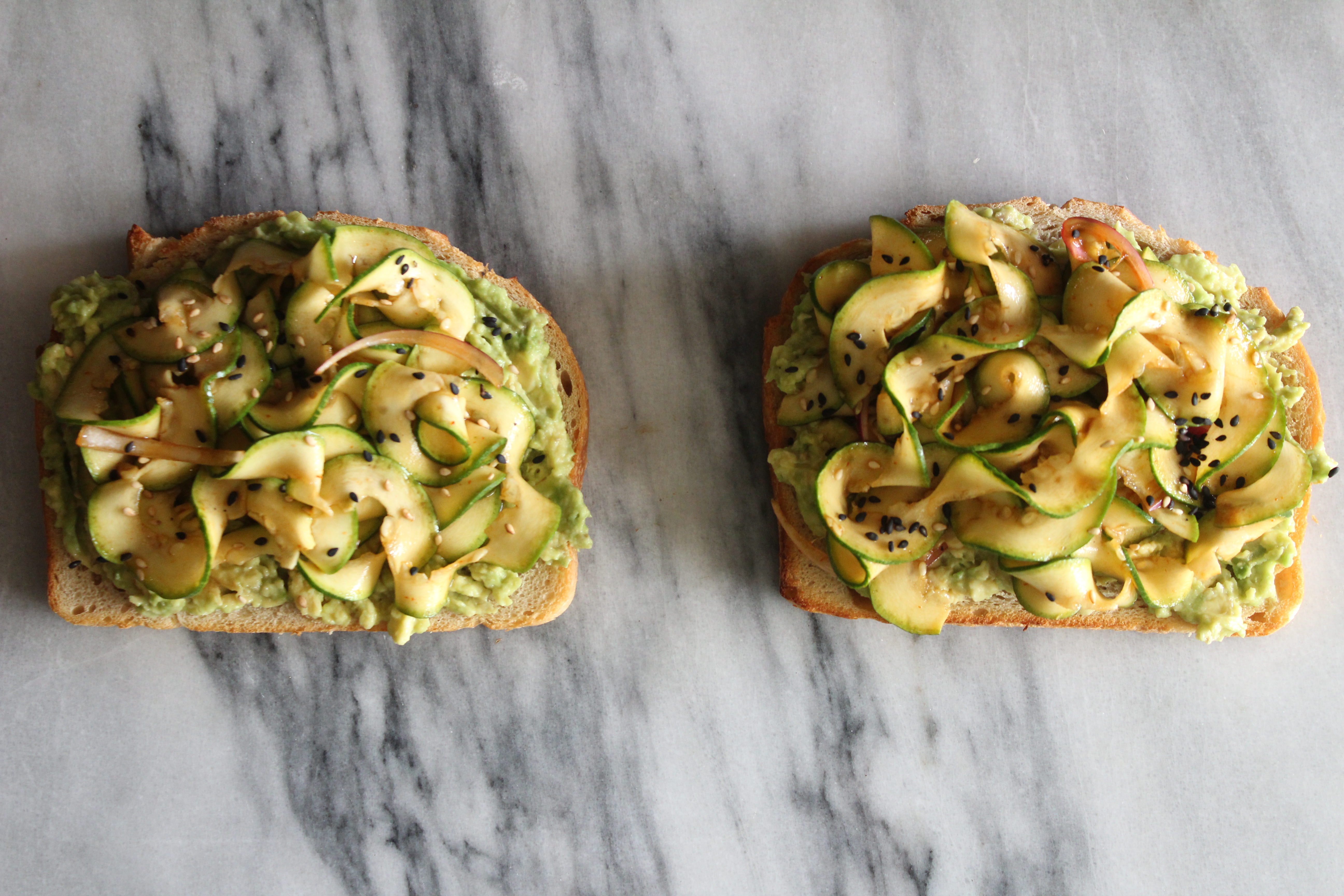 New year, same avocado toast.
If there's one thing I will never pretend to hate for the sake of looking cool, it's avocado toast. I don't care what you say and I don't care how many houses I won't buy, avocado toast was sent to us straight from heaven and, frankly, we should all be a little more grateful.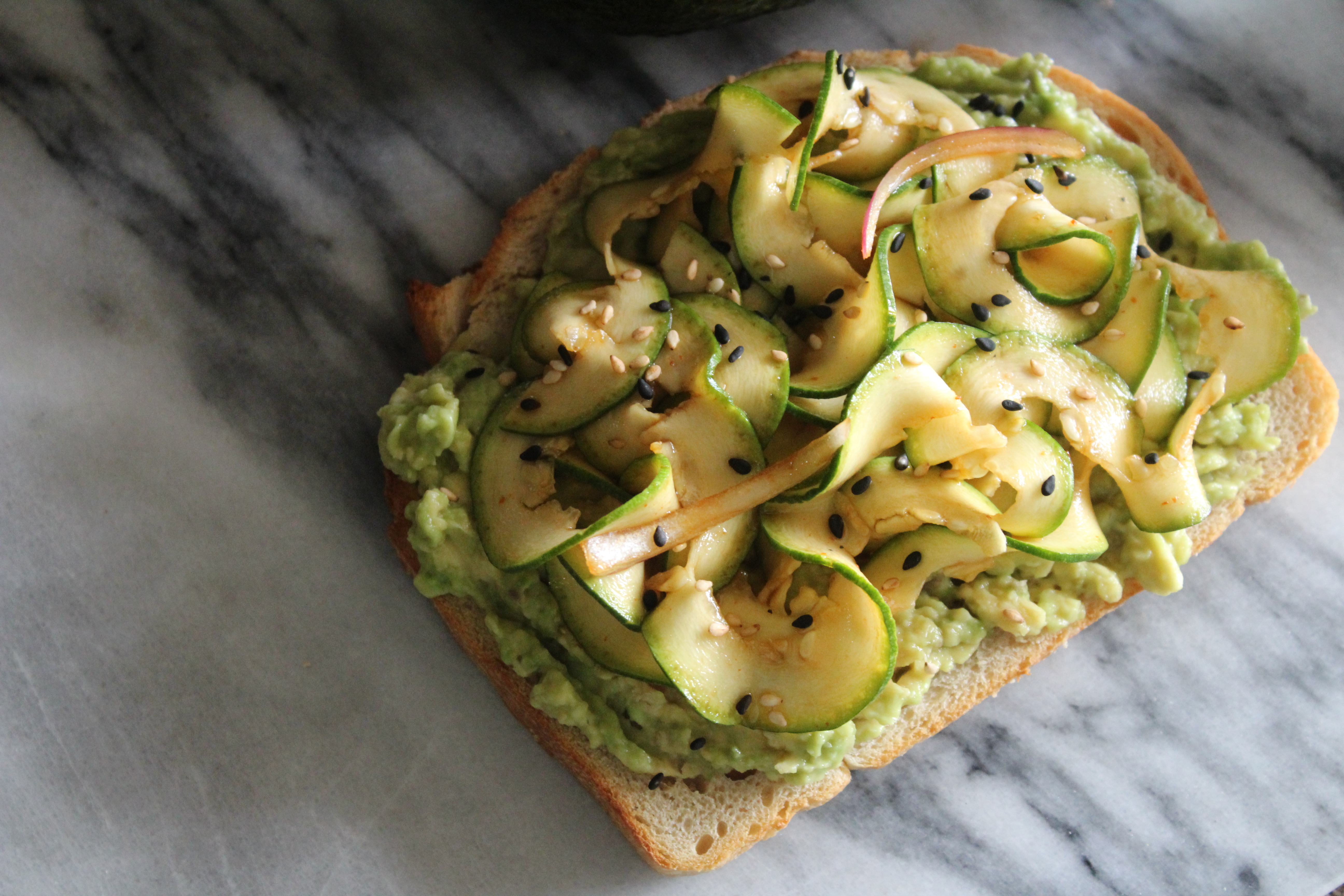 The first week of the year is rough, no? We amp ourselves up to have the BEST YEAR EVER and then the minute something goes awry (because...life) it feels like everything comes crashing down.
Even if you aren't a total drama queen like me, I know you know what I'm talking about. We're all in this together guys.
I've never been a huge fan of resolutions, but I do like setting goals for myself and the beginning of the year is always a natural time to do that. I enjoy the process of reflecting on the past year and thinking about what I want to do in the future. Very few of my goals are set to a timeline, but rather I try to structure them to keep me moving forward so that I always feel like I'm working towards something. Does that make sense?
(I promise this is all leading to toast.)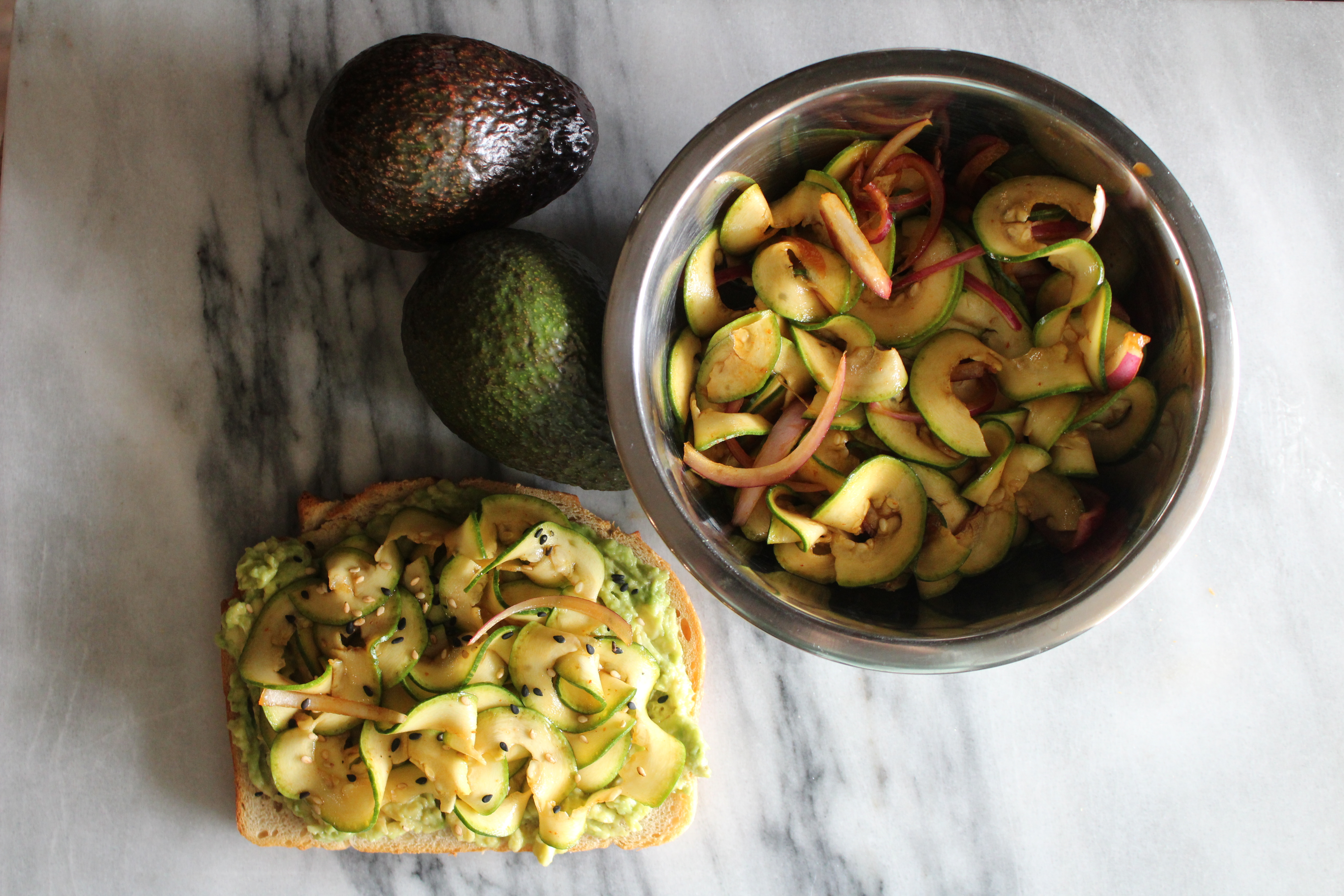 SO. One of my main goals this year is to be kinder to myself. In every way. My first step? NOT going all-in on the first of the year. Instead, I'm taking this week to ease back into life post-holiday and start planning for what I want to accomplish in the coming weeks and months.
This might sound counterintuitive to some, but for me it's honestly the kindest decision I've made for myself. It allows me to really think about what I want to do, rather than setting arbitrary goals based on all the craziness going on around me. Gotta let those #resolutions posts die down a bit, you know? It doesn't work for everyone, but three days in and I'm already so happy with my decision.
I should also mention that doing this allowed me to spend all of last week on the couch watching old episodes of NCIS with my mom. Which is weird, but very on brand for us.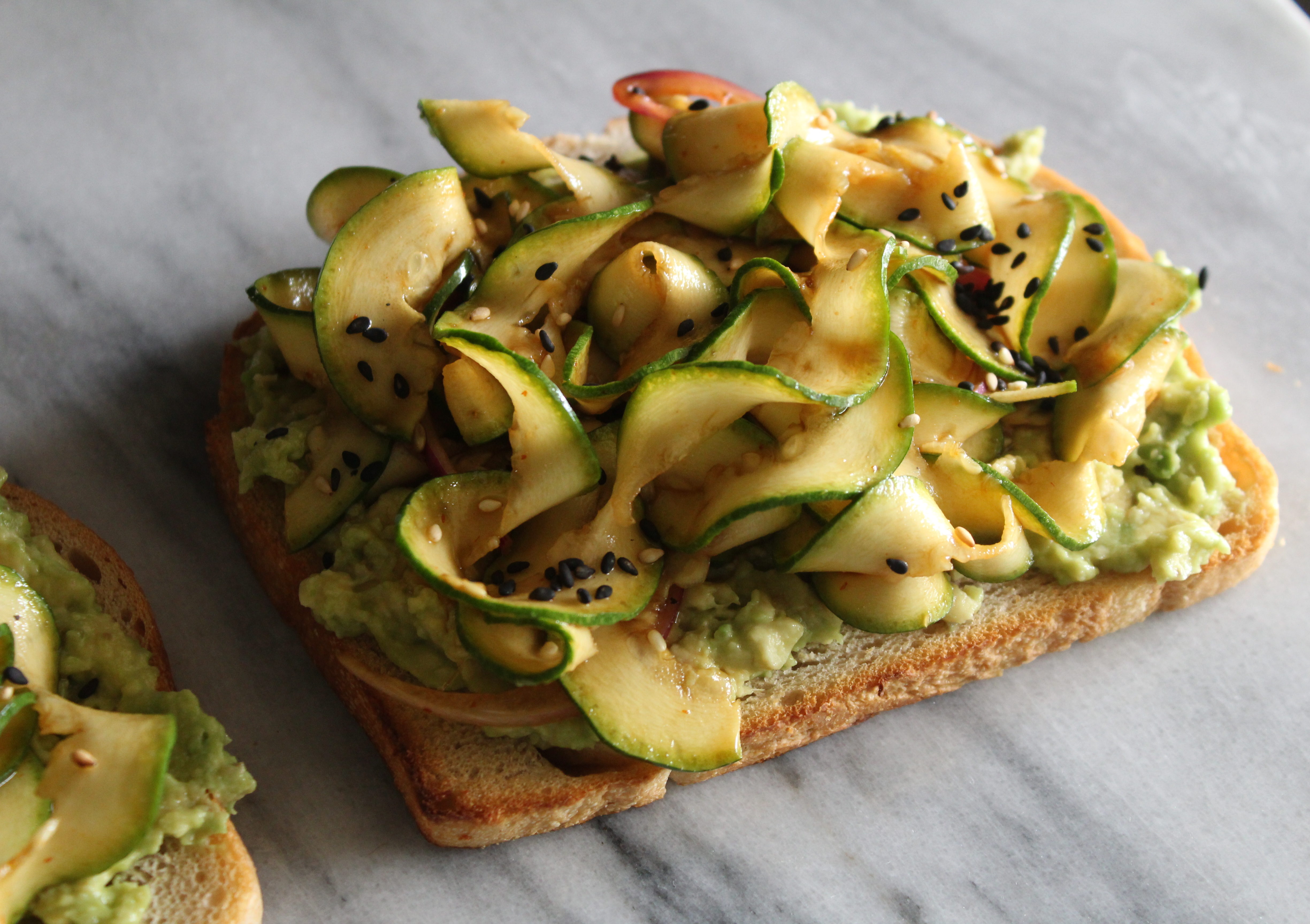 So, uh, what does all that have to do with avocado toast? (<100% sure you just asked that.)
NCIS has nothing to do with anything. But! Avocado toast for dinner = something nice I do for myself.
Is that weird? Probably. It's fine.
Not going all-in this first week means no meal prep or planning (although I do have a post on that coming later this week ironically enough). And no meal prep or planning generally means random food pretending to be meals. Sometimes that's totally okay. Other times, it's good to spend a little time - like 10 minutes really - in the kitchen preparing a meal.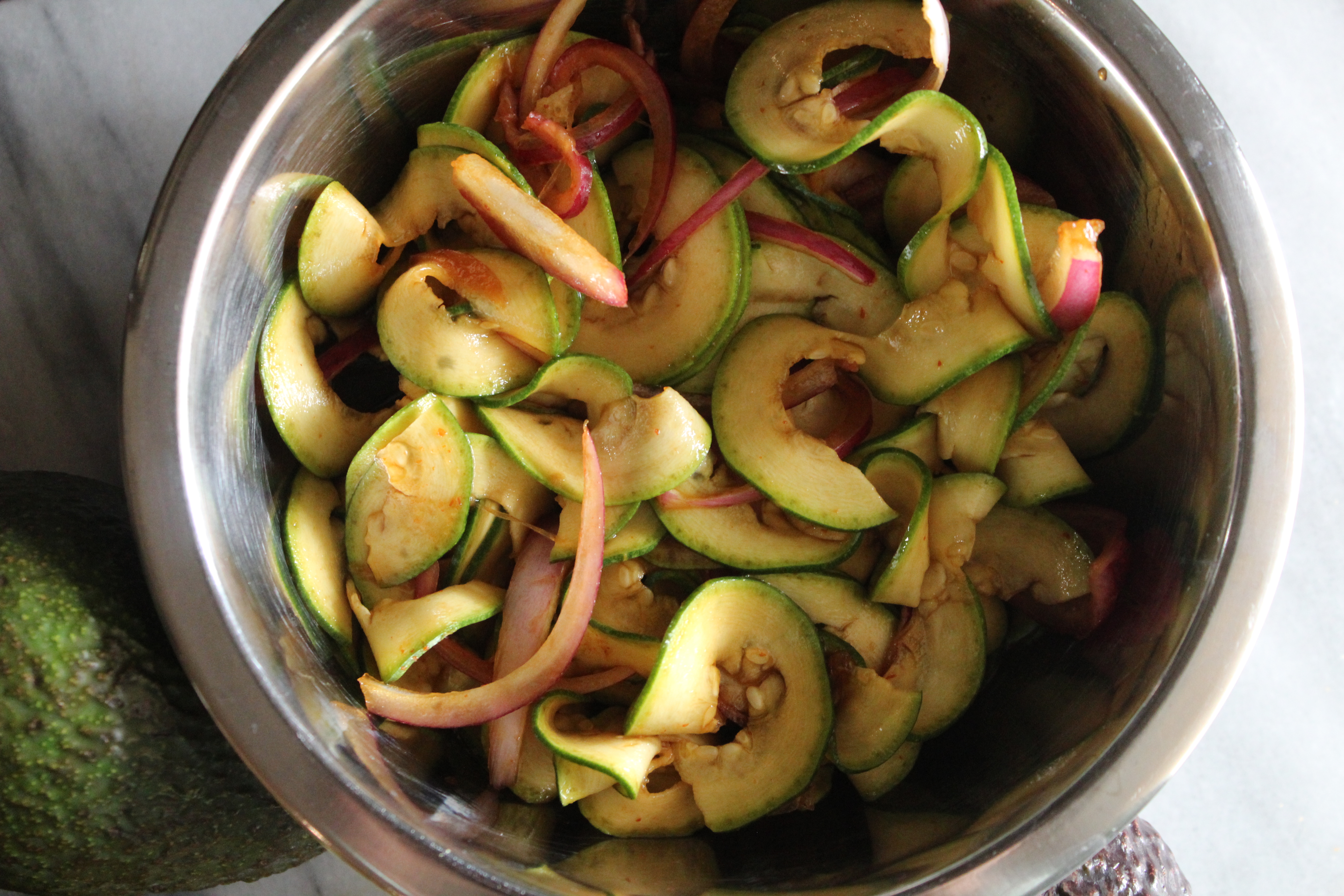 As mentioned above (before I went all #newyearnewme on you), I LOVE avocado toast and am not ashamed of it one bit. It's a joy to make and eat, and if I feel inclined to spend $15 on it at brunch I'll probably do it. YOLO and all.
This is such a good meal to make when you're short on time and/or energy. It's delicious and healthy and if you're weird about eating toast for dinner, I promise it feels dinner-like because, let's be honest, you probably didn't eat a bunch of zucchini for breakfast. There's just enough "cooking" involved to make you feel like you are making good decisions, but not enough to keep you in the kitchen washing dishes afterwards.
Of course, you absolutely could eat this for breakfast. Or lunch. Or as a snack. We're being kind to ourselves, remember? You do you.
Avocado toast wins again.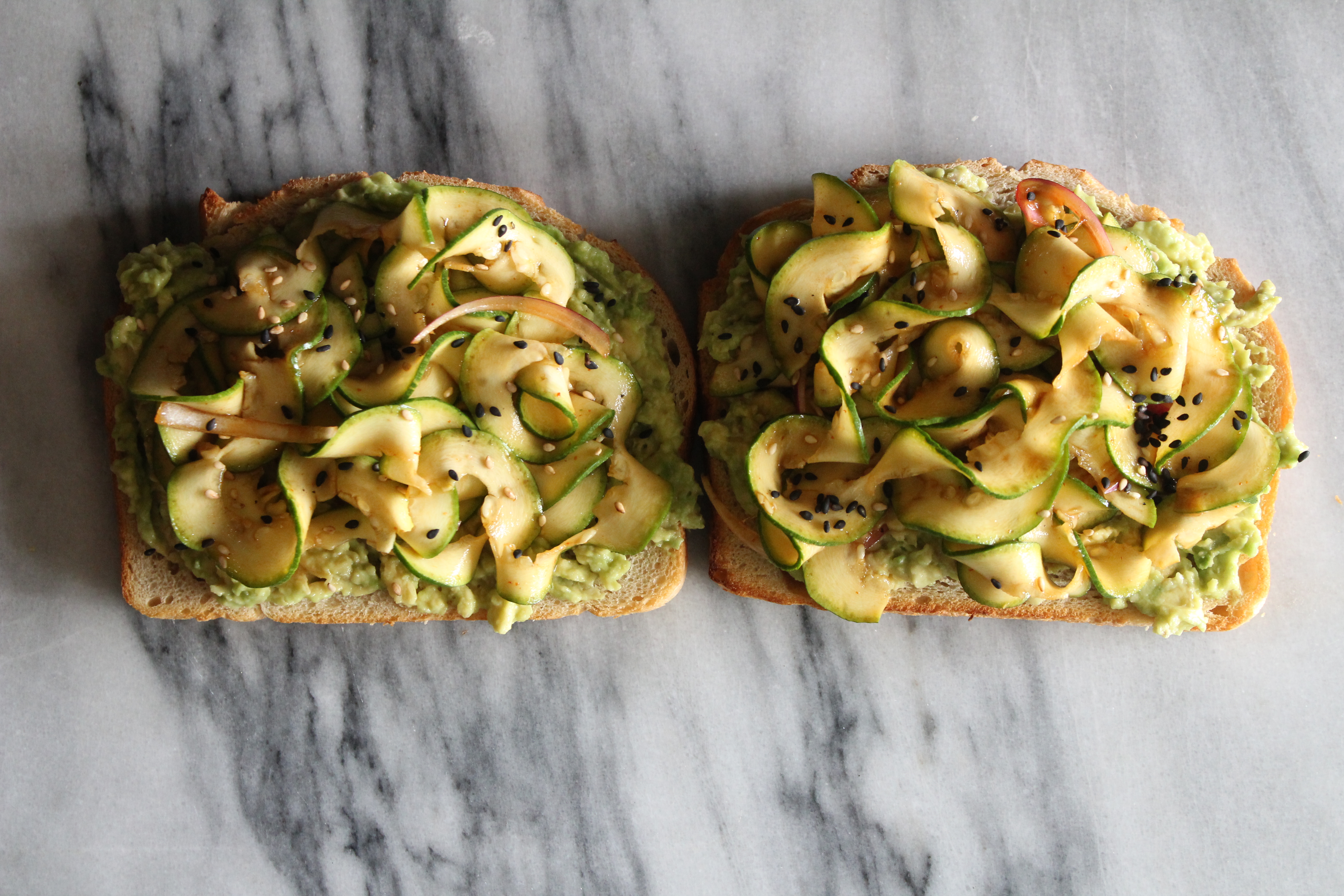 Print
Marinated zucchini avocado toast
---
Total Time:

20 minutes

Yield:

2

1

x
1

medium zucchini

¼

red onion

⅓ cup

rice wine vinegar

1 tsp

sugar

2 tsp

sriracha or garlic-chili sauce

2 tsp

soy sauce

4

slices bread (whatever kind you love most)

1

-

2

avocados (depending on size + how much avocado you like)
Sesame seeds
---
Instructions
Spiralize the zucchini and thinly slice red onion and add them to a bowl.
Add vinegar, sugar, sriracha and soy sauce and mix to combine. Let sit for at least 10 minutes.
Toast bread, spread with mashed avocado (however much you want!) and top with zucchini mixture. Sprinkle with sesame seeds if desired.
Notes
If you don't have a spiralizer, you can use a vegetable peeler to make long ribbons. Or honestly? Just chop it up however you want. My only reason for doing ribbons was that it looks pretty (no shame).
The zucchini mixture stays well in the fridge for a few days, so feel free to double up for future avocado toast needs.
Prep Time:

15 minutes

Cook Time:

5 minutes