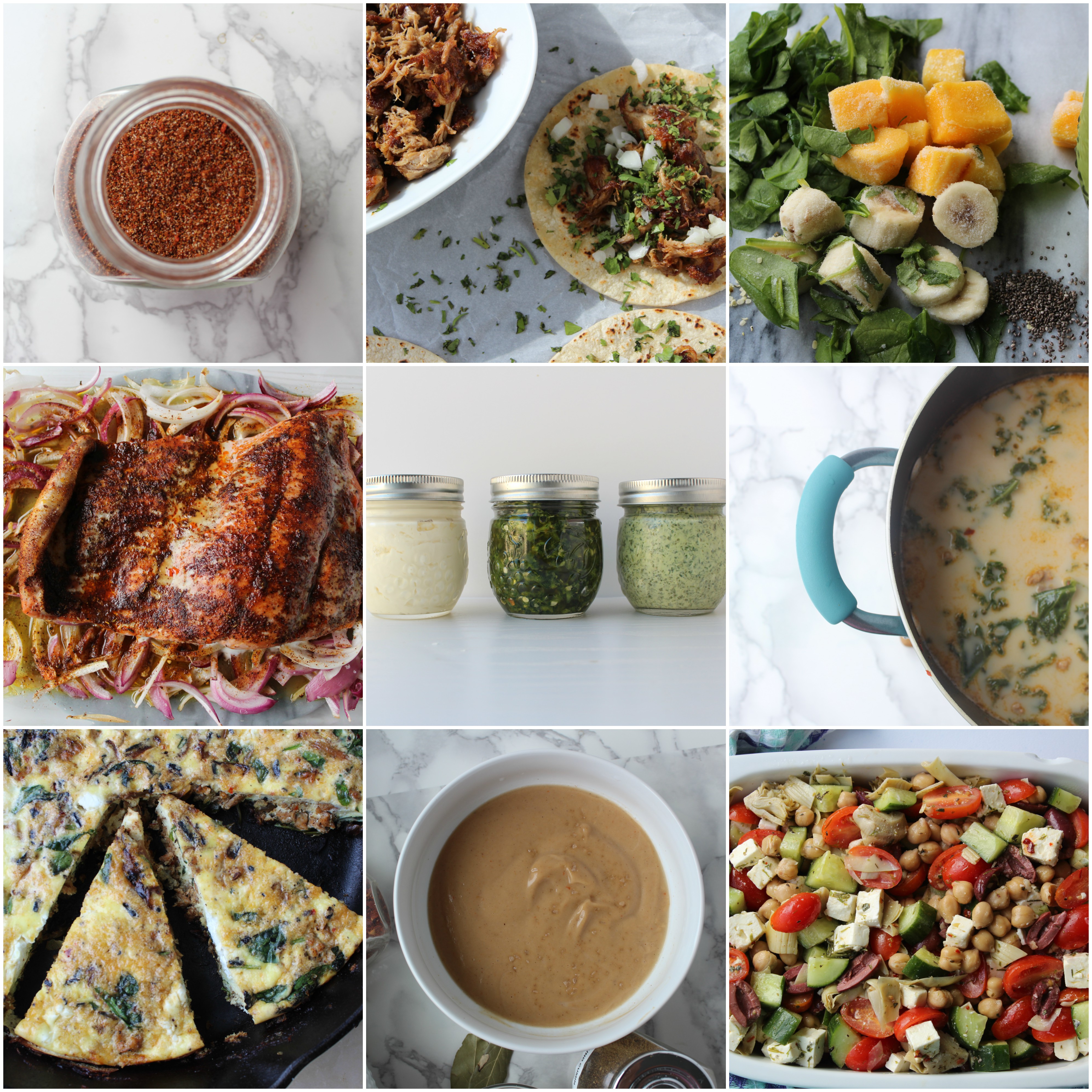 Ahhh meal prep. The words themselves bring up so many feelings and even more blog posts and videos littering the internet.
But hey, what's one more?
With all the new years resolutions flying around there are bound to be people who are thinking about giving meal prep a shot. It's a topic I LOVE and would weirdly talk about to no end anyway, so I figured I'd share my thoughts here.
I would like to begin by stating that I've been meal prepping since before it was a cool kid thing to do. Big-batch weekend cooking is my jam and at this point I genuinely think I was hardwired to make a giant pot of something every Sunday. It's just the way I live my life. And I'm really into it.
With that said, meal prep is (and should be!) different for everyone. Obviously, the way I do things might not work for someone who is cooking for kids. Or even if you are just cooking for one, my way might not mesh with your lifestyle. Totally fine! Just use the tips and ideas below as a starting point.
Ready? Let's go!
Tip #1: Don't stress + Pick a goal
Yea I started out with a two-for-one tip - sorry! Seriously though, we're talking about cooking food and putting it in containers for the week. Seeing people freak out about this makes my heart hurt. So honestly, my number one tip here is to not stress out about it!
I think it's really important to recognize your strengths and weakness and then think of meal prepping as a way to accomplish a goal you have in mind. I naturally fell into meal prepping because I didn't want to get into the habit of buying lunch everyday when I started working. Maybe you want to save money? Eat more vegetables? Just cook more in general?
Whatever it is, meal prepping can probably help you!
Tip #2: Start small
Don't be a hero. If you're just starting out with meal prep, don't try to make a bunch of stuff you pinned months ago and forgot about. Stick to food you've made before, actually like, and are comfortable making. Trust me on this. Little is worse than having to eat a new dish you hate for four days straight.
Are you a fan of chili? Make chili! Then pack it up into a few containers and BOOM. You just meal prepped lunch for the week. That's it. You're done. Go eat a cookie.
Now your only job is to actually remember to take the chili with you in the morning. Post-it notes help.
Tip #3: Less meals, more components
My world changed when I stopped prepping actual meals and started prepping ingredients instead. So now I generally do one finished dish and then prep components I can use throughout the week for easy meals. This works really well for me because I actually still enjoy cooking during the week. I like coming home and cooking dinner so I don't need everything prepared. But it's nice to have some rice cooked and ready to serve as the base of a grain bowl. Roasted vegetables are always clutch, and I love to have a salad dressing/sauce on hand to pour over everything. It makes days-old food taste magical and makes me feel like a culinary genius. WIN-WIN.
A VERY typical meal prep sesh looks like this:
Make a pot of Zuppa Toscana (aka my favorite soup ever!)
Cook 3-4 servings of quinoa
Roast a tray of vegetables - usually red onions, bell peppers, potatoes, squash, etc. (I personally don't like vegetables like broccoli, brussel sprouts and cauliflower to be roasted ahead of time)
Make a sauce or dressing, like this creamy cilantro one.
Then, a few things I make sure to keep on hand: Goat cheese (roasted veg + goat cheese is everything), cooked chicken sausage, frozen shrimp and salad greens.
This should take me just about an hour to do (multitasking is important here) and a set-up like that will easily last me 3-4 days without totally boring me. I've got the soup for lunch, and the quinoa + vegetables for dinner bowls throughout the week. Or vice versa! By keeping sausage and shrimp (which cooks up super quickly) on hand, I always have the option to add more if I want which is very, very important for me.
But again, if that feels like too much don't do it all. Just make the soup. Or just roast your favorite vegetables and keep those on hand. Honestly, even a pot of cooked rice can change things. You'd be surprised how much even that can help throughout the week (especially for this quick dinner!).
Other ideas: Smoothie packs for quick mornings; Carnitas to use on tacos, bowls, salads, etc.; This greek salad that lasts for daaaaays.
Tip #4: Pick your own day
This is my way of saying you don't have to meal prep over the weekend. HOORAY! I know it feels very natural to do all this cooking over the weekend, but if you really like to keep your weekends free and clear, don't worry about it. I went through a phase years ago when I was doing a lot of my cooking on Monday evenings after work because the grocery store was less crowded. It's weird, but I liked it.
On that note, for some it can be daunting to make enough food for an entire week. So forget that. Try to get yourself through two days to start. And if you need to do some quick cooking mid-week, that's fine! You might find it's less stressful to do it that way and can be especially helpful for those of you who don't actually enjoy eating leftovers because you won't feel like you're eating the same thing for days on end.
Tip #5: Be kind to yourself (and realistic!)
Okay, let's really talk now. This tip kind of goes hand-in-hand with not stressing yourself out. I personally think cooking for yourself is a form of self-love, and this should be no different. The whole point of meal prep is to make food that you can eat later, right? So cook food you like that makes you feel good and that you'll be excited about eating. I know a lot of people who feel like meal prep has to be suuuuper healthy, automatically setting themselves up for failure and a fridge full of kale salads they never really intended to eat.
Don't be that person. Kale doesn't deserve that.
Lastly, be realistic. If you're someone who enjoys eating out, give yourself the space to do so throughout the week. Meal prepping is not supposed to suck the joy out of your life so don't let it. As mentioned, start small, with just one dish. I think just having the option to start with will get you on track. From there you can decide if you want to do more. And look, if you hate it? Don't do it. Just don't. I don't care how many studies show the benefits of meal prep - if it's causing you MORE stress it's not worth it.
But maybe just make frittata or something, okay?