Get crispy chickpeas without turning on your oven! Pan fried chickpeas take just 20 minutes to make and are perfect for salads, wraps or just eaten on their own as a great snack! Stir in a handful of herbs at the end for a bright, flavorful and crispy chickpeas.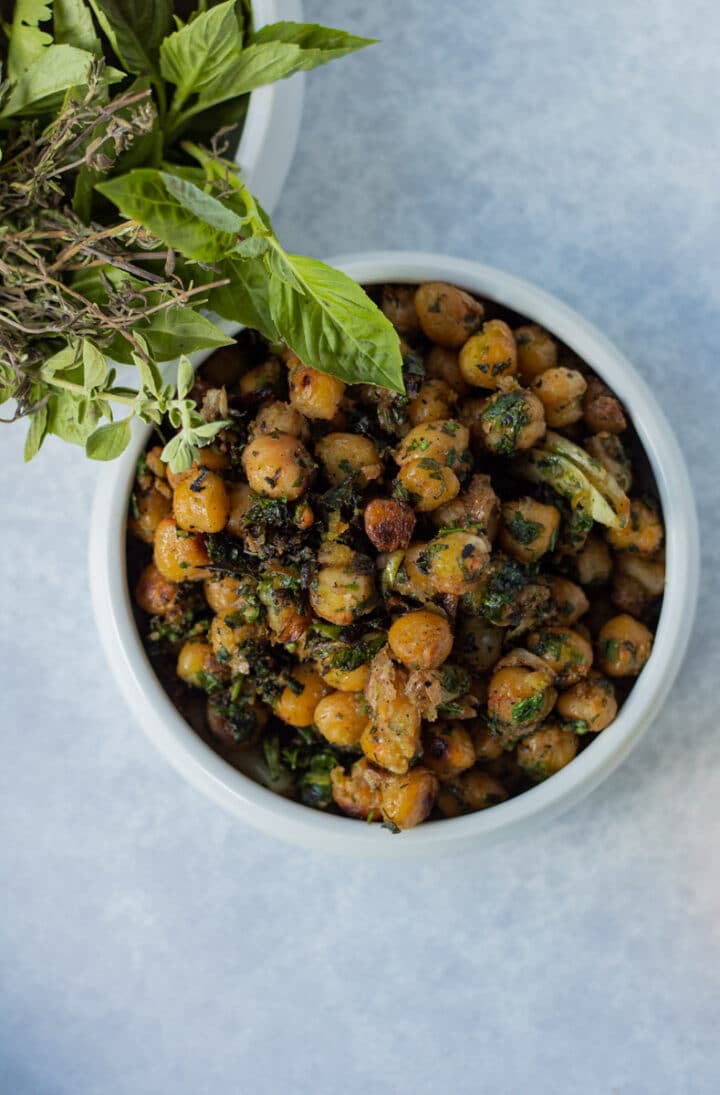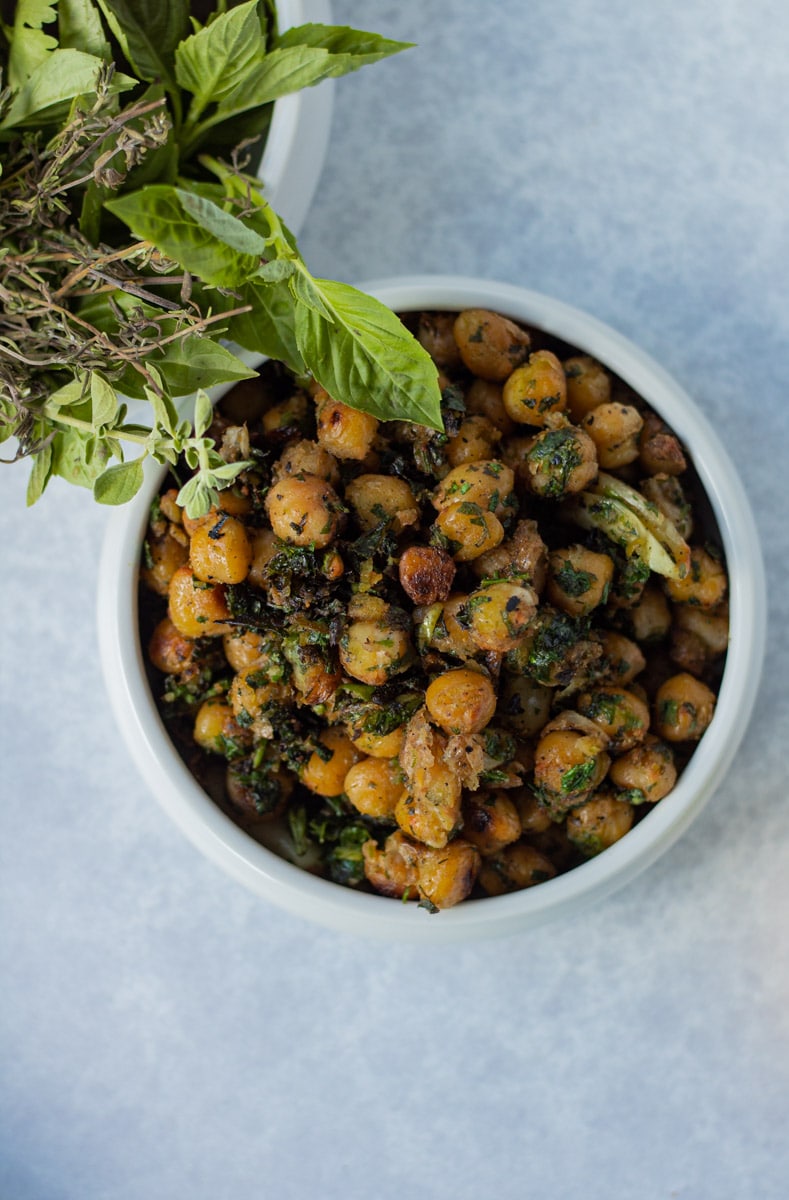 Recipe and photos updated in 2021.
Print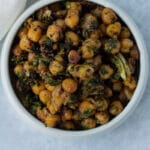 Pan fried herby chickpeas
---
Author:

Mansee

Total Time:

20 minutes

Yield:

2

-4

1

x
Description
Get crispy chickpeas without turning on your oven! Pan fried chickpeas take just 20 minutes to make and are perfect for salads, wraps or just eaten on their own as a great snack! Stir in a handful of herbs at the end for a bright, flavorful and crispy chickpeas.
---
2

cans chickpeas, drained and rinsed

⅓ cup

olive oil

2

garlic cloves, lightly crushed

¼ teaspoon

salt

¼ teaspoon

pepper

½ teaspoon

red pepper flakes

¼ teaspoon

ground cumin
Around

2 cups

herbs (I used

1 cup

cilantro +

¾ cup

parsley +

¼ cup

chives here)
To serve: rice, salad, avocado, lemon, etc.
---
Instructions
Using a clean kitchen towel, pat the rinsed chickpeas dry. They don't need to be bone dry, but too much extra moisture will hurt their crisping ability.
Pour oil in a large frying pan. Crush garlic cloves, add to pan and turn the heat to medium. When garlic just starts to sizzle add chickpeas, salt, pepper, red pepper flakes and cumin and stir. Spread in an even layer (as much as possible) in the pan and let cook for 10-15 minutes, stirring occasionally.
While chickpeas cook, chop your herbs. I normally just pile them all on my cutting board together and chop, chop, chop. I like them to be pretty minced but a few bigger pieces/leaves are totally fine.
When the chickpeas start to pop a little and some are split open (the majority should be nice and browned), take them off the heat and stir in your herbs.
Serve with rice or any grain of your choice, on top of a salad with avocado or in a wrap. These are also delicious on toast, smeared with a bit of greek yogurt or ricotta on the bottom (this would obviously not be vegan)!
Recipe adapted from Bon Appetit
Prep Time:

5 minutes

Cook Time:

15 minutes

Category:

Snacks
Welcome to one of those dishes I make ALL the time, but somehow always forget to tell you I make ALL the time.
Meet crispy pan fried chickpeas. YESSS.
This "dish" is perfect for those times you don't think you have it in you to cook after a long day. Especially perfect if you realize you have a bunch of herbs in the back of your fridge because you forget they are there and keep buying more (not that I would know anything about that...).
I always, always have canned chickpeas on hand, and, to be honest, my fridge is basically always full of herbs about to die so this is a really easy dish for me to pull together. If I have rice, I serve it over rice. If I have some other grain, it goes on top of another grain. Sometimes I'll eat it with a salad. Or toast. Sometimes I just eat it straight out of the pan because I'm an adult and that's fine.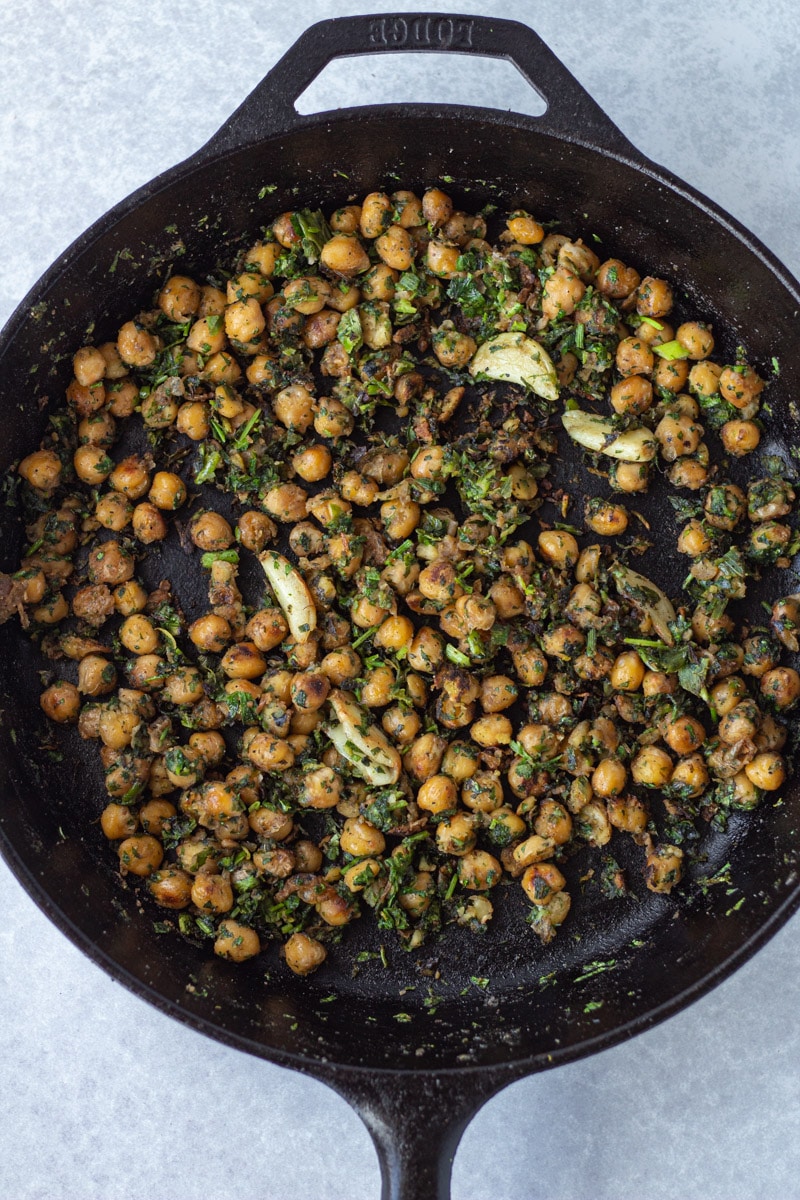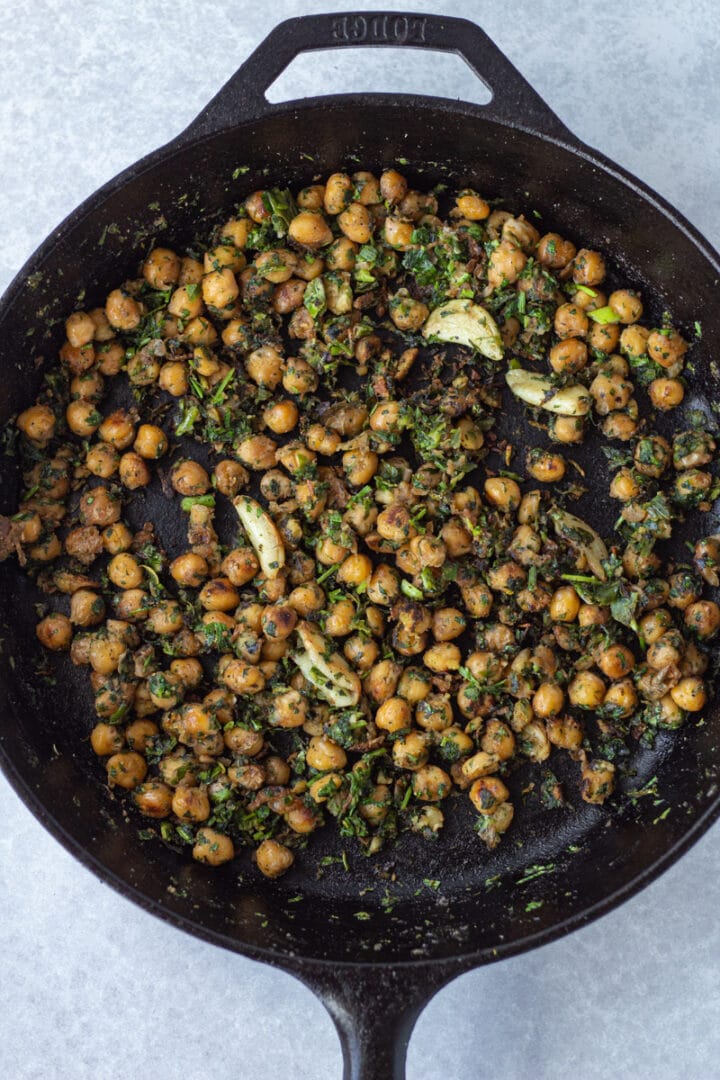 Pan fried chickpeas vs. oven roasted chickpeas
Listen, they are both great. I'm not here to pick favorites. You want to know the real reason why I often choose to pan fry my chickpeas instead of of just throwing them in the oven?
My oven houses SO many baking sheets, pans, etc. that I can't fit elsewhere in my kitchen. If it's not on, it's basically a storage unit.
Probably embarrassing, but it is what it is.
So every time I use my oven, I have to take all of that stuff out and sometimes that's honestly just too much for me, OKAY?!
So on those nights, it's crispy pan fried chickpeas. And there is not one part of me mad about it.
The main difference (to me) between pan fried chickpeas and oven roasted chickpeas is that I generally find I have to use more oil for pan fried. It's ALMOST (almost) like you're frying them....but um, that's delicious.
Feel free to use a little less oil, but just know you won't get the same browning.
One of the best parts of making these in a pan and using that oil is you can go beyond just spices when flavoring them. Throwing in A TON of chopped herbs at the end keeps things bright and flavorful, but still super crispy.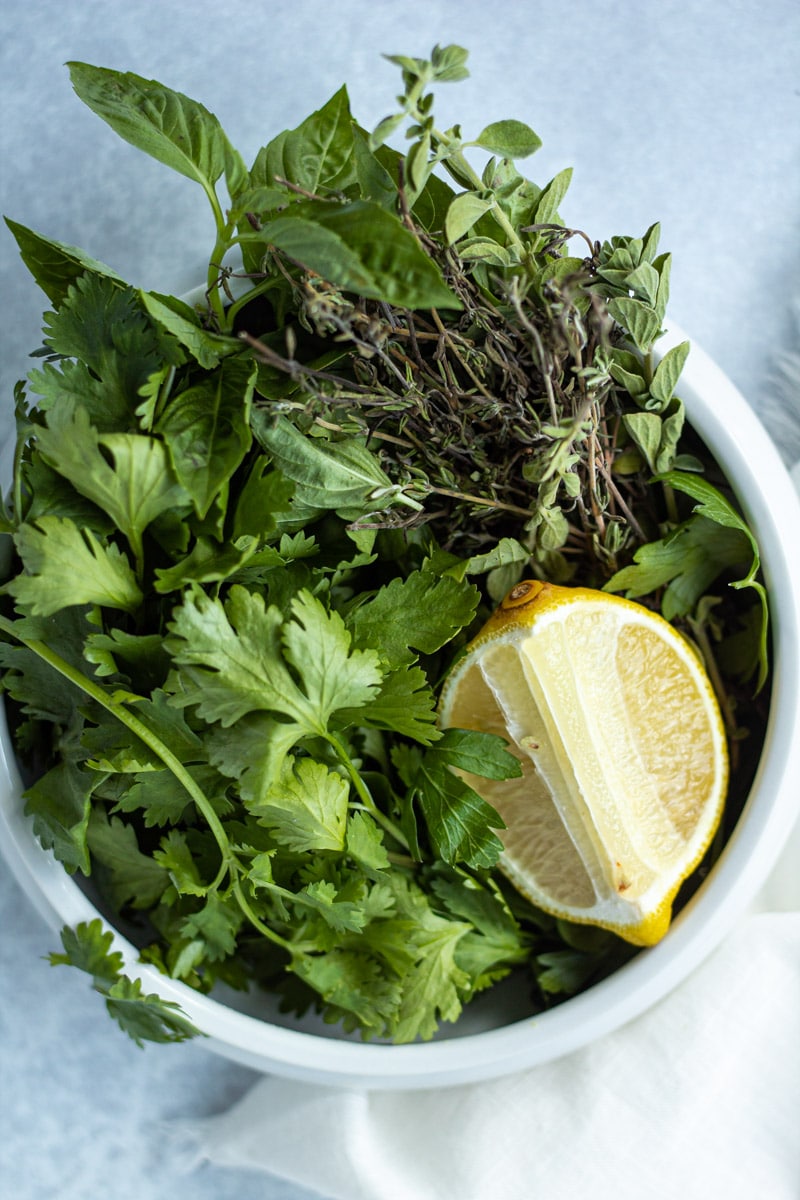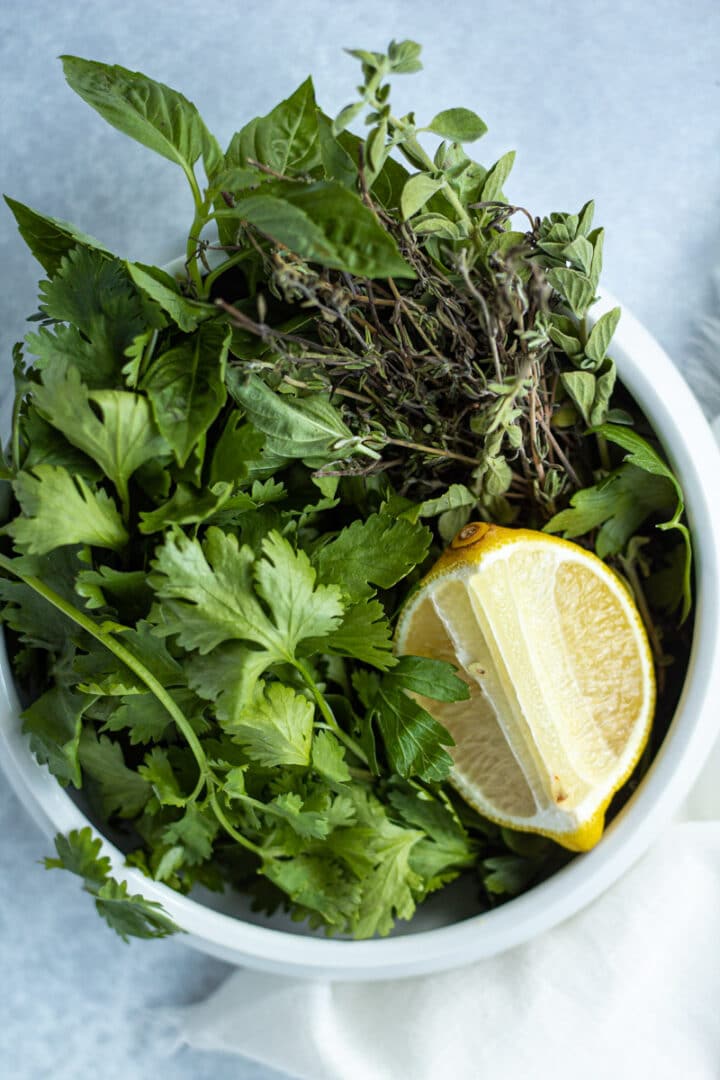 What you need for pan fried chickpeas
This is going to be simple, I promise.
Chickpeas: DUH. Use your favorite canned brand, just make sure to drain and rinse them. You'll also need to dry them pretty well to get maximum crisp. If you are feeling ambitious OR if you happen to have some laying around, you can totally use homemade cooked chickpeas. My spicy chickpeas are a great base!
Olive oil: Like I said, it's kind of a lot. But worth it! For two cans of chickpeas, you'll need about ⅓ of a cup. This recipe is easily scaled up OR down, and you can definitely experiment with using less oil.
Garlic: I like to smash a few garlic cloves and let them heat up with the oil so you get the garlic flavor without have to chop or mince some up. If you want more pronounced garlic flavor, feel free to add it in minced after the chickpeas are in the pan (so it doesn't burn!).
Spices: Even though the herbs are the real star, I still like to add a few spices. Cumin and red pepper go a long way, but feel free to try adding in some ground coriander, oregano or even some paprika or chili powder. I sometimes use this technique and just throw in a bunch of my house seasoning (very good for chickpea tacos!!).
Herbs: This is the perfect recipe to clean out your fridge. I love the combo of cilantro, chives and parsley here...but the sky is the limit! Basil + thyme + green onions are great. Cilantro + green onions are wonderful. Rosemary + parsley + basil are perfect. Play around and see what flavors you like best!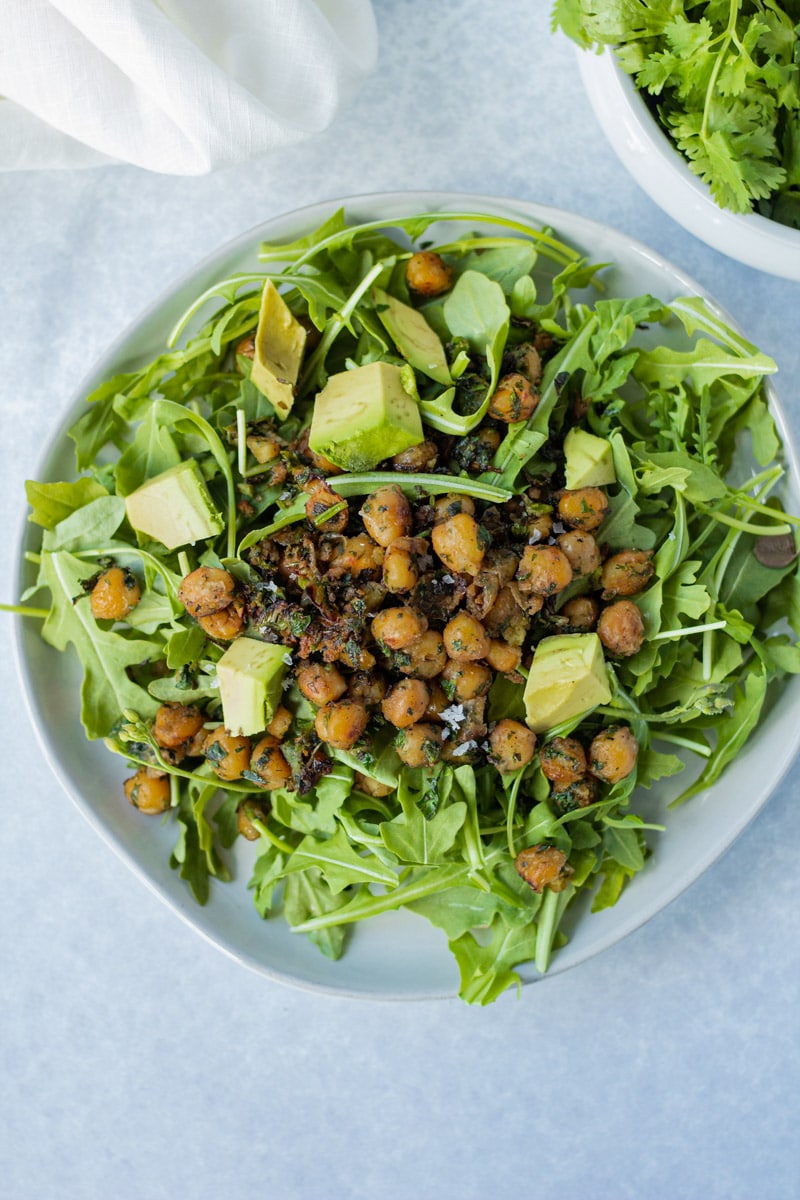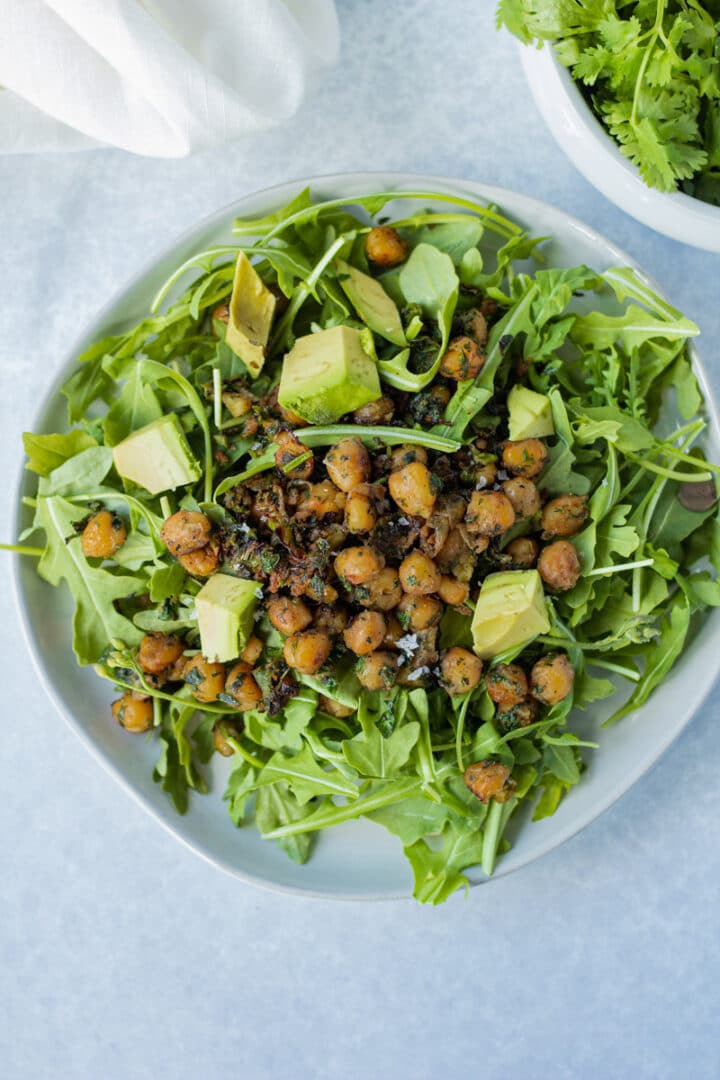 The versatility!
So many options when it comes to eating these pan fried chickpeas!
First things first, you can just eat them straight. Pop these babies in your mouth and I promise you won't regret it.
BUT!
If you're looking for more of a meal, I've got you too. I generally love to eat crispy chickpeas 1 of 3 ways:
On a salad: It's a great way to add protein to a salad without adding meat. Even just a simply dressed arugula salad (photographed here) is a perfect lunch. Add some avocado, pickled onions, or anything else you love!
With grains: Eat these pan fried chickpeas with rice, farro, quinoa or literally any other grain you love! If you're feeling extra sassy, add that rice/grain to the pan with your chickpeas toward the end and let it crisp up too (a la my crispy grains and chickpeas). Add a dollop of yogurt, sour cream, or even some avocado (again) for great textural contrast.
On toast or in a wrap: Bread (or tortilla!) + hummus + pan fried herby chickpeas = THE BEST. Squeeze a little lemon on top and, by all means, add some crumbled feta cheese. You may thank me later. If you're really looking for a gold star, this feta dip is a great spread for something like this.
In addition, crispy chickpeas are a great addition to/replacement for meat in certain dishes. For instance, if you don't feel like making the herby meatballs in this thai curry dish, just throw in herby chickpeas! You can also replace the regular chickpeas in this curried chicken and chickpea stew for extra flavor.
I wasn't kidding - so many options!