Sweet and spicy glazed salmon made with just 10 ingredients! Rosé and brown sugar combine to create a caramel-like flavored sauce that flavors the salmon all the way through. Serve with rice, noodles or your favorite vegetable.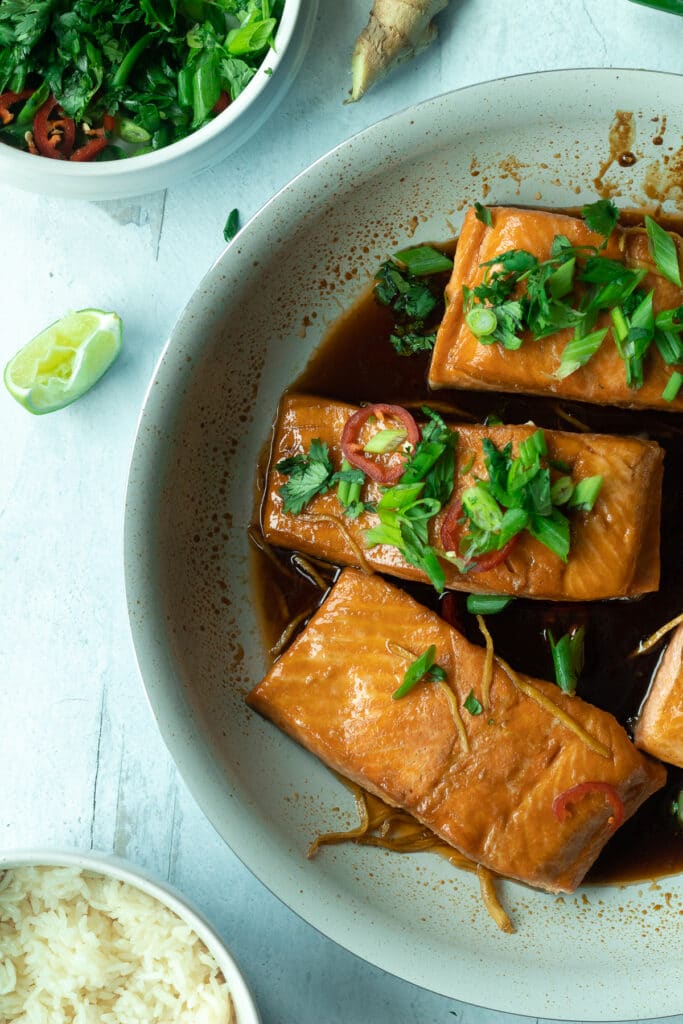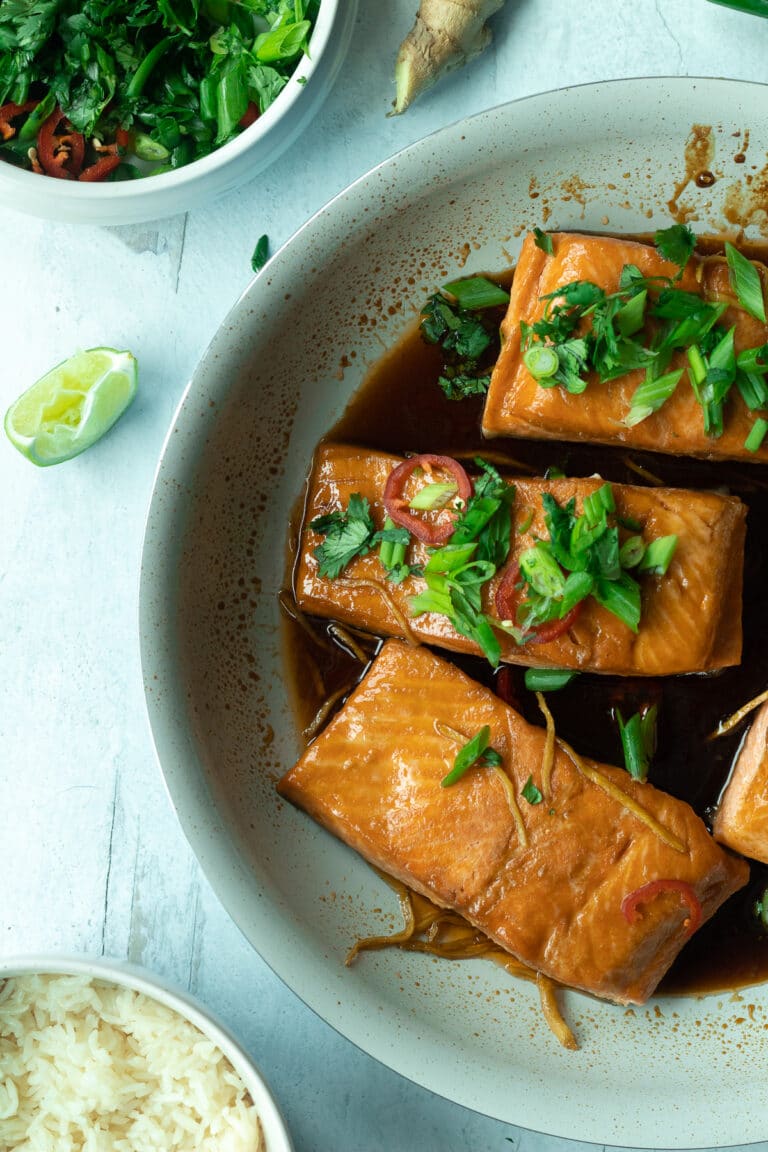 Print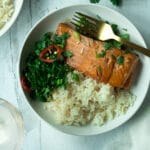 Rosé Caramel Salmon
---
Author:

Mansee

Total Time:

20 minutes

Yield:

4

1

x
Description
Sweet and spicy glazed salmon made with just 10 ingredients! Rosé and brown sugar combine to create a caramel-like flavored sauce that flavors the salmon all the way through. Serve with rice, noodles or your favorite vegetable.
---
⅓ cup

brown sugar

¼ cup

rosé wine

2 tablespoons

soy sauce

1 tablespoon

fish sauce

¼ teaspoon

cayenne powder 

2

-inch knob of ginger, peeled and thinly sliced into strips

4

skin-on salmon filets (about

6oz

each)

½ cup

cilantro leaves

½ cup

green onions, dark and light green parts

1

fresno chili or jalapeno pepper, thinly sliced

1

lime
---
Instructions
Preheat broiler to high. If you aren't comfortable using the broiler, preheat oven to 450.
In a large oven-safe skillet add ⅓ cup brown sugar, ¼ cup rosé wine, 2 tablespoons soy sauce, 1 tablespoon fish sauce, ¼ teaspoon cayenne powder and thinly sliced ginger. Turn heat to medium-high and whisk to combine all ingredients. 
When mixture comes to a boil (this should happen quickly!), add 4 6oz salmon filets to pan skin side up. Reduce heat to low and let simmer until fish is cooked halfway through (when the fish is opaque halfway up from the bottom), about 4-6 minutes.
Turn off heat and carefully transfer pan to oven. If broiling, let cook for another 3-5 minutes for medium-rare, or around 7 minutes for a more well-done fish. This will depend on the thickness of your filets, but should happen quickly so start checking around 2-3 minutes. 
If roasting at 450, cook for 8-10 minutes or (again) until salmon is cooked to your liking. 
While the fish roasts/broils, roughly chop ½ cup cilantro leaves and ½ cup green onions. Add to a bowl and toss with 1 thinly sliced fresno chili and the zest and juice from 1 lime. Add ¼ teaspoon salt and toss to combine. 
Optional: If the juices in the pan look thin when you remove from the oven, you can place it back over medium heat and let it boil for 1-2 minutes to thicken and turn into a glaze.
Serve salmon drizzled with extra juice/glaze and the cilantro/green onion mix.  
Prep Time:

5 minutes

Cook Time:

15 minutes

Category:

Dinner

Method:

Oven
We're back today with an easy peasy rosé-based dinner that will blow your mind. Seriously!
I'm talking 10 ingredients and 20ish minutes to the most sweet, spicy, glaze-y salmon you can serve with steamed rice, noodles and/or your favorite side vegetable.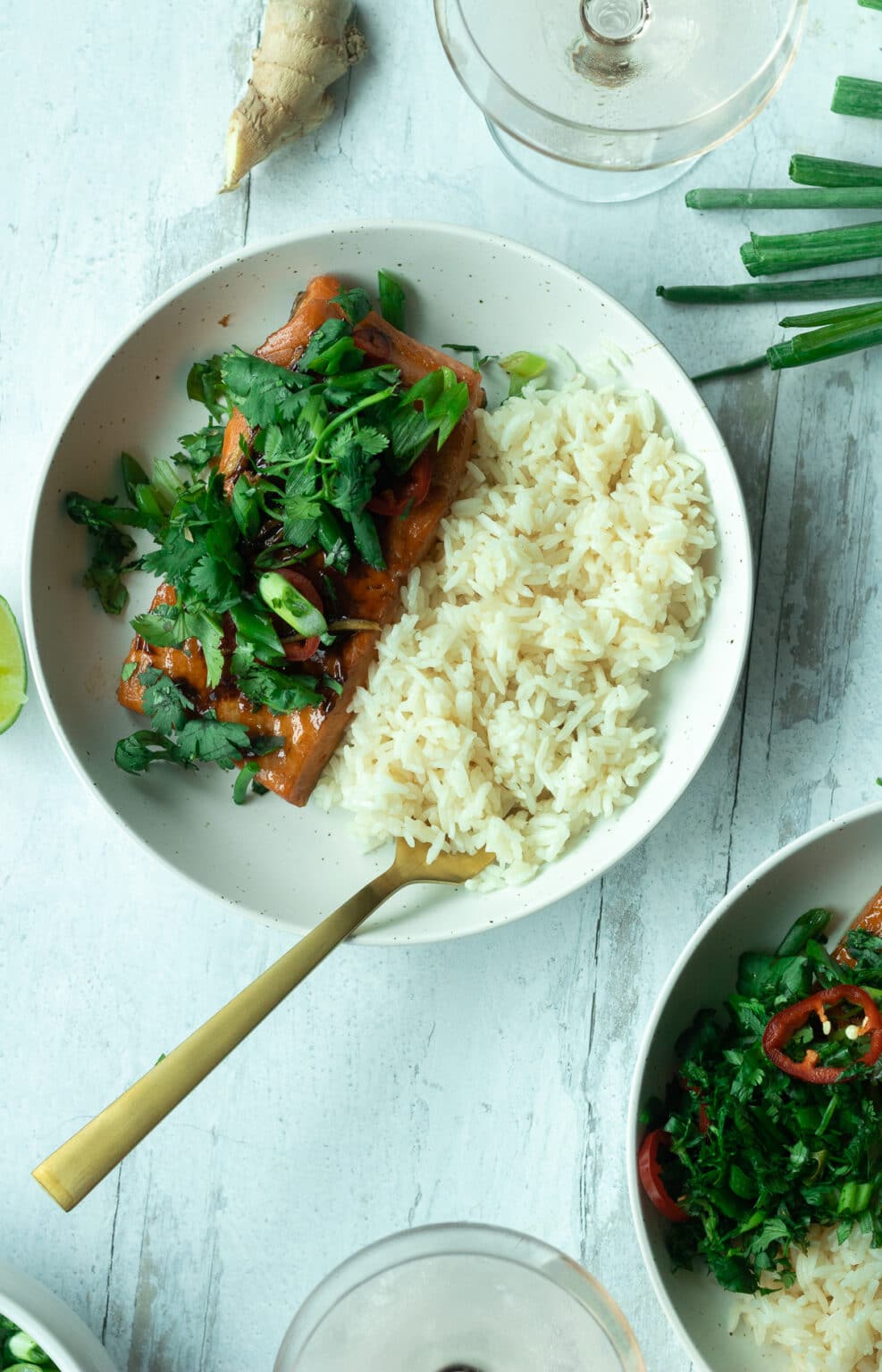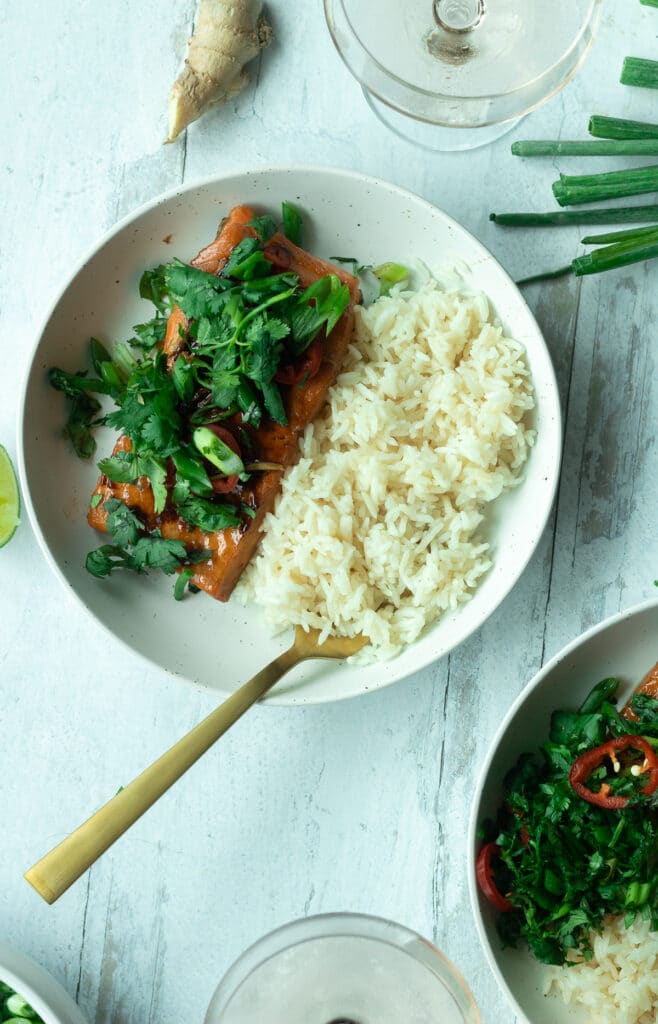 Caramel Salmon??
I was inspired by Vietnamese Caramel fish with this one. Sugar, soy sauce, fish sauce and other flavorings are simmered together to create a sweet-sticky sauce for fish filets to cook in. Some recipes call for catfish with this type of recipe, but you all know how much I love salmon so that's what we're going with today. The buttery, meaty salmon holds up perfectly simmered and roasted in this sauce.
You can play with the flavorings a bit too to make this more or less spicy, adjust the amount of ginger or maybe add in a little garlic if you're feeling it! I created this recipe to be pretty flexible so play around with it!
Traditionally, this dish isn't always served with a topping but I love the freshness a little herb-chili mix adds to each bite. SO much flavor.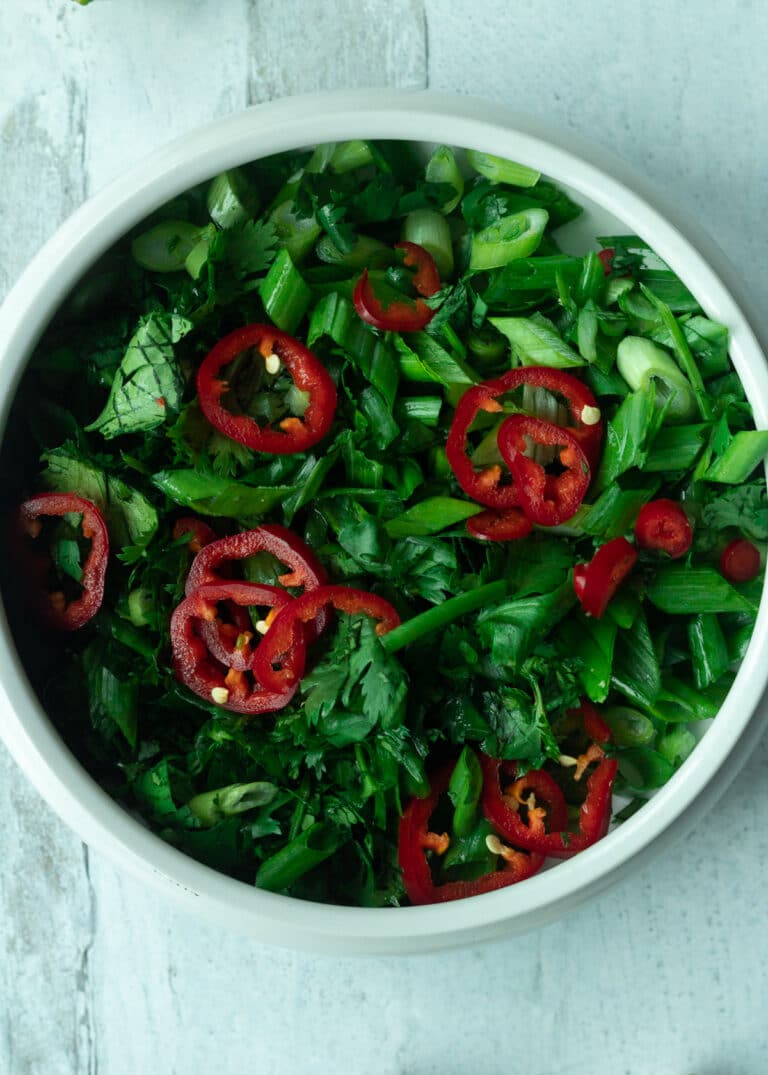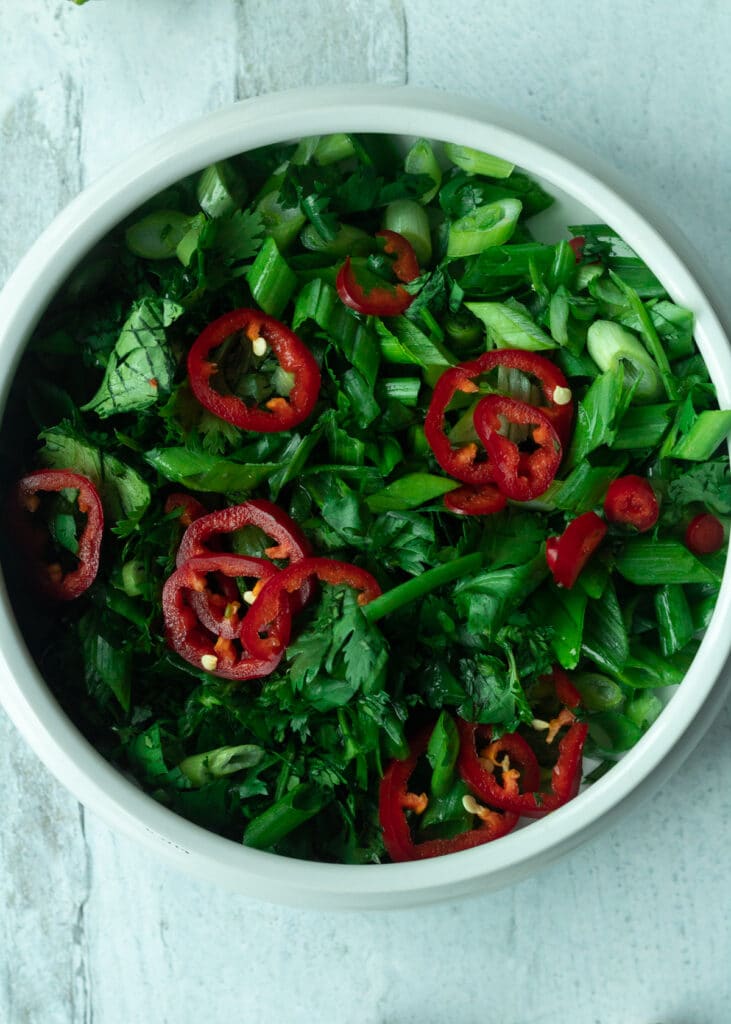 What you'll need
Salmon: I use skin-on filets to help keep the fish together as it cooks. Try to find filets 6-8oz in size, but a little smaller will work too.
Brown sugar: This melts into the sauce to help create the caramel-like texture and flavor. Dark and light both work.
Rosé wine: You can use any kind you like, but a sweeter rosé actually works really well as the extra sugar help to up the caramel factor.
Soy sauce: For saltiness and depth of flavor.
Fish sauce: For deep savoriness that balances perfectly with all the sweetness in this dish.
Cayenne pepper: Just a tiny bit to add some spice. Feel free to add more or totally leave this out if you want!
Ginger: I love this dish when it is ginger-heavy so I add a whole bunch of thinly sliced strips of fresh ginger. Cook it with the sauce so it caramelizes as well and you get an almost candied-ginger situation in your finished dish.
Herbs: I like cilantro and green onion, but basil and mint work really well too! You want about a cup of roughly chopped herbs for the topping.
Fresno chili: I like to use a red fresno pepper mainly for the pop of red color, but jalapeno is good too! You'll be eating this raw so feel free to remove the seed and stem to reduce the heat a bit. I like to keep these thinly sliced, but you can also chop it smaller to mix with your herbs.
Lime: You'll use both the zest and juice to add even more freshness to the herb and chili mix.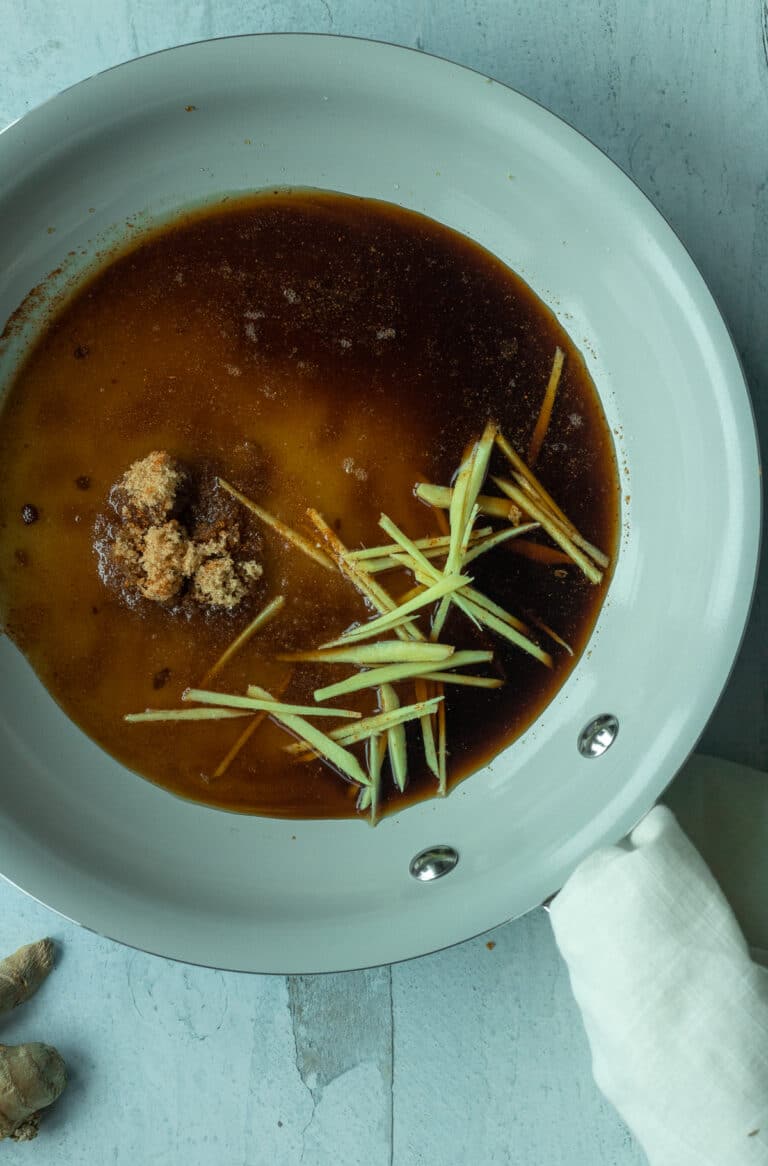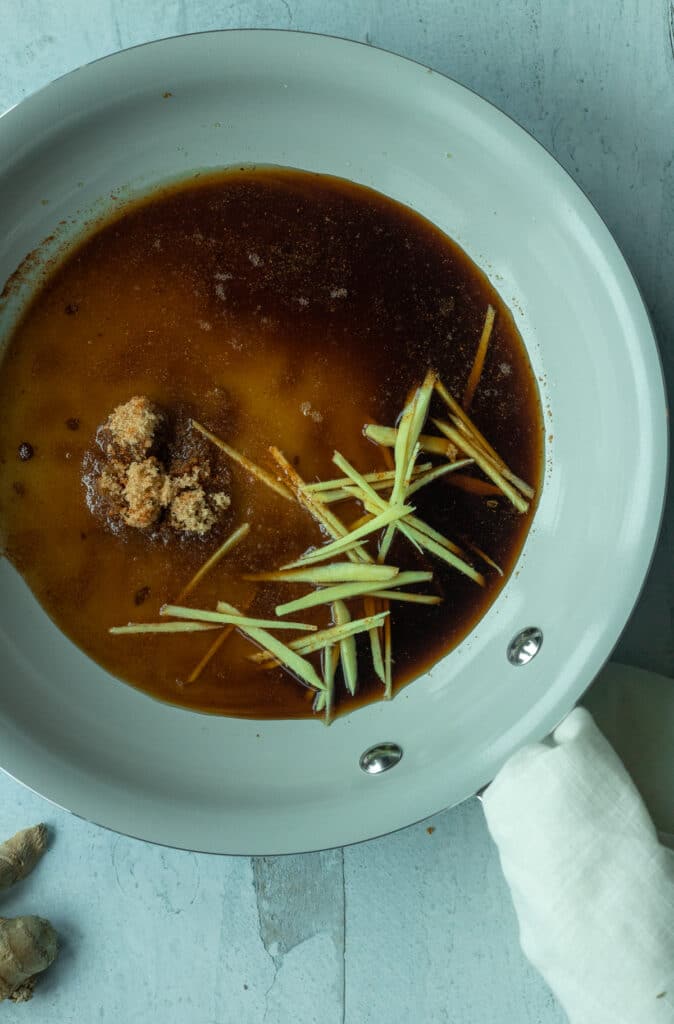 What to do
So simple yet so delicious, you're just a few steps away from rosé caramel salmon!
Make the rosé caramel
Throw your brown sugar, rosé, soy sauce, fish sauce, cayenne pepper and ginger into a large oven-safe skillet and bring to a boil.
Add your fish
Add the salmon skin-side UP and let cook, without moving, for 4-6 minutes or until the fish is halfway cooked. You'll be able to tell when the fish looks opaque halfway up from the bottom.
Broil/roast the salmon
Transfer the pan to the oven. This dish is absolutely beautiful when it's broiled, but if your broiler scares you (mine does sometimes!!), you can also roast this at 450. Just keep checking every few minutes until the salmon is done to your liking. I love medium-rare salmon (about 125 F), but you can cook yours longer for more well cooked.
Make the herb-chili topping
While the salmon is in the oven, combine your cilantro, green onions and thinly sliced chili. Add lime zest, lime juice and sprinkle of salt and toss to combine.
Serve and enjoy!
When the salmon is done, carefully transfer to your plates. Spoon over some additional sauce and top with a bunch of the herb-chili topping. If your sauce looks a little thin and you want to create more of a glaze, heat it over medium-high heat for a couple minutes until it's a thick glaze consistency.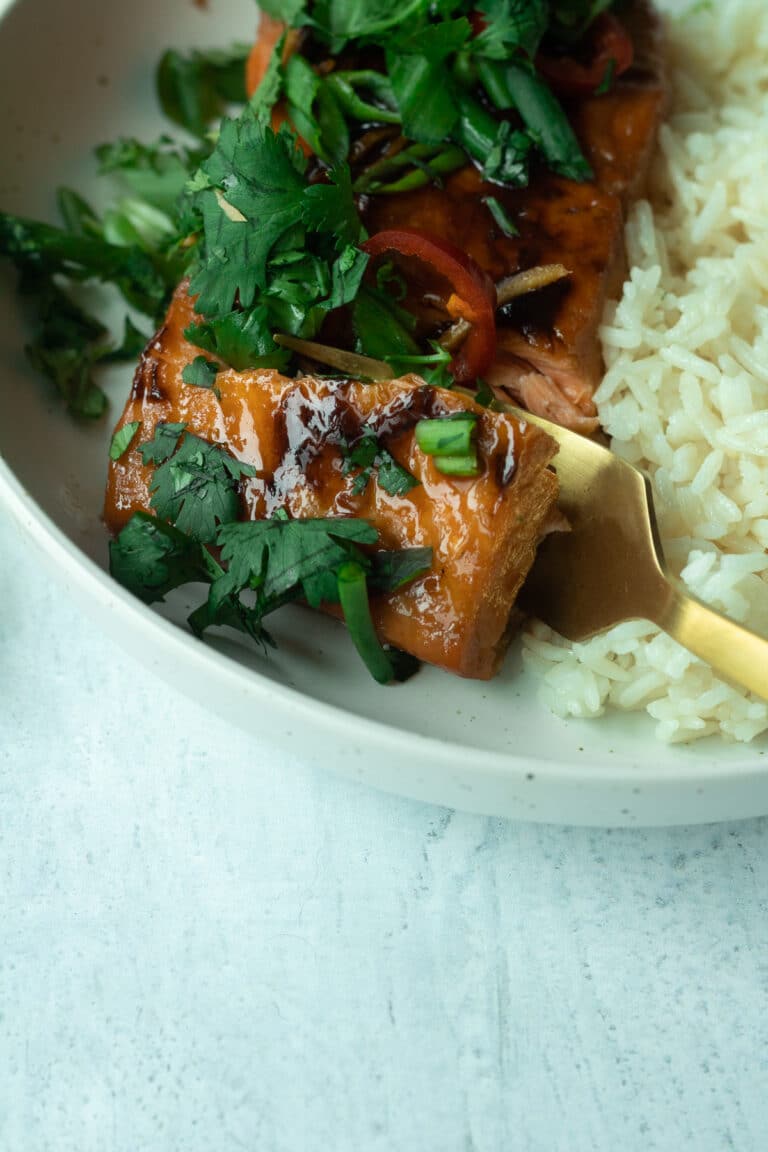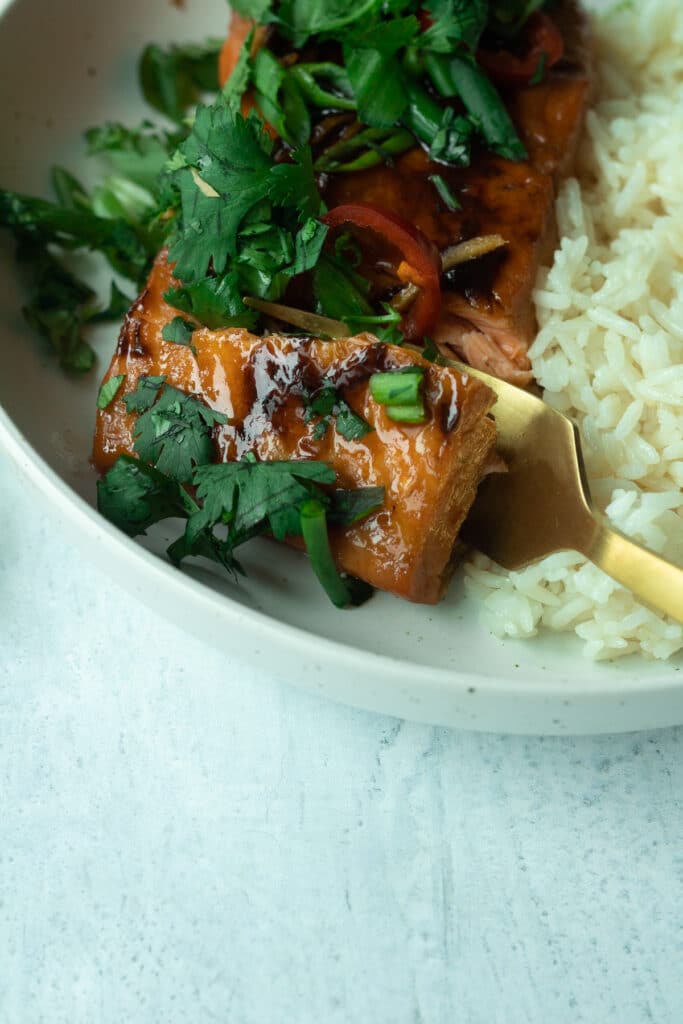 What to serve Rosé Caramel Salmon with
This salmon is so flavorful, all you really need some steamed rice on the side. Add some steamed or roasted broccoli and you're good to go!
If you're looking for a few additional ideas, check these out:
House salad. Always a good start to a meal.
Maple rosé glazed carrots with za'atar and mint. Great way to use up some of that extra rosé!
Brussels cauliflower rice. So simple and comes together super quickly, especially if you use pre-shredded brussels and pre-riced cauliflower!
Gochujang roasted sweet potatoes. An oldie but a goodie! You can easily roast these at 450 and just start them about 15-20 minutes before your salmon goes into the oven.