Looking for a new way to enjoy sweet potatoes? These gochujang roasted sweet potatoes are the perfect side dish. Sweet and a little spicy, these guys pack so much flavor in each bite!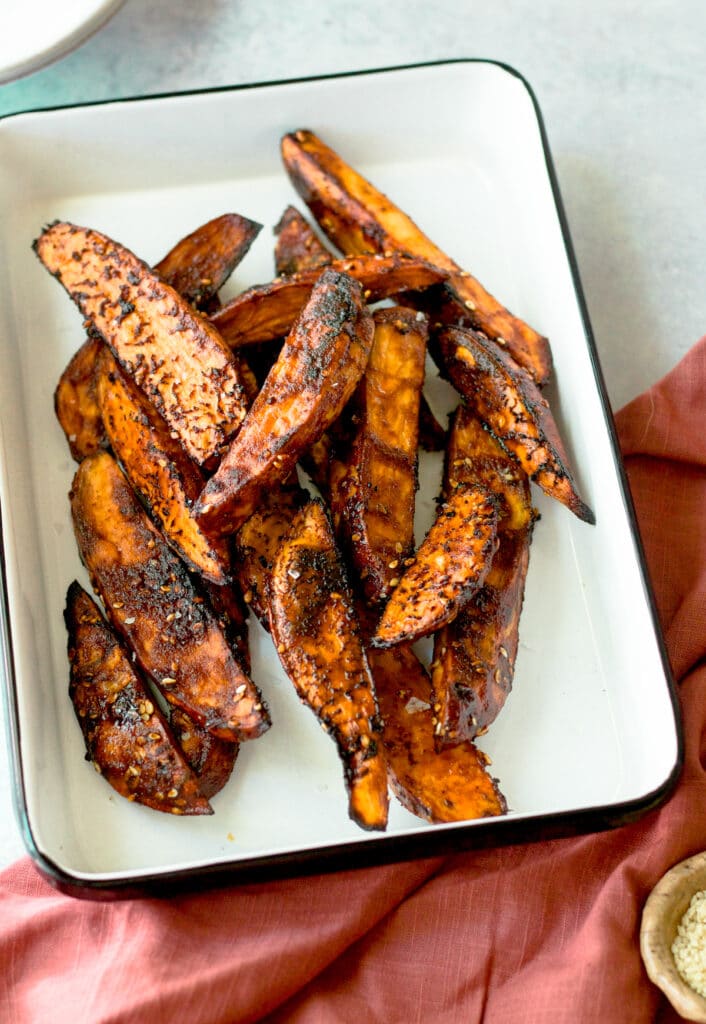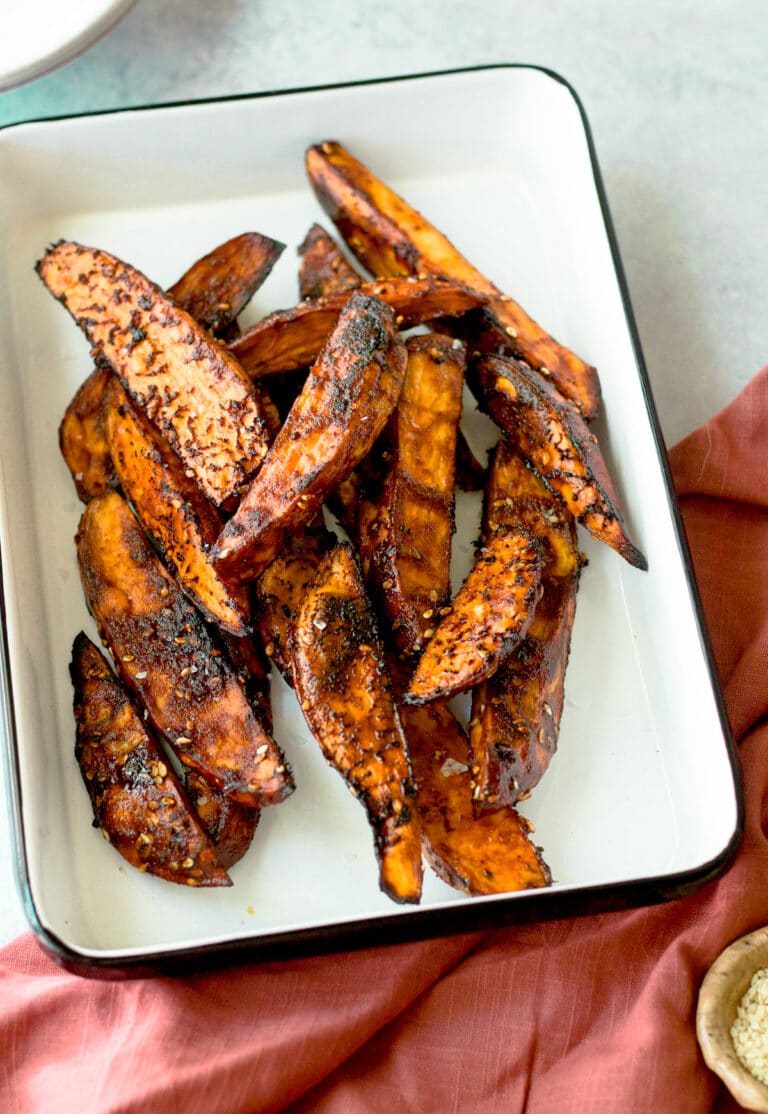 It will come as no surprise to anyone that's been here for a little while that when it comes to sweet potatoes, I like them spicy.
Actually, let me rephrase: I like them to be undeniably SAVORY. I'm not saying they need to blow your head off. I am saying I will run away if you try to put marshmallows on top of my sweet potatoes.
Please don't do that.
With that said, I love love sweet potatoes. Mostly roasted. Sometimes mashed. I make it work.
One of my favorite meals is roasted sweet potatoes dipped in ketchup. Yes, I said meal. I can take down a whole pan of the stuff if there's nothing else around. Generally, I just sprinkle them with my house seasoning and roast them until they're a little crispy. I don't even like ketchup that much but I am all about it with these. It's a non-recipe, but one I basically lived off of in my 20s.
I don't even know if that's good for you, but I do know life is too short to worry about eating too much of a VEGETABLE.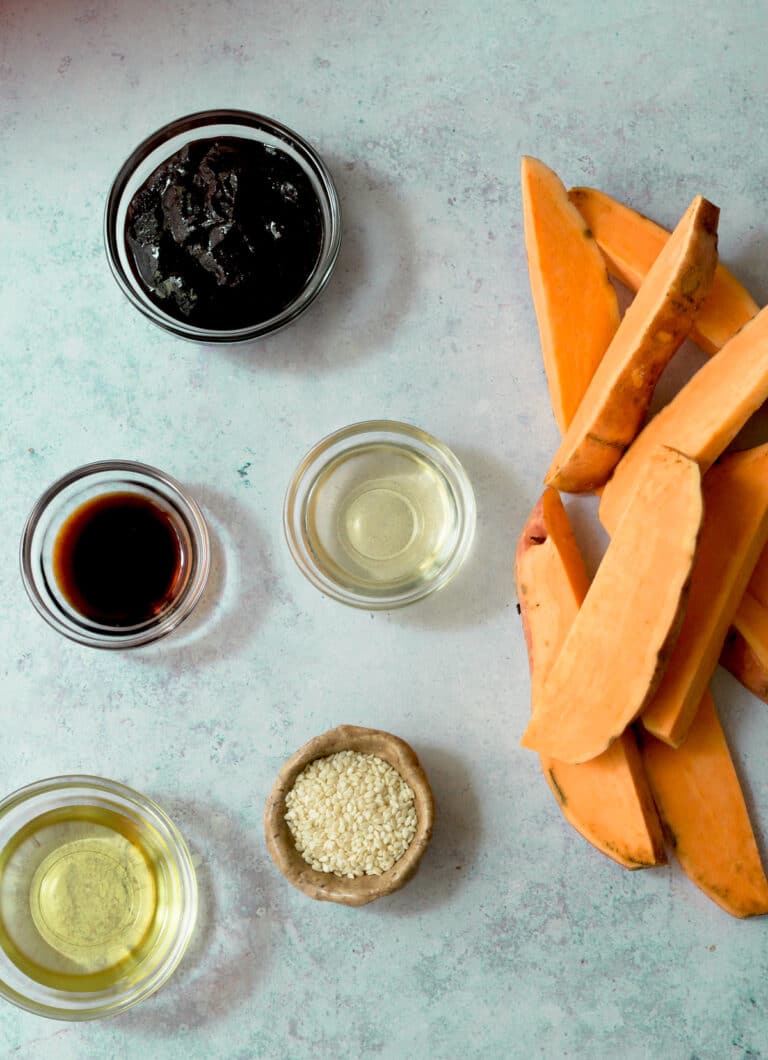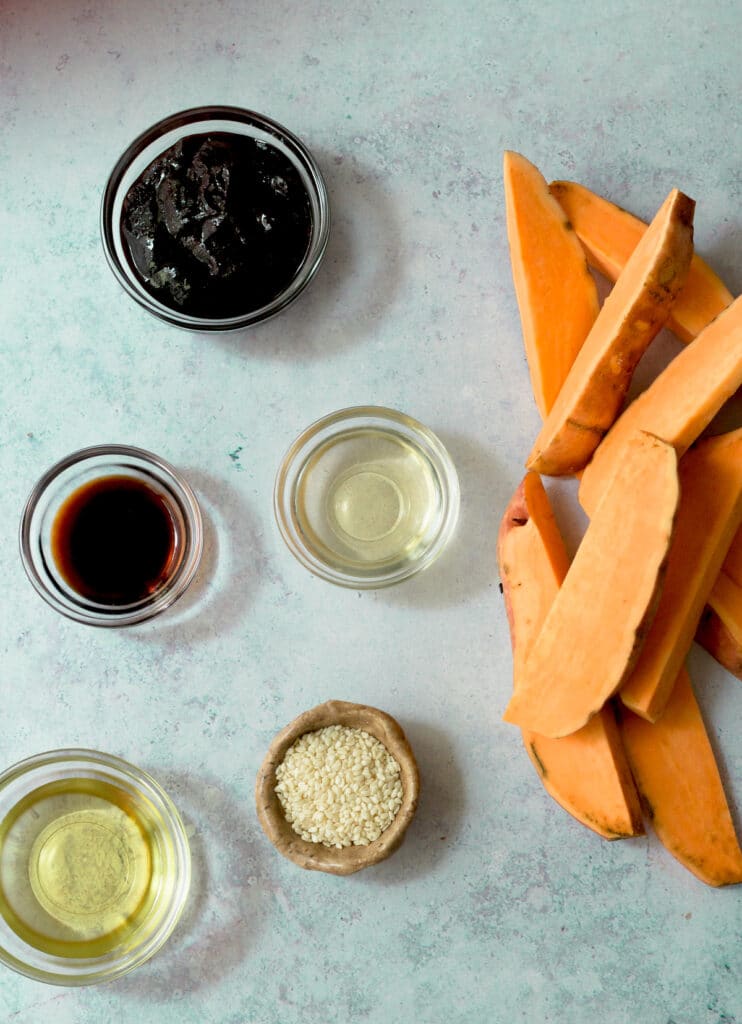 Gochujang aka a flavor bomb
If you're not familiar with gochujang, I would highly suggest you stop reading this and find some asap.
Gochujang is a fermented red chili paste used in a lot of Korean cooking. It's sweet, salty and a little spicy all at once. While I believe there are various ways to make gochujang, I often just buy it from my local Asian food store. You can likely find it in your local grocery store too though. It's super funky in the absolute best way!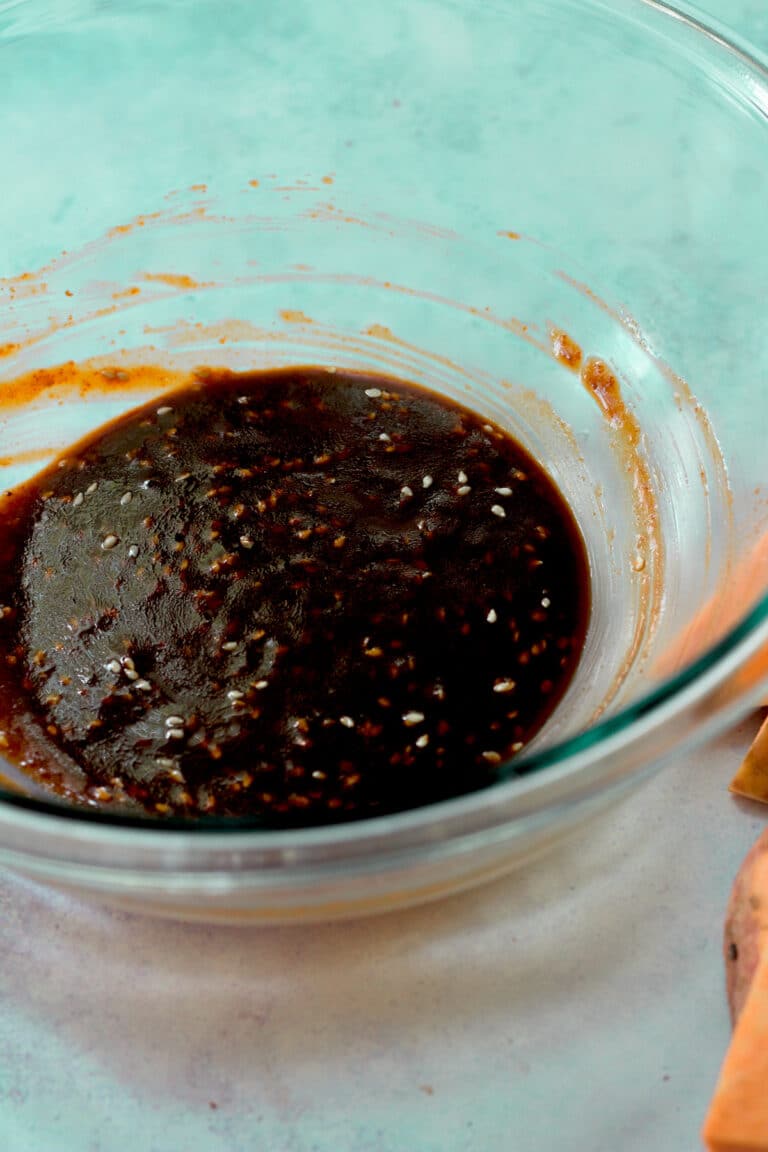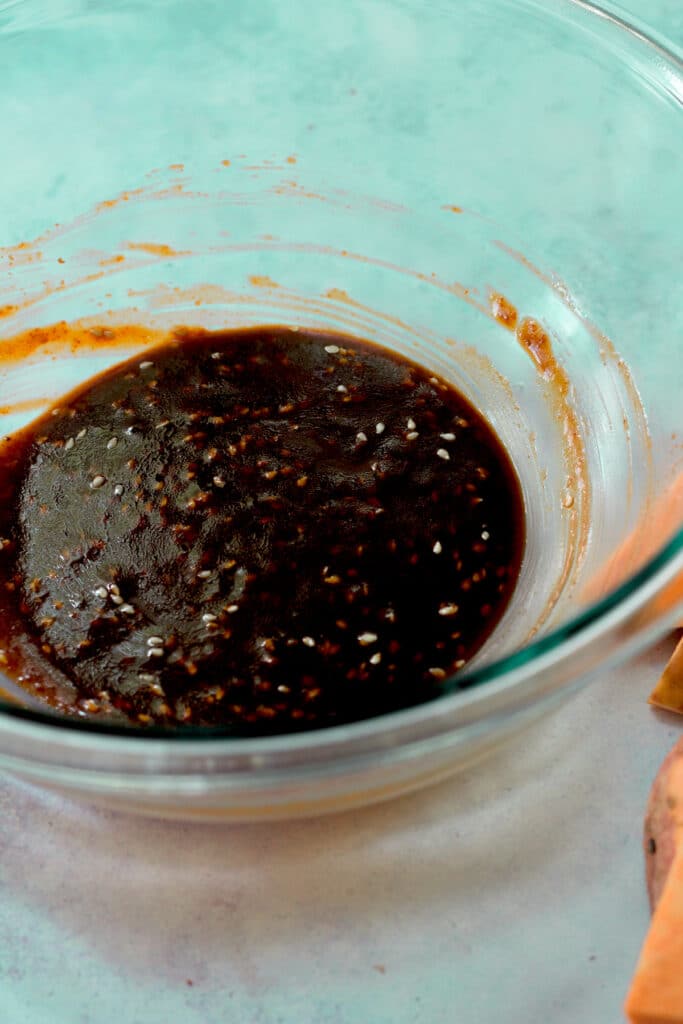 My favorite thing about gochujang is that, like miso (another flavor bomb paste), you rarely need to supplement with a bunch of other seasonings. However, it is a bit thick on it's own so I add a little soy sauce here to thin it out and make it easier to coat the sweet potatoes.
This - say it with me - flavor bomb of a paste goes well with SO much so don't worry about buying a container and then only using two tablespoons. It lasts forever in the fridge and you can use it to marinate chicken or skirt steak before cooking, stir it into soups or chili (hot tip!) or thin it out with a little water/stock and use it as a dipping sauce. The options are endless!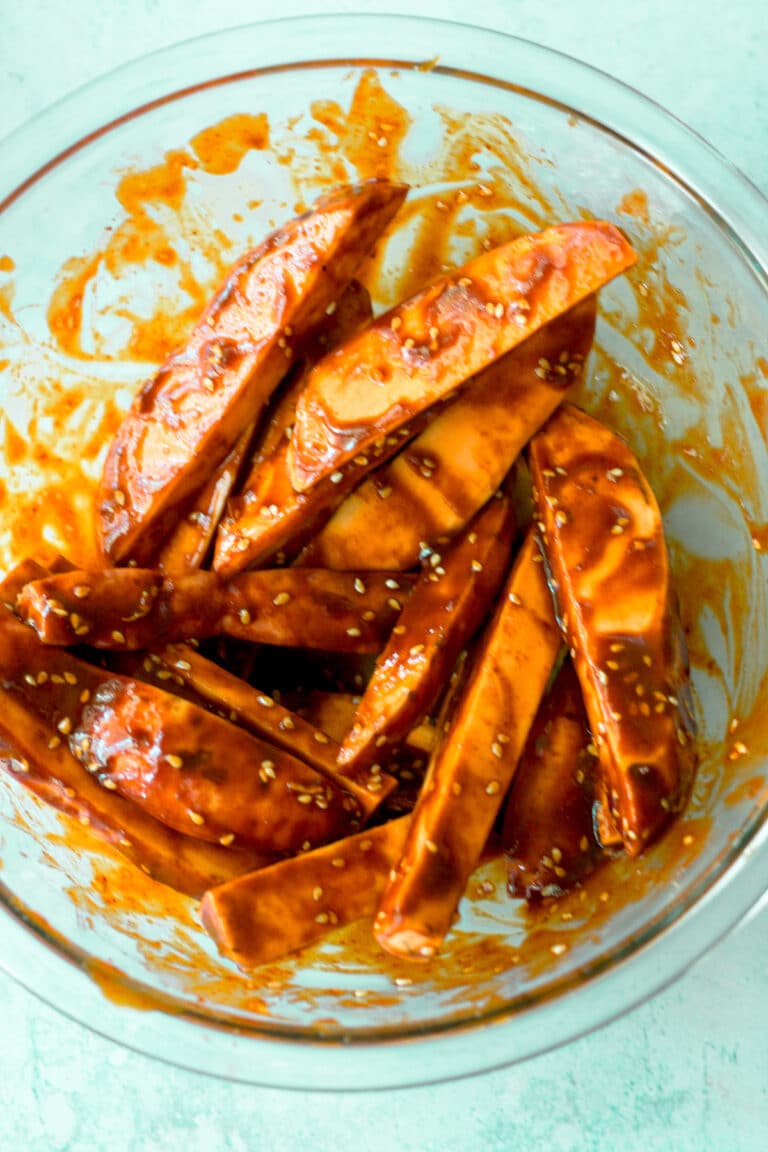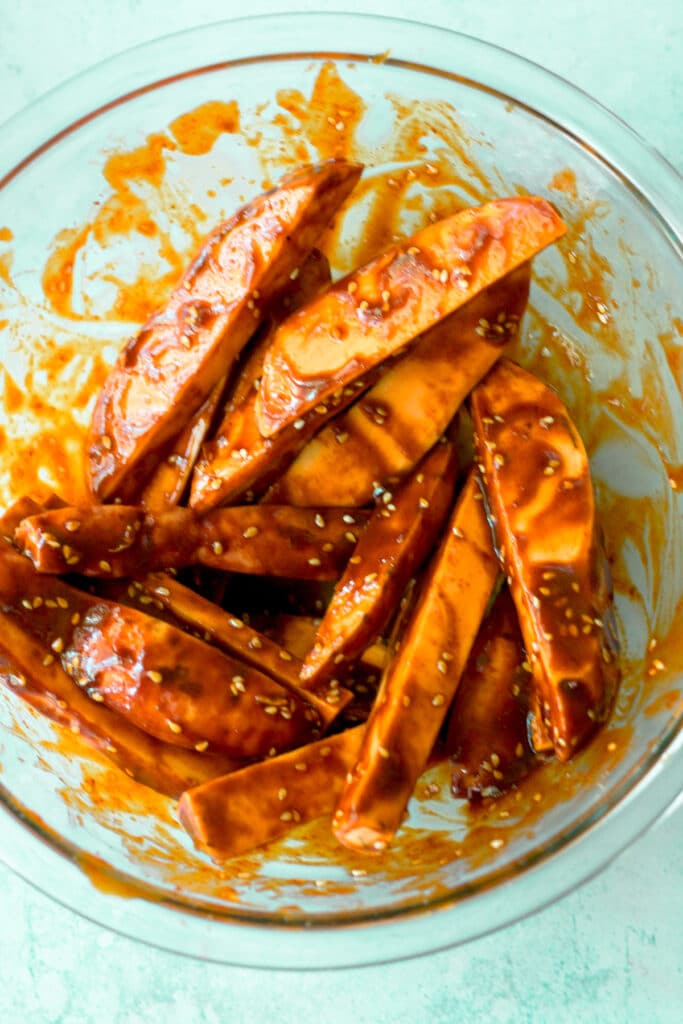 How to roast with gochujang
While I love using it in many forms of cooking, I think gochujang really shines when roasted because the sugar means you're pretty much guaranteed fantastic caramelization. I like to add a little honey or sugar to really amp up the caramelized goodness, which also balances all the flavors fantastically.
It's awesome on roast chicken, baked fish and vegetables like these potatoes, or cauliflower and butternut squash. Just give it some time in the oven and it'll do it's thing.
A little goes a long way with gochujang paste, so you don't need much to make an impact. And as I said above, it's a bit thick on it's own so I like to thin it out with a few other things to help coat the food. In this case, the soy sauce and oil do the trick. But even just some water or oil would be fine.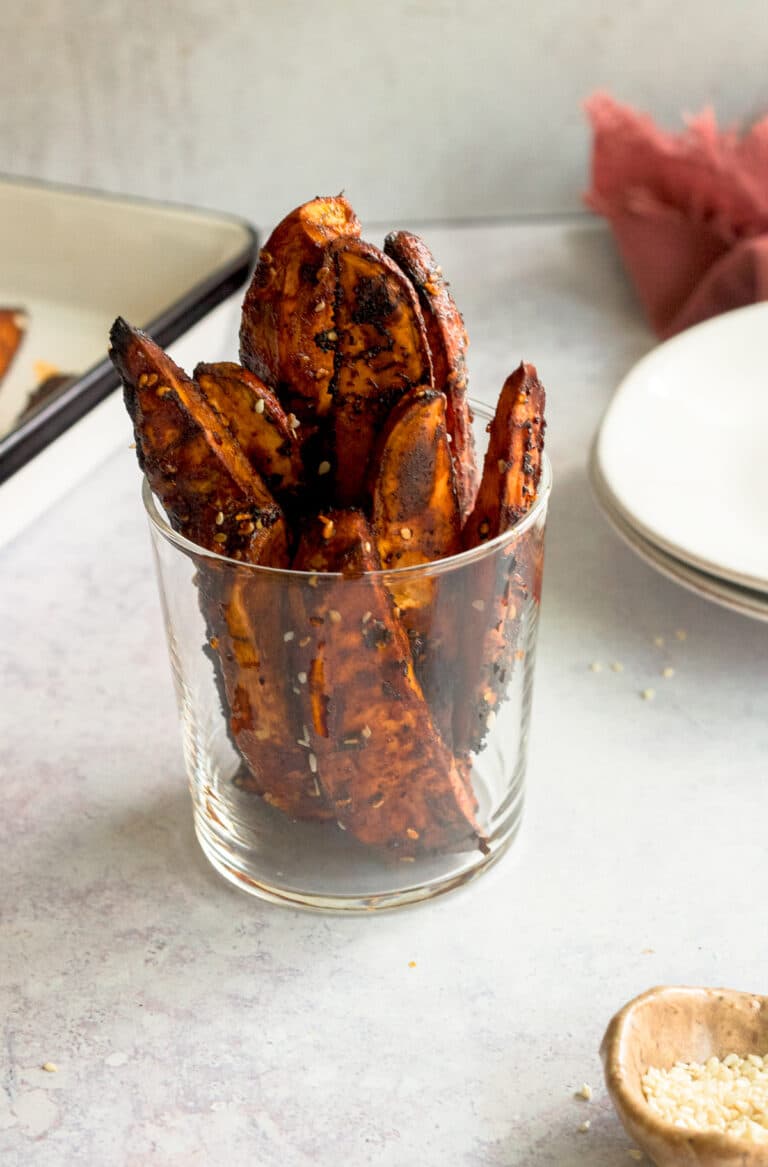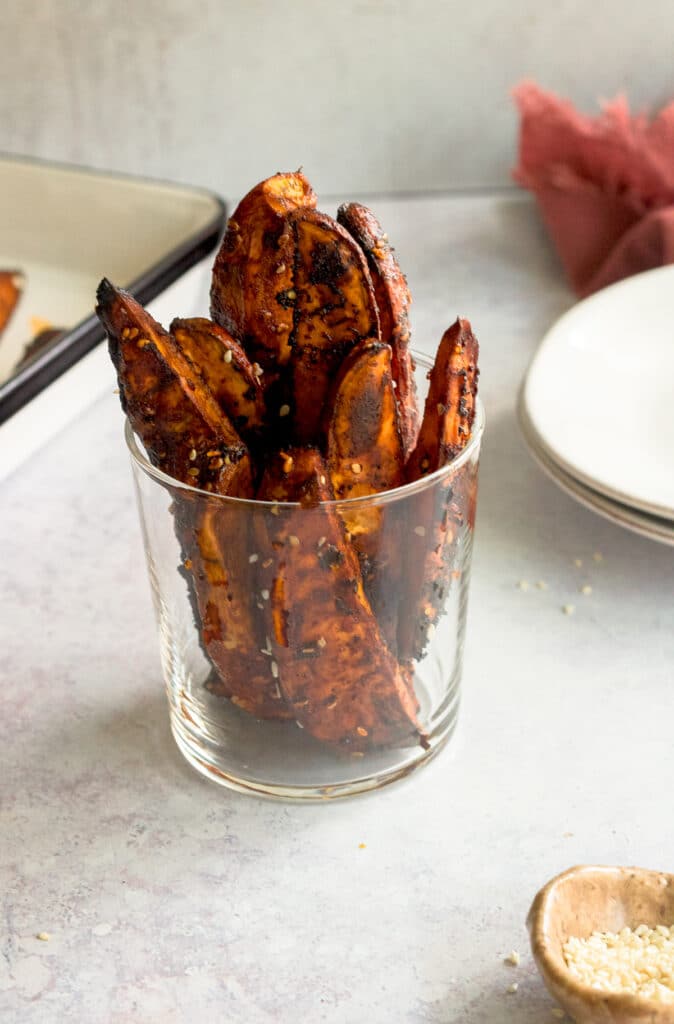 What to serve gochujang sweet potatoes with
While, yes, you could eat a whole plate of these and call it a meal, these roasted sweet potatoes are the best side dish. Try them next to one of my faves below!
Slow baked salmon. Salmon and roasted vegetables is a go-to meal for me.
Crispy roasted chicken thighs with hot honey. You can switch up the seasoning on the chicken if you want, but as-is all the flavors go surprisingly well together!
Caramelized shallot and roasted red pepper shakshuka. Just add some crusty bread to soak up that shakshuka sauce.
Slow roasted curried salmon and coconut braised greens. Another favorite. I love these spicy potatoes with the flavorful curry powder in this dish.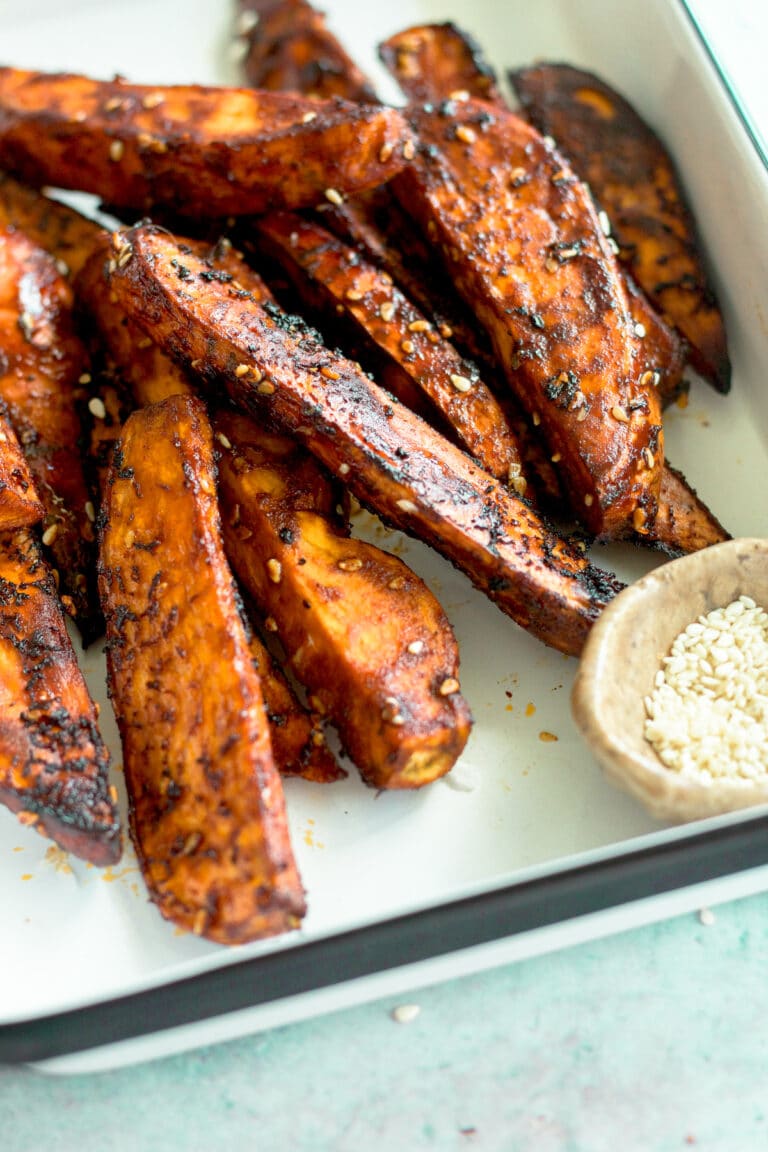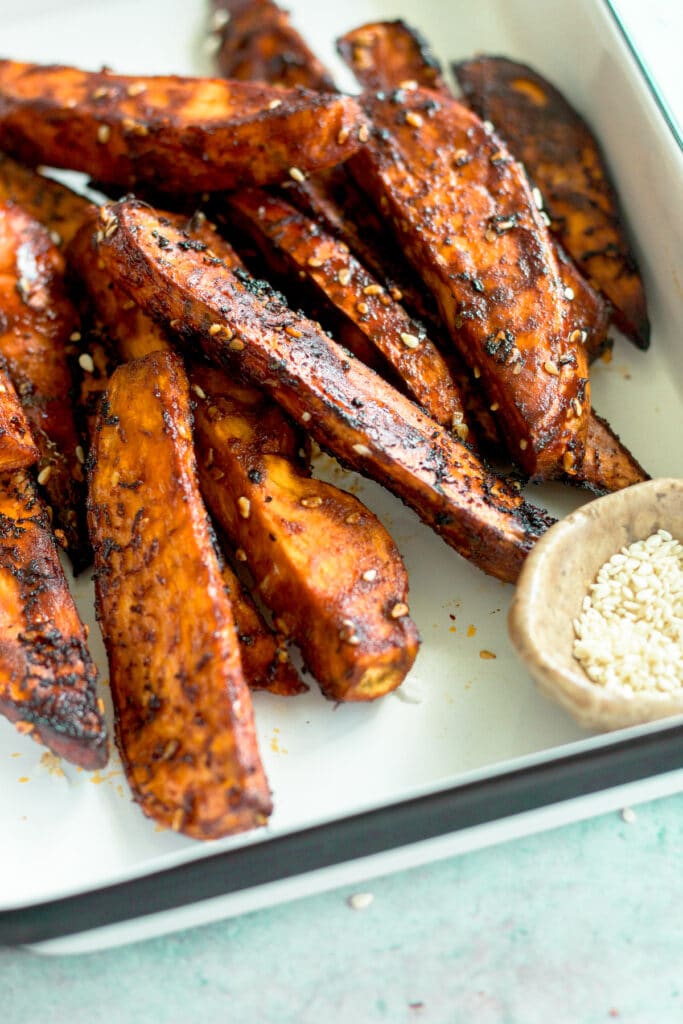 Need ideas for leftover ingredients?
Sweet Potatoes
Sesame seeds
Gochujang - clearly I need to share more recipes with gochujang!! In the meantime, use this flavorful paste in marinades for chicken or other roasted vegetables. Or throw a spoonful in soups and stews. You can also replace the harissa in this lentil soup recipe or shakshuka with gochujang!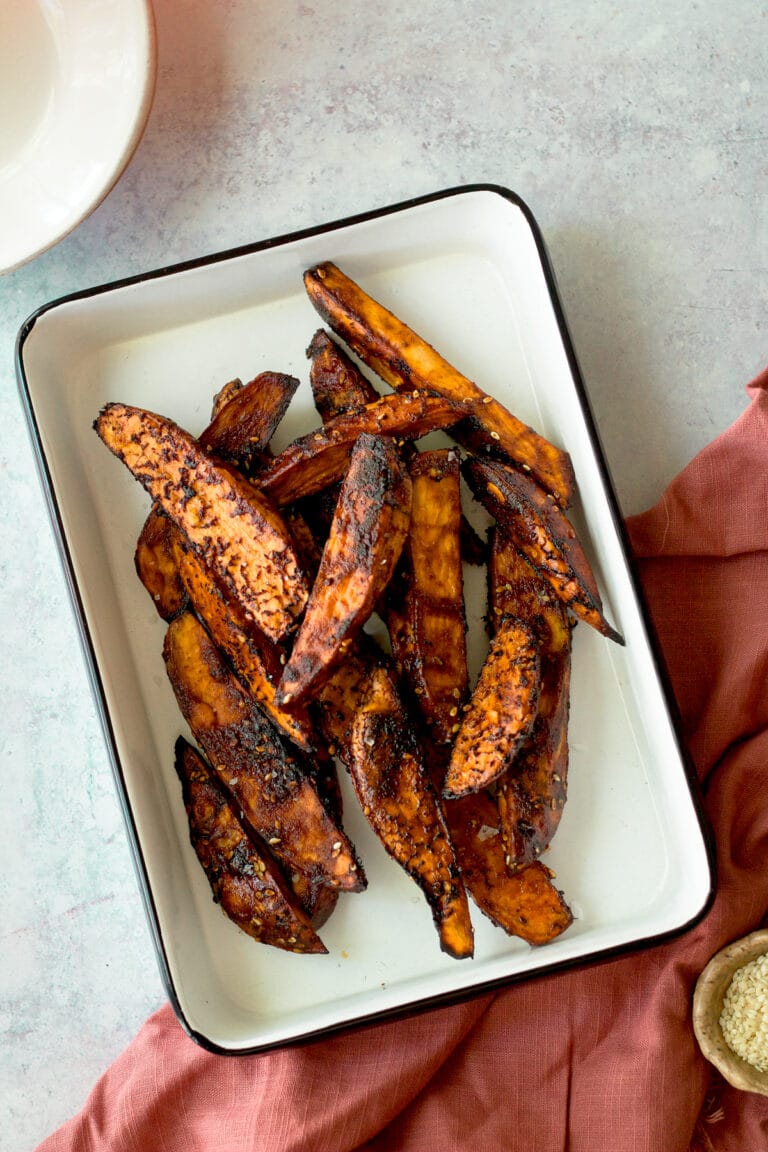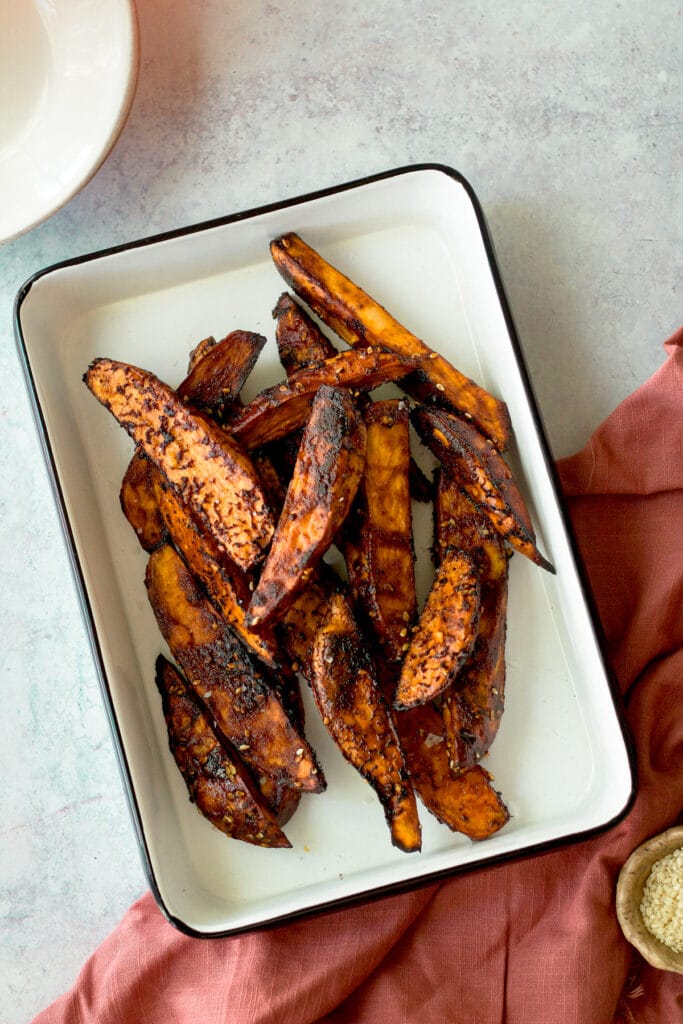 Print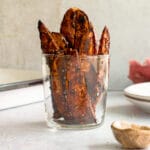 Gochujang roasted sweet potatoes
---
Description
Looking for a new way to enjoy sweet potatoes? These gochujang roasted sweet potatoes are the perfect side dish. Sweet and a little spicy, these guys pack so much flavor in each bite!
---
1

lb sweet potatoes, cut into wedges

2 tablespoons

neutral oil (I use avocado!)

1

-

2

tablespoons gochujang paste (see note below)

1 tablespoon

honey or sugar

2 teaspoons

soy sauce

2 teaspoons

sesame seeds + more for garnish
Flaky sea salt
---
Instructions
Preheat oven to 425.
In a large bowl mix together 2 tablespoons oil, 1-2 tablespoons gochujang, 1 tablespoon honey (or sugar), 2 teaspoons soy sauce, ½ teaspoon salt and 2 teaspoons sesame seeds. Add 1 lb sweet potatoes and toss to combine, making sure all the pieces get coated.
Arrange in a single layer on a lined baking sheet and roast for 25-30 minutes, tossing at least once, until potatoes are caramelized on the outside and tender on the inside. 
When potatoes are done to your liking, remove from oven and immediately sprinkle with flaky sea salt and more sesame seeds, if desired.
Serve hot!
Notes
Any kind of sweet potato will work here. I don't usually peel my sweet potatoes, but you can if you prefer to. I like to cut mine into wedges, but you can also cut them into rounds, cubes, etc. Just adjust the baking time as necessary depending on big the potatoes are cut.
Most gochujang pastes are fairly spicy so scale the amount you use up or down to suit your preference.
This recipe is super easy to scale up for a crowd, although you might have to use a couple of baking sheets to ensure everything stays in one layer (to ensure maximum crispiness!)
Prep Time:

10 minutes

Cook Time:

30 minutes

Category:

Side Dish

Method:

Oven

Cuisine:

Asian
Keywords: gochujang, sweet potatoes, roasted sweet potatoes, gochujang potatoes