My everyday salad! Use this "recipe" for my house salad as a guide to building your own simple salad to eat with your favorite meals.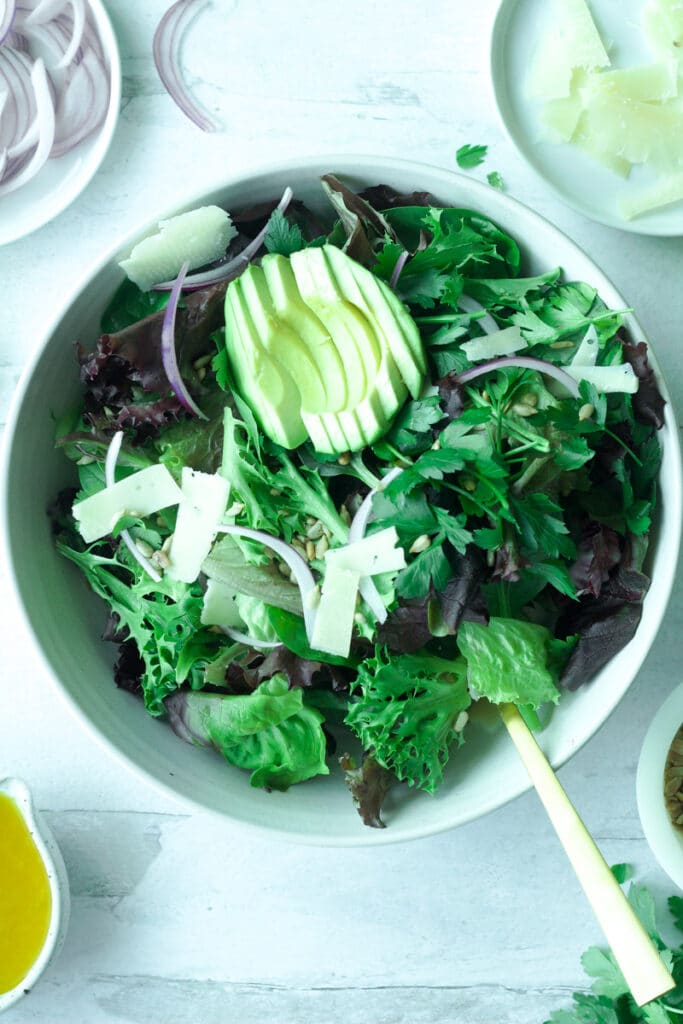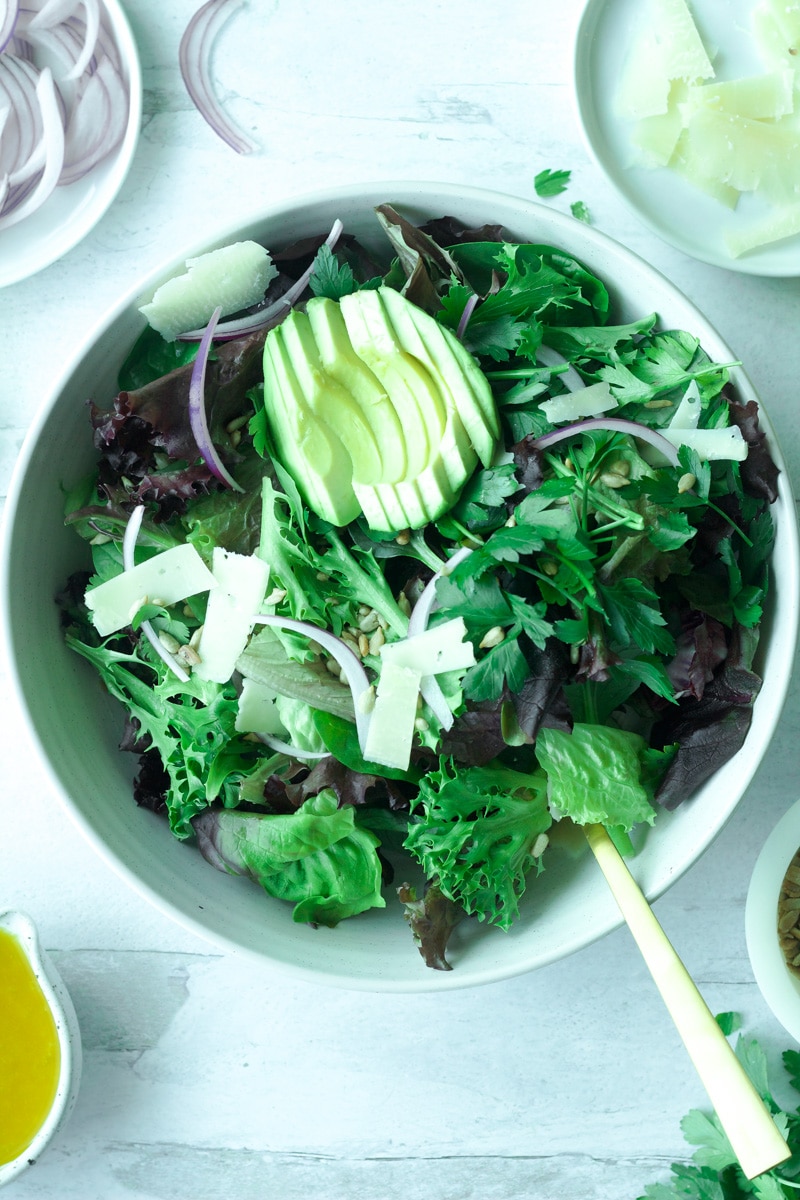 Print
House salad
---
Author:

Mansee

Total Time:

10 minutes

Yield:

4

1

x
Description
My everyday salad! Use this "recipe" for my house salad as a guide to building your own simple salad to eat with your favorite meals. 
---
6

-

8

cups salad greens (my favorites are arugula, baby spinach, field greens/spring mix and butter lettuce)

½ cup

sliced red onion 

⅓ cup

shaved/grated parmesan

¼ cup

sunflower seeds

1

avocado, sliced
---
Instructions
Add salad ingredients to a large bowl, or 4 individual bowls (or plates!). Drizzle with your favorite dressing and toss. Enjoy!
Notes
If you don't have some kind of salad dressing laying around, you can make one on the spot - no new dishes required! Just drizzle on 3 tablespoons olive oil, 1 tablespoon vinegar (like red wine or balsamic) or lemon juice and a sprinkle of salt and pepper!
Prep Time:

5 minutes

Cook Time:

5 minutes

Category:

Salad

Cuisine:

Global
Listen, I know you don't NEED a recipe for a simple salad. But has that ever stopped me before?! It's a great back pocket "recipe" and as someone who is currently trying to figure out how to stop eating the dinner before dinner (you know, the cheese, crackers, slices of deli meat and stale brownie you eat while making actual dinner?), a simple bowl of salad seems like a good bet.
Similar to my house seasoning, this is just about using what you have and what you love to make something you can turn to again and again. Daily, if you want!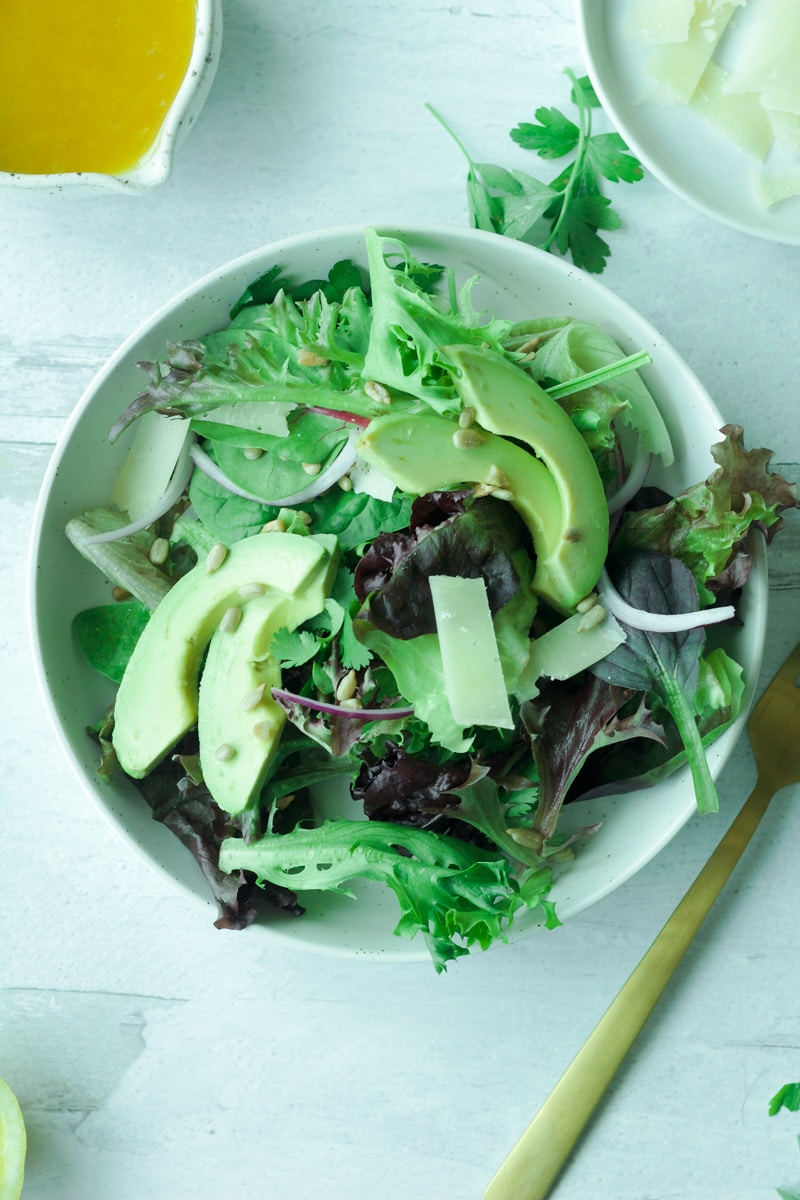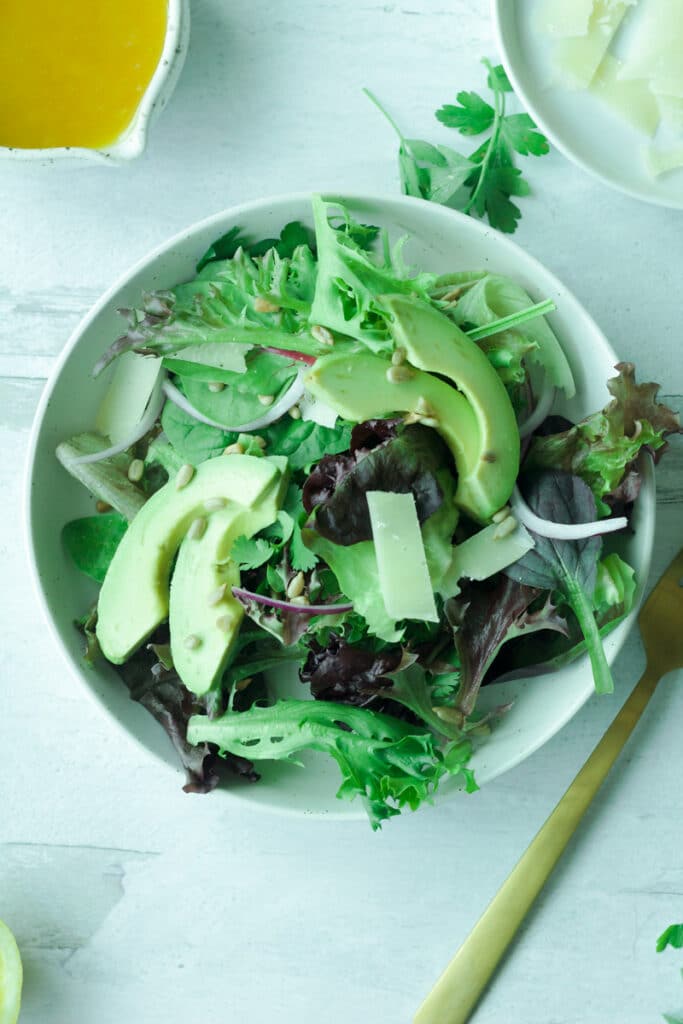 What is a House Salad?
It's the salad you could eat before basically any meal - that's it!
I actually didn't grow up eating a salad before dinner, or even side salads. Many Indian meals will include a Kachumber Salad which is a simple mix of raw red onion, tomato and cucumber. Sometimes it's all mixed together and other times the ingredients are just laid out on a platter so everyone can take what they want.
All of that said, my family didn't even always do that! What can I say, we're the type of people who just immediately go for the good stuff.
But, here's the thing: I actually LOVE salads. You all know how much I adore big meal salads, but even a small, simple salad brings me joy. And when it comes to weeknight meals, sometimes a simple salad is what you need to round things out.
So THAT'S what we're talking about today. A way to build a great salad to go with your favorite quick and easy meals.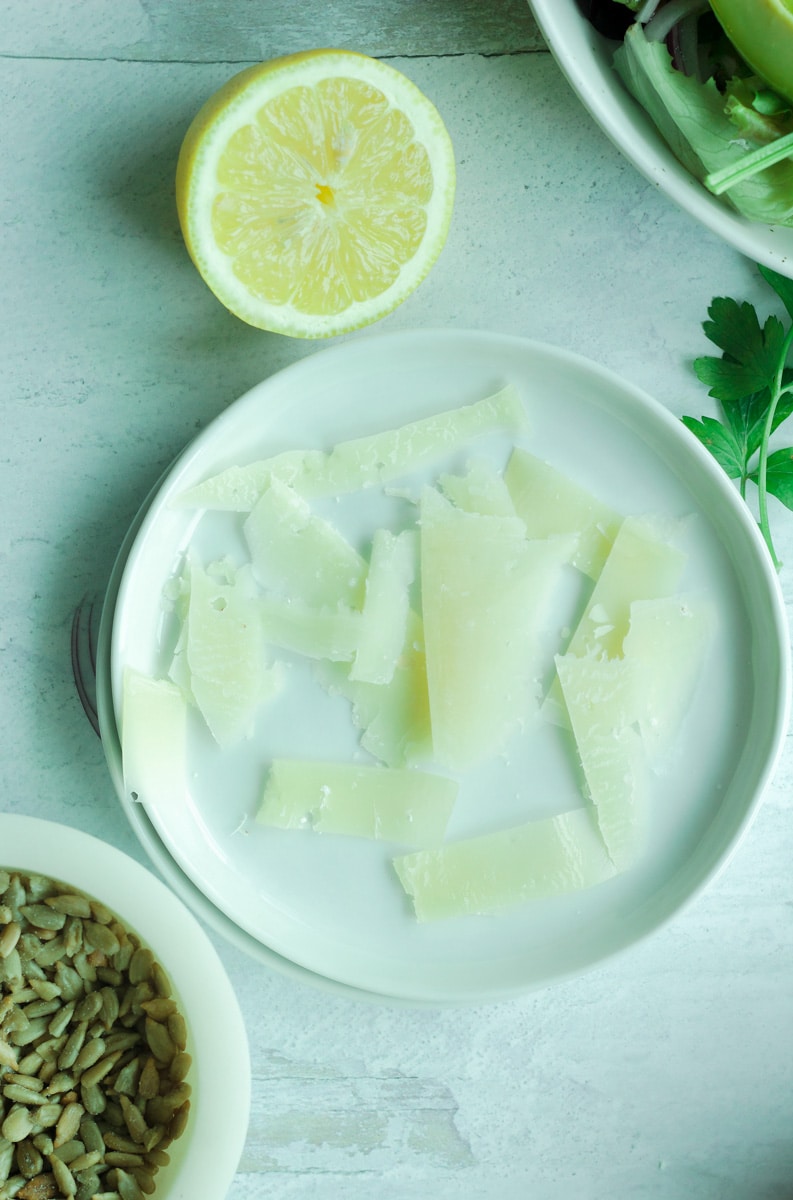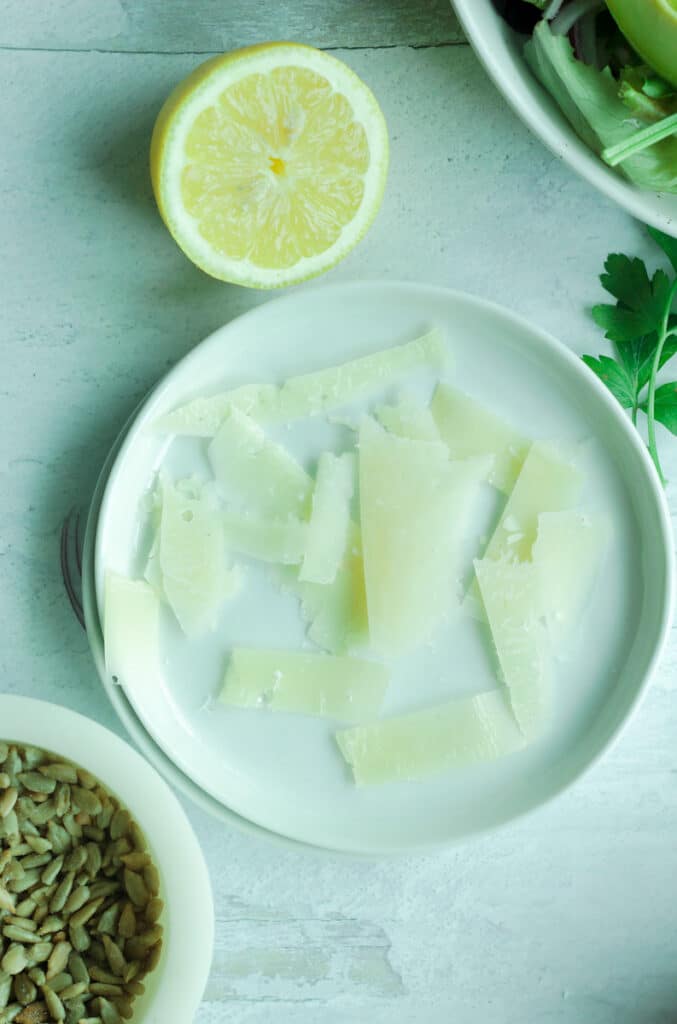 What goes into this salad
Because this is meant to be a simple salad you can easily throw together, you don't need much! It's not meant to be super filling, but also we don't just want a plate of greens, right? Right.
Greens. Use your favorite! I recommend more delicate greens like arugula, baby spinach or some of those field green mixes you can find at the grocery store. Butter lettuce is a fave too, but I don't always have that on hand. I'd stay away from "heartier" greens like kale or even romaine.....but those will definitely work if that's what you prefer.
Red onion. I love raw red onion, so I always include a few thin slices in my salad. Shallot works too! If raw onions aren't your thing, leave them out! Because the onion also adds a nice fresh crunch, you could easily substitute with thinly sliced or chopped bell peppers or carrots.
Sunflower seeds: I love keeping a bag of salted, roasted sunflower seeds on hand to throw in a salad like this. Feel free to substitute pumpkin seeds or basically any kind of nut! I'm allergic, but I feel confident saying slivered almonds, walnuts or pistachios would be GREAT.
Parmesan cheese: I mean, hi have we met? Of course I need a little cheese on my house salad. I love big pieces of shaved parmesan but you can grate it a little finer if you prefer. Goat cheese or feta would also be delicious here.
Avocado: To be honest, I don't always include avocado in my house salad. Only if I happen to have one around that I'm not planning on using for anything else. But it's a lucky day when I do include it, because it makes a simple salad SO delicious. The creaminess with the bite of onion and sunflower seeds is just perfect. It's also a blank slate for basically any kind of salad dressing. Speaking of...
Your favorite dressing: I, of course, use my lemon garlic vinaigrette most of the time because I like to make a big batch to use throughout the week. But use your favorite dressing - homemade or store-bought! If you don't have anything on hand, you can also make a quick dressing by just adding some olive oil, vinegar of choice and salt and pepper right on top of the bowl. Easy!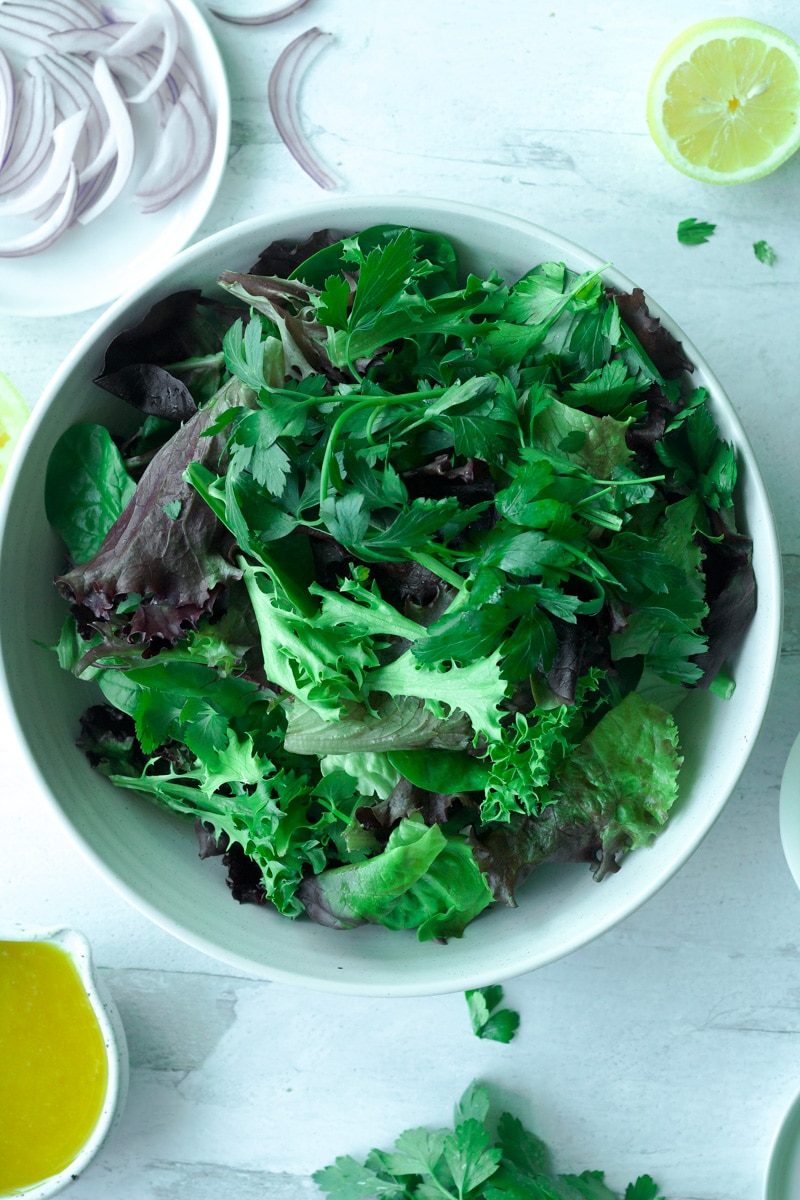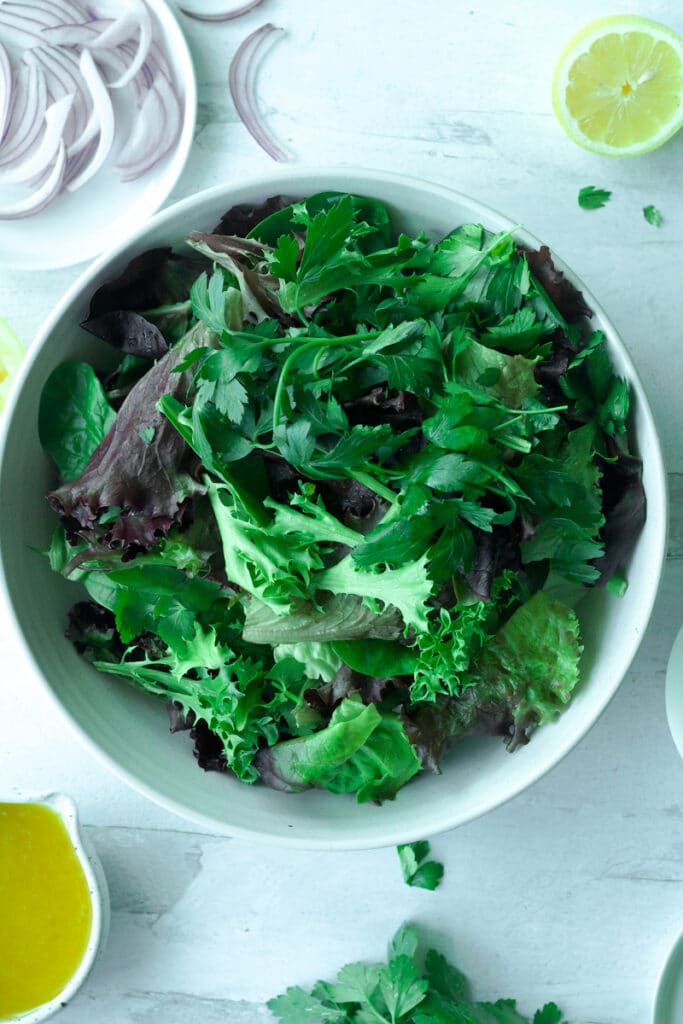 Great salad combos
The options are endless with a simple salad like this. Here are a few combos that I think are great - try a few out, mix and match and tweak until you find something that feels like YOUR house salad!
Baby spinach
Thinly sliced red onion
Strawberries
Goat cheese
Balsamic dressing
Arugula
Shaved parmesan
Halved cherry tomatoes
Olive oil + lemon juice + salt & pepper
Field greens
Chopped red bell pepper
Chopped cucumber
Crumbled feta
Diced avocado
However you build your salad, enjoy!!