Trying to figure out what to do with Thanksgiving leftovers? Turn them into an incredible Thanksgiving Strata! Not only does this dish help you use up leftover stuffing, mashed potatoes, vegetables AND leftover turkey, but it's super easy to throw together no matter what you have on hand.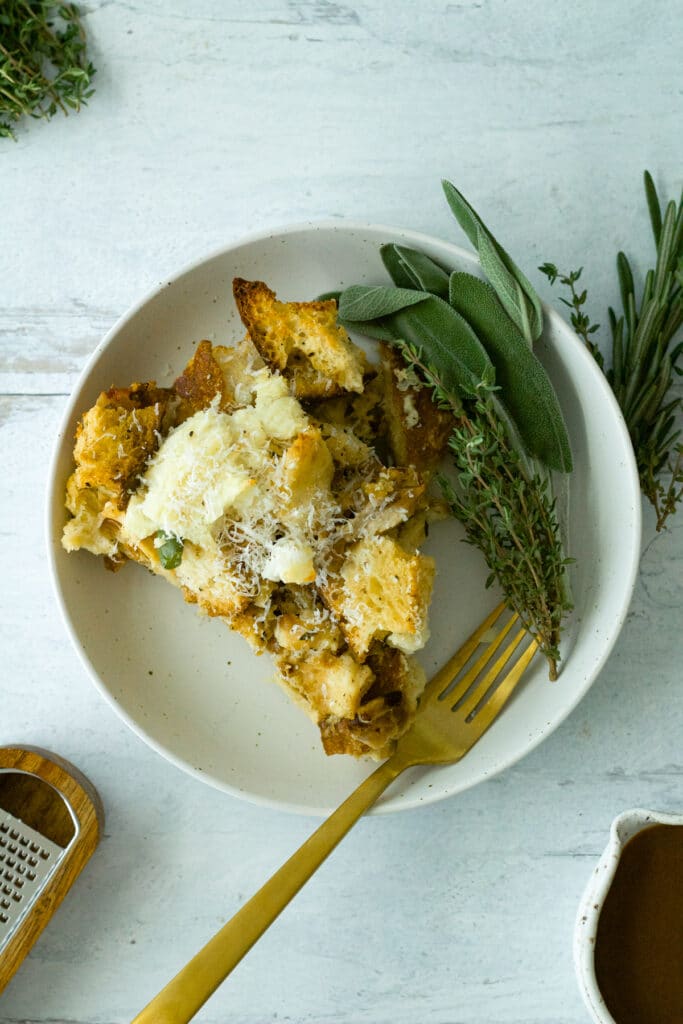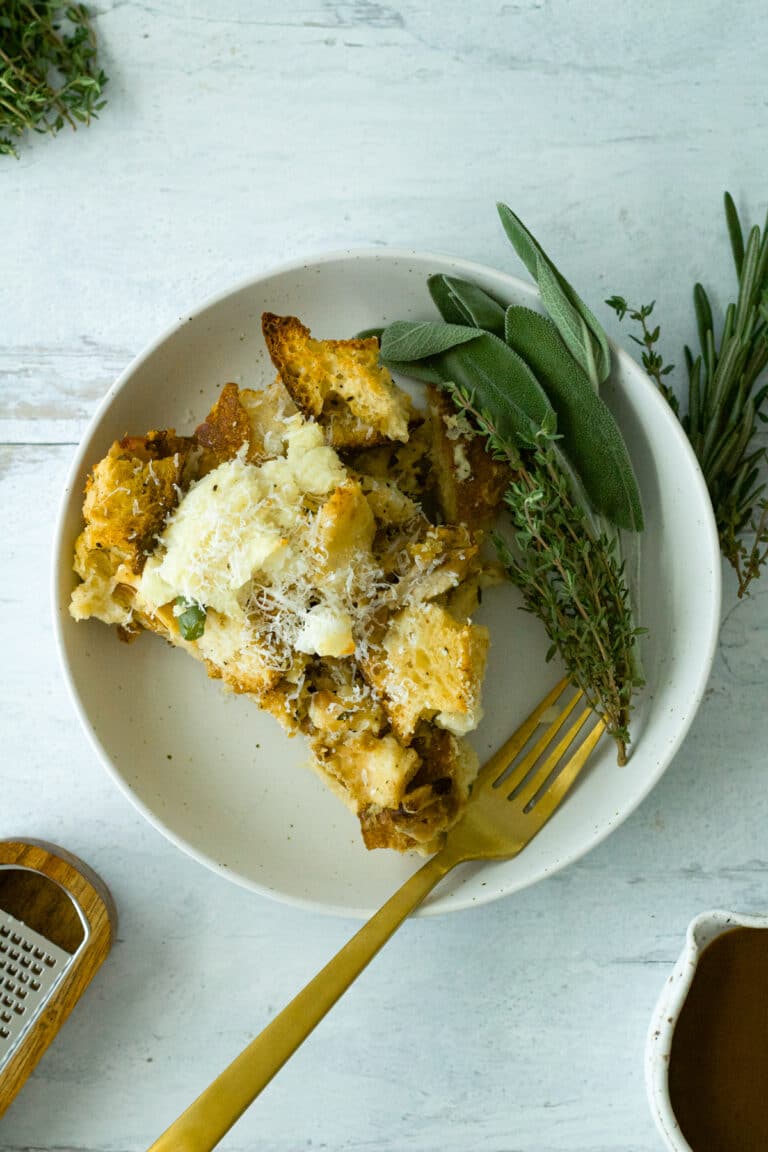 Ahhh it's Thanksgiving time! It's our cooking Super Bowl and I AM READY.
Well, kind of. I wanted to do something a little different this year.
Instead of sharing dishes to make on the big day, I'm sharing an idea for the NEXT day (and possibly a few days after that too).
That's right - we're talking about what to do with Thanksgiving LEFTOVERS this year!!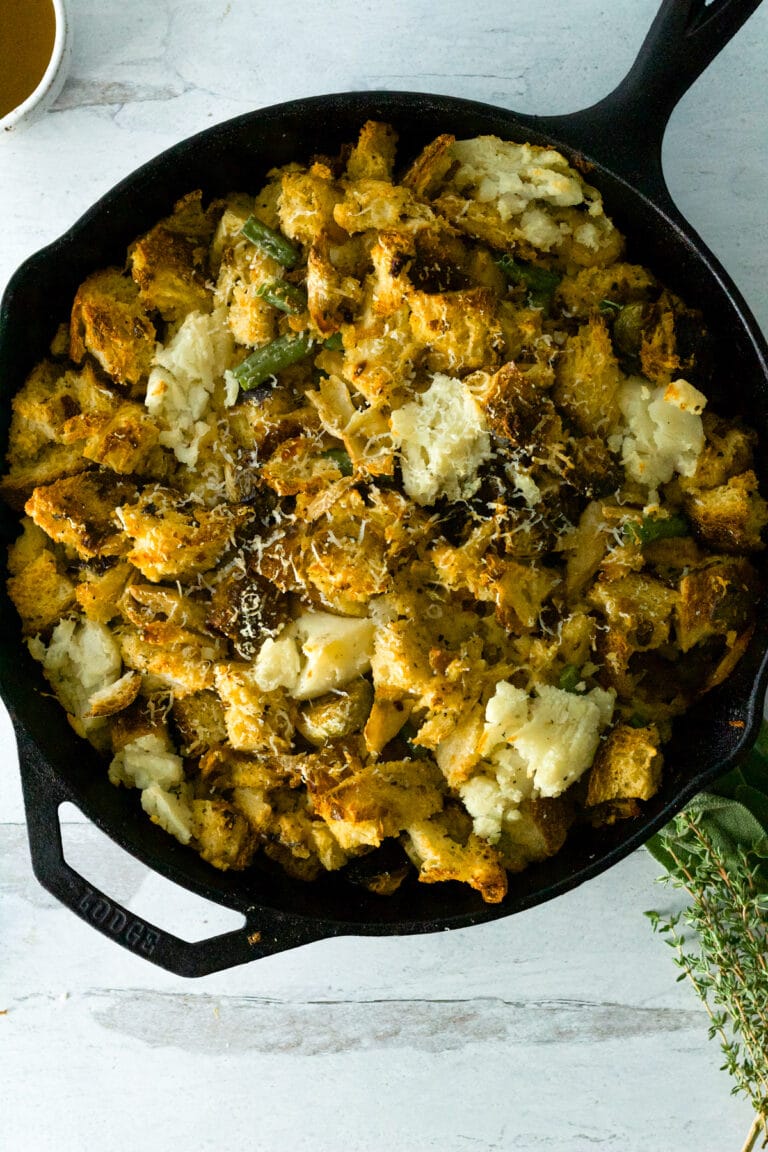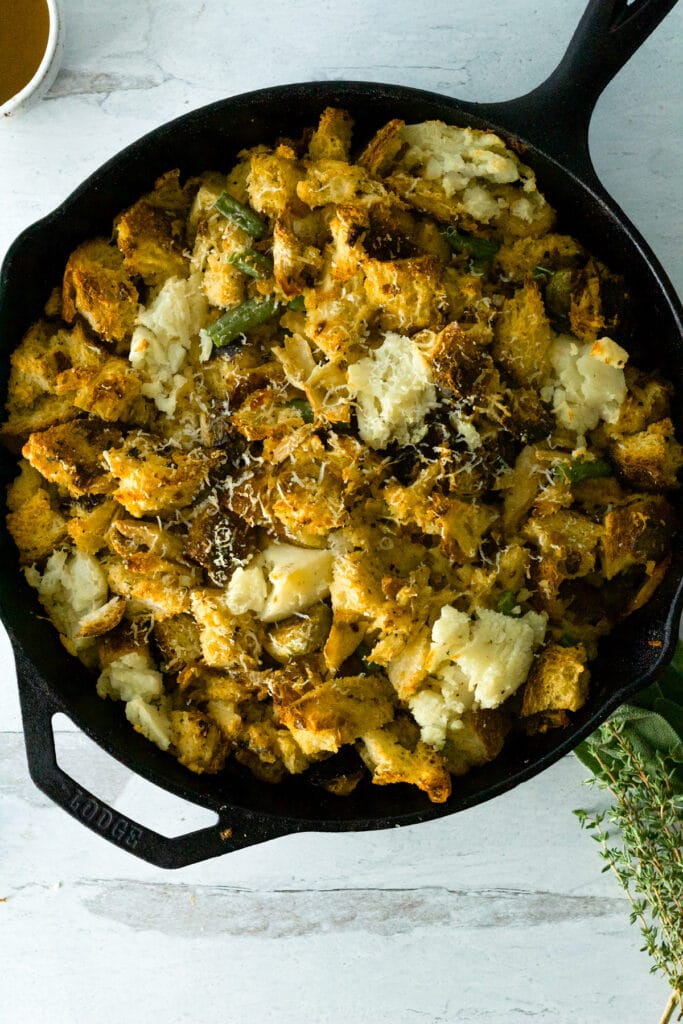 Why the focus on Thanksgiving leftovers?
Listen, Thanksgiving day is obviously important. But we all know that food sits in our fridge for daaaaays after too.
I'm the kind of person who is excited for a plate of leftovers as-is exactly once, and then I do not want to look at turkey and green beans ever again (the mashed potatoes are fine - always).
So we're sharing ways to use up and repurpose our leftovers in fun (!) ways that make you excited to eat this food...possibly four days later.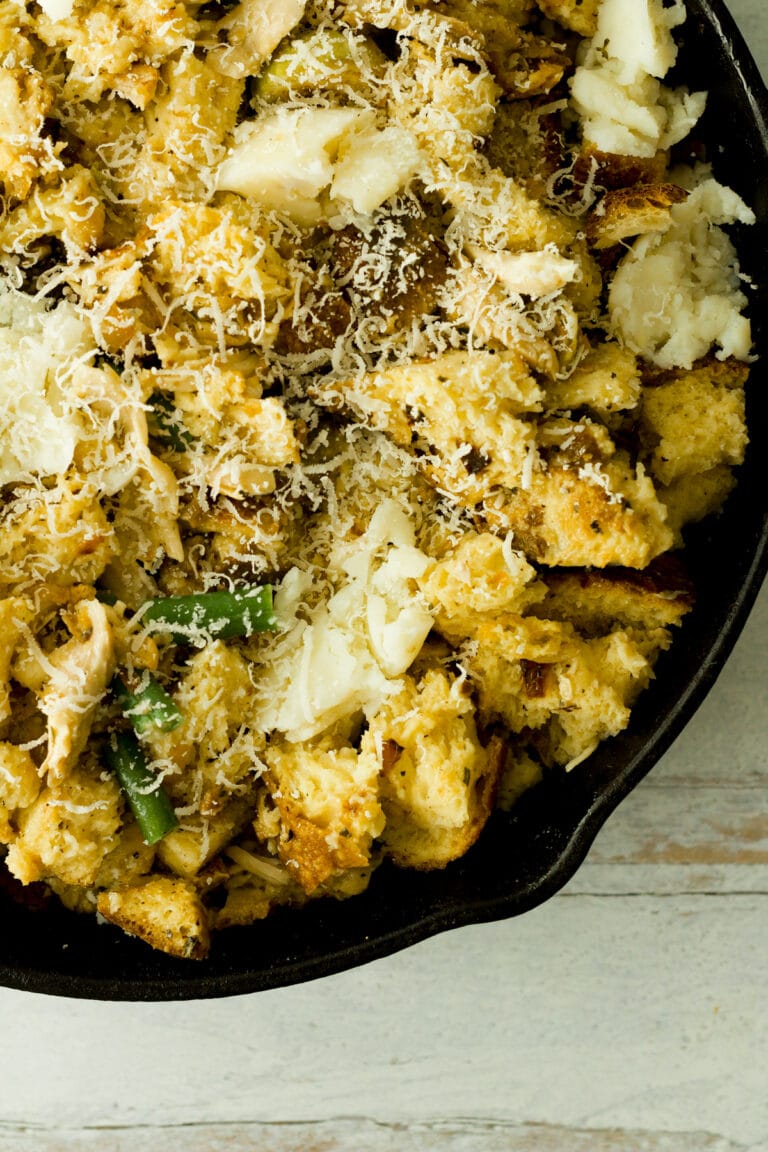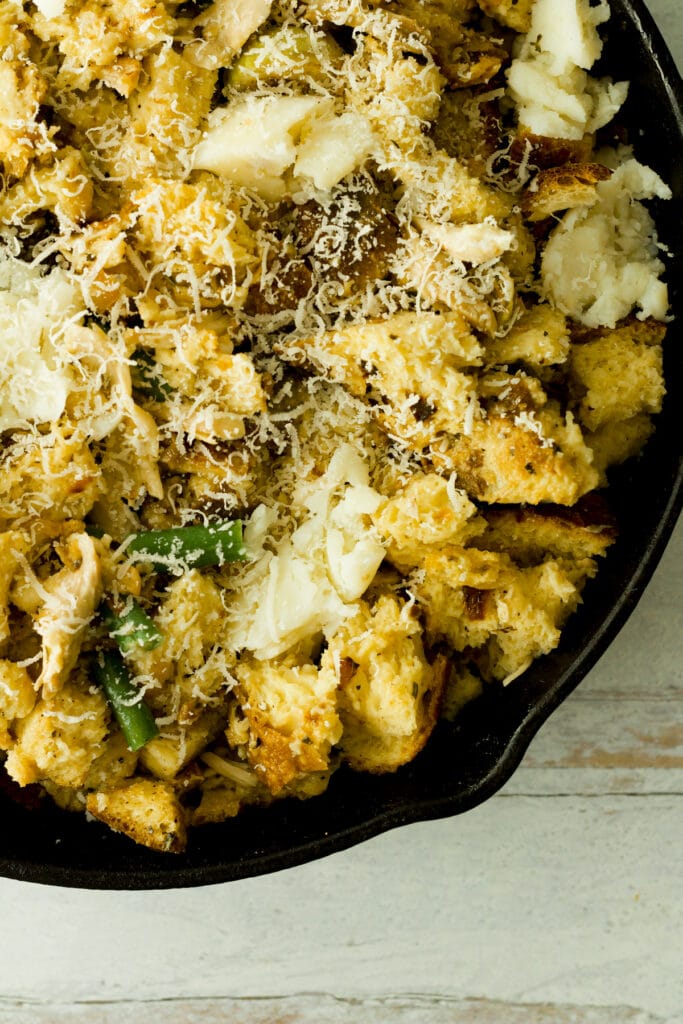 What is a strata?
Imagine a savory bread pudding. To me, that's basically a strata. Or a frittata just FILLED with bread cubes - yum!
The base of a strata is eggs, milk and bread. From there you can add in just about anything you want. This video is a great resource to learn how to make a basic strata and then play with it as you please!
The best thing about a Thanksgiving strata is that you can use up SO MANY leftovers! The base is bread - so there goes your stuffing. And then I like to throw in shredded turkey and any vegetables I have (generally Brussels sprouts and green beans).
AND THEN we top the whole thing with little dollops of (wait for it)...mashed potatoes! YES. I love doing it this way so you get little pockets of potato throughout. The tops get all crispy and brown in the oven too so it's kind of like a strata meets shepards pie.
(P.S. Looking for a way to use up some leftover cranberry sauce? Try cranberry sauce muffins!)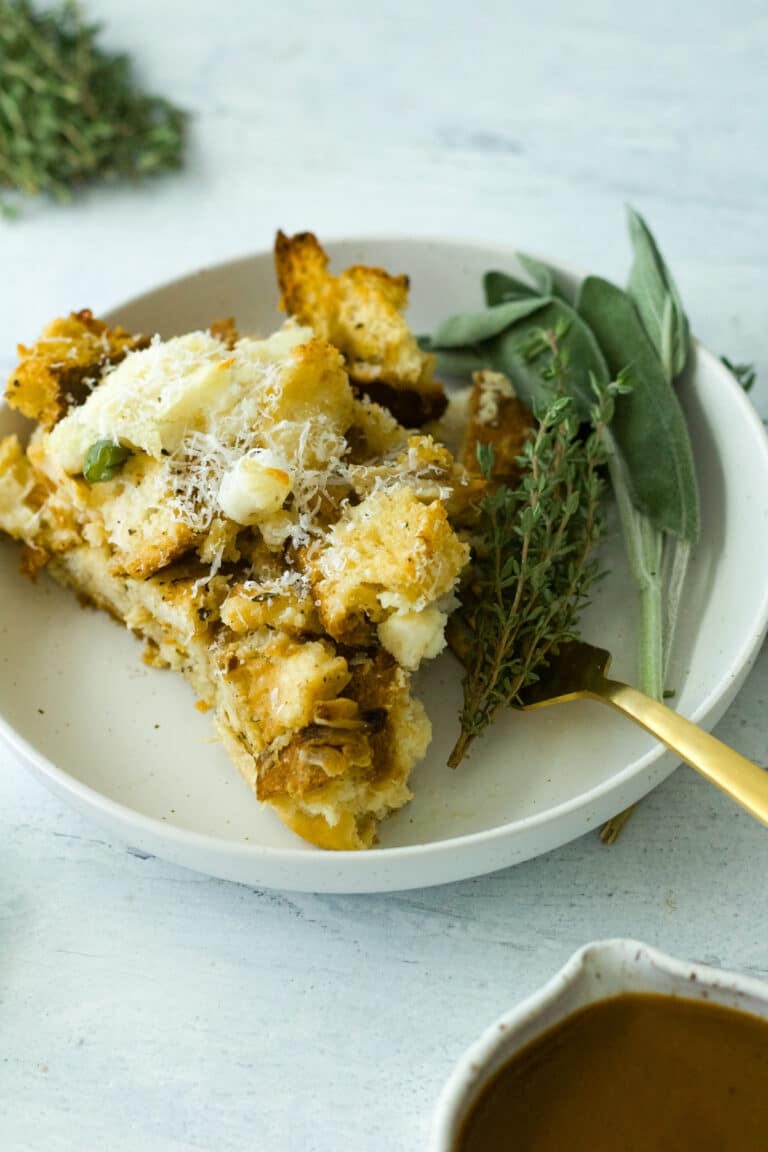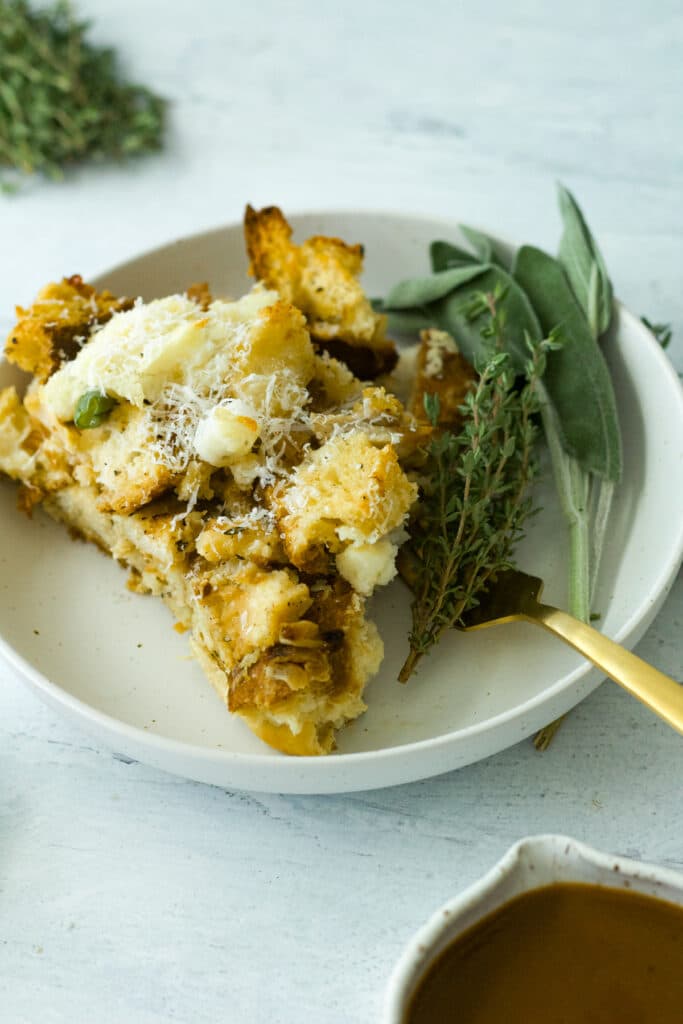 The secret to Thanksgiving strata
The type of stuffing you eat on Thanksgiving is really important here. Ideally, you have the kind of stuffing made with fresh bread, mixed with a little egg and stock and lots o' herbs. But if you are like my family and use the packaged stuffing mix - we can make that work too!!
In that case, make sure you keep some extra bread on hand to tear into cubes and toast and mix that in with the stuffing so that you still have enough bread to soak up the liquid.
(Also I realize what I'm talking about is technically dressing, but I'm in my 30s and it's very hard to change my habits now!! It's stuffing to me!)
This works with all types of bread too - country loaf, sourdough, cornbread, BISCUITS?! It's all fair game.
I think of this strata as almost like a twice-baked stuffing. We're adding more eggs, more liquid and more goodness. And then baking it up again to get some extra crispy bits.
The end result is an all-in-one dish with a crispy, golden brown crust and soft tender center mixed with all your favorite Thanksgiving food. Drizzle some leftover gravy on top and it's perfect!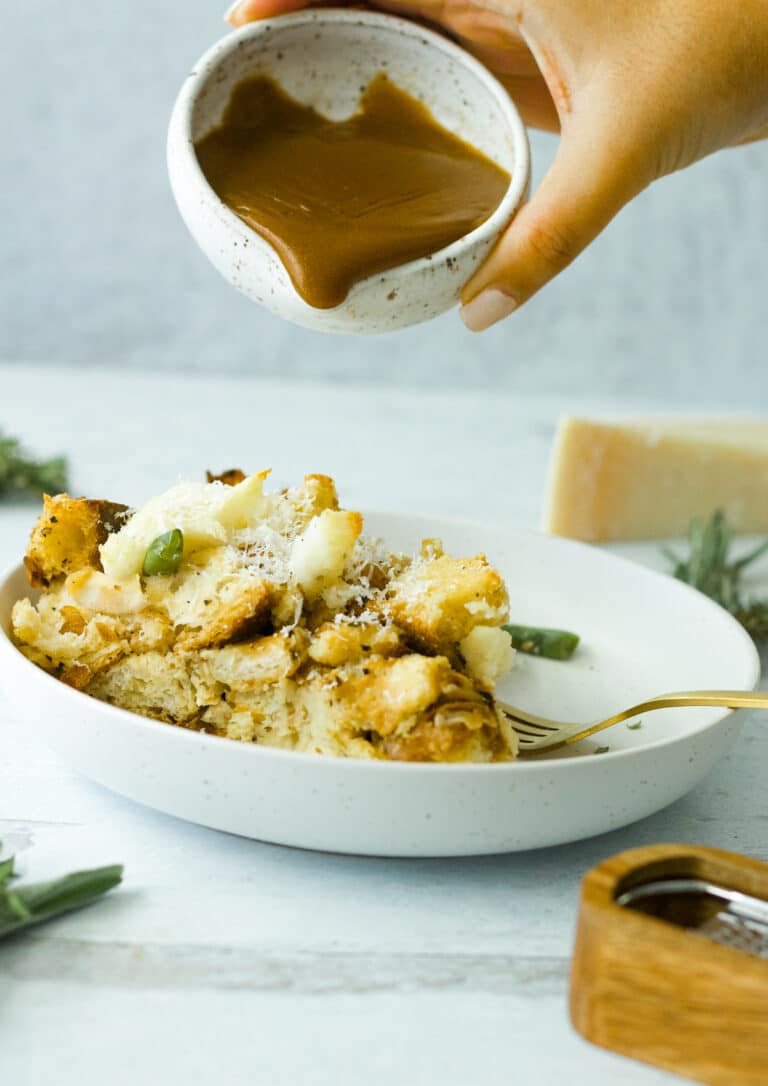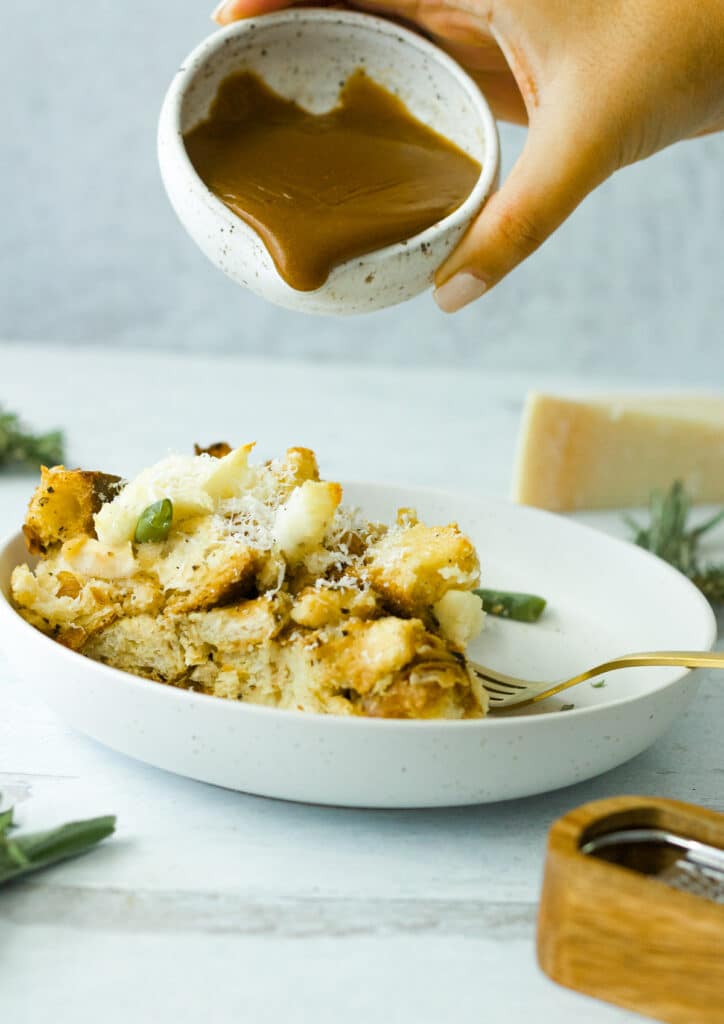 What you'll need
Stuffing: The chunky bread kind works best for this strata, but if you have the Stove Top or Pepperidge Farm kind, that's fine! Just bulk it up with some toasted bread cubes (see recipe card) and it'll work out.
Substitute: Any kind of stuffing/bread will work - cornbread, sourdough, biscuits, etc.
Eggs: A strata has more eggs than a general stuffing dish, but less than a frittata. For this size strata, 6 eggs is perfect!
Milk: I like to use whole milk as it provides enough creaminess without being TOO creamy.
Substitute: Try an alternative milk, or go all out and use half-and-half. You can also try a mix of different liquids including a little stock if you have some extra hanging around!
Garlic: I like to add a little extra flavor so a few garlic cloves made sense. But if your leftover stuffing is already super flavorful, you can skip this if you want.
Smoked paprika: Again, just for extra seasoning and to make things taste like new. You can leave this out or replace with one of the substitutes below
Substitute: Just about any spice will work! Try ground cumin or chili powder, or even an Italian seasoning blend or lemon pepper for a twist. I think my house seasoning would be great here too!
Mix-ins: This is where you can have fun! Throw in some shredded turkey (this is a great use for the white meat that may have gotten a bit dry), roasted vegetables, green beans - really anything you have laying around.
Leftover mashed potatoes: Instead of mixing in with the rest of the ingredients, I use leftover mashed potatoes kind of like ricotta here. Dolloped all over so that you end up with pockets of crispy and creamy potatoes throughout.
Substitute: Sweet potato casserole could actually work here, or if you have something like roasted potatoes you can just throw those in. Feel free to leave out too.
Parmesan cheese: For a little extra flavor and to make this feel like a whole new dish.
Substitute: Basically any kind of cheese! If you have some leftover from a macaroni and cheese dish, go ahead and throw that on. If it's a super melty cheese like fontina or cheddar, you can add a handful mixed in and then sprinkle some more on top. Crumbled feta or goat cheese would be great too.
Herbs: I tend to have leftover sage, rosemary and thyme in my fridge this time of year. Throw them all in here!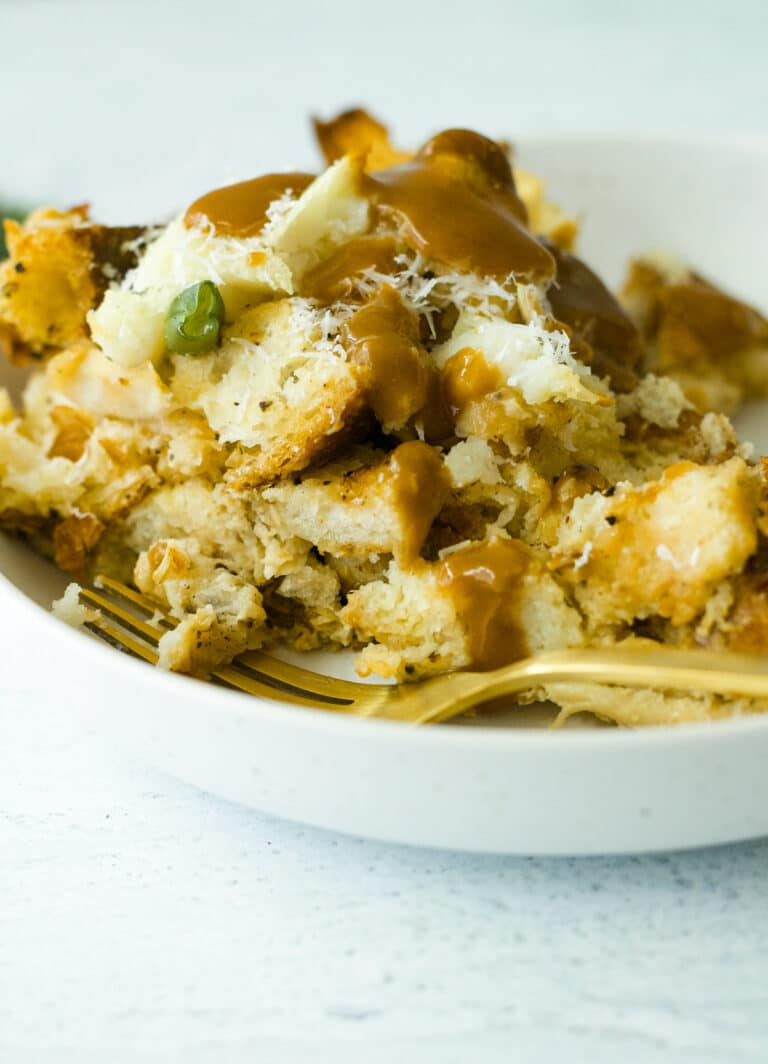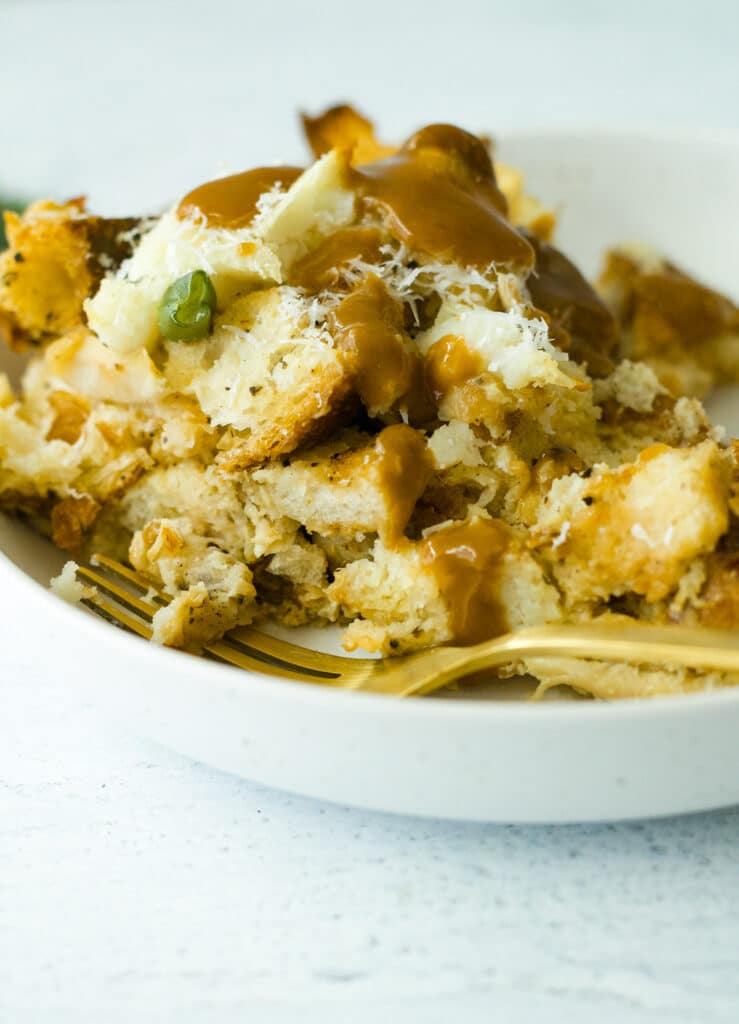 How to make Thanksgiving strata
Prep your ingredients
If necessary, tear up your bread, toss it with a little olive oil and bake for 10-12 minutes or until bread is a little toasted. Shred up your turkey, gather your leftover vegetables (chop any big pieces if needed) and mince up the garlic and herbs.
Mix the liquids + seasoning
In a large bowl, whisk eggs until no large yellow streaks remain. Add milk, garlic, spices and herbs and whisk to combine really well.
Bring it all together
Add your mix-ins and combine, before adding your stuffing/bread and folding everything together. You want the carbs to really soak up the liquid so take your time here and keep mixing to allow everything to absorb. If the bowl looks dry, add a little extra milk to help moisten any dry pieces.
Bake and serve
Pour into a buttered dish (I prefer cast iron, but a 9 x9 baking dish works great too). Dollop with mashed potatoes, lifting up a few spots to get the potatoes on the inside too. Sprinkle with parmesan cheese and bake for 45-60 minutes. I don't cover my stratas because I like a really golden brown top, but if it looks like things are starting to burn feel free to add some foil while it finishes cooking. Serve warm with leftover gravy!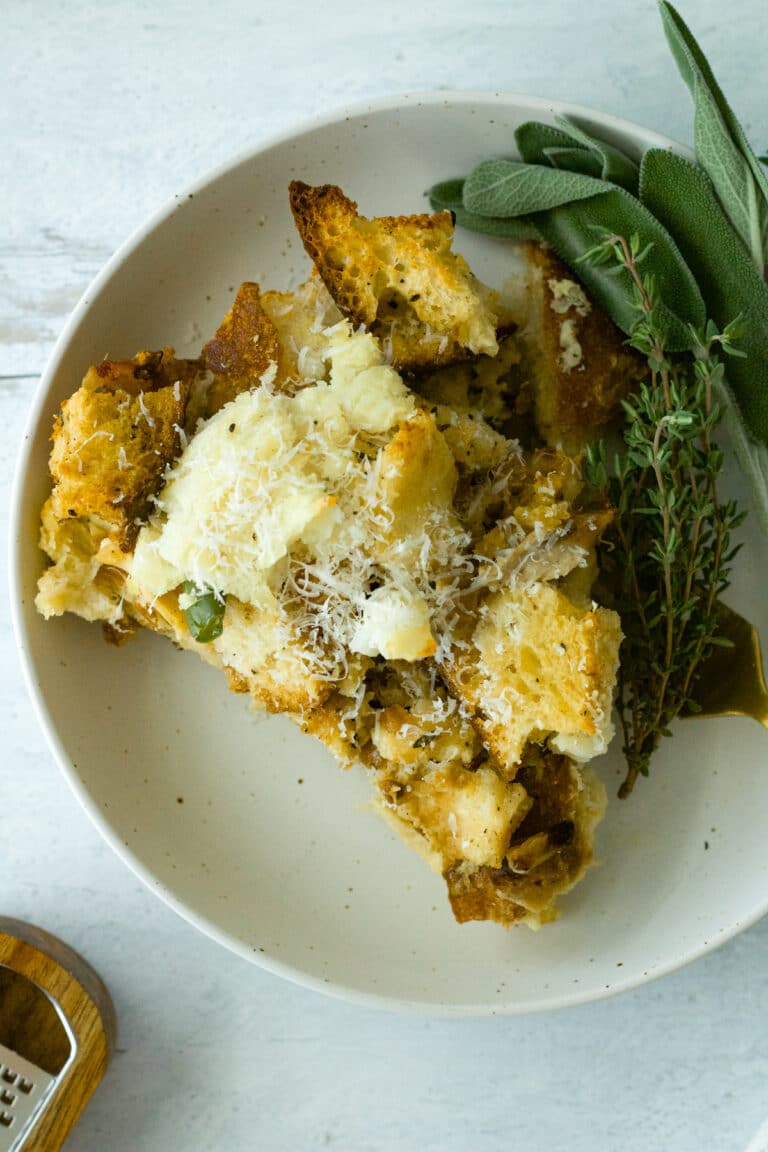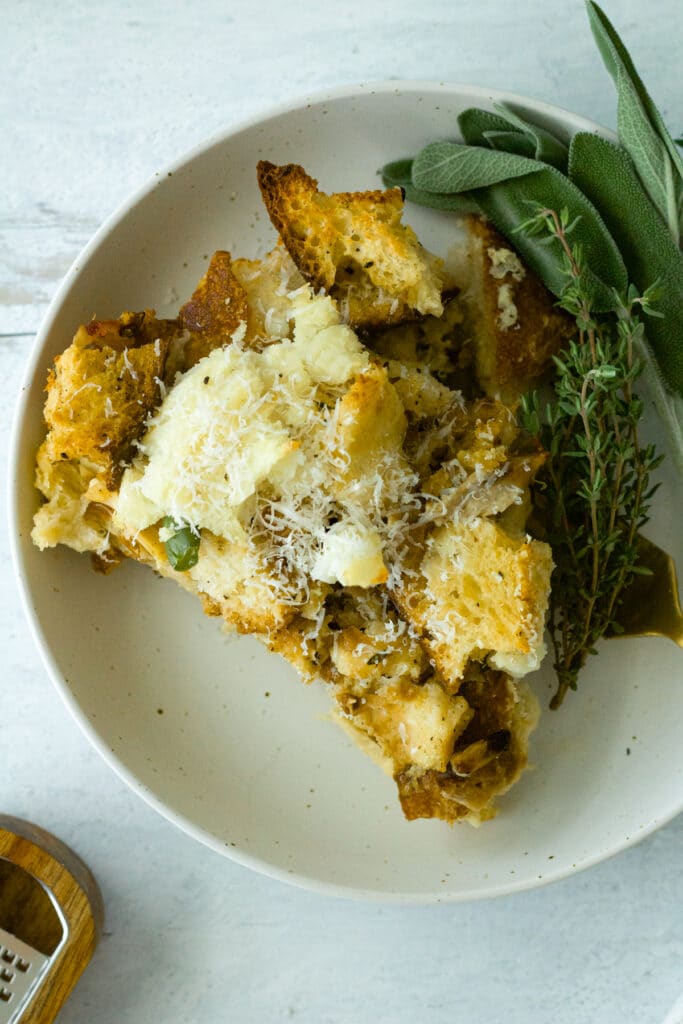 Tips to prep ahead + how to store
I want you to know the real magic of this dish is that you can make it ahead of time and just bake it off whenever you are ready to eat. Because when you're thinking about what to do with Thanksgiving leftovers, isn't it nice to know that a lot of it is already done?
SO if you have it in you on the big day, I highly suggest mixing this up as you are cleaning up and putting the leftovers away (the food's already out, right?) and then cover and keep in the fridge until you are ready to bake the next day!!
Doing this is actually great because it allows the bread/stuffing more time to absorb the liquid which makes for a better final product.
To store leftovers of this strata, just cover tightly and keep in the fridge for 2-3 days. I like to heat it back up in the oven at 250 to keep things from getting too soggy, but the microwave will work too!
Print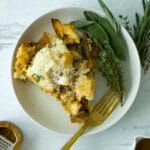 Thanksgiving Strata
---
Description
Trying to figure out what to do with Thanksgiving leftovers? Turn them into an incredible Thanksgiving Strata! Not only does this dish help you use up leftover stuffing, mashed potatoes, vegetables AND leftover turkey, but it's super easy to throw together no matter what you have on hand.
---
2 tablespoons

butter, softened

6 cups

stuffing/torn bread (about

12oz

)*

6

eggs

1 ½ cups

whole milk

½ teaspoon

salt

2

garlic cloves

1 teaspoon

smoked paprika

¼ cup

herbs, chopped* (thyme, rosemary, sage, parsley, etc.)
2 cups mix-ins:

Shredded leftover turkey
Cooked Brussels sprouts
Roasted butternut squash
Corn
Green beans

1 cup

mashed potatoes

¼ cup

parmesan cheese + more for serving
To serve: Leftover gravy
---
Instructions
Preheat oven to 350. Spread 2 tablespoons softened butter in dish (I use a cast iron, but a 9x9 baking dish works too!).
If using fresh bread instead of stuffing: Tear bread into small pieces (about 2 inches, but don't worry if they are not the same), drizzle with 2 tablespoons olive oil and arrange on a large baking sheet. Bake for 10-12 minutes until bread is dry and slightly toasted. Set aside. 
In a large bowl, whisk 6 eggs until they are well combined and no yellow streaks remain. Add 1 ½ cups milk, 2 grated/minced garlic cloves, 1 teaspoon smoked paprika  and ¼ cup chopped herbs and whisk to combine. Add 2 cups of mix-ins (turkey, green beans, etc.) and stir to combine.
Add 6 cups stuffing/bread and use a spatula to fold in really well so all the bread is coated and most of the liquid is absorbed. If things look dry, add up to another ½ cup whole milk. Pour in pan. 
If baking the next day, cover pan at this point and place in the fridge. 
If baking right away, let strata sit for 15 minutes to allow the bread a little extra time to absorb the liquid. 
Dollop 1 cup mashed potatoes all over the strata, lifting up some pieces of bread to get some potatoes throughout. Sprinkle with ¼ cup parmesan.
Bake for 45-60 minutes, until the top is brown and crunchy. Serve with more parmesan cheese, if desired, and leftover gravy.
Notes
This strata is meant to be made with leftover stuffing that is made from fresh, large-ish bread cubes rather than the pulverized stuffing mixes (which is the kind of stuffing my family eats!). The latter is delicious but can get a little soggy so to make this you'd still want to use some fresh bread and then mix in some of your leftover stuffing as well! 
You can mix-in pretty much anything, just make sure all of it is pre-cooked as anything raw likely won't cook in time
The garlic, herbs and smoked paprika are just for extra flavor and can totally be left out if your leftover stuffing was cooked with a lot of seasonings. However, I always have extra herbs around this time of year so I like to throw a handful in. 
Prep Time:

15 minutes

Cook Time:

45 minutes

Category:

Dinner

Method:

Oven

Cuisine:

Global