A small batch recipe for perfect, as-creamy-as-you-want-them, mashed potatoes. Whether you are making a holiday dinner for two or need a great, versatile side dish for your go-to dinners, easy mashed potatoes are a must-have in the recipe rotation!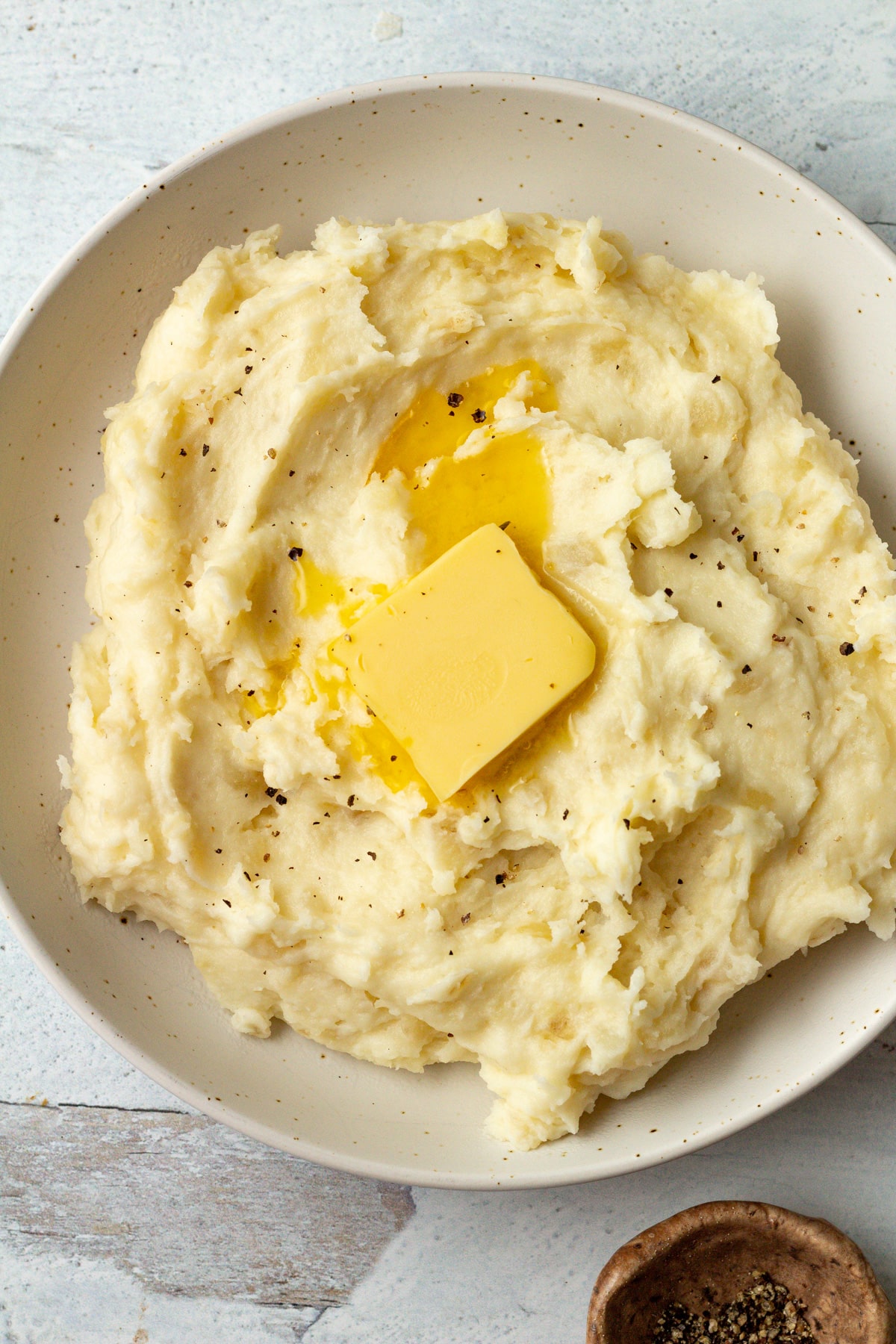 Jump to:
Let's be honest, is there anything better than a pile of fluffy mashed potatoes? I think not.
Whether you're cooking for a special occasion (hello, Thanksgiving dinner) or need a side dish for your favorite, go-to weeknight dinner, a good, simple mashed potato recipe is a must.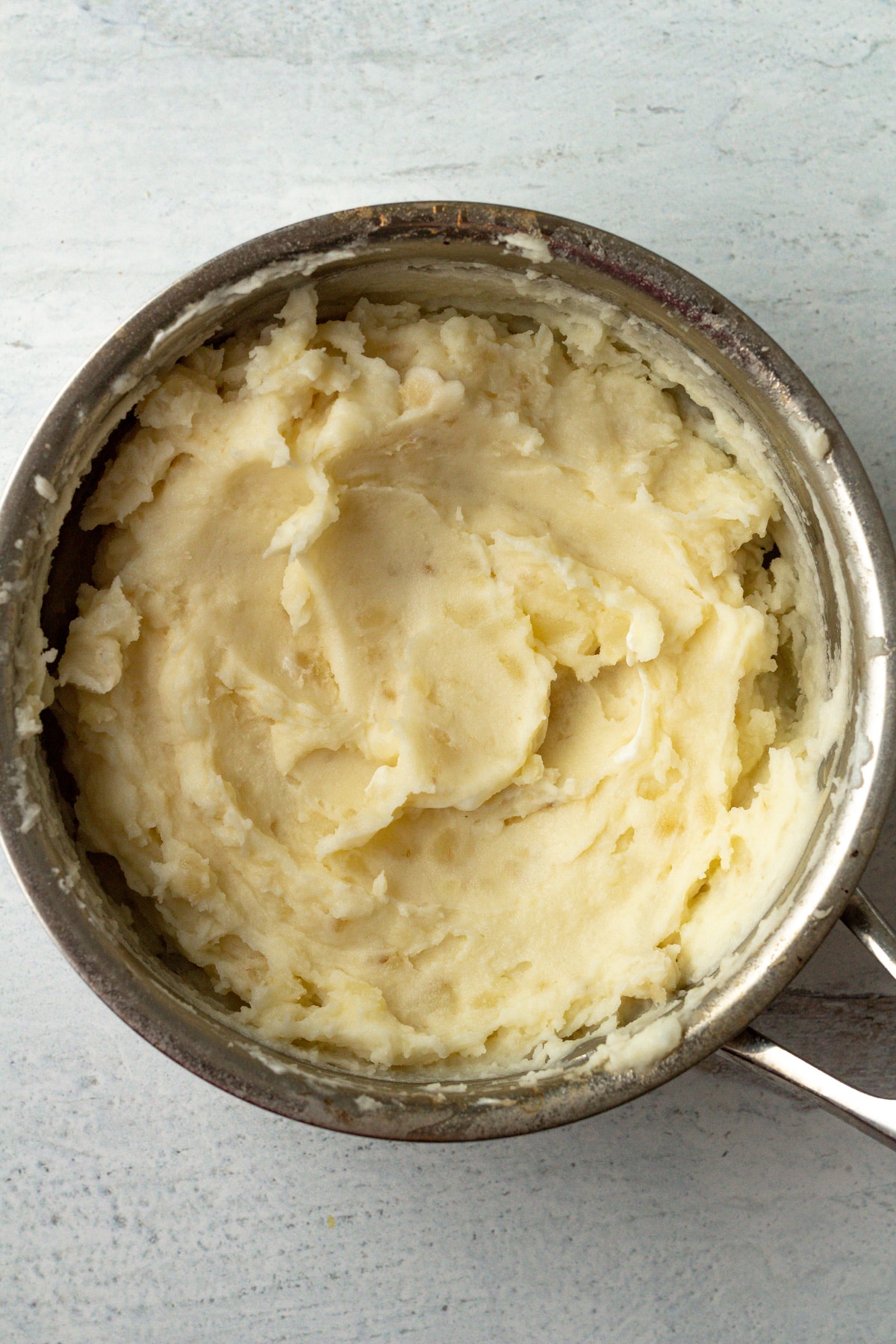 Small batch mashed potatoes
If, like me, you're generally only cooking one or two servings, then this dish is really for you. I LOVE mashed potatoes, but don't always want to be eating leftovers for days on end (crazy, I know).
This recipe uses one pound of potatoes to make enough for two generous servings (perfect as a fluffy bed under these Instant Pot boneless short ribs!) or smaller servings and enough leftover for one more meal.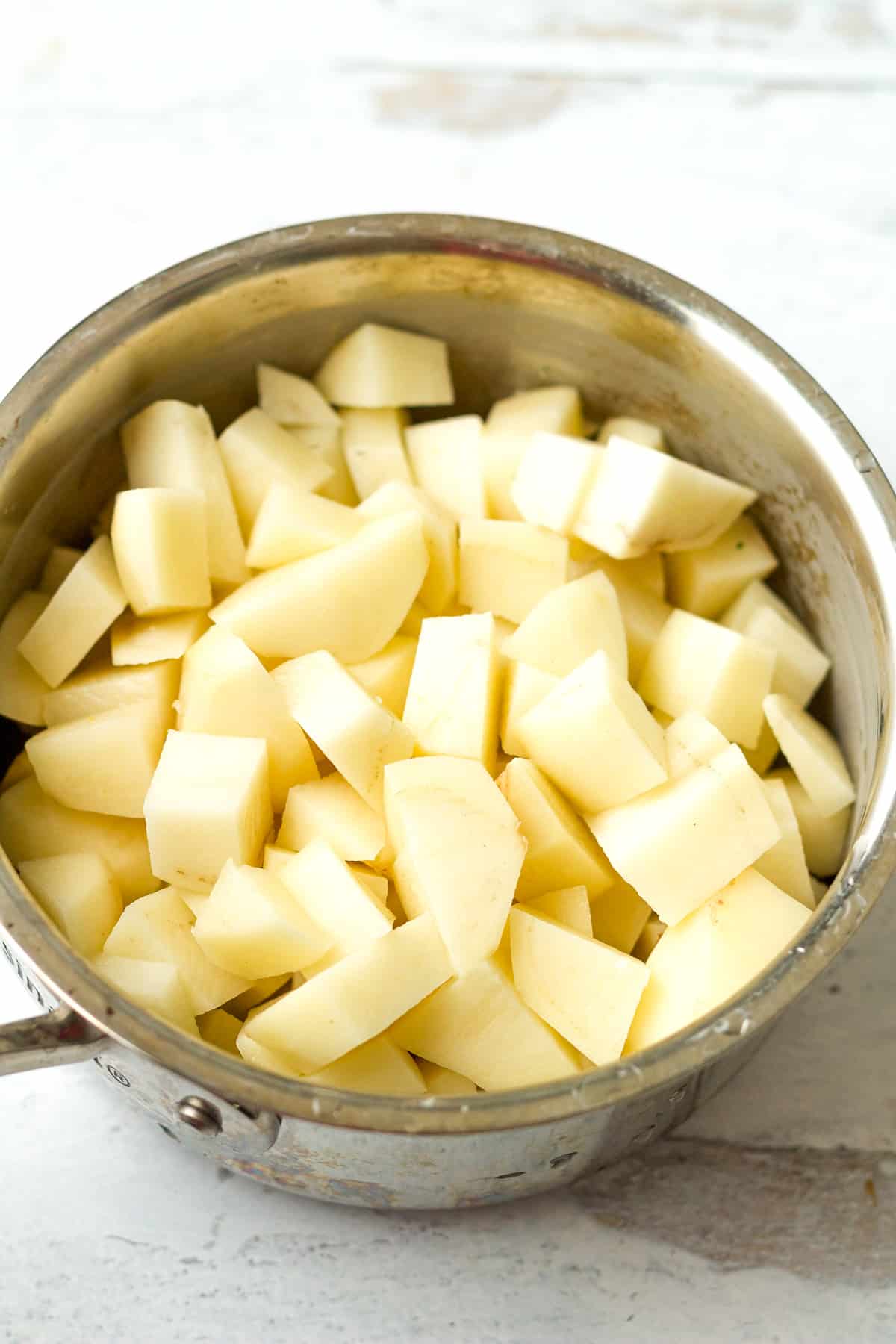 What you'll need
Potatoes: 1 pound is the perfect amount for two solid servings. Or two smaller servings with some leftover for the next day. I use Yukon Golds because I think they produce a creamier finished dish, but other potatoes like russet potatoes or red potatoes will absolutely work. Just make sure to peel and cut into same-sized chunks to ensure even cooking.
Salt: I normally don't list salt out in the ingredients like this (because it's just kind of a given), but it is particularly important in this dish. Potatoes need salt!!
Butter: Honestly, this recipe could probably go without butter and be just fine, but what's the fun in that? You can leave it out, but a little butter adds flavor and richness to these potatoes.
Heavy cream: Cream is my go-to dairy for simple, classic mashed potatoes. However, you can substitute with buttermilk or sour cream if you want a slightly different flavor. You can also use cream cheese for even richer potatoes!
Optional: If you want to add more flavor, try adding some roasted garlic cloves, chives, green onion or any other herbs you love.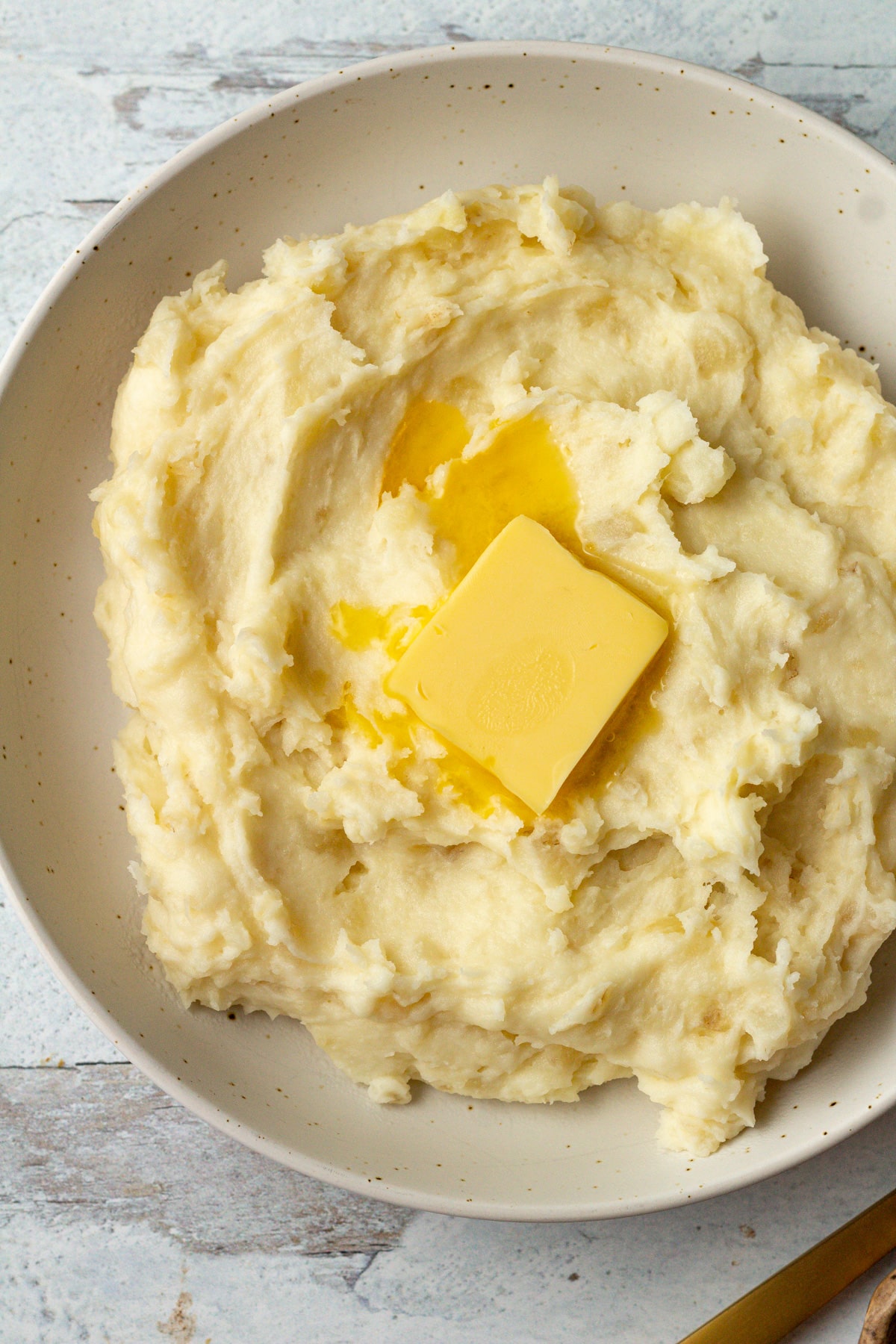 Tips for success
While this is a pretty basic, straight-forward recipe for mashed potatoes, I have found there are a few things to keep in mind for the BEST potatoes:
Start with cold water. Place your diced potatoes in the pot first and then add enough cold water to cover. Starting with cold water allows the potatoes to start cooking more gently as they come to a boil and help ensure everything cooks evenly.
Let potatoes dry a bit before mashing. After you drain your potatoes, immediately put them back in the hot pan and let them sit and release some steam for a minute before you add the butter and cream and start mashing. Letting some of that extra moisture out makes for better tasting potatoes.
The way you mash matters. There are lots of options when it comes to actually mashing potatoes. Choose your own adventure based on how you like yours:
For mostly creamy with a few small chunks use a potato masher.
For fluffy mashed potatoes use a potato ricer.
For the best creamy, fluffy potatoes use a hand mixer.
For super creamy potatoes with a slightly thinner texture use a food processor.
For extra chunky potatoes use a wooden spoon.
Don't overmash! Regardless of how you choose to mash your potatoes, make sure you don't overmix or overmash them. You'll know you've gone too far when they start to look a little gummy.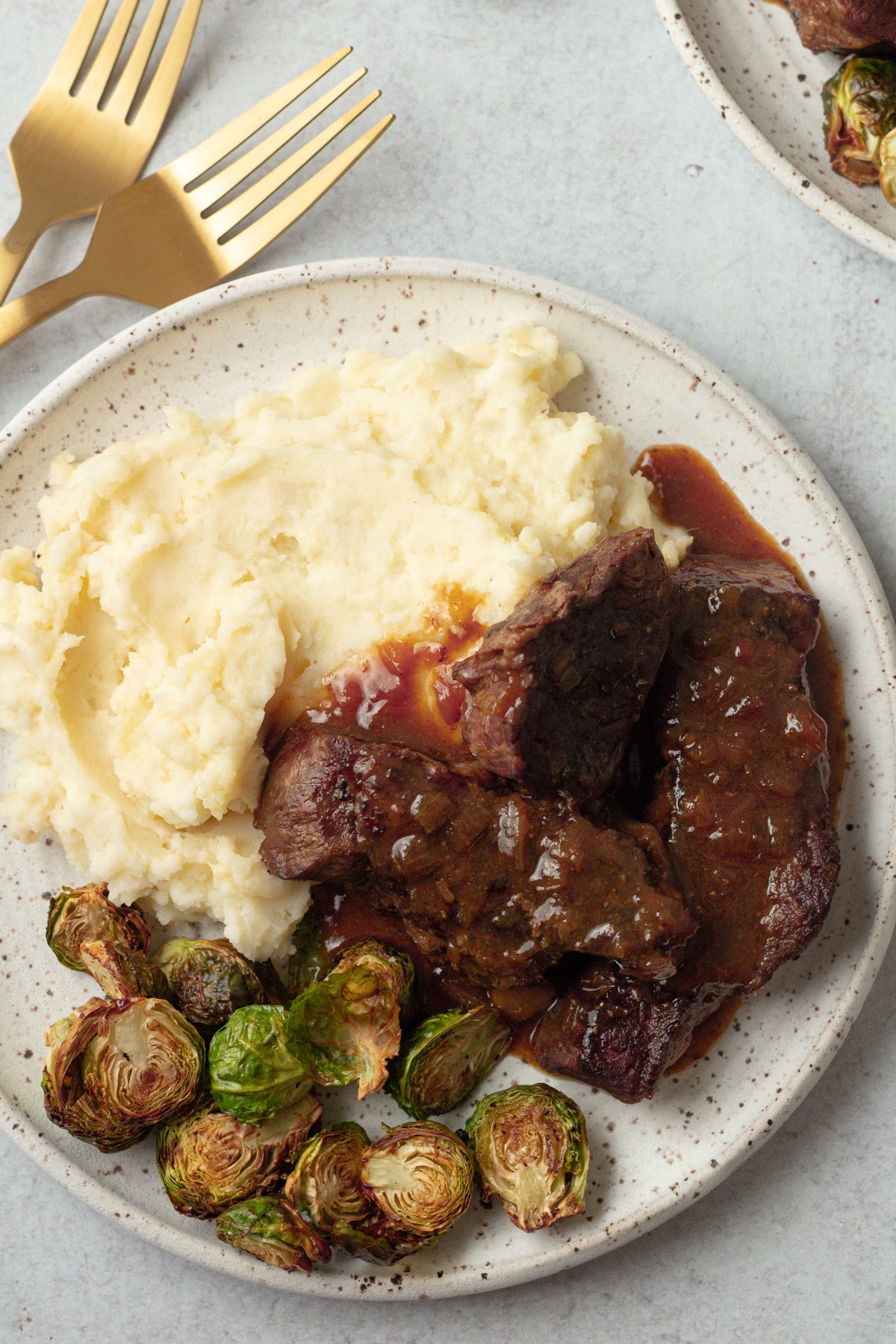 Serving suggestions
Creamy mashed potatoes go with just about anything, but here are a few ideas if you're looking:
(Some of these are large-batch recipes, but can be scaled down easily!)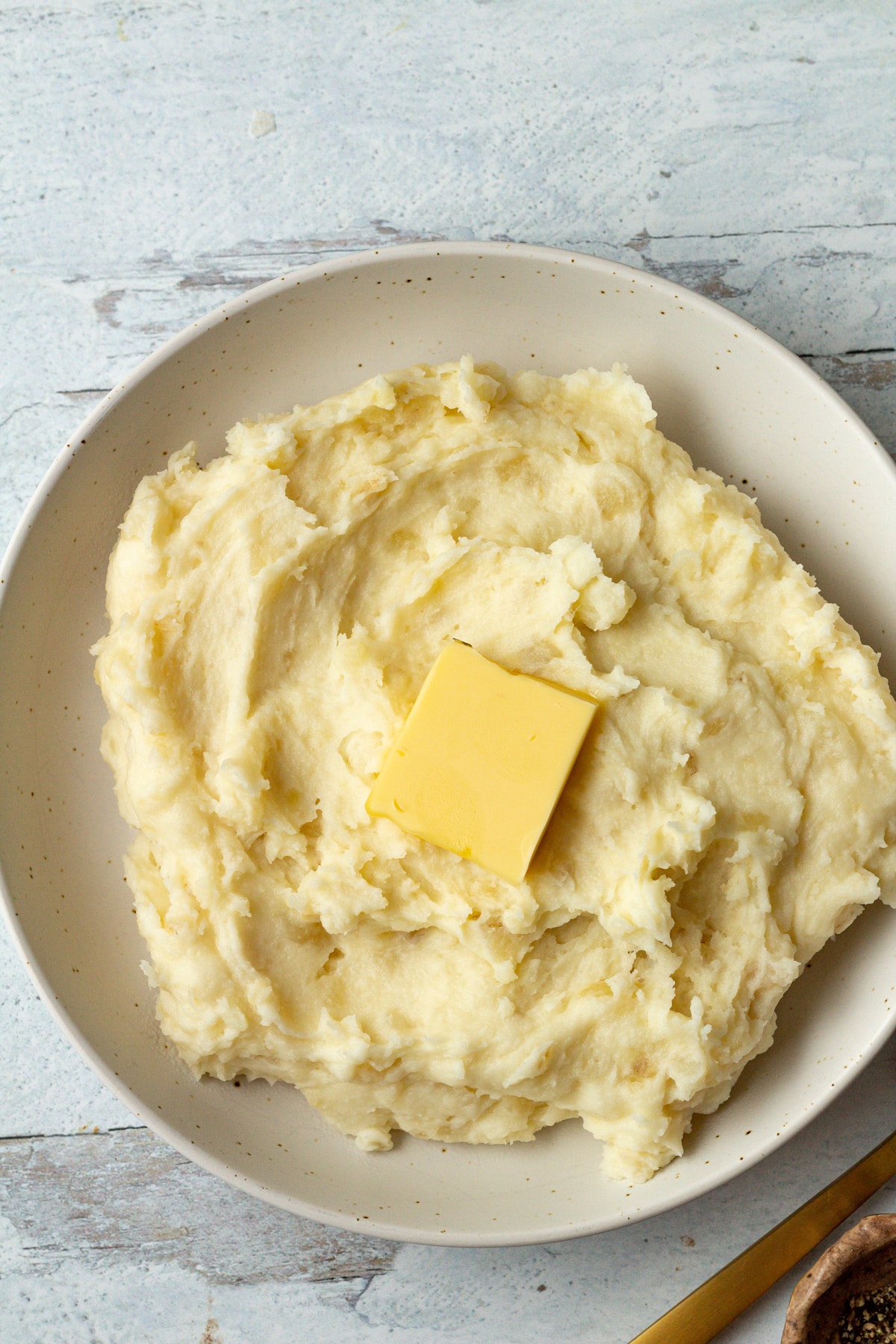 Looking for more small batch side dish ideas? Try this fried rice for one (with no egg!), spicy asian cucumber salad, everyday roasted potatoes or homemade garlic bread for one.
Print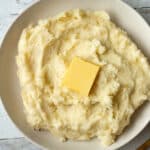 Perfect Mashed Potatoes For Two
---
Description
A small batch recipe for perfect, as-creamy-as-you-want-them, mashed potatoes. Whether you are making a holiday dinner for two or need a great, versatile side dish for your go-to dinners, easy mashed potatoes are a must-have in the recipe rotation!
---
1

pound potatoes (see notes for best kind), peeled and diced

2 teaspoons

salt, divided

1 tablespoon

butter

¼ cup

heavy cream, buttermilk or sour cream
Freshly ground black pepper
---
Instructions
Place 1 pound potatoes (peeled and diced) in a medium-sized pot and cover with cold water. Add 1 ½ teaspoons salt.
Bring pot to a boil, then reduce heat to medium and let potatoes cook for 20-25 minutes or until a knife slices easily through a potato. The exact time will depend on how big your potatoes are.
Drain potatoes and then add back to pot. Place over low heat and let potatoes dry out for one minute.
Add 1 tablespoon butter, the remaining ½ teaspoon salt and ¼ cup heavy cream (or buttermilk or sour cream). Stir to get everything combined.
Using the tool of your choice - a potato masher, potato ricer, food mill or even just a wooden spoon - mash potatoes to your desired consistency. I like to keep a few chunks, but you do you!
Serve with another pat of butter, if desired, and lots of freshly cracked black pepper (also, if desired).
Notes
I prefer to use a Yukon Gold potato for mashed potatoes because I think they are the creamiest, but you can use any waxy, thin-skinned potato. If you happen to love and/or prefer Russet potatoes, go ahead and use those!
The dairy you use in this recipe is totally dependent on the flavor you want. Regular heavy cream or half-and-half will give you classic creamy mashed potatoes, while buttermilk or sour cream will give a slight tang.
Feel free to add extra flavor in these mashed potatoes, like roasted garlic or chives!
Prep Time:

5 minutes

Cook Time:

25 minutes

Category:

Side Dish

Method:

Stovetop