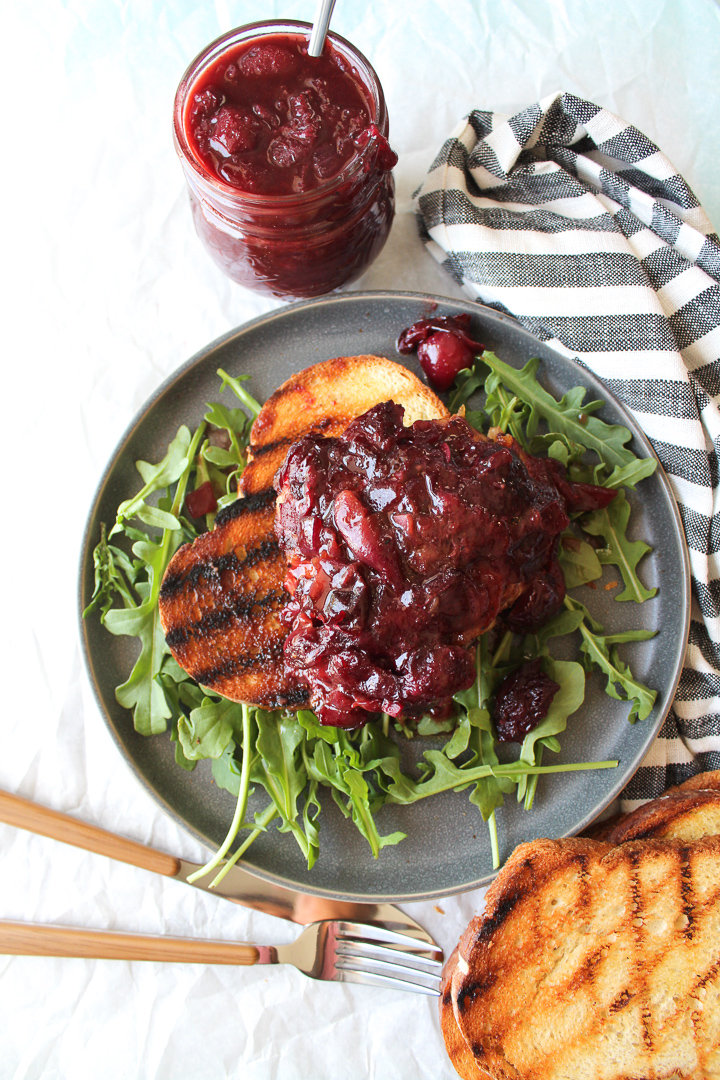 Still going strong with the cherries today. And tomorrow. And forever.
I asked you guys on Instagram if you wanted to see chicken or cake today - and you said chicken! A little weird that you didn't immediately want to face dive into cake?
We can talk about that later.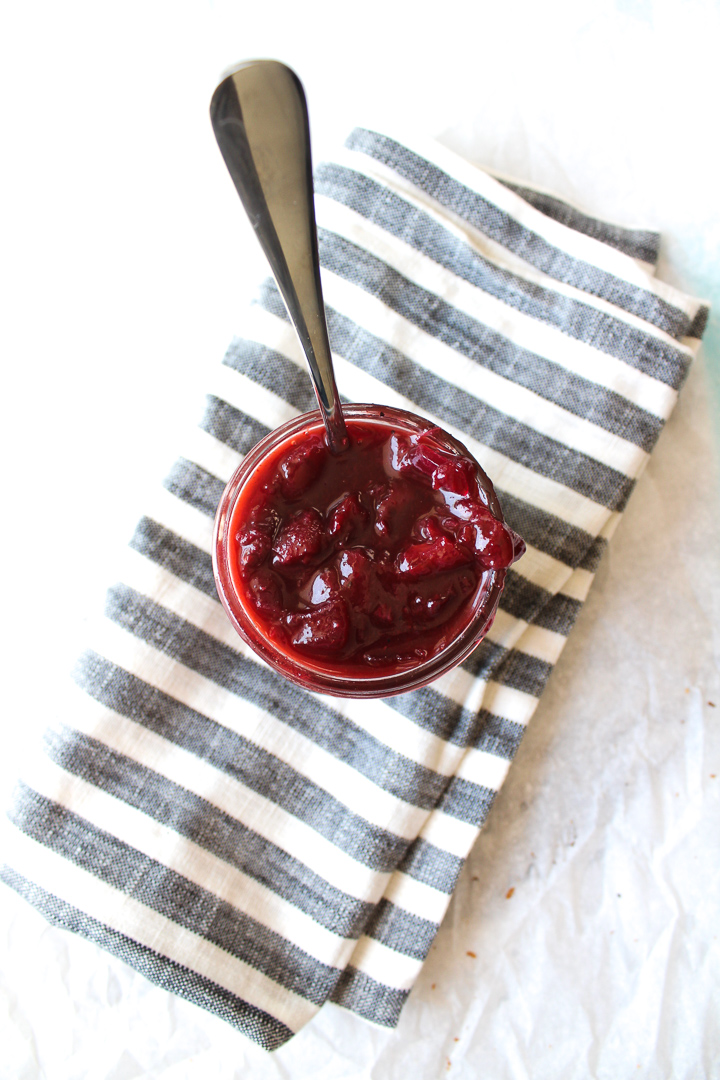 The star of this dish is a chipotle-spiced cherry sauce that is poured over the chicken in the last few minutes of cooking. The sauce itself is super flavorful - a pile of fresh cherries, a little onion and garlic, some chipotle powder for spice and a tiiiiny bit of bourbon (!) and balsamic vinegar. I like to keep mine a little chunky, but you can definitely blend it up and make it more like a barbecue sauce. Either way it's so good on chicken that's crisped up on the stove and then baked smothered in this sauce to finish. I then add even more sauce before serving because I cannot be stopped.
I show it here with grilled bread because I'm obsessed (and also - full disclosure - I photographed this on the same day as this dish featuring grilled bread so I had some extra around), but it's also really good with rice or even just some roasted vegetables on the side!
I used bone-in, skin-on chicken thighs (and the cold-pan method!) because...well, because of course I did. But I know for a fact this will work with boneless, skinless thighs or even chicken breast (if you must). Just keep an eye on it, and adjust cooking time so you don't dry them out.
Also, as of today, I can confirm this sauce is BOMB on pork because I used some leftovers to slow-cook a small pork shoulder and omg was that a good idea.
While we're at it, I've been loving my fresh cherry salsa on fish, so my gut tells me this would be great with seafood as well. And vegetarian? I got you! Roast this with cauliflower - it will be SO good (kinda like these chipotle cauliflower tacos, actually!).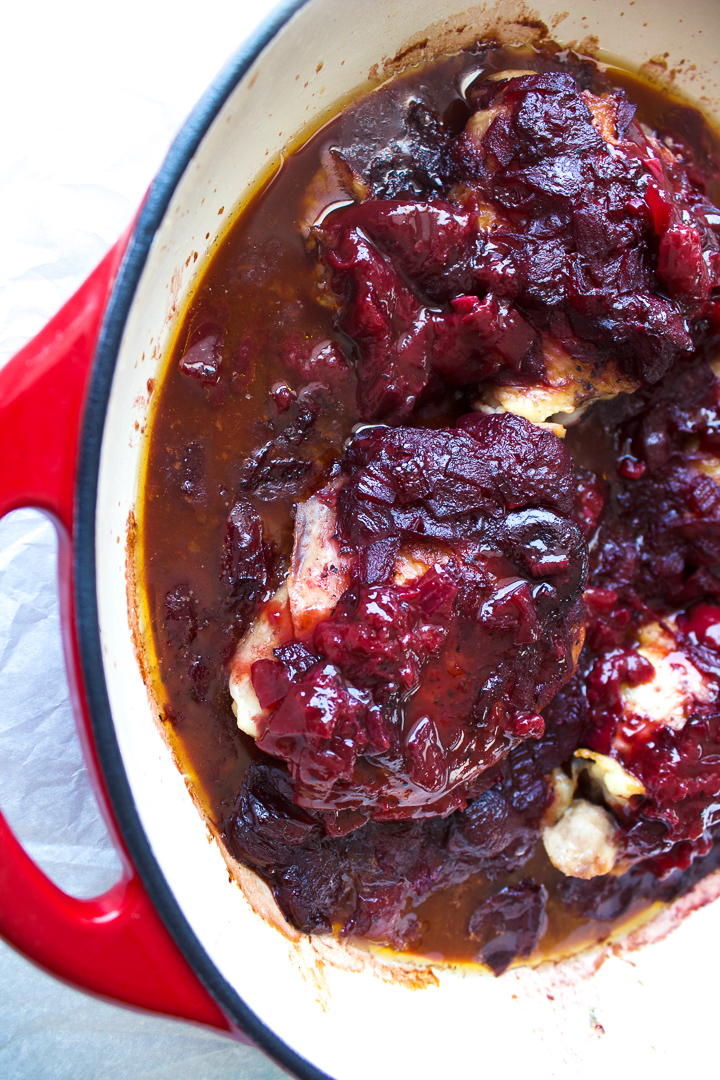 So now that we've discussed the 38620 ways you can make this dish, I think you just have to go for it. Buy all the cherries, grab your cherry pitter (seriously, get one!!) and make yourself a fancy-but-not-really dinner.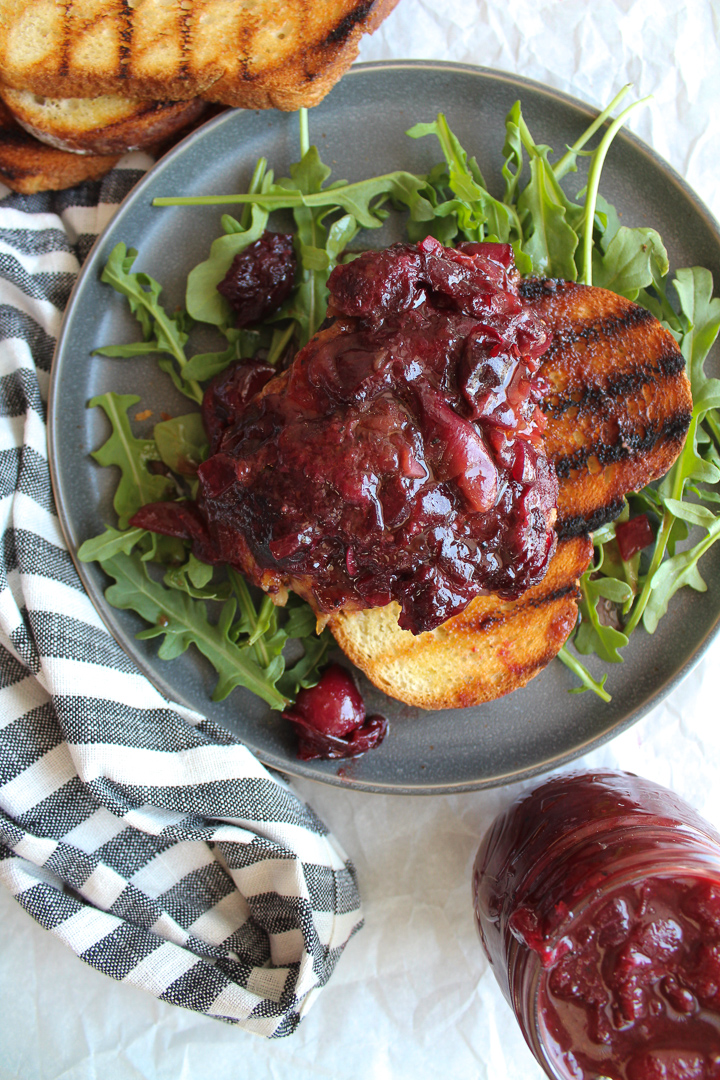 Print
Cherry chipotle chicken
---
Total Time:

1 hour 30 minutes

Yield:

4

1

x
For chipotle bourbon cherry sauce!

2 teaspoons

olive oil

1

small white onion, diced

2

garlic cloves, minced

2

lbs cherries, pitted

½ teaspoon

salt

½ teaspoon

pepper

½

-

1

teaspoon ground chipotle pepper

2 tablespoons

bourbon

1 tablespoon

balsamic vinegar
For chicken!

4

bone-in, skin-on chicken thighs, excess skin/fat removed

½ teaspoon

salt
Bread or rice for serving
---
Instructions
Make the sauce: Heat olive oil in a saucepan over medium heat. Add onions and saute for 5-7 minutes until softened and just starting to caramelize. Add garlic and saute for another minute.
Add cherries, salt, pepper and chipotle powder (you can start with ½ teaspoon and add more later if you'd like).
Mix to combine and cover with a tight fitting lid. Reduce heat to medium-low and let simmer for 20 minutes. If your cherries aren't releasing a lot of juice, add ¼ - ½ cup water.
After 20 minutes, turn off heat and add vinegar and bourbon. Use a wooden spoon or potato masher and gently start to mash the cherries down. I like to keep it really chunky, but feel free to mash as much as you want. If you prefer a really smooth sauce, you can blend this as well. Set aside while you make chicken - this will help thicken up the sauce a bit.
Preheat oven to 400.
Season chicken with salt and place skin side down in a cold oven-proof pan. Turn heat to medium and let cook for 15 minutes. Don't touch the chicken!
Transfer pan to oven (with chicken still skin side down) and cook for another 15 minutes.
Remove pan from oven and flip chicken. Check to see if the chicken released a lot of fat, and if so, spoon it out so that just a little remains. Then add about 1 cup of sauce to pan (spooning over the chicken pieces) and bake for another 10 minutes.
Serve with rice or bread, with extra sauce on the side.
Prep Time:

20 minutes

Cook Time:

1 hour 10 minutes