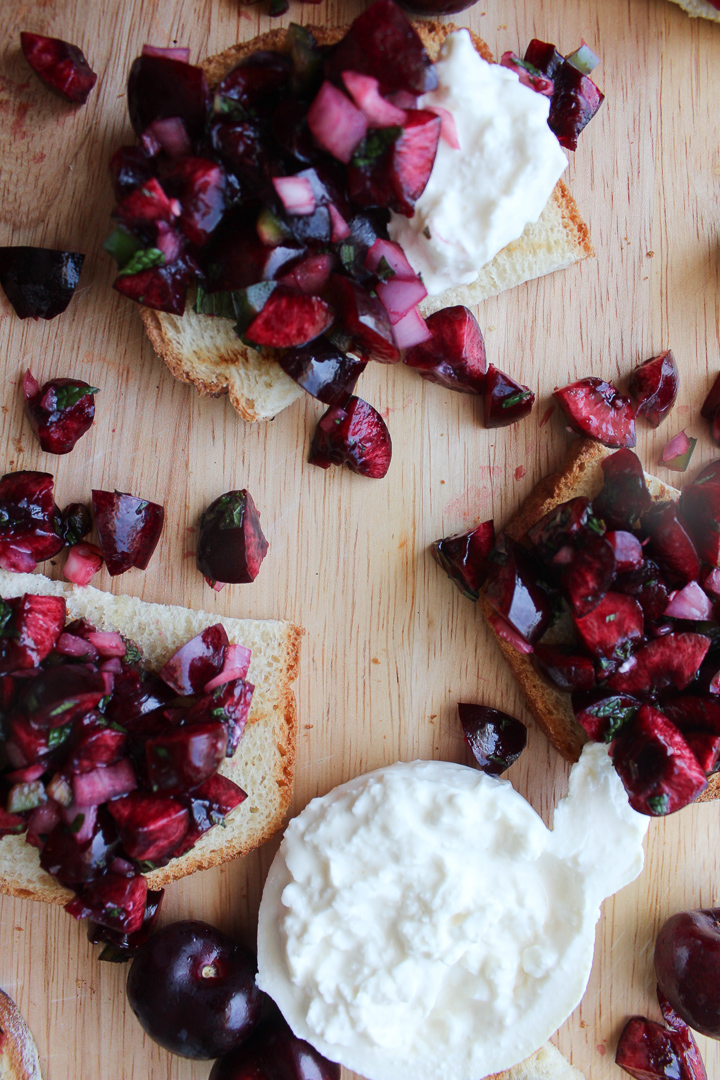 Hi hello! I either have the best appetizer or best dinner to share today. Depends on who you are. I ate it at 3 p.m. on a Saturday. So that's who I am.
I have gone cherry crazy this year. I can't stop buying them. And now that I've finally acquired a cherry pitter (game changer!), I don't think I ever will stop buying them.
Until they're out of season blah blah blah of course.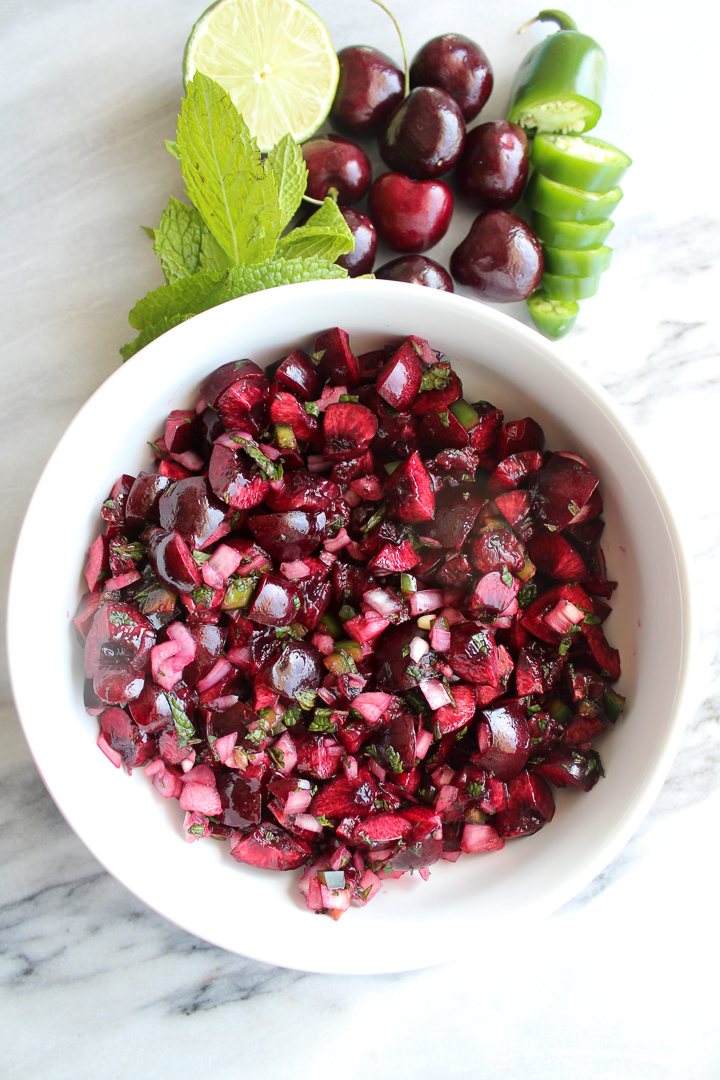 That's all to say, you should definitely prepare yourself for A BUNCH of cherry recipes. But they're good! I have zero regrets about what's going down on the blog this summer.
We're starting with this fresh cherry salsa because I loved the idea of fresh sweet cherries with spicy jalapeno and fresh mint. Also because I made a 8 a.m. trip to Trader Joe's just to get the burrata that resulted in me getting...so much more than just the burrata. Way more. I have like 8 bottles of kombucha in my fridge right now more. And a bag of teeny tiny avocados.
I definitely blame this cherry salsa!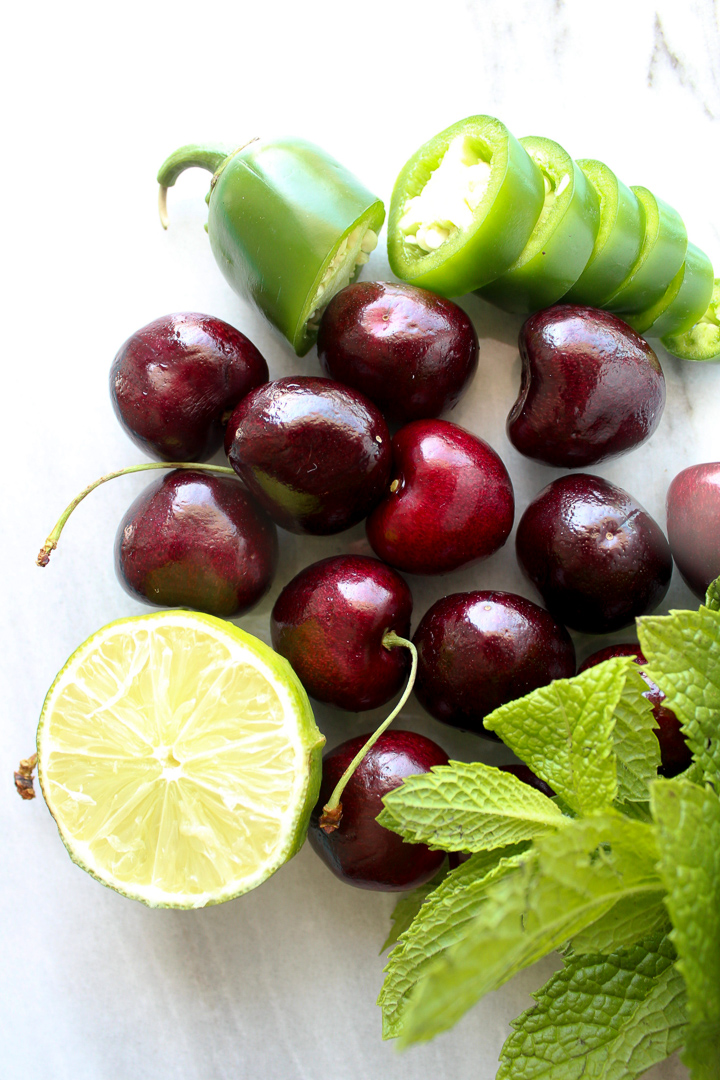 Luckily, cherry season coincides perfectly with grilled bread season (that's definitely not a thing) and your girl recently got herself one of those flat, stovetop, cast iron grill pan thingys. So cherry salsa on grilled bread it is!
The burrata needs no explanation. DUH.
If grilled bread and burrata aren't your thing, then 1. WHO ARE YOU?! and 2. No worries! This cherry salsa goes really well with meats like chicken and pork and is super fun on tacos.
I can only assume it's good with chips, but I don't know because every time I've made it I just eat it straight with a spoon instead.
¯_(ツ)_/¯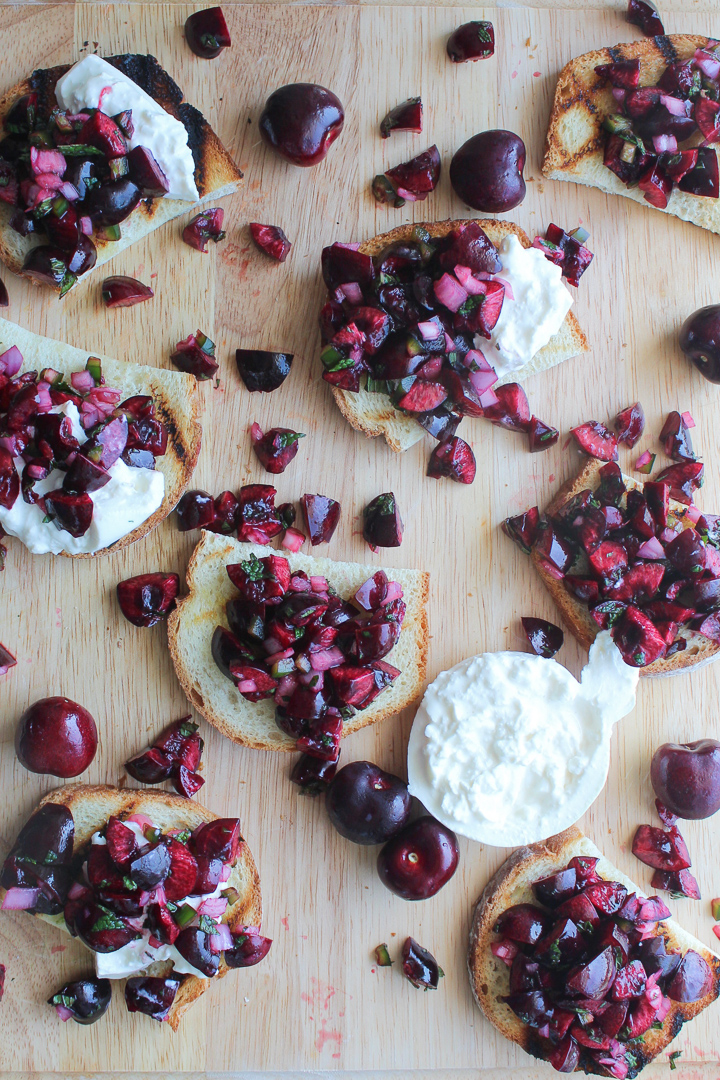 Print
Grilled bread with burrata and fresh cherry salsa
---
Total Time:

55 minutes

Yield:

4

-6

1

x
~3 cups cherries (about 1 lb), pitted and chopped

1

jalapeno, seeded and minced

1

large shallot, minced

3 tablespoons

mint, chopped

2 tablespoons

lime juice

1

ball burrata
Bread (whatever kind you like!)
Olive oil, for brushing on bread
Flaky sea salt
---
Instructions
Combine cherries, jalapeno, shallot, mint and lime juice. Let sit for at least an hour.
Brush bread with a thin layer of olive oil and grill (or toast!) to your liking.
To assemble, carefully tear burrata and put a chunk or two on a slice of bread. Top with cherry salsa and a sprinkle of salt.
Cherry salsa will stay well in the fridge for 5 days.
Notes
This makes a bunch of salsa, but leftovers are great! Use it on grilled chicken or pork. Top some tacos - whatever!
Prep Time:

10 minutes

Cook Time:

45 minutes
If you like this recipe, check these out!