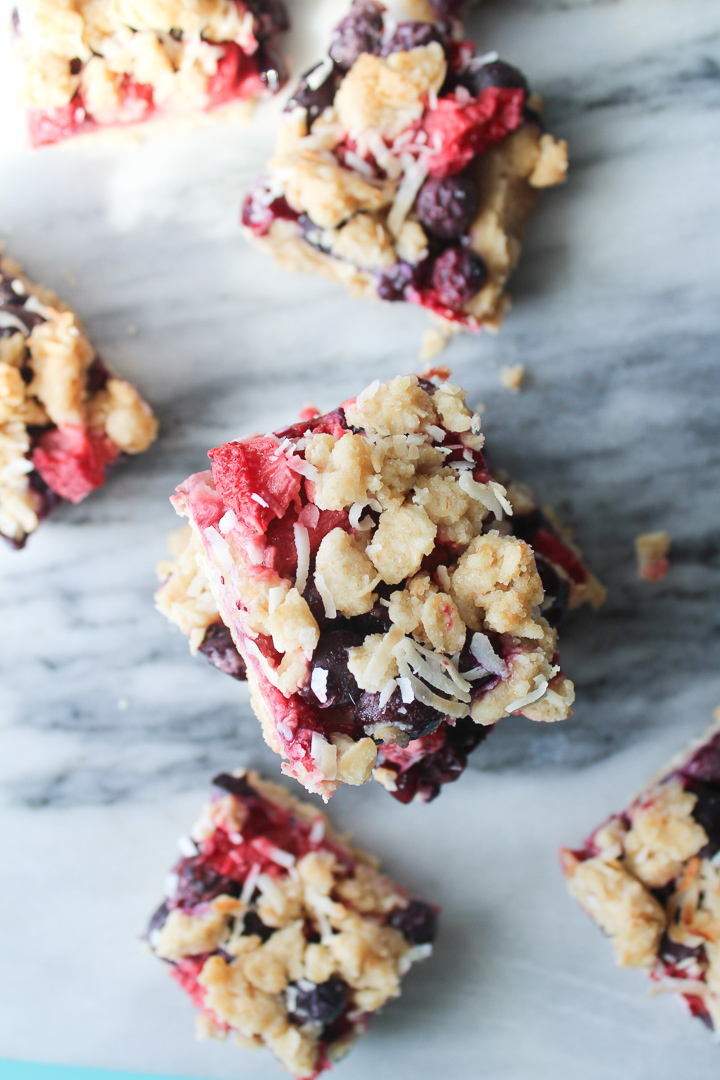 I know I've been going a little crazy with the coconut lately, but at least it's not another popsicle...right?!
Right.
These weren't supposed to have any coconut in them actually. I was truly, honestly, I promise going to just make these bars I saw on Pinch of Yum without changing the recipe. I SWEAR.
Except that I was using fresh strawberries and blueberries instead of frozen raspberries. But that was it! The only change! I love a good berry crumble, and a crumble bar with a cookie-like base? Yes please! So yea, no plans on changing her recipe at all.
Until suddenly I was using coconut oil instead of butter, cutting the sugar in half and sprinkling flaked coconut on top. Whoops.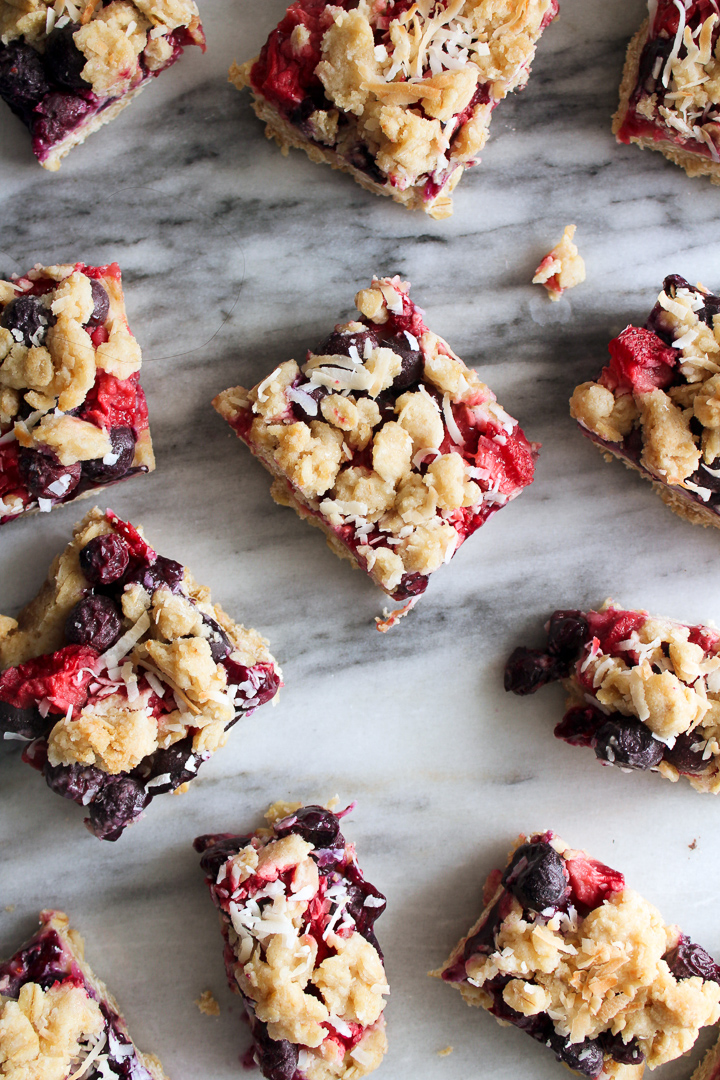 Luckily, they came out super good and I guess a little healthier because..healthy fats and all.
Normally I'm not one to insist on making desserts healthier. I think it's generally fine to indulge a little, but I can make an exception here because I swear these are so tasty. The coconut oil still makes them feel buttery, and because berries are all sorts of awesome right now I didn't miss the extra sugar one bit.
ALSO I JUST REALIZED RIGHT THIS SECOND THAT THESE ARE VEGAN!!
(unless you don't eat honey. sorry. but you could just replace with regular ol' sugar!)
It's always good to have more vegan dessert recipes in your back pocket, and I can assure you these crumble bars will please the non-vegans too. I myself did not even realize they were vegan until two sentences ago, so to be honest you probably don't have to tell anyone about it.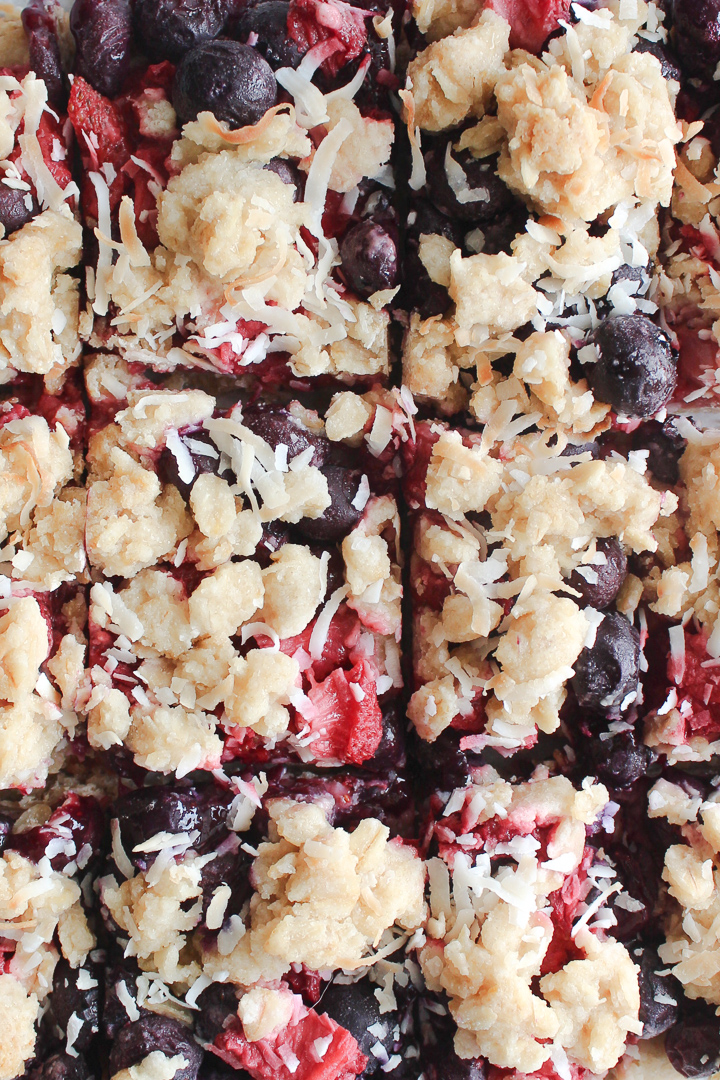 Health aside, these are a great summer dessert. I love super fudgy, chocolately treats as much as the next gal but even I can admit that a juicy, fruit-based dessert in the summer is the best. Like, a mix of rich and refreshing. I can't get enough.
Which is exactly why I took these berry crumble bars to my friend's house and out of my life as soon as I could.
If you have a bunch of extra berries around, definitely give these a try. It's basically exactly like eating fresh fruit for dessert, but just....so much better.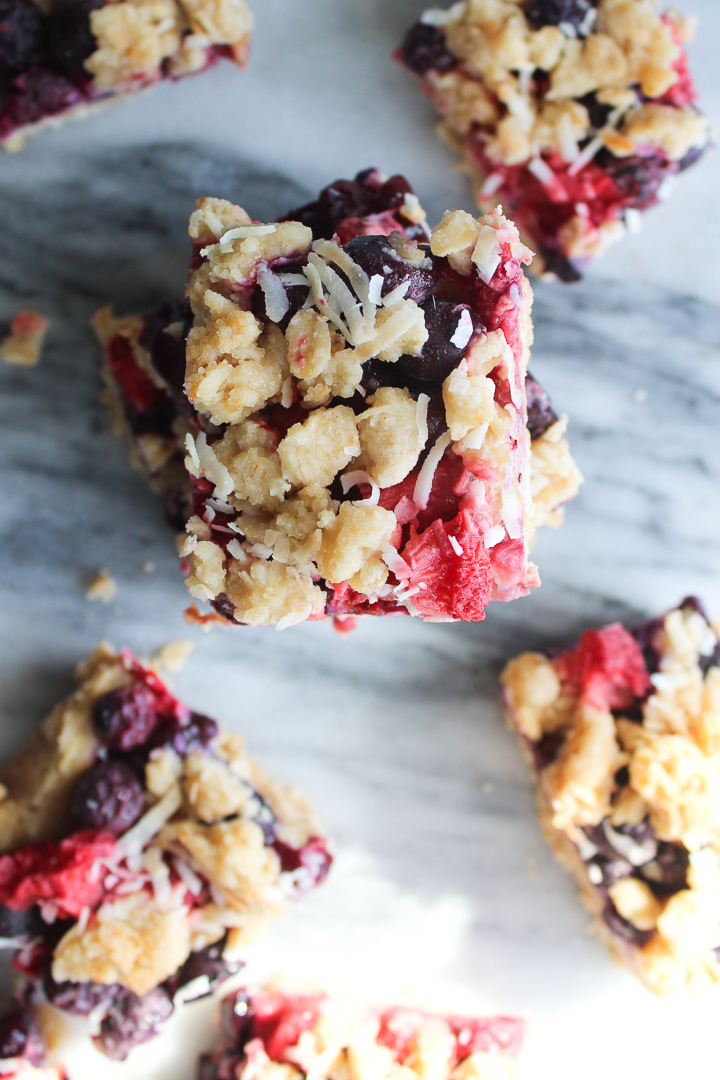 Print
Berry coconut crumble bars
---
Total Time:

40 minutes

Yield:

8

x8 pan

1

x
2 cups

berries (I used blueberries and sliced strawberries here)

1 tablespoon

lemon juice

1 tablespoon

honey

1 cup

flour

1 cup

rolled oats

½ cup

sugar

½ teaspoon

baking powder

½ teaspoon

salt

½ cup

coconut oil, melted

¼ cup

shredded coconut
---
Instructions
Preheat oven to 350.
Combine berries, lemon juice and honey in a small bowl. Mix and set aside while you prepare the crust.
Whisk together flour, oats, sugar, baking powder and salt. Add melted coconut oil and mix to combine. Reserve about ½ cup of crust and press the remainder in a parchment-lined 8x8 pan. Press down firmly into an even layer. Bake for 10 minutes.
After 10 minutes, remove crust from oven and pour berries on top. Sprinkle remaining crust/crumble over the top and bake for an additional 15 minutes.
Remove from oven, sprinkle with coconut and bake for another 5 minutes.
Let cool completely (preferably in the fridge) before cutting.
Store leftovers in an airtight container in fridge.
Recipe adapted from Pinch of Yum
Prep Time:

10 minutes

Cook Time:

30 minutes