Simple cheese board for two ideas - great for a date night in, or for a light dinner any day of the week. All the tips and tricks for making amazing cheese boards, even when scaling down. No judgements here if you eat this all yourself!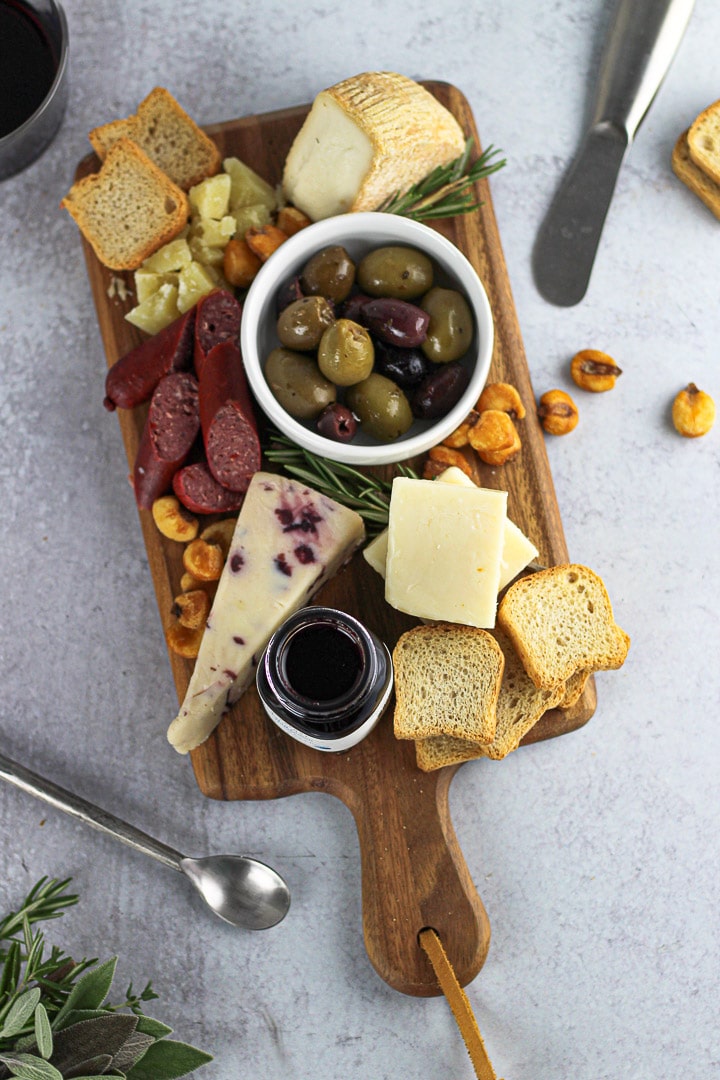 You had to have seen this one coming.
Of course I, a self-proclaimed QUEEN of cheese boards, would find a way to make it a small batch meal.
Yes, technically these are ideas for a simple cheese board for two. BUT, if this is more of a cheese board for one (HI, ME), that's 100% cool too. There are NO judgements around these parts of the internet.
Seeing how this is one of just multiple dedicated posts to cheese boards, you don't need me to sit here and share all my thoughts and feelings. You can find those here and here.
However, I do have some specific tips and ideas for building a cheese board for two. Basically, if you're looking to build something special without a fridge full of half-eaten cheese afterwards, I got you.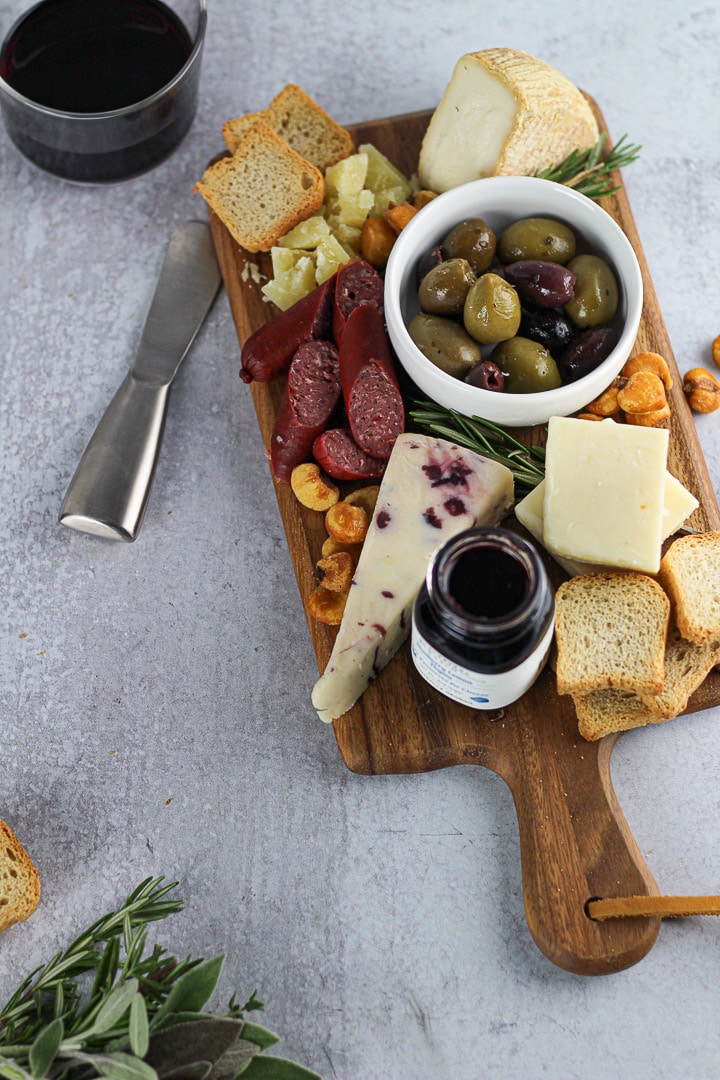 How much cheese do you need for two people?
Honestly, not that much. But a cheese board isn't a cheese board if you don't have some variety, right? I say at least two cheeses, with a third if you can squeeze it in. Here are my tips:
Like any other cheese or snack boards, I like to mix textures. So for this one, two cheeses can absolutely be enough, but I suggest doing one creamy (i.e. cheddar, goat, feta) and one more aged (i.e. parmesan) to mix it up.
Pick two cheeses that you can easily use up outside of the cheese board. I like to go for a white cheddar and parmesan. Both are staples in my cooking, and are generally in my fridge at any given moment. Others that are good: feta, pecorino romano, pepper jack, goat.
Bonus: Stock up on small "odds and ends-sized" cheeses. I see them at many grocery stores, often in a little basket right in the middle of all the cheeses. Aside from being great for creating a simple cheese board for two, it's also just a great way to try out new cheeses! This might not apply for everyone, as I'm not sure if every grocery store does this, but it's definitely worth a shot to look around. If you can find one, feel free to replace one of the "main" cheese you have above, OR add it as a fun third!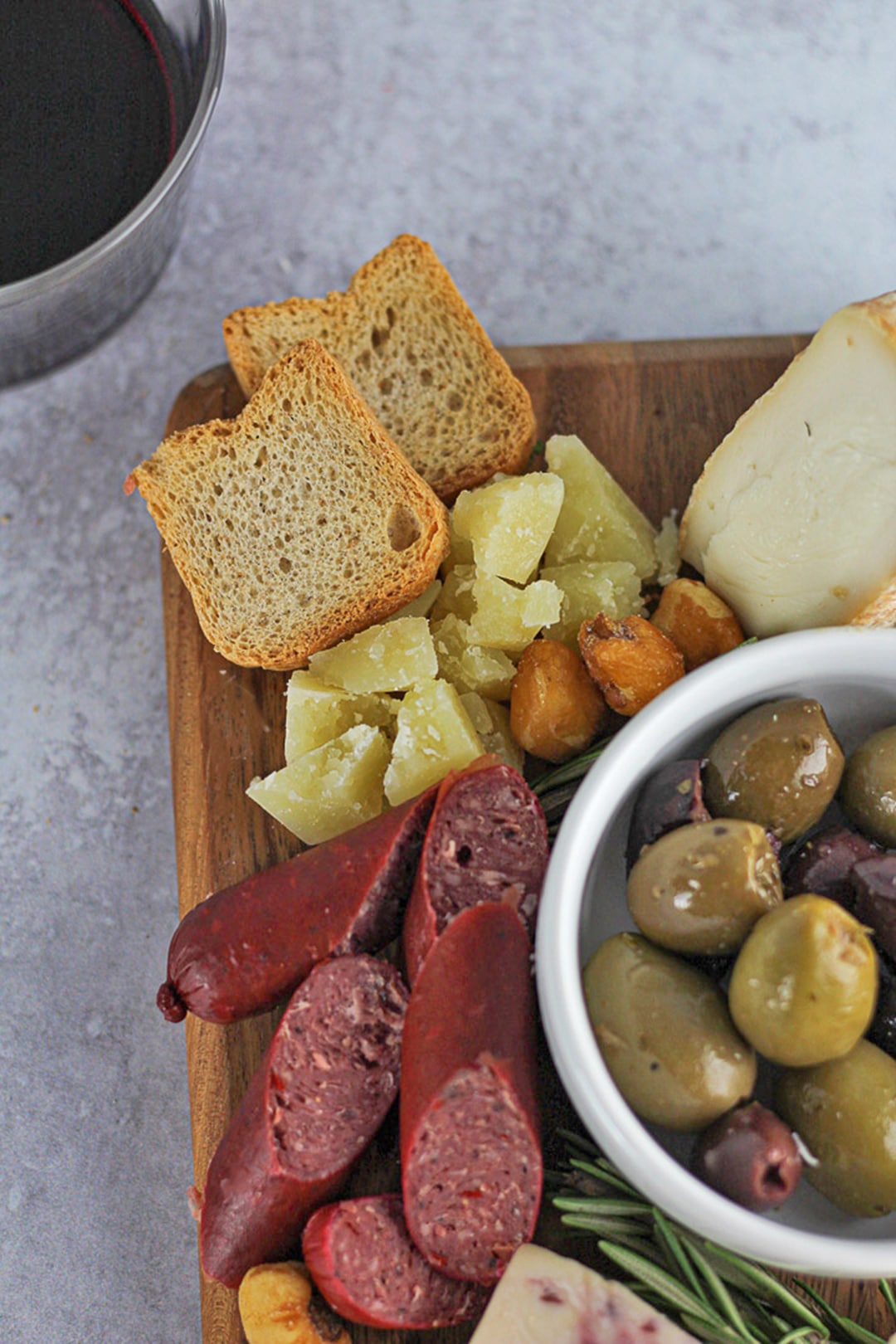 Grab some snacks!
Small cheese boards need snacks too! Olives are my go-to, and my #1 tip is to find a place with an olive bar so you can get just the amount you need. This will also let you pick and choose the flavors you want. If an olive bar is out of the question, many stores carry small "snack pack" bags of marinated olives. Look for them right next to the jarred olives!
If you want meat on your board, pick one you love and stick to it. No need to load up on three different ones. Summer sausage or hard salami are both great choices as the leftovers will last a while. But you can also grab a small package of pancetta or prosciutto if that's more your style!
On bigger cheese boards, I generally add some crunchy snacks AND dried or fresh fruit. For a simple cheese board for two, I try to just choose one of those. Here I went with corn nuts, because I'm obsessed. But you can also just grab a handful of any nuts or (hear me out) your favorite potato chips!
For something sweet, try dried apricots or a few grapes...or even some chocolate you have laying around. Hello date night!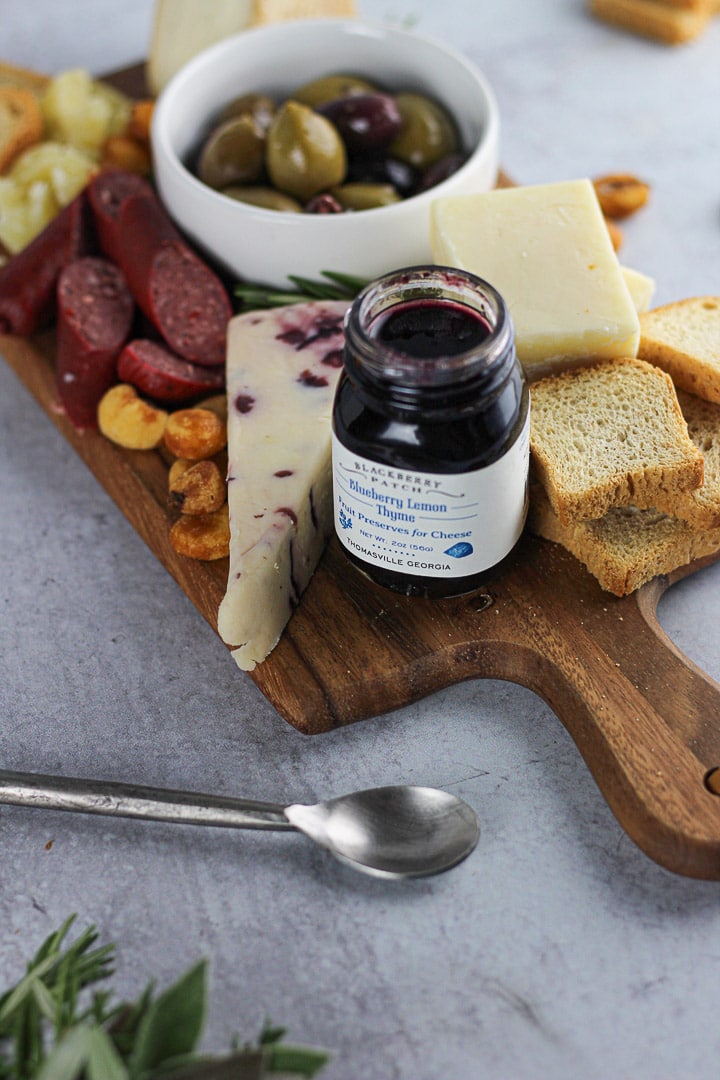 Now, for the finishing touches...
You probably already have some jelly or jam in your fridge. Use that! But if, like me, you can find the world's cutest jar of jam, definitely jump on that. If you don't have any jelly or jam, honey is a great addition too. If you really want to get crazy, add some garlic chili oil for a spicy bite!
Lastly, you just need to pick a carb to round things out. Here I used some cute little store-bought toasts, but you can toast up your own bread or just use your favorite crackers.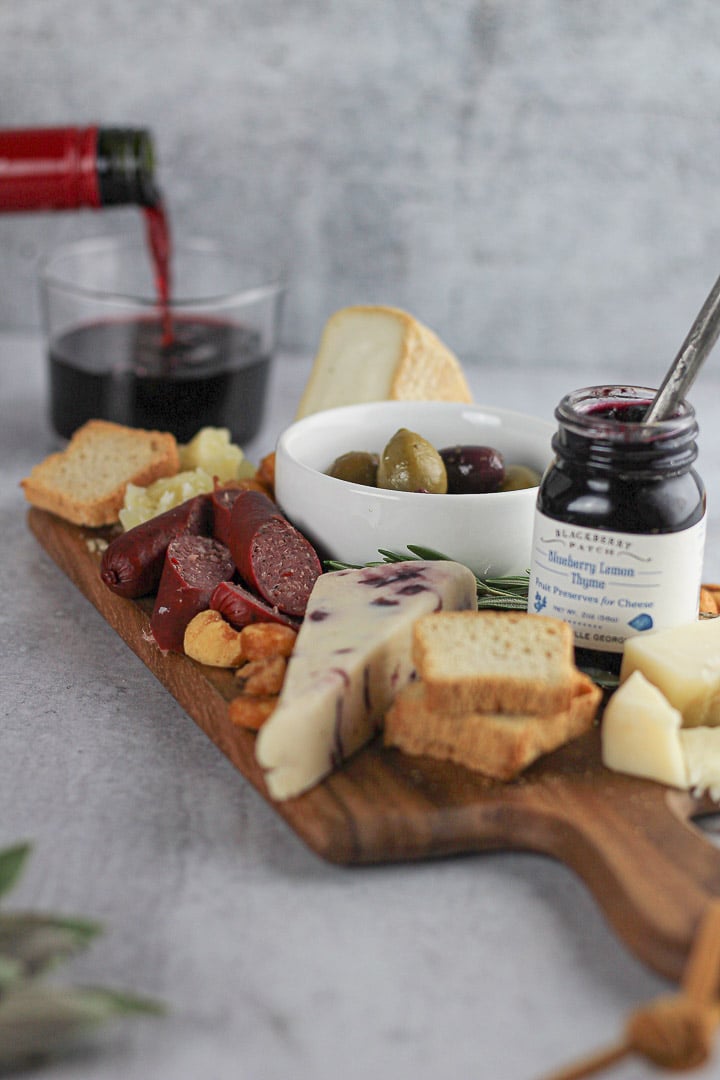 Whether you truly came here for ideas for a simple cheese board for two, or if you are looking to build a board just for YOU, these tips and ideas are just the starting point. Pick your favorites, try new things and treat yourself and your loved one!
Print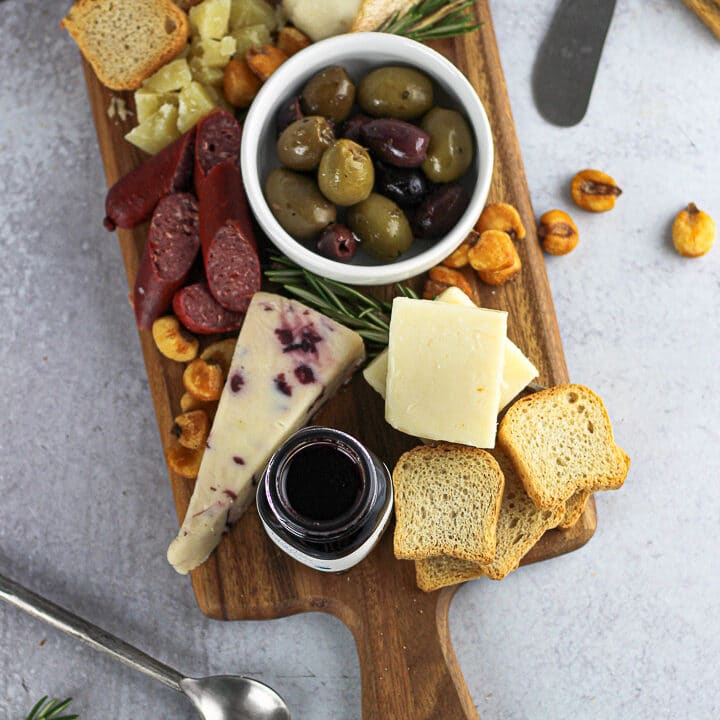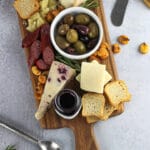 Simple Cheese Board For Two Ideas
Author:

Mansee Muzumdar

Prep Time:

5 minutes

Cook Time:

10 minutes

Total Time:

15 minutes

Yield:

2

1

x

Category:

Appetizer

Method:

No-cook

Cuisine:

Global
---
Description
Simple cheese board for two ideas - great for a date night in, or for a light dinner any day of the week. All the tips and tricks for making amazing cheese boards, even when scaling down. No judgements here if you eat this all yourself!
---
Cheese - pick 2-3
2 oz

hard cheese (parmesan, pecorino, manchego, etc.)

2 oz

soft cheese (goat, brie, blue cheese, feta)

2 oz

cheddar (sharp, white, etc.)
For rest of the cheese board - pick what you love!
½ cup

olives

½ cup

fresh fruit (grapes, strawberries, etc.) 

¼ cup

dried fruit (dried apricots, dried cranberries, etc.)

2 oz

meat (salami, pepperoni, chorizo, etc.)

2 oz

chocolate

¼ cup

nuts or chips

2

-

3

tablespoons jam, jelly or honey
Crackers or bread
---
Instructions
Put ½ cup olives and 2-3 tablespoons jam or honey in small, respective bowls. Place on large plate or small cheese board.
Arrange 2-3 cheeses around bowls, slicing or cutting to make them a little easier to pick up.
Add additional snacks and meat to fill out board. Fill in spaces with crackers or bread, or serve on the side.
Enjoy!
---
Notes
The idea here is to create a cheese board for two with NO leftovers, but if you have anything left that's no problem. Store any pantry ingredients (bread, dried fruit) as needed, and wrap up the rest of the board to just keep in the fridge. 
A cheese board for two is a great way to use up odds and ends in the kitchen, like leftover sauces or snacks. This is the time to be creative and try new things!