A staple in my kitchen, this spicy, garlic oil is a cross between chili oil and chili crisp with toasted spices and crispy shallots and garlic. Keep this garlic chili oil on hand to drizzle over dumplings, eggs, pizza or anything else that needs a delicious spicy kick!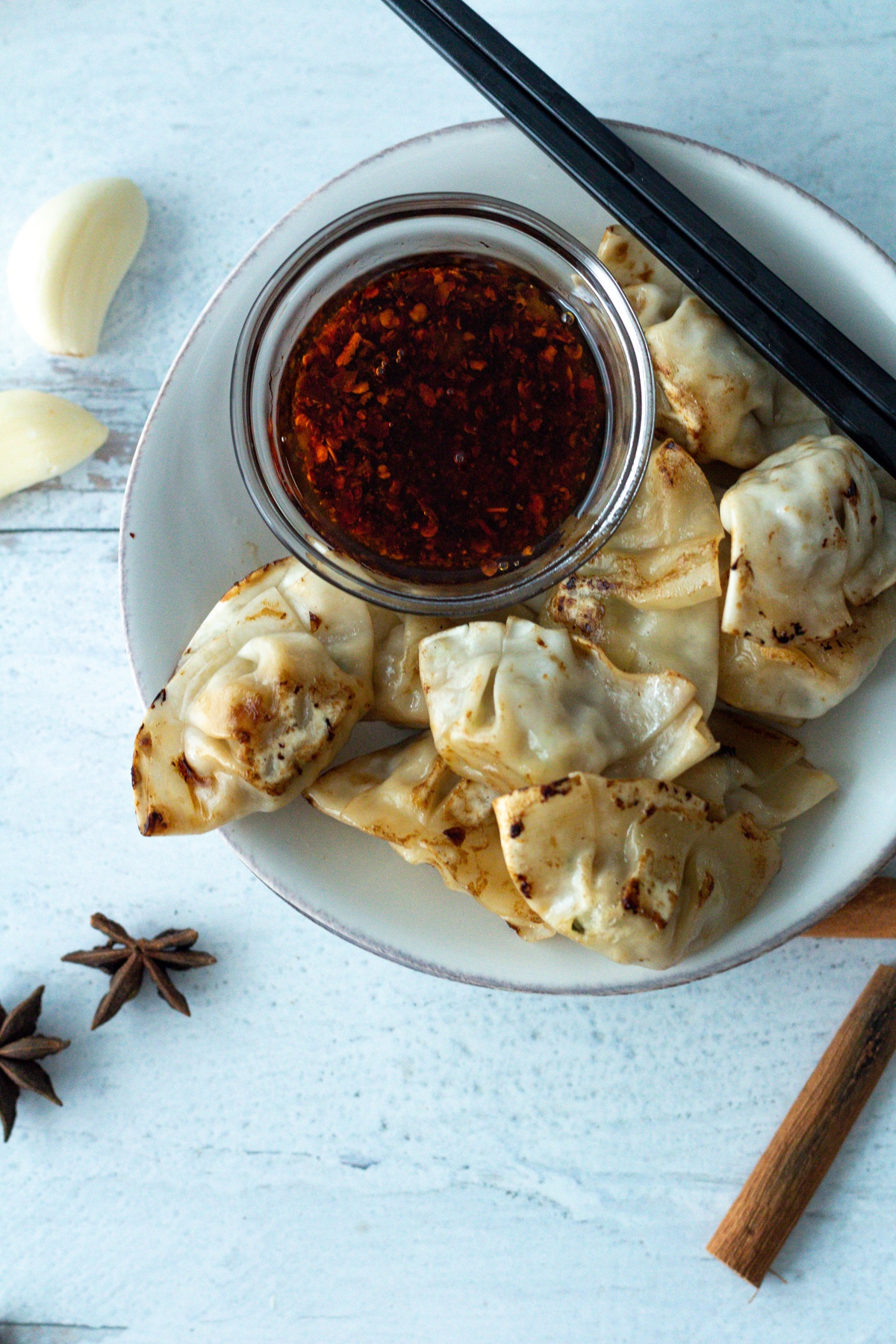 There are a few things I pretty much always have on hand, like my house seasoning, creamy cilantro and green onion sauce and this garlic chili oil.
Why? Because with seasonings and sauces like these, I know without a doubt I can make something delicious even if I'm low on ingredients.
There are a million ways to make a great spicy chili oil, and I've tried just about all of them! This garlic chili oil is my perfect mix of flavor + ease. And while it isn't a quick oil, it's fairly straight-forward and a great thing to do on a Sunday afternoon to prep for the week!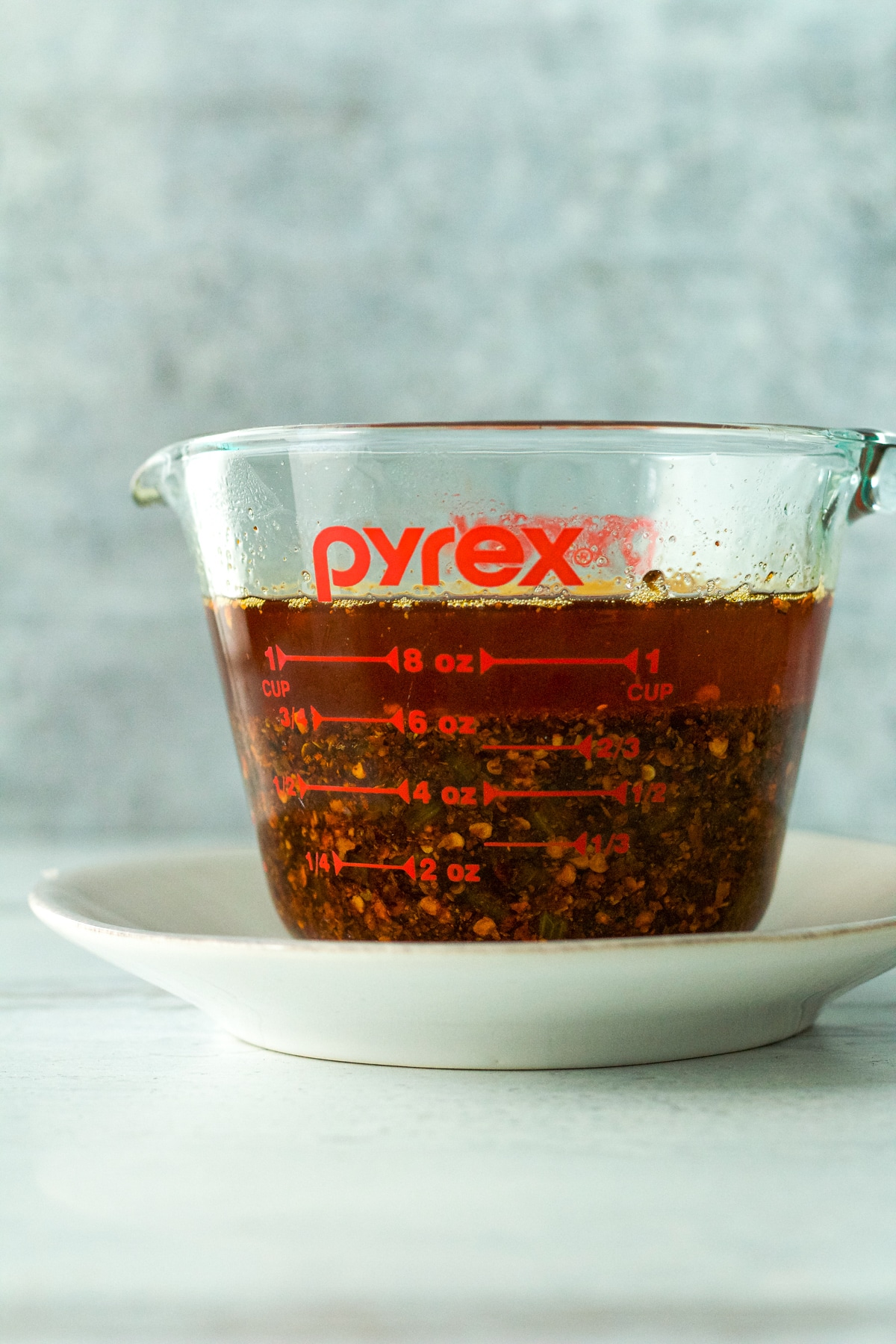 Why you need garlic chili oil
At least once a week, dinner is a plate of roasted vegetables (whatever I happen to have) drizzled with this garlic chili oil. Sometimes with a fried egg on top, if I'm feeling up to it. It's total comfort food and so easy for me to throw together on a busy night.
But the best thing about my garlic chili oil is that it goes great with just about anything! Drizzle it on pizza, mix it with mayo for a sandwich spread or drown dumplings (another thing I always have on hand in my freezer!) in it for a super quick snack or meal. It's delicious on stir fries, soups, chicken or fish and more. The list truly goes on and on!
Top my slow-baked salmon with this oil or drizzle it on ground beef bulgogi bowls for quick weeknight dinners. You can also add it to this crispy grains and chickpea dish I love, or amp up a quick sheetpan chicken meal.
You can also think about this as two condiments in one. The red-hued oil itself that is spicy and garlicky, and the crispy chili and shallots that can be used on their own to add a little texture and crunch to a dish.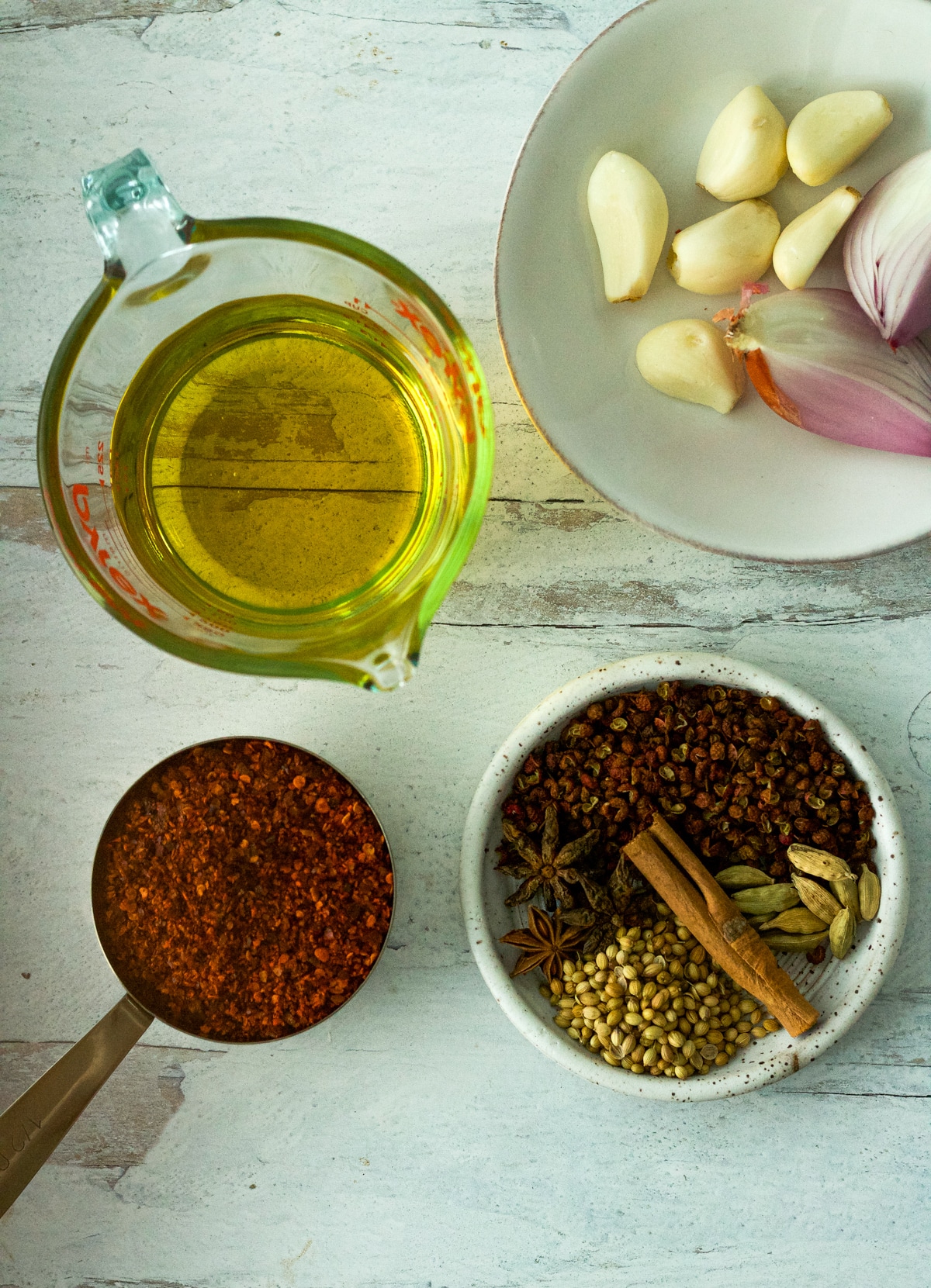 Finding the ingredients
For some, the list of spices in this garlic chili oil may seem a bit daunting or overwhelming. I highly suggest finding them as they all last for a really long time so you can make batch after batch of this delicious, spicy oil. You can find just about everything online, or I also encourage you to check out your local Asian grocery store for a lot of these ingredients, especially the asian chili powder and sichuan peppercorns.
You should be able to find coriander seeds, cardamom pods and cinnamon sticks at your local grocery store in the spice aisle!
Substitutions: If possible, I've included substitution ideas below for some ingredients. But note that using powdered spices vs. whole will change the flavor and final outcome of this garlic chili oil (but it will still be really good!!).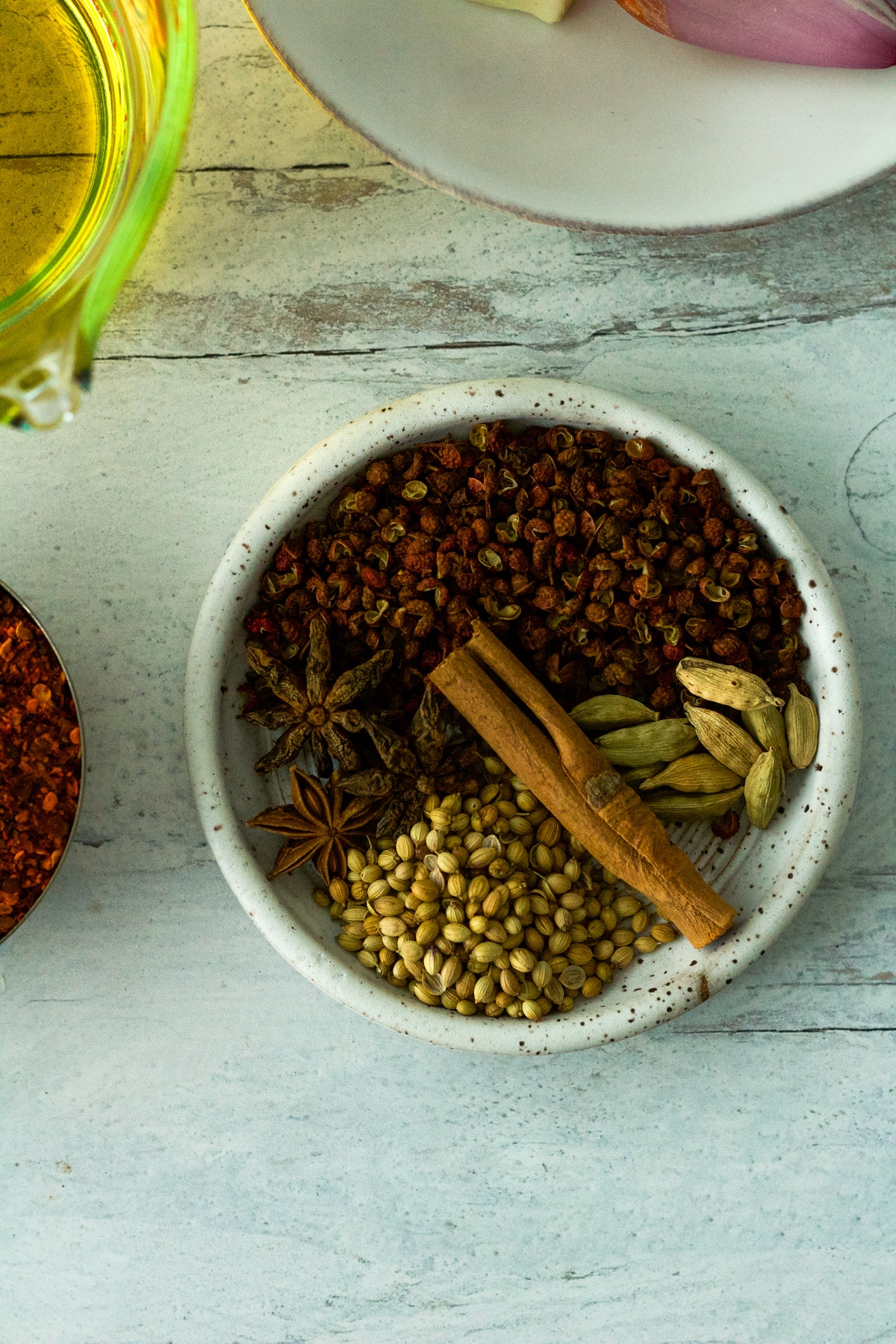 What you'll need
Sichuan peppercorns: You know when you're eating something and your lips and mouth start to feel kind of numb, but in a good way? That's the power of sichuan peppercorns! Infused in this oil, they provide a little spice but more flavor than anything else.
Substitute: You can use 1 tablespoon of whole black peppercorns. The flavor will have a little more of a bite, but it works!
Coriander seeds: These aren't always traditional in a chili oil, but I love the flavor of coriander (what can I say? It's the Indian in me!).
Substitute: Replace the whole seeds with ½ teaspoon ground coriander.
Green cardamom pods: Cardamom is common in a lot of Asian dishes and is great to have on hand. Use green instead of black here, and lightly crush the pods to help extract the flavor AND allow steam to escape so you don't end up with spluttering oil.
Substitute: Replace pods with ½ teaspoon ground cardamom.
Cinnamon: Don't skip this - the cinnamon is so good here!
Substitute: Replace stick with ¼ teaspoon ground cinnamon
Star Anise: This adds a slightly licorice flavor to the finished oil. Plus they are pretty to look at!
Substitute: While not a true substitute, you can use 2 teaspoons of fennel seeds in a pinch.
Garlic: I use 6 here, but this is very much a "measure with your heart" situation. Since we're just infusing the oil with garlic and then taking it out, it's hard to go overboard with the cloves. Throw in a whole head if you want!
Neutral Oil: I use avocado because that's the neutral oil I use for all my cooking, but any neutral oil will work. I'd stay away from extra-virgin olive oil, but a light olive oil would be fine too.
Substitute: Vegetable, grapeseed, sunflower or peanut oil will all work.
Shallots: Lightly fried minced shallots make for a crispy, crunchy little bite in this oil. You can leave the shallots out if you want or just don't have any on hand.
Substitute: You can use onion, but I'd definitely go with red onion as it is slightly sweeter and closer to the shallot flavor than a regular white or yellow onion.
Gochugaru: This is a Korean chili powder that has the perfect texture for this chili oil, with a mix of chili flakes and seeds. I really love it in this garlic oil so I always make sure to have it on hand. It's also great to use in other marinades, sauces and stir fries!
Substitute: If you can't find gochugaru, you can use regular red pepper flakes but I'd mix in some chili powder or cayenne powder to help the oil take on that great color.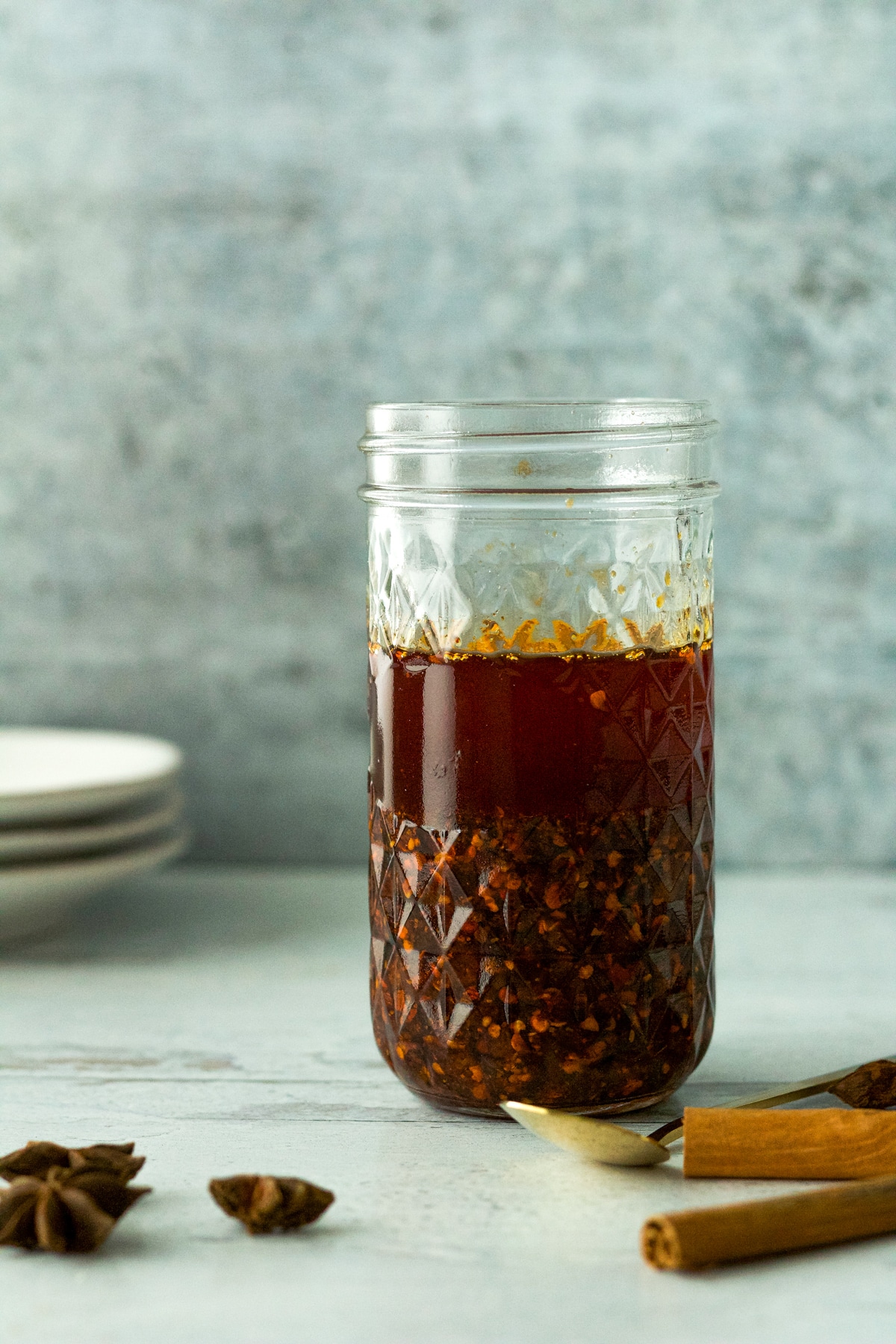 How to make this delicious spicy oil
Toast your spices and garlic
Add the sichuan peppercorns, coriander seeds, star anise, cinnamon stick, cardamom pods and smashed garlic to a heavy-bottom pot. Let toast over medium heat for 2-3 minutes, until spices smell fragrant, garlic starts to brown and you see a little smoke in the pan. This can happen fast, so keep an eye on it! Remove from heat for a few minutes before moving to next step.
Infuse the oil
Return pot to heat and add oil. Let oil simmer over low heat for 10-30 minutes, to let all those flavors infuse. If you are going to do the full 30 minutes, just keep an eye on the garlic and take out any pieces that look burned or start to turn black. Remove spices and garlic using a slotted spoon (or drain oil and return to pot).
Fry the shallots
Add minced shallots to oil and keep over low heat. Let shallots fry for 15-20 minutes, until they are lightly browned. They will keep cooking as the oil cools so you don't need to fry them fully at this stage.
Add chili powder
While shallots are frying, add chili powder and salt to a glass jar or measuring cup. Once shallots are done, carefully pour the hot oil and shallots over the chili powder. Stir to combine.
Cool and store!
Let garlic chili oil cool completely before closing lid and storing.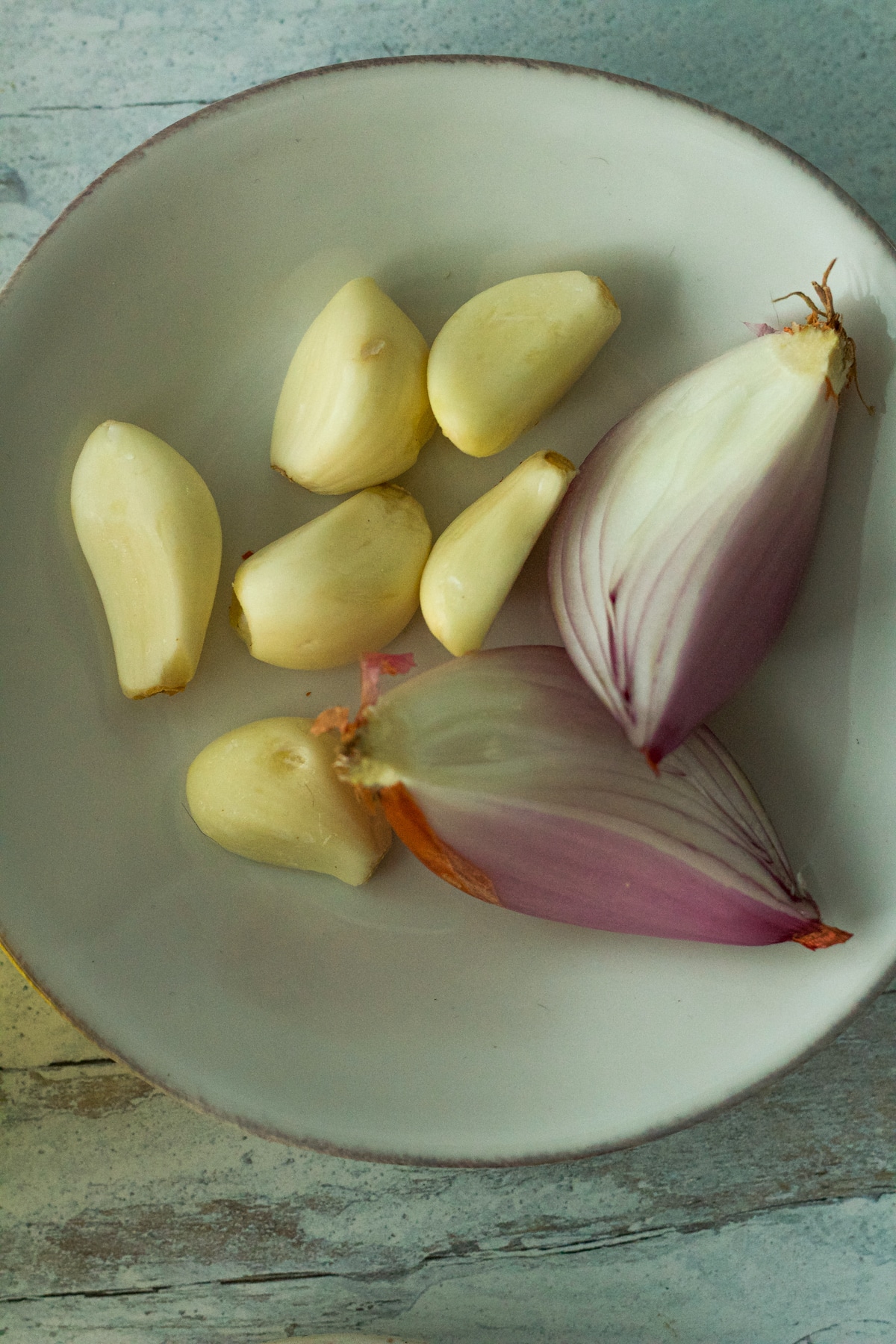 Safely store your chili oil!
While this is garlic chili oil, it is completely safe to keep out on the counter as we are not keeping any garlic cloves in it. I keep it tightly covered in either a mason jar or a plastic deli container.
If you are worried about the oil going bad, you can absolutely keep this in the fridge. You may just need to let it sit out for a few minutes to come to room temperature before using.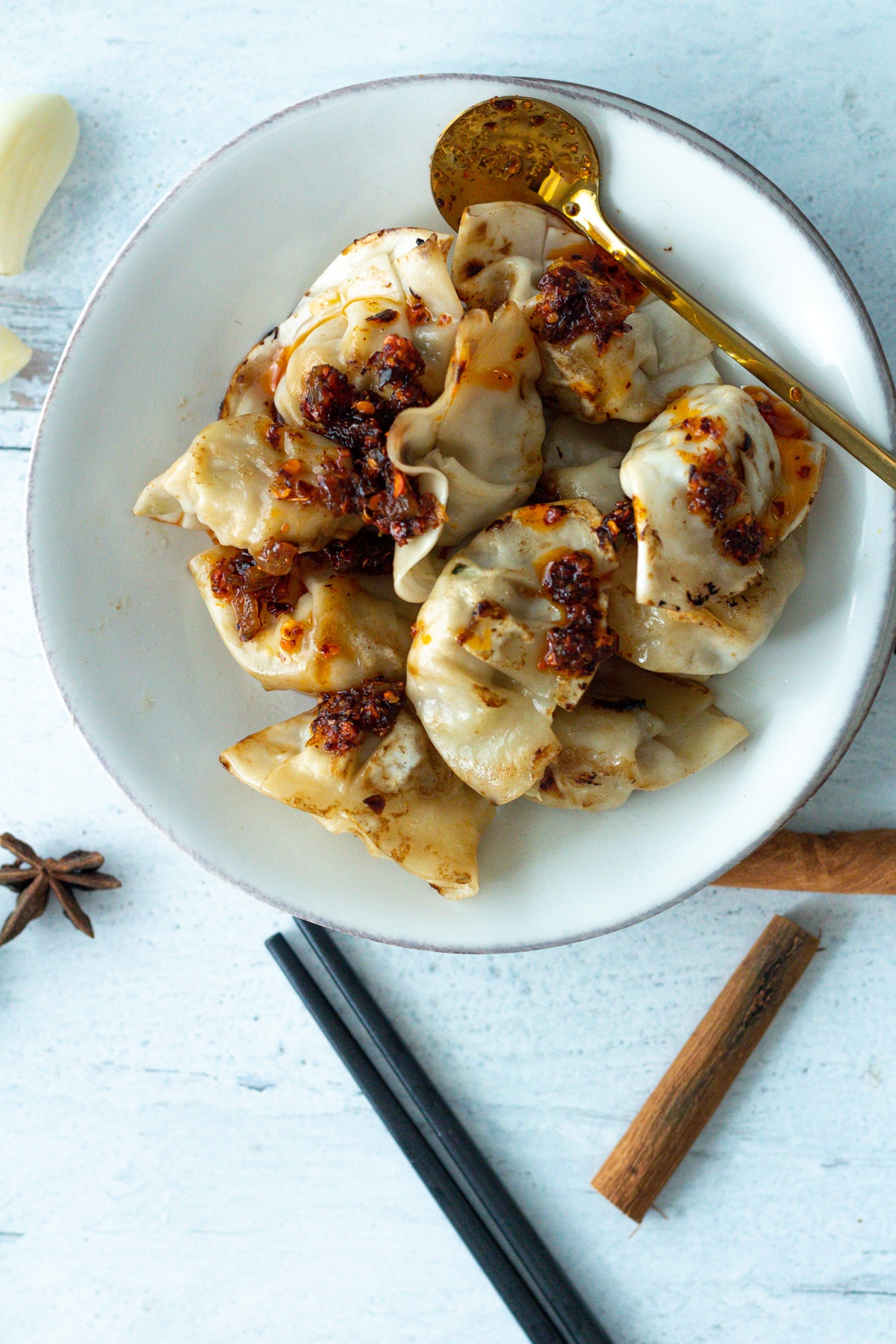 Print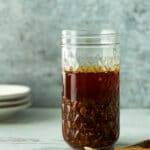 Garlic Chili Oil
---
Description
A staple in my kitchen, this spicy, garlic oil is a cross between chili oil and chili crisp with toasted spices, garlic-infused oil and crispy shallots. Keep this garlic chili oil on hand to drizzle over dumplings, eggs, pizza or anything else that needs a delicious spicy kick!
---
2 tablespoons

sichuan peppercorns

1 tablespoon

coriander seeds

3

star anise

1

cinnamon stick

10

green cardamom pods, lightly crushed

6

garlic cloves, smashed

1 ¼ cups

neutral oil (vegetable, avocado, peanut, etc.)

1

shallot, minced

½ cup

gochugaru (Korean red chili flakes - see notes for substitute)

2 teaspoons

salt
---
Instructions
Add 2 tablespoons sichuan peppercorns, 1 tablespoon coriander seeds, 3 star anise, 1 cinnamon stick, 10 green cardamom pods and 6 smashed garlic cloves in a medium heavy-bottom pot. Turn heat to medium and let spices and garlic toast for 2-3 minutes, until garlic starts to develop some brown spots and the pan is very fragrant and starts to smoke just a little bit.
Turn heat off and remove pan for 5 minutes to let things cool down (so you don't end up with a smoke show!). Return pan to stove and add 1 ¼ cups neutral oil. Turn heat to medium-low. 
Once oil starts to gently bubble, reduce heat to low and let oil simmer for at least 10 minutes. I like to let it go for 30 to really infuse the flavor of the garlic and spices, but 10 minutes definitely works!
After oil is infused, remove spices and garlic. You can do this with a slotted spoon or strain the oil into a measuring cup and then return back to pan. 
Add 1 large minced shallot and let fry, over low heat, for 15-20 minutes, until it is light brown in color. The shallots will continue to cook as the chili oil cools so don't let it get to dark at this stage.
While shallots are frying, add ½ cup gochugaru and 2 teaspoons salt to a large heat-proof jar or bowl. I like to use a 2-cup measuring glass to make it easier to transfer later. 
Once shallots are lightly browned, turn off heat and carefully pour oil and shallots over chili powder. Stir a few times to combine. If desired, add a few of the larger toasted spices (like the cinnamon stick and star anise) to the oil to keep infusing the oil as it sits.
Let garlic chilli oil cool completely before covering. I keep this out on my counter for 1-2 weeks, but you can also store in the fridge for up to a month.
Notes
Gochugaru can be found at Asian grocery stores or online. If you can't get your hands on it, you can use ½ cup red pepper flakes + 1 tablespoon chili powder. The flavor will be slightly different, but you'll still get the nice red color. If you want things even spicier, use cayenne powder instead of chili powder!
I choose to infuse the garlic with oil and then take it out so I can leave the oil out of the fridge and avoid any concerns of botulism. If you want to keep the garlic in here, you can mince it up and fry with the shallots. Store this, tightly covered, in the fridge and use up within a week.
I think neutral oil is the best for this so the garlic and spices really shine, but if you don't mind the extra flavor you can use olive oil. I'd still avoid an extra-virgin olive oil and go for something lighter (less expensive too!).
Prep Time:

5 minutes

Cook Time:

45 minutes

Category:

Sauces

Method:

Stovetop

Cuisine:

Asian