This one pan roasted chicken breast with crispy potatoes proves you can make a delicious, comforting roast chicken dinner for one. Add a little kale for greens and you have a filling sheet pan meal in just about 30 minutes.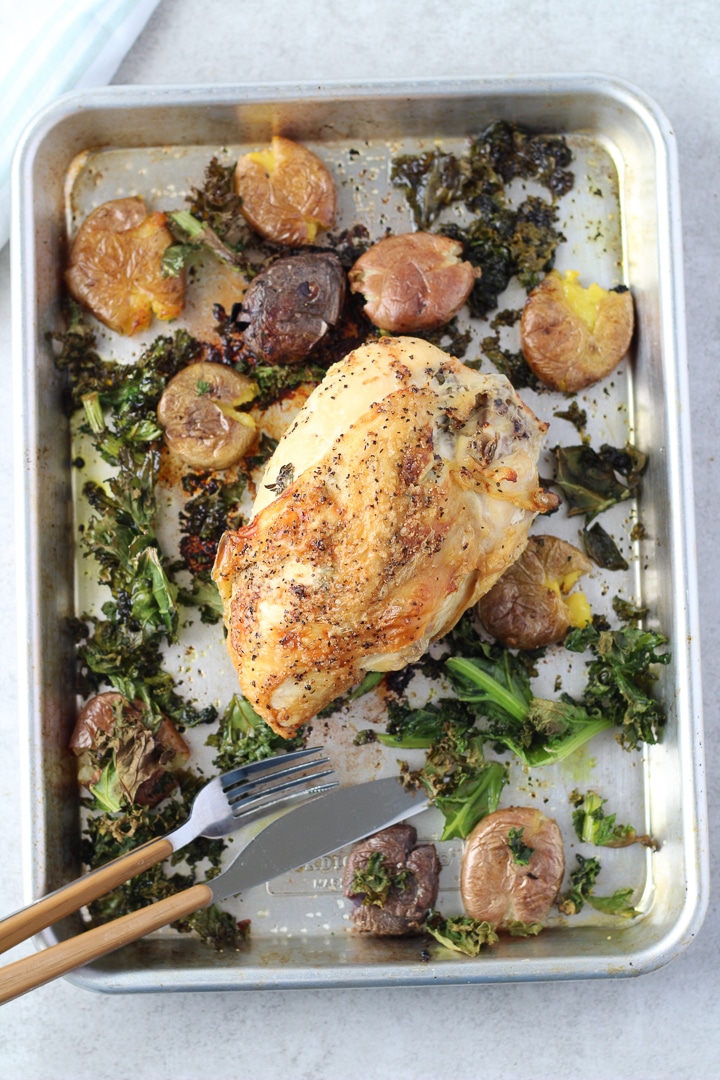 I'll be the first to admit that there is absolutely nothing wrong with roasting an entire chicken for one person. Not only is there zero shame in that game, but it generally just makes more sense to do the whole damn thing, ya know?
Eat some delicious roast chicken one night. And then eat it again! And probably a couple more times after that! Put it on salad. Turn it INTO a salad. Toss it with spices and fill your tacos! There's a reason why roast chicken is a classic - and it has nothing to do with how many people you're feeding.
With. That. Said.
Sometimes you don't need, or even want, all that chicken. I get it. That's normal too. That's where easy peasy one pan chicken breast and crispy potatoes come in.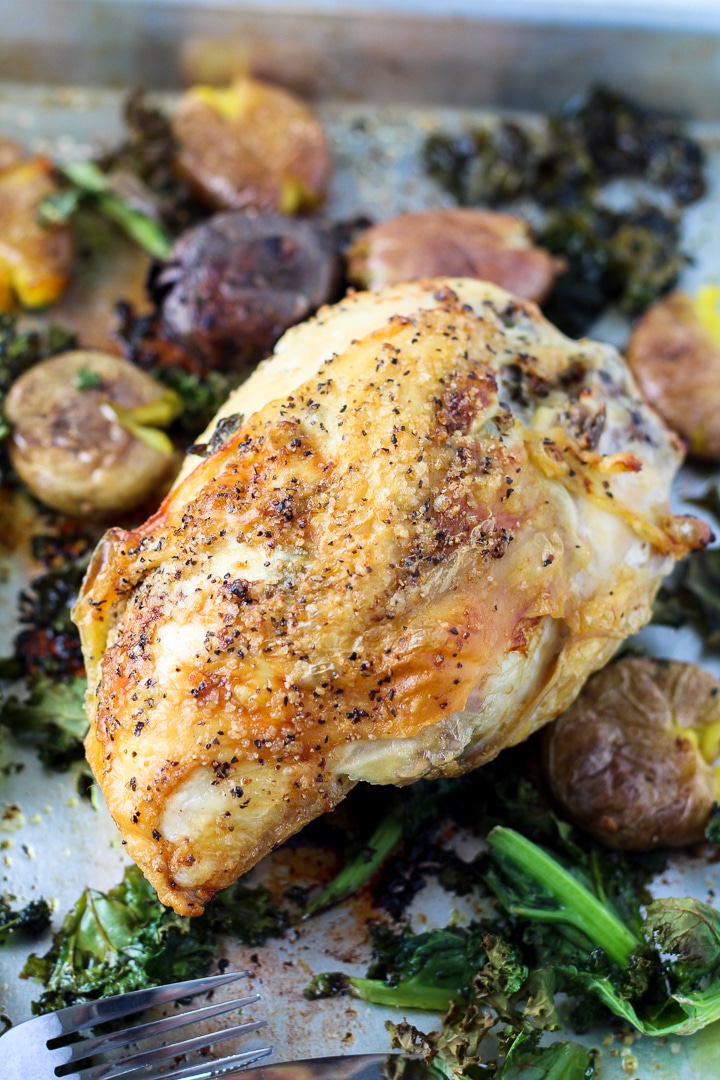 The best way to cook chicken breast
The one thing I will insist upon - even if just cooking for one - is roasting a skin-on, bone-in chicken breast. It's worth it in every way, so just do it. I can generally find a single breast in my local stores, but if you can only find packages with 2-4, go ahead and freeze the others for future solo roast chicken nights.
Two tricks to ensure super juicy meat:
A decent amount of fat. This recipe calls for both butter and olive oil (please don't yell at me)
High roasting temperature to get crispy skin and perfectly tender meat in a small(ish) amount of time. I picked up this tip from FoodieCrush and I love her everyday for it.
What you'll need
Chicken breast: I said it before and I will say it again, I HIGHLY suggest using skin-on, bone-in chicken when roasting like this. If chicken skin isn't your thing, you can easily pull it off after it cooks.
Butter AND olive oil: Butter to keep the meat juicy, and oil to crisp up the skin.
Substitute: You can use one or the other if you prefer. If you are going to do that I'd say go with butter because the flavor really adds a lot to the chicken.
Garlic: Just one clove to mix with the butter. I like to grate it, but minced is fine (you can use jarred minced garlic if that's what you have).
Lemon: I love adding some lemon zest to the butter for extra flavor, but anything vinegary will do. With that said, you can leave this out.
Substitute: Rice wine or red wine vinegar can be used instead of lemon.
Thyme: Use fresh if you have it, otherwise ¼ teaspoon dried thyme is fine.
Substitute: If you don't like or have thyme on hand, replace with your favorite herbs and/or seasoning. Try lemon pepper, cajun seasoning or maybe my house seasoning?
Baby potatoes: You want small potatoes that are mostly the same size so they cook evenly. You can use baby gold, baby red or fingerling potatoes.
Kale: A big handful of kale adds some greens to this dish that I happen to love. You'll just be tossing them in the chicken juices and roasting for a few minutes right before eating.
Substitute: If you don't like kale, you can try another hearty green like collard greens. Don't use anything too tender like spinach or mustard greens. You can also replace the greens with another vegetable like green beans, and just cook them alongside the chicken.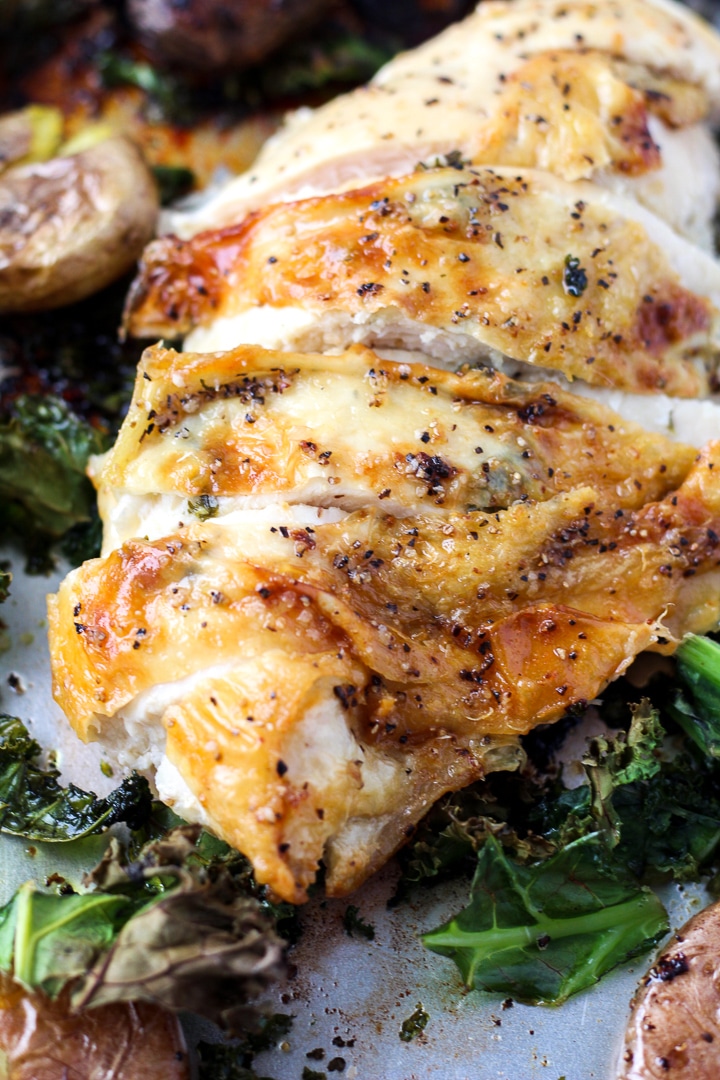 A one pan wonder
Since you'll have chicken in the oven, you might as well throw some vegetables in there too.
Because I wanted this recipe to be as simple and low-maintenance as possible, but still be completely amazing, we give the little baby potatoes a quick steam in the microwave (gasp) to ensure they cook perfectly alongside the chicken.
The kale is honestly optional because chicken + potatoes is absolutely a full meal, but if you've never never tossed kale in chicken juices and then roasted until crisp-chewy? Omg. Just do it.
I hope you love this one!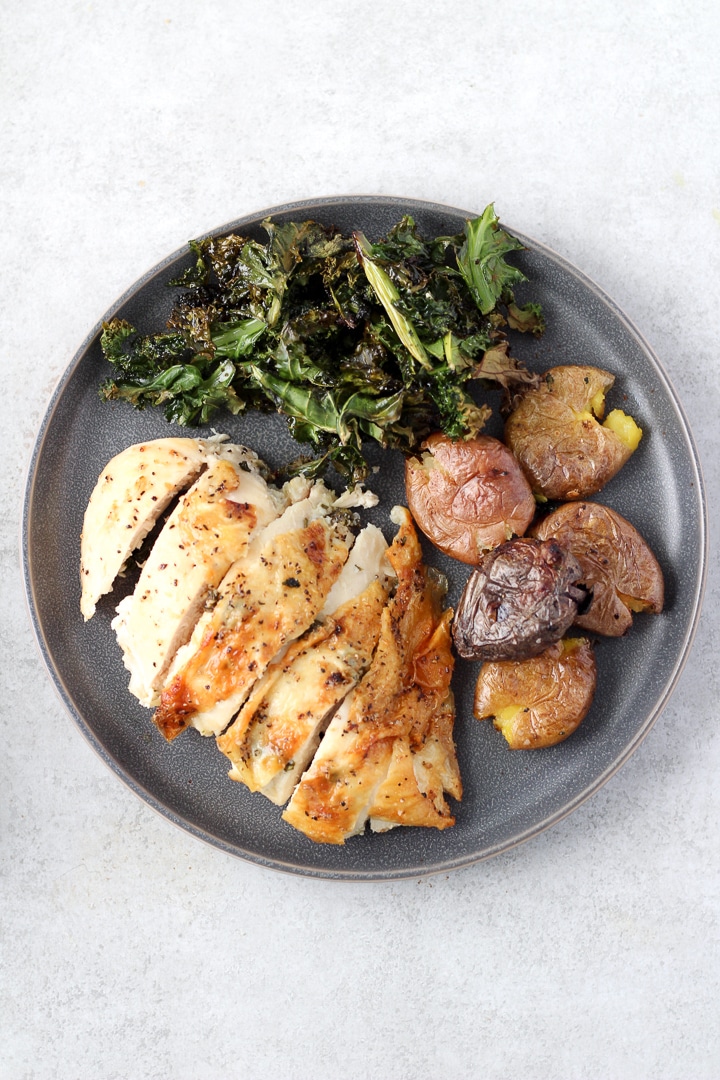 Print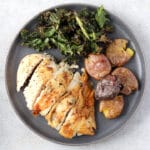 One Pan Chicken Breast and Crispy Potatoes
---
Description
This one pan roasted chicken breast with crispy potatoes proves you can make a delicious, comforting roast chicken dinner for one. Add a little kale for greens and you have a filling sheet pan meal in just about 30 minutes.
---
1 cup

(about

4 oz

) small potatoes

2 tablespoons

water

1 tablespoon

olive oil, divided

1

chicken breast, bone-in/skin-on

1 tablespoon

butter, softened

1

garlic clove, minced or grated

1 teaspoon

fresh thyme or

¼ teaspoon

dried thyme

½ teaspoon

lemon zest 

2 cups

torn kale leaves

½ teaspoon

salt 

¼ teaspoon

pepper
---
Instructions
Preheat oven to 450.
Combine 2 tablespoons water and 1 cup baby potatoes in a small bowl and cover with plastic wrap. Microwave for 2 minutes, until potatoes are steamed and slightly soft (alternatively, you can parboil them).
Drain water, and spread out on small sheet pan. Use the bottom of a glass to lightly smash each potato - you don't want to destroy them, but you're looking for a good amount of surface area to crisp up. Drizzle with 1 teaspoon of oil and sprinkle with a ¼ teaspoon salt and a little pepper. Set aside while you prepare chicken.
Mix 1 tablespoon butter,  1 minced garlic clove , 1 teaspoon thyme and ½ teaspoon lemon zest (or vinegar) in a small bowl.
Place chicken breast on pan and use your finger to gently pry the skin away from meat. Spread the butter mixture under the skin and use your fingers to try and get it over as much surface as possible (so you want the butter to be between the skin and meat).
Pour remaining 2 teaspoons olive oil over the top of chicken and sprinkle with ½ teaspoon salt and ¼ teaspoon pepper.
Bake for 25-30 minutes, or until chicken is cooked through (highly suggest getting a meat thermometer!). Remove chicken from pan and let rest.
While chicken rests, add 2 cups torn kale leaves to the pan and toss to coat in the oil and chicken drippings on the pan.
Return pan to oven and bake for an additional 5-10 minutes until potatoes are super crispy, and kale is a mix of crispy and chewy to your liking.
Remove breast from bone, and slice. Serve with potatoes and kale, topped with more salt if needed!
Prep Time:

5 minutes

Cook Time:

30 minutes

Category:

Main

Method:

Oven