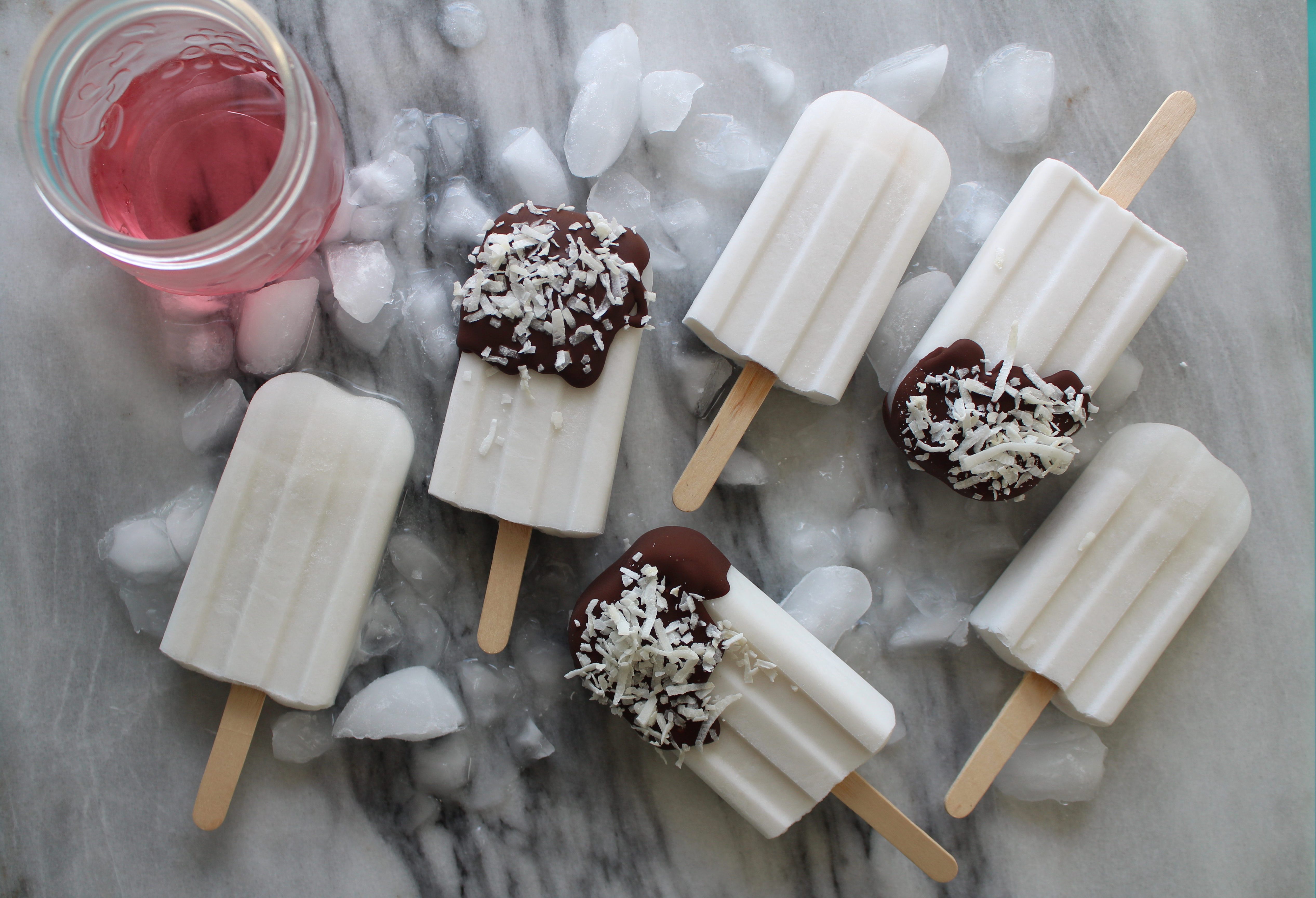 Since moving back to Texas I've been OBSESSED with making homemade popsicles more than ever. It's so hot. Unreasonably hot. The only thing I can do is turn anything and everything into a frozen treat. Since rosé is the wine of the summer (I assume) and popsicles are a total must, today's post was obvious. I mean, you really should have seen this coming.
My first thought was to do a straight up boozy cocktail popsicle like I did last year with these ginger paloma popsicles, but for some reason I couldn't get the idea of a creamy rosé pop out of my head. While straight up milk and rosé didn't seem right, I didn't doubt coconut milk for a second.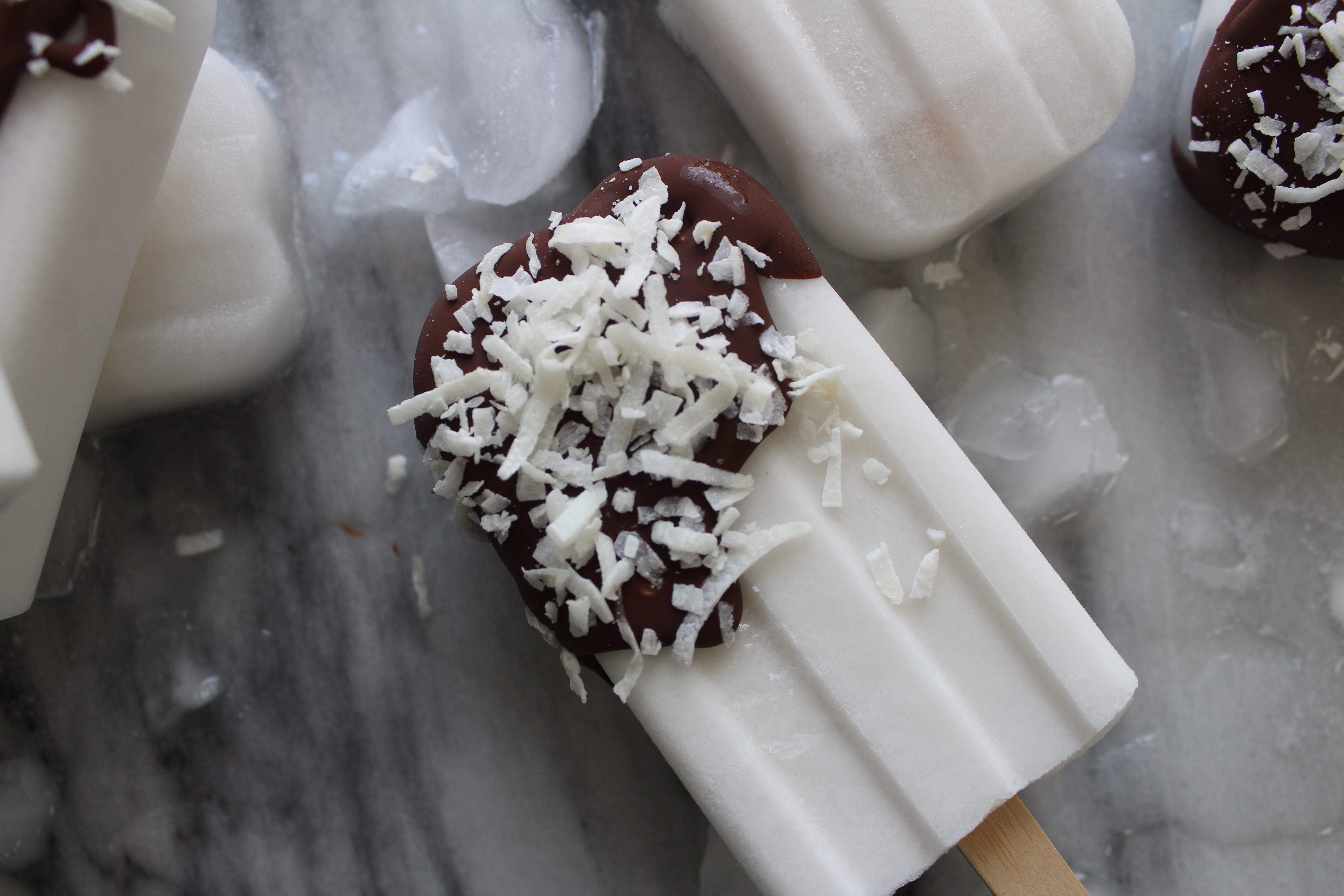 I won't lie, you can barely taste the rosé here. It's just the perfect little sweet kick mixed in with the creamy coconut milk. Super refreshing. And so easy! Have I said that yet? So so easy!
The hardest part is making the rosé syrup, but that's just your favorite rosé and sugar. Once that cools it's just a matter of mixing it up with a can of coconut milk (make sure everything is mixed really well so the milk doesn't separate as it freezes....like in this batch that I decided to photograph anyway for some reason) and pouring it into a popsicle mold.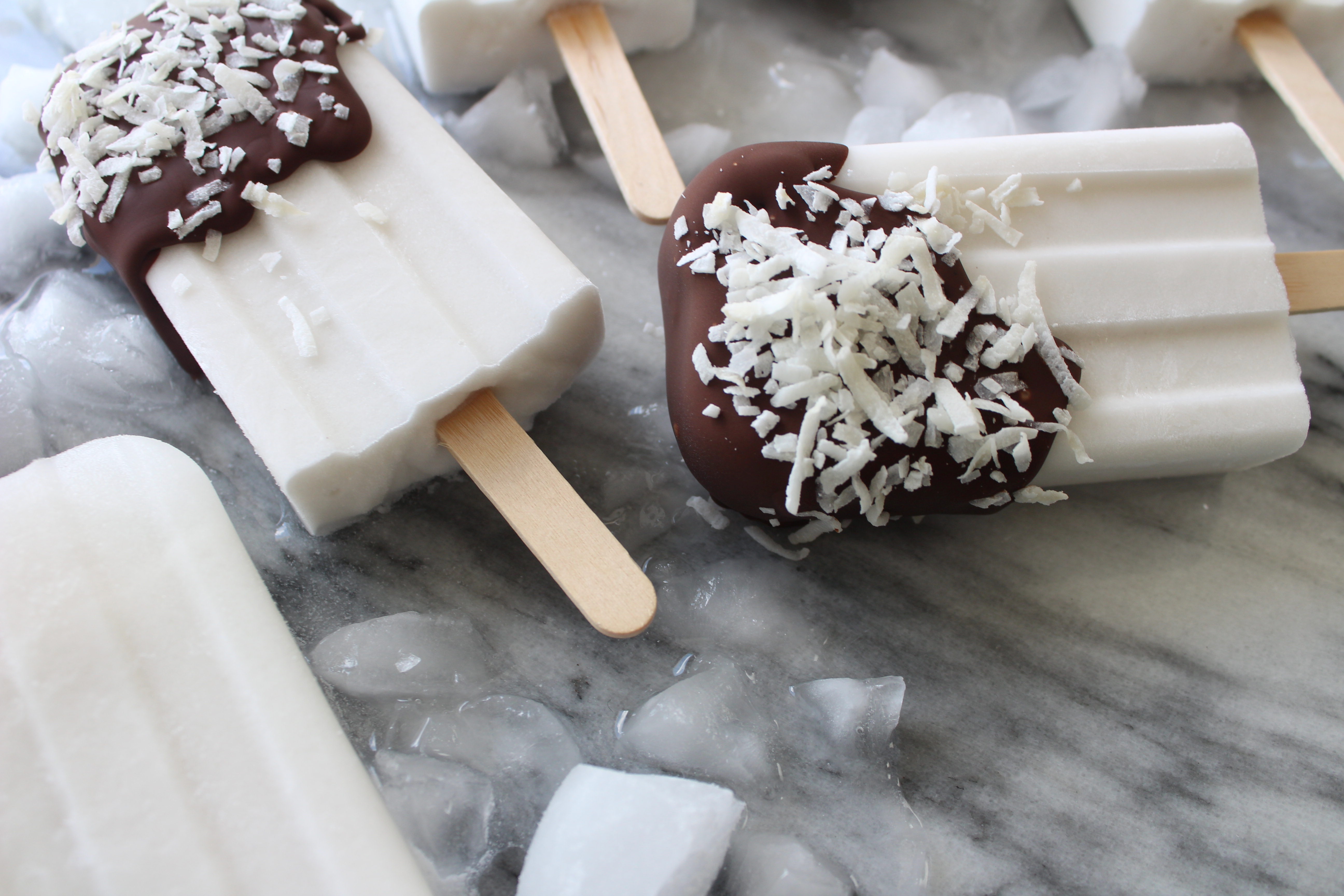 I certainly highly suggest dipping them in dark chocolate and shredded coconut...but you don't have to. Technically that's optional.
I know. I can't believe I just said that either.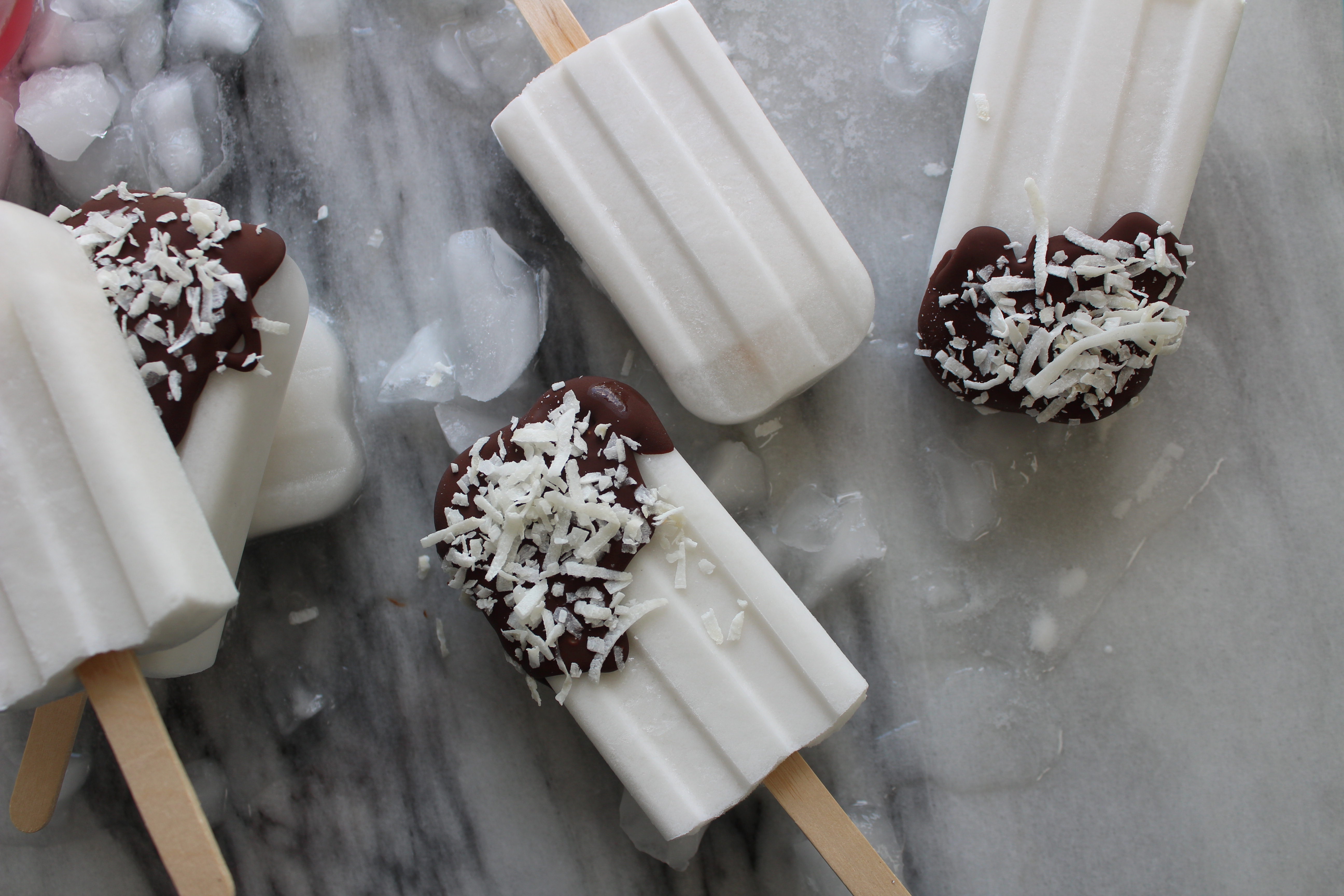 Print Creamy coconut rosé popsicles
Prep Time:

10 minutes

Cook Time:

20 minutes

Total Time:

6 hours 30 minutes

Yield:

6

1

x
---
1 cup

rosé wine

1 cup

sugar

1

can full-fat coconut milk

½ cup

dark chocolate

2 teaspoons

coconut oil
Shredded coconut
---
Instructions
Combine wine and sugar in a small saucepan. Bring to a boil, and then reduce heat and let simmer for 10-15 minutes. Let cool completely.
Pour coconut milk in a large bowl and whisk really well to make sure there are no clumps and/or water separation (if you really want to make sure, throw it in the blender for a few seconds!). Add cooled rosé syrup and whisk to combine. Pour mixture evenly into popsicle mold, leaving a little room at the top. Freeze for at least 6 hours, preferably overnight.
When ready to serve, melt chocolate and coconut oil together either in a double boiler or in the microwave (30 seconds, stir, 15 seconds increments until just melted).
Dip unmolded popsicles in melted chocolate, or if you prefer you can drizzle the chocolate over them. Sprinkle with shredded coconut and serve!
---
Notes
I've used a bunch of popsicle molds and they're all a little different. If you have any trouble unmolding the popsicles either set the bottom of the mold in a bowl of hot water for 10-15 seconds, or just run it under hot water in the sink. They should come out easily!
The chocolate should harden really quickly when you put it on the cold popsicles, but if they start to melt a little just put them all on a wax paper (parchment paper works too) baking sheet and stick back in the freezer for a few minutes.
Store leftover popsicles in a large ziplock bag.
If you like these creamy coconut rosé popsicles, check these out: