Rosé braised chicken has weeknight dinner party written all over it! Seasoned chicken thighs simmer away in rosé until perfectly tender and then served with a creamy sauce on top. Serve with pasta or crusty bread to soak up that delicious flavor. If you're looking for more rosé chicken recipes, check out my Garlic Rosé Chicken and Rice!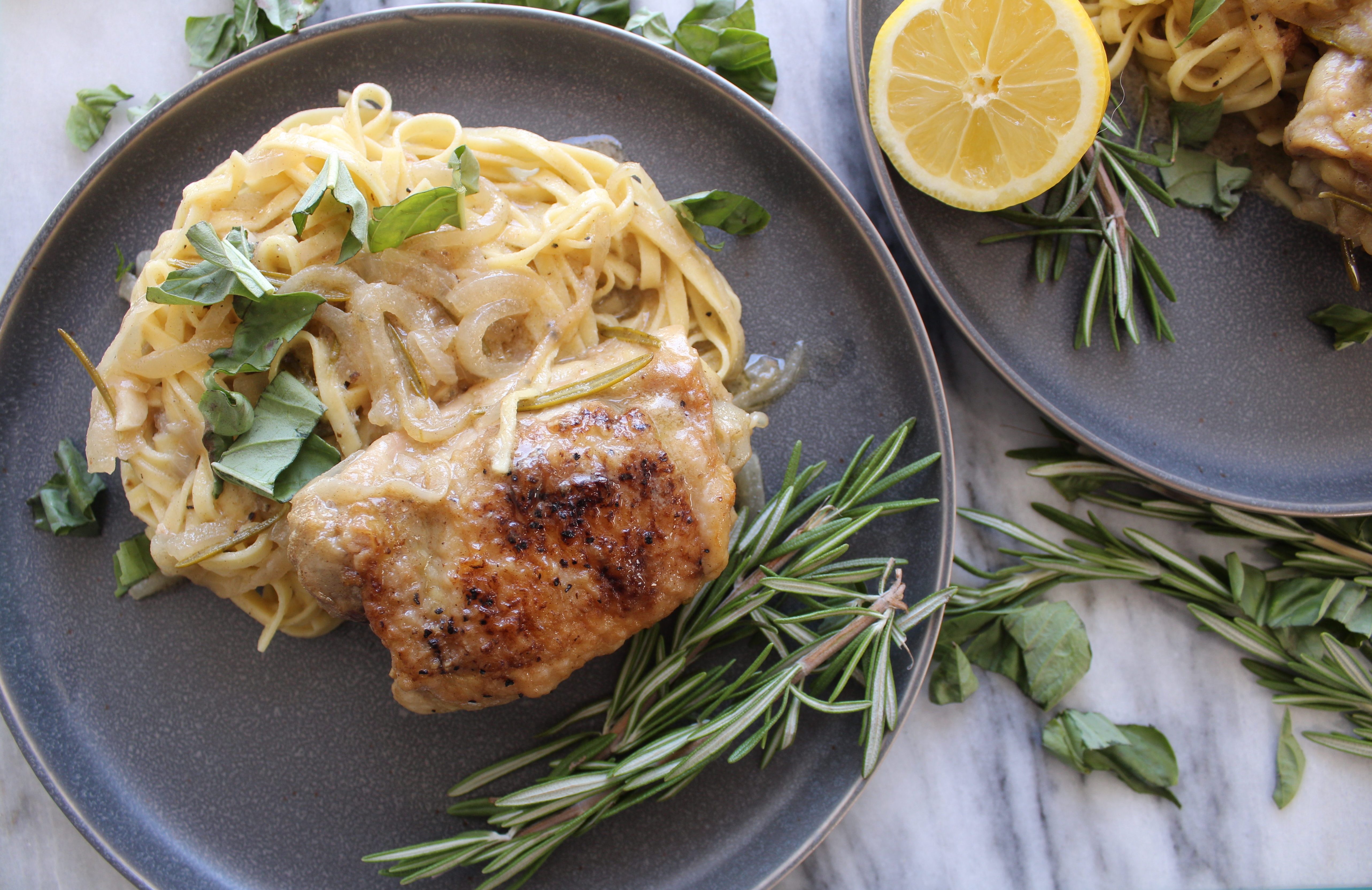 Print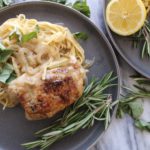 Rosé Braised Chicken
---
Author:

Mansee

Total Time:

55 minutes

Yield:

4

1

x
Description
Rosé braised chicken has weeknight dinner party written all over it! Seasoned chicken thighs simmer away in rosé until perfectly tender and then served with a creamy sauce on top. Serve with pasta or crusty bread to soak up that delicious flavor.
---
4

bone-in chicken thighs (you can leave the skin on or off)

1 teaspoon

salt

½ teaspoon

pepper

⅓ cup

flour

2 tablespoons

olive oil, divided

2 tablespoons

butter, divided

1

large yellow onion, thinly sliced

3

garlic cloves, sliced

3

sprigs rosemary, roughly chopped

1 cup

rosé wine

½ cup

chicken stock (or water)

1 tablespoon

dijon mustard

1 tablespoon

lemon juice

¼ cup

parmesan cheese (optional)
Pasta, rice or bread for serving
---
Instructions
Season 4 chicken thighs with 1 teaspoon salt and ½ teaspoon pepper. Spread ⅓ cup flour out on a large plate and dredge each piece of chicken, shaking off excess flour.
Set a large dutch oven over medium high heat and add 1 tablespoon oil and 1 tablespoon butter. When melted, arrange chicken in a single layer and let sear for 3 minutes. Flip and sear for another 3 minutes. Remove chicken from pan and reduce heat to medium.
Add remaining 1 tablespoon oil and 1 sliced onion. Saute for 5-7 minutes, stirring frequently. Add 3 thinly sliced garlic cloves and 3 sprigs rosemary and cook for another minute. Slowly whisk in 1 cup rosé wine ½ cup chicken stock (or water) and then return chicken to the pan. Increase heat and bring to a boil.
Once boiling, reduce the heat to medium-low and cover. Let simmer for 30-40 minutes, giving the pot a stir every 10 minutes to make sure nothing is sticking to the bottom and burning. If the liquid seems to be reducing a lot, add a little more wine, stock or water and reduce the heat even further. You want it to stay at a low simmer!
When chicken is completely cooked and tender, remove from pan. Increase heat to medium-high and let liquid boil and reduce until slightly thickened. Add 1 tablespoon mustard and 1 tablespoon lemon juice to pan and whisk to combine. Add remaining 1 tablespoon of butter and ¼ cup parmesan cheese (if using) and stir until everything is combined. 
Serve chicken with sauce on top, with pasta, rice, bread or your favorite vegetable side dish.
Notes
I prefer bone-in chicken thighs for this dish, but bone-in breasts work great too! Boneless chicken thighs will be goo too, but you won't need to simmer for as long so start checking around 20 minutes to see how it is doing. I'd avoid boneless chicken breasts as those tend to dry out more easily. 
Regardless of the chicken you choose, you can do skin on or off. The skin won't stay super crispy, but it is still delicious if you choose to go that route (I almost always do!).
Prep Time:

10 minutes

Cook Time:

45 minutes

Category:

Dinner

Method:

Stovetop
We're almost done with Rosé Week - can you believe it?!
Rosé braised chicken sounds all fancy and innovative until you remember that Coq Au Vin literally translates to chicken with wine (technically rooster with wine, but you get it) so I'm not reinventing the wheel over here or anything.
It doesn't matter though! I'm excited to share this dish because I think it's just the perfect little summer dinner party dish to pull out when you're feeling a little fancy, but also pretty lazy (hi, me).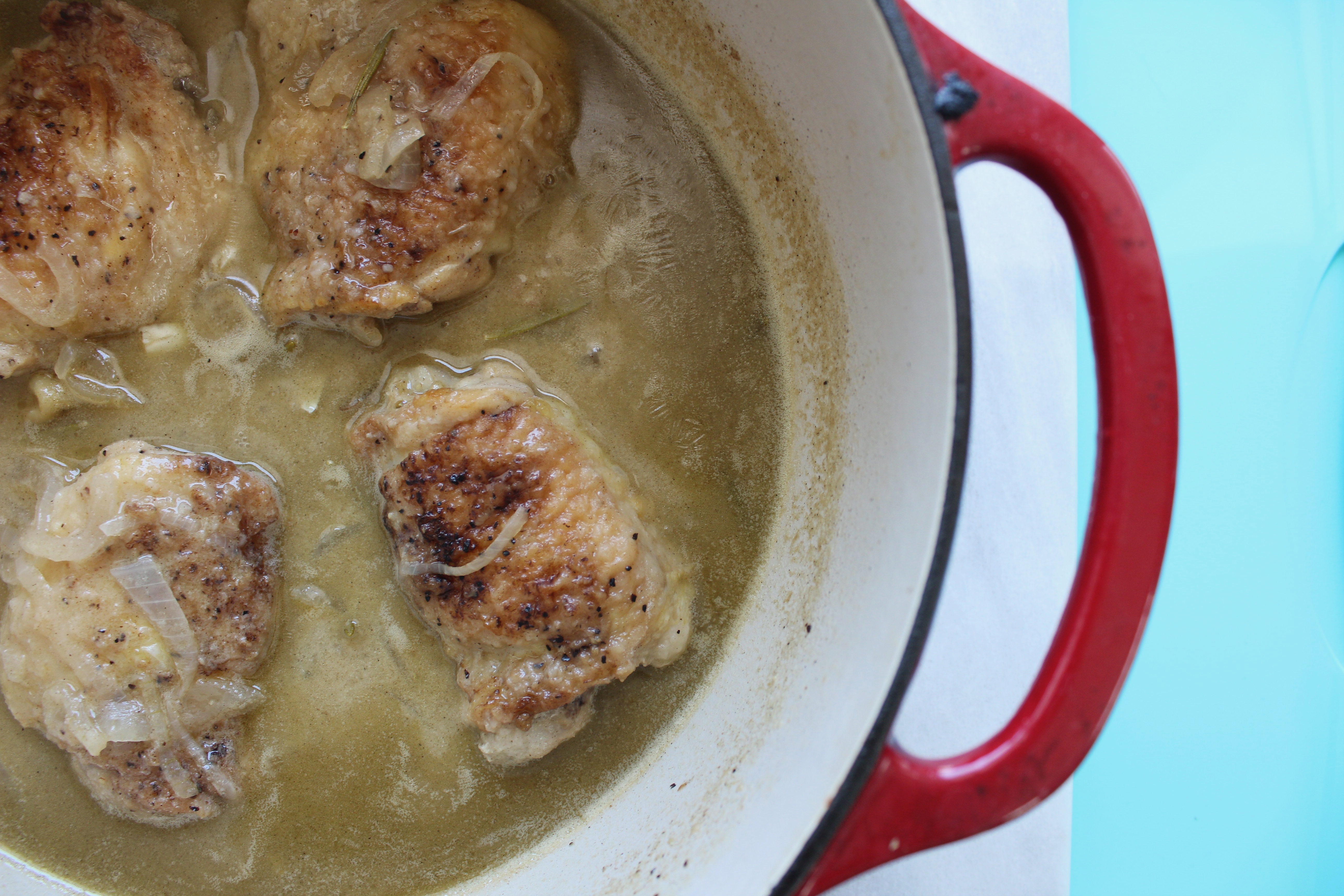 Chicken: I am a big fan of skin-on, bone-in chicken thighs (as evidenced here, here and here!), but bone-in chicken breasts are also great. I like to use bone-in chicken for a braised dish because the bone helps keep the meat moist during a long-ish cooking process, but if you truly prefer boneless you can do boneless, skinless chicken thighs. It will take less time to cook too!
Flour: Just a little flour helps crisp up the chicken before braising, and helps to thicken the sauce later.
Onions/Garlic: Because...flavor! I like to keep my onions sliced here, but you can dice, chop, whatever! Shallots are a great substitute.
Rosemary: I love the strong flavor rosemary gives this dish, but other herbs are great too. Thyme is always a favorite in my rosé-based dishes, but others work great. If you want to use something a little more tender, like basil, chives, etc. add some while the chicken is braising and then more at the end so you can really taste the freshness.
Rosé: I like a more robust rosé when I'm using it to cook meats, but honestly, use what you love. The flavors will concentrate, so if you wouldn't drink it you are not going to want to eat it. Remember that!
Chicken stock: While you could go all in and just braise in 100% rosé, I like to cut with a little chicken stock or water.
Mustard: Once the chicken is braised, you'll add a little dijon mustard to help make a creamy sauce. Feel free to add more or less depending on how much you love the taste of mustard.
Lemon juice: This dish needs a pop of acid, so here we are! Lemon goes great with just about everything in this dish: rosé, chicken, herbs, etc. Keep some extra wedges on hand for people to spritz on their finished plate if desired.
Easy as 1, 2, 3
Truly, we're talking just a few steps here!
Sear the chicken and onions
First, you'll season the chicken up with some salt and pepper. If you want to go a little farther, feel free to add a little garlic powder, paprika or some dried herbs. Then you'll dredge the chicken in some flour and sear it for a few minutes in a mix of olive oil and butter. You're not looking to fully cook the chicken right now, but you just want to sear and crispy it up on both sides. Once seared, remove chicken and cook up your onions and garlic.
Braise
Add the rosé and stock and bring to a boil. Add your chicken back in, reduce the heat to medium-low and cover the pot. Let the chicken braise for 30-40 minutes or until fully cooked. I like to check it ever 10 minutes or so to make sure nothing is sticking and to watch the liquid. If it looks like the pot is getting dry, add some more liquid to keep a nice low simmer going.
Finish the sauce
When the chicken is fully cooked and tender, remove from pot. Bring the liquid back to a boil and let it go until the liquid is reduced a little and thickened. Then you just need to whisk in the mustard and lemon juice and remaining butter (and maybe some parmesan if you're feeling sassy!) to create a creamy sauce. Serve the chicken topped with lots of sauce!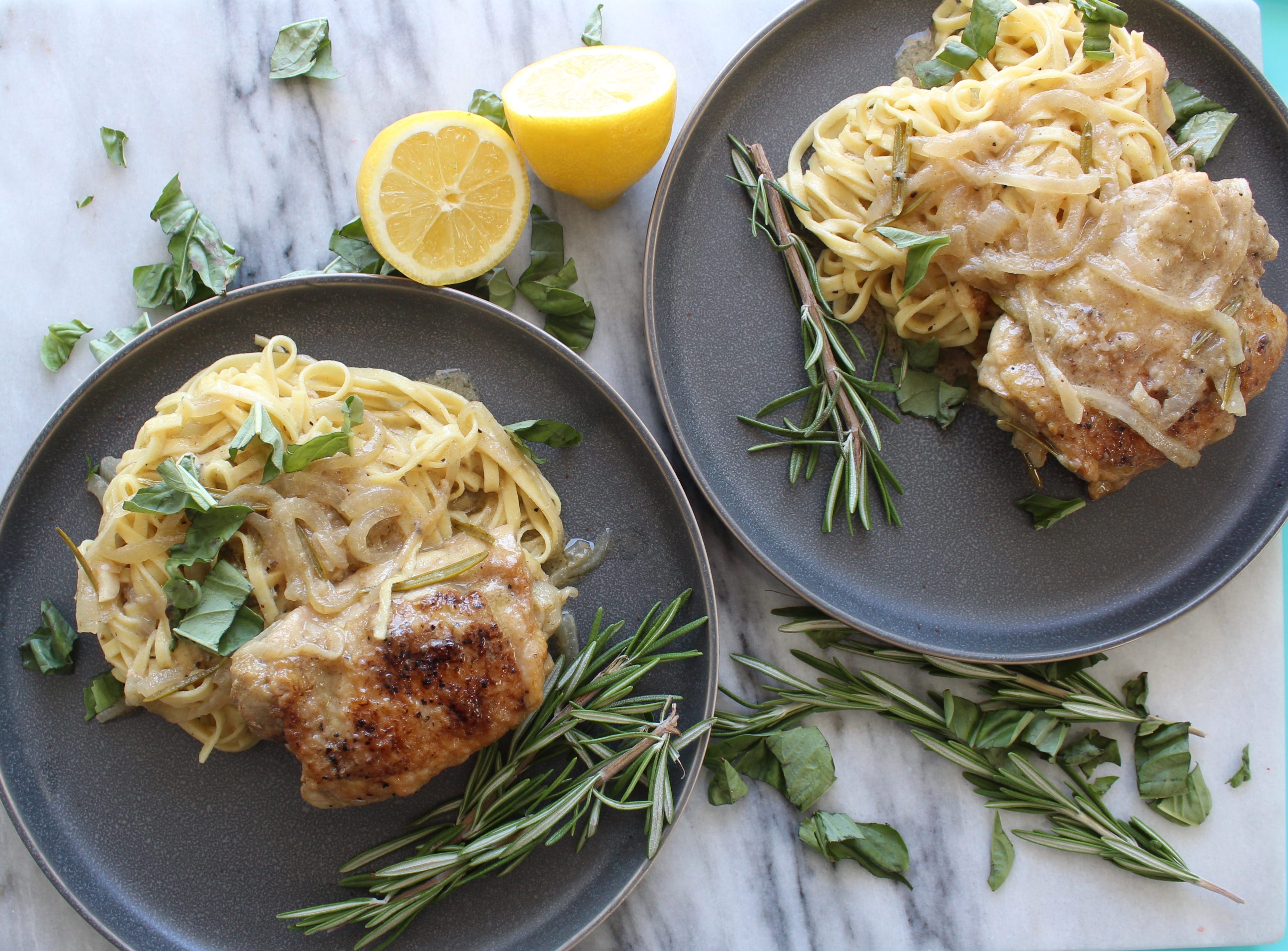 What to serve with rosé chicken
At the risk of sounding like a broken record, may I suggest some pasta or crusty bread?? Both are truly delicious and perfect for sopping up sauce. For the pasta, I like to just toss cooked noddles in a little butter (or olive oil) with a minced clove of garlic and some chopped parsley. A little parmesan cheese certainly doesn't hurt either.
Below are a few more options!
Roasted gnocchi with lemon garlic brown butter
Roasted artichoke and marinated white bean salad
Orzo with slow-roasted tomatoes and feta
Need ideas for leftover ingredients?
Rosé
(Check out all my rosé recipes here!)
Rosemary
Lemon