Pantry-friendly grains and canned chickpeas turn into an easy, warm, comforting, CRISPY dinner. Eat as a main dish or a quick side with roasted chicken or fish.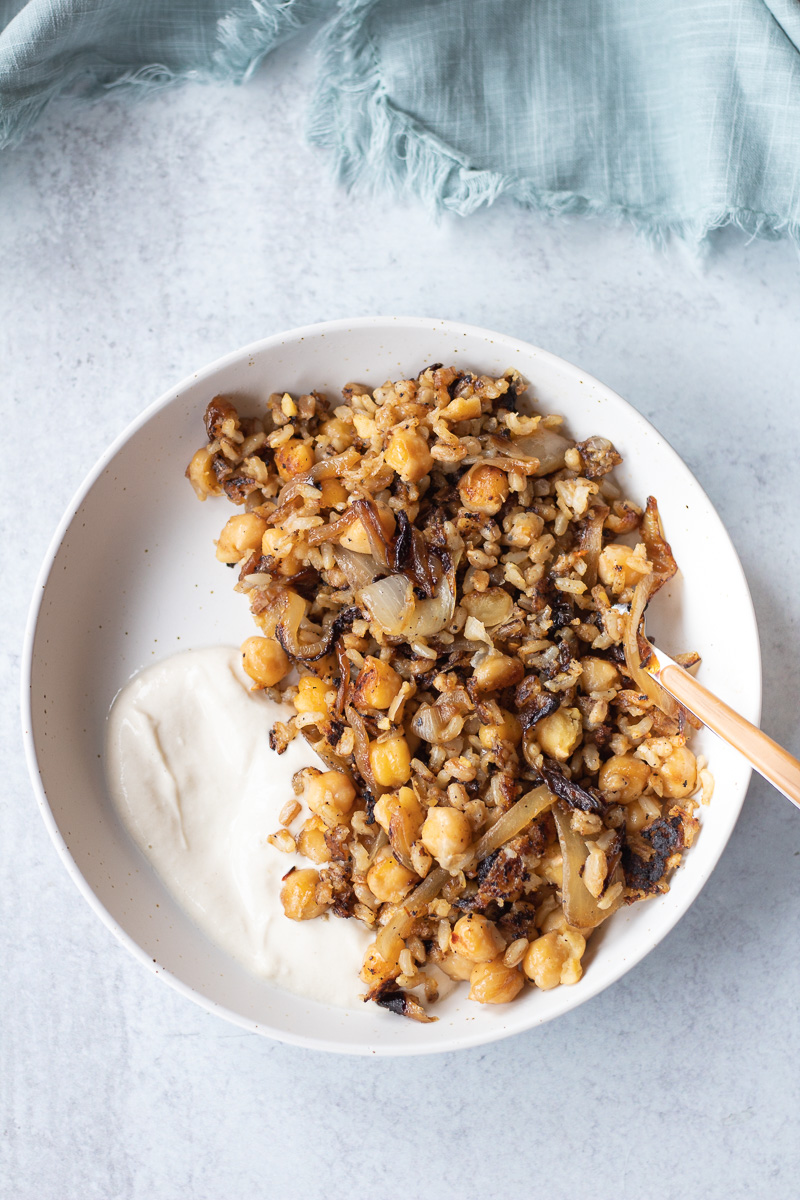 Print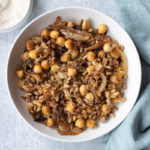 Crispy grains and chickpeas with garlic tahini yogurt
---
Author:

Mansee

Total Time:

30 minutes

Yield:

2

as a main; 4 as a side

1

x
Description
Pantry-friendly grains and canned chickpeas turn into an easy, warm, comforting, CRISPY dinner. Eat as a main dish or a quick side with roasted chicken or fish
---
½ cup

grains (I did a mix of brown rice and farro here)

1 ½ cups

water

3 tablespoons

olive oil

1

small onion, thinly sliced

1

can chickpeas, drained and rinsed

1 teaspoon

salt

½ teaspoon

smoked paprika

¼ teaspoon

red pepper flakes
Garlic tahini yogurt
½ cup

plain yogurt (greek works too!)

2 tablespoon

tahini

1 tablespoon

lemon juice

1

garlic clove

¼ teaspoon

salt
---
Instructions
If not using already cooked grains, combine ½ cup grains of choice and 1 ½ cups water (or however much you need to cook said grains of choice) in a medium saucepan. Bring to a boil, reduce heat, cover and simmer for 25-30 minutes until grains are cooked. Set aside and let cool.
Heat 3 tablespoons olive oil in a large frying pan (cast iron works great, but not necessary) over medium heat. When oil is hot, add 1 small sliced onion.
Cook onions, stirring occasionally, for 12-15 minutes. Onions should be soft and light brown, with a few pieces darkened and burnt-like. Resist the urge to raise the heat to ensure they don't all start to burn too quickly.
Add 1 can chickpeas and cooked grains (if using already cooked, it's about 2 cups), along with 1 teaspoon salt, ½ teaspoon smoked paprika (or seasonings of your choice) and ¼ teaspoon red pepper flakes.
Stir everything everything, arrange into a single layer and increase the heat to medium-high.
Let everything cook/fry for 5 minutes, undisturbed. 
Meanwhile, make the garlic tahini yogurt: Stir together ½ cup yogurt, 2 tablespoons tahini and 1 tablespoon lemon juice. Grate in 1 garlic clove and add ¼ teaspoon salt. Set aside. 
After 5 minutes, check a little patch and see how it is doing. If you want it more browned and crispy, let it go for another minute or two! If your grains were just cooked you might need to let it longer to help the moisture cook off. Just keep an eye on it and use your gut.
Toss everything together, and let cook for an additional minute.
Serve crispy chickpeas and grains warm or at room temperature with garlic tahini yogurt. 
Notes
Like fried rice, this dish is actually better with day-old grains, but I didn't want to assume we all had a pile of grains hanging out in the fridge. Like the recipe says, just keep checking and cook it for as long as it needs to in order to crisp up the way you want!
Cooked dried beans and canned beans work equally well with this one. YAY. 
Prep Time:

5

Cook Time:

25 (not counting grain cooking time)
What are we now? Five weeks into quarantine here in Texas? Maybe seven? All I know is that I started working from home one Friday in March and I pretty much haven't worn jeans since.
While I'm quite used to being on my own, with somewhat (self-induced) limited human interaction outside of work (it's "one girl one kitchen" for a reason, okay?!), even I wasn't fully prepared for what this would feel like.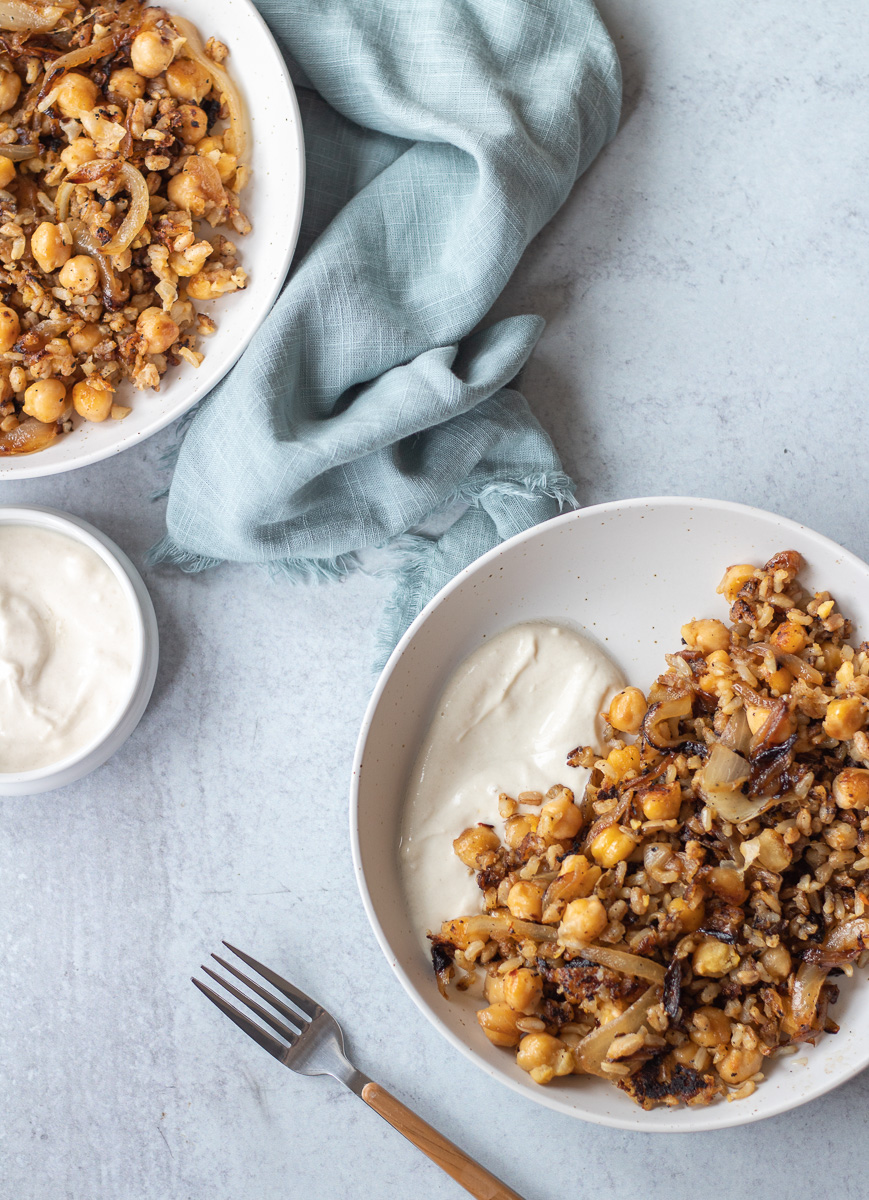 First, let's be clear. I'm incredibly lucky. I have a job I love that I get to do from home. I'm an introvert that craves my alone time. I get to spend so much time with my pup. I love to cook and (most of the time) have even more time to do so. On paper, this is my perfect life. Weird.
But it's still scary. My anxiety is SO high. I miss my friends and my heart hurts for those who LOVE being out with others. My heart is literally breaking for those physically and/or financially impacted by what is going on. This is bad. I'm okay, but this is bad.
SO. We need comfort. And we need it without going to the grocery store, okay?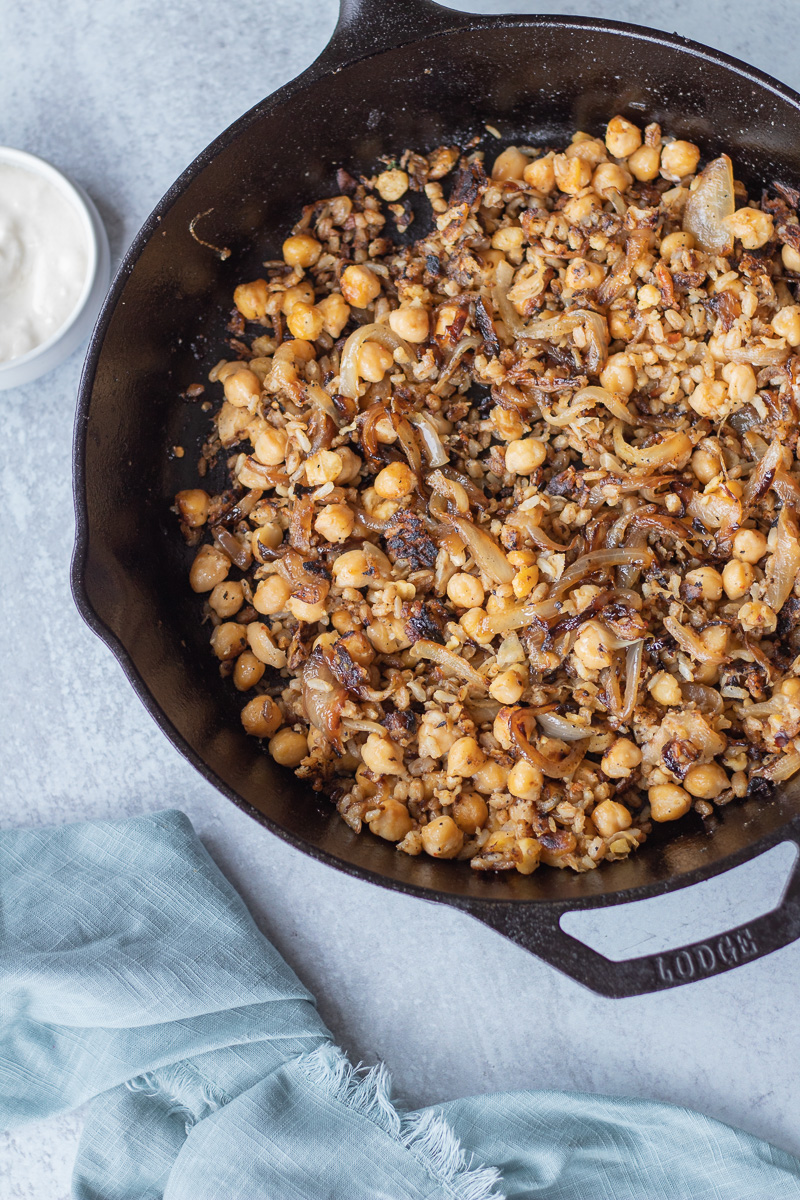 One of the best things that has happened over the past few weeks is the Home Cooking podcast. Hosted by Samin Nosrat and Hrishikesh Hirway (two people I adore very much), it's pure joy in podcast form, filled with great tips on what and how to cook at home during this time.
The first episode focused on beans (HELLO) and in it Samin talked about how she has been throwing beans and grains into a skillet and crisping them up. I am not kidding when I tell you I thought about this every single day for almost two weeks until I finally got it together to make it.
At it's heart, this is a total non-recipe recipe. Use leftover rice or quinoa you have hanging in your fridge. Grab that can of chickpeas from your pantry. Throw it in a pan, walk away and basically let it burn. It's perfect.
After multiple tries, I landed on a slightly more involved "recipe" that gives me total Mujadara vibes.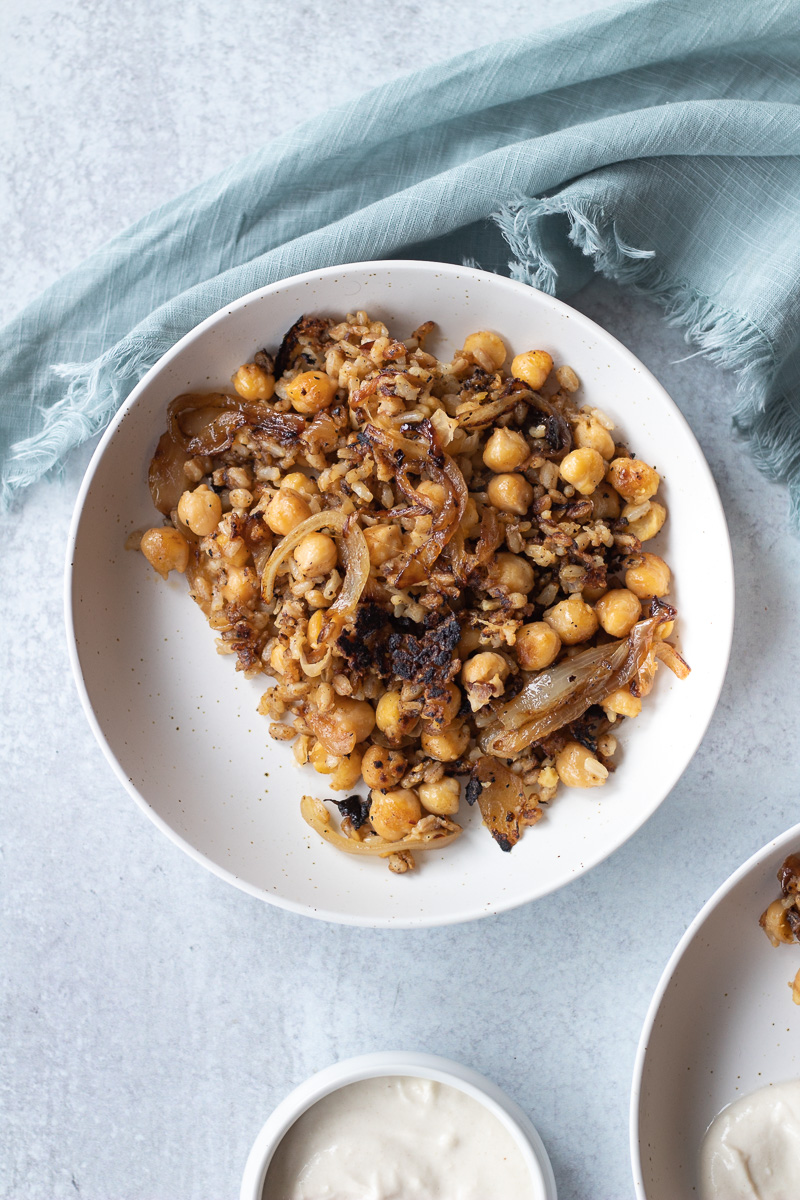 Get things started
Caramelized-fried onions or shallots are a beauty. You're basically caramelizing onions at a higher heat so you get the soft, brown onions but it happens unevenly (good thing!) so you're left with some really soft onions and some kind of crisp-chewy guys. This is the "hardest" part of the "recipe," I promise.
Beans and grains
I've made this a million different ways, and it all works. If you happen to have some cooked dried beans on hand, use that (drain from the magic bean broth). Canned are just as perfect. For the grains, I really love a mix of farro and brown rice because I love the chew, but regular rice is great. Or literally any other grain! And the best part is that day-old grains are actually the trick here, but you can absolutely make fresh grains and throw them right in.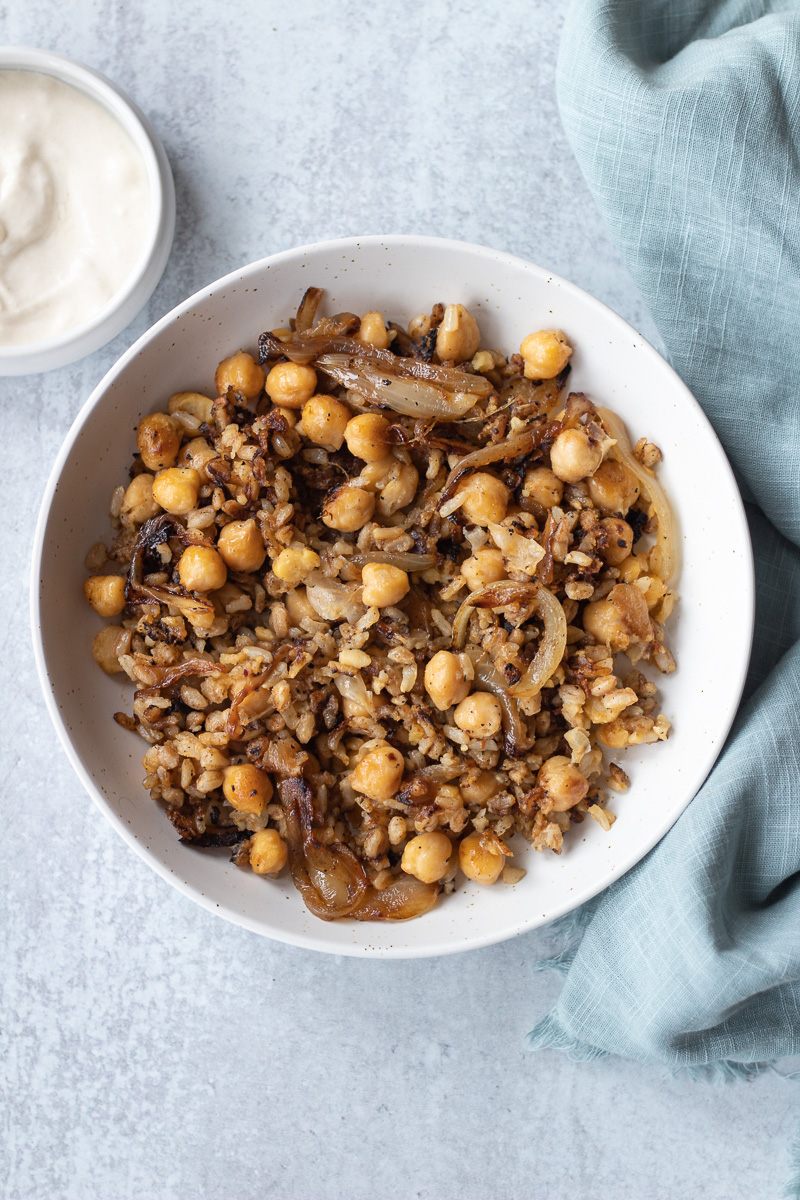 Special touches
You probably noticed I don't have a ton of seasoning here. So weird for me, I know! But the whole point is to use what you have and, more importantly, what you love. Add some ground cumin if that's your thing. My house seasoning is great too. Or pull out your dried herbs and add some basil, thyme and/or parsley!
The garlicky-tahini yogurt is also a little extra, but I LOVE the contrast of hot grains and cool yogurt. My family makes fun of me for it, but they know if rices is involved in meal I'm going to need A LOT of yogurt. This kind-of-fancy yogurt takes two minutes to stir together and adds the perfect cool, creamy bite to this hot, crispy dish.
Ugh. It's perfect.
Okay, I honestly didn't expect to go on for so long about this. Just know I love you and hope you are all staying safe and healthy. So many virtual hugs from my kitchen coming your way!