A spin on the classic comfort food, this chicken pot pie with puff pastry is filled with Indian spices and flavors from my favorite chicken curry. The filling comes together easily with a super quick chicken marinade and frozen vegetables. Topped with store-bought puff pastry, my curry chicken pot pie is a quick, weeknight-friendly dinner!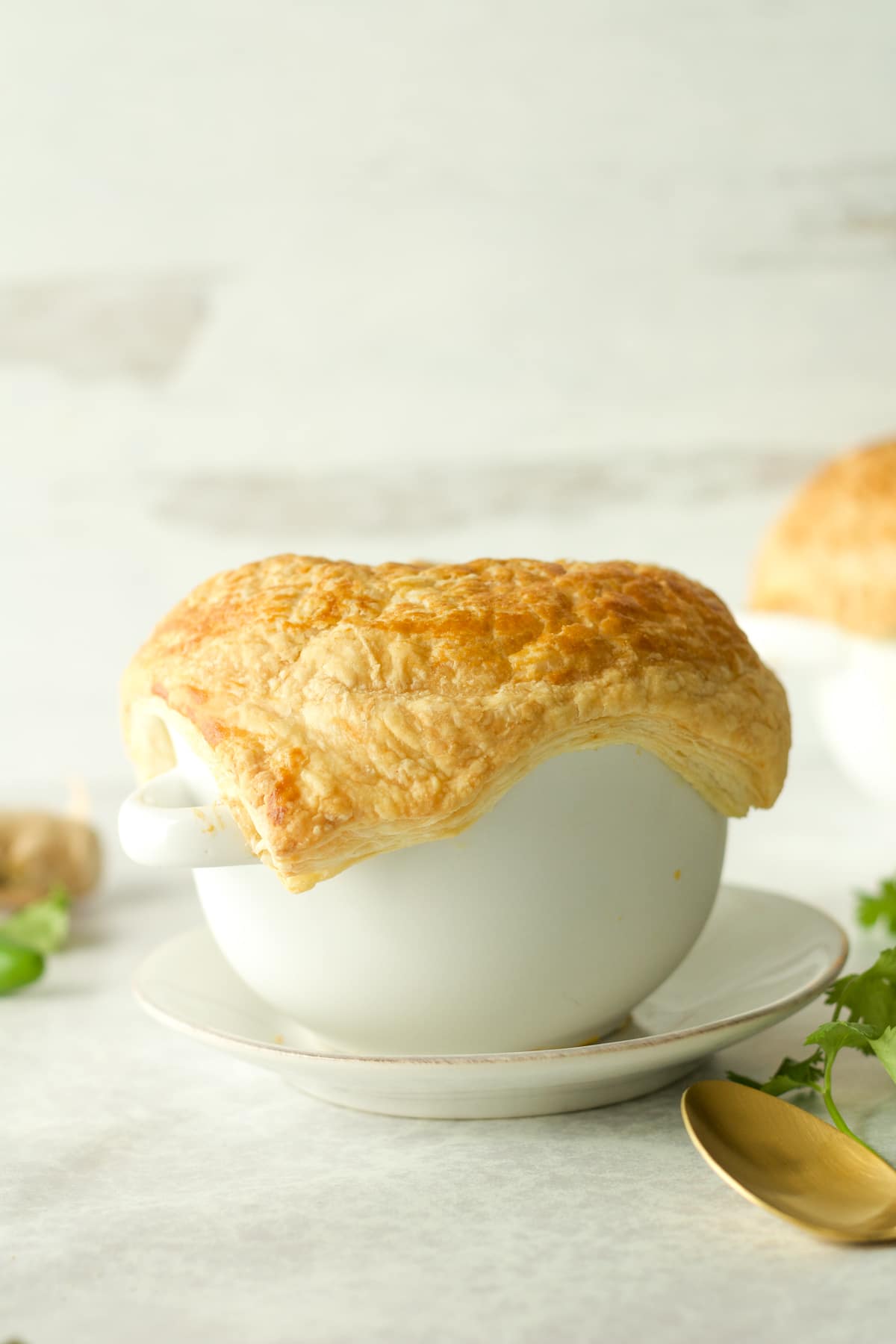 To say I'm craving comfort food would be an understatement. And it's not even because the weather is BARELY getting cooler (yay Texas)! It's more that things are just ~overwhelming~ right now in every sense of the word, and by the end of every day I just want - scratch that, NEED - to curl up on the couch and cozy up with something warm, filling and....well, comforting.
Chicken pot pie fits that bill. Curry chicken pot pie especially fits that bill for little ol' Indian me. And a weeknight-friendly curry chicken pie with enough little shortcuts (thank you, frozen puff pastry!) to make it easy to pull together on even the busiest of Tuesdays REALLY fits the bill.
Let's get comfy.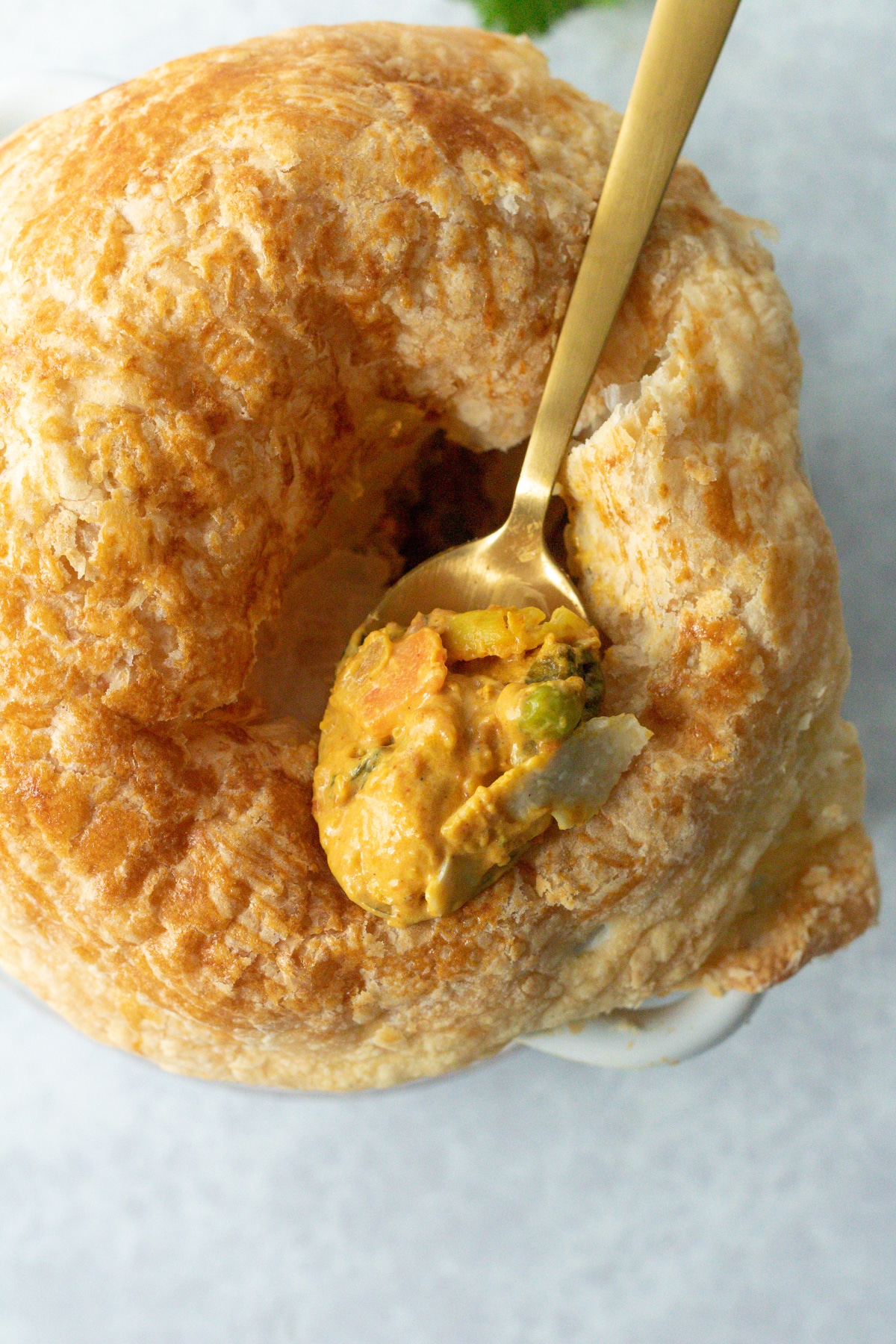 Chicken curry + chicken pot pie = LOVE
I can count the number of times I've made my mom's chicken curry on one hand. It's one of my favorite things on earth, which obviously means I'm terrified of making it myself and not living up to the legend.
In this pot pie, the chicken is marinated the same way we would for a traditional Indian chicken curry in a mix of plain yogurt, garlic, ginger and a few spices. Because we're doing a weeknight thing over here, you just need to let that chicken set for a few minutes, but you could totally prep this earlier and even marinate overnight if you'd like!
The rest of the filling is super easy to make, with onion, more garlic and ginger, crushed tomatoes, a couple handfuls of spinach and some frozen (!) veggies to make it REALLY filling. Oh, and then a good, healthy pour of heavy cream because we love ourselves.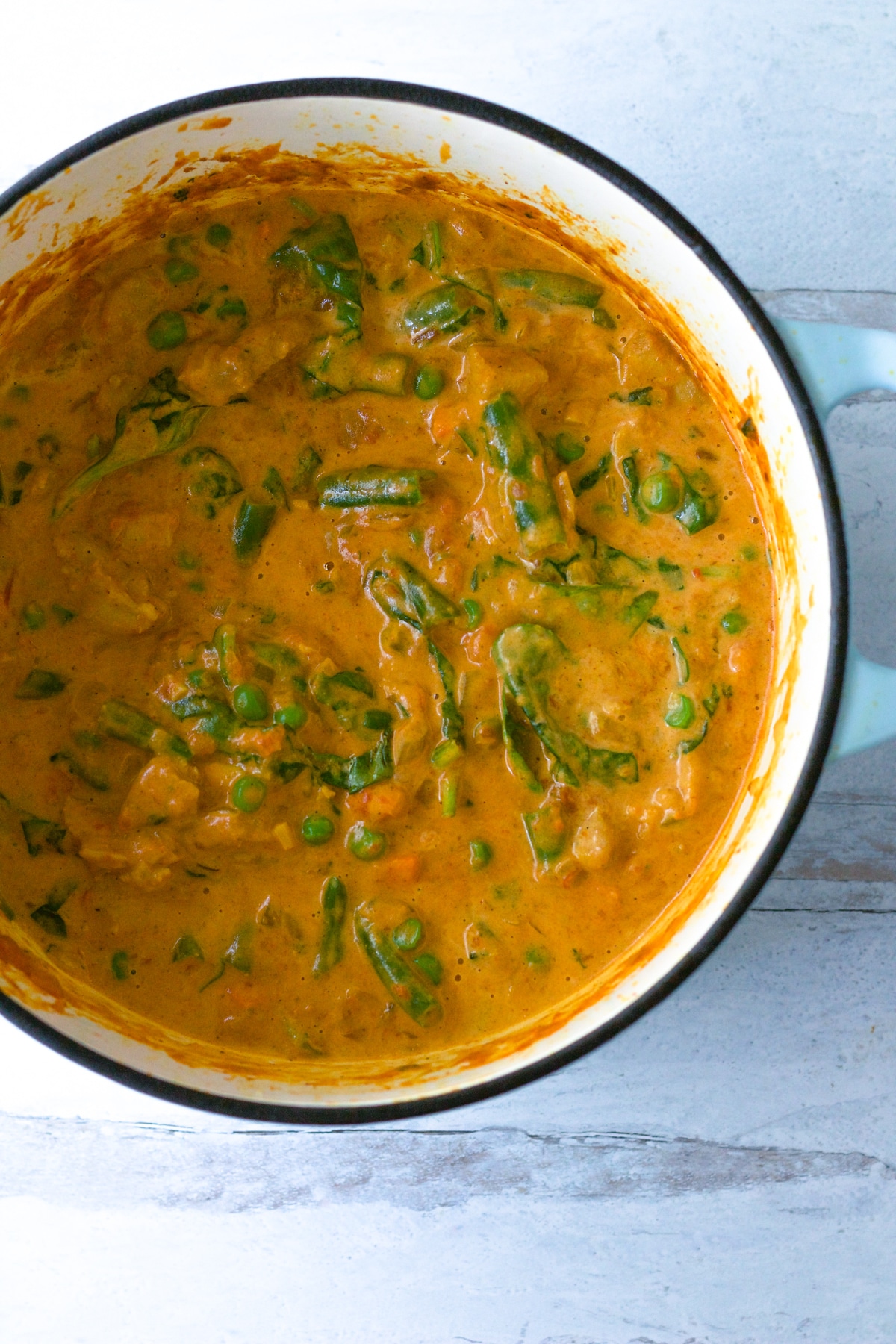 Our secret weapon
FROZEN. PUFF. PASTRY.
How I love thee.
While you could absolutely use a homemade puff pastry (go you!), it's totally not necessary. I always have at least one package of puff pastry in my freezer at all times and it's a total game-changer for meals like this. It thaws pretty quickly (generally in about 30 minutes if you remove it from the wrapper), which is great if you are like me and often forget to plan ahead.
Traditional chicken pot pies are often made with pie crust so if puff pastry isn't your thing, you can definitely use homemade or store-bought pie crust dough for this. It might take a little longer in the oven to cook, but just keep checking and pull when it's totally cooked through, flaky and beautifully golden brown.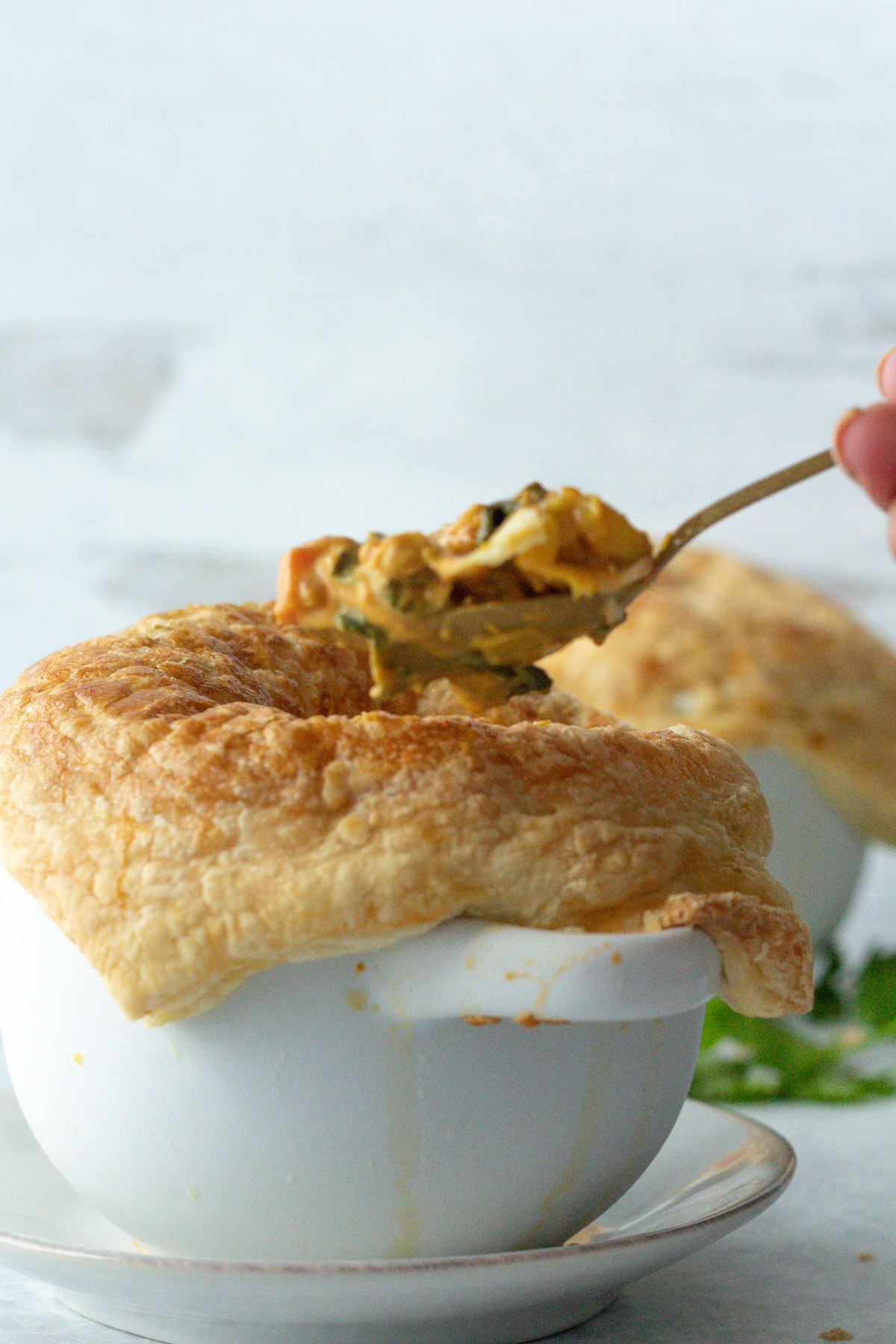 What you'll need
Chicken: I always use boneless, skinless thighs in my curries but boneless, skinless breasts will work here too in a pinch.
Plain yogurt: Marinating chicken in yogurt makes the meat more tender and is a staple in Indian dishes. I use regular ol' plain yogurt, but greek yogurt does work as well. Just make sure it isn't flavored!! Nobody wants honey vanilla chicken.
Garlic/Ginger: Another staple! I always use fresh and grate both to make it easy. But in many Indian kitchens (my mom's included), they have a jar of garlic/ginger paste that is used. It's a totally genius idea because it saves the trouble of grating or mincing every day so if that's something you're interested in, go for it! Just throw equal amounts of garlic and ginger (I'd weigh this) into your food processor or small blender and combine until it makes a paste. For this recipe, use 2 teaspoons of the paste in the chicken marinade and 1 tablespoon with the onions and chili.
Spices:
Ground turmeric: Can be found anywhere and you might have it in your pantry anyway!
Kashmiri chili powder: Different from the chili powder you might find in your local grocery store used for chilis and stuff, kashmiri chili powder is a brighter red and has a different, spicier flavor. You can easily find it in Indian stores or online. In a pinch, replace with ½ the amount of cayenne powder (or leave out if spice isn't your thing).
Garam masala: You might be able to find this at your local grocery store, but if not you'll definitely find it at a Indian store or online. If you can't find it, in a pinch you can use a mix of cumin, coriander and cinnamon...but the flavor will be different. Please don't just use curry powder!
Lemon Juice: Along with the yogurt, the lemon juice helps tenderize the chicken before cooking. White vinegar will work too.
Onions/Green chili: Along with more garlic and ginger, this is the base of your filling. Indian markets will have small green chilis that work here, but in a pinch a serrano pepper will work just fine. Use whatever onion you have and love (white, yellow, red..even shallots work)!
Crushed tomatoes: Regular ol' plain crushed tomatoes work just fine, but fire-roasted works if that's what you've got.
Cornstarch: To keep the filling from being too watery you need a little cornstarch to help thicken things up after they've cooked together.
Heavy cream: Because we love ourselves! Coconut milk is a great substitution if you prefer to keep it a little bit lighter.
Baby spinach: I like to add a few handfuls of greens at the end just for fun. You can leave this out, or just add more cilantro if you'd like!
Cilantro: Speaking of, an absolute staple in Indian cooking. Normally you'd add cilantro right before serving, but I like to stir it into the filling here before it bakes.
Frozen vegetables: This is my secret to bulking up the filling without taking too much time to wash, chop, etc. I like to use a mix of frozen peas and carrots along with green beans. But you can mix and match as you please.
Puff pastry: One sheet of frozen puff pastry is perfect for 1 large pot pie or 4 smaller ones. For reference, my little crocks here hold 18oz and are filled about ¾ of the way full.
Egg wash: To help the pastry stick and get golden brown in the oven.
Melted butter or ghee: For flavor and, again, to help with browning.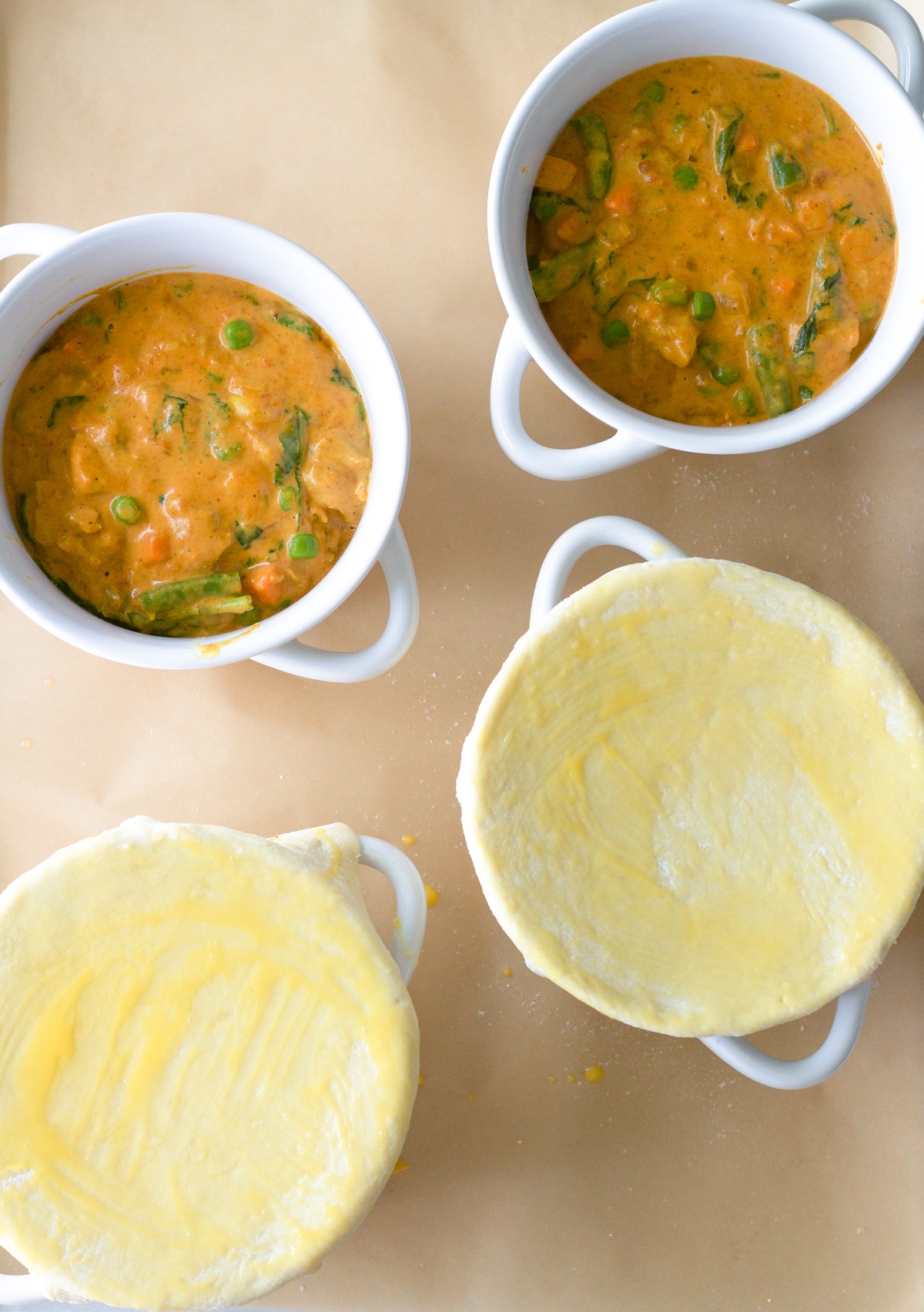 How to make curry chicken pot pie
Marinate the chicken
Combine your cut up chicken with yogurt, some of the garlic and ginger (see note above for making a paste if you'd like!), lemon juice and spices. Mix well and set aside. You can let this marinate for as long as it takes to prep your pastry and up to overnight. But even a quick 15-20 minute marinate makes a difference!
Prep the pastry
Take your square of puff pastry and lay out on a lightly floured surface. Use a rolling pin to gently roll out the dough and get the creases out. You don't have to worry about rolling it out too thin or anything, you just need it to fit over the pan(s) you'll be baking in. If making multiple mini pot pies, cut the dough into 4 equal pieces. Lay on a lined baking sheet and place in the fridge while you make the curry chicken filling.
Make curry chicken filling
Saute the onions and green chili until they start to brown, about 7 or 8 minutes. Add the marinated chicken (yogurt and all!) and let cook, stirring just once or twice, until the chicken is just about cooked through. From there, you add the tomatoes, water and salt and let everything simmer until fully cooked and all the flavors come together.
This mixture will look watery, but that's okay! You need that volume to let those flavors come together. To thicken, make a slurry with some of this liquid and cornstarch and then add that back in. Then just add your spinach, frozen vegetables, cilantro and heavy cream!
Assemble pot pie(s) + bake
If you are making multiple pot pies, divide filling evenly among oven-safe bowls, mugs, etc. Use a little egg wash to brush on the edges and then carefully lay pasty on top and press to adhere to edges. Brush with more egg wash and melted butter.
Bake pot pie(s) at 400 for 25 minutes, or until top is golden brown and flaky.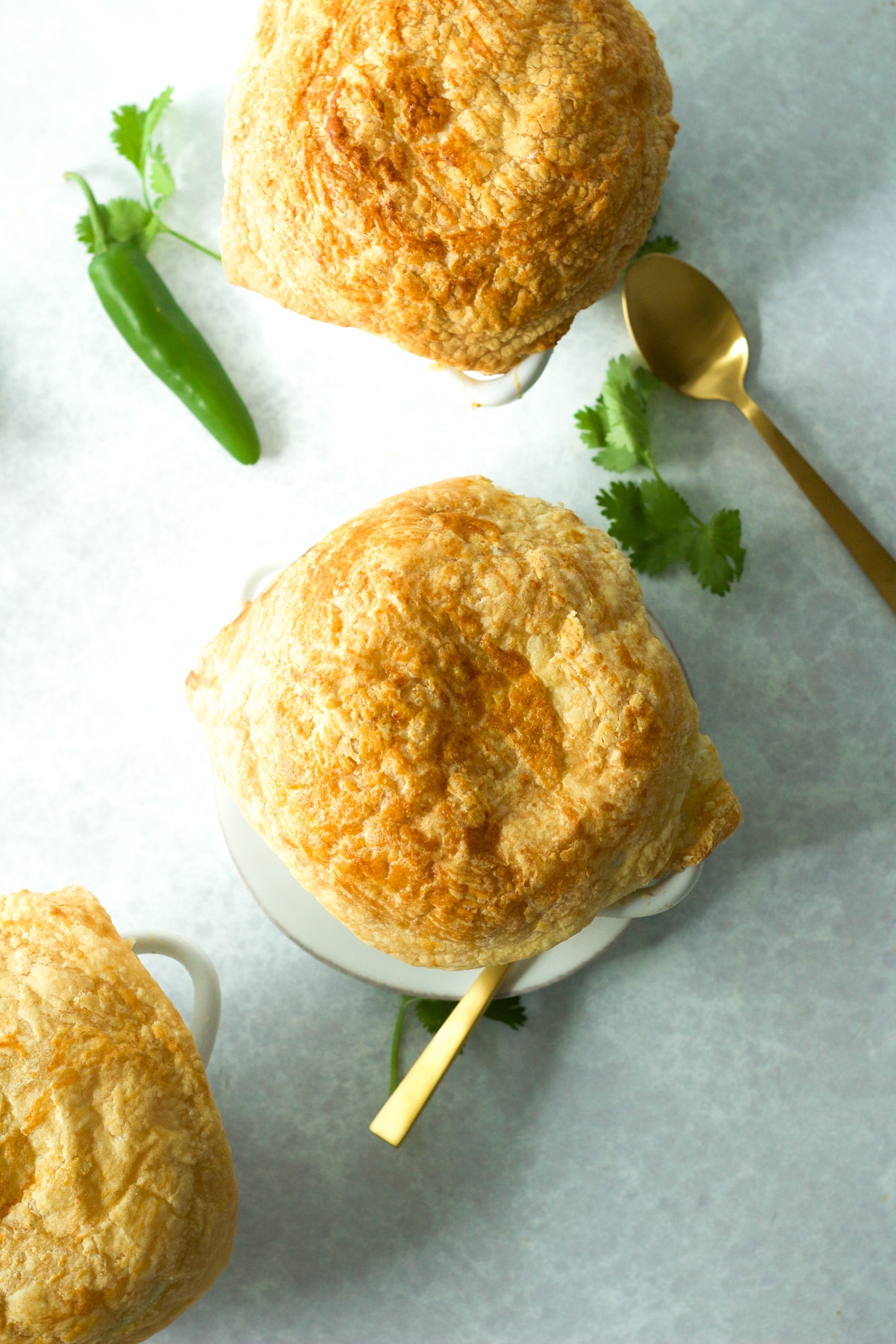 Prep + Store
This is a great dish to prep ahead and then bake off when you're ready to eat. Just make the filling, let it cool completely and then top with the puff pastry as written. At this point you can cover with foil and keep in the fridge. When ready to bake, brush with melted butter and stick it in the oven!
Another option I often rely on is to make the individual pot pies, eat 1 and then wrap the rest (fully cooled!) and store in the freezer. You can bake them straight from the freezer, covered with foil (to keep the top from browning too much) at 350 for an hour.
Frequently Asked Questions
Can I use another kind of dough for these pot pies?
Traditional chicken pot pies often use regular pie dough, so you can totally use that here. If you happen to keep pie dough in the freezer, this is a great time to use it! It might take a little longer in the oven, so just keep an eye on it and remove when golden brown and flaky.
Can I use pre-cooked chicken?
You can, but the flavors will be a little different. To use pre-cooked chicken, start the filling as usual with onions, chili, garlic and ginger and then add the spices from the marinade (turmeric, garam masala, etc.) and saute those for a few minutes before continuing with recipe. Add the chicken along with the frozen vegetables just to heat through.
Can I use greek yogurt instead of plain yogurt?
Yep! Won't make a huge difference here, so go for it.
How can I make this vegetarian?
So I haven't tried this yet, but I think you can use cauliflower and/or potatoes to make a really lovely vegetarian filling. Cut the vegetables pretty small so they cook quickly (and are easier to eat, of course), and just add them with the spices after you saute the onion, chilis, garlic and ginger.
What is the best way to reheat curry chicken pot pie?
The oven is the best way to reheat this dish. Just stick it in there at 400 for 20 minutes until warmed through and the top is crispy again.
Does this freeze well?
It does! I like to wrap it in parchment paper and plastic wrap and then place it in a large bag. It will keep well in the freezer for 3 months. To reheat from frozen: Cover loosely with foil and bake at 350 for 30 minutes. Remove foil and bake for another 15 or until fully heated through and top is flaky again.
Can I skip all the spices and just use curry powder?
Honestly, I'd rather you not. Traditional Indian chicken curries have exactly zero curry powder in them and I really wanted this to bring those traditional flavors. If you use curry powder, you'll still have something good but it will taste different. For another easy dish featuring curry powder, try my Curried Chicken and Chickpea Stew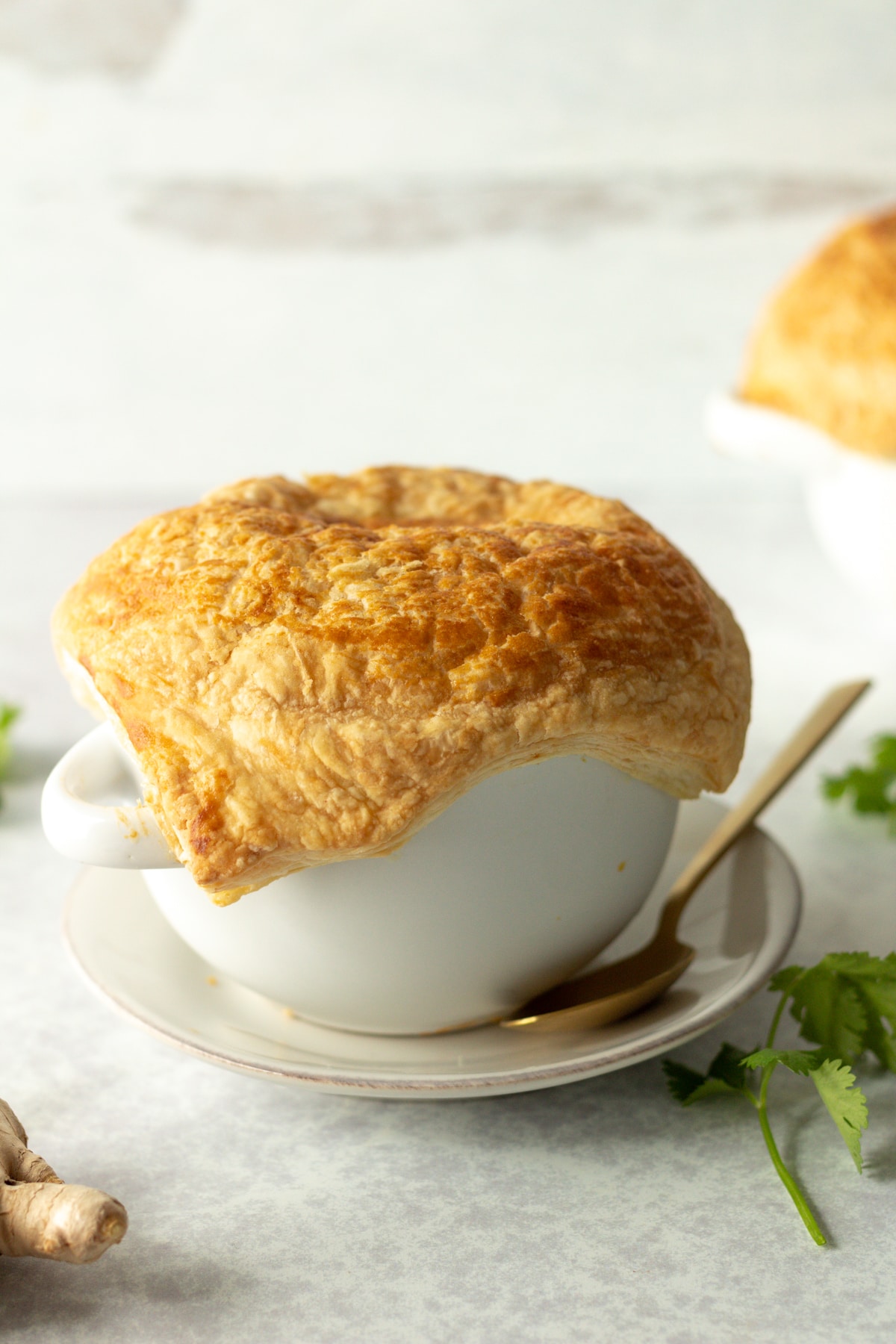 What to serve with curry chicken pot pie
This is a full meal in one, but a nice Kale Caesar Salad or simple House Salad definitely won't hurt!
Print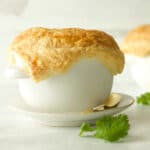 Curry Chicken Pot Pie
---
Description
A spin on the classic comfort food, this chicken pot pie with puff pastry is filled with Indian spices and flavors from my favorite chicken curry. The filling comes together easily with a super quick chicken marinade and frozen vegetables. Topped with store-bought puff pastry, my curry chicken pot pie is a quick, weeknight-friendly dinner!
---
1 ½

lbs boneless, skinless chicken thighs, cut into

1

-inch cubes

⅓ cup

plain yogurt

8

garlic cloves, divided

3

-inch piece ginger, divided

1 tablespoon

salt, divided

1 ½ teaspoons

ground turmeric

1 teaspoon

kashmiri chili powder*

1 teaspoon

garam masala

1 tablespoon

lemon juice

2 tablespoons

oil ( I use avocado, but any neutral oil works)

1

large onion, diced

1

green chili, diced (I used serrano)

14.5 oz

crushed tomatoes

2 cups

water

1 tablespoon

cornstarch

½ cup

heavy cream

2 cups

baby spinach, roughly chopped

1 ½ cups

frozen peas and carrots

1 ½ cups

frozen green beans

½ cup

cilantro, chopped

1

sheet puff pastry, thawed if frozen

1

egg, lightly beaten

2 tablespoons

butter, melted
---
Instructions
Combine 1 ½ lbs chicken thighs with ⅓ cup plain yogurt, 4 grated or minced garlic cloves, 1-inch grated ginger, 1 ½ teaspoons turmeric, 1 teaspoon kashmiri chili powder, 1 teaspoon garam masala, 1 teaspoon salt and 1 tablespoon lemon juice. Mix well to combine. Let chicken marinate for at least 15  minutes and up to overnight (if marinating for more than 1 hour, cover and put in fridge).
While chicken marinates, prepare puff pastry: Place thawed pastry on lightly floured surface. Roll out gently to get creases out and thin slightly. If making mini pot pies, cut into 4 even squares. Place dough on lined or floured baking sheet and place in fridge while you cook the filling. 
Preheat oven to 400. 
Heat 2 tablespoons oil in a large pot or oven-safe pan over medium heat. Once hot, add 1 large chopped onion and 1 chopped green chili and saute for 7-9 minutes until onions start to brown. Add the remaining 4 garlic cloves and 2-inch ginger (both minced or grated) and cook for another minute. 
Add marinated chicken and spread into as even of a layer as you can. Cook, stirring just once or twice for 5-7 minutes or until chicken is just about cooked. 
Add 14oz crushed tomatoes, 2 cups water and remaining 2 teaspoons salt. Reduce heat to medium-low and let everything simmer together for 15 minutes. 
Remove about ½ cup of liquid from the pot and whisk together with 1 tablespoon cornstarch. Slowly add mixture back to pot while stirring. Continue cooking for another 5 minutes. Stir in ½ cup heavy cream. 
Turn off heat and add 2 cups chopped baby spinach, 1 ½ cups frozen peas and carrots and 1 ½ cups frozen green beans. Stir to combine. 
If making mini pies, add filling to dishes evenly. Brush the edge of each dish with beaten egg and then carefully place dough on top, gently pressing to adhere. Brush top with more egg wash and melted butter. 
If making one large pie, drape full puff pastry sheet over pan. Carefully (the pan is hot!) stretch as needed to cover pan and gently press to adhere to sides. Brush with egg wash and melted butter. 
Cut a few slits in dough to allow steam to escape and place pie(s) on a baking sheet (just in case you have some filling spillage). Bake for 25 minutes or until puff pastry is puffed and golden brown. 
Let cool for 10 minutes before serving. 
Notes
You can find kashmiri chili powder online or at Indian grocery stores. If you can't get your hands on it, either replace with half the amount of cayenne pepper or leave it out entirely (the turmeric and garam masala will bring the flavor!). 
These pot pies freeze beautifully. Wrap well and freeze for up to 3 months. Reheat in oven from frozen at 350 for an hour, covered with foil to keep the top from getting too brown.
Prep Time:

15 minutes

Cook Time:

45 minutes

Category:

Main

Method:

Oven

Cuisine:

Indian