Super crispy roasted chicken thighs (seasoned however you want!) drizzled with an easy homemade hot honey recipe. Includes my favorite tips for getting the crispiest chicken without having to deep fry!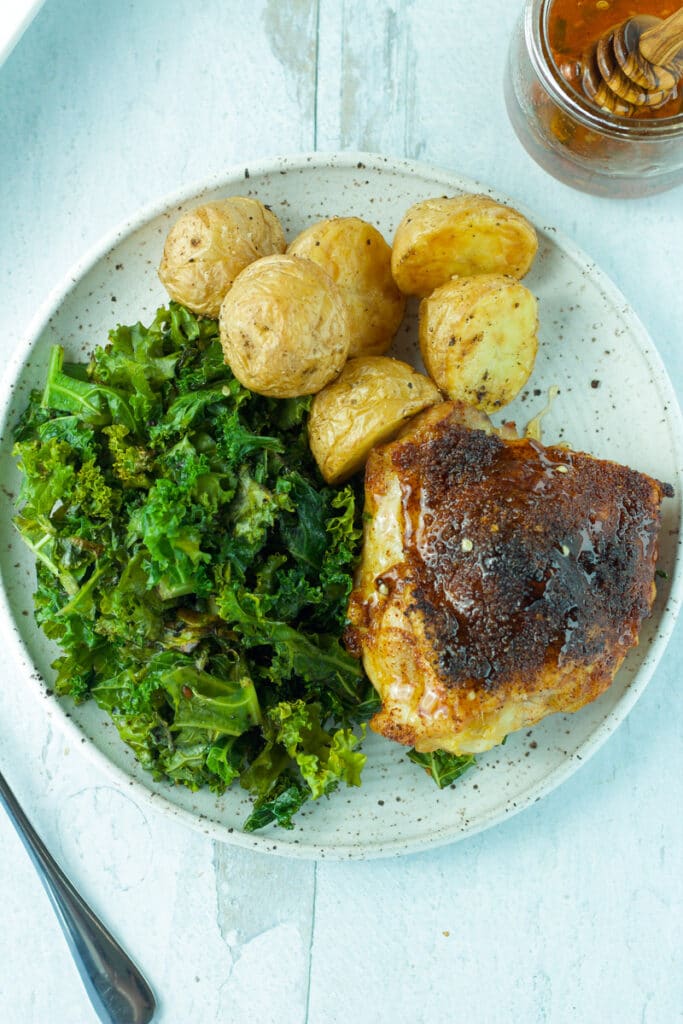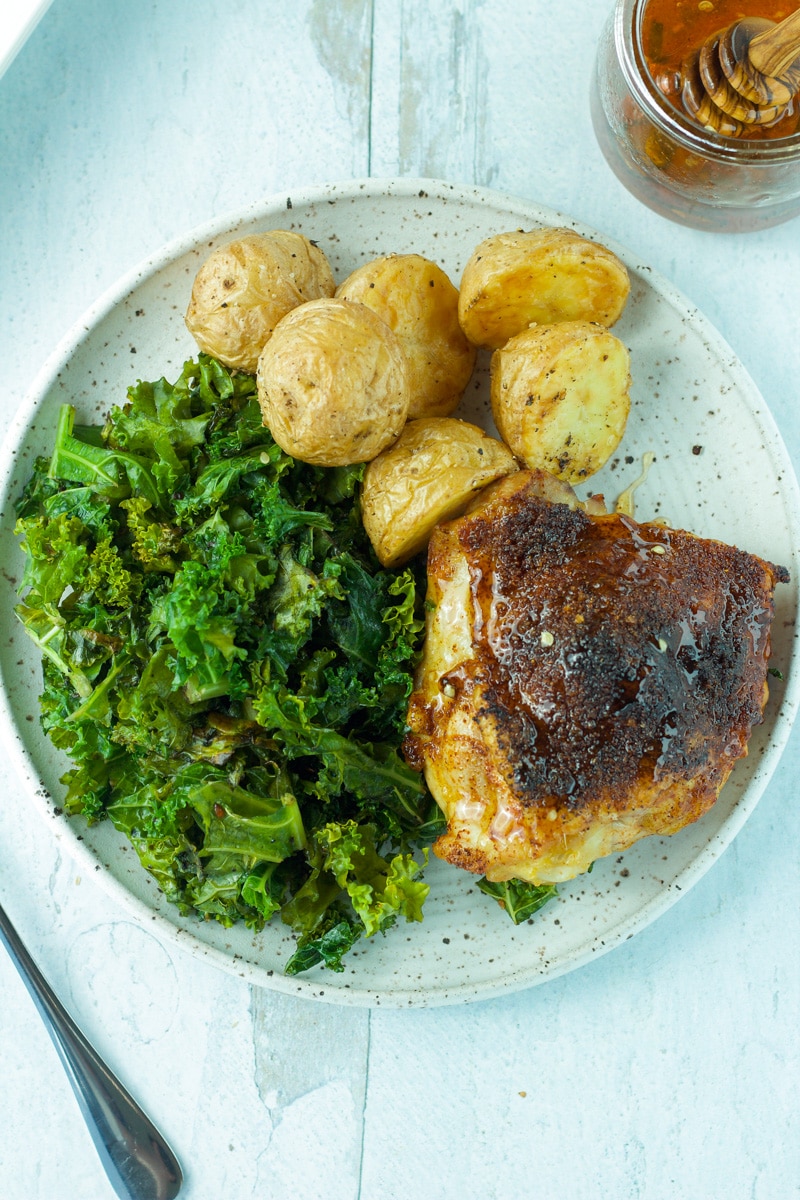 Print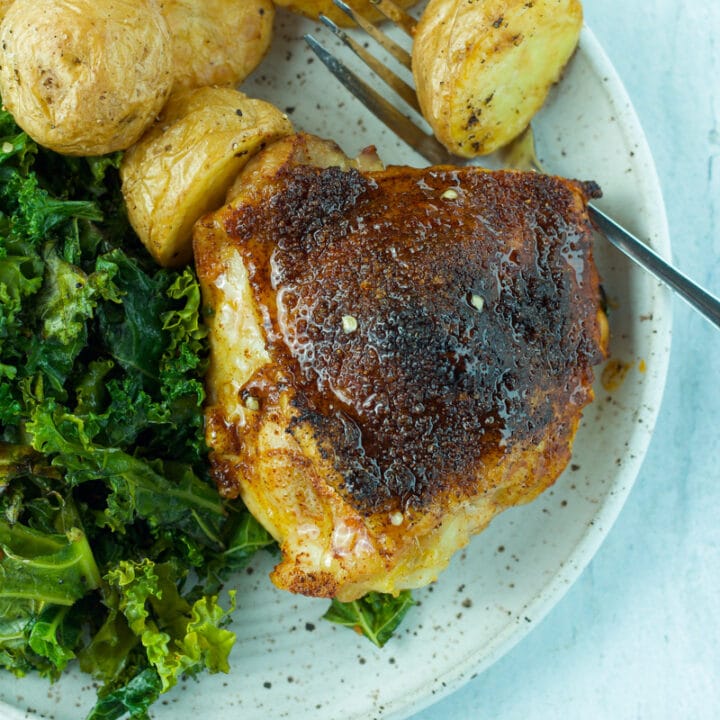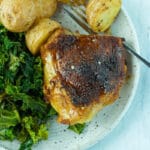 Crispy roasted chicken thighs with hot honey
Author:

Mansee Muzumdar

Prep Time:

5 minutes

Cook Time:

40 minutes

Total Time:

45 minutes

Yield:

4

1

x

Category:

Main

Method:

Oven
---
Description
Super crispy roasted chicken thighs drizzled with an easy homemade hot honey recipe. Includes my favorite tips for getting the crispiest chicken without having to deep fry!
---
1 ½

lbs chicken bone-in, skin-on chicken thighs*

1 tablespoon

house seasoning

2 teaspoons

salt

1 teaspoon

baking powder

2 tablespoons

olive oil (or oil spray)

⅓ cup

honey

1 tablespoon

water

1

serrano chili, thinly sliced
---
Instructions
Preheat oven to 400. Line a sheet pan with foil and then fit a wire baking rack on top. Lightly brush or spray with oil. Set aside.
Combine 2 teaspoons salt and 1 tablespoon house seasoning (or any other seasoning you like!) in a small bowl. 
Using your fingers, gently separate the skin from the meat of the chicken to make a little pocket. Add ½ teaspoon of the salt/seasoning mixture to each little pocket and spread around to make sure you are seasoning the meat itself. 
Then add ½ teaspoon baking powder to the remaining seasoning mixture and use that to sprinkle on top of the skin. Add chicken to pan.
Drizzle with 2 tablespoons oil and spread all over the chicken. Alternatively, use a cooking spray to evenly coat. 
Bake chicken for 35-40 minutes, until the skin is super crispy and the meat registers 165 degrees.
While chicken cooks, combine ⅓ cup honey, 1 tablespoon water and 1 thinly sliced chili in a small pan. Heat over low until honey and water combine come to a simmer. Let simmer for 5 minutes and then remove from heat. You can strain the honey if you want, but I like to keep the chilis in there while it cools to make it as spicy as possible!
When chicken is cooked, remove from oven and drizzle with hot honey. Serve with your favorite sides and more hot honey as desired!
---
Notes
When I buy chicken thighs at the store, 1 ½ lbs is generally 4 good-sized chicken thighs. This recipe is easily scaled up/down as needed. Just keep in mind you'll need about 1 ½ teaspoons seasoning per chicken (½ teaspoon on the meat, and then another 1 teaspoon on the outside)
Hello hello! Here with another easy chicken recipe that I'm pretty confident can make it's way into your weekly rotation. Maybe monthly. But probably weekly when you realize how easy it is to get super crispy chicken in the oven (and also how delicious hot honey is!).
Speaking of...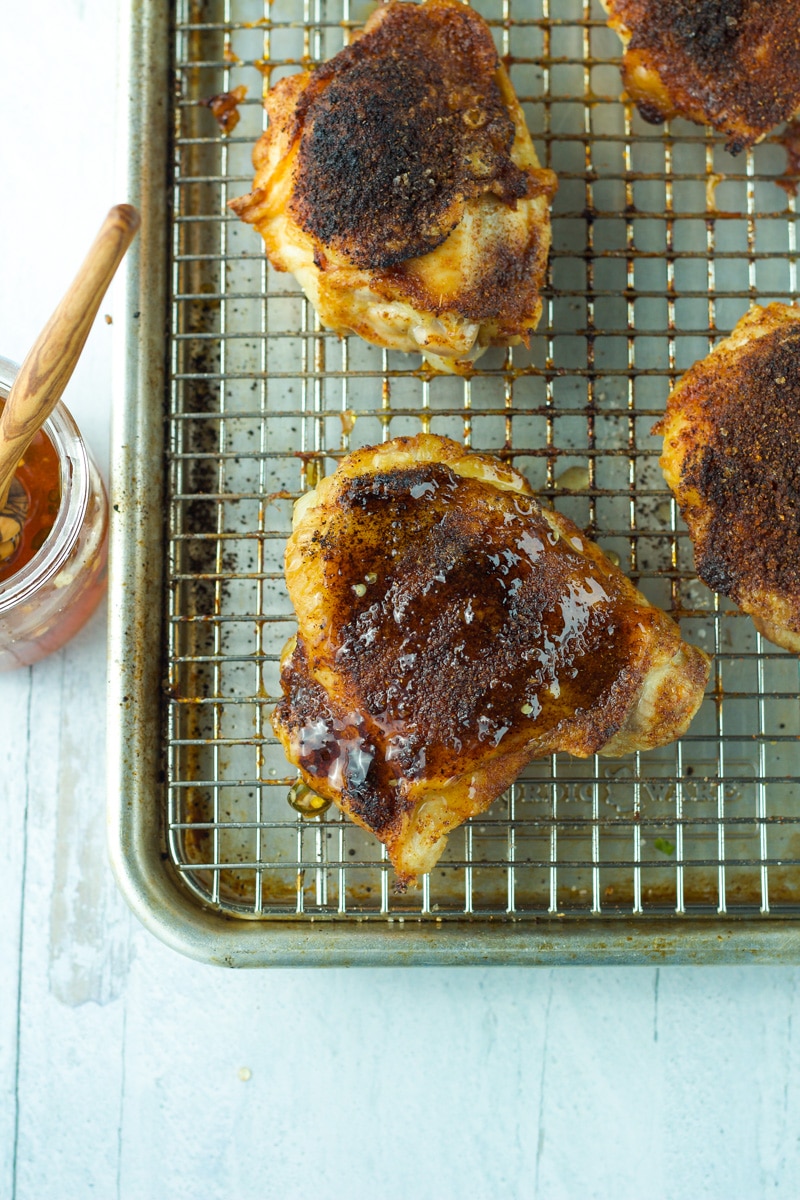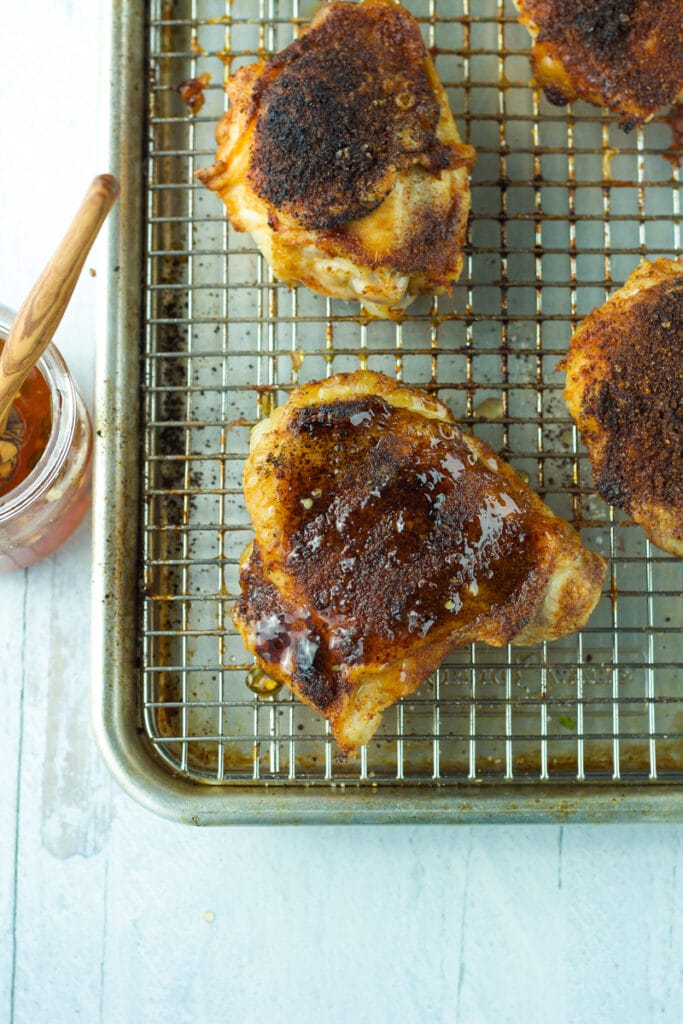 What is hot honey?
Hot honey is a delicious sweet and spicy "sauce," great on just about anything, from chicken to fish to roasted vegetables to biscuits. I've even heard of some people drizzling it on ice cream! Seriously, this hot honey recipe is literally great on ALL THE THINGS.
The best part about hot honey is how easy it is to make. Mine is essentially two ingredients + a little bit of water to help it come together.
The "hot" in hot honey is pretty subjective so it's great to throw together regardless of what you have on hand. I love to use fresh chilies because I think they impart the most perfect amount of heat, plus the chilies get kind of "candied" as they sit in the honey which is just extra delicious. But if you don't have anything fresh on hand, red pepper flakes or even cayenne pepper work perfectly here! For this hot honey recipe, I'd start with ½ teaspoon red pepper flakes or ¼ teaspoon cayenne pepper and work up from there depending on how spicy you want your honey.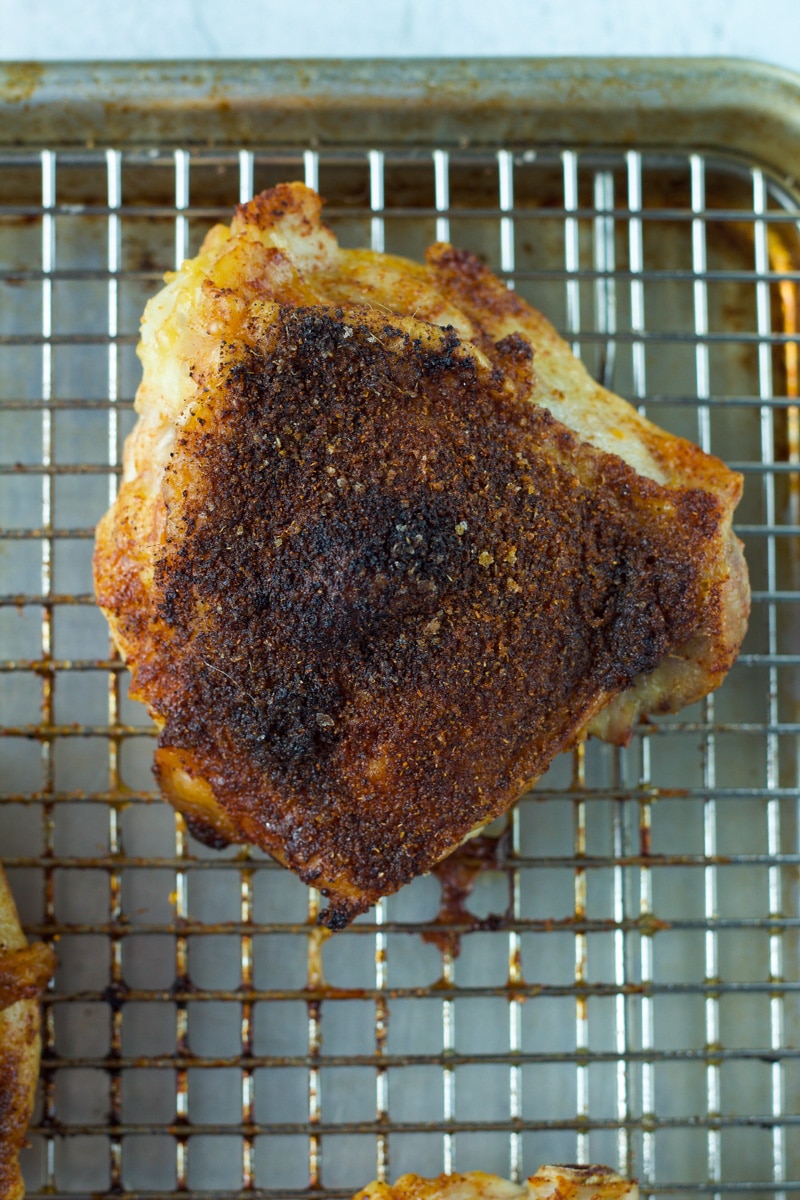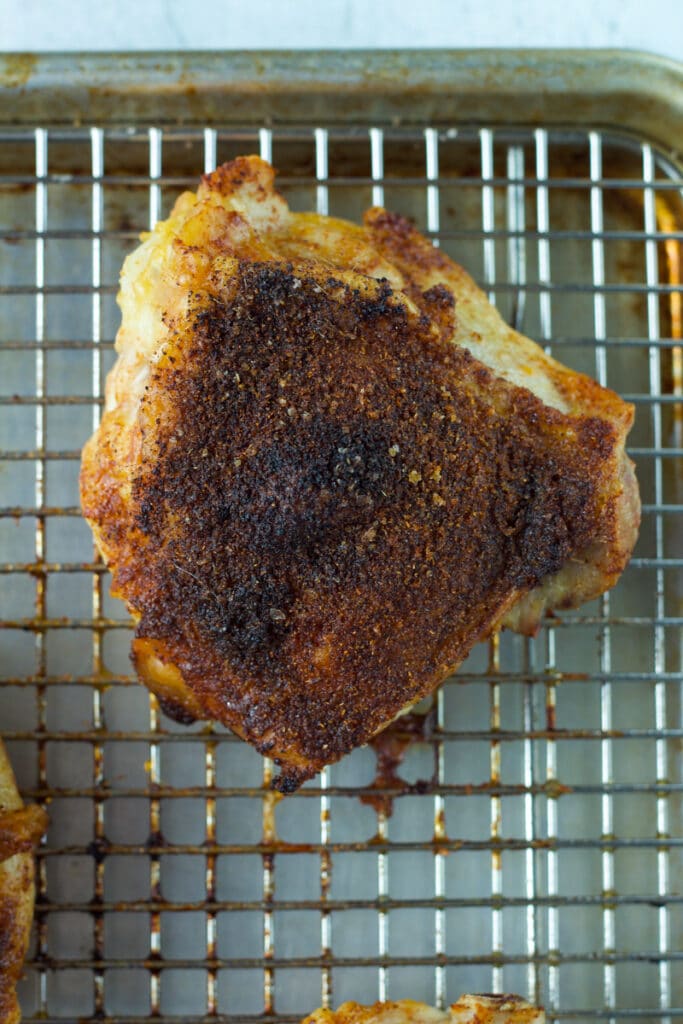 Super crispy chicken in the oven
Ahhh the age-old "how get crispy chicken skin without frying" question.
One of the best parts of this dish is the contrast of the sticky hot honey with the super crispy skin and tender meat, so this is very very important stuff!
There are a million posts out there sharing all the tips and tricks to crispy roasted chicken, and after trying just about all of them I've landed on the two things that I think make the most difference without being incredibly annoying to do on a random Tuesday:
Baking powder
Wire rack
That's it! Two thing you hopefully have in your kitchen as we speak (seriously, if you don't have a wire rack I HIGHLY suggest grabbing one. So versatile!).
The baking powder does all the scienc-y stuff, raising the pH level of the chicken which makes the peptide bonds in the skin break down. Don't ask me how, but this lets the skin get more crispy and golden brown. Be careful not to use too much or your chicken will start to taste aluminum-y. Just 1 teaspoon is good enough for this recipe, which makes 4 big chicken thighs.
Also, I should note: Make sure you're using baking POWDER and not baking SODA. The former has the ingredients needed to dry out that skin (like cornstarch!). The latter does not.
Once you've coated your chicken in your seasoning + baking powder, HOW you roast the meat is the second secret. Placing the chicken on a wire rack allows air to circulate around the entire piece which allows for crispiness on all sides. You can definitely roast this straight on the baking sheet, but your chicken will be less crispy. Still delicious, but just know that!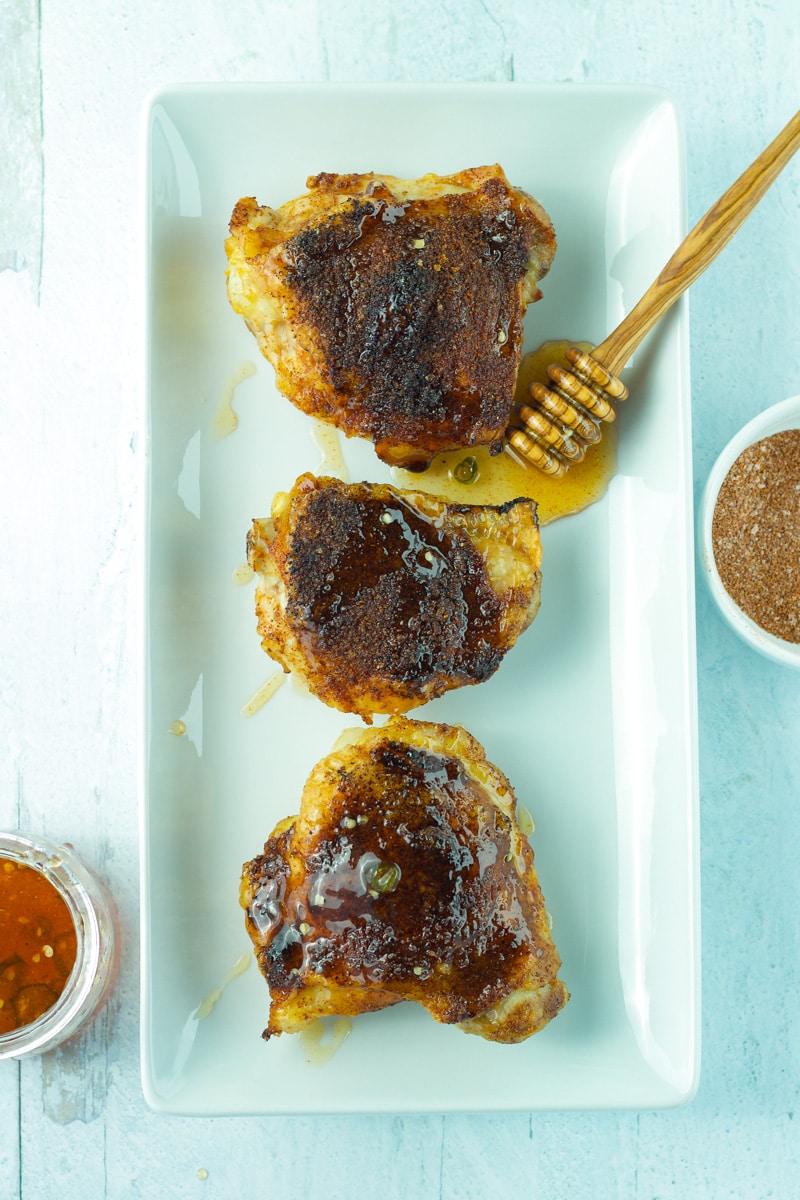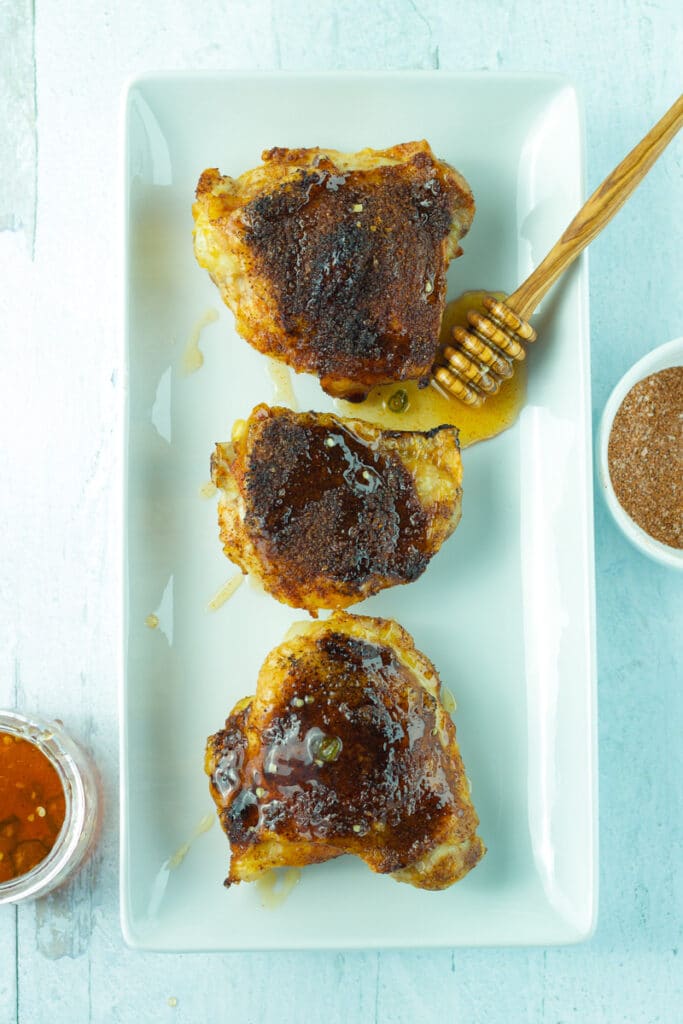 What you need to make this dish
Chicken, duh. I love bone-in, skin-on chicken thighs the most, but you could use bone-in, skin-on breasts too! Drumsticks would also be great. I wouldn't use boneless, skinless anything for this recipe specifically, but if that's all you like/have you totally can. Just roast the chicken for less time and don't worry about adding the baking powder 🙂
Your favorite seasonings. I developed this recipe using my house seasoning because it makes it SO easy to throw together on a busy day, which is the whole point of that seasoning blend! With that said, you can use whatever you like. Italian seasoning, lemon pepper, garlic and herb - you do you! You'll just need a tablespoon all in.
Baking powder. We discussed this, but worth mentioning again. You'll season the chicken under the skin with some of your chosen seasoning, and then mix the rest with the baking powder to sprinkle on top of the skin.
Oil. I like to use a spray for this dish because I find it makes it easier to get an even coating all over the chicken. But if you don't have a spray, you can brush the oil on or drizzle and use your fingers to spread around.
Honey. One of the best things about this hot honey recipe is that you can use your favorite kind of honey - we're not picky!
Fresh chilies or ground pepper. I like to use fresh so I get little candied slices when the honey cools, but red pepper flakes or cayenne powder work here too. Hot honey is totally customizable!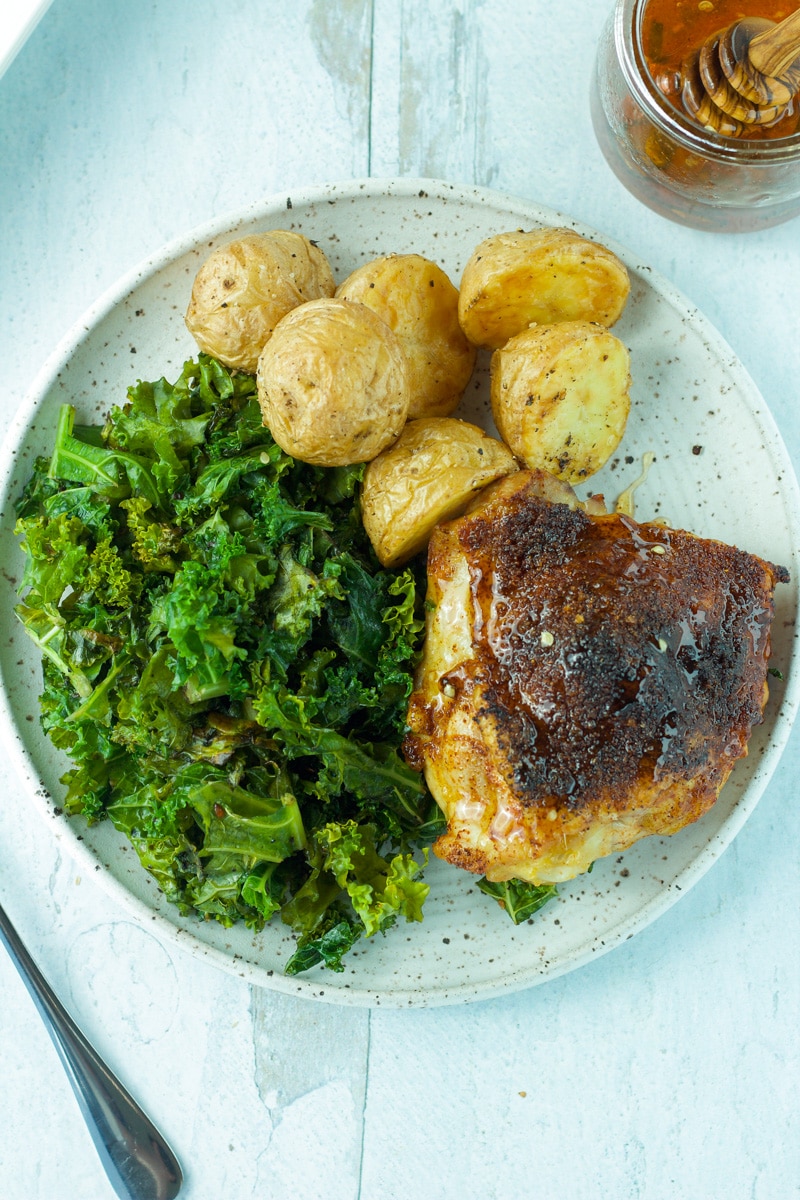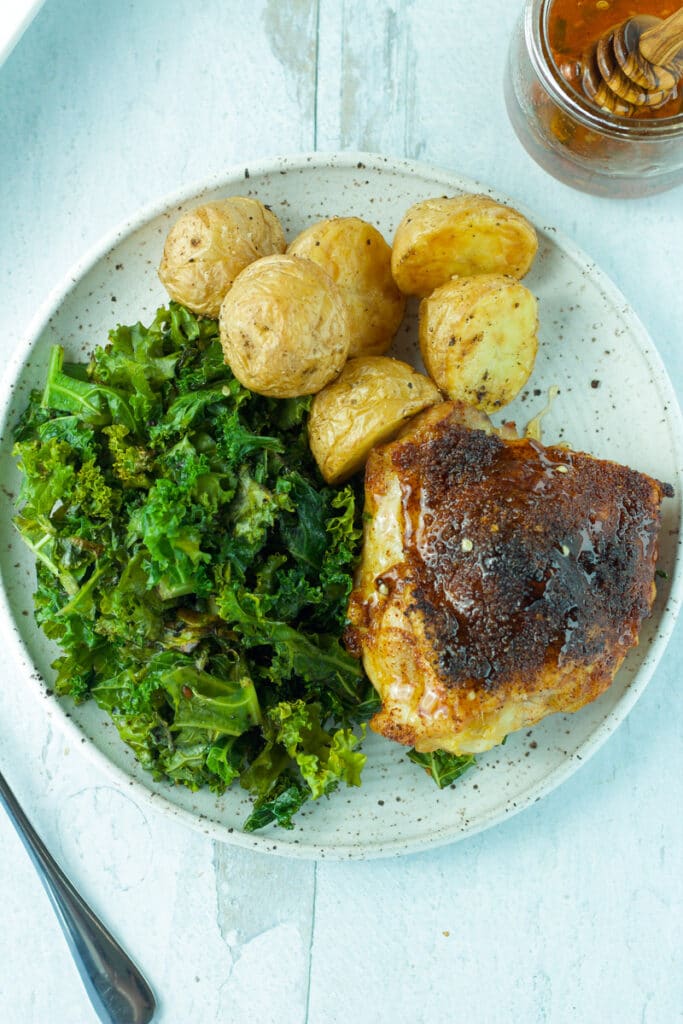 What to serve crispy chicken and hot honey with
The options are pretty endless here. For a super easy meal, you can roast some potatoes in the oven while the chicken cooks (on a separate sheet pan!) and then add some 10-minute kale to round it out. That's what I have pictured here! The hot honey is amazing on roasted vegetables, so it's definitely a fave.
Other ideas:
Kale Caesar Salad. A big ol' salad with a side of chicken is always a winner.
House salad. A little ol' salad with a side of chicken is also always a winner.
Crispy paprika potato stacks. OMG.
Crispy grains and chickpeas. Clearly, I love crispy things.
Roasted cabbage with sweet and spicy orange dressing. You could even forget the dressing and just drizzle the hot honey straight on the cabbage!
Brussels cauliflower rice. Healthy healthy.
Orzo with slow-roasted tomatoes and feta. One of my all-time favorite dishes! The freshness of this pasta/salad will be great with the sweet and spicy chicken.
Enjoy!