With simple ingredients and just a few minutes in a pressure cooker, these Instant Pot turkey meatballs deserve to be in your rotation! Serve with your favorite sauce and/or pasta, or eat them on their own with a quick side dish for the perfect, healthy meal.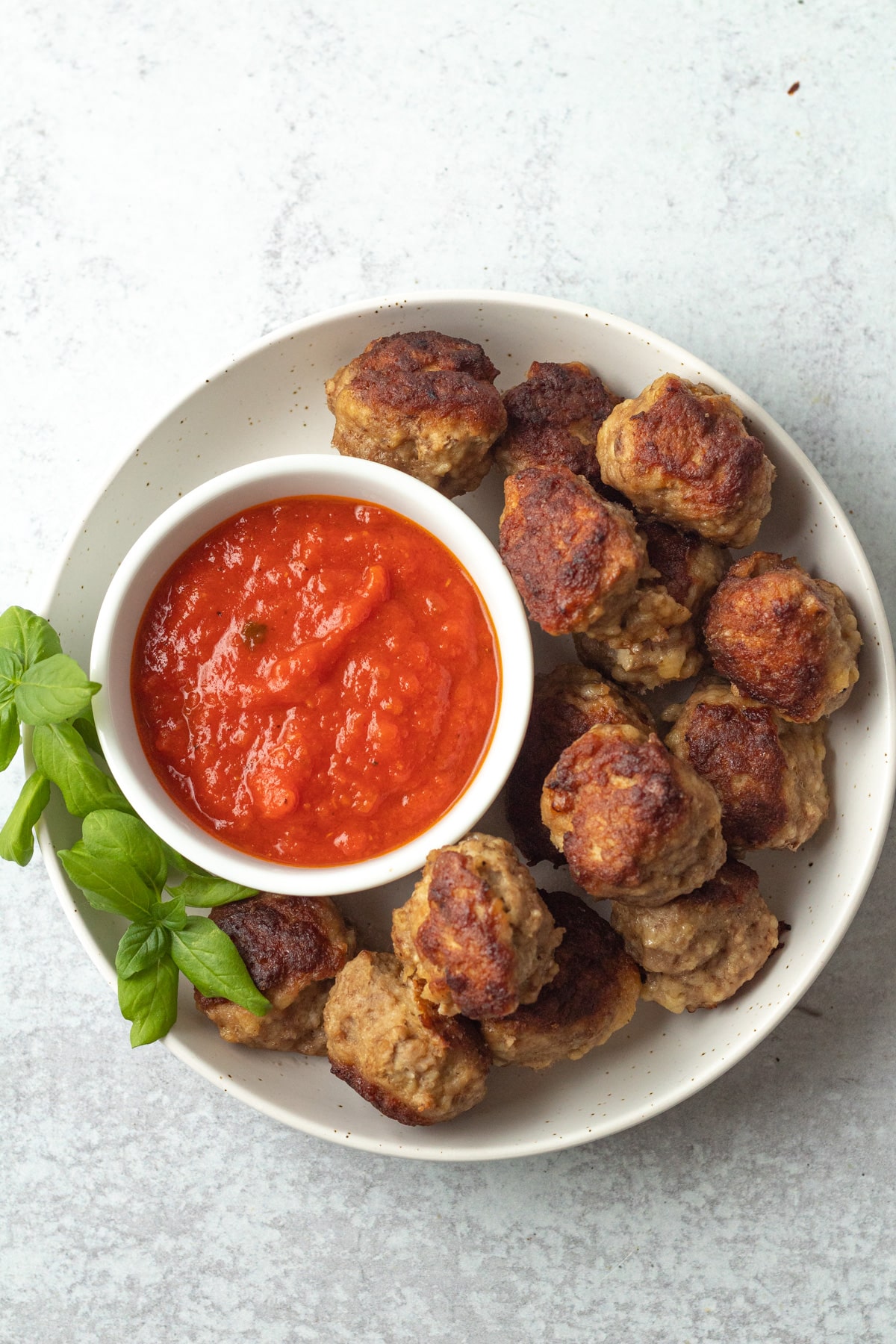 There are a million ways to make homemade meatballs, and I am on a mission to try them all. These Instant Pot turkey meatballs is one of my favorite recipes because pressure cooking helps keep the meatballs tender and moist. Ground turkey meatballs are also a great recipe to meal prep so you'll have an easy protein option all week, or you can even freeze them for quick dinners in the future!
Even though ground beef is a great go-to, I love having solid recipes to use up leaner meats like ground turkey or ground chicken. You can eat these with pasta or serve with your favorite bbq sauce or teriyaki sauce for a quick and healthy meal.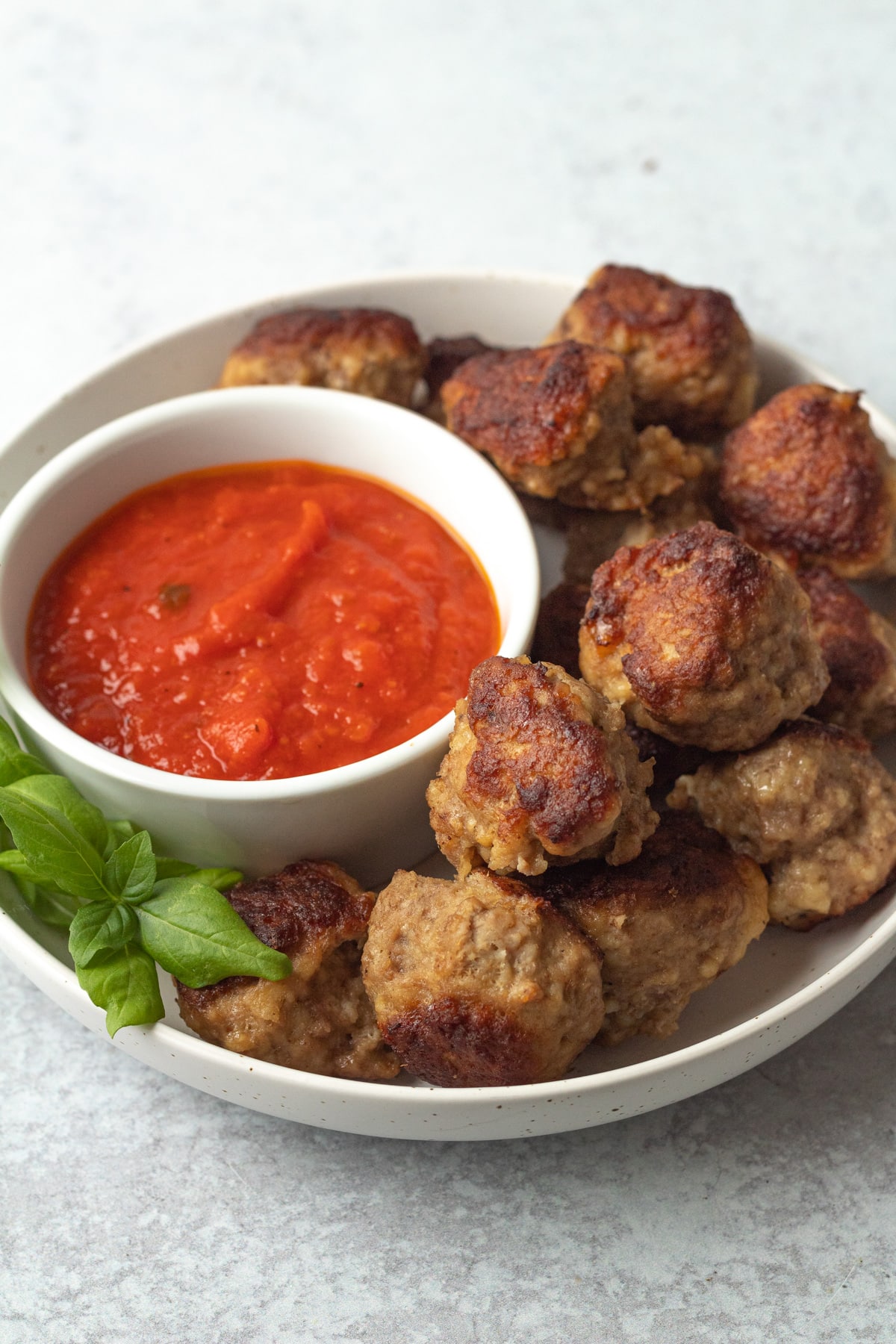 Great for small batch cooking
While this recipe for turkey meatballs isn't small batch, I think meatballs are a perfect food to anyone cooking for just one or two.
They are perfect for meal prep because they hold up in the fridge for a week and in the freezer for even longer.
They are naturally portioned out, so you can grab the exact amount you need to heat up for a quick snack or for whatever meal you're making (see ideas below).
Turkey meatballs are a great healthy protein source, and making them in the Instant Pot helps keep them tender so you don't have to worry about them overcooking and drying out.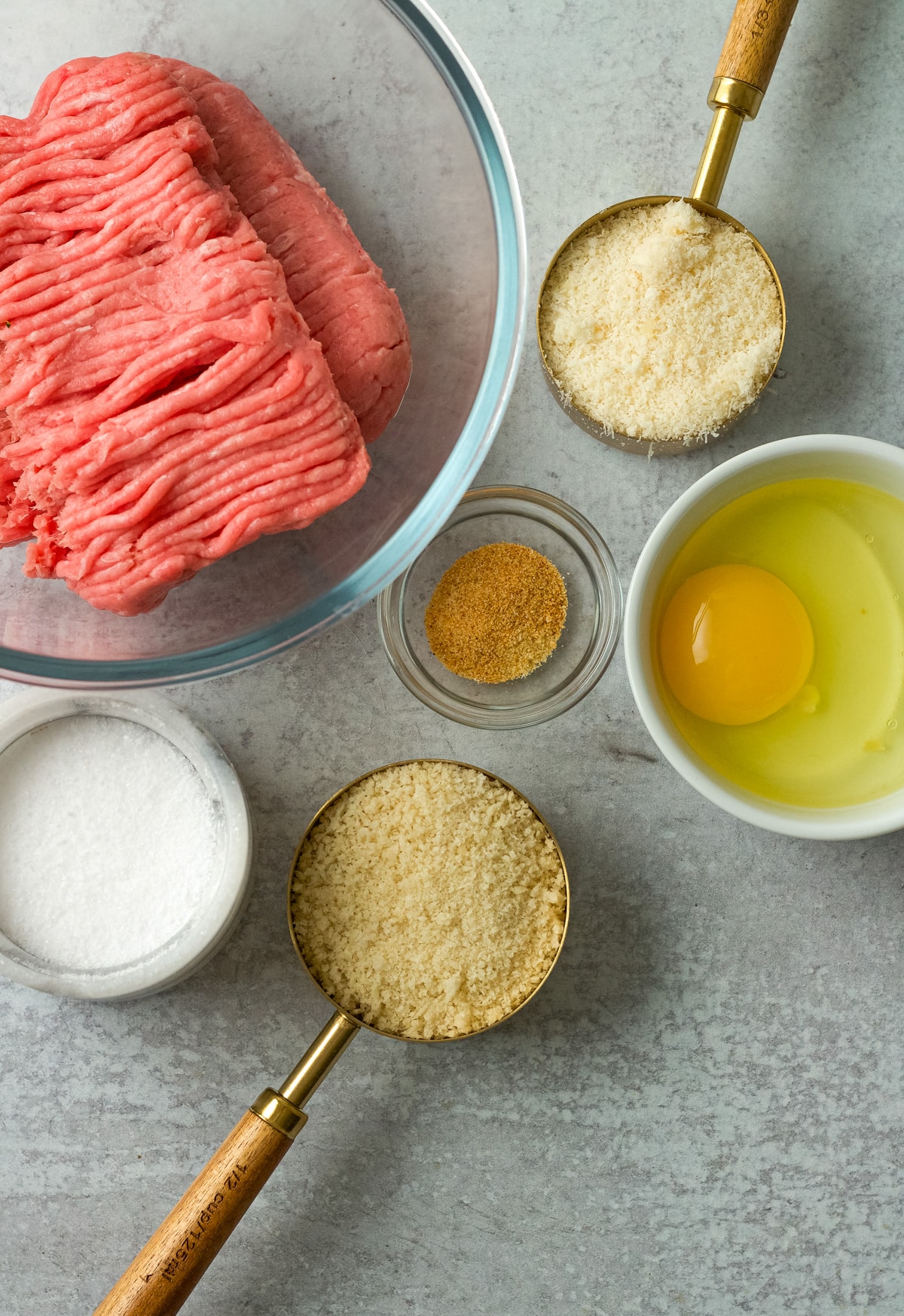 What you'll need
Simple ingredients, but somehow still perfect!
Ground turkey: If possible, try to grab 85/15 ground turkey - the little bit of extra fat will help keep these super moist. If you can only find 93/7 lean turkey, that's fine too!
Egg: Just 1 to help bring things together.
Bread crumbs: I like to use panko because that is what I most often have on hand, but regular breadcrumbs will work too. If you are gluten free or avoiding bread, try almond flour instead.
Grated parmesan cheese: If you are buying the pre-grated kind, go for the powdery, finely grated kind instead of shreds.
Olive oil: For flavor and to keep the meat from drying out.
Salt and pepper: The basic seasoning duo.
Seasonings: You can use whatever you like best to season these turkey meatballs. Try garlic powder, onion powder, italian seasoning, cajun seasoning or anything else that sounds good! You can also keep them simple with just salt and pepper, and save the extra flavor for a sauce to serve them with.
Stock/broth: You can use any kind of stock or broth for this, like turkey broth (duh), chicken stock or even vegetable.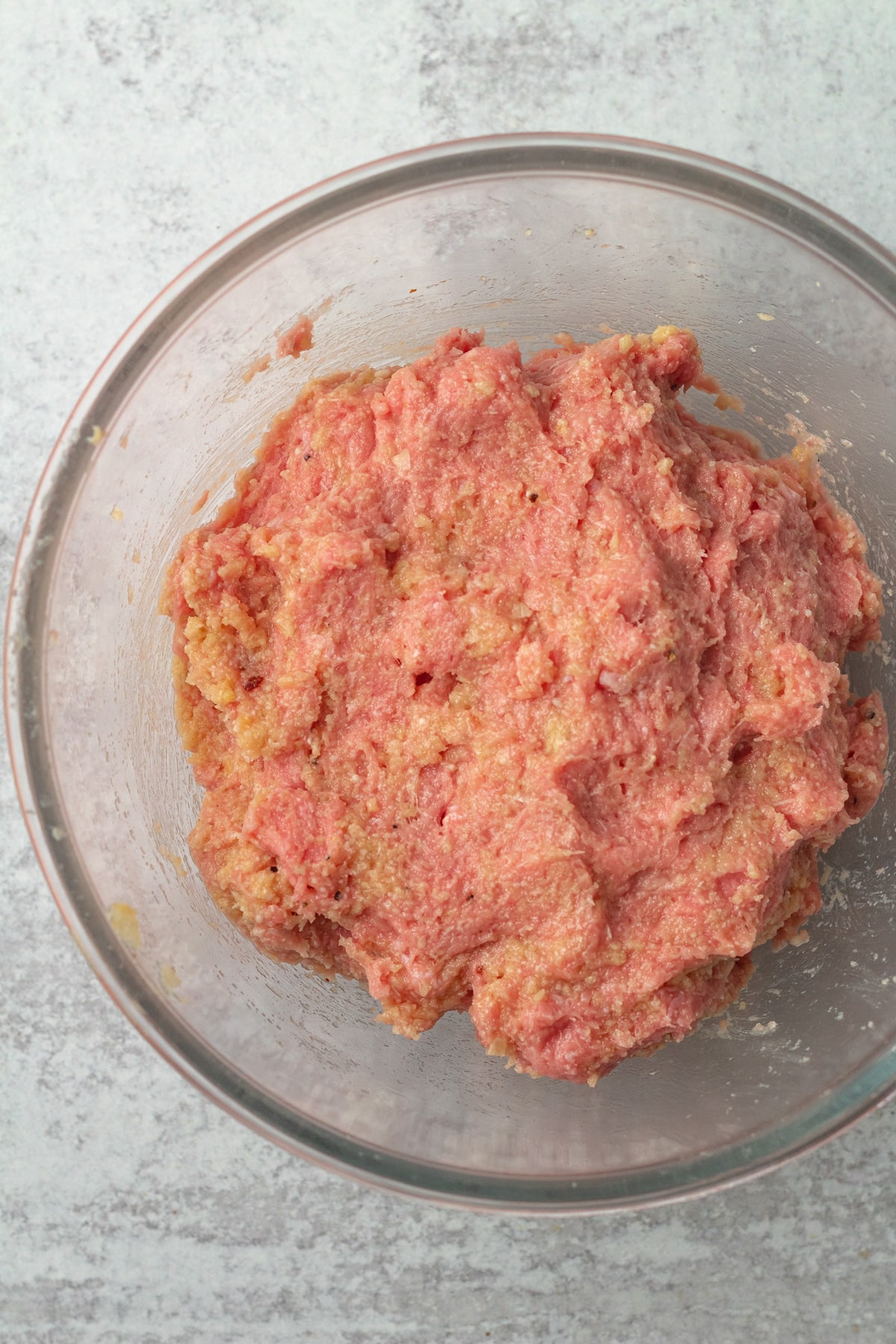 How to make Instant Pot turkey meatballs
In a large bowl, mix together the egg, breadcrumbs, parmesan cheese, olive oil, and salt and pepper.
Add ground turkey to mixture and use a fork or your hands to combine. Mix JUST until everything comes together - make sure not to overmix!
Use a cookie scoop or spoon to divide meat mixture into 2-tablespoon sized balls.
Heat Instant Pot using saute function. Add olive oil and brown meatballs for 2 minutes, until one side is deeply browned. Remove from pot. You might have to do this in batches. Once all meatballs are browned, turn off Instant Pot.
Add stock to pot and use a wooden spoon to scrape up any browned bits on the bottom of the pot. Then add the steaming trivet on top. Add meatballs to trivet, stacking as needed.
Cook on high pressure for 5 minutes and then let natural release for another 5 minutes. Manually release the rest of the pressure and then remove meatballs from pot.
Serve immediately with your favorite sauce or store in the fridge or freezer for later.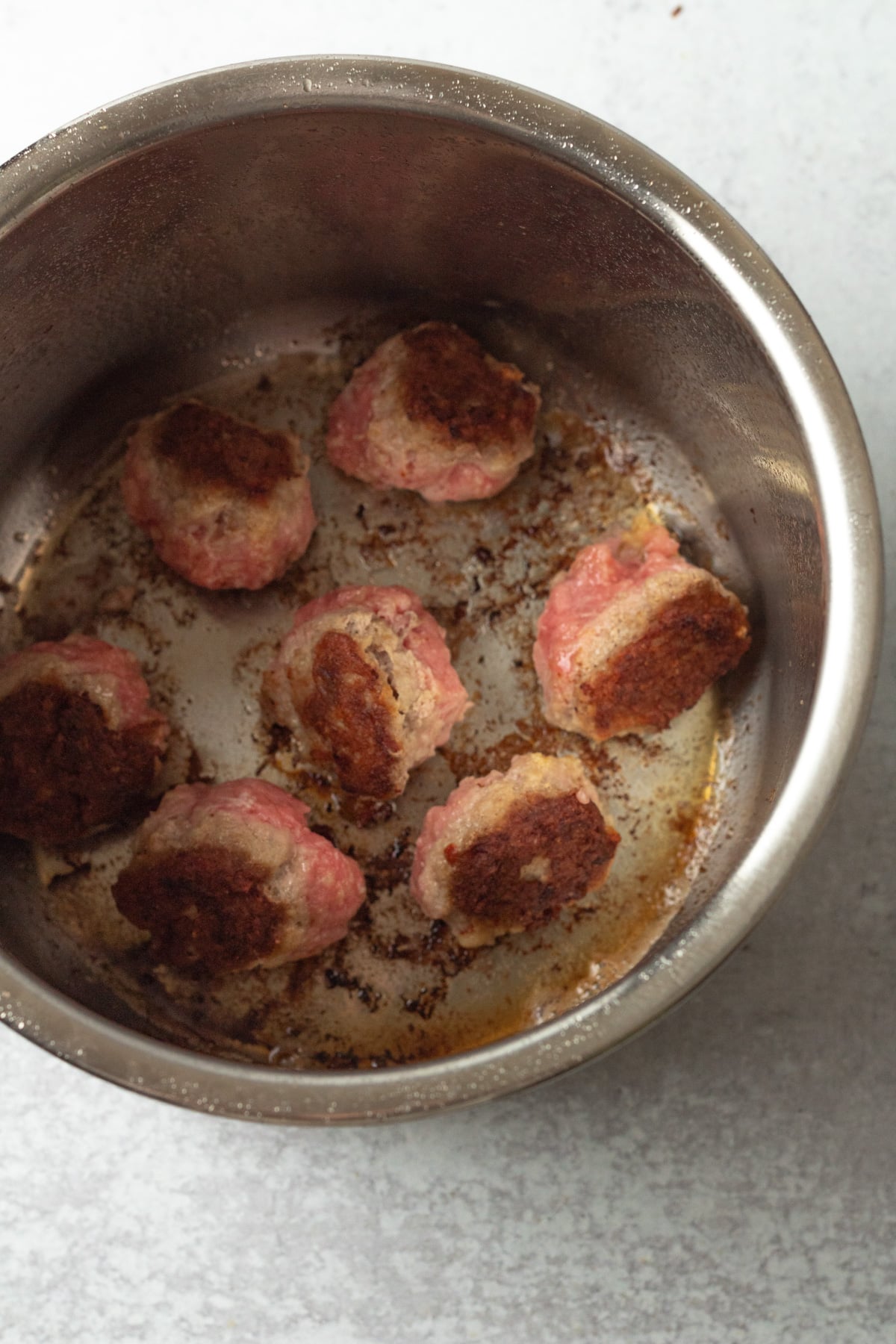 Serving ideas
Like others, my mind first goes to pasta and I know it's a favorite way to serve meatballs for many of you. You can easily add these turkey meatballs to your favorite jarred or homemade tomato sauce and mix with pasta for the ultimate comfort meal.
Some other ideas:
This meatball recipe is also great on its own, like any other protein such as chicken or fish. They are great dipped in this green goddess dressing or a simple marinara sauce, or alongside my roasted gnocchi with lemon garlic brown butter. Add a house salad and you've got one of my favorite healthy complete meals!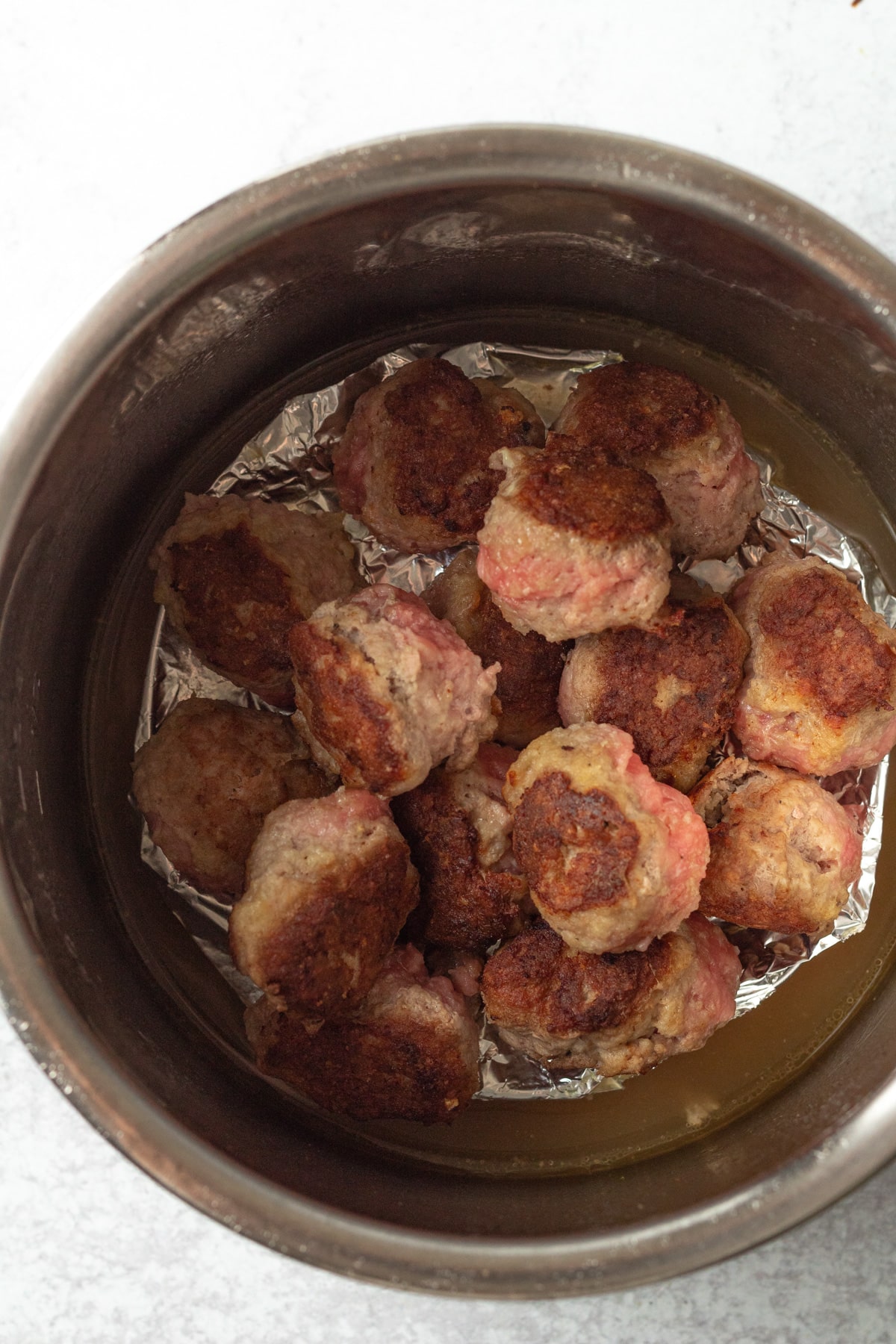 Frequently Asked Questions
How do you make sure turkey meatballs don't fall apart?
For best results when making Instant Pot meatballs (or any kind of pressure cooker meatballs, really), I find browning them first and then letting them pressure cook helps them stay together. The breadcrumbs also help to soak up extra moisture so the meat mixture isn't too sticky or wet when cooking.
How do you keep turkey meatballs tender?
Adding a little olive oil to the mixture helps to keep the meatballs tender, as does pressure cooking them with a little stock. Bonus: Both add great flavor too!

Also, it is so important to NOT overmix the meat mixture. To ensure this, I mix all the rest of the ingredients first (egg, breadcrumbs, etc.) and then add meat and mix until just combined.
Can you freeze Instant Pot meatballs?
Yes, absolutely! Once the meatballs have cooled, arrange them in a single layer on a large plate for baking sheet that will fit in your freezer. Freeze for 2-4 hours, until meatballs are completely frozen and then transfer to a bag or container to store. They'll stay good for months, or just until the next time you need some quick meatballs.
What is the best way to reheat meatballs?
You can reheat meatballs in a few different ways:

If they are in a sauce of some sort (like spaghetti sauce), heat them covered on the stove over medium-low heat. Or place in an oven-safe dish, cover with foil and heat in the oven at 300 for 20 minutes or in the microwave for 3-5 minutes (depending on how powerful your microwave is).

If you are warming up plain meatballs, you can reheat them in the oven, uncovered, or in an Air Fryer at 400 for 5 minutes.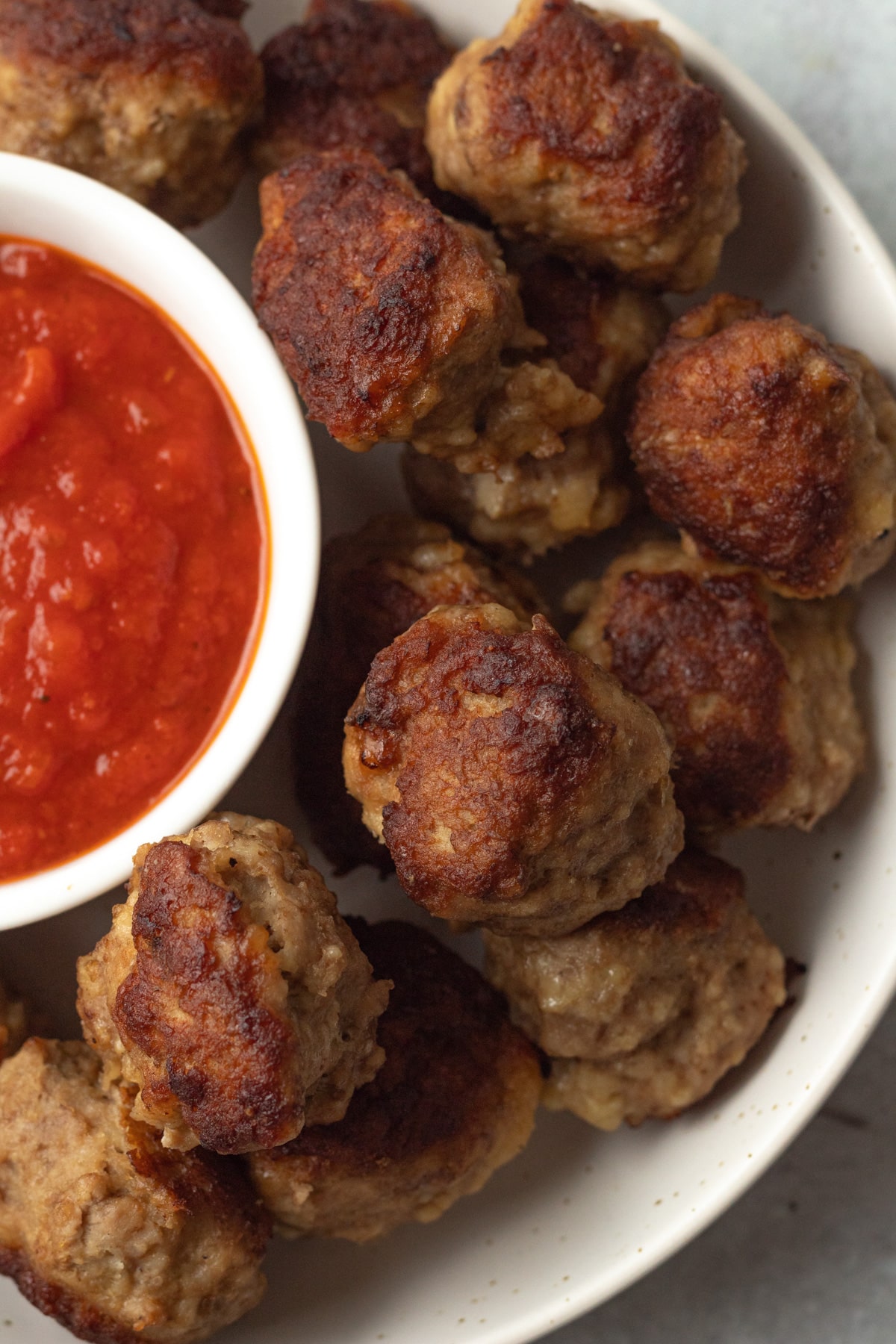 Print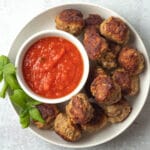 Instant Pot Turkey Meatballs
---
Description
With simple ingredients and just a few minutes in a pressure cooker, these Instant Pot turkey meatballs deserve to be in your rotation! Serve with your favorite sauce and/or pasta, or eat them on their own with a quick side dish for the perfect, healthy meal.
---
1

egg

3 tablespoons

olive oil, divided

½ cup

breadcrumbs

⅓ cup

grated parmesan cheese

1 teaspoon

salt

½ teaspoon

garlic powder

½ teaspoon

onion powder

¼ teaspoon

black pepper

1

lb ground turkey (I use

85/15

blend, but

93/7

works too)

1 cup

chicken stock (or any kind of stock you prefer)
---
Instructions
In a large bowl, combine 1 egg, 1 tablespoon olive oil, ½ cup breadcrumbs, ⅓ cup grated parmesan, 1 teaspoon salt, ½ teaspoon garlic powder, ½ teaspoon onion powder, ¼ teaspoon black pepper (if you're using any other seasoning, add it now too).  Mix with a fork until everything is well combined.
Add 1 lb ground turkey and mix with a fork or your hands until JUST combined. Do not overmix!
Using a small cookie scoop or a spoon, roll meat mixture into meatballs. Each should have about 2 tablespoons of mixture.
Heat Instant Pot on saute over high. Add 1 tablespoon olive oil and half the meatballs to the pot. Saute for 2-3 minutes, until one side is deeply browned. Remove from pot. 
Add remaining 1 tablespoon of oil and brown the rest of the meatballs. Remove and set aside. 
Turn off Instant Pot, then add 1 cup chicken stock to bottom of pot and use a wooden spoon to scrape up all the browned bits. 
Add steaming trivet to pot (wrap in foil if you're concerned the meatballs will fall through) and stack meatballs on trivet.
Set Instant Pot to pressure cook on high. Cook for 5 minutes, then let naturally release for another 5 minutes. 
Serve turkey meatballs with your favorite sauce, pasta dish or on their own. Meatballs can be stored in the fridge for up to a week, and in the freezer for up to 6 months.
Notes
See FAQs above for directions to freeze meatballs. 
I highly suggest using this recipe as a base recipe - play around with the seasonings and use your favorite spices to flavor these up!
I prefer to use garlic and onion powder for ease, but you can use freshly minced garlic and onion if you prefer. I'd do 2 garlic cloves and about ¼ cup minced onion. 
When it comes to browning the meatballs in the Instant Pot, I prefer to do it first and then pressure cook to help ensure meatball integrity (even though they still won't be perfect, so don't worry about it!). I only brown one side just to get some flavor and help them stay intact, but you can brown all sides if you would like. If you do, I'd reduce the pressure cooking time to 4 minutes. 
Prep Time:

10 minutes

Cook Time:

20 minutes

Category:

Main

Method:

Instant Pot

Cuisine:

Global