Perfect for a date night in, these Instant Pot boneless short ribs are a delicious meal for a special occasion (or a regular ol' Tuesday)! Pressure cooked and braised in a super flavorful miso broth with wine, these boneless short ribs are fall apart tender and perfect piled on top of my creamy small batch mashed potatoes!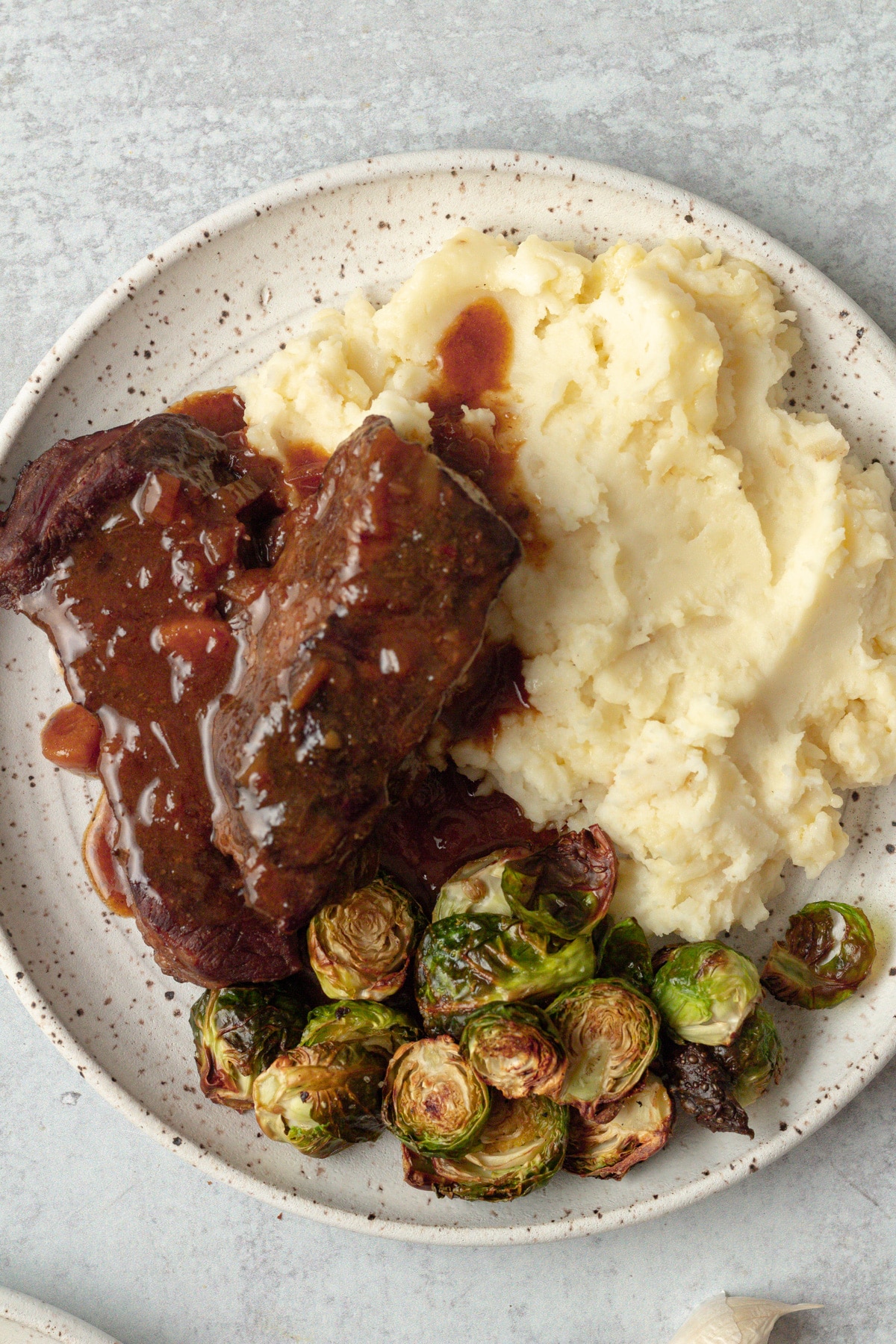 Jump to:
It's time for one of the all-time greats - a hearty, comforting meal with fall-apart, tender meat cooked in a fraction of the time with everyone's favorite electric pressure cooker.
Instant Pot boneless short ribs.
More specifically, MISO-braised Instant Pot boneless short ribs. Rich flavor with fewer ingredients, it's a total win for a date night in or whenever you are looking to treat yourself to a special meal.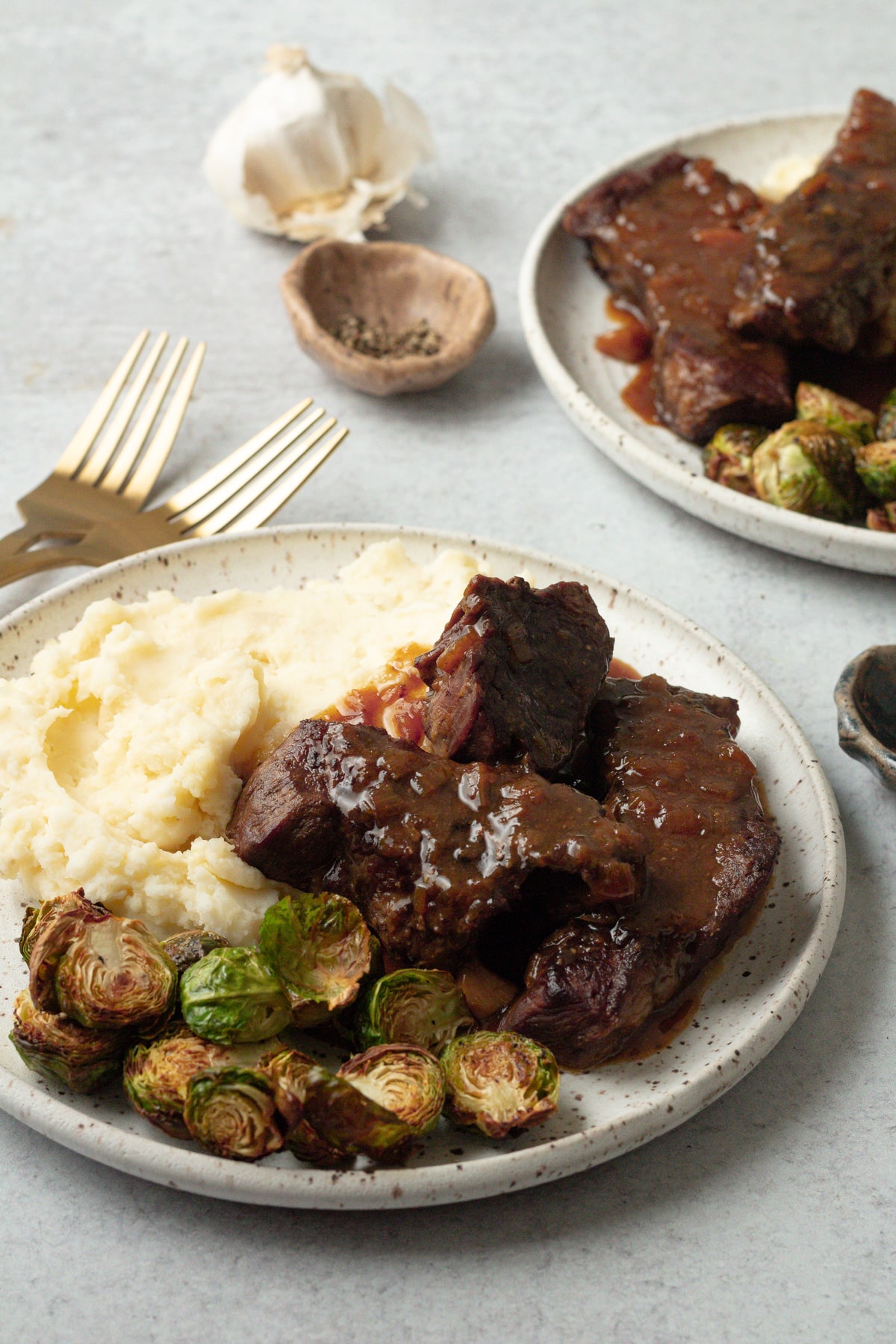 Tips for small batch short ribs
I'm not sure short ribs come to mind when someone thinks about a small batch meal, but I'm telling you it can be done!
The trick is to simplify things so that you aren't using a million ingredients for a smaller amount of food, while still keeping all the flavor and fun of a traditional, hearty meal like this.
My trick is to cut out all the vegetables. HA!
Most short rib recipes (both bone-in and boneless) start with an array of vegetables and aromatics such as onion, carrots, celery, garlic, etc. Those vegetables then soak up all that cooking liquid and are just as much a part of the meal as the meat itself.
While I do love that in theory, I just don't want to buy and chop all of that for this meal. So instead we keep just the onions and garlic, and then use miso paste to add amazing flavor with about half the effort.
As for the vegetables? I just roast something (generally broccoli or brussels sprouts) and serve them alongside.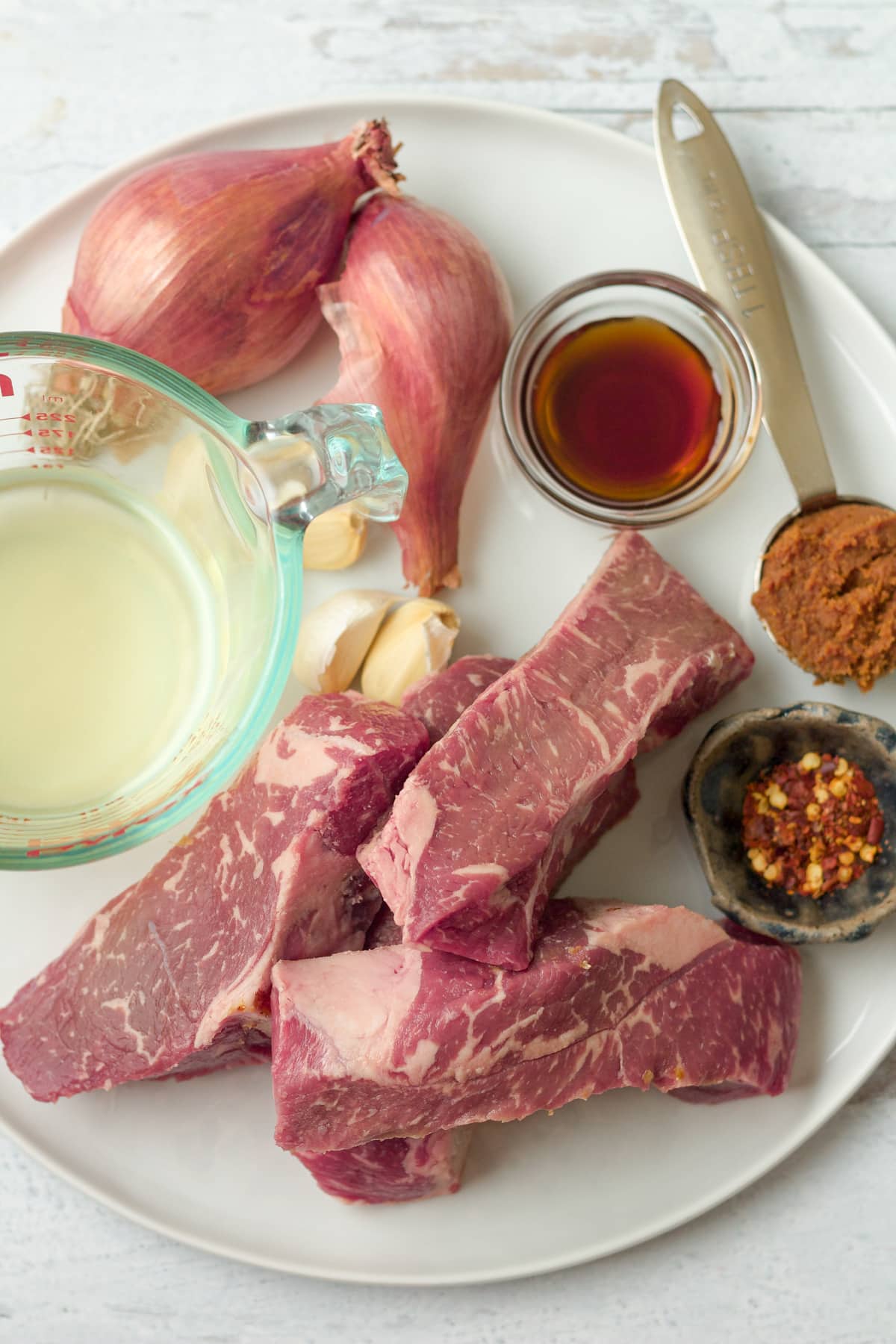 What you'll need
Boneless beef short ribs: For two people, I use 1 pound which is normally 4 pieces of beef ribs.
Onion or shallot: Along with garlic, the onion is the only aromatic you'll use here. I like the slight sweetness of a shallot, but a regular ol' white or yellow onion is perfectly fine.
Garlic: I use 3 cloves, but use more or less to taste.
Red miso: I love the stronger red miso flavor in this dish, but if you only have white miso on hand definitely use that! If you don't have and/or like miso, substitute with tomato paste (more on that below).
Red pepper flakes: Just a tiny bit for a little spice.
Chicken or beef broth: You can use water if you don't want to open up a new can/box for just ½ a cup (although extra will last in the fridge for a long time!).
White wine: Personally, I really like the way a dry white wine cuts into the richness of the beef and miso. However, if you are planning on drinking red wine with this dish and would prefer to just pour a little of that into the pot, please go for it!
Cornstarch: For a quick little cornstarch slurry to thicken the sauce after cooking the short ribs.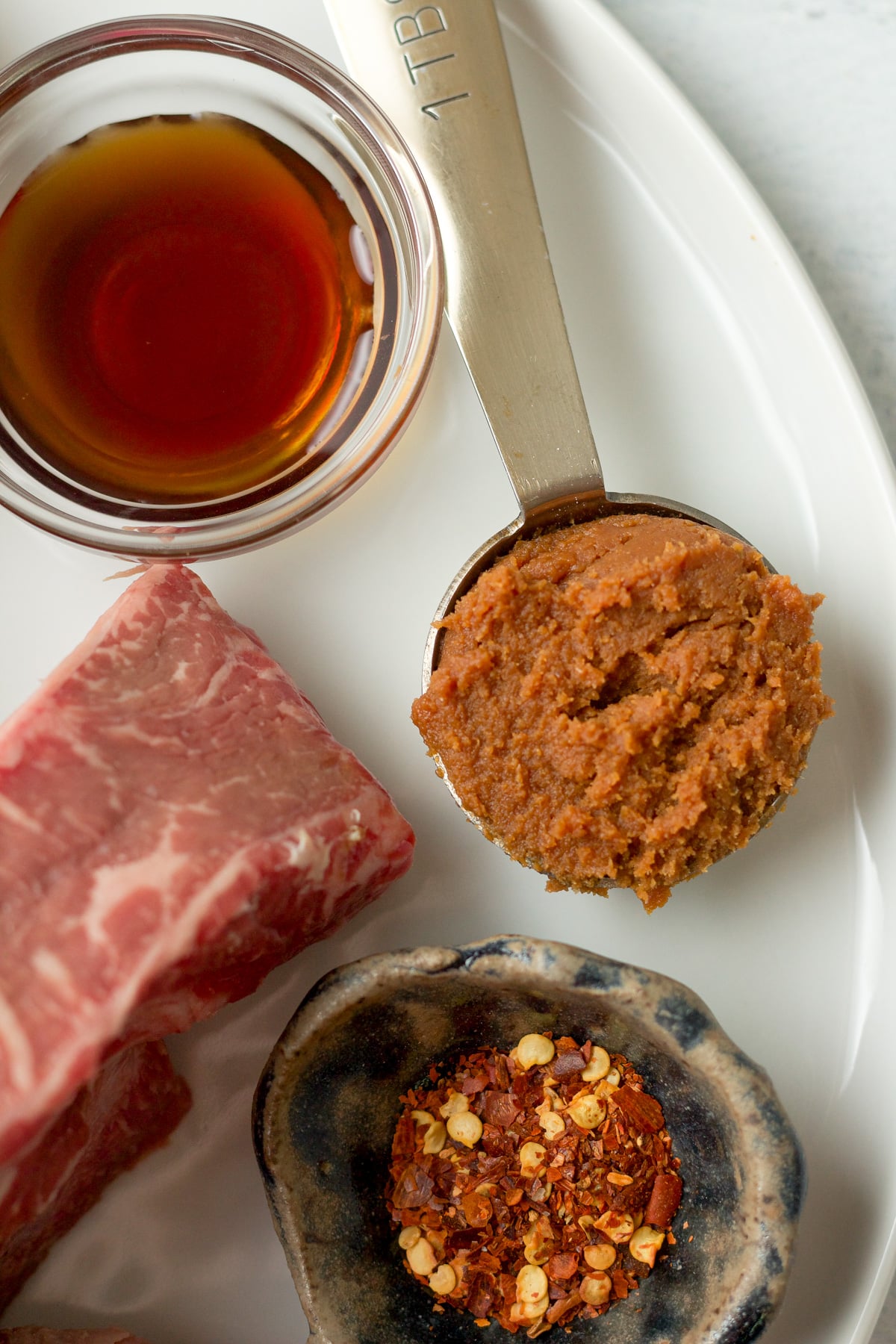 Why miso?
Well first of all, why not miso?!
Miso paste is a total flavor bomb, and since we're not using a ton of extra seasoning or aromatics here, it's the perfect way to impart a ton of flavor into your boneless short ribs in a short amount of time.
I really like red miso for this dish, but white or yellow miso can work too.
If miso isn't your thing or if you just don't have it on hand, try using tomato paste in its place. The flavor will definitely be different, but you'll still get that rich umami broth to cook the short ribs in. Note: If you use tomato paste, add an extra ½ teaspoon salt to the broth before cooking your ribs. Miso is a little salty so the recipe below scales back on salt a bit.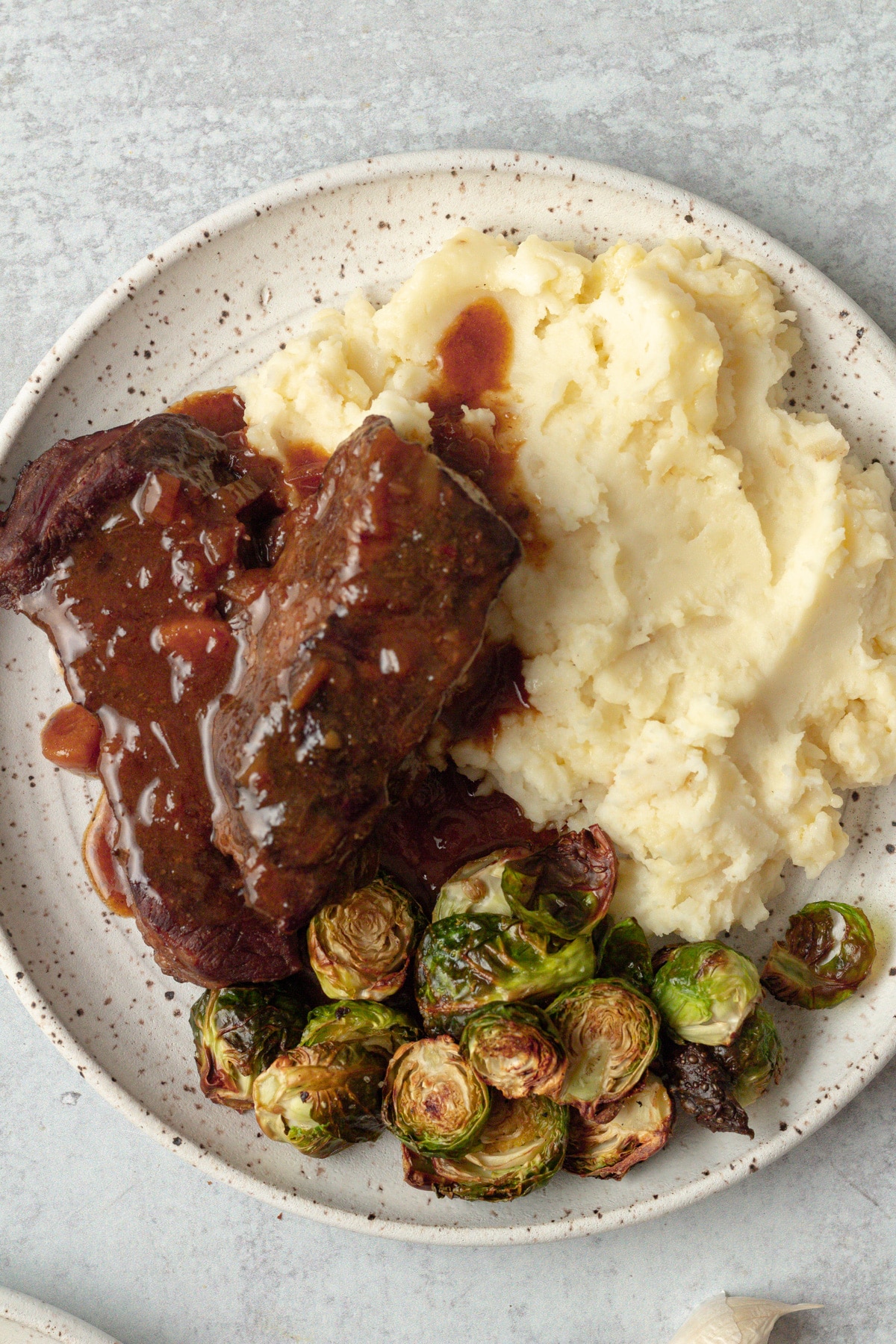 Serving suggestions
The rich flavor and sauciness of this dish basically begs for a pile of mashed potatoes, but I also like this with rice, polenta or pasta (fresh, wide noodles are the best).
On the side, try some roasted maple sesame broccoli or maple miso brussels sprouts (clearly I love both maple syrup and miso!). Some simple green beans or a salad are great too.
If you are looking for an appetizer, I love to make a simple cheese board to snack on while the short ribs cook. This curried butternut squash hummus is also amazing if you're up for it!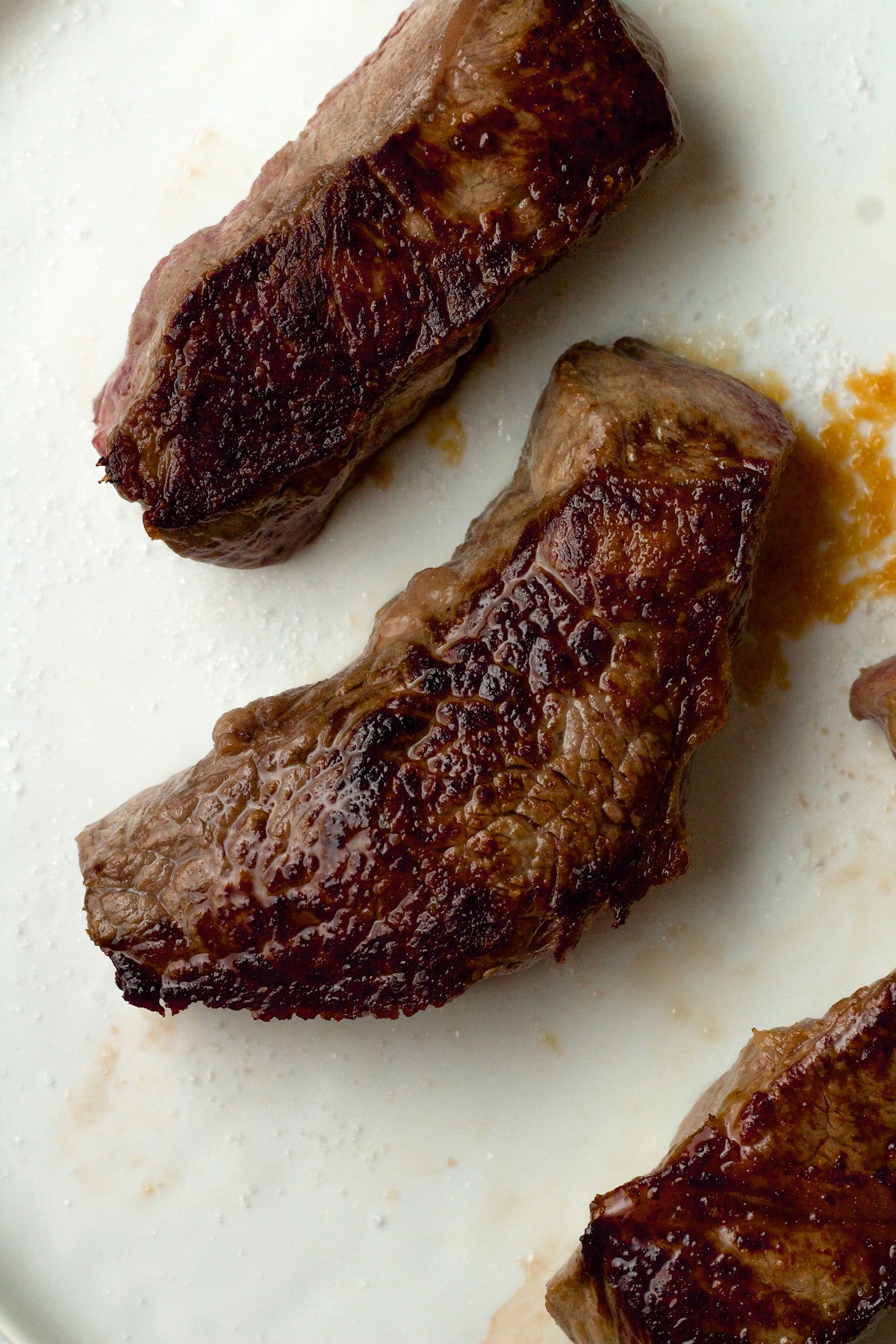 Frequently Asked Questions
Can I make this recipe with bone-in short ribs?
Yes, of course! Follow the recipe as-is, but pressure cook the short ribs for 45 minutes. Let them naturally release for 15 minutes and then manually quick release the rest of the way.
What to serve with boneless short ribs?
I am a big fan of mashed potatoes to soak up the delicious sauce/gravy with short ribs. You can also serve this over rice or noodles, or just alongside some fresh, crust bread. Add a roasted vegetable of your choice and you've got a hearty meal!

For a great starter, might a suggest a simple cheese board for two? Perfect for snacking on while the short ribs cook!
Are boneless short ribs better than bone-in short ribs?
Not necessarily! They are both wonderful, and what you choose to cook with may just depend on what you can find at the store, your budget, etc. Boneless short ribs cook up a bit faster and are generally cost less. Bone-in short ribs are of course a little more expensive, but the bone does provide some extra flavor while cooking that is a total win.
How to store leftover short ribs?
While this recipe serves two, I often make it for just me, myself and I. I store the leftover portion in an airtight container (with the sauce!) in the fridge for up to a week. Leftovers are also great shredded in tacos, pasta sauce or the most delicious grilled cheese sandwich of your life!

Pro tip: If you make short ribs a lot, buy them in bulk and then store them in 1lb portions in the freezer so you can easily pull a bag out for a small batch dish like this.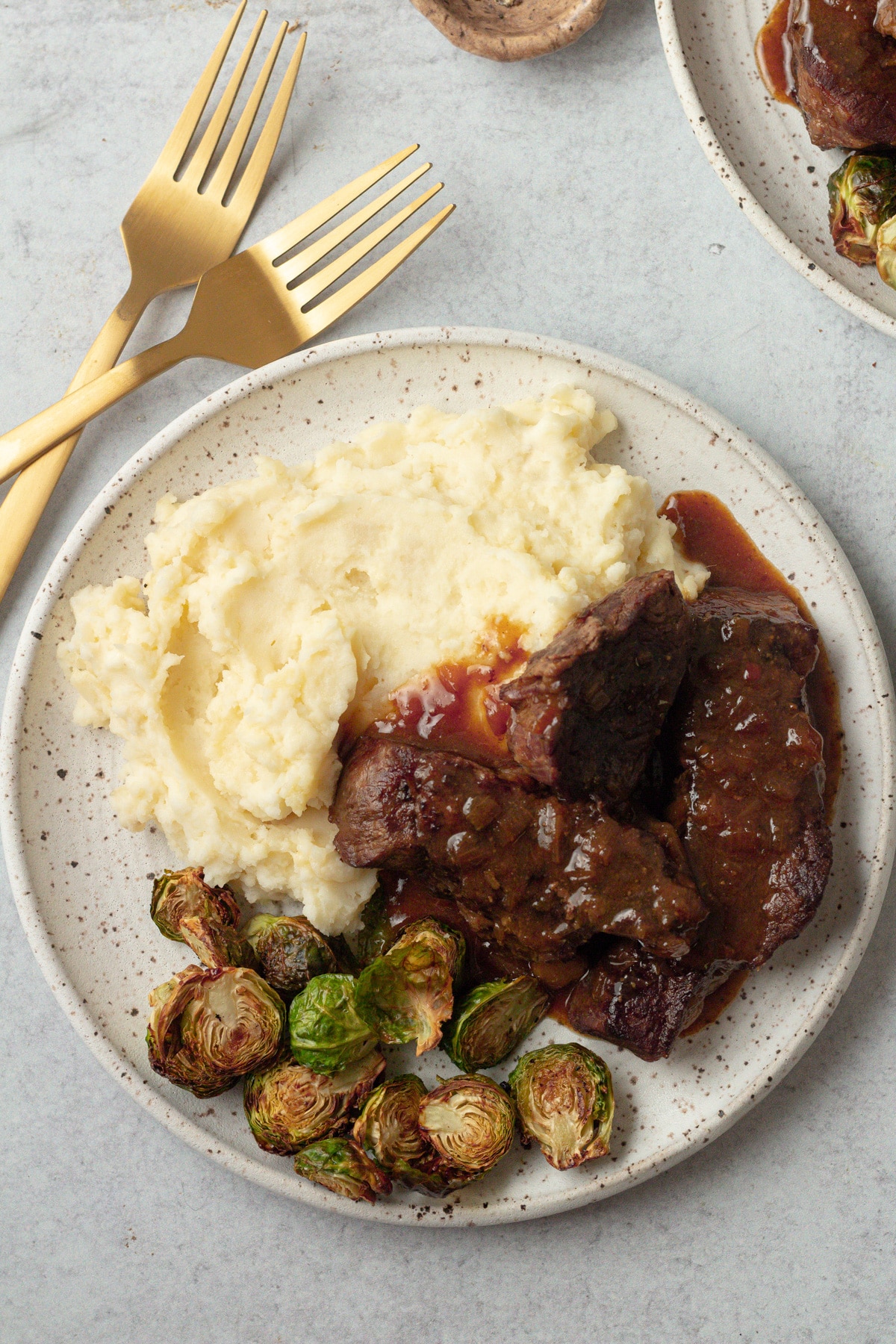 Looking for more Instant Pot recipes? Try my Instant Pot turkey meatballs, Instant Pot beans and kale miso soup or these crispy carnitas (with Instant Pot & slow cooker instructions!).
Print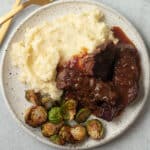 Miso-Braised Instant Pot Boneless Short Ribs (For Two!)
---
Description
Perfect for a date night in, these Instant Pot boneless short ribs are a delicious meal for a special occasion (or a regular ol' Tuesday)! Pressure cooked and braised in a super flavorful miso broth with wine, these boneless short ribs are fall apart tender and perfect piled on top of my creamy small batch mashed potatoes!
---
1

pound boneless beef short ribs (about 4)

½ teaspoon

salt

2 teaspoons

neutral oil (I used avocado)

1

small onion or shallot, diced

3

garlic cloves, minced

¼ teaspoon

red pepper flakes

1 tablespoon

red miso paste

2 teaspoons

maple syrup or brown sugar

½ cup

chicken or beef stock

½ cup

dry white wine

2 teaspoons

cornstarch
---
Instructions
Turn Instant Pot on to 'saute' function. Heat for at least 5 minutes.
Pat 1 pound of boneless beef short ribs dry with a paper towel and season all over with ½ teaspoon salt.
Once pot is hot, add 2 teaspoons oil and place short ribs in pot. Sear for 5 minutes, or until the first side is deeply browned. Flip and brown ribs for another minute or two just to get some color on the other side, and then remove short ribs from pot. If using the mini Instant Pot, sear the short ribs in batches.
Add 1 small, diced onion or shallot to pot and saute for 3-5 minutes, until softened and just starting to brown.
Add 3 minced garlic cloves, ¼ teaspoon red pepper flakes and 1 tablespoon red miso paste and cook for another minute.
Add 2 teaspoons maple syrup or brown sugar, ½ cup chicken or beef stock and ½ cup dry white wine. Use a wooden spoon to combine everything, dissolve miso and syrup/sugar and to scrape up any browned bits at the bottom of the pot.
Once liquid is boiling, turn off Instant Pot and add short ribs back to the pot, along with any juices that have accumulated.
Turn Instant Pot to Pressure Cook. Cook on high pressure for 25 minutes and then let naturally release for 15 minutes. Carefully vent and release the rest of the pressure manually.
Remove short ribs and then turn Instant Pot back to saute. Remove ¼ cup of the liquid and mix together with 2 teaspoons cornstarch. Slowly add that mixture back to the pot, whisking to incorporate. Bring to a boil and let cook for 5 minutes, until sauce is reduced and slightly thickened.
Serve boneless short ribs with mashed potatoes, rice and/or roasted vegetables.
Prep Time:

15 minutes

Cook Time:

45 minutes

Category:

Dinner

Method:

Instant Pot