Chicken thighs marinated in sweet apple cider and a mix of spices, roasted on one sheet pan alongside everybody's favorite fall vegetable - butternut squash! Serve as-is or alongside some creamy mashed potatoes or roasted broccoli.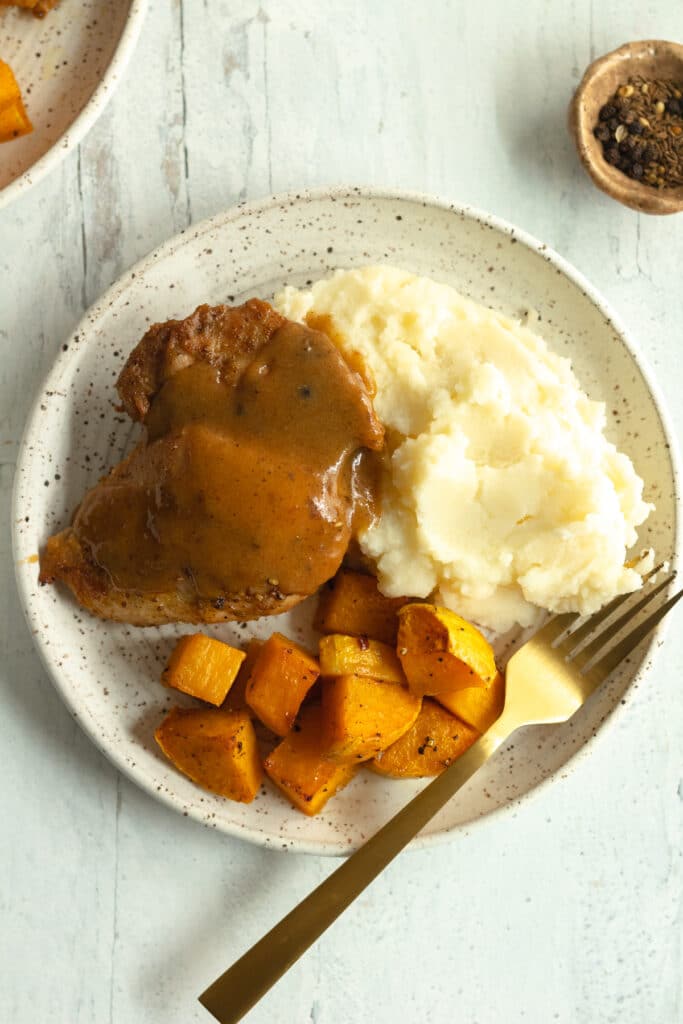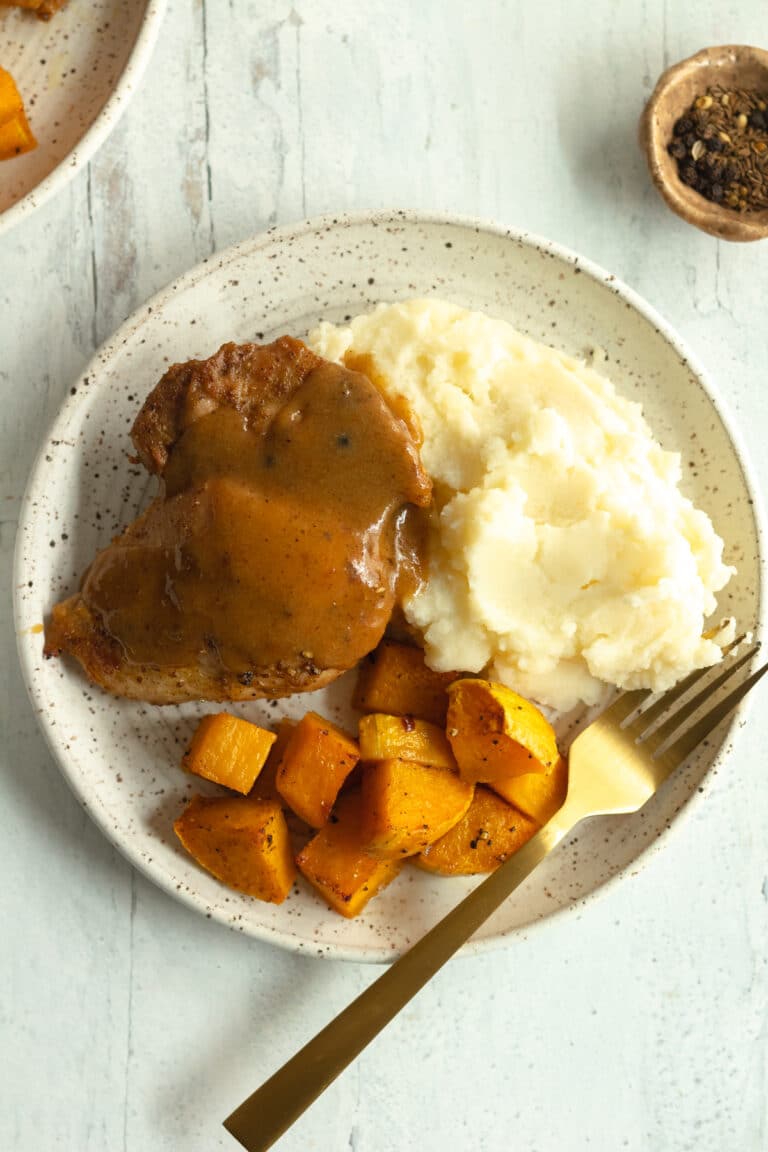 Looking for a fun fall dinner? Look no further!
Chicken marinated in sweet apple cider and maple syrup, tangy mustard and an array of warming spices, roasted right next to butternut squash? And all drizzled with a sweet and savory sauce at the end? YES PLEASE.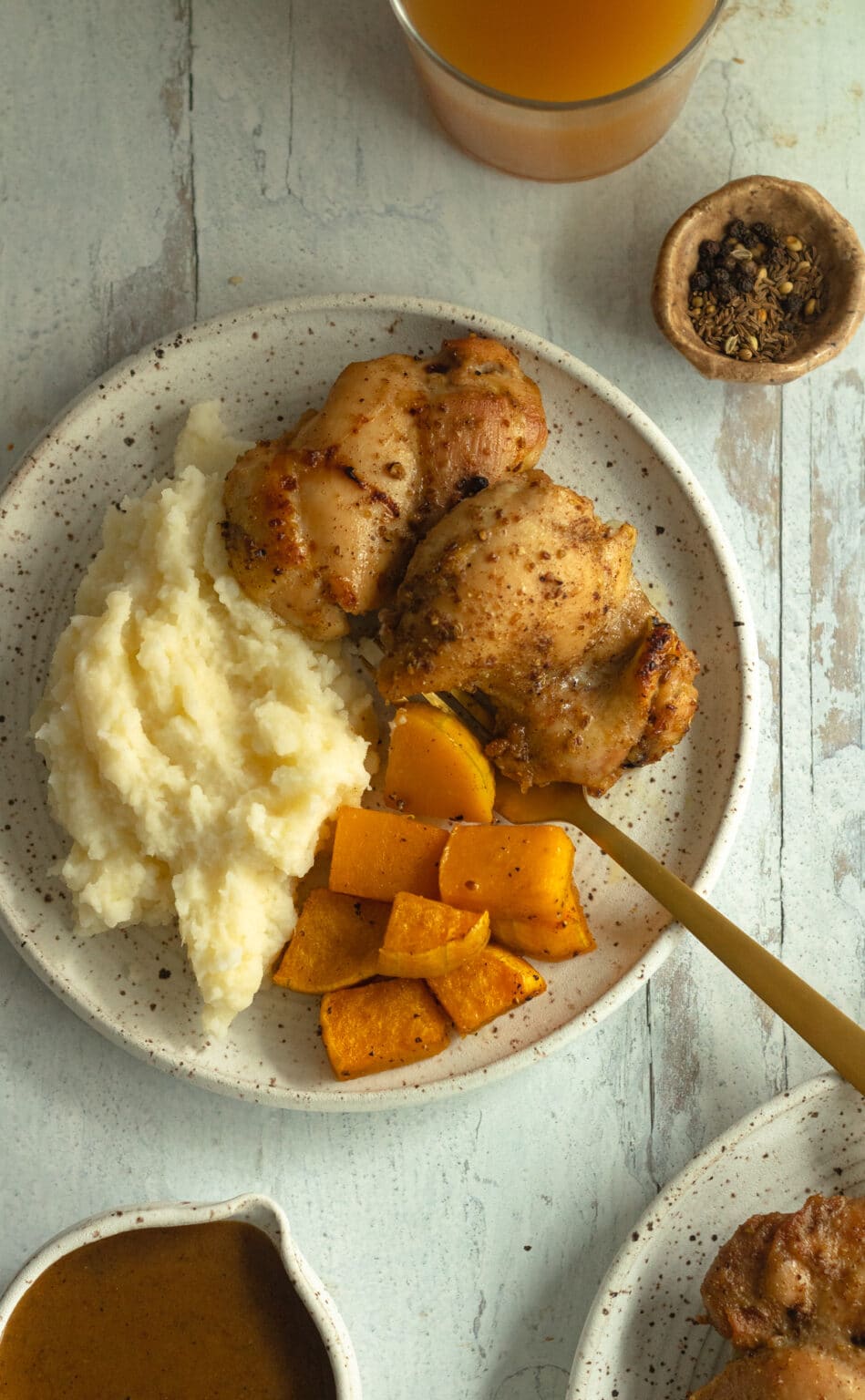 We love a sheet pan dinner around here
When it comes to quick and easy meals, sheet pan dinners really fit the bill. Minimal pans means minimal clean-up which somehow makes the food taste even better??
From sheet pan gnocchi, to sausage and vegetables or spiced salmon, sheet pans are a total kitchen workhorse and we love them very much!! I even pull out my little ones often for a quick sheet pan meal for one.
While this meal takes a little longer when you take the marination time into account, once it's on the pan it's super simple to make. Just about every component roasts in the oven together for a quick and flavorful meal.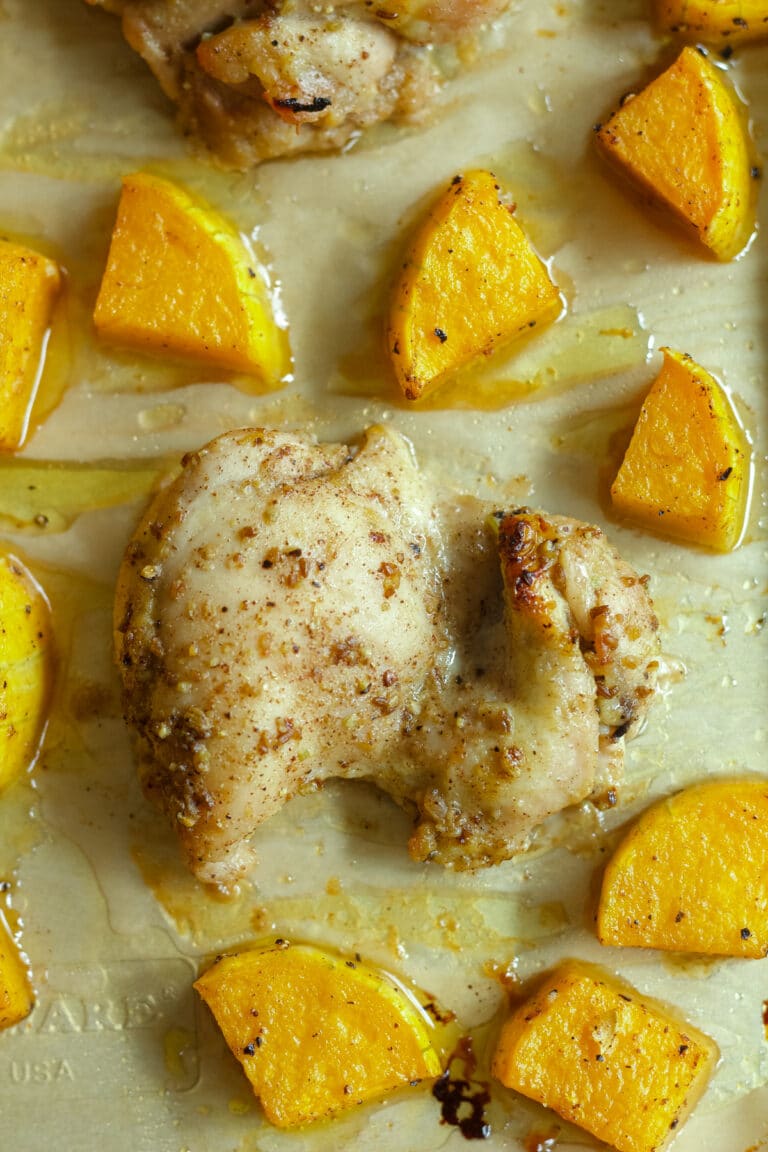 What you'll need
Spices: A mix of black peppercorns, coriander, cumin, fennel and cinnamon, to be specific. I like to start with whole spices (except the cinnamon) and grind them myself in my spice grinder - otherwise known as a coffee grinder that has never seen a coffee bean.
Substitute: You can use ground spices if you need to. Just use half the amount as whole!
Apple cider: You definitely want apple cider instead of apple juice for this one, but it doesn't have to be super fresh. Anything you can find in your grocery store will work.
Substitute: Try a hard apple cider if you'd like!
Olive oil: For the marinade + a little drizzle to help things brown in the oven.
Maple syrup: To add a little additional sweetness along with the cider.
Substitute: Honey or even regular ol' sugar will work too.
Mustard: I prefer either dijon or whole grain mustard with these flavors. I find regular yellow mustard to be TOO tangy.
Garlic: A few cloves because I'm me. Mince or grate them up so the garlic gets everywhere!
Ginger: I love ginger with these flavors so I throw a few slices in with the marinade.
Substitute: If you don't have fresh, you can add ¼ teaspoon ground ginger if you have that on hand. If not, feel free to leave out!
Chicken: Boneless, skinless thighs are perfect for this dish and (bonus!) cook up pretty quickly.
Substitute: Bone-in thighs will work but you'll need to cook them longer, so keep an eye on the squash. You can definitely pull the squash when it is done and then continue cooking the chicken until it's ready. I have tried this with boneless, skinless chicken breasts and didn't love it. It's just hard to keep the chicken moist, so I definitely suggest going for thighs with this one.
Butternut squash: I am a butternut squash fiend this time of year, and it really goes so perfectly with this chicken. Make sure to cut it up evenly so everything cooks together.
Substitute: Sweet potatoes are a great stand-in for butternut squash, as is other squash such as honey nut or acorn!
Fig jam: Added to the marinade and simmered until thick and glossy, the fig jam adds amazing flavor to the final dish.
Substitute: You can try another jam such as apricot or orange. If you don't have jam on hand, just add another 2 tablespoons of maple syrup or sugar to help sweeten and thicken the final sauce.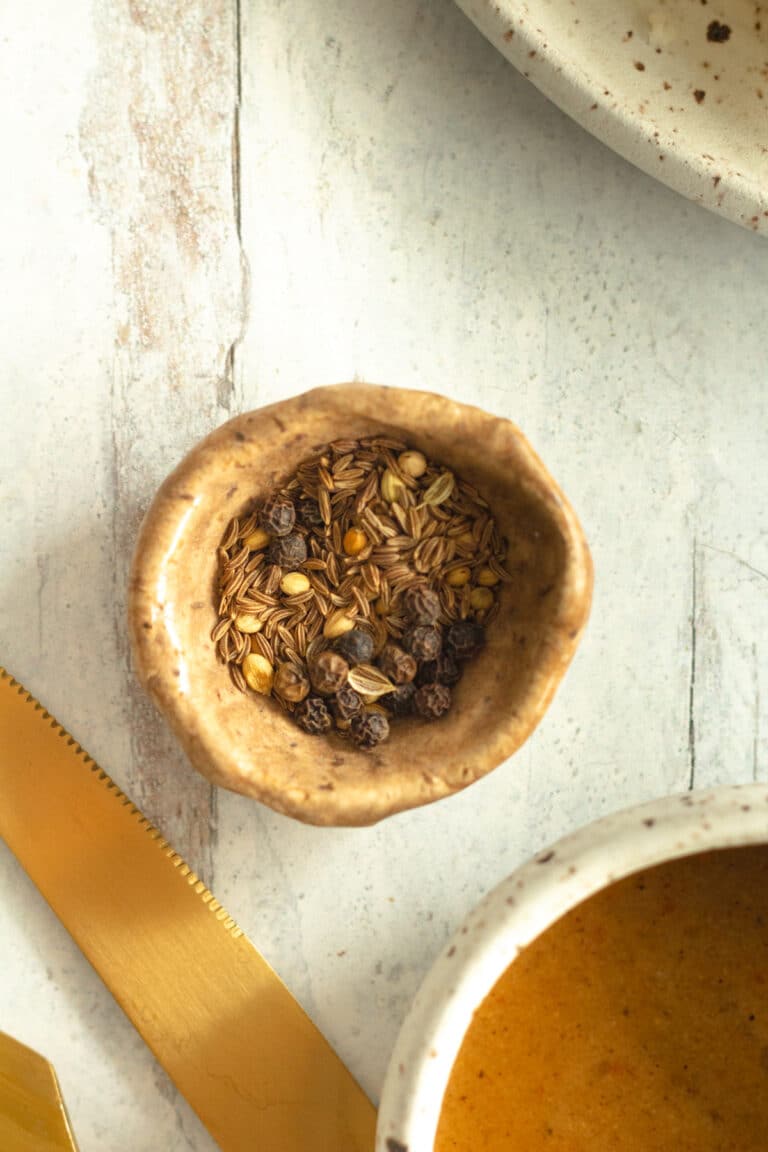 How to make sheet pan apple cider chicken and butternut squash
1. Marinate the chicken
Combine all the whole spices and grind them using a spice grinder (or clean coffee grinder) or a mortar and pestle. Add salt and ground cinnamon, along with the apple cider, oil, maple syrup, mustard, garlic and ginger. Add chicken and marinate for at least 2 hours, although an overnight marinate time is really great here.
2. Roast chicken and squash
When you are ready to go, take the chicken out and let it sit for a few minutes on the counter while you preheat the oven and chop the squash. Arrange everything on a lined baking sheet, drizzling a little marinade on the squash to flavor those up. Add more olive oil on top of everything and place in oven. Roast for 25 minutes, or until chicken and squash is cooked through.
3. Make sauce
While the chicken and squash are in the oven, take the reserved marinade and boil it on the stove with fig jam. Bring it to a roil boiling and boil for 2 minutes, then reduce the heat and simmer for a good 10-15 minutes, until it's thick and glossy (by then all the raw chicken juice will cook out - promise!).
4. Serve
Serve chicken drizzled with the sauce, alongside roasted squash. This is a great meal on its own, but you can also serve with mashed potatoes, rice, crusty bread or another roasted vegetable (like this broccoli!).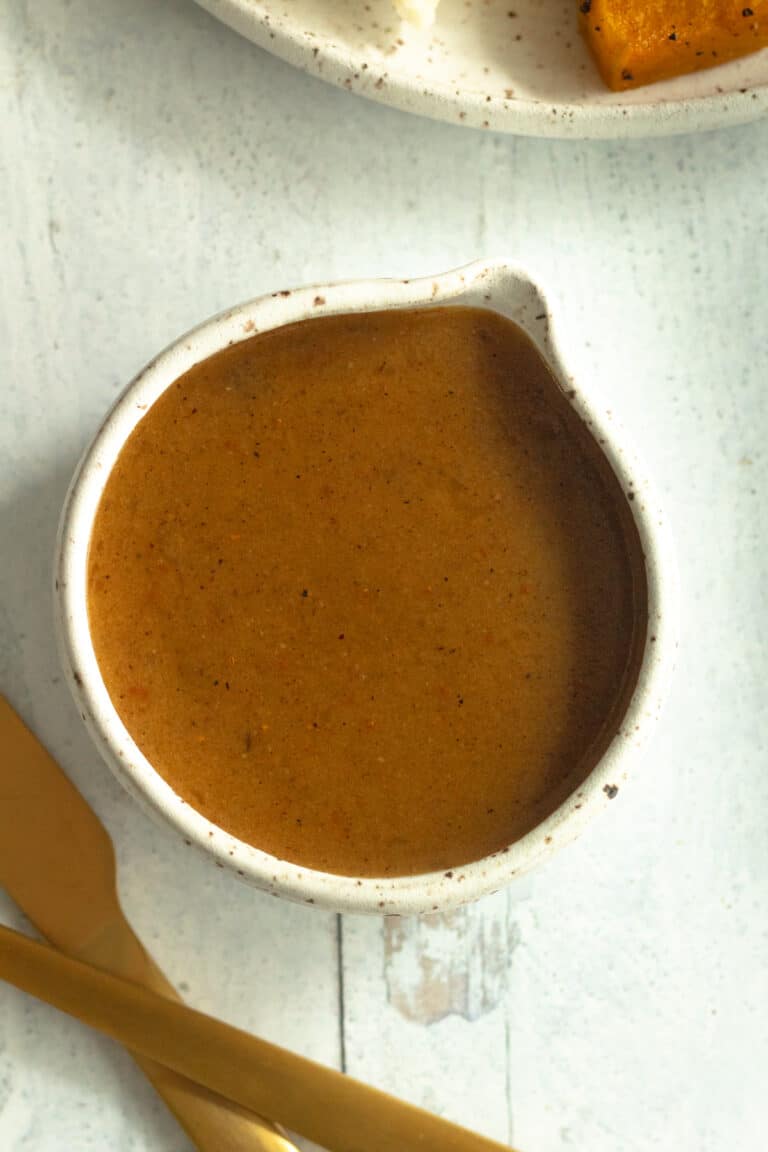 Got leftover ingredients? Try these recipes:
Apple cider
Fig jam
Maple syrup
Butternut squash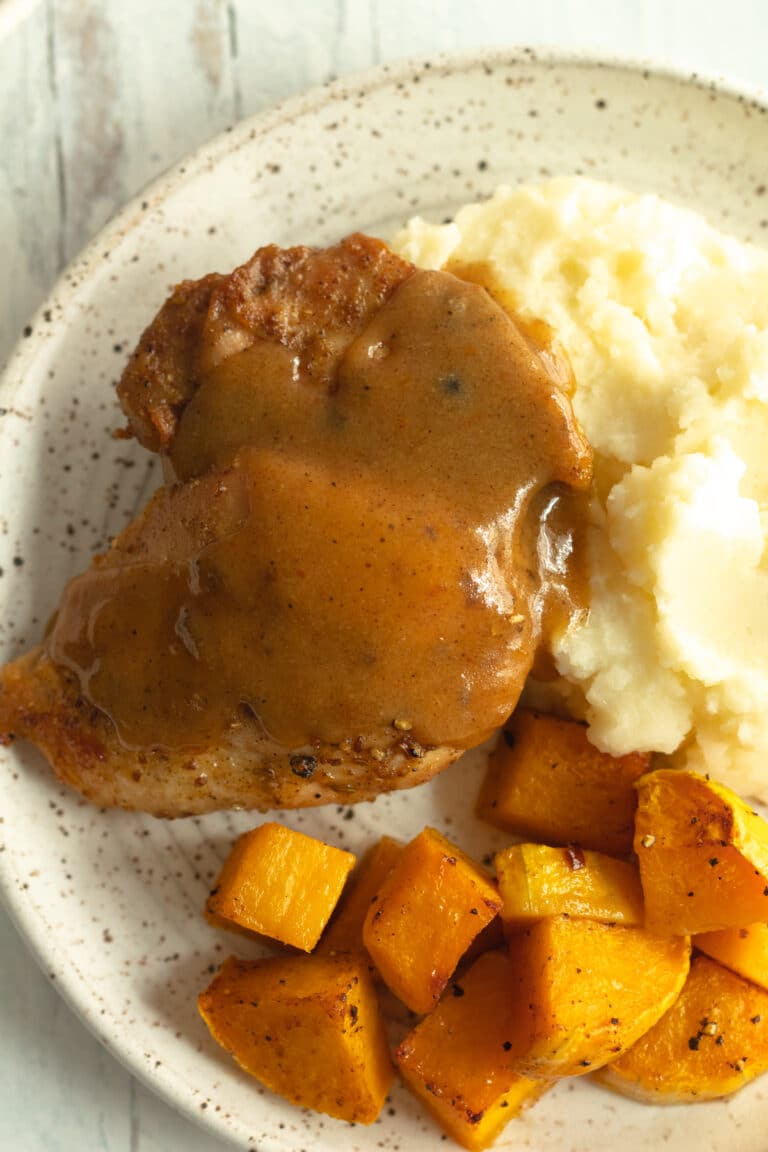 Print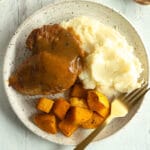 Sheet Pan Apple Cider Chicken and Butternut Squash For Two
---
Description
Chicken thighs marinated in sweet apple cider and a mix of spices, roasted alongside everybody's favorite fall vegetable - butternut squash! Serve as-is or alongside some creamy mashed potatoes or roasted broccoli.
---
½ teaspoon

black peppercorns 

½ teaspoon

coriander seeds

½ teaspoon

cumin seeds

1

2 teaspoon fennel seeds

1 teaspoon

salt

¼ teaspoon

ground cinnamon

½ cup

apple cider

2 tablespoons

olive oil, divided

1 tablespoon

dijon or whole grain mustard

1 tablespoon

maple syrup

4

cloves garlic, minced or grated

1

-inch ginger, peeled and sliced

1

pound boneless, skinless chicken thighs

1

pound butternut squash, peeled and chopped

2 tablespoons

fig jam
---
Instructions
Add ½ teaspoon black peppercorns, ½ teaspoon coriander seeds, ½ teaspoon cumin seeds and ½ teaspoon fennel seeds to a spice grinder or mortar and pestle. Grind to a powder. Add spices to a large bowl or ziplock bag. Add 1 teaspoon salt and ¼ teaspoon ground cinnamon.
Mix spices together with ½ cup apple cider, 1 tablespoon olive oil, 1 tablespoon mustard, 1 tablespoon maple syrup, 4 cloves garlic (minced or grated) and 1-inch sliced ginger. 
Add 1 pound boneless, skinless chicken thighs and toss to coat (if using bag, securely close bag and flip around a few times to ensure all the chicken gets coated). Put in fridge and marinate for at least 2 hours, preferably overnight. 
Take chicken out about 30 minutes before roasting. Preheat oven to 425 and line a baking sheet with parchment paper. 
Add 1 pound chopped butternut squash to pan and toss with 2 tablespoons of the marinade. Remove chicken from marinade and arrange on pan (don't thrown away the marinade!). It's okay if some of the squash is covered, but you want things to mostly be in one layer. 
Drizzle chicken and squash with remaining remaining 1 tablespoon olive oil. Place in oven and roast for 25 minutes, or until chicken is cooked through and squash is browned.
If desired, turn broiler on for a few minutes at the end to further brown the chicken and squash.
While chicken cooks, add reserved marinade to a small pot. Add 2 tablespoons fig jam and bring to a boil. Let boil for 2 minutes and then reduce heat and let simmer for 10-15 minutes until the sauce thickens. Drizzle on top of chicken when serving. 
Notes
If you can swing it, whole spices are best here, but if you only have ground you can replace the whole black pepper, cumin, coriander and fennel with half the amount of powder. 
Don't be alarmed if the chicken looks pale when it is finished cooking. If you'd like, you can broil it for a few minutes right at the end to caramelize it a bit. 
Prep Time:

10 minutes

Marinating time:

2 hours - overnight

Cook Time:

25 minutes

Category:

Dinner

Method:

Oven