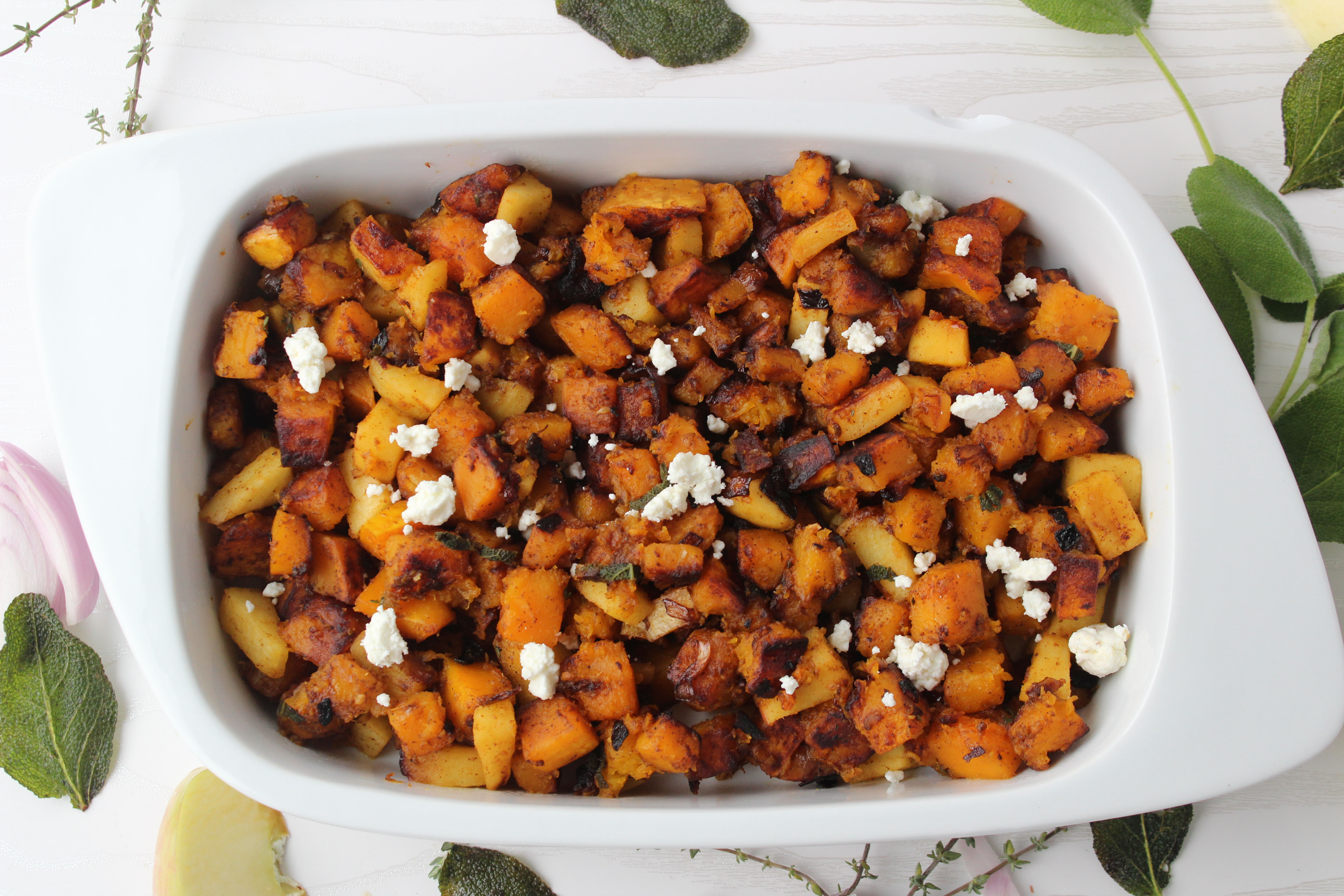 That's a lotta name for one side dish, but it felt important to get it all in there.
This is the last Thanksgiving side dish I'm sharing, and it should be noted that I want to eat this every single day for the rest of my life. It's SO good.
And because I made this forever ago and did not have a traditional Thanksgiving meal to eat, I can safely say this dish is good even outside of the holiday context. Double win!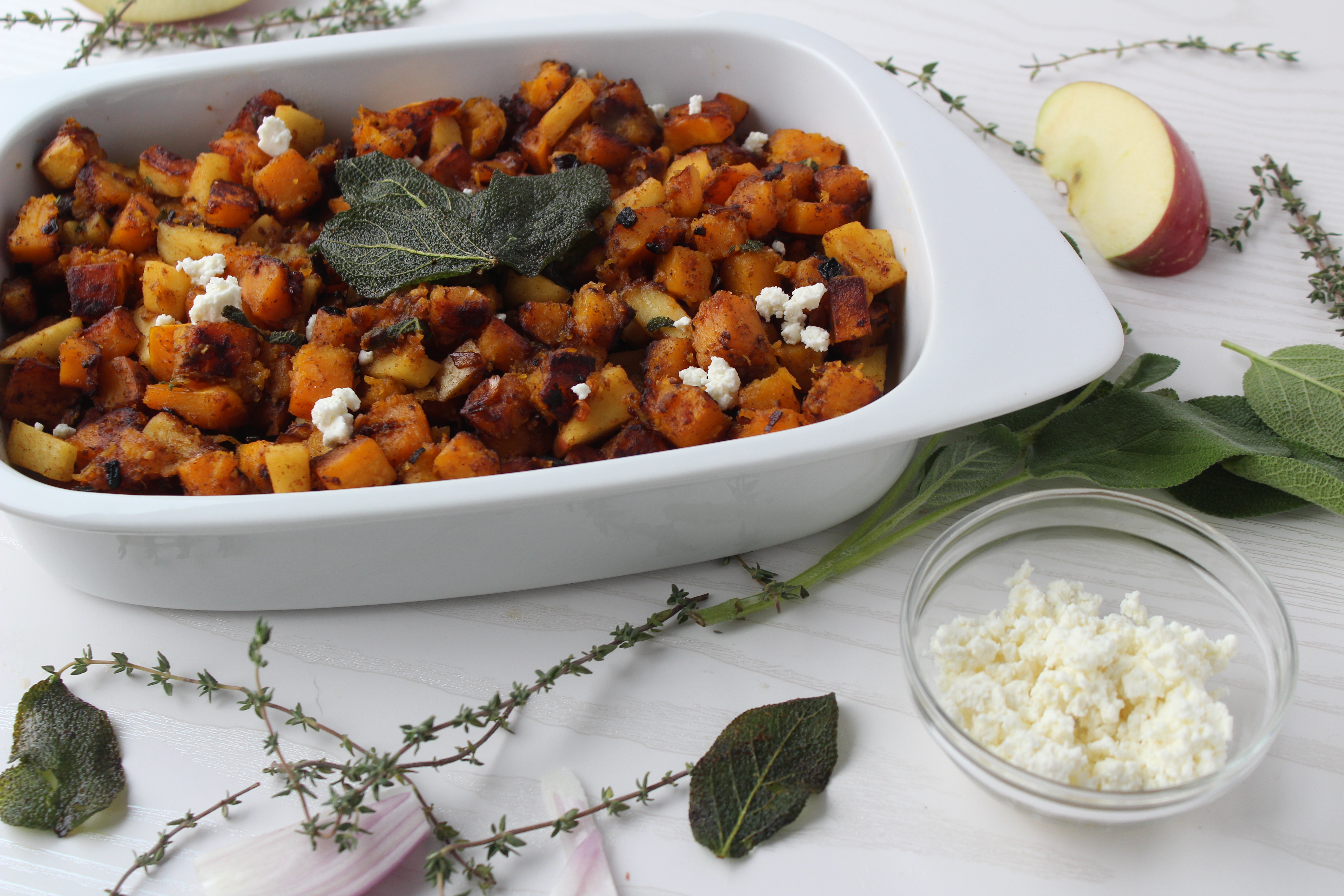 Last year I wanted to introduce a butternut squash dish to our Thanksgiving menu and decided to make an appetizer to ease us into it. And also we already had a million side dishes planned, per usual. SO I roasted a big ol' squash, mixed it with a bunch of delicious stuff and piled it onto toasted baguette slices. It was super good, but I wanted something a little more this year.
Enter: BROWN BUTTER.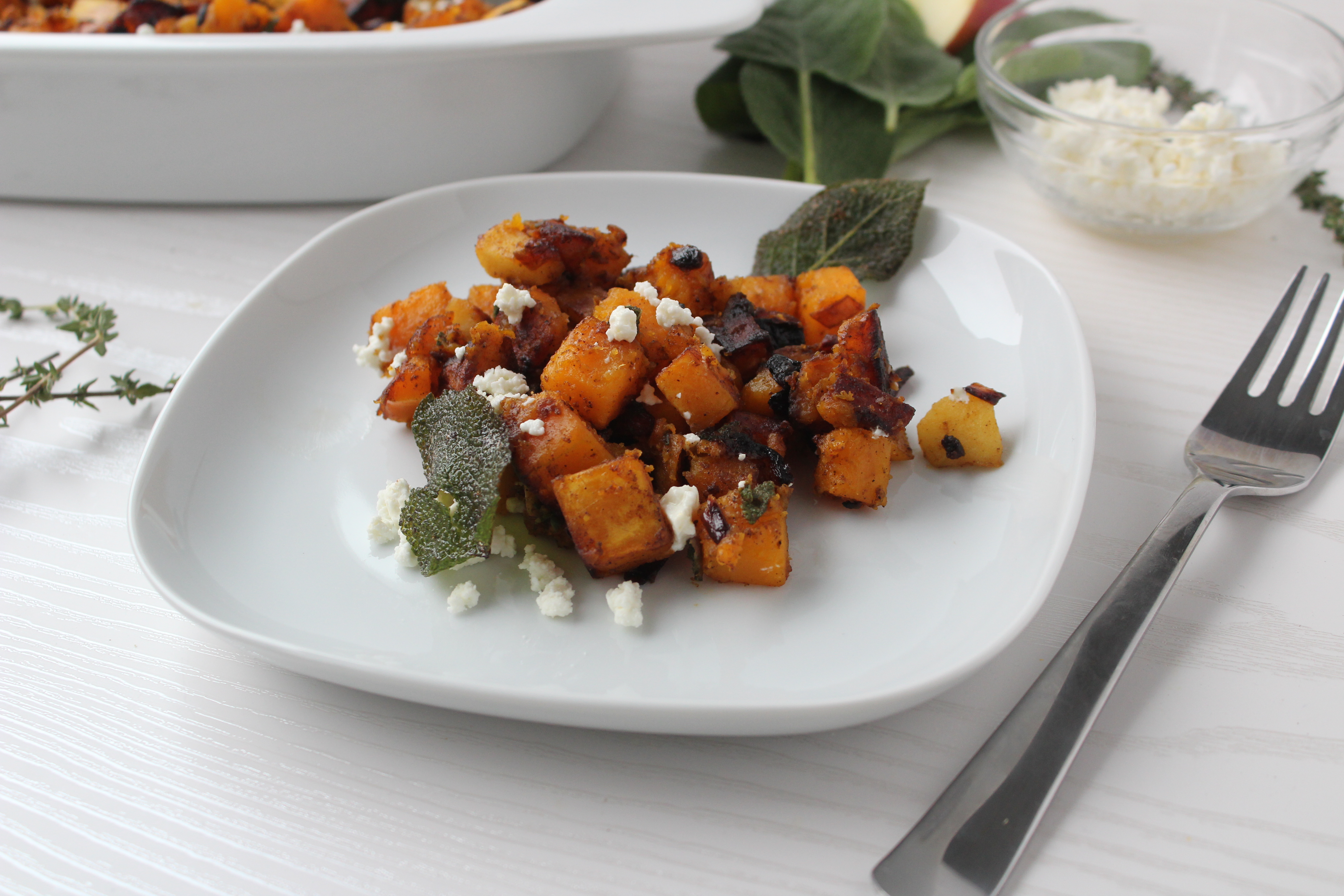 Yep yep. We're doing it.
Overall, this is a pretty easy dish to make. The only tricky part is making sure the butter doesn't burn as that nuttiness from brown butter is a major flavor profile here. I like browning the butter first and then cooking everything in it, but if you haven't had good luck with brown butter in the past (it took me like 20 pounds of butter to figure it out) and are nervous you can just make some separately and drizzle it on top. The squash will be super good either way.
Whatever you do, however you make this, just promise me one thing? Save a little bit for the next day and eat the leftovers with a fried egg on top. PROMISE ME.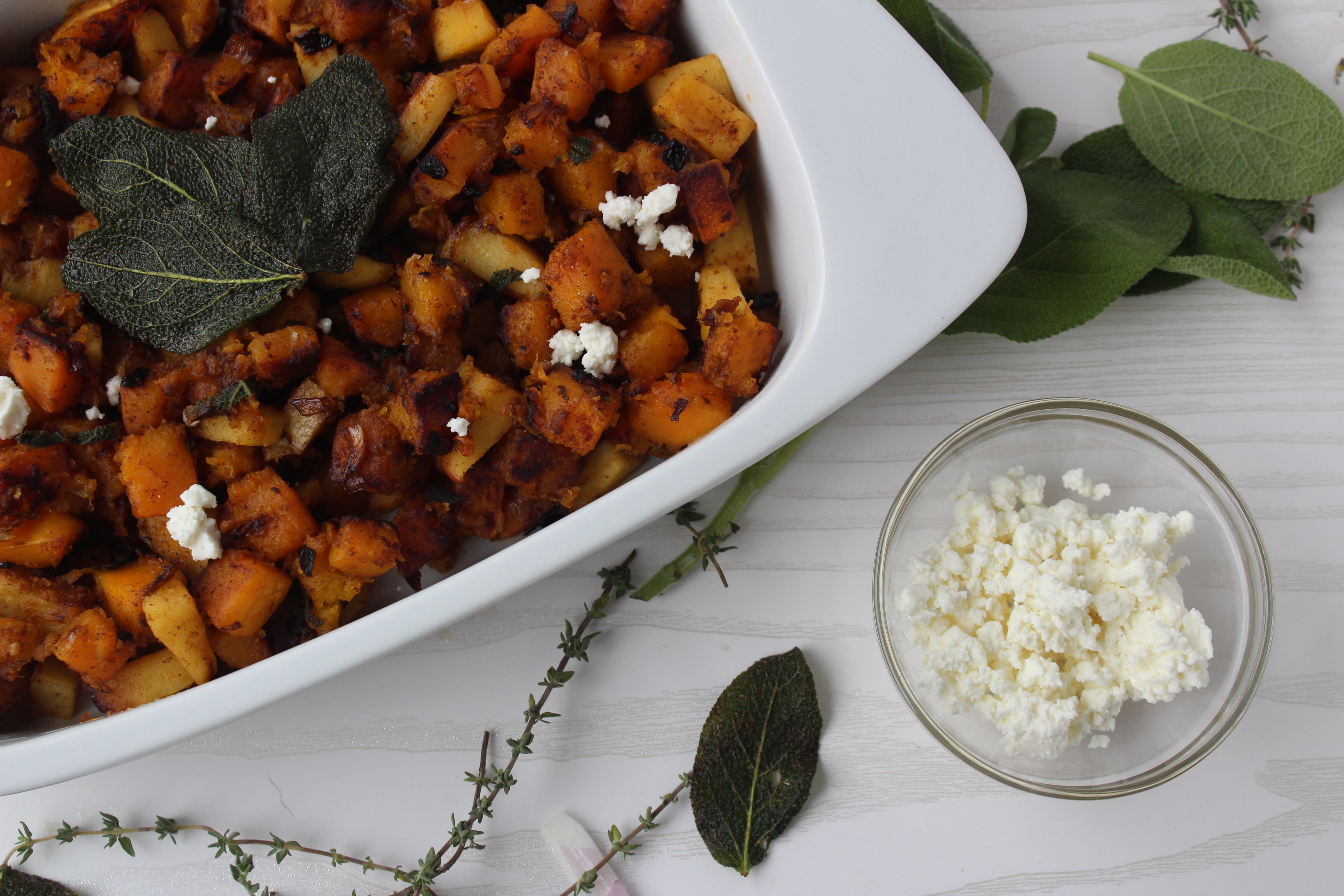 Print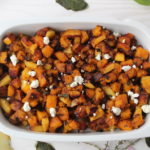 Brown butter butternut squash and apple saute with crispy sage and feta
---
Total Time:

40 minutes

Yield:

4

-6

1

x
4

TB butter

4

-

5

sage leaves

1

shallot, minced

1

garlic clove, minced

1 ½

lbs butternut squash, peeled and cubed

1

large apple, peeled and cubed (I used honeycrisp)

½ tsp

salt

¼ tsp

smoked paprika

¼ tsp

cinnamon

2

-

3

sprigs of thyme

2 oz

feta
---
Instructions
Melt the butter in a large saute pan over medium heat. When it is fully melted and starts to foam, start swirling it around to make sure it browns evenly. Once it becomes a golden-tan color, throw in the sage leaves and let them cook while the butter fully browns (see note below).
When butter becomes deep brown (but not burnt!!) and starts to smell kind of nutty, take out the sage leaves and immediately add the shallot. Saute the shallot for 1-2 minutes. Add the garlic and saute for another minute.
Add the squash and apple to the pan, turn up the heat and let it cook for a few minutes. Add the salt, spices and thyme, toss everything together and let cook for another minute. Then cover the pan, reduce the heat and let cook until the apple is super tender and the squash is cooked through. Stir occasionally to make sure nothing is burning, reducing the heat as you go if necessary.
When done, remove from heat and sprinkle with feta and reserved sage leaves before serving!
Notes
Brown butter can be a little tricky, and it's a fine line between perfectly brown and perfectly burned. It's important to add the shallot BEFORE the butter is totally done to keep the whole thing from burning (it will continue to cook and brown even as you add ingredients). If the whole thing makes you nervous you can cook everything in olive oil and then brown some butter on the side to just drizzle on top!
I love the creaminess and tang from feta, but if you're not into it you can leave it out (just add a little extra salt to the finished dish). Alternatively, you can replace it with goat cheese or parmesan. Both would be good.
I kept the sage leaves whole because I thought they would look pretty (slightly regretting that decision now), but you can lightly crush them up once they're crispy and sprinkle it on top if you prefer.
Prep Time:

10 minutes

Cook Time:

30 minutes