Easy baked chicken tacos filled with caramelized onions and a creamy, cheesy sauce. This is a great way to repurpose leftover chicken for a fun, healthyish weeknight dinner. These baked tacos are super versatile so you can switch things up depending on what you have and love!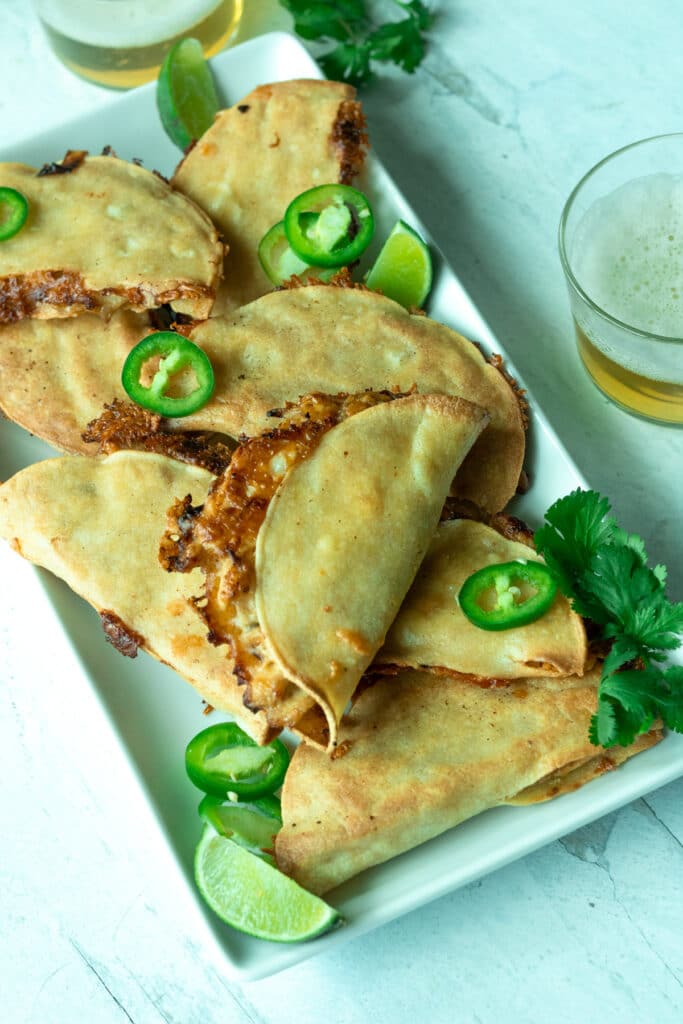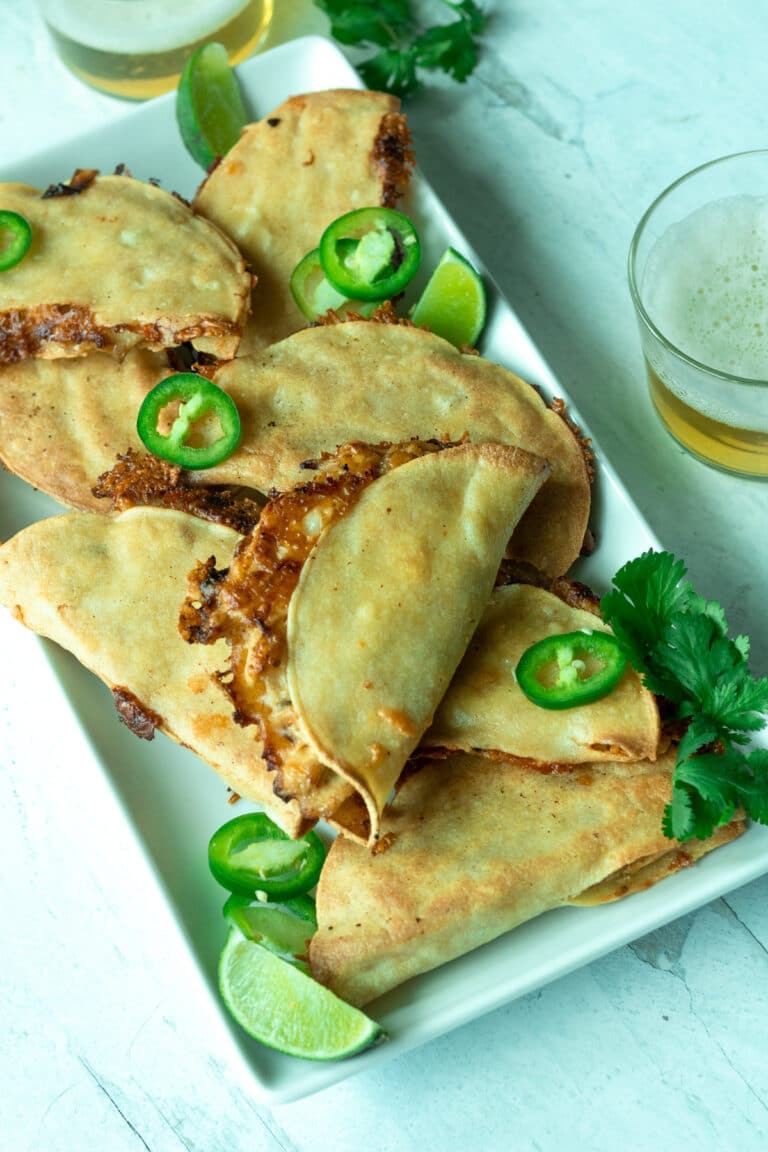 Print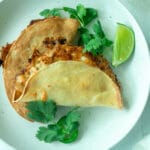 Baked Chicken and Caramelized Onion Tacos
---
Author:

Mansee

Total Time:

1 hour

Yield:

4

1

x
Description
Easy baked chicken tacos filled with caramelized onions and a creamy, cheesy sauce. This is a great way to repurpose leftover chicken for a fun, healthyish weeknight dinner. These baked tacos are super versatile so you can switch things up depending on what you have and love!
---
2 tablespoons

butter

1 tablespoon

olive oil + more for brushing

1

large onion, thinly sliced

1 teaspoon

salt, divided

2 cups

shredded chicken

½ teaspoon

ground cumin

½ teaspoon

smoked paprika

¼ cup

sour cream (or greek yogurt)

1 ½ cups

shredded pepper jack cheese, divided 

12

4-inch tortillas
To serve: Thinly sliced jalapeno, cilantro, green onions, avocado, lime wedges, etc.
---
Instructions
Preheat oven to 425.
Heat 2 tablespoons butter and 1 tablespoon olive oil in a large skillet over medium heat. Add 1 thinly sliced onion and ½ teaspoon salt and stir to coat onion in butter and oil. Let cook for 5 minutes.
Reduce heat to medium-low and continue cooking onions for another 25-30 minutes, stirring occasionally, until onions are soft and a deep, caramelized brown color. Your stove might get this done quicker than mine, so just keep an eye on them and adjust the heat as necessary. Once they are caramelized to your liking, you'll be good to go!
Once onions are caramelized, increase heat to medium again and add 2 cups shredded chicken, ½ teaspoon ground cumin, ½ teaspoon smoked paprika and the remaining ½ teaspoon salt. Stir to combine and warm the chicken.
Turn off heat and add ¼ cup sour cream and ¾ cup shredded pepper jack cheese. Stir until everything is combined and cheese is mostly melted.
Optional: If your tortillas are a little stiff (corn tends to be this way), warm them up for 1-2 minutes in the oven or for 10 seconds in the microwave. You want them to be just pliable enough so you can fold them without completely breaking (a little cracking is fine!).
Add 2 tablespoons filling to one side of tortilla. Sprinkle on 1 tablespoon of shredded pepper jack cheese and then carefully fold over tortilla. Repeat with remaining tortillas and filling.
Brush or spray each taco with a little more olive oil and arrange on baking sheet. Bake for 10 minutes, then flip and bake for an additional 3-5 minutes or until tacos are golden brown and crispy.
Serve with your favorite toppings, such as avocado, sliced jalapenos, cilantro and more sour cream if desired!
Notes
These baked tacos are super versatile! If you don't love pepper jack cheese, feel free to use cheddar or even a taco blend if that's what you have on hand.
The sour cream can be replaced with greek yogurt, or even heavy cream if you prefer.
Leftovers hold up pretty well - warm them up in a 350 degree oven for 5 minutes before serving. 
Prep Time:

10 minutes

Cook Time:

50 minutes

Category:

Dinner

Method:

Oven
It's time to talk about baked tacos. Specifically, baked chicken tacos. Super specifically, baked chicken AND caramelized onion chicken tacos. Whew.
I was not aware they were a thing until somewhat recently, and while it might not seem that special, I gotta tell you these are....kinda special.
Before we move on, I am FULLY aware these are also basically quesadillas. It's a tortilla, filling and cheese. I GET IT. But for some reason I can't get behind a baked quesadilla while also really loving the idea of a little baked taco. Please yell at me if I'm wrong here.
I honestly can't remember how or when I came up with the idea for chicken and caramelized onion tacos, but I tend to put caramelized onions in a lot of things I make so this isn't completely mind-blowing.
While they take a minute (or around 30 to be exact) to make, the caramelized onions add SO much flavor here. Like, it's basically the main flavor profile (next to CHEESE) in this dish so definitely take the time to really let those onions cook and truly caramelize for the best flavor. While it means this dish is more of a 1-hour dinner vs. 30-minute meal, it's totally worth it.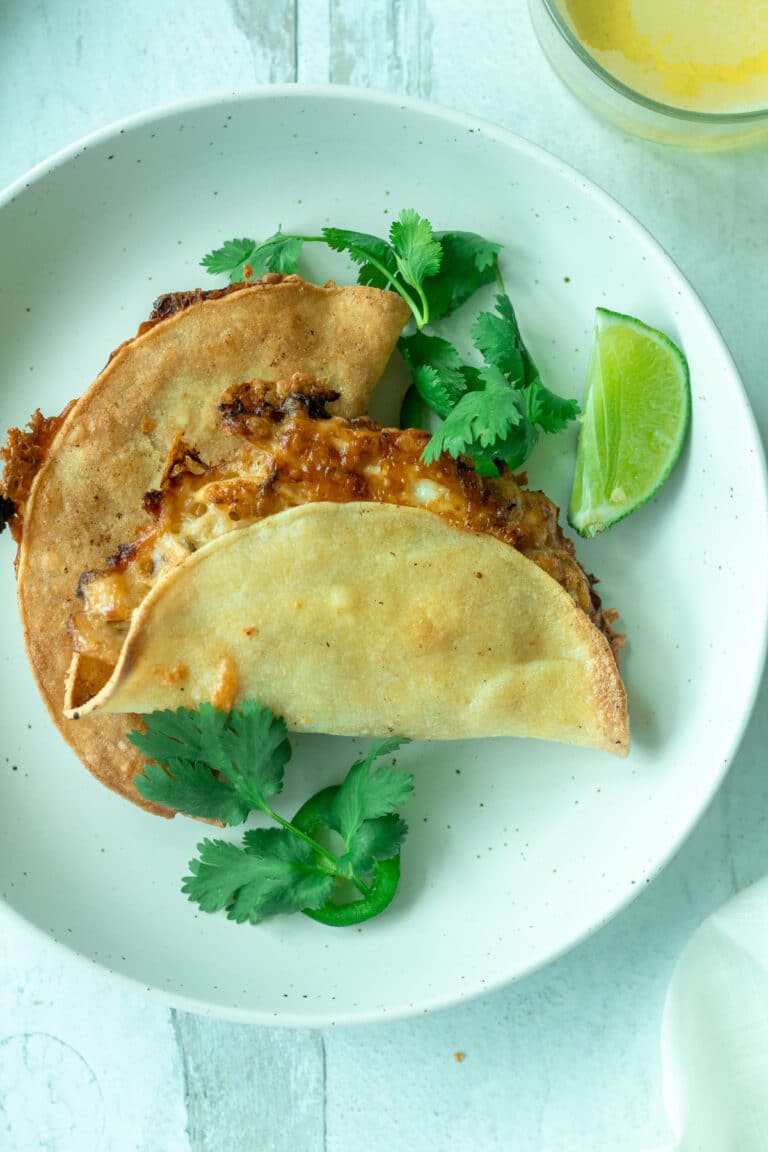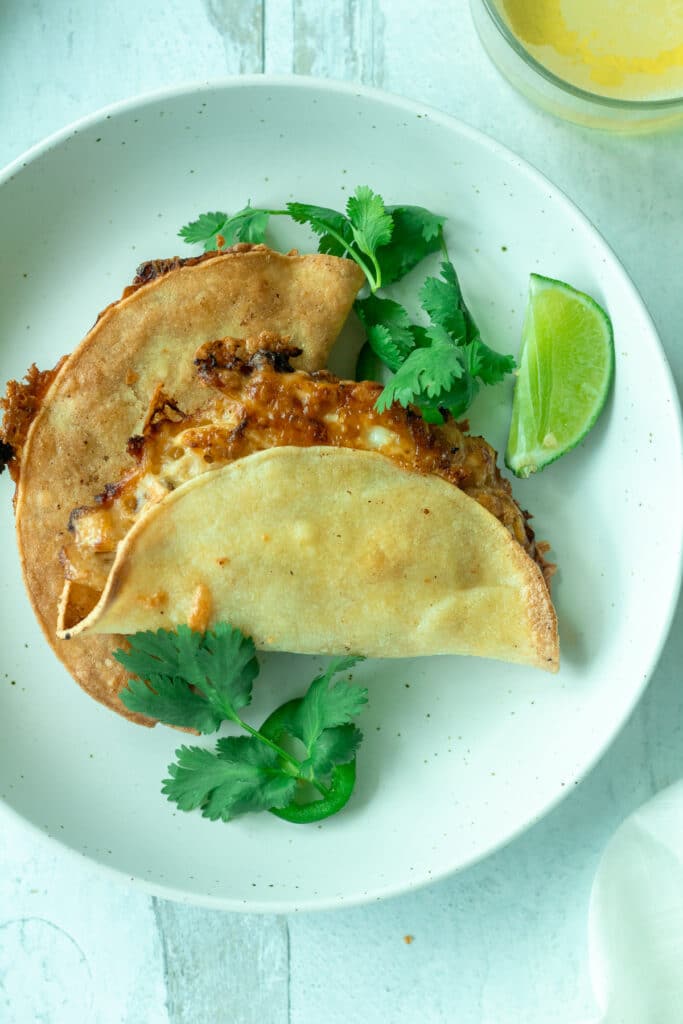 The beauty of baked tacos
Baked chicken tacos are basically just little perfectly packaged flavor explosions. Each one is stuffed with a filling made with shredded chicken, sweet caramelized onions, spicy pepperjack cheese and a little sour cream to make it creamy. Add a few spices and you're ready to go. This recipe makes about 12, but you can flex up or down as you need. And if you want to make slightly larger tacos, just use bigger tortillas. Easy!
And the real beauty? You can bake all of these at once so everything is ready at the same time! Any that don't make it on your plate for the first round can stay in a 250 degree oven to keep warm and crispy until you're ready for more.
OH WAIT. The real real beauty of these babies is the way the creamy, cheesy filling starts to ooze out of the tacos while it's baking, giving you crispy, cheesy bites all around the edges.
OMG.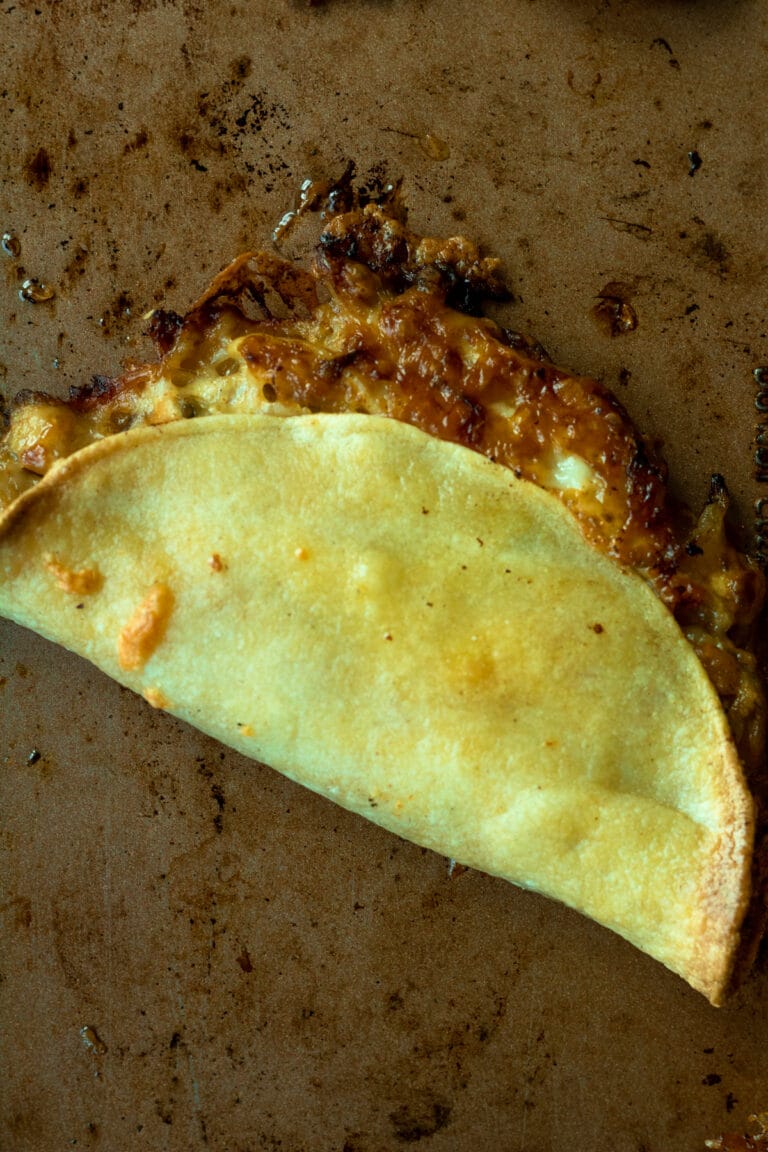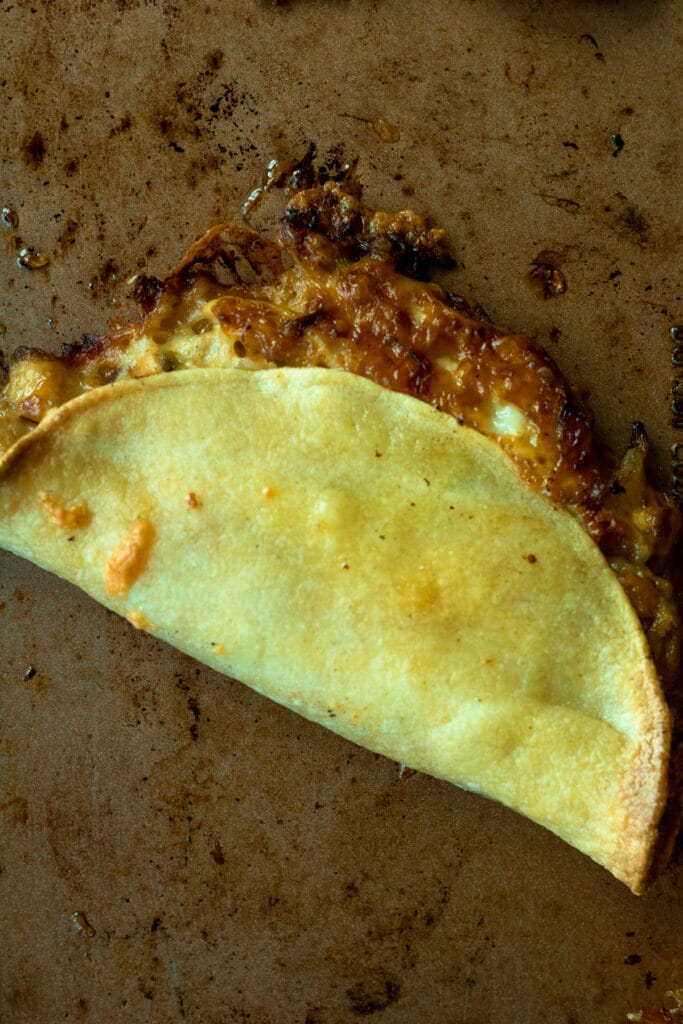 So, here's what you'll need
Butter/Olive Oil: I like to use a mix of both, but you could use all butter or all olive oil for this. You basically just need it to caramelize the onions, but also don't skimp. Some butter and olive oil flavor never hurt anybody!
Onion: I've used white, yellow, red...you name it. If I'm being really particular, I prefer a sweet onion like a Vidalia because they tend to caramelize up just a bit better. But honestly, any onion will work. If you do use red, don't be alarmed when they turn super dark! The caramelized onion add SO MUCH flavor to this dish, so take the time to really let them get dark and sweet and jammy.
Shredded chicken: Obviously a baked chicken taco recipe needs...chicken! One of my favorite parts of this meal is that you can use store-bought and/or leftover chicken for this recipe. You just need a couple cups of shredded chicken, but it doesn't matter if it was roasted, pan-fried, poached, etc. Whatever works and whatever you have on hand. I prefer to shred my chicken so it lays better in the tortilla, but little chunks are also fine if you prefer. Ground chicken or ground turkey also work really well! If you go that route, cook the ground meat up first, remove from the pan and then caramelize the onions from there.
Spices: I use a little ground cumin and smoked paprika, but again, you can throw in some other ones instead. You might have noticed that this recipe has NO garlic (eeek!), so a little garlic powder wouldn't hurt - or even a few minced up cloves. You could also try chili powder, oregano or other herbs. And if you happen to keep my house seasoning on hand, throw a couple teaspoons of that in there and you're good to go.
Sour cream: I really love having this feeling be a little creamy and a quarter cup of sour cream does just that! You can replace with greek yogurt or even heavy cream if you don't have sour cream.
Pepper jack cheese: Ahh the cheese. I know pepper jack may not be the most versatile, but I LOVE the little extra kick you get with it. With that said, we're totally flexible about cheese around here, so use anything you like that is super melty. Monterey or colby jack are great, as is cheddar. I'd maybe stay away from something like mozzarella for this one, but if that's all you have give it a try! Normally, I'm a proponent of shredding your own cheese (and technically, still suggest that here) but I also think a bag of the pre-shredded variety totally works with this recipe.
Tortillas: I like to use 4-inch corn tortillas for most of my taco recipes, but flour definitely works here. You could also use slightly larger ones and make bigger tacos if you like! Just ration out the filling and cheese as needed. You might also need to bake them for a few more minutes to ensure maximum crispiness.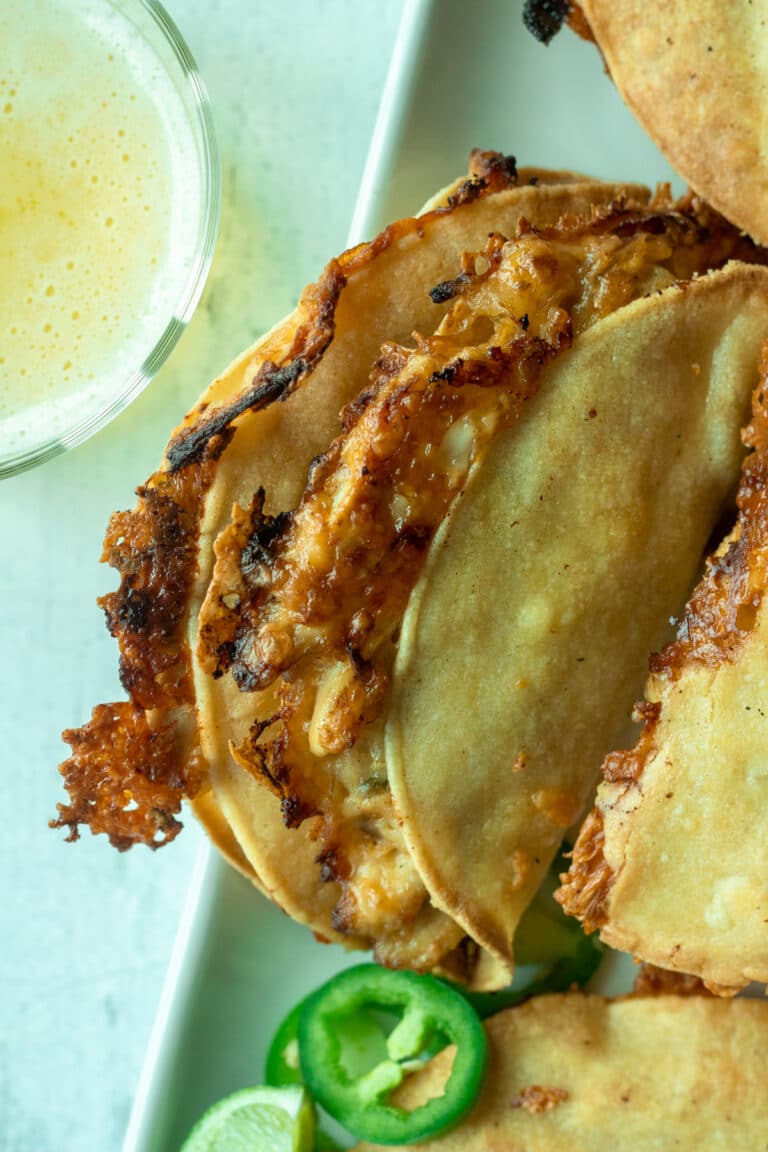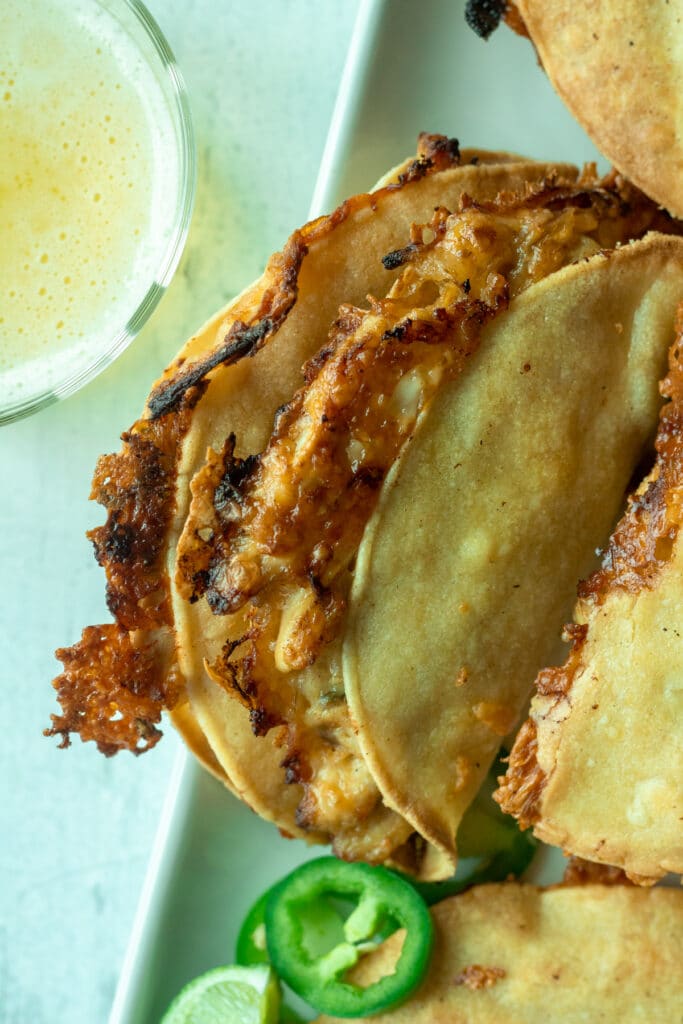 How to make these babies
Caramelize the onions
As I've said about a million times already (sorry), the caramelized onions are a huge part of why these simple baked chicken tacos are SO good. Add the butter and olive oil to a pan, along with your thinly sliced onions and toss to coat. Let them cook on medium/medium-low for as long as they need to get brown, soft and perfectly sweet and caramelized. This should take at least 30 minutes, but might take longer depending on your pan, stove, etc. Just keep an eye on them.
While the onions are cooking, prep everything else! Shred your chicken, shred your cheese and stick the tortillas in the oven for 1-2 minutes to soften up.
Add the chicken
Once the onions are caramelized, things will go fast. Add your chicken, along with spices and let everything cook together just to warm the chicken up. After a few minutes, turn off the heat.
Flavor it up (aka CHEESE)
Immediately add your sour cream and half the shredded cheese and stir to combine and melt the cheese.
Fill the tortillas
Add 2 tablespoons of filling along with an additional 1 tablespoon of shredded cheese to one half of your tortillas. Fold them over (it's okay if there is some cracking, but if the tortillas are too stiff this will be hard). Press on them slightly so the filling gets to the edges - this ensures you have some spillage on the pan that will get super crispy!
Bake!
Brush each side (or use a spray) with oil and place on your baking sheet. Bake at 425 for about 10 minutes, then flip each taco and bake for another 3-5 minutes or until the other side is brown and the edges have gotten all cheesy and crispy.
Serve baked chicken tacos with any toppings you please. My favorites are avocado, cilantro and thinly sliced jalapeno. And if I'm really feeling sassy, some more sour cream!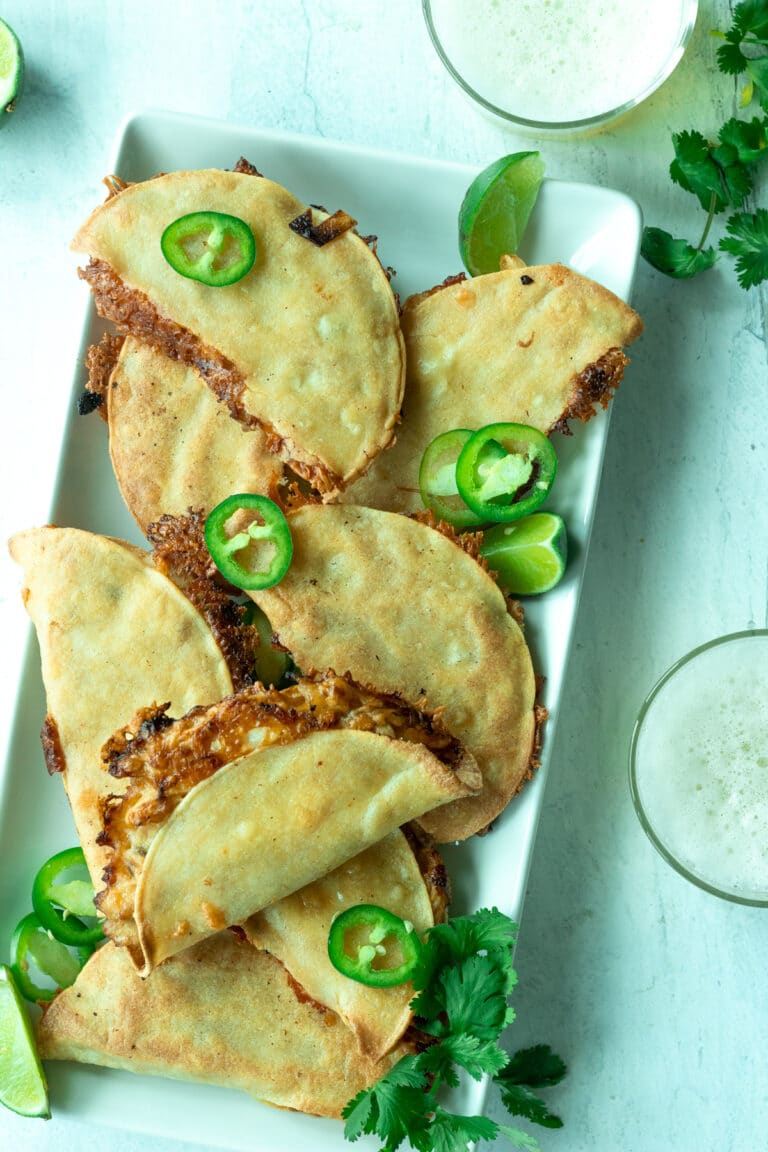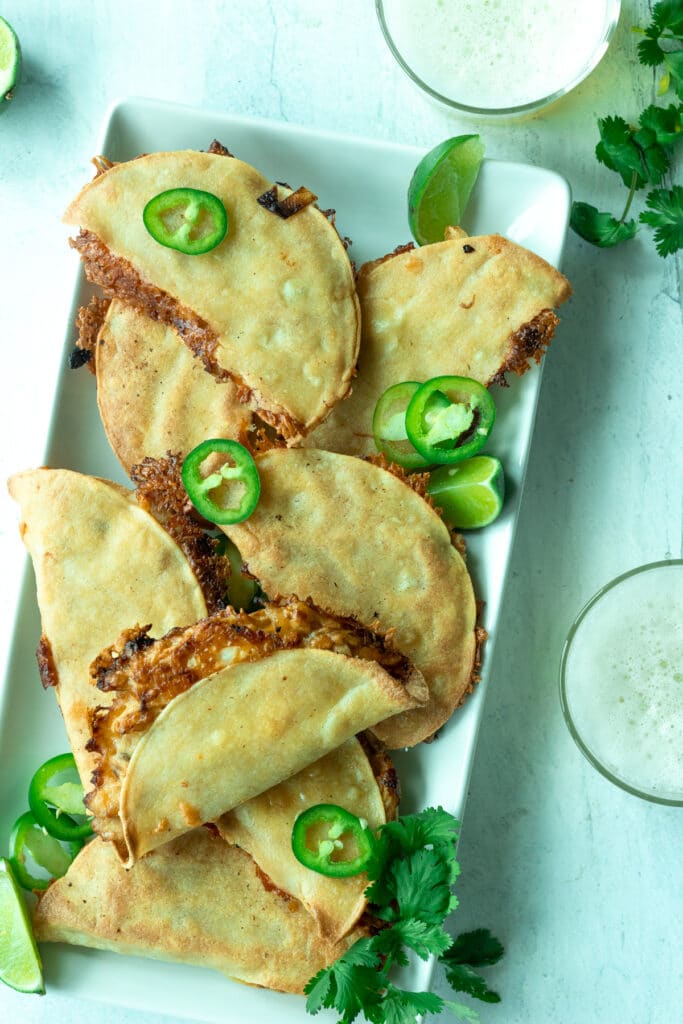 It's a full meal, but...
I will eat baked chicken tacos on their own. Happily. But if you need a little extra something to round out the meal, here are a few ideas!
Kale caeser salad. For this, I'd maybe leave out the croutons (blasphemy, I know!) and add chunks of avocado.
Taco salad. Just leave out the meat mixture and this taco salad makes for a great "side salad" situation. Honestly, this salad plus these baked tacos is like a perfect meal for me and I truly might make it right now.
House salad. Simple works! Add some of the stuff you're planning on topping your tacos with (cilantro, jalapeno, avocado) to bring everything together.
And if salads aren't your thing, try:
Roasted cabbage with sweet and spicy orange dressing. You can roast this right along with the tacos while they are baking.
Brussels cauliflower rice. Also super versatile, so flavor this up however you'd like and feel amazing that you managed to fit two vegetables into a taco dinner.
Chips and guacamole. I mean...duh.