Inspired by Pan Bagnat - a Provencal tuna sandwich - this is absolutely not your regular tuna salad sandwich. Filled with olives, capers, parsley and extra-virgin olive oil, this sandwich is full of flavor without any mayo!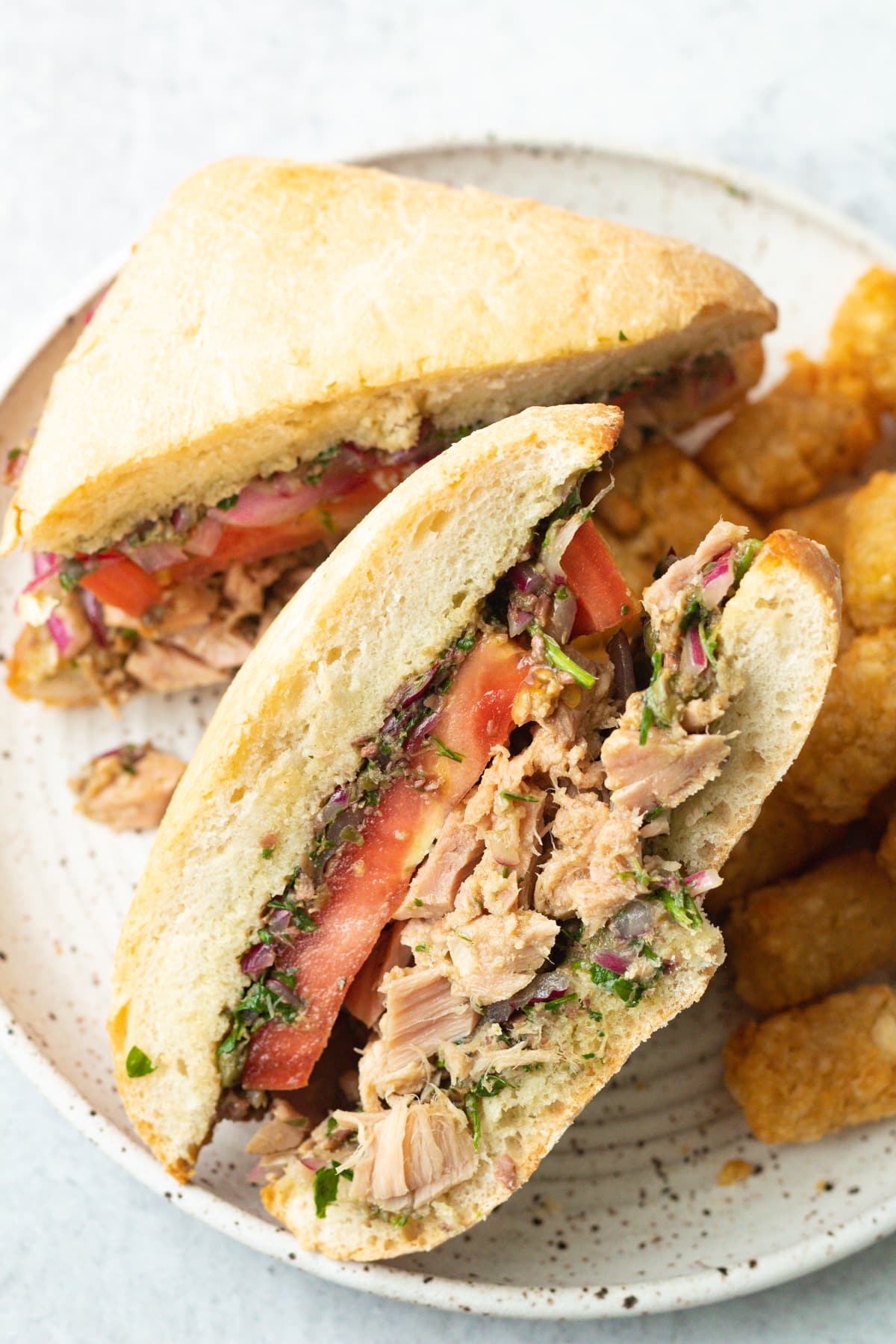 Don't get me wrong, I LOVE a regular ol' tuna salad but this is for when you want something a little bit fancy and have a few extra minutes to spare. And if you happen to be on the hunt for a tuna sandwich with no mayo, you're in the right place!
What's special about this tuna sandwich?
Well, first of all, the no mayo thing. Instead of making a salad with the tuna, onions, mayo, etc., you make a chunky spread that is layered with the tuna together on the sandwich and then let it sit for a few minutes (or longer if you can!) to let all the flavors meld together.
The star of the show here is the mix you make with olives, capers, parsely and anchovy. It's punchy, amazing and mixed with red onions and vinegar to really wake up your tastebuds.
Layered on a bun with oil-packed tuna, fresh tomato and (if you love something crunchy) cucumber slices or arugula/mixed greens, this is the ultimate tuna sandwich.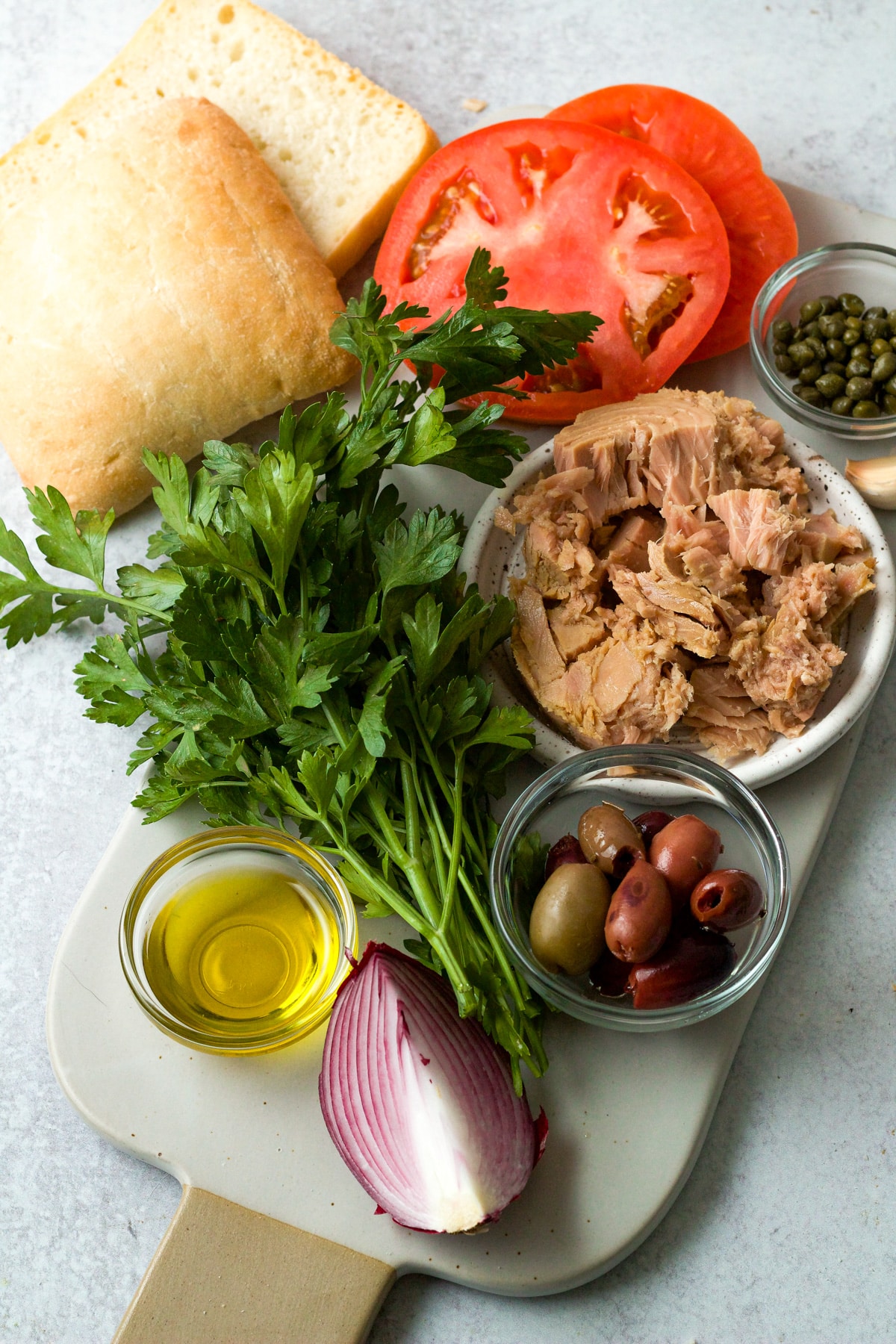 What you'll need
Ciabatta roll: Pan Bagnat is generally made on French bread or a baguette and then cut into individual sandwiches. Since I am just making one sandwich here, I love to use a ciabatta roll.
Oil-packed tuna: The only thing I'm going to be particular about in this recipe is the tuna. I highly, HIGHLY encourage you to use a good oil-packed tuna vs. water-packed. Canned or jarred is fine, but make sure it's a nice one that you would eat on its own.
Red onion: Thinly sliced for a nice bite!
Olives: You can use whatever kind of olives you like for this....I like a mix of black and green. The original Pan Bagnat is inspired by a Tuna Nicoise salad, so if you can find nicoise olives those would obviously be wonderful.
Capers: If you are not a huge fan of vinegary things, you could leave these out. But I love them!
Anchovy: Just one filet (or ½ teaspoon of anchovy paste) adds some extra saltiness and umami to this sandwich.
Parsley: I don't always use parsley, but I like the lemony freshness in this. (P.S. Click here if you need ideas to use up leftover parsley.)
Red wine vinegar: To cut through the richness of the spread and tuna.
Extra virgin olive oil: If you have some really nice olive oil, this is a great time to use it (but not necessary!).
Tomato: I love a big, thick, fresh slice of tomato on this sandwich to add a little moisture and freshness.
Optional: Cucumber slices, mixed greens, dijon mustard.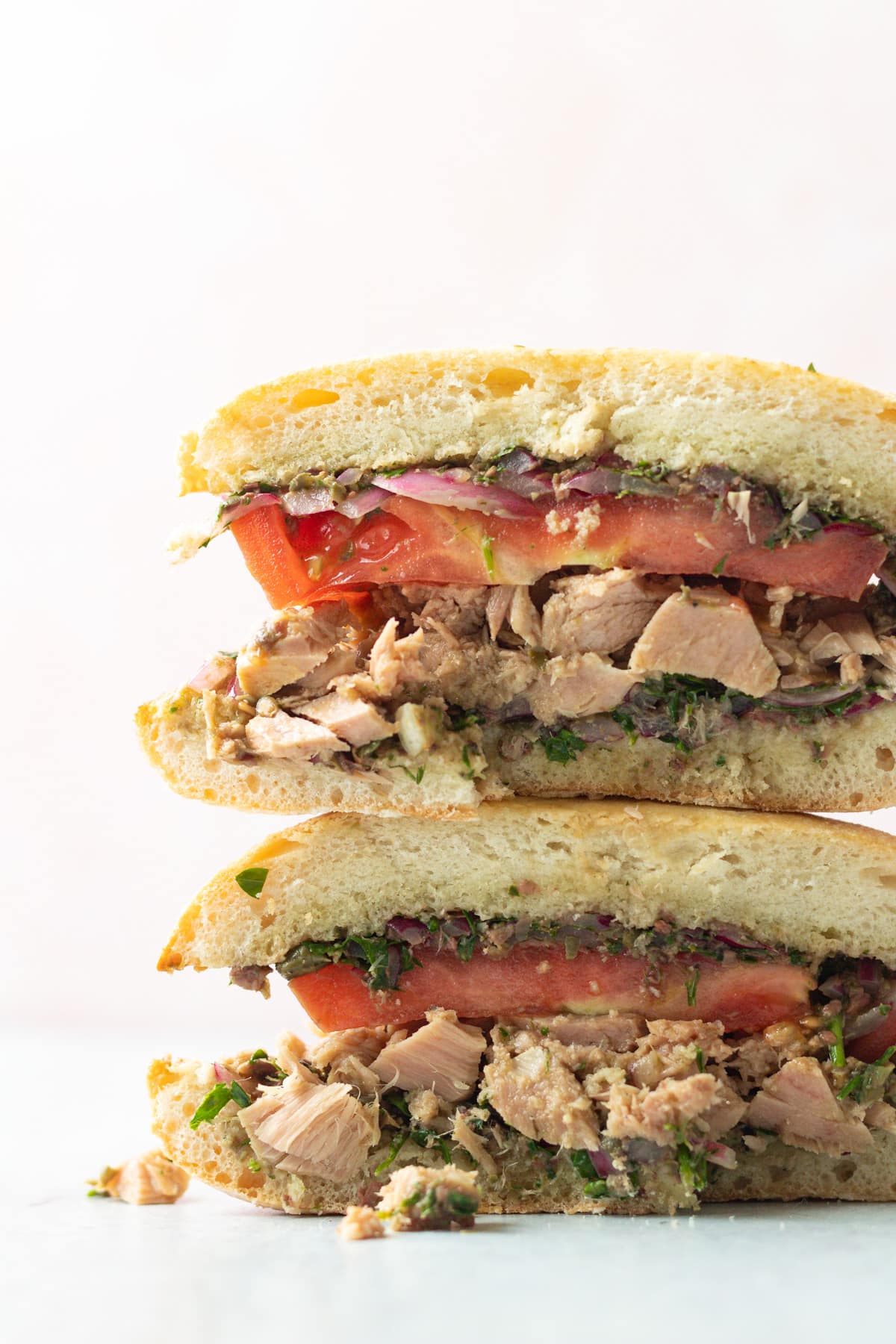 How to make this no-mayo tuna sandwich
First, combine the red onion and vinegar and let them sit for a few minutes. This softens the onions a bit and removes some of the "bite" of both the raw onions and vinegar.
In a food processor, combine olives, capers, parsley, anchovy and olive oil. Pulse until you get a spreadable consistency (it should still be a little chunky!). If you don't have a food processor, you can do this by hand with a sharp knife and a little time.
Add olive mixture to red onions and mix to combine. It will look weird, but stay with me!
If desired, toast your bread. Scoop out a little bit of the inside to make sure everything fits, and if you like mustard, you can also spread some on the bread at this point. Spread the olive/onion mixture on both sides of bread and flatten it to make sure it's on there really well.
Add tuna to bottom slice and drizzle with a little olive oil. Add tomato and sprinkle with salt and pepper. Add top slice of bread.
A few options to press the sandwich:

If you have no time, just press down with your hand until you can't stand it anymore and then go to town.
Wrap the sandwich is plastic wrap and place under a heavy pan (a cast iron works great). Let sit for at least 15 minutes. This tastes great after being pressed for even longer, so you can stick this in the fridge and let it sit overnight.
Other ways to dress up the sandwich
Add sliced cucumber or mixed greens (or arugula) for a little crunch.
Add sliced hardboiled eggs (to make it even more of a Nicoise-style).
If tuna is not your thing, try using salmon. This slow-baked salmon would be perfect! If you need something vegetarian, mashed chickpeas would be delicious.
Add pesto or even a few fresh basil leaves for some herby flavor.
So many ways to eat this wonderful sandwich. Serve with chips, a house salad or anything else you love and enjoy!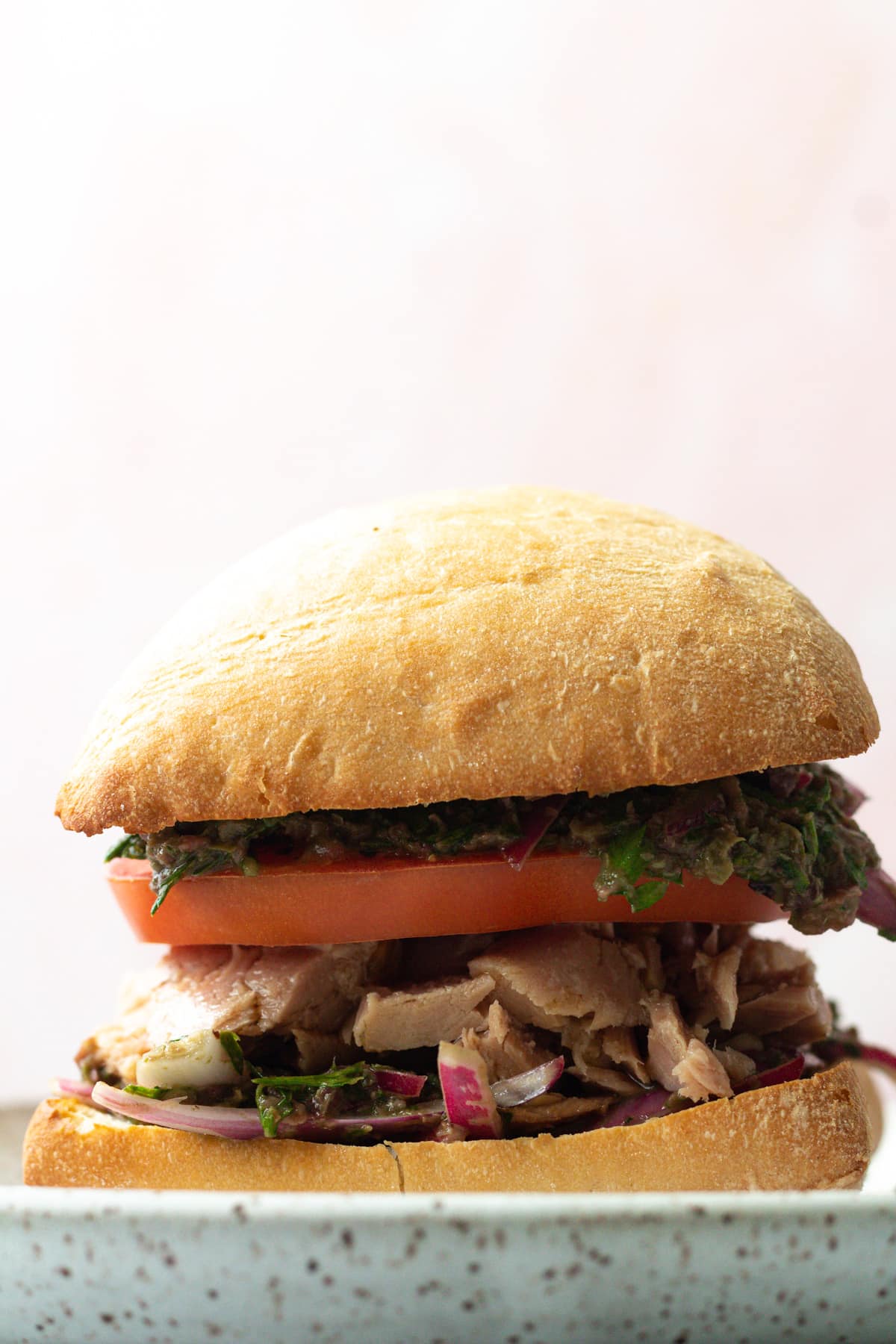 Print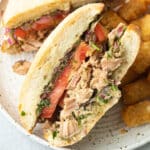 The BEST Tuna Sandwich (No Mayo!)
---
Description
Inspired by Pan Bagnat - a Provencal tuna sandwich - this is absolutely not your regular tuna salad sandwich. Filled with olives, capers, parsley and extra-virgin olive oil, this sandwich is full of flavor without any mayo!
---
¼

small red onion, thinly sliced

1 tablespoon

red wine vinegar

½ cup

parsley (leaves and tender stems)

1

garlic clove

¼ cup

olives, pitted

1

anchovy filet or

½ teaspoon

anchovy paste

1 tablespoon

capers

1

ciabatta bun

1

can/jar oil-packed tuna, drained

1 tablespoon

+

1 teaspoon

extra-virgin olive oil 

1

slice of tomato
Salt & black pepper
Optional: Dijon mustard, cucumber slices, mixed greens
---
Instructions
In a medium-sized bowl, combine red onion and 1 tablespoon red wine vinegar. Stir and let sit for 10 minutes.
Add ½ cup parsley, 1 garlic clove, ¼ cup olives, 1 anchovy filet, 1 tablespoon capers and 1 tablespoon olive oil in a food processor  and pulse until combined and a chunky paste forms. You can use an immersion blender or chop by hand if you prefer. 
Add olive mixture to onions and stir to combine. 
If desired, toast bread and scoop out a little of the insides of both pieces. If using, spread 2 teaspoons dijon mustard on both sides. Divide olive/onion mixture evenly on both sides as well.
Add drained tuna to one side and drizzle with remaining 1 teaspoon olive oil. Add tomato and sprinkle with a little salt and a lot of black pepper. If using other toppings, like mixed greens or cucumber you can add those now as well. 
Place top slice on sandwich and press down with your hands to help everything combine. You can eat this sandwich immediately, but for best results, wrap in plastic wrap and then set under a heavy pan for up to overnight to really press the sandwich down and allow all the flavors to mingle. 
Prep Time:

15 minutes

Category:

Sandwich

Cuisine:

French