Find yourself with a bunch of leftover Italian parsley and absolutely no idea what to do with it? Here are some of my favorite ways to use up extra parsley, as well as some tips to keep it from going bad on you!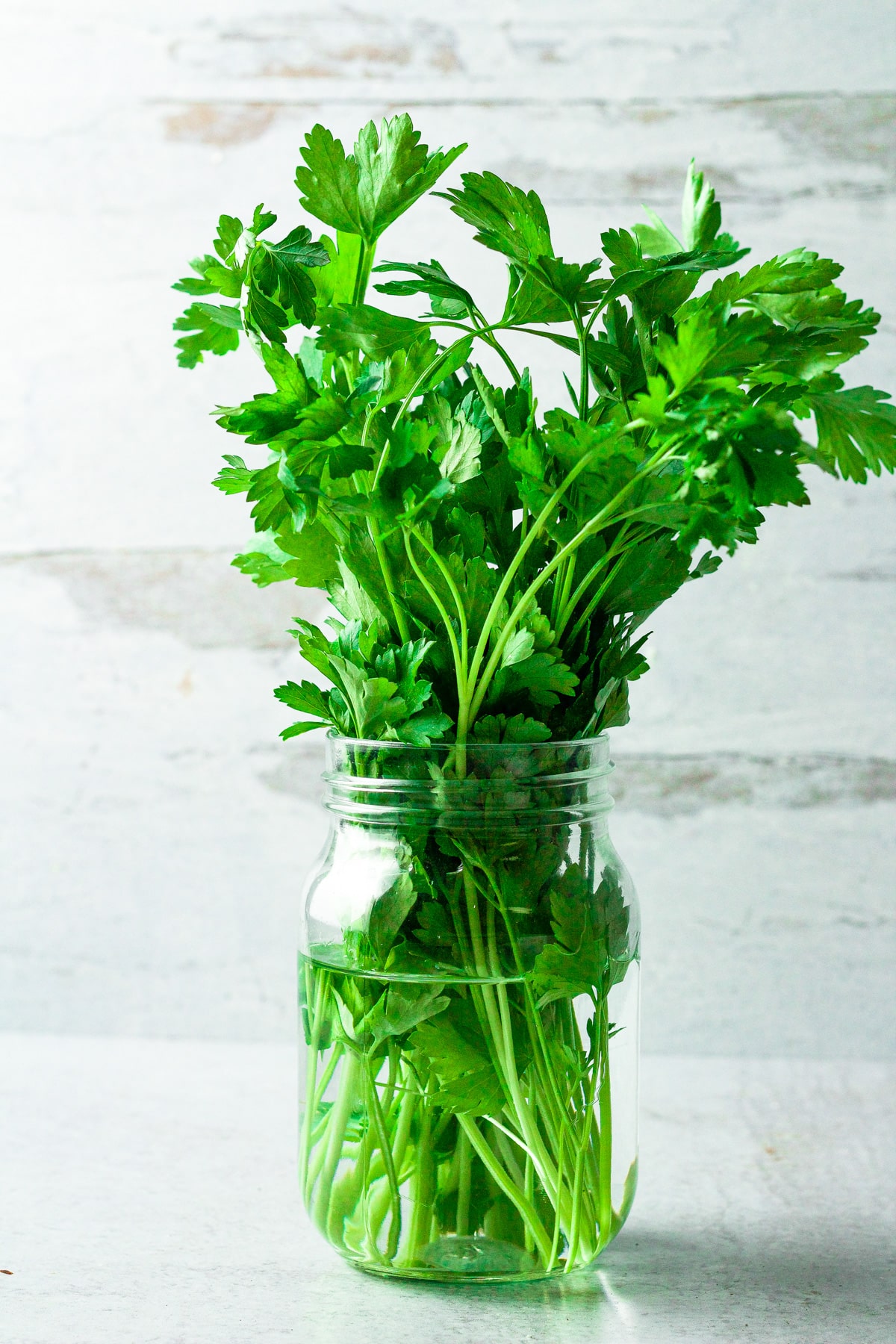 For a good chunk of my life I thought parsley was strictly a garnish, and most certainly not something one would actually eat. This is partly because it felt like just about every restaurant dish came with a tiny little bouquet of curly parsley, and partly because I grew up in a cilantro-or-bust household.
Indian food features A LOT of cilantro, and about zero parsley. So fresh parsley never made an appearance in my parent's kitchen.
With age, I've come to appreciate parsley...albeit in small and very specific doses. So this means I often find myself buying a whole bunch for one particular recipe, and then watching the rest die a slow death in my fridge.
No more! Turns out this is one versatile herb and over time I've figured out various ways to use up leftover flat-leaf parsley (sorry curly variety, still don't know what to do with you!) and am here to share.
(P.S. If you have a similar problem with basil, check out this post for ideas to use up leftover basil.)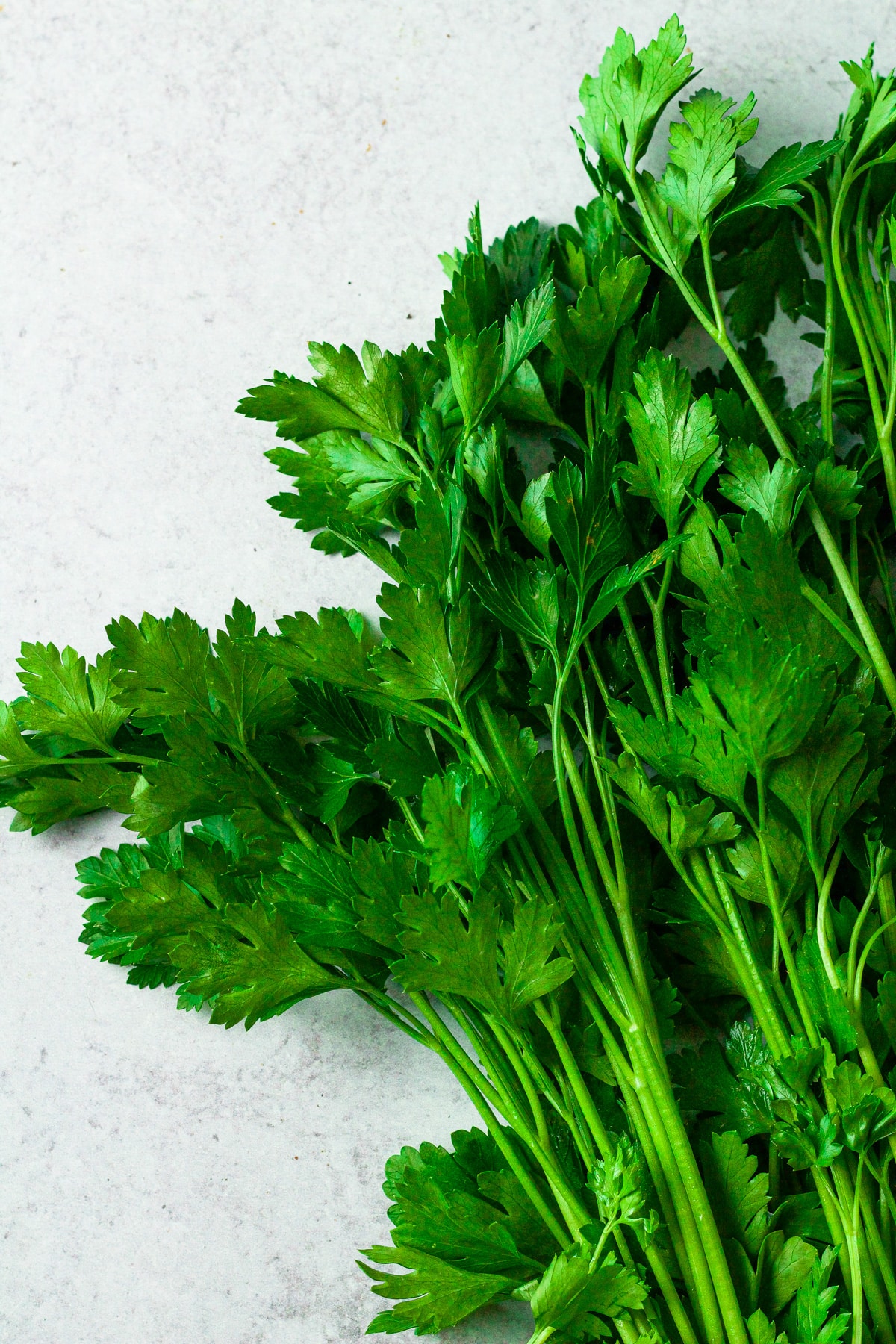 Keep it fresh
My #1 problem with leftover parsley is that I tend to throw it in a drawer in my fridge and forget about it until it's way past the point of no return. Then, not only do I have so much parsley...I have so much dead parsley. Womp.
So my first tip is to keep the parsley where you can see it - front and center. I actually do this with all of my "leftover" produce and it's a great way to make sure you actually use up those vegetables you bought.
Anything - leftover fresh herbs, half an onion, extra squash, etc. - hangs out in a clear container on an eye-level shelf in my fridge. That way I see it as soon as I open the door and I know I have to try and use those things up as soon as possible. Wrap your leftover parsley in a damp paper towel in a plastic bag in the fridge.
With leafy herbs like parsley or basil, I also like to store them in a jar or glass of water and covered with a plastic bag. If it's very hot, they go in the fridge right next to the produce container. Otherwise, I actually like to keep them out on the counter at room temperature as they'll last a few days longer that way. Either way, put your parsley somewhere you can't miss it!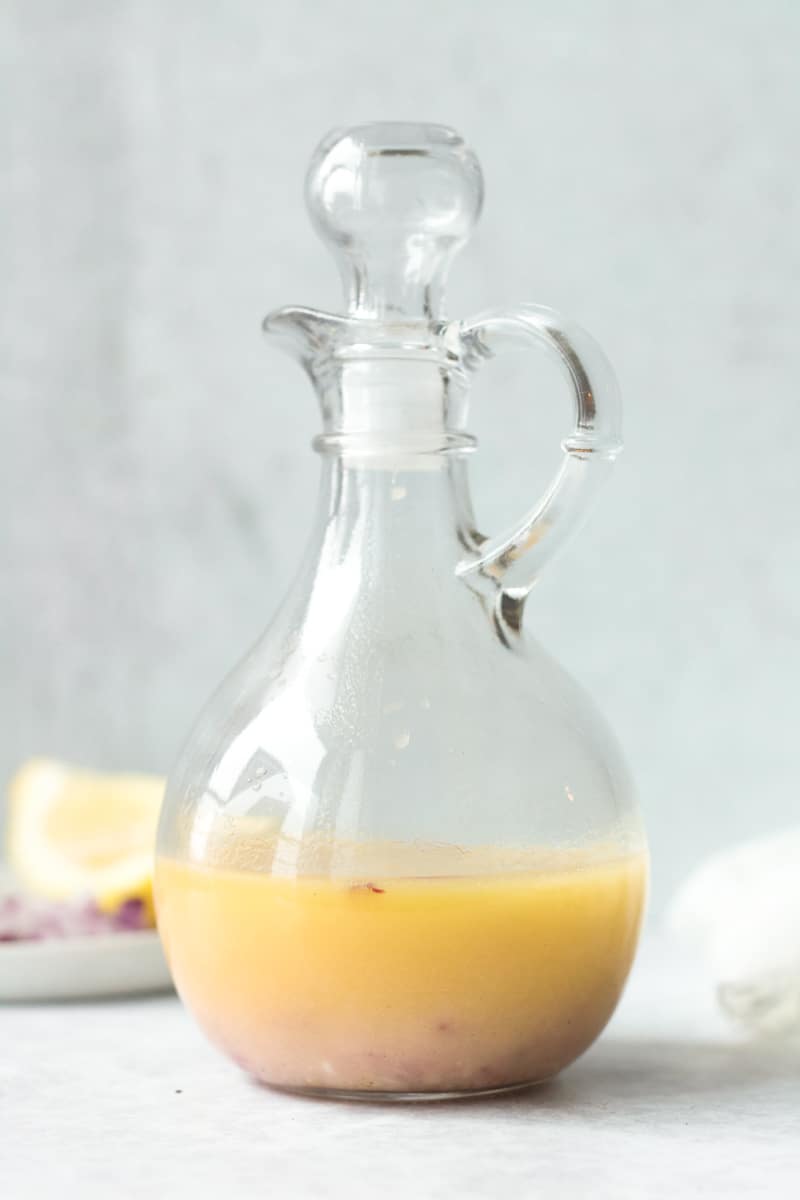 Quick & easy - salad dressing and oils
If you need to use up a bunch of parsley quickly but don't necessarily want to eat a bunch of parsley, I think salad dressings or a parsley oil are the way to go.
The easiest way to use up a lot of parsley is to make parsley oil. Simply combine parsley and olive oil in a food processor or blender until you get a smooth sauce. Store in an airtight container or pour into an ice cube tray and freeze. Then whenever you want a little parsley flavor, you can take a cube or two out and toss into soups, grains or warm up and drizzle on chicken, fish or any grilled meat. For a little extra flavor, add a little lemon juice or lemon zest.
Similarly, you can mix chopped parsley with butter (and maybe a few garlic cloves) and create an herb butter to melt over steaks or roasted vegetables.
For salad dressings, I like to add a handful of chopped parsley leaves to my lemon garlic vinaigrette or all purpose lemon tahini sauce for a little herby punch.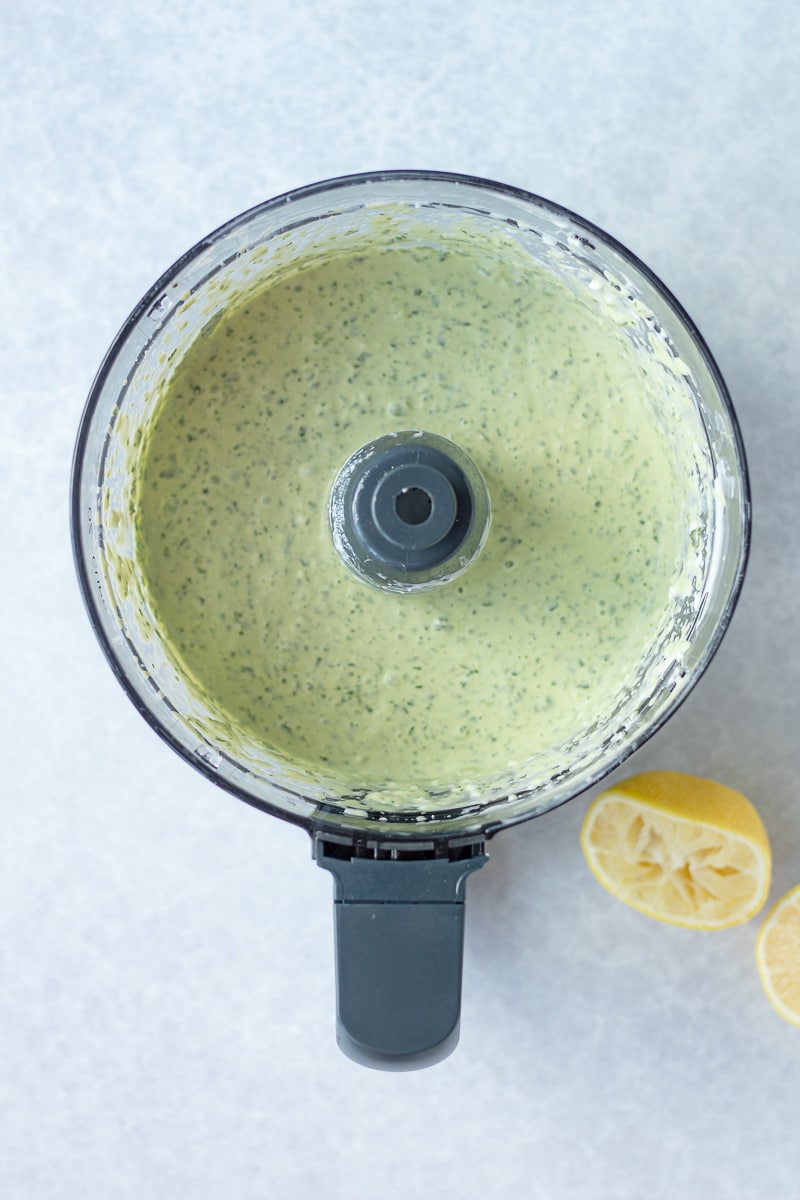 Sauces & dips
If you've been here a while, you know I am fully obsessed with sauces. Anything I can dip or drizzle is a winner in my book, and leftover herbs are the best way to add flavor to your favorite sauces.
Parsley is a staple of chicmichurri sauces, and is a great addition to my grilled scallion chimichurri. You can also turn this cilantro chimichurri into a more classic version with parsley instead of cilantro.
Parsley is also a star in this green goddess dressing, which is an absolute DREAM. Eat this green sauce with everything from roasted potatoes (or potato salad!!), broiled salmon or even some of your favorite raw vegetables. It's the best!
You can also update a classic fresh pesto and replace the basil to make parsley pesto (or add both basil and pesto!). If you need a nut-free version of traditional pesto, try my recipe for pesto without nuts. Or feel free to throw in the classics - pine nuts, parmesan cheese, lemon juice and extra-virgin olive oil.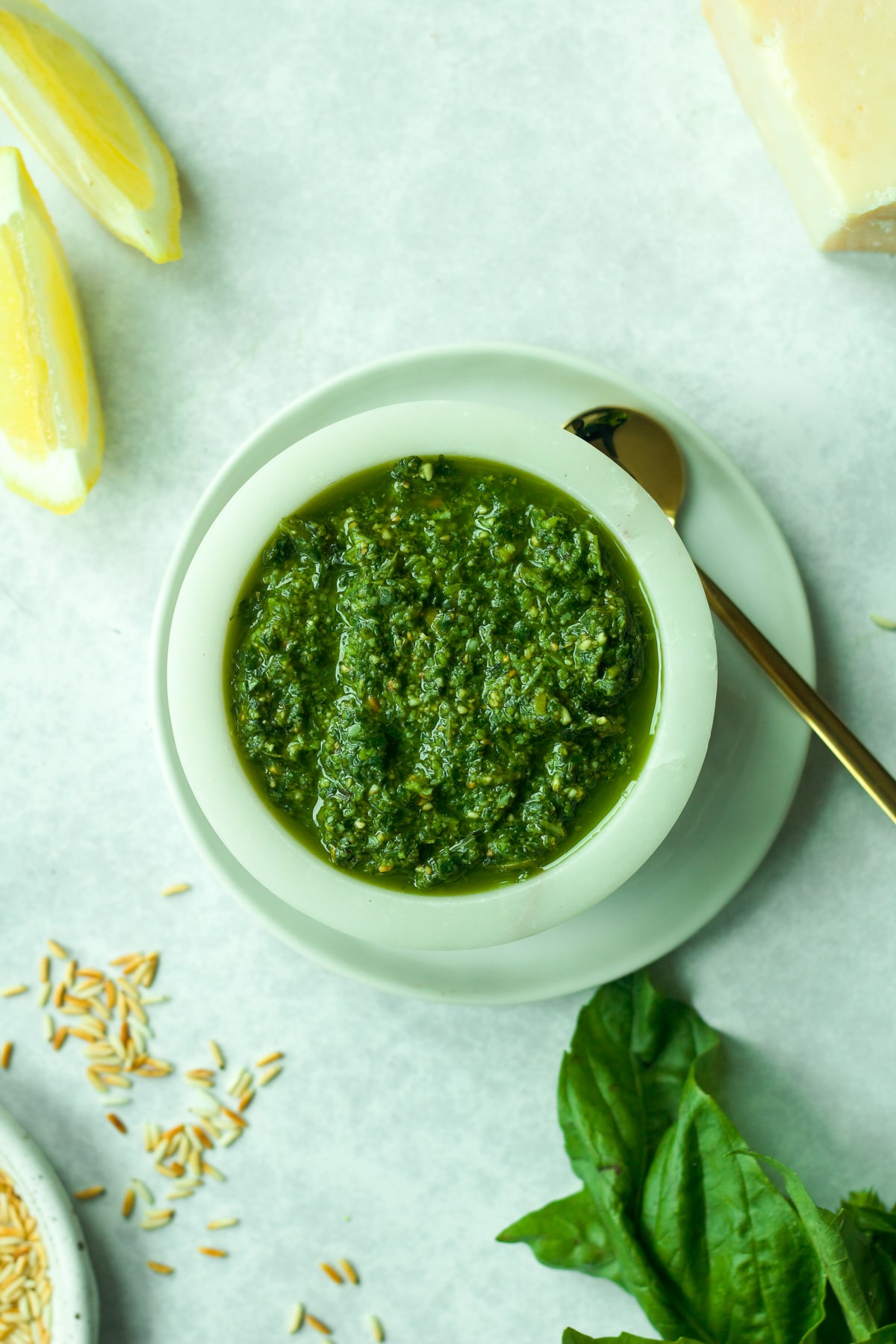 Other delicious recipes to use up parsley