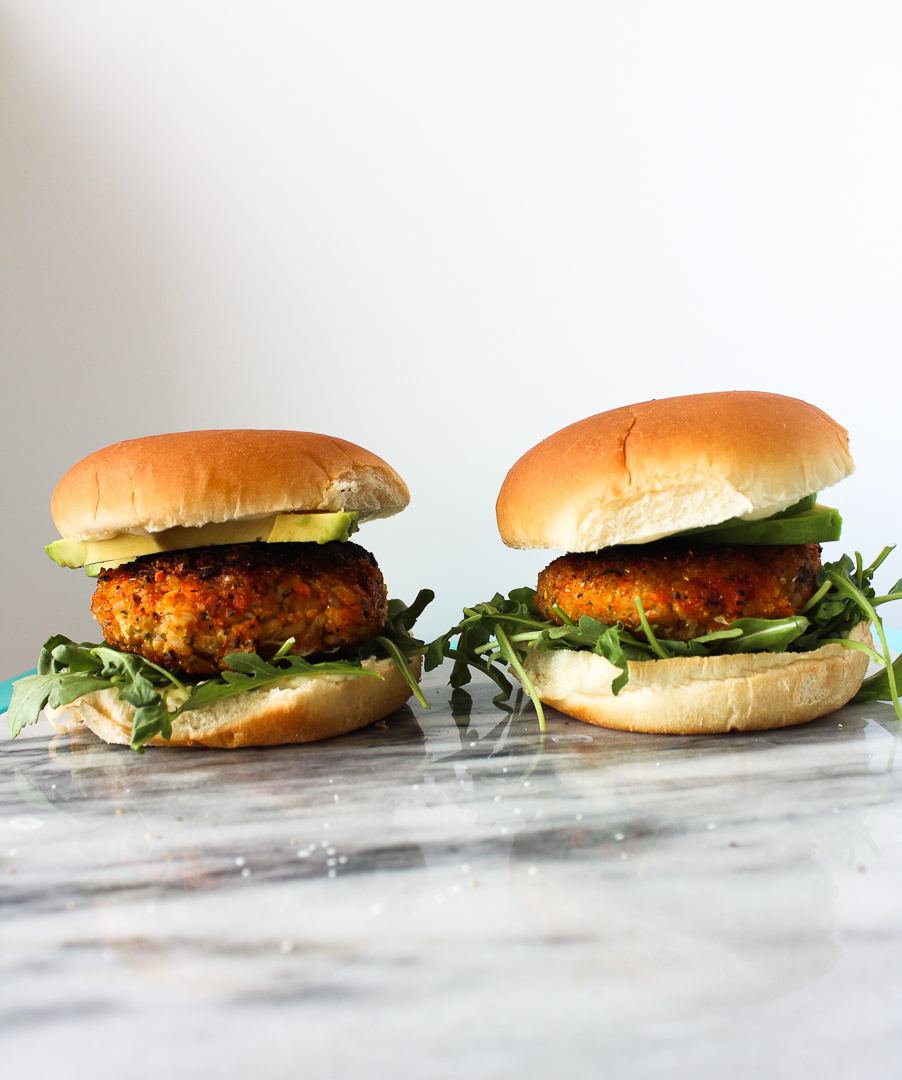 It took me most of the summer, but I'm finally sharing my current favorite veggie burger. Weeks (maybe months?) ago I did a tiny, informal Instagram poll to find out what kind of veggie burgers you all like. 100% veggie? Beans: Yay or Nay? Grains?!
Turns out y'all like it all. Veggies + beans + grains won. So I went to work on what I was hoping would be my perfect veggie burger. And honestly? I'm pretty proud of myself with this one.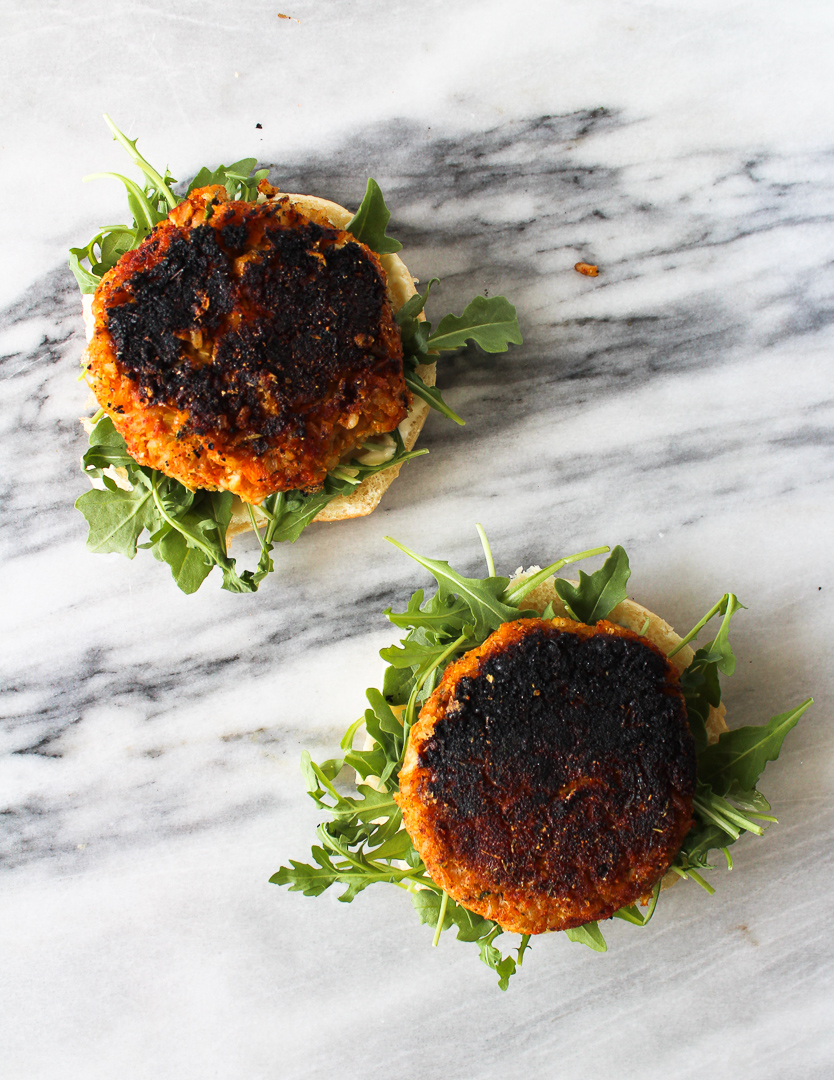 If you look at veggie burger recipes across the internets (and books too, I GUESS) you'll notice they tend to be pretty high maintenance. I tried really hard to make these as easy peasy as possible, but there is something about trying to make a burger out of vegetables that ups the work factor.
So, I'm here to tell you these are kind of...medium maintenance?
Yes, you have to divide almost all of the ingredients and roast half of them. Yes you have to let the mixture sit in the fridge for a little bit before forming the patties. Yes, you have to be very careful when flipping. Yes, it's worth it.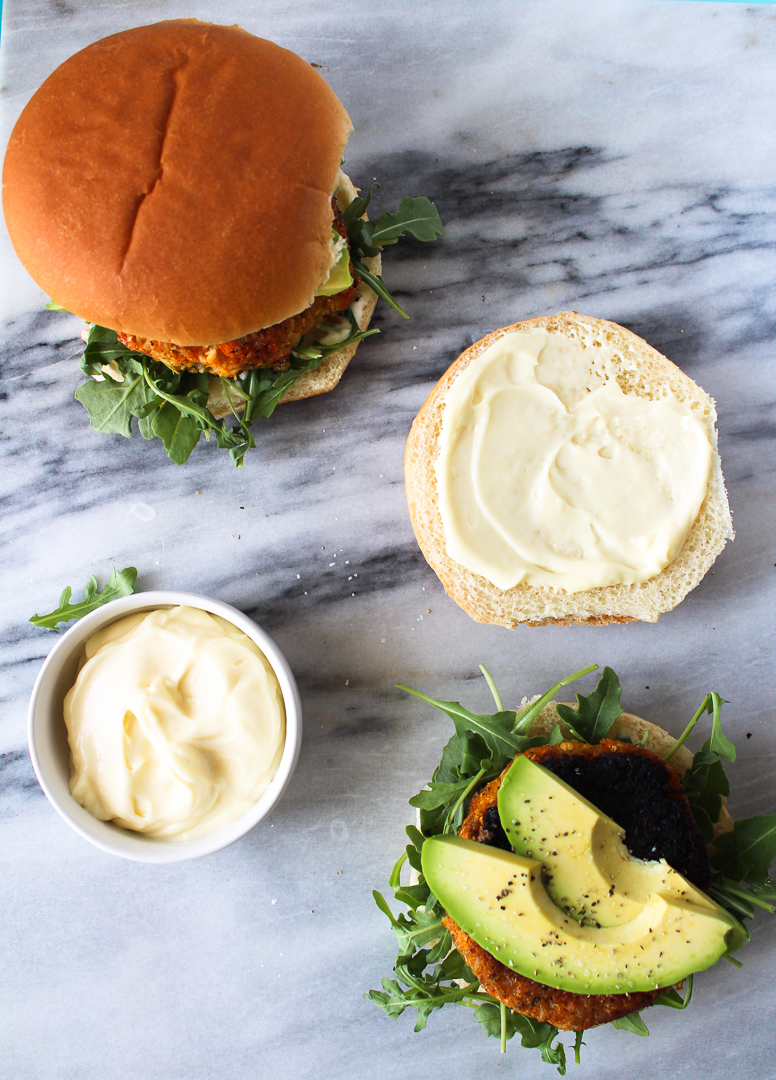 My biggest issue is that veggie burgers always tend to fall apart on me, but I was determined to come up with a recipe that can be counted on without a million ingredients holding it together. These are not the most perfect - I admit that I had a few break - but they are so, so close. And the broken ones were just as delicious so it didn't feel like a reason to not share.
With that said, I've made the egg optional for all my vegans out there. If you're careful you really don't need the egg anyway!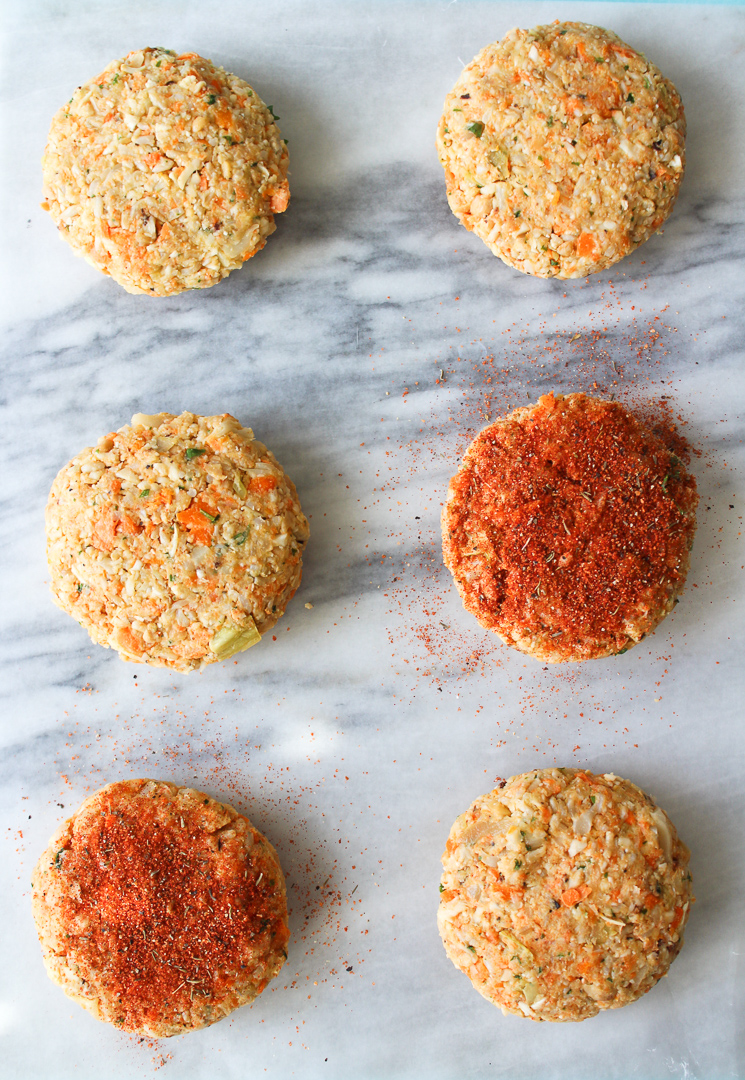 I mixed up a quick blackened seasoning to mix in here, but feel free to use store bought. Any type of seasoning would work - cajun, italian, fajita, whatever! Some of it goes into the mixture itself and the rest is sprinkled on the burgers right before they hit the pan. This is wonderful because 1. it's delicious and 2. it forms a tiny crust that is...delicious.
I spent most of the summer making some version of these burgers, so I can confidently tell you they are good on buns, wraps, salads and more. I made a little roasted garlic aioli/mayo situation this time (recipe in notes), but any kind of sauce will work.
Summer may be almost over, but my veggie burger game is still going strong.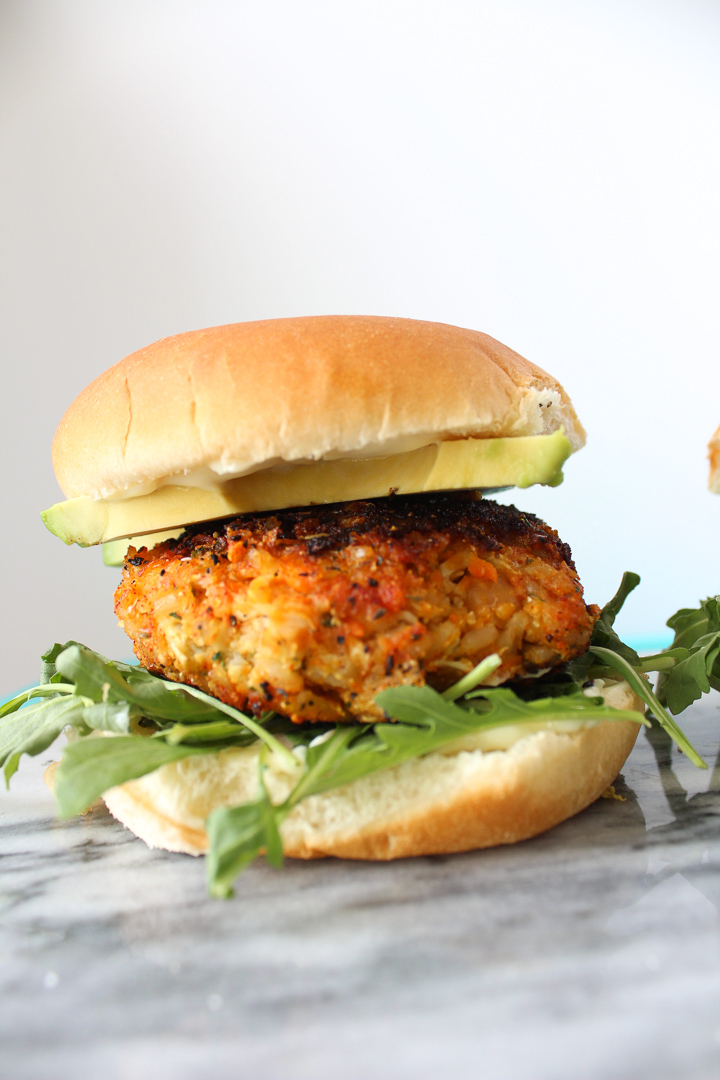 Print
Veggie Burgers
---
Total Time:

1 hour 15 minutes

Yield:

6

-

8

burgers

1

x
1

small head cauliflower, cut into small florets

1

small white onion

1 cup

chopped carrots (baby or regular are both fine)

1

can chickpeas, drained and rinsed

2

garlic cloves

2 teaspoons

olive oil

1 cup

cooked brown rice

¼ cup

cilantro, finely chopped

¼ cup

flour

1 teaspoon

salt

1

egg (optional)

3 tablespoons

blackened seasoning, divided (recipe below)

¼ cup

olive or grapeseed oil, divided
Blackened seasoning:
2 tablespoons

paprika

1 tablespoons

smoked paprika

1 tablespoon

onion powder

2 teaspoons

garlic powder

1 ½ teaspoons

dried thyme

1 ½ teaspoons

dried oregano

1 teaspoon

salt

1 teaspoon

black pepper

½

-

1

teaspoon cayenne
---
Instructions
To make the blackened seasoning, mix all the spices together. This will make more than you need here, but it's delicious on everything!
Preheat oven to 425.
Line a baking sheet with parchment paper and add half the cauliflower, carrots, onion and chickpeas. Add garlic, drizzle with 2 teaspoons oil and sprinkle with a little salt. Bake for 25 minutes until everything is slightly caramelized. Let cool slightly.
Meanwhile, put remaining cauliflower, onion, carrots and chickpeas in food processor. Pulse until everything is super tiny and begins to come together.
Add roasted vegetables and rice and continue pulsing until everything is the same size and you can grab a handful and it holds it shape. If your processor is not large enough, you can transfer some of the raw vegetables to a bowl and then add the roasted ones.
Transfer to a large bowl and add flour, cilantro, 1 tablespoon of seasoning plus an additional 1 teaspoon of salt. Add egg if using (beat lightly in a separate bowl before adding!). Stir until everything comes together. The mixture will be a little crumbly, but it should stick when you press it together.
Cover the bowl with plastic wrap and set in fridge for at least 30 minutes, and up to overnight.
When ready to make burgers, heat 1 tablespoon of oil in a pan (I've used nonstick and cast iron - both worked well) over medium-high heat.
Using a ½ or ¾ measuring cup, scoop out some of the mixture and then use your hands to form it into a patty. I found that keeping these thick helped them stick together, but you can make them whatever size you'd like. Sprinkle the rest of the seasoning over both sides of the burgers.
Gently place 2-4 burgers in your pan (depending on size of your pan, you want these to have some room) and reduce heat to medium. Cook for 5-6 minutes per side, until browned on both sides, adding more oil as necessary to keep the pan from getting too dry. Repeat with remaining oil and burgers.
Burgers stay well in the fridge for up to a week.
Notes
I've found the key to helping these stick together is making sure the roasted vegetables are pulsed enough to just start looking like mush. That helps them mix with the raw vegetables. If your burgers really just won't stay together, add more flour until it's workable. Also remember that burgers that fall apart are still delicious.
To make the roasted garlic aioli in food processor: Slice off the top of a bulb of garlic, drizzle with oil and sprinkle with a tiny bit of salt. Wrap in foil and roast along with the vegetables when making your burgers. Let cool completely. Squeeze garlic into food processor, add 1 egg, 1 teaspoon dijon mustard, ½ teaspoon salt and 2 tablespoons light olive oil. Process until just combined. With the processor on high, slowly (like, really slowly!) drizzle in 1 cup of light olive oil to emulsify. Stir in 2 teaspoons of lemon juice. There, you made aioli/mayo! Alternatively, you can just mix together roasted garlic and store-bought mayo - also delicious!
Prep Time:

1 hour

Cook Time:

15 minutes