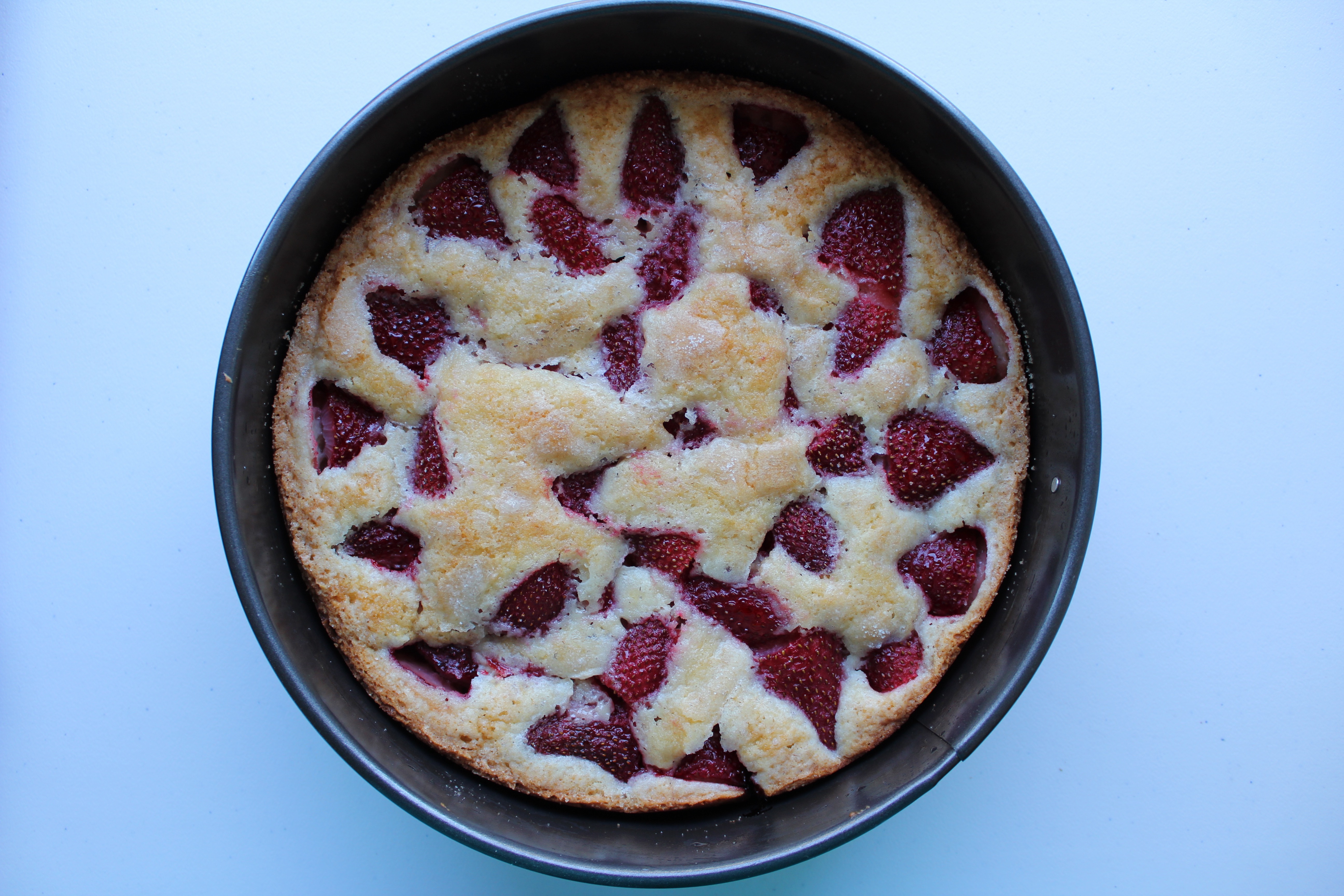 I probably should have shared this when strawberries were in super season (it's a thing, I promise), but remembering/knowing/caring when every piece of produce is in season isn't always my strength. Like, sometimes I try while other times I just want to eat the food I want to eat.
For instance, I ate brussel sprouts last week during a heat wave. Do you know how many regrets I have? ZERO.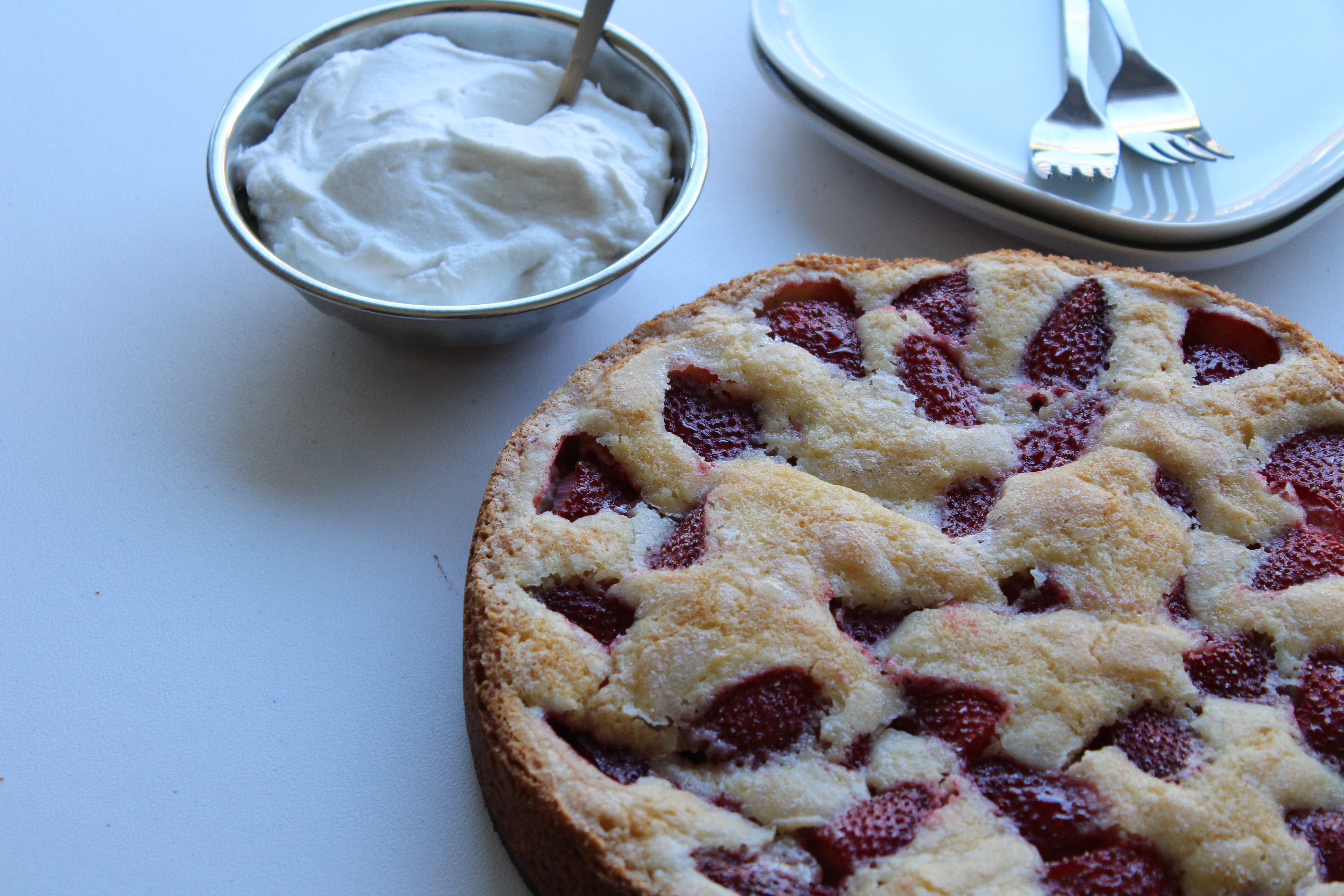 If you are good at the whole produce-in-season thing (you good little human), this cake is still okay to make! Because do you know the best thing to do when strawberries aren't at their absolute best? Stick them in the oven! Even better if they're on top of cake batter!
I love fruit, but I do this weird child-like thing when I buy it in that I BUY IT ALL. Even if I plan on just picking up one pint of strawberries or two peaches, I inevitably freak out and convince myself I need three times the amount. But like, how is one person supposed to eat so much fruit before it goes bad?! I rarely eat breakfast (my bad), I never think to take it to work with my lunch (also we get free apples at work!) and while I'd LOVE to be that person who considers fresh fruit dessert everyday, the reality is that I'm 75% ice cream at this point in my life.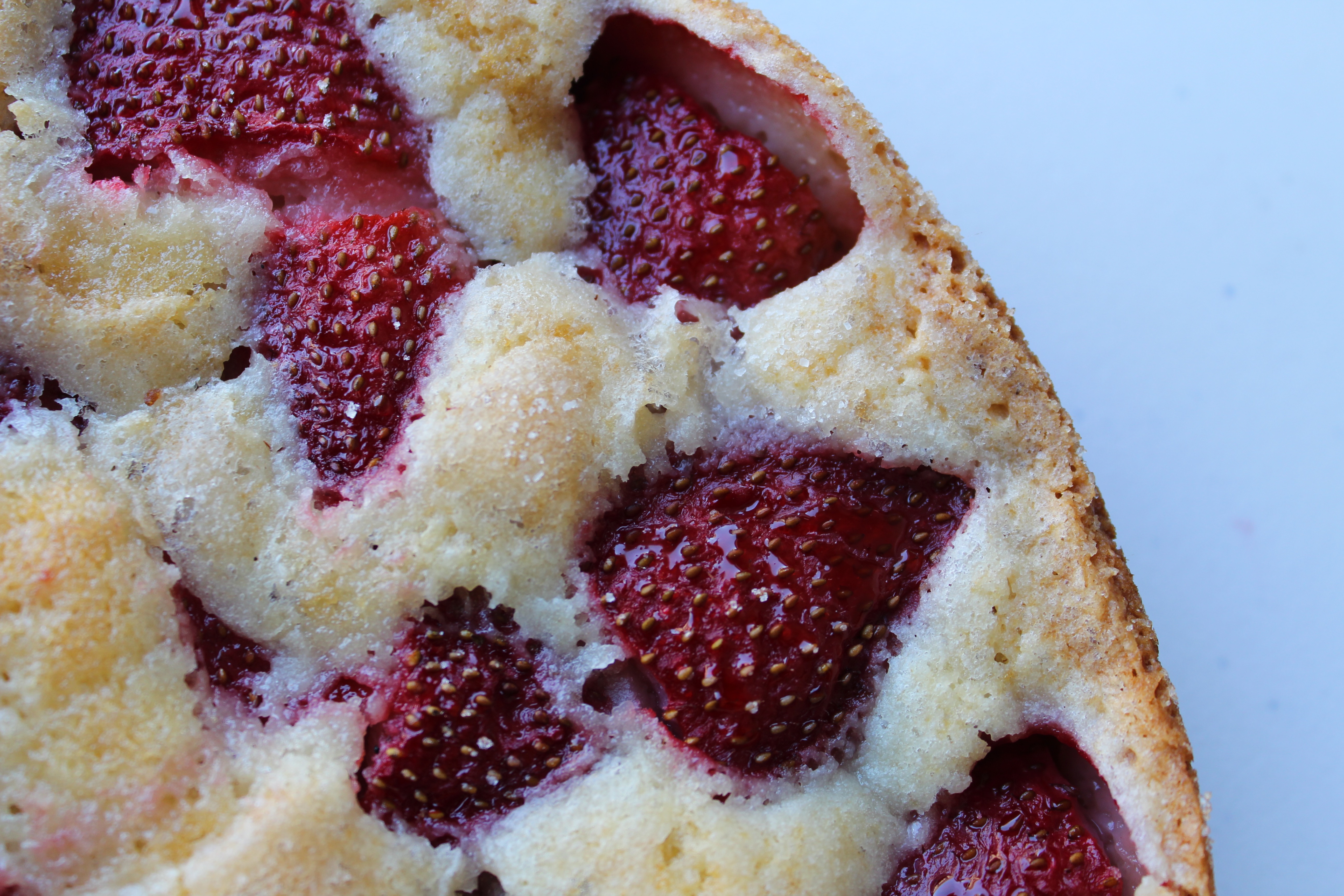 Luckily, when it comes to cakes, this is a pretty simple recipe so it's easy to pull together when I find myself with ALL THE STRAWBERRIES. The batter comes together in a few minutes and if you're even a little bit of a baker, you most likely have all the ingredients on hand. Except maybe the berries, but I probably have enough in my fridge for you so don't worry about it.
I love love this cake slightly warm with some whipped cream, but it's also great at room temp. And while it's obviously a dessert, nobody is going to yell at you for treating it like an afternoon snack with coffee or tea or wine because sometimes life is rough.
Actually, you know what? Just eat this for breakfast. You deserve it.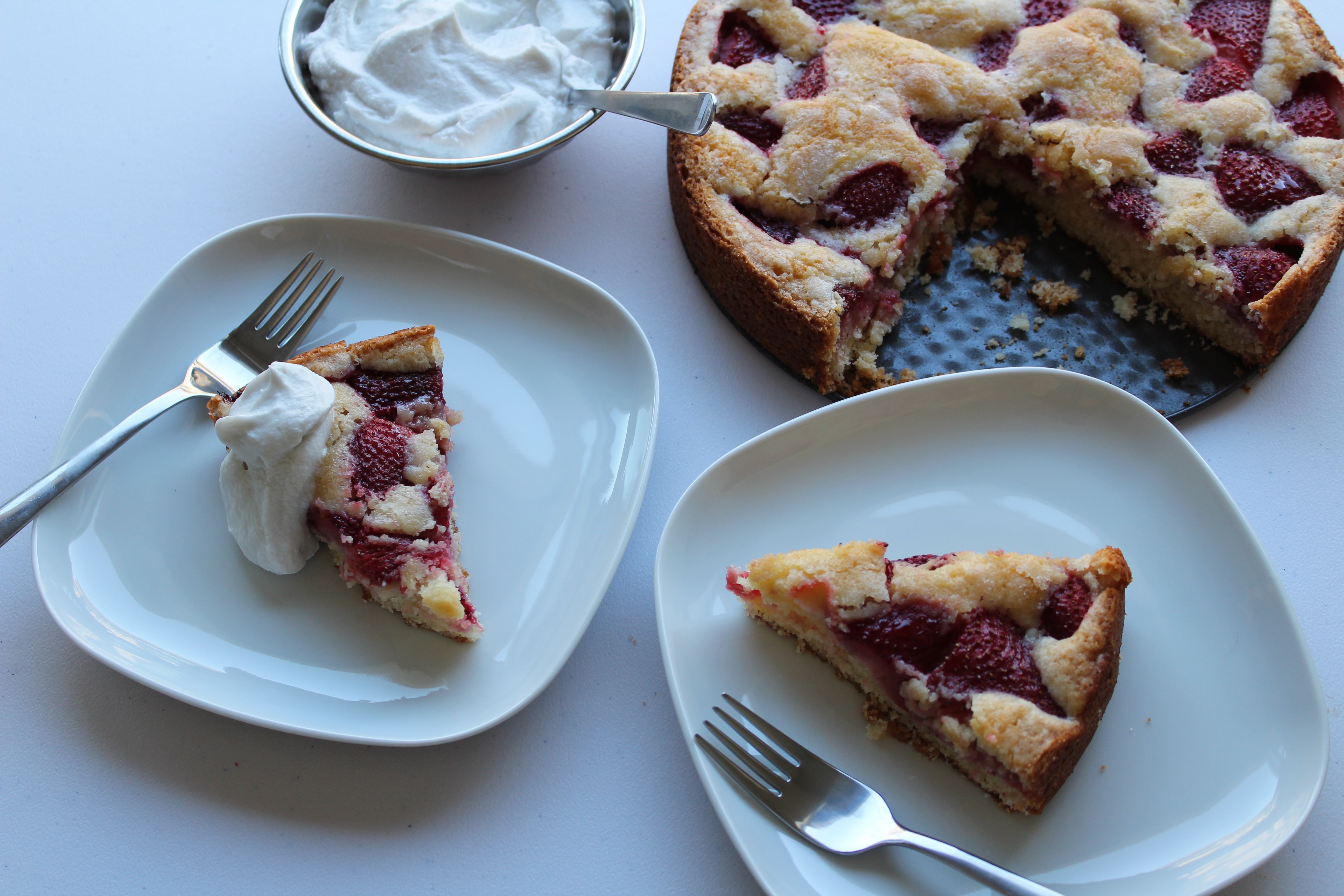 Print
Strawberry cake
---
Total Time:

1 hour 20 minutes

Yield:

One

10

-inch cake

1

x
6

TB butter, softened

1 ½ cups

flour

1 ½ tsp

baking powder

½ tsp

salt

1 cup

+

2

TB sugar

1

egg

½ cup

milk

1 tsp

vanilla

1

lb strawberries, halved
---
Instructions
Preheat oven to 350. Butter a springform pan and set aside.
Whisk together flours, baking powder and salt.
In a separate bowl, beat butter and 1 cup sugar until fluffy and pale (about 3 minutes). Mix in egg, milk and vanilla. Add in the dry ingredients and mix until just smooth.
Pour in pan and arrange strawberries on top, cut sides down. Sprinkle 2 TB sugar on top.
Bake for 10 minutes, reduce heat to 325 and bake for 50-60 minutes before until golden brown on top.
Let cool in pan before serving.
Recipe from Smitten Kitchen and Martha Stewart
Notes
This will stay good for 2-4 days at room temp, covered.
The cake also freezes well! I like to cut it into individual slices, wrap in plastic and then store in Tupperware or a large storage bag.
Prep Time:

20 minutes

Cook Time:

1 hour