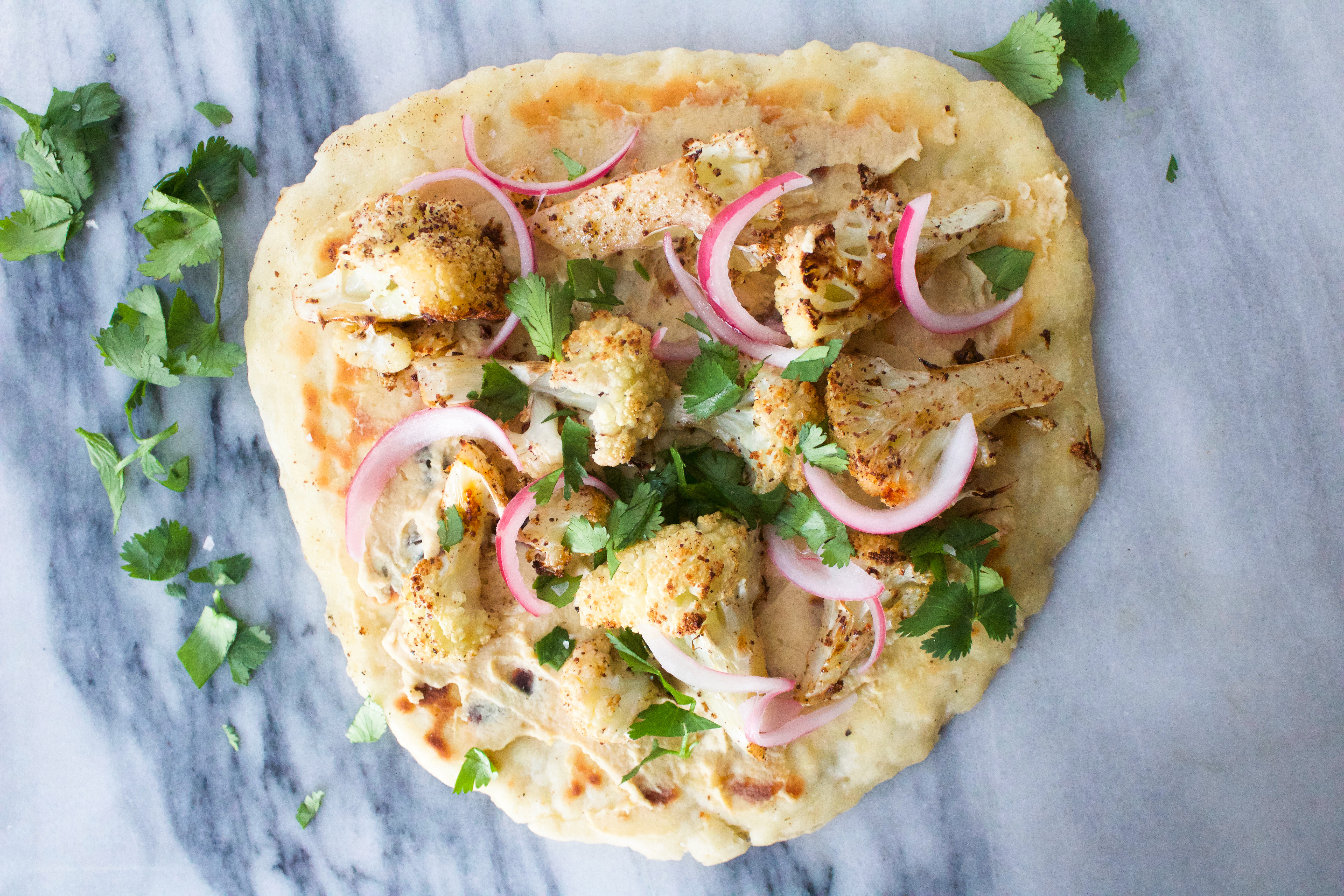 Welcome to my new favorite thing. Did you know you could make homemade flatbread in 30 minutes from start to finish? I sure didn't. 30-minute flatbread is a definite life-changer for me.
I, of course, found this flatbread on Bon Appetit and waited all of like 2 hours before making it. And omg. What. So easy. So good.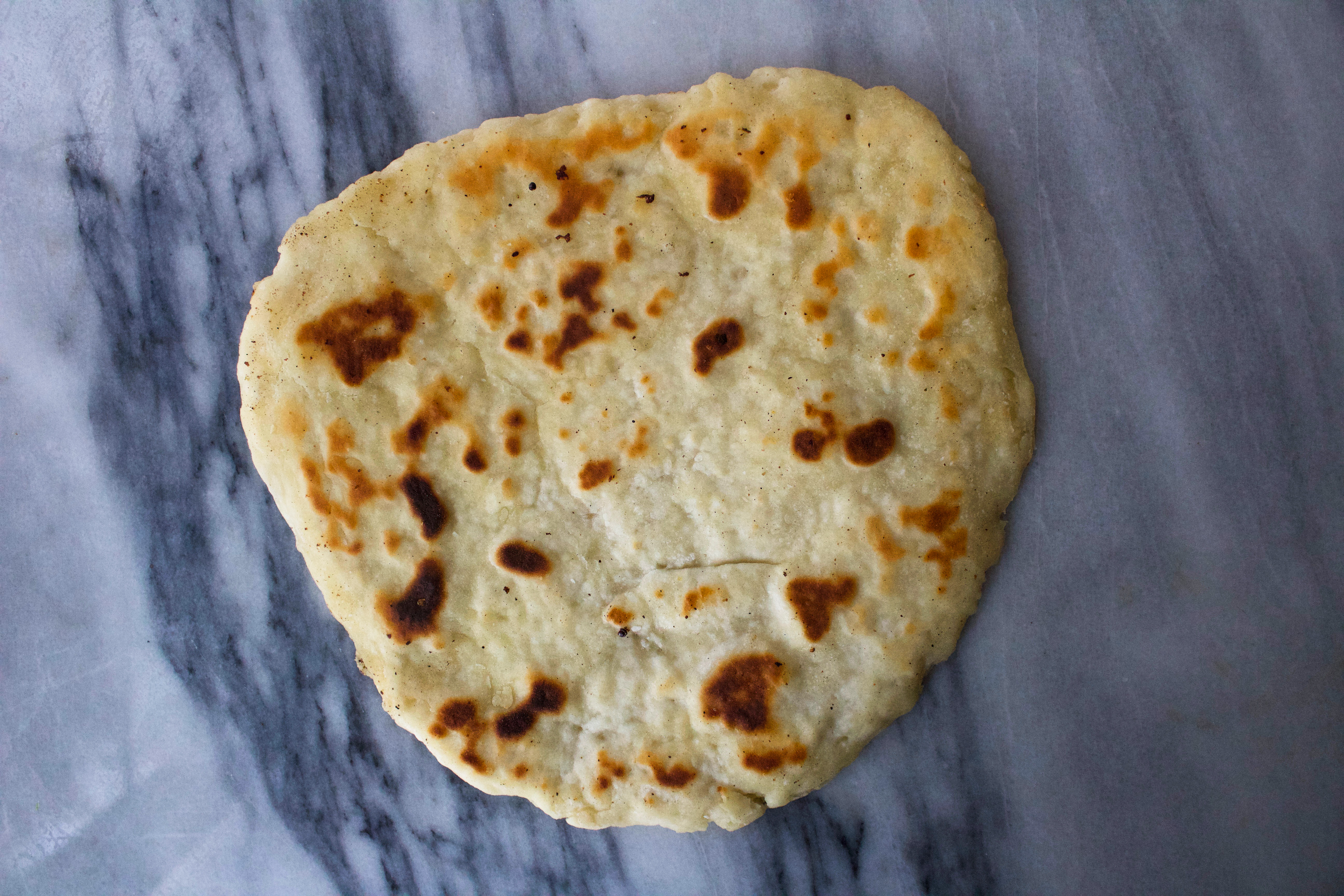 I wanted to call this "weeknight flatbread" because I honestly believe this can be a weeknight dinner, but turns out "weeknight flatbread" is not very SEO-friendly. And I've been told that is important. Apparently you all are NOT googling super specific and weird things like that. Who knew, right?!
So 30-minute flatbread it is. And it actually is! If you do everything in the order as noted in the recipe below, this could definitely be a 30-minute meal. Maybe give yourself an hour so you can stop to answer texts while you're chopping things? But in theory - it's in the 30-minute family for sure.
The timing is doubly great because I recently started a new job so I'll be playing that quick weeknight dinner game more than usual. This will definitely be going in the rotation. Maybe it will replace popcorn? Or my personal favorite: Melted cheese on...anything. MAYBE.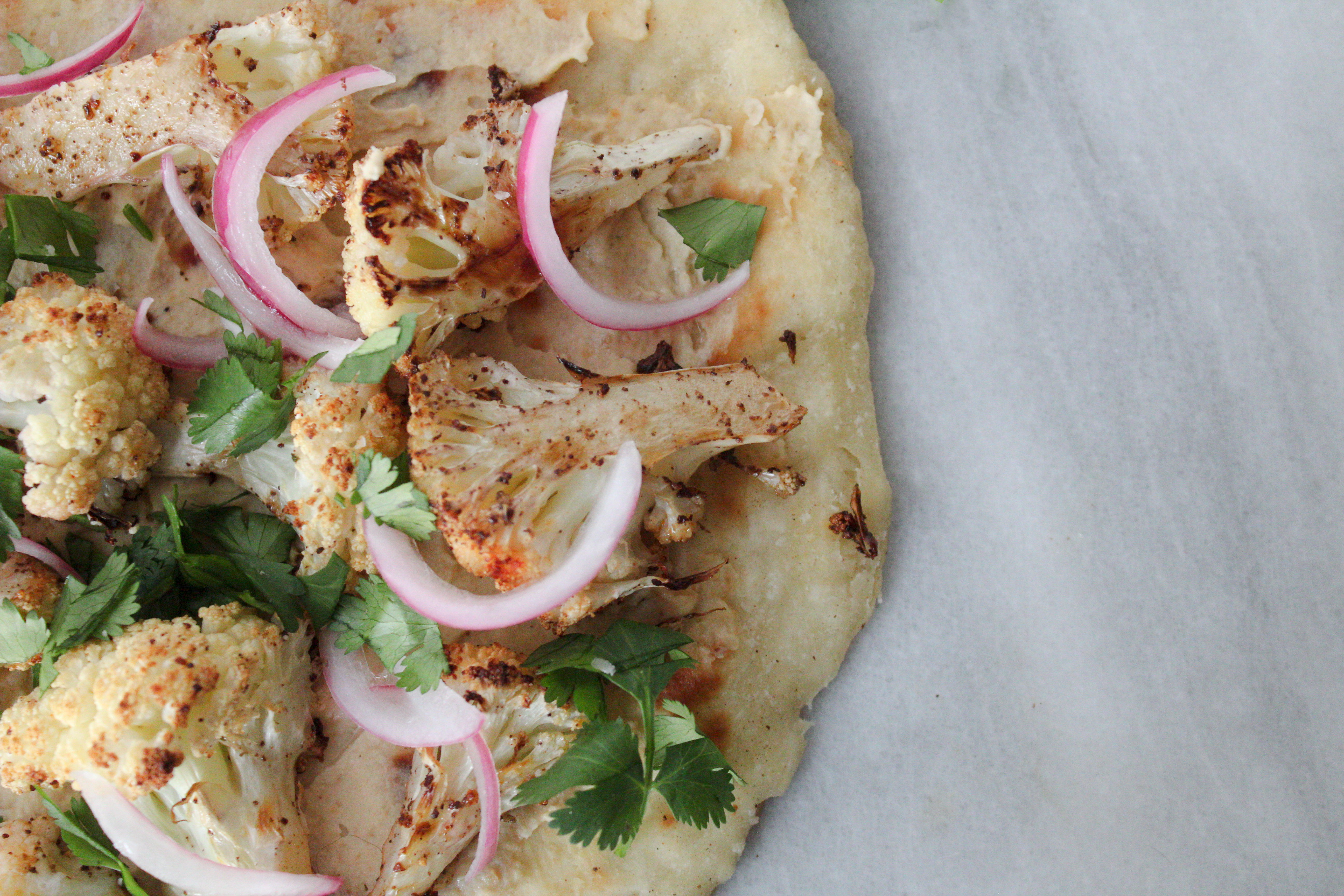 I kept the toppings vegetarian because I couldn't get the idea out of my head. And because I can't get enough roasted cauliflower. It's like candy to me. But listen. This flatbread is your canvas, my friend. Meat, cheese, vegetables, it all works.
Serve it with a salad like my burrata caprese or greek salad with marinated feta, and you're golden. Like, that's impressive for a Tuesday.
You could also skip the toppings and just eat the warm flatbread right off the pan. Add some butter and salt. Dip it in hummus. Spread it with some smokey feta dip. Do it do it do it.
30-minute flatbread is here to help you live your best life!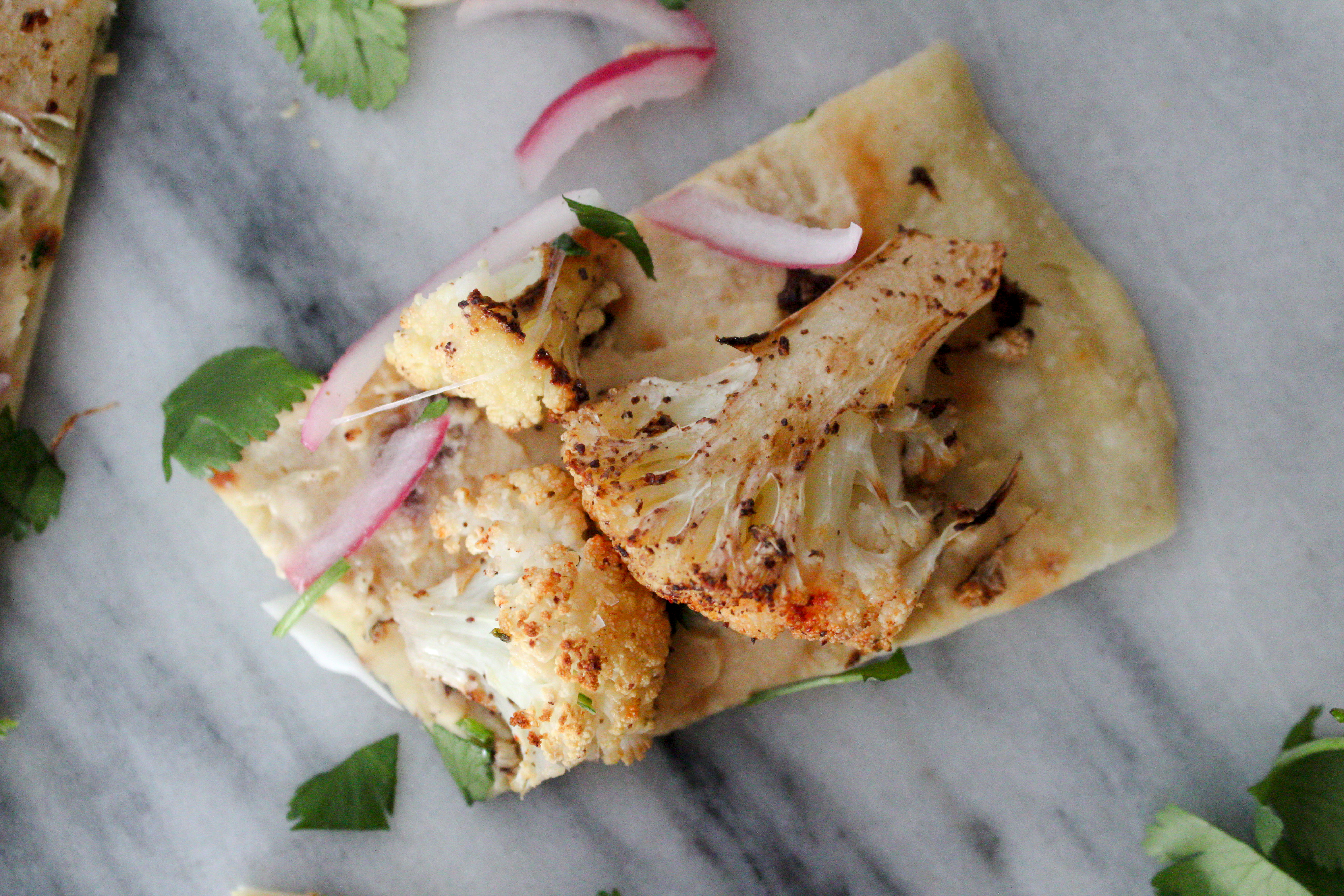 Print 30-minute flatbread with sumac roasted cauliflower
Cook Time:

30 minutes

Total Time:

30 minutes
---
1

head cauliflower, cut into small florets

2 tablespoons

olive oil

2 teaspoons

sumac

½ teaspoon

ground cumin

½ teaspoon

smoked paprika

1 teaspoon

salt
30-minute flatbread
2 cups

flour, plus more for rolling out

¾ teaspoon

baking powder

½ teaspoon

sugar

2 teaspoons

salt

1 cup

plain yogurt (whole milk! NOT greek!)
For assembly
Hummus (store-bought or homemade is fine)
Flaky sea salt
Cilantro
---
Instructions
Preheat oven to 425.
Toss cauliflower with 2 tablespoons olive oil, sumac, cumin, paprika and salt. Arrange on a baking sheet and roast for 20-25 minutes until soft and caramelized, tossing about halfway through.
While cauliflower roasts, make flatbread: Whisk together flour, baking powder, sugar and salt in a bowl. Add yogurt and use spoon to combine with dry ingredients. Turn out on counter and knead for about a minute, or until dough comes together. Dive into 4 pieces and allow to rest for 10-15 minutes.
Working one at a time, roll each dough ball out until it's about ⅛ inch thick. They don't have to be perfect circles so don't worry too much. If dough starts to stick, add a little flour to your surface.
Heat 1 tablespoon of oil in a large skillet (I found that cast iron worked the best, but other pans work too. Just make sure it's large enough to fit each piece) over medium-high heat. Once hot, add one round of dough and let cook for 2-3 minutes. When underside is golden brown and the top starts to puff up a bit, flip and cook for 1-2 moe minutes. Remove and continue with remaining rounds.
Assemble flatbreads: Spread 1-2 tablespoons of hummus on top of warm flatbread. Top with cauliflower, pickled onions, cilantro and any other toppings you want (feta cheese would be amazing. avocado would be great too!). Sprinkle with a little flaky sea salt and enjoy!
---
Notes
Flatbread recipe from Bon Appetit
The flatbread tastes best when fresh, but you could cook them all ahead of time and then reheat in the oven before topping.
Sorry vegan friends, the flatbread itself has yogurt in it and I haven't tried it with a dairy-alternative yet. I'll try soon!