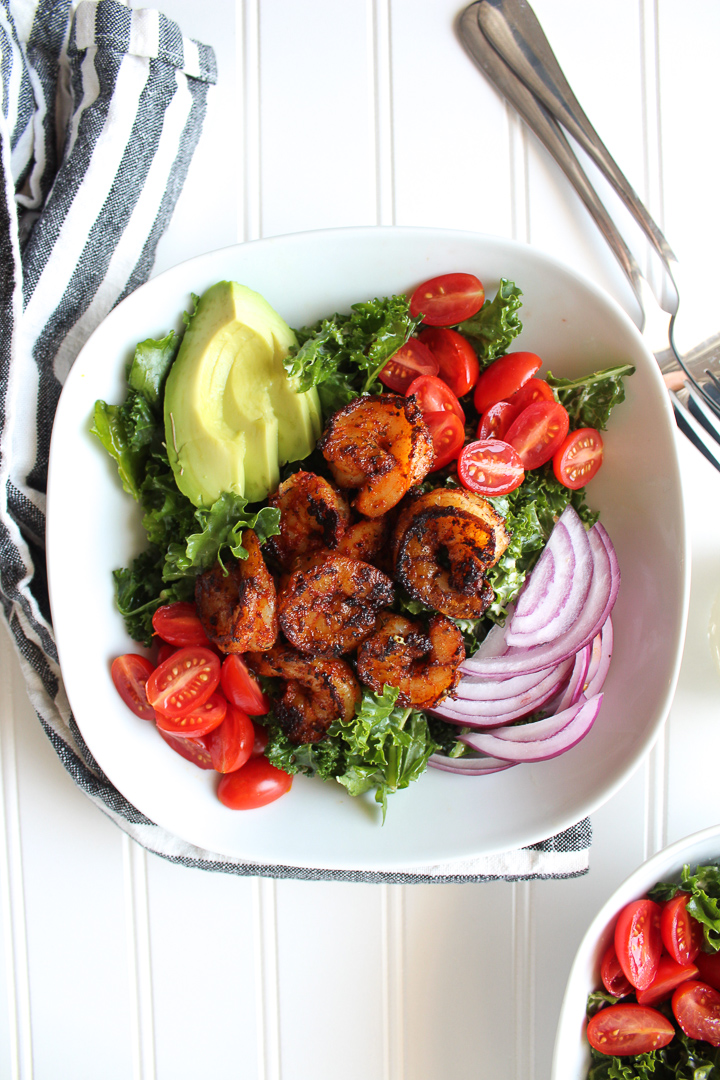 It's still weird to me how much I enjoy a kale salad even though chewing raw kale feels like an actual workout.
Yet, here we are.
This time of year always makes me feel like I need to reevaluate my life. That back-to-school thing just never really leaves, you know? And since I'm not actually going back to school (halleluja!) this feeling generally manifests itself into trying to be healthier which generally means I should stop eating beef jerky for lunch and chips and salsa for dinner (an actual representation of my life on select days).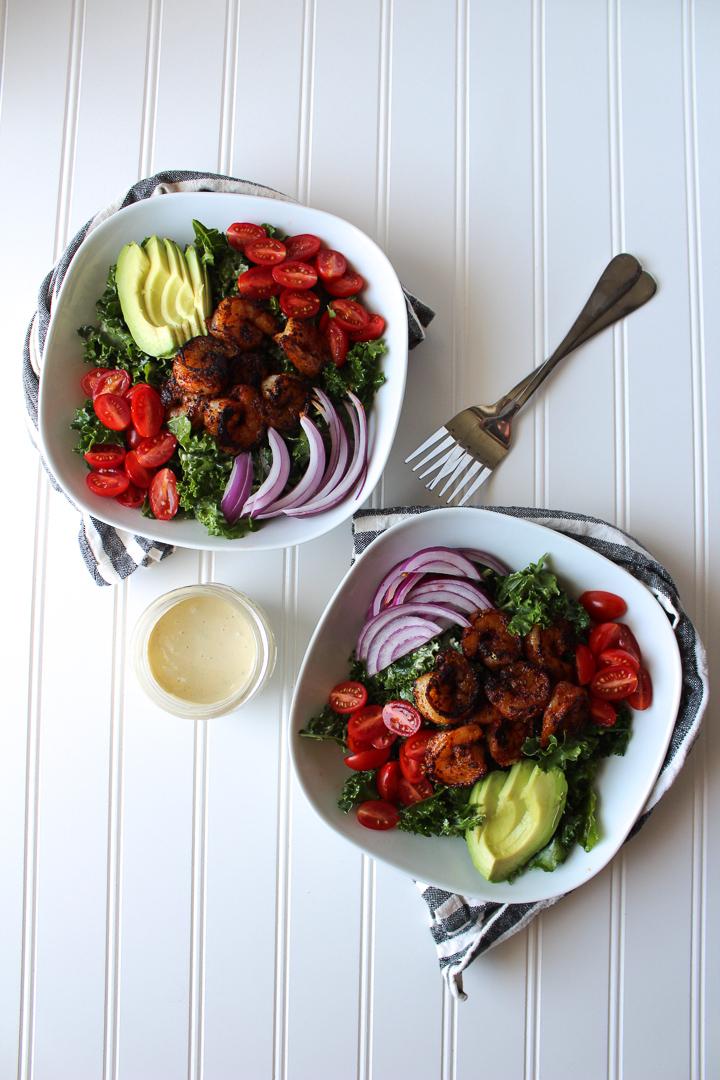 This Blackened Shrimp Kale Cesar salad is the perfect thing to help me feel like an actual adult human again. It's great for lunch because it's filling, flavorful and - honestly, most importantly - kale is physically unable to wilt and actually gets better as it sits with the dressing which means it's a meal prep DREAM.
So first, we've got shrimp seasoned with the perfect amount of blackened seasoning. Below you'll find the amount of spices perfect for two salads, but I highly suggest making a large batch of seasoning to have around. My veggie burgers feature the same seasoning, so you can find those proportions there!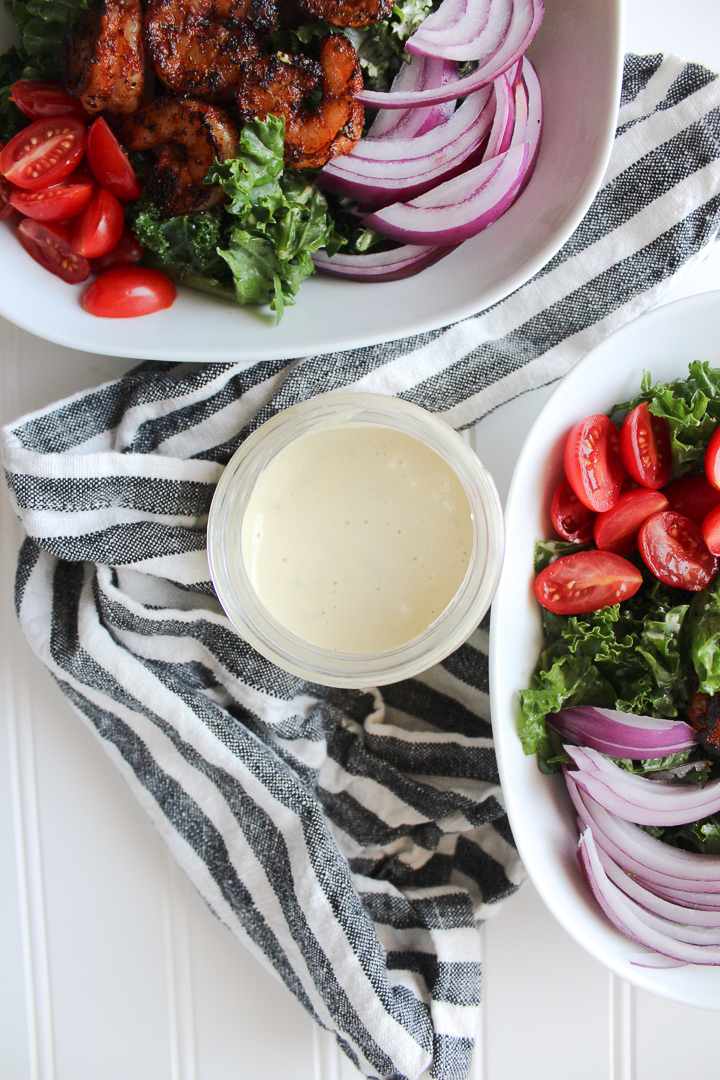 A creamy, dreamy, spicy jalapeno cesar dressing. Yes, it has mayo in it but a little goes a long way so I will defend this as a healthy recipe until the day I die. And then red onion, cherry tomatoes and avocado - my usual salad add-ins. Feel free to switch it up and use whatever you'd like.
If kale isn't your thing, you can absolutely use another green. Or maybe skip the greens and just dip the shrimp in this creamy, slightly spicy dressing? That's cool too. I like to make a double batch of the stuff and just have it around to add to pretty much anything.
Here's to less beef jerky and more kale salads!
(For now.)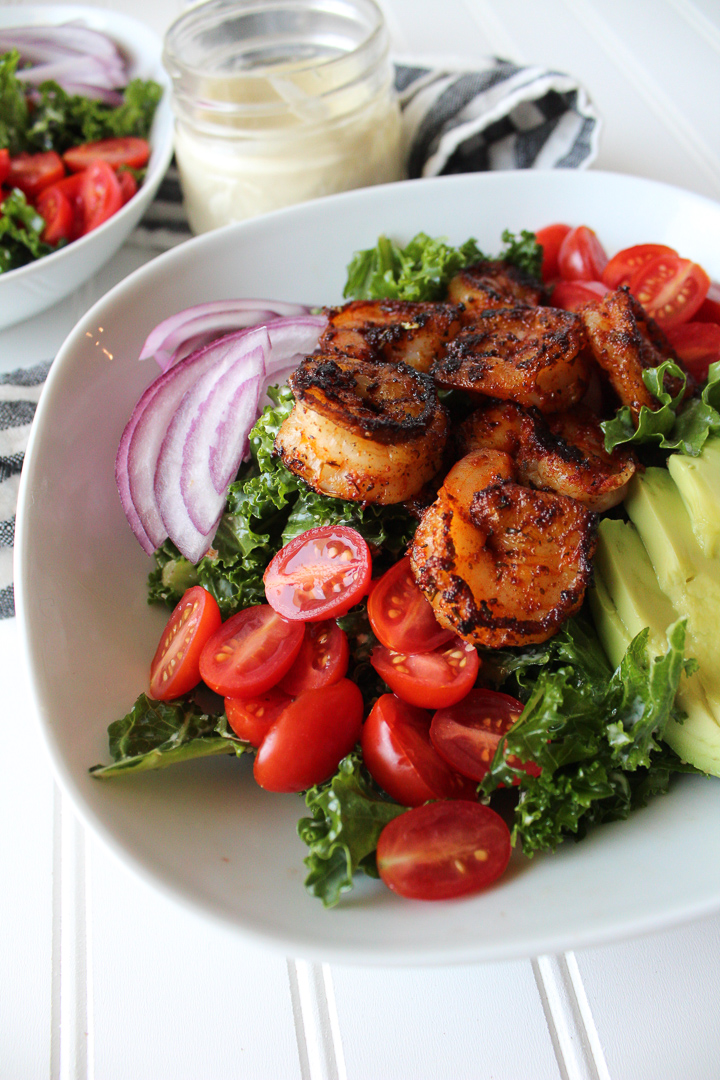 Print
Blackened shrimp kale cesar salad
---
Total Time:

20 minutes

Yield:

2

1

x
½

lb shrimp, peeled and deveined

1 ½ teaspoons

paprika

¾ teaspoon

smoked paprika

¾ teaspoon

onion powder

½ teaspoon

garlic powder

¼ teaspoon

dried thyme

¼ teaspoon

dried oregano

¼ teaspoon

black pepper

¼ teaspoon

salt

⅛ teaspoon

cayenne powder

1 tablespoon

olive oil

¼

small red onion

1 cup

cherry tomatoes, halved

½

avocado

5 cups

kale, stems removed and torn into small pieces
Jalapeno cesar dressing:
½ cup

mayonnaise (homemade or store-bought)

1 teaspoon

dijon mustard

2 tablespoons

red wine vinegar

1 teaspoon

anchovy paste

2

garlic cloves

1

jalapeno, stems and seeds removed
---
Instructions
Toss shrimp with spices and let sit for 10 minutes (this is a great time to make the dressing).
Heat olive oil in a pan over medium-high heat. Add shrimp in one layer and let cook for 2 minutes.
Flip and cook for another minute or until shrimp is just cooked. Repeat with remaining shrimp if needed.
Toss kale with a few tablespoons of dressing and divide between two bowls. Top with red onion, tomatoes, avocado and shrimp. Add extra dressing if desired.
Make the jalapeno cesar dressing: Combine all ingredients using a blender or food processor. Extra dressing will stay in the fridge for a week.
Notes
If you choose to make a larger batch of the blackening seasoning (highly recommend), use about a tablespoon for this recipe.
Prep Time:

15 minutes

Cook Time:

5 minutes