My FAVORITE chili recipe I've been making for years. Perfect for a cozy night in or game day, this chili is easy to make, flexible and so delicious. Don't forget all the toppings!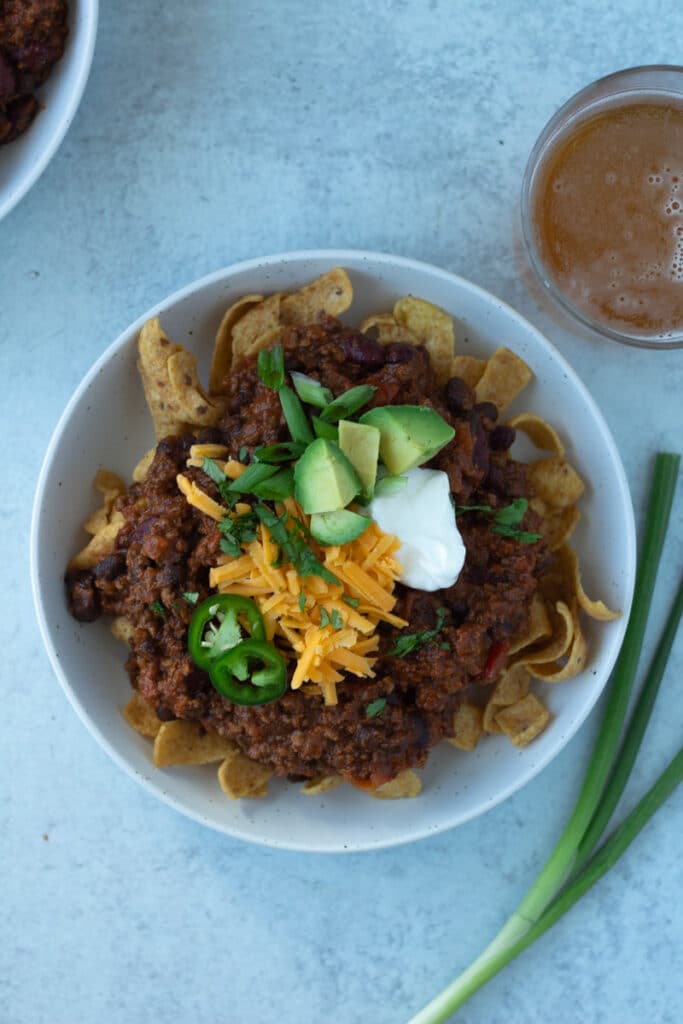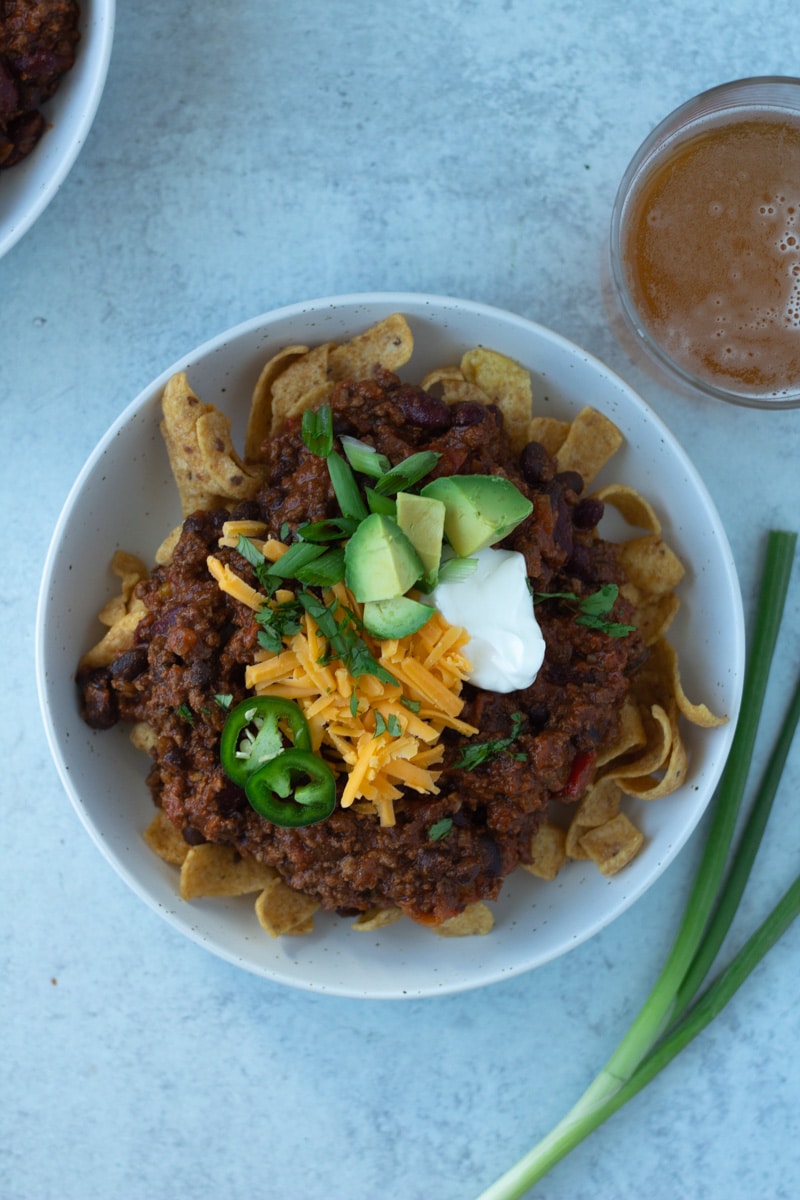 Print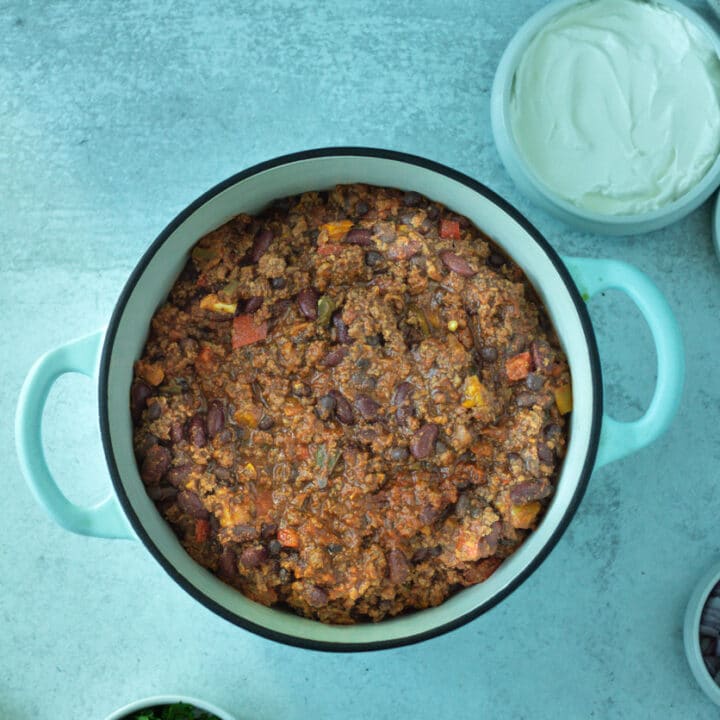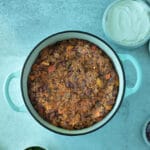 Chili
Author:

Mansee

Prep Time:

15 minutes

Cook Time:

1 hour

Total Time:

1 hour 15 minutes

Yield:

6

-8

1

x

Category:

Main

Method:

Stovetop
---
Description
My FAVORITE chili recipe I've been making for years. Perfect for a cozy night in or game day, this chili is easy to make, flexible and so delicious. Don't forget all the toppings!
---
2 tablespoons

oil

1

large onion, diced

2

bell peppers (any color!), diced

1

poblano pepper, diced

1

jalapeno, diced 

6

garlic cloves, minced

1

lb ground beef

½

lb Mexican chorizo 

3 tablespoons

chili powder

1 tablespoon

ground cumin

1 tablespoon

salt

2 teaspoons

dried oregano

1 ½ teaspoons

smoked paprika

1 teaspoon

ground coriander

¼ teaspoon

ground cinnamon*

1

14oz can crushed tomatoes*

2

14oz cans beans (I used black and kidney), drained and rinsed

1 cup

light beer (or chicken stock or water)*
Toppings: Sour cream, diced avocado, shredded cheese, cilantro, green onions, red onion, jalapeno, corn chips, tortilla chips, etc.
---
Instructions
Heat 2 tablespoons oil (I use avocado, but any kind is fine!) in a large dutch oven or stock pot over medium heat. When oil is hot, add 1 large diced onion. Saute for a few minutes, until onions soften and start to turn translucent.
Add 2 diced bell peppers, 1 diced poblano pepper, 1 diced jalapeno pepper and 6 minced garlic cloves. Saute for 5-7 minutes, until peppers soften and everything starts to turn a light brown.
Add 1 pound ground beef and ½ pound chorizo. Increase heat to medium-high and cook meat, breaking apart with a wooden spoon every few minutes.
Once meat is almost cooked through, add 3 tablespoons chili powder, 1 tablespoon ground cumin, 1 tablespoon salt, 2 teaspoons dried oregano, 1 ½ teaspoons smoked paprika, 1 teaspoon ground coriander and ¼ teaspoon ground cinnamon. Mix well and continue cooking for another 5 minutes until the meat is fully cooked through and the spices are nice and toasted.
Add 1 14-oz can of crushed tomatoes (or you can use whole and crush yourself like I do!), 2 14-oz cans of drained and rinsed beans and 1 cup beer (or chicken stock or water). Bring to a boil, then reduce heat to low and let chili simmer uncovered for at least 30 minutes. If I have the time, I like to let it go for an hour!
Taste and adjust salt as needed. Serve chili with your favorite toppings!!
---
Notes
The ground cinnamon is optional, but I find that even that tiny amount brings some warmth to the dish and I love it. Along with the chorizo, it's my secret ingredient!
When it comes to the tomatoes, you can used diced, crushed, fire-roasted or whatever you have on hand! I generally only keep the 28oz cans of whole tomatoes around, so I just use half a can and crush it by hand. I don't love a super tomato-y chili, but if you do feel free to add more.
I really like my chili to be pretty thick, but if you want a more stew-like chili just add more liquid. You can add up to another cup without having to adjust any of the seasonings (in my opinion!). Taste as you go to make sure though.
Like most chilis, this one is delicious right when you make it but gets better and better as it sits. If you can, make this the day before you plan to serve! 
I've always felt the beauty of chili was that no real recipe is every required. However, this is a hard argument to hold onto when you're a food blogger. So in my typical hypocritical way, I'm here to share a recipe for chili while also insisting you don't need this recipe for chili.
FUN!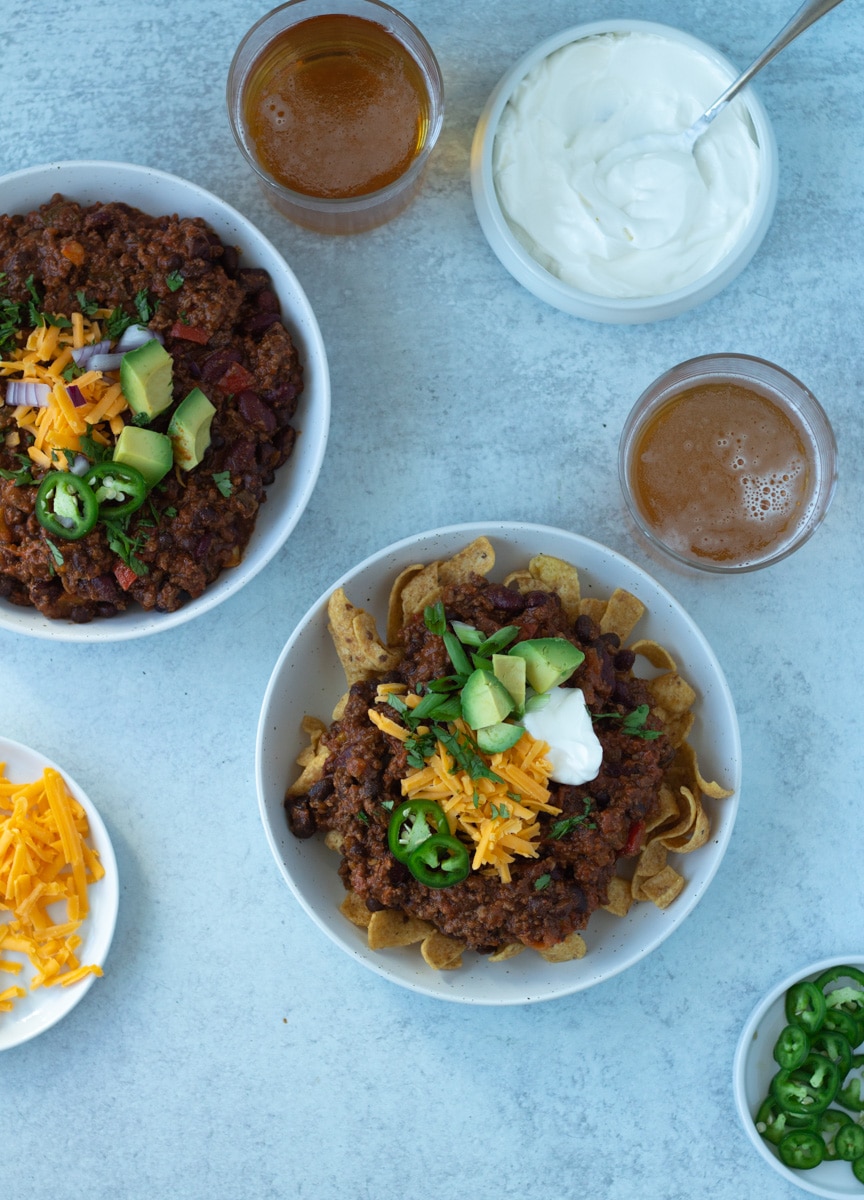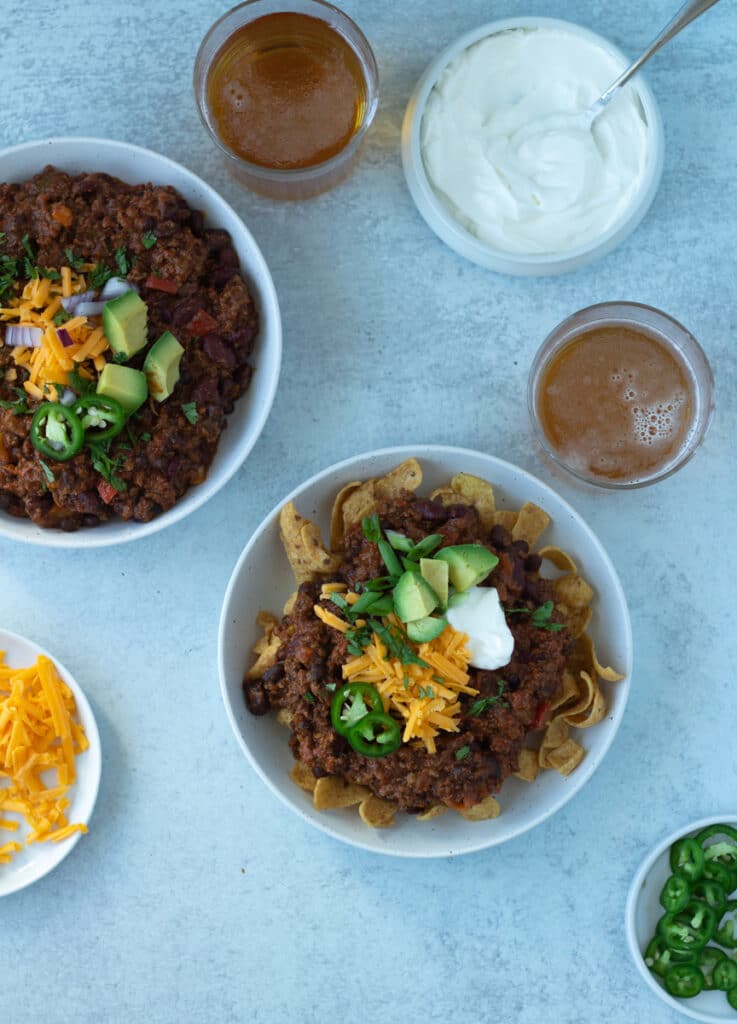 What you need for my favorite chili
Meat: This recipe works with any sort of ground meat, so beef, turkey and chicken are all fair game. The chorizo is my real secret weapon! Along with the incredible flavor it adds, the chorizo cooks down so much that it gives the final dish this perfect texture. It's hard to describe, but you'll know when it's missing. If you have a favorite chili recipe, I highly suggest adding some chorizo in and seeing what it does. So good!
Veg: The vegetables here can be boiled down to one word - peppers! I use a couple of bell peppers (the color doesn't matter) and then add in a poblano pepper and a jalapeno. I don't bother deseeding the jalapeno, but you can if you want to keep the spice level down (to be fair, the ONE jalapeno doesn't make this spicy at all, but if you or your family are sensitive to spice you can leave this out).
Spices: One could argue the spices here can be boiled down into one word too - A LOT (okay guess that's two words). I don't shy away from the spices in this recipe. I've legit used half a bottle of chili powder on occasions when I'm not measuring. But you need it! It's just not chili if it's not heavily seasoned, right? My favorite combo is chili powder, cumin, oregano, smoked paprika and ground coriander, but if you love other spices in your chili then go for it. My little spice secret weapon? Cinnamon! Just the tiniest bit makes a huge difference. It's totally optional, but I suggest trying it at least once.
Beer: I like my chili to be pretty thick so I don't use a ton of liquid - just one cup. But the good news is you can use whatever kind of liquid you want. Chicken stock, beer, red wine...even water! You just want enough to help everything come together. With that said, if you like a slightly thinner chili you can add another cup of liquid, no problem.
The usual suspects: Don't worry, I didn't forget about the tomatoes and beans. I don't love chili that super heavy on tomatoes, so I just use a small can of crushed or diced (or actually, I use a small can's amount of whole tomatoes and crush them myself....typical) here. You can use more if you'd like! And feel free to use fire-roasted for even extra flavor. For beans, I keep it simple with just one can of black and one can of kidney because that's what I like. But you can do all black or all kidney, or ever throw in a can of chickpeas or navy beans!
Layer layer layer
The difference between good chili and GREAT chili? Layering flavor.
You start by sauting your vegetables + aromatics for a bit, letting them soften and just start to brown. THEN the meat goes in. I do it this way so I can guarantee some flavor with the vegetables. If you start with the meat, your onions and peppers won't have any space to cook. Not a big deal, but I find it makes enough of a difference that I insist on it these days.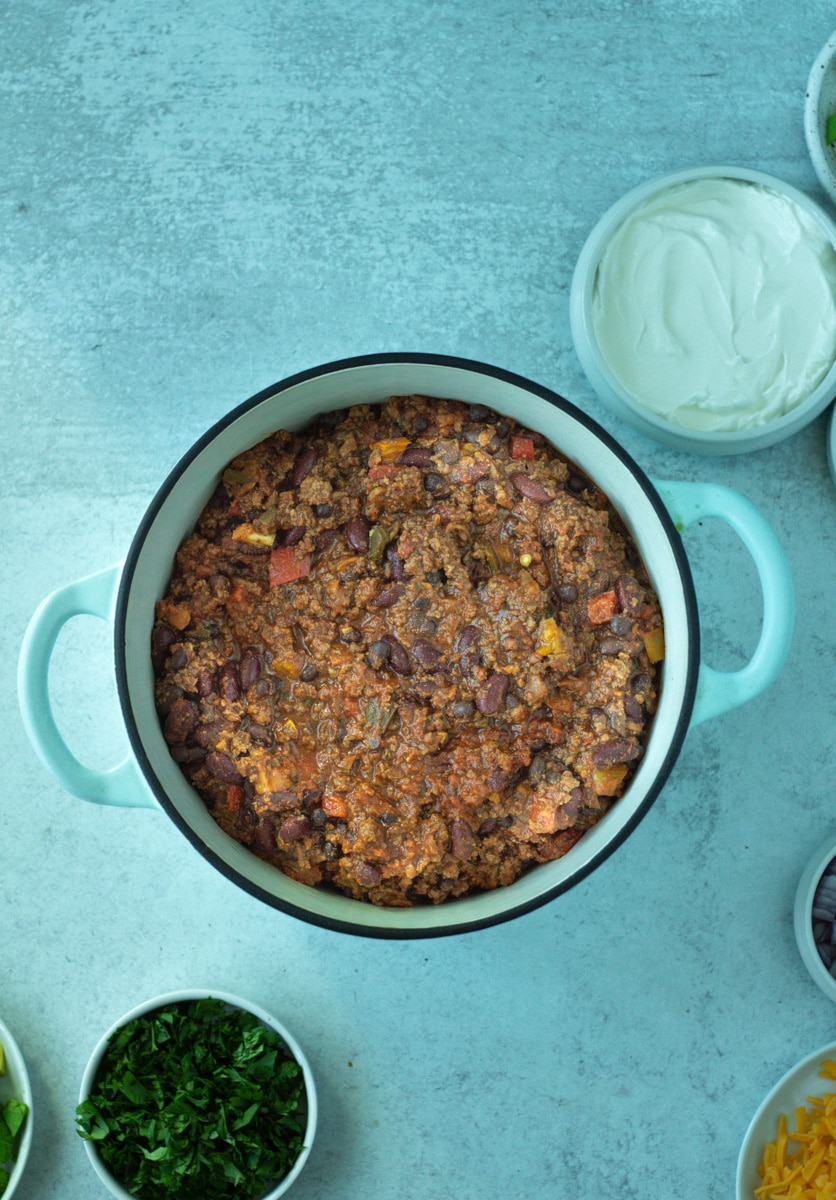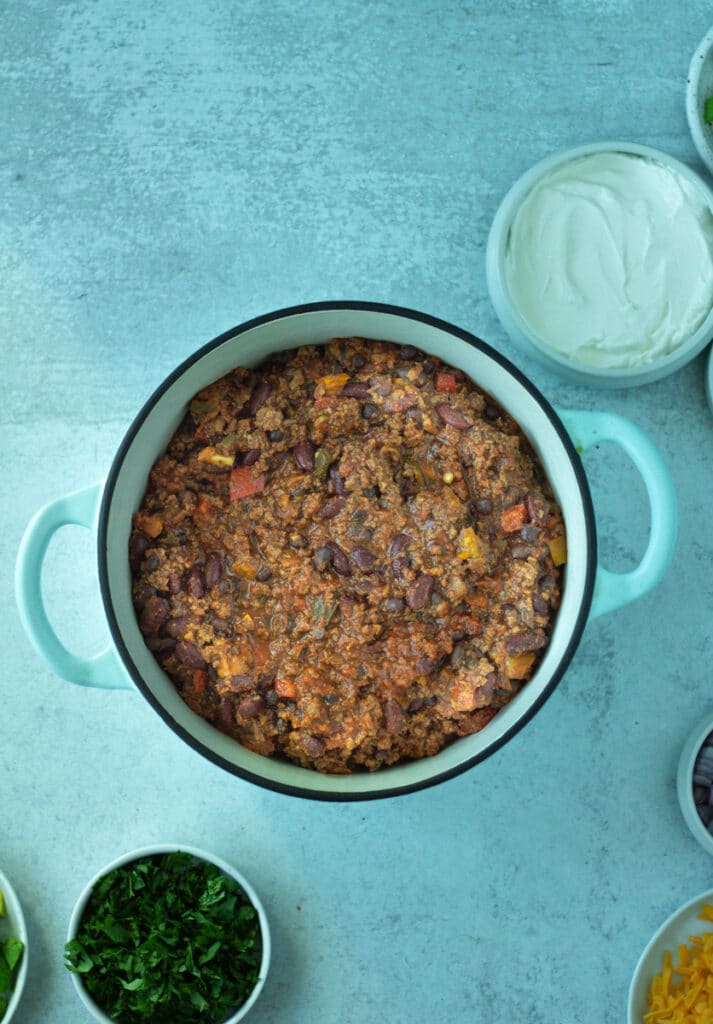 Many chili recipes seem great because they are basically a dump-and-stir type thing. Throw some meat, vegetables, beans, spices and stock in a pot and let it simmer away, right? Not today, friends. You already know I'm a big fan of "toasting" spices, and things are no different here. I add the spices to the meat and vegetables and let them cook and toast for a few minutes before adding in the beans, tomatoes, etc. This is what really brings out that chili flavor!
It's also why I don't often make chili in a slow cooker. Sorry about that. BUT! If you have a slow cooker with a saute function or an Instant Pot, you could definitely follow this recipe. Cook everything on saute, including the spices, and then let it slow cook for a few hours or pressure cook for 20-30 minutes and ta-da!
The most important part: TOPPINGS!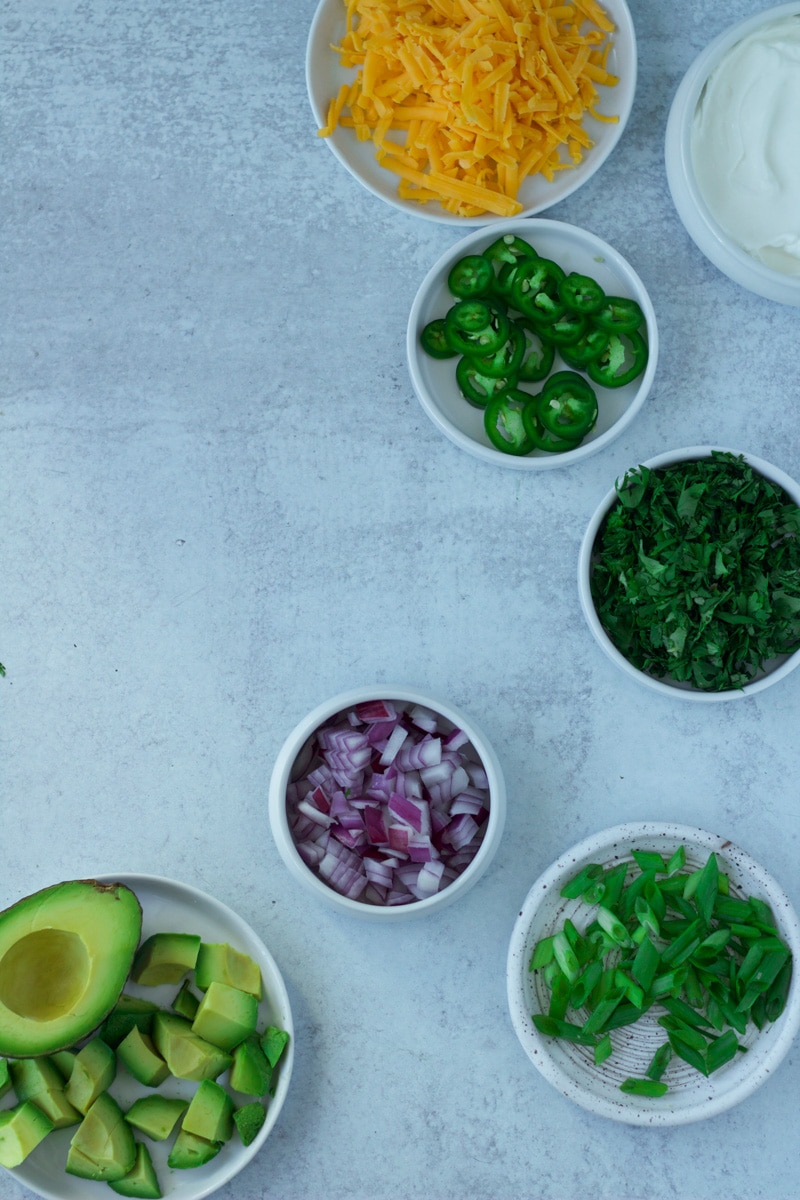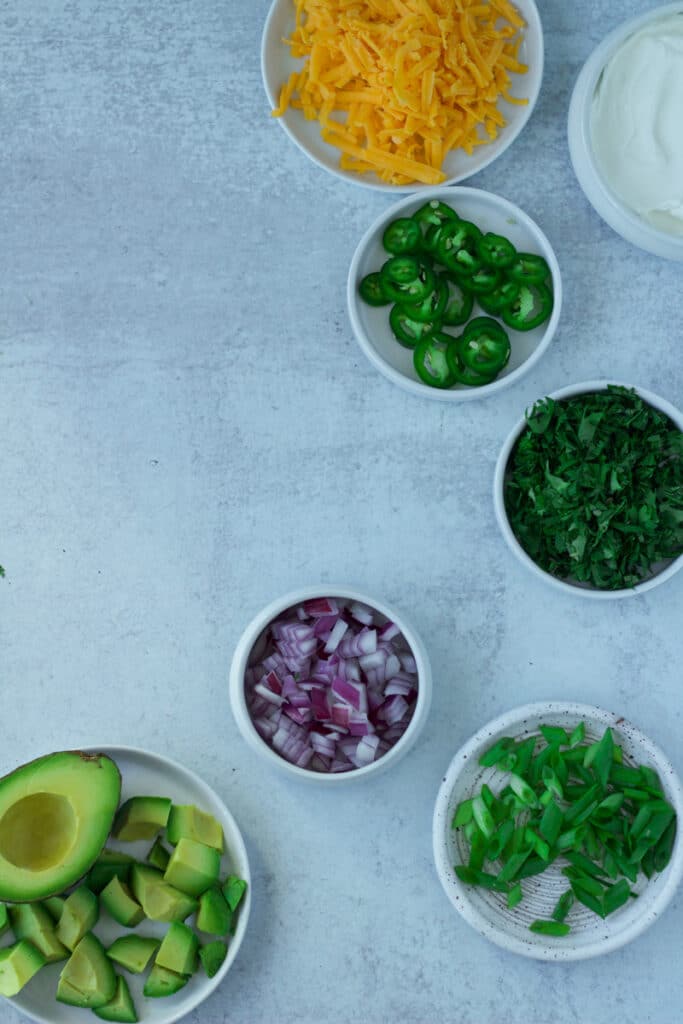 "Would you like some chili with those toppings?" - an actual thing a real person has said to me.
I have thoughts.
In my mind, chili is great but is also just one component. Chili without toppings is just....sad. I want cheese, sour cream, avocado, diced RED onion (I'm very particular about this...surprise surprise), raw jalapeno aaaaand hot sauce. Honestly, the list goes on.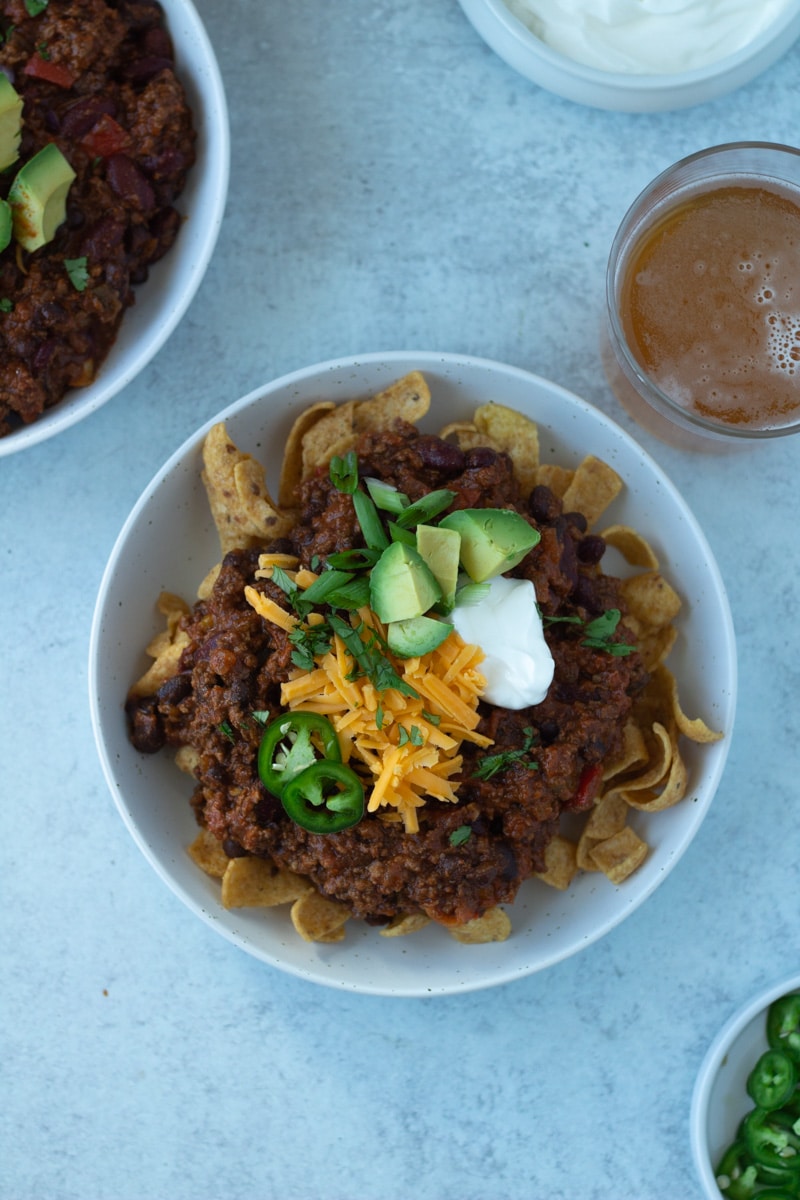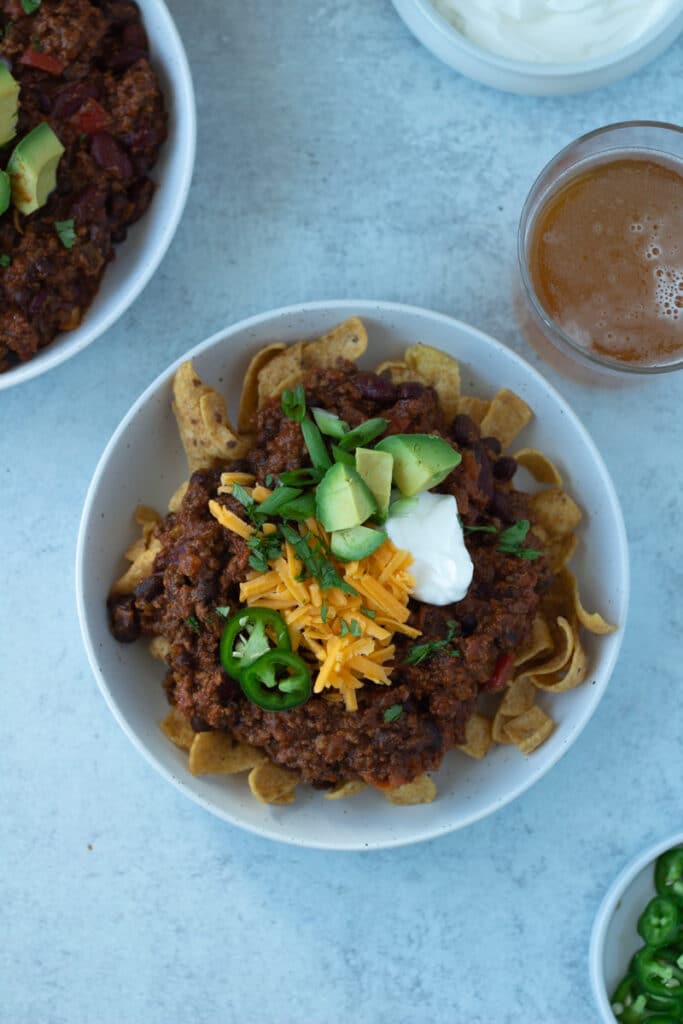 But what's most important is what goes UNDER the chili. I know many people who ladle their chili over noodles or rice, and that's fine. I guess. But if something is going under my chili, it's going to be crunchy, salty corn chips. Full stop. I don't remember when I started doing this, but I do know I haven't stopped. Frito pie is one of the best things on earth, and I will fight anyone who disagrees.
FULL STOP.
(I told you I have thoughts.)
Hope you all enjoy this chili recipe. Stay cozy!