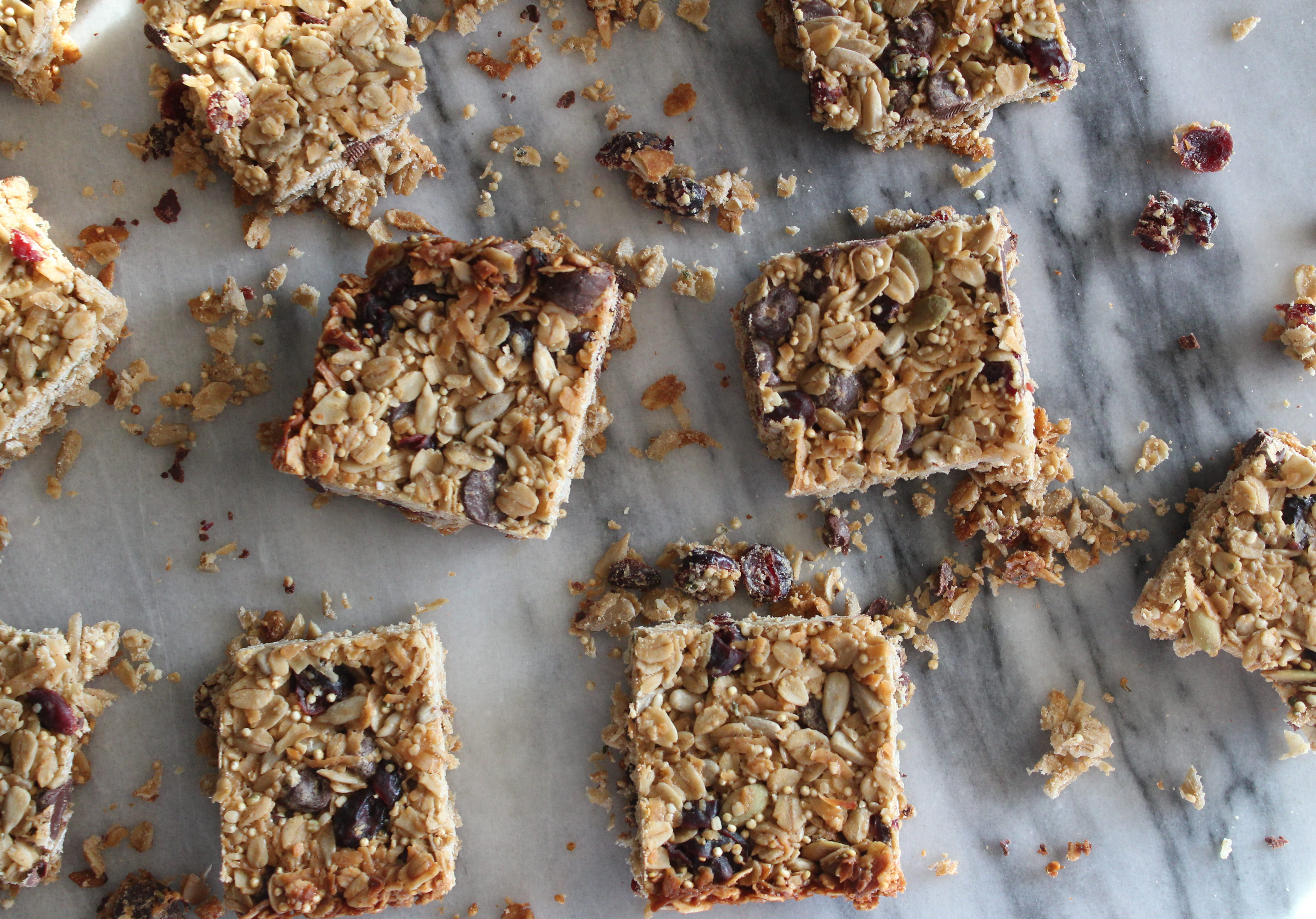 Hellloooo!
Do you need a snack? I need a snack. Always. Never forget the snacks.
If you've never made homemade granola bars before, I highly suggest you jump on board. I'm not saying making granola bars at home makes you better person, because lord knows I bought a box at the store two days ago BUT STILL it's a fun trick to have up your sleeve.
This recipe is from Smitten Kitchen, although I have changed it up a tiiiiny bit. The beauty of these bars is that you can use the measurements as a guide and mix and match what you have/love to fit. This is the time to break out those bulk bin treasures. Seeds! Dried fruit! Nuts (not for me, but you do you)! It all works.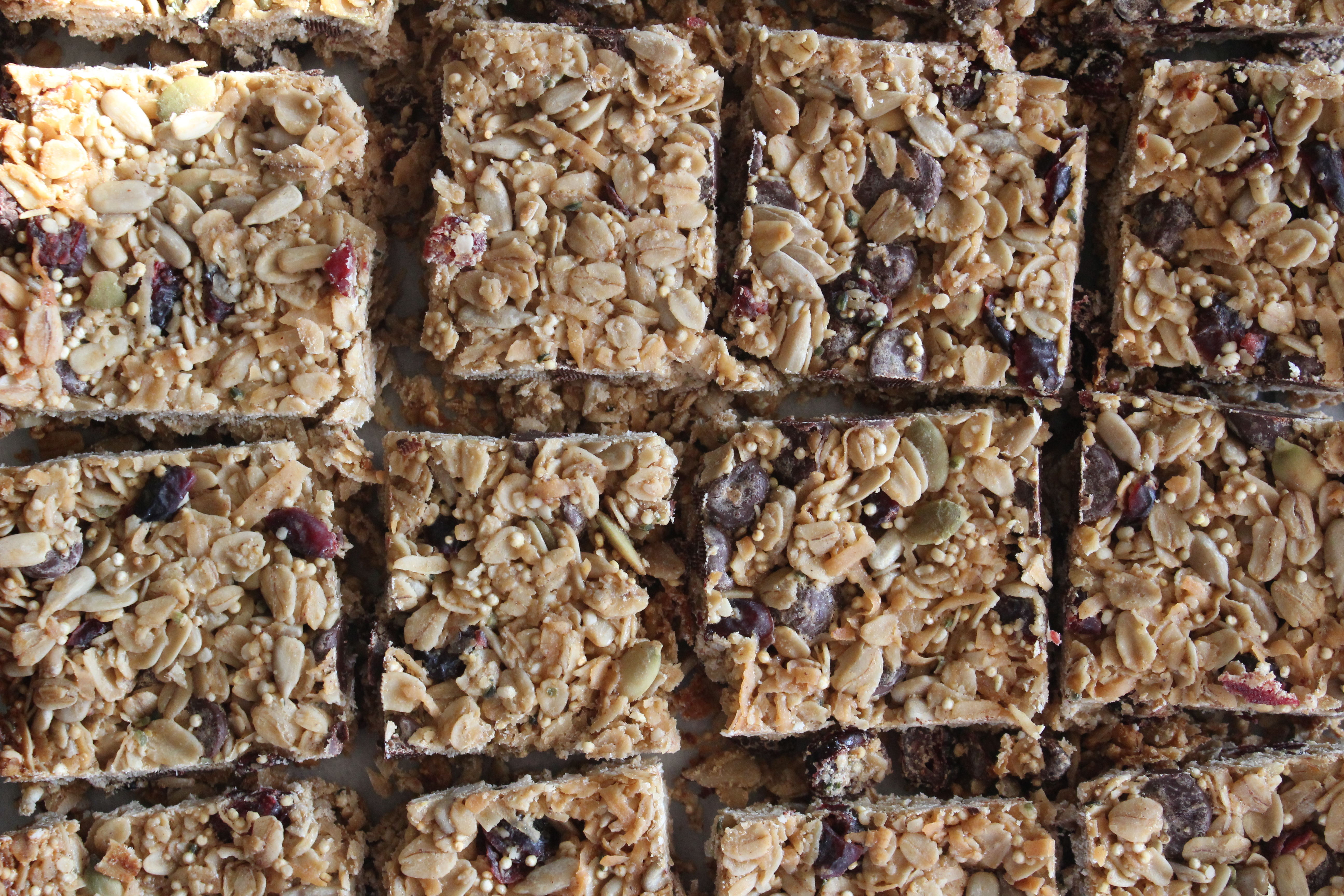 Not to say these specific granola bars are perfect. Of course not. As these photos show, they're pretty darn crumbly. Not Nature Valley crumbly (you know what I'm talking about), but you might need to dust yourself off a little after eating one.
That said, there are a few things you can do to make sure sure these stick together as much as possible:
Press the bars into the pan VERY FIRMLY before baking. Like, seriously get in there. Deb suggests putting another piece of parchment paper or plastic wrap on the top and using your palm to flatten. I've used the bottom of a glass before and that works really well too. And if you have one of those cool pastry roller things? This is definitely your time to shine! PACK. IT. IN.
Let the bars cool before cutting. Not just cool, but like make sure they are totally cold. Put them in the fridge is what I'm saying. They'll cut so much easier, but you'll still be able to eat them without breaking a tooth.
So definitely do those things, but also know that you'll still have some crumbs. That's just life with these granola bars, you know? But that's fine! Food is fun! Crumbs are fun!
I can literally hear all the parents out there screaming at me. Sorry.
Speaking of! This is a great recipe to make with kids. You're essentially just dumping and stirring and kids are great at that. Let them dump and stir. They'll love it.
If your kid is a 10-pound pup, maybe don't let them help.
Parenting tips from me to you. You're welcome.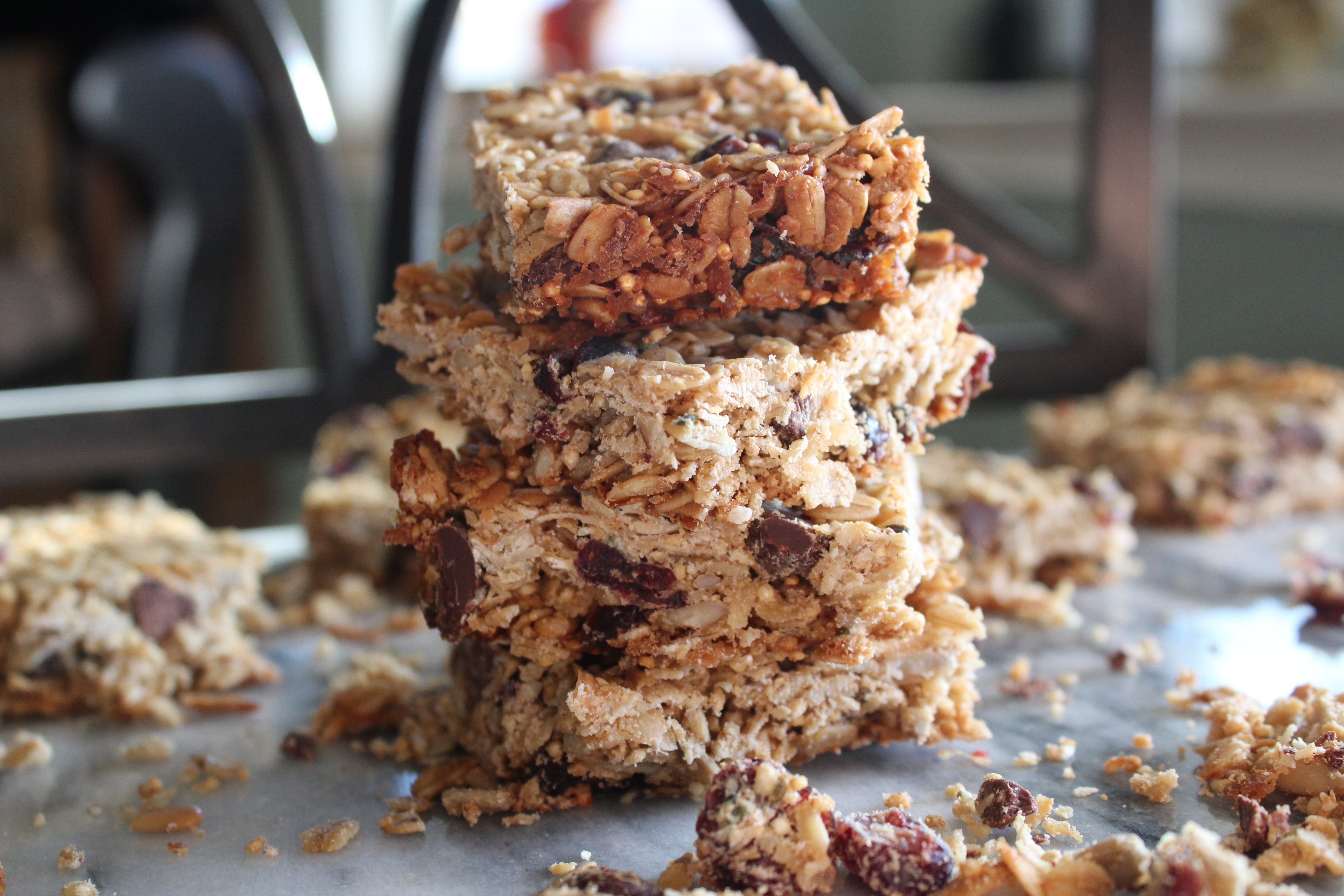 Print Chocolate chunk coconut granola bars
Prep Time:

15 minutes

Cook Time:

30 minutes

Total Time:

45 minutes

Yield:

Makes a

8

x8 pan

1

x
---
1 ¼ cup

rolled oats

¼ cup

oat flour or ground oats

½

-

1

cup flaked coconut

¼ cup

uncooked quinoa

½ cup

sunflower seeds

½ cup

dried cherries

1 cup

chocolate chunks

½ teaspoon

salt

½ teaspoon

ground cinnamon

½ cup

sunflower seed butter (or any kind of nut butter)

½ cup

coconut oil

¼ cup

honey
---
Instructions
Preheat oven to 350. Line a 8x8 pan with parchment paper and set aside.
Add oats, oat flour, coconut, quinoa, seeds, fruit, chocolate, salt and cinnamon to a large bowl and mix to combine.
In a separate bowl, combine sunflower seed butter, coconut oil and honey and microwave in 30-second increments, stirring in-between until everything is melted together. Alternatively, you can do this in a small saucepan on the stove.
Add wet ingredients to dry and stir to combine.
Transfer mix to baking pan and press down FIRMLY. Use your hands to get everything in an even layer and press tightly. I like to use the bottom of a glass as well to make sure it's packed in.
Bake for 25-30 minutes, until the top is a light golden brown. Let pan cool completely before cutting (I like to stick it in the fridge for a few hours) with a serrated knife. These will still be a little crumbly, so don't worry!
---
Notes
If you don't care for quinoa, you can definitely use another grain like millet or wheat germ. If the idea of grains in your granola bar freaks you out, feel free to leave it out!
You can store these in an air tight container or bag on the counter for up to a week (maybe even a little longer), or in the fridge or freezer if you prefer. They are great to keep individually wrapped so you can grab and go as you please.