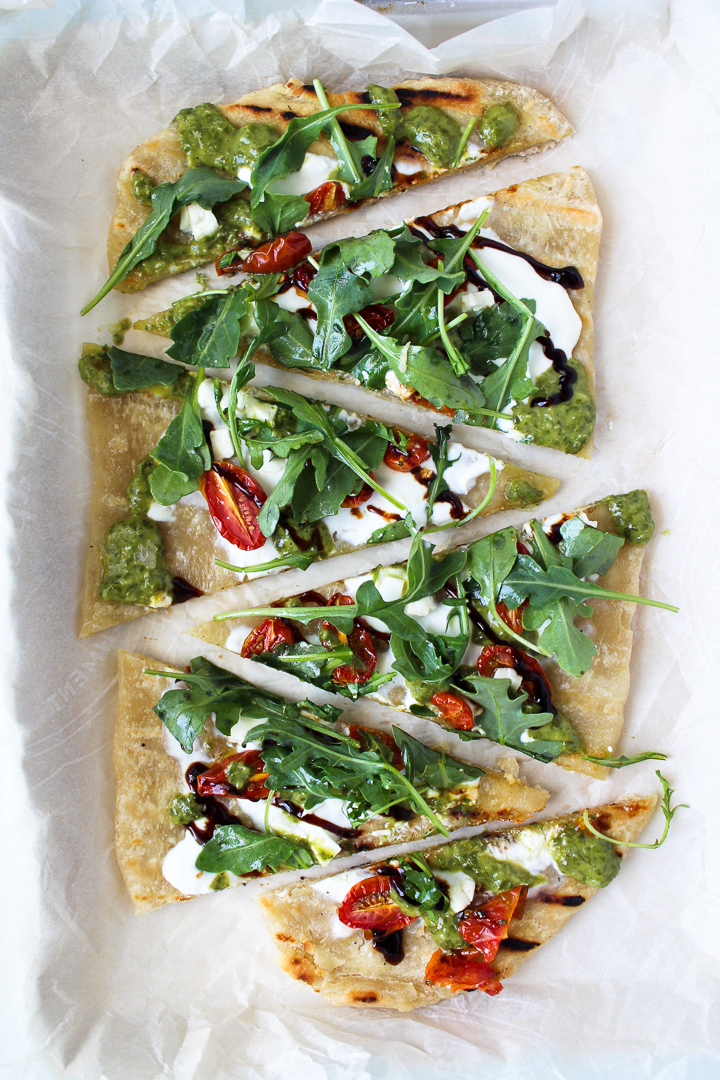 I feel like summer is just three months of us all trying to figure out how many meals we can throw tomatoes and basil into. And honestly the only thing about that sentence I'm mad about is the fact that summer is more like six months here in Texas.
But it could be worse (she says while refusing to go outside between the hours of 10 a.m. and 8 p.m.)!
I know it sounds crazy to complain about summer and then insist you make a recipe that requires your oven to be on for 90 minutes. But really, I insist. For two reasons: 1. You're not using a super high heat, so your entire kitchen will not melt. I promise. 2. TOMATO CANDY.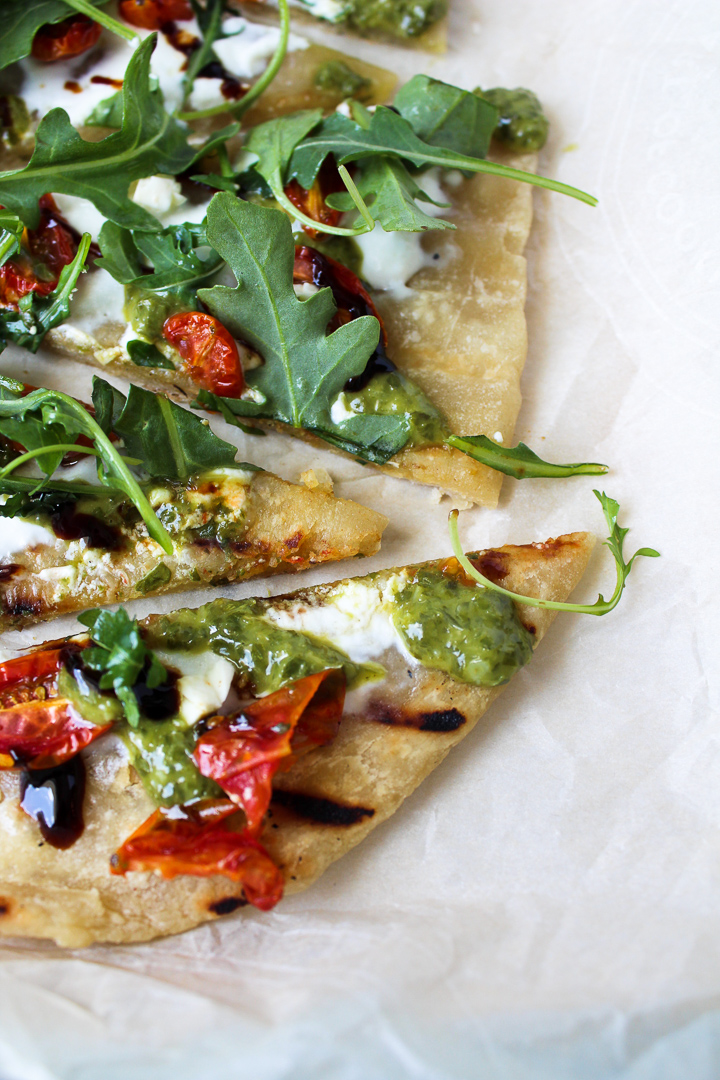 Seriously, slow-roasting tiny, baby cherry tomatoes turn them into what you can really only call tomato candy. Think like a juicier sun-dried tomato. Sweet, caramelized and just a tad chewy. I like to make a whole bunch and keep them in the fridge to use in salads, wraps and for general snacking purposes.
And that's just ONE component of this grilled pizza. Quick rundown of the rest:
Grilled dough: It's summer so we grill everything. Even people (like me!) who don't have access to an actual grill can get in on the fun with a grill pan. Honestly, mine is not great but it gets the job done. You can use your favorite dough recipe or pick some up at the store (I love the ones from Whole Foods and Trader Joe's). Or try my recipe below for a pizza/flatbread hybrid that I LOVE.
Ricotta cheese: You guys know I love homemade ricotta, and actually prefer it to store-bought. You'll also be happy to know I messed up the batch of homemade ricotta I made the day I photographed this, so it was more runny than creamy once it met that hot, grilled pizza dough. Still delicious. No regrets.
Feta: Because...more cheese.
Creamy basil vinaigrette: This basil vinaigrette was not supposed to be creamy. But it is. Why? Because the first time I made it, I had just made homemade mayo in my food processor and I literally COULD NOT be bothered to wash the processor before making the basil vinaigrette. Luckily, it turned out SO GOOD and now I throw a tablespoon of mayo into every batch. You could use yogurt or coconut milk if you don't want mayo. You can also leave it out completely - the true flavor comes from everything else anyway.
Arugula: Tossed in a tiny bit of olive oil, lemon juice and salt. Gotta love a baby salad on top of your pizza!
Balsamic glaze: Store-bought because I know not to ask you to make that too. Also balsamic glaze has become pretty accessible and affordable, so it's officially not worth making at home for me anymore.
So that's it! The perfect, light summery grilled pizza. Even with the somewhat long list of ingredients, I promise this is an easy one. LOVE.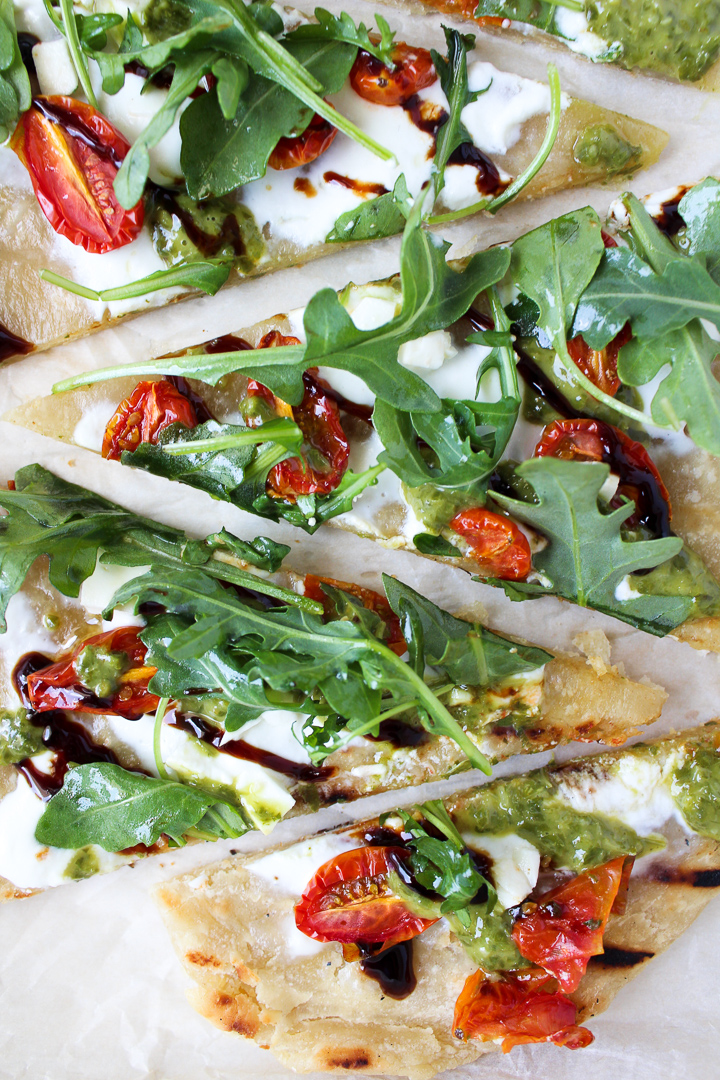 Print
Grilled pizza with slow-roasted tomatoes and creamy basil vinaigrette
---
Total Time:

3 hours 15 minutes

Yield:

2

-4

1

x
Sour cream pizza dough:
1 cup

warm water

1 teaspoon

sugar

1 tablespoon

yeast

3 cups

flour + more as needed

2 teaspoons

salt

⅓ cup

sour cream

2 tablespoons

olive oil
Slow-roasted tomatoes:
2 pints

cherry tomatoes

2 teaspoons

olive oil
salt
Creamy basil vinaigrette:
2 oz

basil leaves

1

garlic clove

2 tablespoons

red wine vinegar

½ cup

olive oil

2 tablespoons

mayo
Pizza:
Ricotta cheese (as much as you want!)

¼ cup

feta, crumbled or cut into small cubes

2

-

3

cups arugula

1 teaspoon

olive oil
Squeeze of lemon
Balsamic glaze
---
Instructions
Make the dough:
Add sugar and yeast to water and let sit for 10 minutes, until yeast blooms and is foamy. In the meantime combine 3 cups flour and salt. Once yeast blooms, add to flour and mix to combine. Add sour cream and olive oil and stir.
Turn out onto a clean surface and sprinkle with 2 tablespoons additional flour. Knead until dough comes together, adding more flour as needed until it's barely sticky.
Continue kneading for 5-6 minutes until a smooth ball forms.
Oil the bowl you used to make dough and place dough ball back in. Cover with plastic wrap and a dish towel and let sit in a warm place for 2 hours.
Once risen, punch down, turn out and knead a few more times.
Divide ball into 2 (or 4!) pieces and let sit for an additional 30 minutes before using. If you're not using all the dough today, wrap the rest and stick it in the freezer for future pizza needs.
Make slow-roasted tomatoes:
Preheat oven to 275.
Slice cherry tomatoes and place cut side up on a parchment lined baking sheet.
Drizzle with olive oil and sprinkle with a little salt.
Bake for 90 minutes, until shriveled and chewy, but still a little juicy. Start checking after an hour to make sure they don't go too far.
Make creamy basil vinaigrette:
Combine basil, garlic and red wine vinegar in food processor and pulse to combine.
With the processor on low, drizzle in olive oil until combined.
Add mayo and let process until combined and creamy.
Make pizza (finally!):
Preheat grill or grill pan on medium-high.
Roll out dough as thin as you'd like it - for grilling I like to go thin because you want it to cook pretty quickly. I generally do 4 small personal-sized pizzas versus one large one with this method. But you do you!
Brush dough with olive oil and lay on the grill oil-side down. Let cook for 2-3 minutes, until dough starts to puff up.
Brush the top with olive oil, flip and let cook for an additional minute.
Spread some ricotta on dough and top with tomatoes and feta. Let cook for 1 more minute.
Drizzle basil vinaigrette and balsamic glaze on top of pizza. Top with arugula and flaky sea salt if desired. Repeat with remaining dough if needed.
Notes
It's hard to say exactly how many people this recipe will feed because it depends on your grill size + how much pizza a person can eat. As written, you'll definitely have extra tomato candy and basil vinaigrette though. This is by design because they are both delicious and can be added to other meals if you don't use it all on the pizza.
No grill? No problem! You can easily make this pizza in the oven! Preheat your oven to the highest setting you feel comfortable with and bake the dough until it's crisp, but still a little chewy. Add the toppings (minus the arugula and balsamic) and stick back in the oven for 2 minutes. Top with salad and balsamic glaze. Done!
Prep Time:

3 hours

Cook Time:

15 minutes