Learn how to make nut-free pesto using pantry friendly ingredients. Try my favorite -a classic pesto recipe that swaps the pine nuts for toasted rice for the nutty flavor and texture - or use sunflower seeds for an even easier substitute. Toss your fresh pesto with pasta or rice, add into marinades for chicken or shrimp or use in a spread for sandwiches and wraps.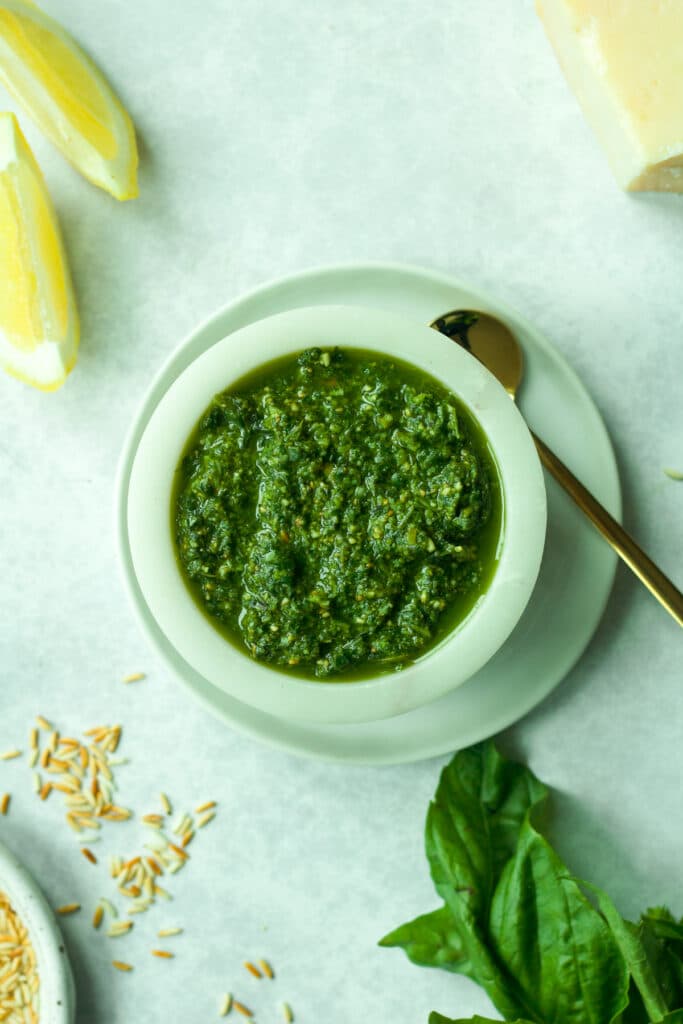 Whether you have a tree nut allergy, are allergic to all nuts, or just don't love using them in your cooking, I think everyone should have a recipe for making pesto without nuts.
Because of my nut allergy, I'm not able to eat traditional pesto. And while not EVERY SINGLE pesto has nuts (generally of the pine variety), to be safe I avoid it when I go out to eat or even the store-bought prepared versions.
This is a long post, but I wanted to make sure I included all the information, tips and tricks and answer common questions. Let's go!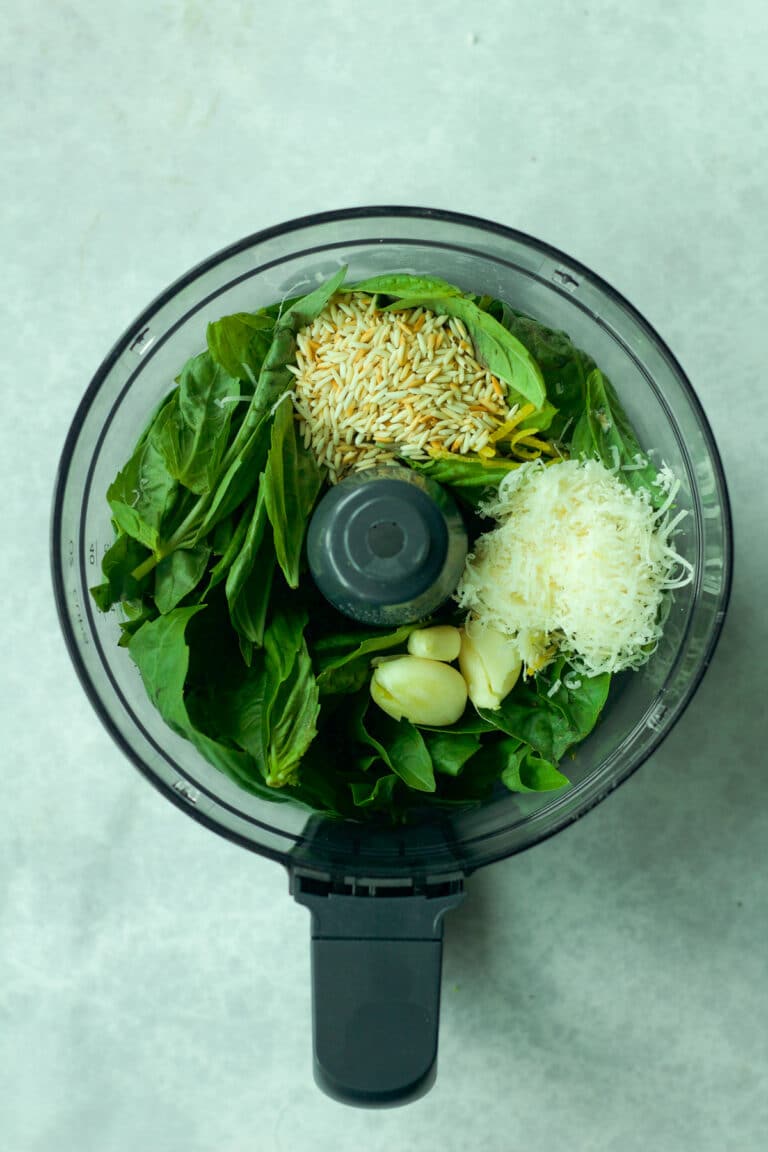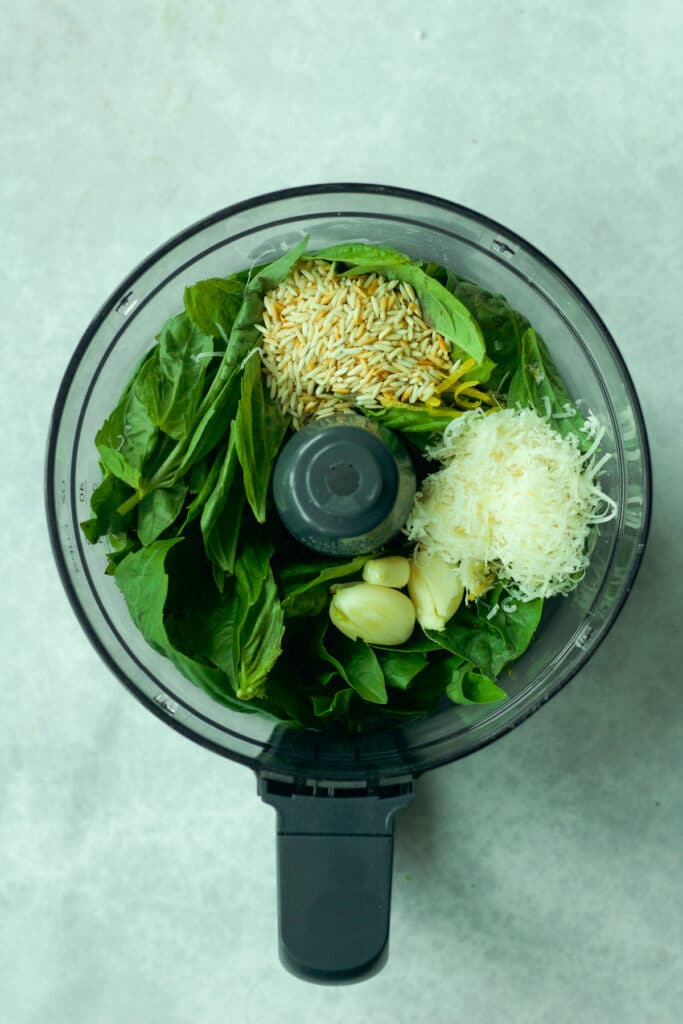 Replacing nuts in pesto
I have another post on pesto made without nuts which includes three delicious flavor variations. All of them use a different special ingredient (coconut! broccoli!!) to mimic the texture of traditional basic pesto, but they all have their own distinct flavors and I wanted to come up with something that I could use as an all-around basil pesto.
I should also note that you can make a delicious basil-based sauce sans nuts. The texture will be a bit different, but once tossed with pasta or added to marinades it's hard to taste a huge difference. This dish is a great example!
BUT. For a more traditional, classic pesto I found a few substitutes that I think are a great way to get the flavor and texture you'd generally find with pine nuts, walnuts or other nuts.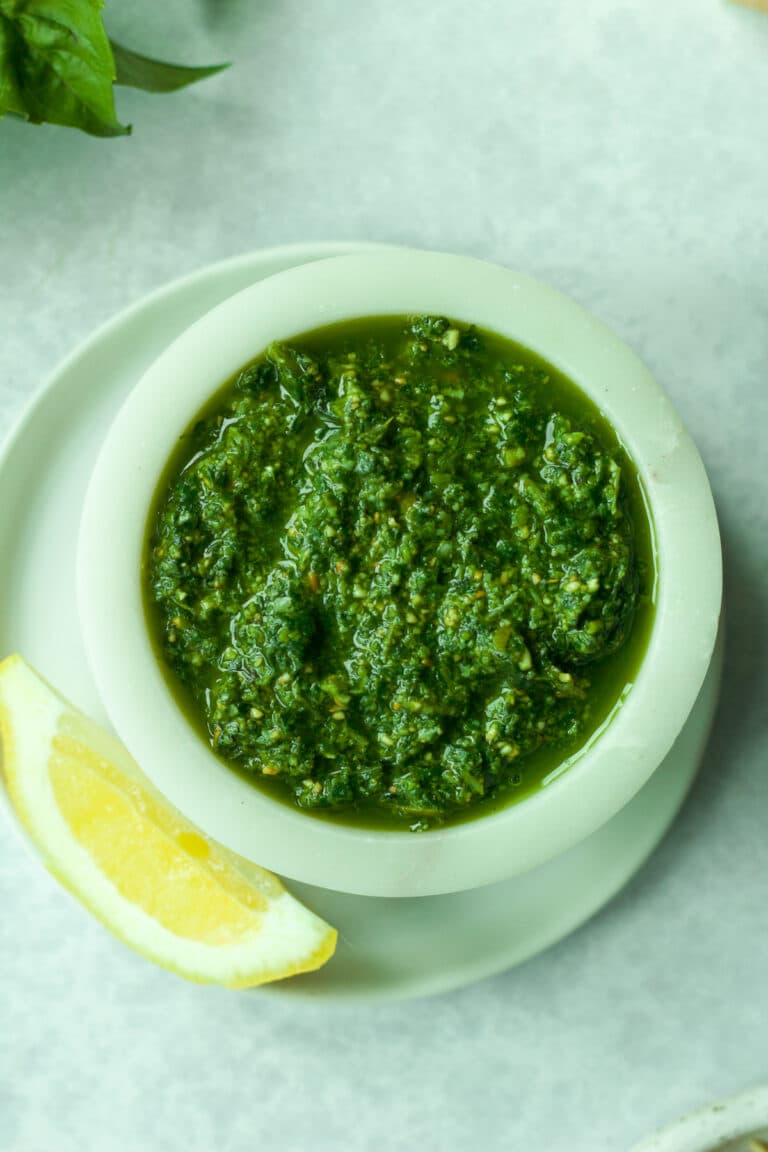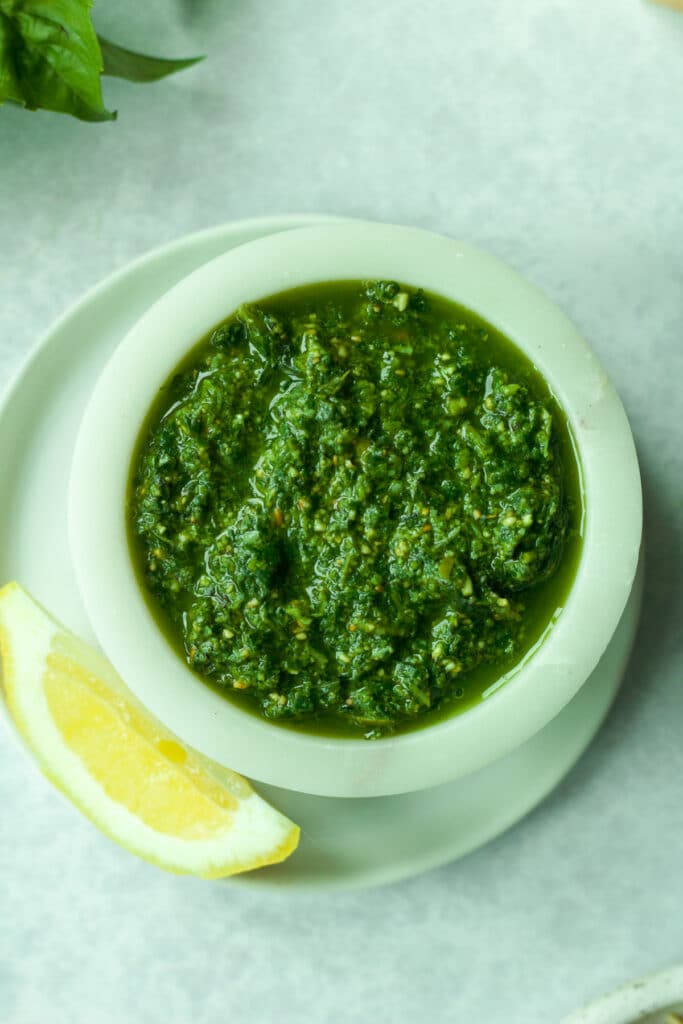 Sunflower seeds in pesto
This one is the easiest. Just replace the nuts in any classic or traditional pesto recipe you find with the same amount of sunflower seeds (pumpkin seeds work too!). You can toast them if you want, but not entirely necessary.
Seeds give you the same texture as nuts and are easy to just throw in the food processor with the rest of the ingredients.
I always have sunflower seeds on hand to throw in salads (or just eat by the handful when I'm being a hungry monster) so I can always rely on them for a great pesto sauce.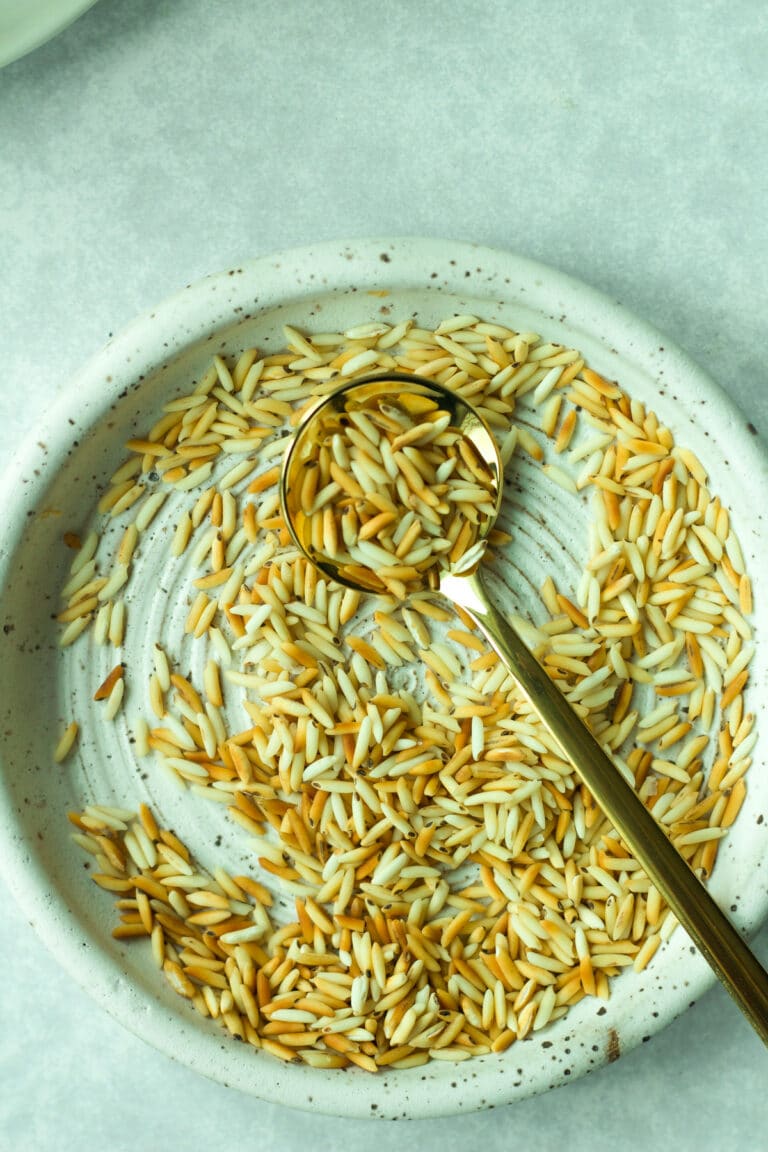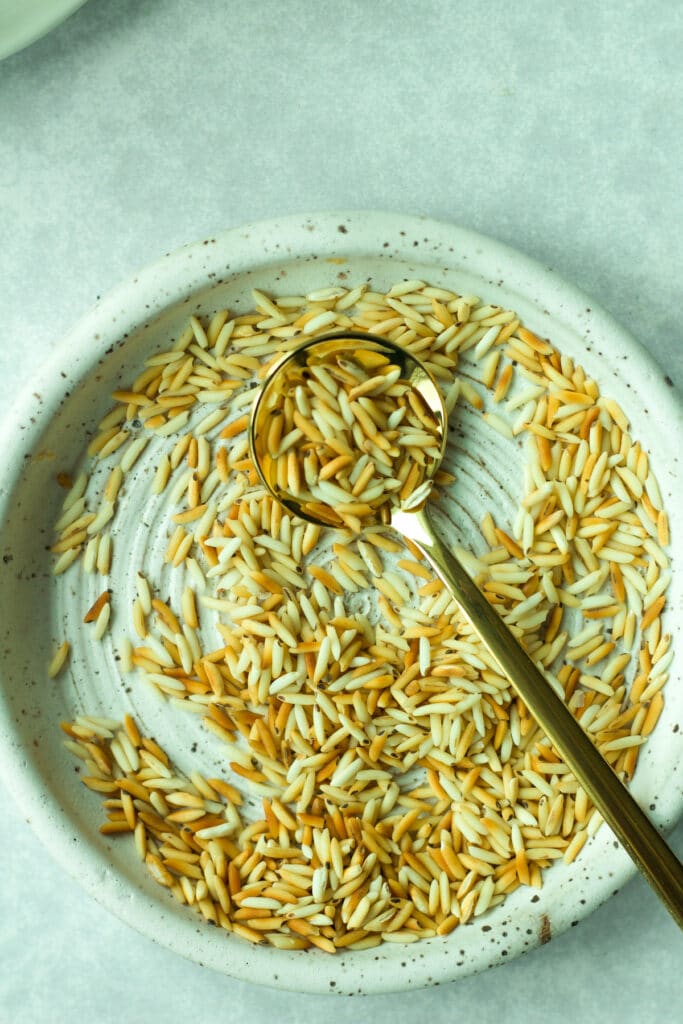 My favorite nut substitute in pesto: Rice
YES, RICE. Seeds are easy, but toasted rice powder? So fun and delicious.
If you can find the powder at your local Asian grocery store, go ahead and pick it up! It will last for a long time and is great to sprinkle on so many dishes (larb, salads, etc.).
How to make toasted rice powder
Toasted rice powder is used in a lot of traditional Thai dishes for textural contrast, as a thickening agent and....to add a nutty flavor. DING DING DING. While you can buy rice powder off the shelf, it can be a little hard to find - especially if you don't have an Asian grocery store nearby. Luckily, it's pretty easy to make!
It's as easy as it sounds, really.
To start, add your rice to a small, cold, dry frying pan. Spread into an even layer and set over medium heat. It will take a little while for the pan to heat and start toasting, so you can go and do other things...like prepping the rest of the pesto ingredients! This is also how you would toast nuts or seeds.
When the rice starts to smell a little toasty and nutty and you see some smoke coming off the pan, stay close. Stir the rice every couple of minutes to ensure all sides of the grain hit the pan and get a chance to toast. At this point, it will take another 5-8 minutes for the rice to be fully toasted. If you feel like the pan is getting really hot but the rice grains aren't getting enough color, turn down the heat. Some smoke is totally normal, but you don't want it so high that some of the rice burns while the rest stays raw.
So just keep stirring and watching until all the grains turn a beautiful golden color and it smells really nutty and almost popcorn-like. See photo above for the color I like to get.
Note: Traditionally, sticky rice is used to make rice powder. While that is best, if you can't find sticky rice or don't want to go out and buy another kind of rice (i get it!), I've found both Jasmine and Basmati work really well too.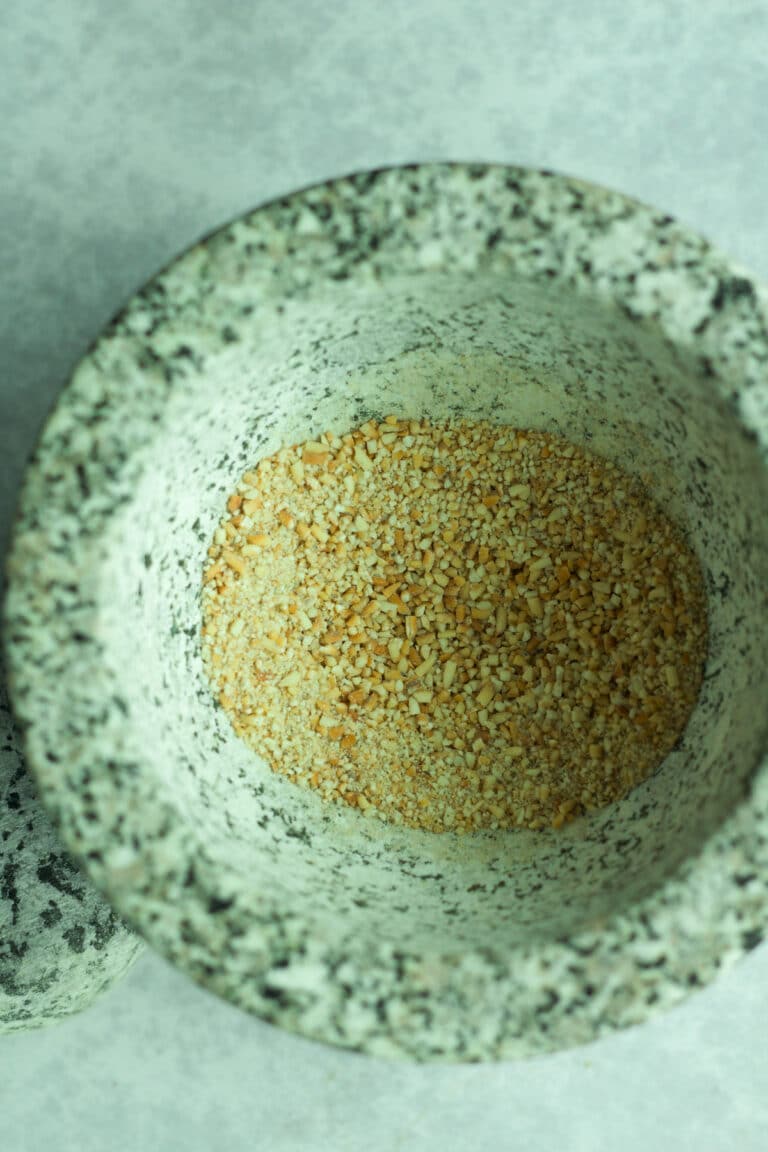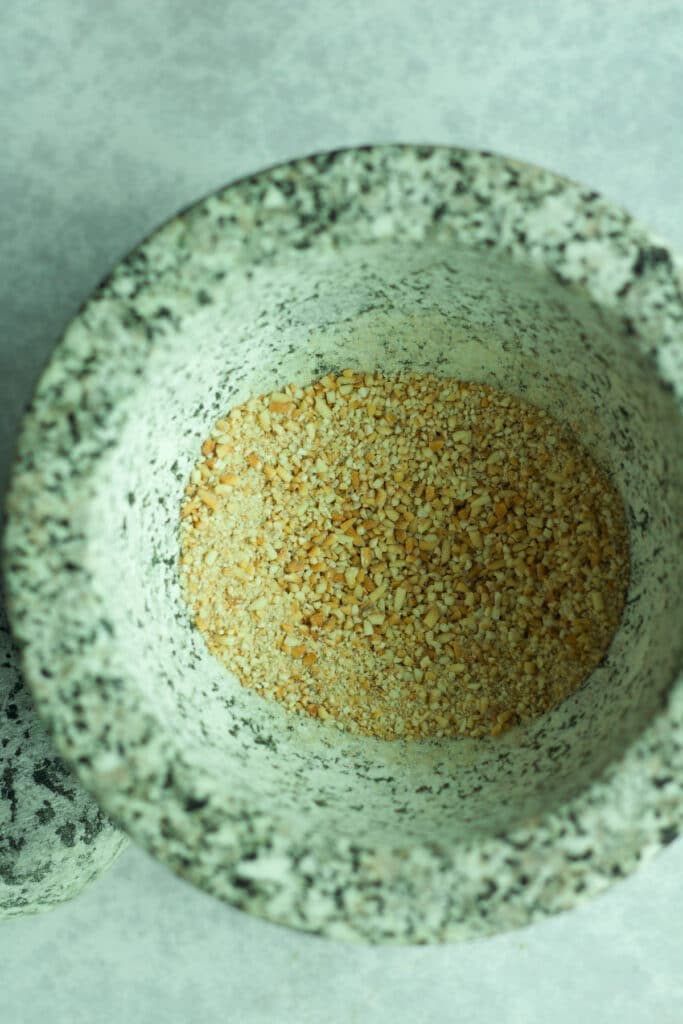 Once the rice is done, turn off the heat and immediately transfer to a spice grinder (or coffee grinder you use JUST for spices) or mortar and pestle. Grind the rice really well until it turns into a powder. I've found that a spice grinder or mortar and pestle works best for me for this, but if you have a really good food processor or blender you can totally do this in there. Again, you want it to form a powder so it's gotta be high-power!
With that said, the first time I tested this recipe I tried to break down the rice just using my food processor and it definitely ended up being chunky - almost crunchy, really! The good news is once you add the pest to pasta or mix it up with other ingredients, it's truly not as noticeable. I happily used up the whole batch.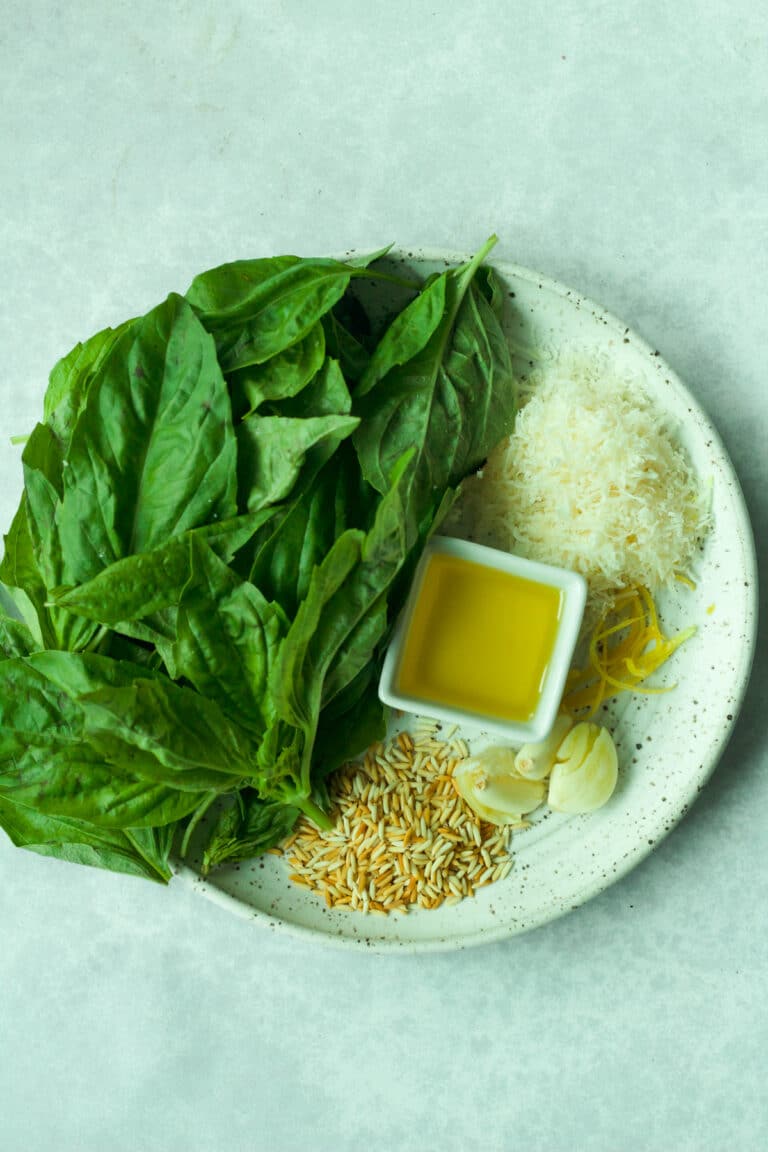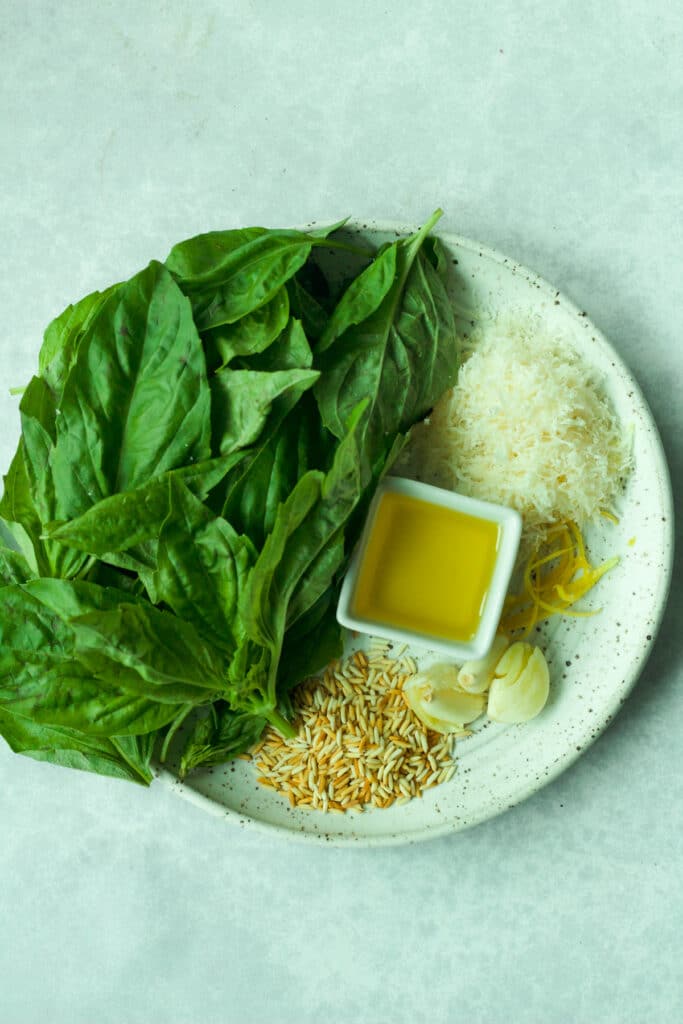 The rest of the lineup
Since we're going for a pretty traditional pesto, the ingredients list is...well, traditional. There are just a couple of things that make my nut-free pesto a little different:
Rice: You'll of course use this to make the toasted rice powder, as explained above! The rice provides both texture and a nutty flavor that I love for a pesto without nuts. if you want, you can use sunflower seeds or pumpkin seeds instead.
Garlic: Of course your pesto needs garlic! I like to chop mine roughly before adding it to the processor to help get things started.
Lemon zest: Not super traditional, but I really like lemon in my pesto sauce. Sometimes I add the juice, but here I prefer just the zest. Add it with the rice powder, garlic and salt to make sure it gets really chopped and incorporates throughout the entire sauce.
Basil: DUH. I've found you can be kind of flexible with the amount of basil, so while my recipe calls for 2 ½ cups (about 3 ounces), you can go a little under or over with great results. If you do want a little more bulk but run out of basil, you can throw in a handful of baby spinach or arugula to increase the amount without altering the flavor too much (arugula actually adds a peppery bite that I love!).
Parmesan cheese: Another traditional ingredient that adds so much flavor. Most recipes you'll find will either call for Parmesan Reggiano or Pecorino Romano - or both! I tend to use parmesan because I always, always, ALWAYS have it on hand. But pecorino, or the combo, will totally work! I add the already-grated parmesan right after the basil and pulse a few times just to ensure it's very finely grated.
Olive oil: Not to be THAT person, but you really need a nice olive oil here. You'll taste the flavor so use something you love, like a kind you would dip bread in, you know? The olive oil gets stirred in by hand at the end to ensure it doesn't get bitter from the food processor blades.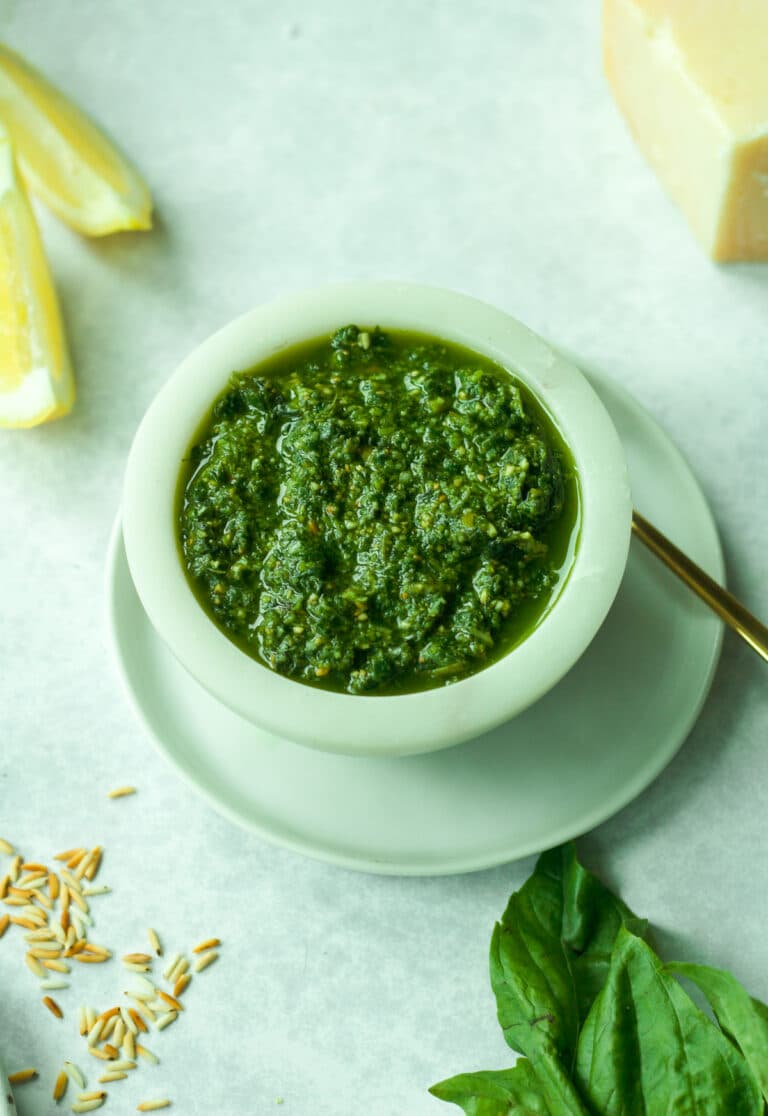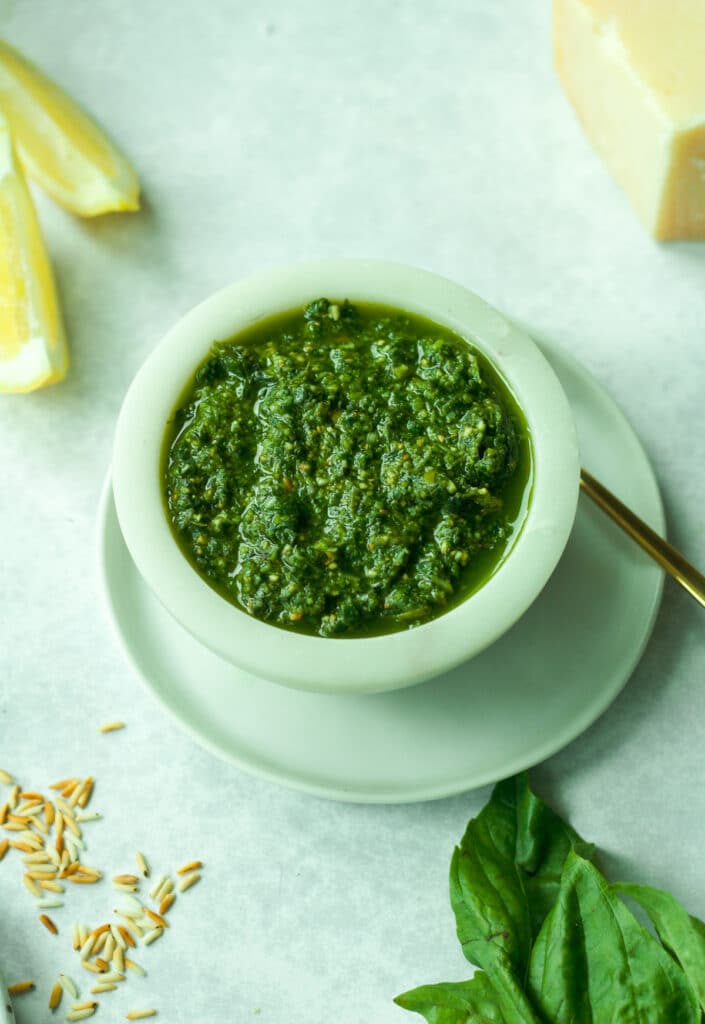 A few troubleshooting tips and FAQs
Nut-free pesto is as easy to make as traditional pesto, even with the extra step of making toasted rice powder (yay!). With that said, sometimes pesto just doesn't turn out right. Here are a few common problems and my suggestions to fix:
Why does my pesto taste bitter?
If your basil pesto tastes a little bitter, it's probably because the basil OR olive oil got too processed. Those sharp little food processor blades are convenient, but if you overwork the herb or oil, it will start to turn your pesto bitter. Essentially, the heat from the blades almost starts to cook the mixture, and you don't want that here! To fix this, I combine almost everything before the basil and olive oil even gets added. I just use the processor to chop the basil - pulsing no more than 20 times - and then stir in the olive oil by hand.
My pesto tastes salty
This totally happens. While the parmesan cheese adds saltiness, you also want regular salt to help break down all of the ingredients. So it's easy to overdo it a bit. If your pesto turns out a tad salty, just add 1-2 teaspoons of lemon juice and let is sit for a few minutes. The acid will offset the saltiness a bit, and letting it sit will mellow things out. With that said, if you are tossing the pesto with pasta or adding to a spread, a little extra salt won't be a problem!
How chunky is pesto supposed to be?
Pesto is meant to be a little chunky, in that it doesn't need to be a perfectly smooth sauce. It can also depend on how you're going to use the pesto, but essentially you want something that is easily spreadable but not runny like a vinaigrette or anything. If yours feels a little too chunky, or even too runny, I say just let it sit for a while. Sometimes the sauce just needs some time for the ingredients to come together. For this nut-free pesto, letting the batch sit for even 20-30 minutes lets any of the chunkier rice pieces soften a bit and creates a more cohesive sauce. Bonus: That time also helps the flavors all come together and mingle!


How long does fresh pesto last? Does pesto go bad?
I try to use up pesto within one week, as I find it starts to lose it's flavor a bit after that. To store, keep your pesto in a air-tight jar or container with a thin layer of olive oil on top. This nut-free pesto also freezes beautifully, so feel free to make a big batch and store some in the freezer to pull out later.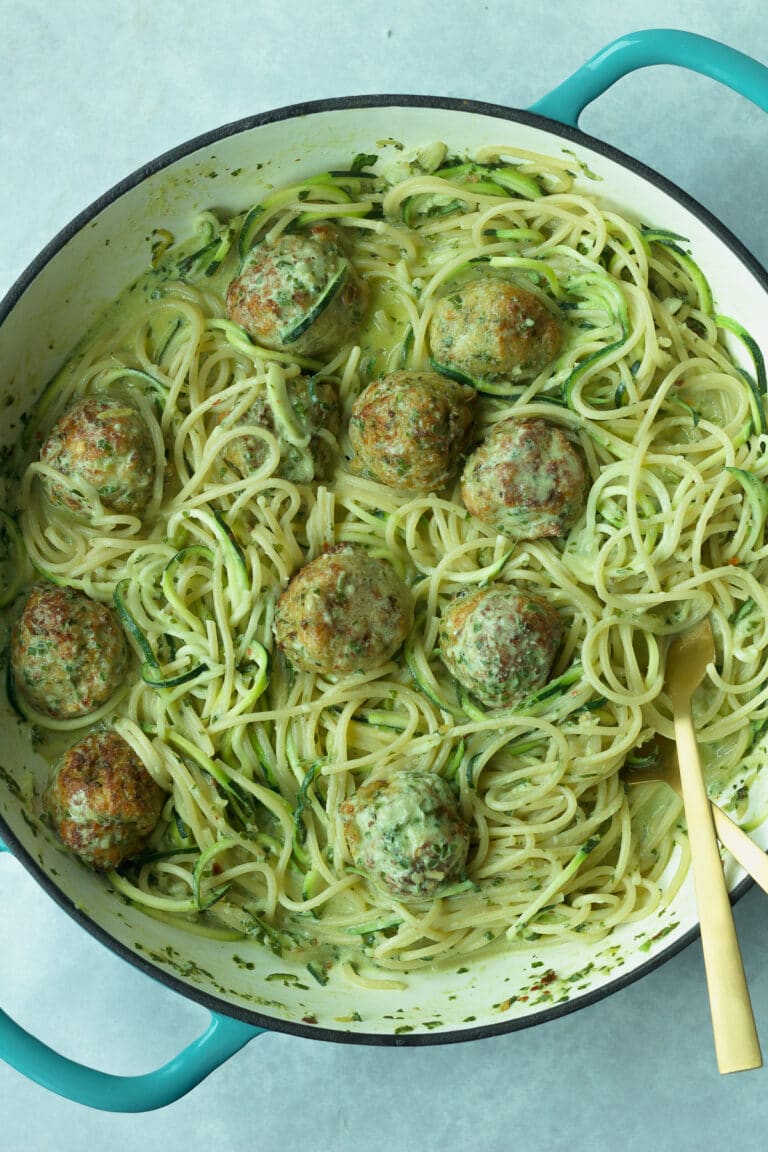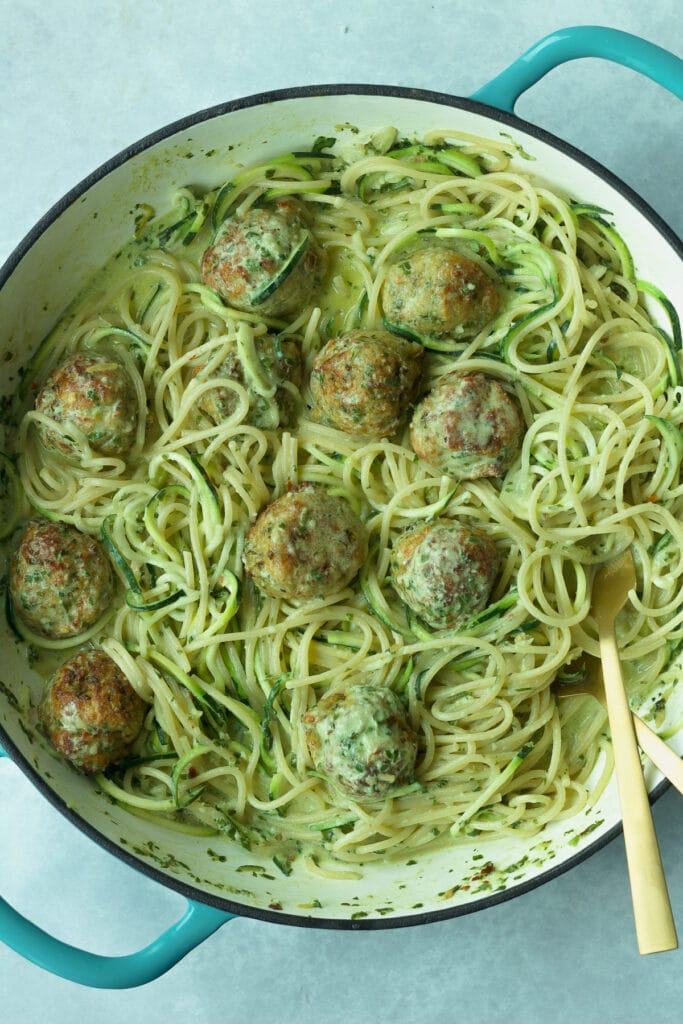 How to use pesto - so many options!
Make a big batch of pesto - there are a million ways to use it.
We all know pesto and pasta dishes are a match made in heaven. You can use this recipe for my Pesto Orzo with Fried Zucchini and Chickpeas or add a spoonful or two to Brown Butter Burst Cherry Tomato Pasta. I also used this pesto in my Creamy Pesto Chicken Meatball Pasta.
Another fun idea is to thin this nut-free pesto out with a little extra olive oil and some lemon juice and use it in this Grilled Peach and Prosciutto Caprese Salad. Summer perfection, thank you very much.
Once of my favorite things to do with pesto is to mix it with a little mayo or yogurt and use it as a dip for roasted chicken, shrimp or vegetables. You can also slather it on sandwiches or use in a wrap for a quick, easy way to upgrade your usual lunch. ALSO, try it on my Grilled Pizza with Slow-Roasted Tomatoes and Creamy Basil Vinaigrette.
P.S. Don't forget to try out my other pesto recipes for more nut-free versions!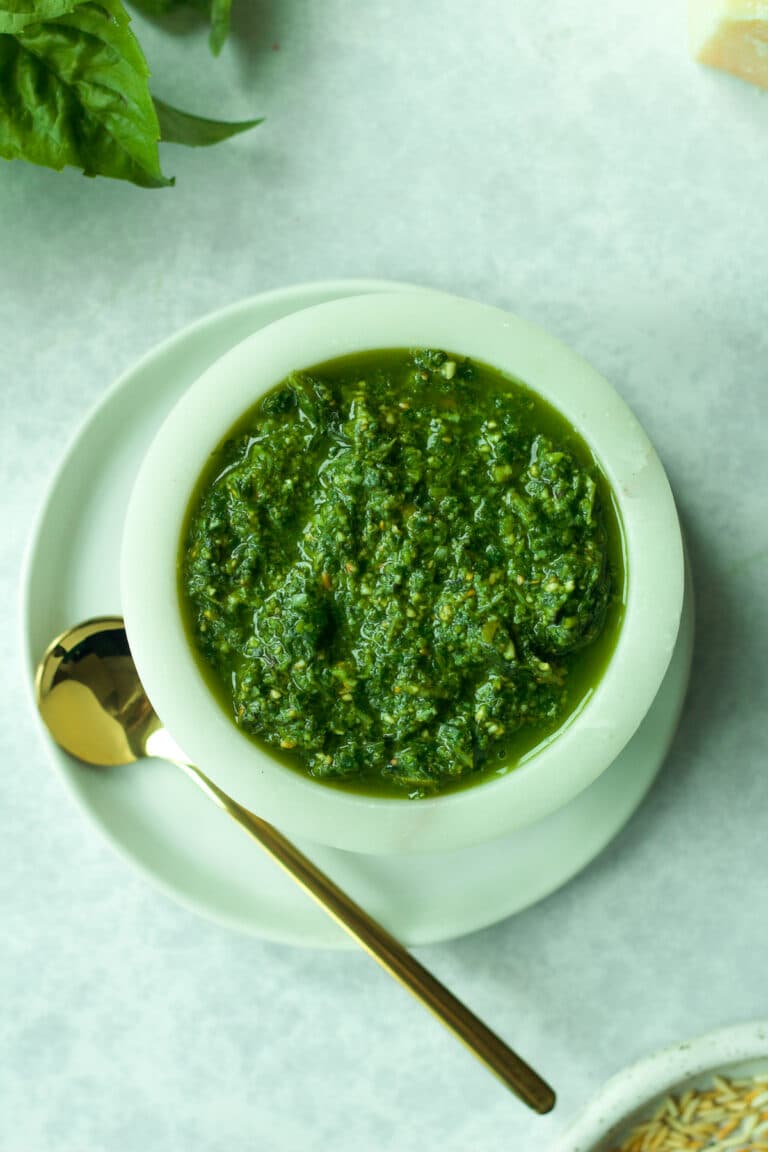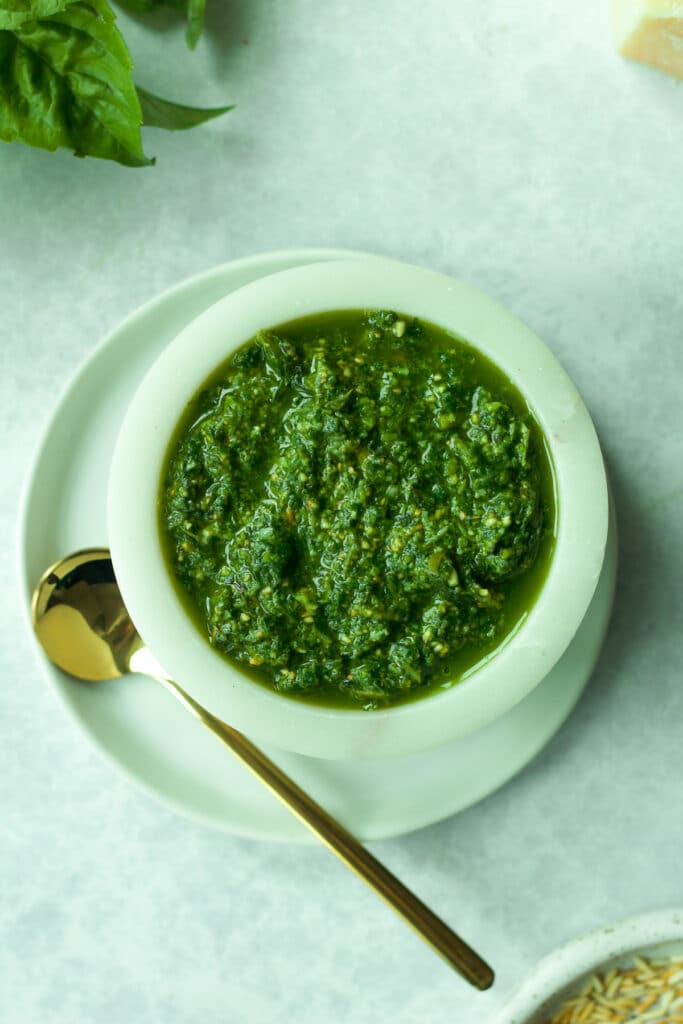 Print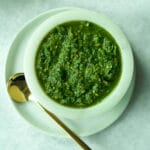 How To Make Pest Without Nuts
---
Description
Learn how to make nut-free pesto using pantry friendly ingredients. Try my favorite -a classic pesto recipe that swaps the pine nuts for toasted rice for the nutty flavor and texture - or use sunflower seeds for an even easier substitute. Toss your fresh pesto with pasta or rice, add into marinades for chicken or shrimp or use in a spread for sandwiches and wraps. 
---
2 tablespoons

rice (Sticky, Jasmine or Basmati work well)

3

garlic cloves, roughly chopped

1 teaspoon

lemon zest

½ teaspoon

salt

2 ½ cups

(~

3 oz

)  basil leaves (remove tough stems)

⅓ cup

(~

½ oz

) grated parmesan

½ cup

olive oil
---
Instructions
Add 2 tablespoons rice to a small, dry skillet. Turn heat to medium.
Let rice toast for 8-10 minutes, or until golden brown. Stir or shake the pan often to ensure all "sides" of the rice get toasted.
Once rice is golden brown, transfer to a mortar and pestle, spice/coffee grinder or a high-powered blender or food processor. Grind rice until it's mostly a powder, with just a few larger pieces (see photo in post below).
Add rice, 3 chopped garlic cloves, 1 teaspoon lemon zest and ½ teaspoon salt to a food processor or blender. Blend until garlic is very finely chopped and you have a paste-like mixture.
Add 2 ½ cups basil leaves and pulse 15-20 times or until finely chopped and combined. Add ⅓ cup parmesan cheese and pulse 5 more times.
Transfer mixture to a bowl and stir in ½ cup olive oil. Taste and adjust seasoning as needed. For best results, let pesto sit for at least 20-30 minutes before using to allow all the flavors to come together. If you like your pesto a little runnier or more sauce-like, feel free to add more olive oil!
Store basil in an air-tight container in the fridge for up to a week. 
Notes
Instead of rice, you can also just use sunflower seeds or pumpkin seeds to replace nuts. Feel free to toast them the same way you would the rice for extra flavor!
Traditionally, sticky rice is used to make rice powder. While that is best, if you can't find sticky rice or don't want to go out and buy another kind of rice (I get it!), I've found both Jasmine and Basmati work really well too.
Letting the pesto sit for 20-30 minutes (or longer) accomplishes 2 things: The flavors have time to sit and mingle, making the entire sauce even more delicious. It also lets any of the chunkier rice pieces (if they didn't grind fully into a powder) soften just a bit more and make the entire batch more cohesive.
To keep the pesto fresh in the fridge, store in a small, air-tight container with a thin layer of olive oil poured on top.
Prep Time:

5 minutes

Cook Time:

15 minutes

Category:

Sauces

Cuisine:

Italian