Easy pesto chicken meatballs simmered in a quick basil pesto cream sauce. Toss with your favorite pasta (and a special healthy ingredient!), serve over rice or with crusty bread. Use my go-to (nut-free!) pesto or your favorite store-bought to make things even easier. A great meal for busy weeknights!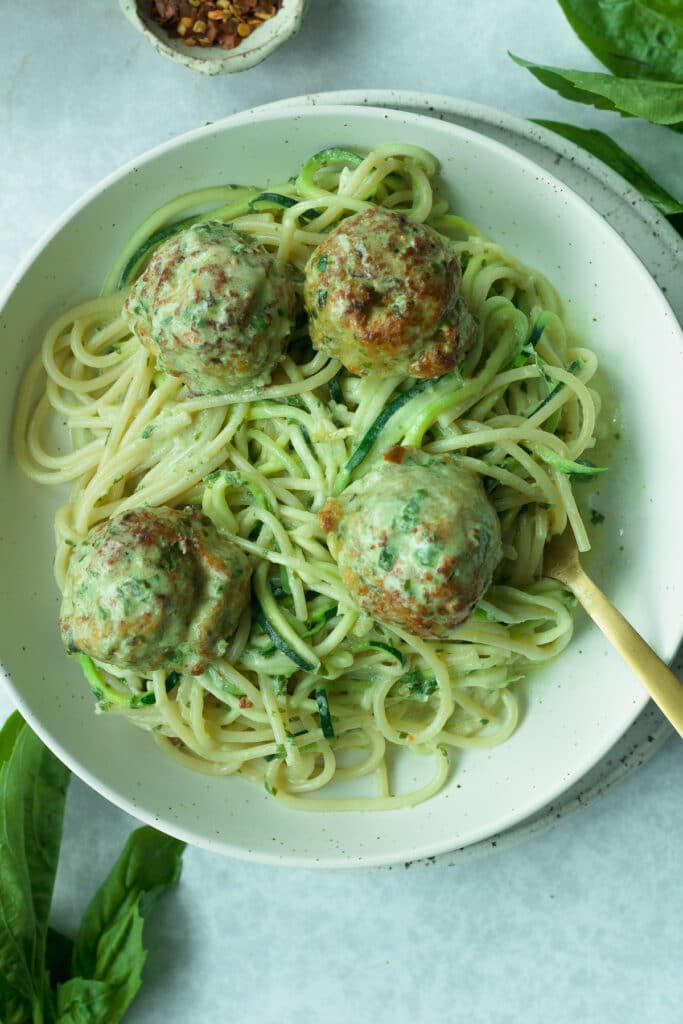 I didn't want to come across too strong after I shared my favorite nut-free pesto a little while ago, but believe me I have been dying to share these chicken meatballs with basil pesto cream sauce with you!! It's easily going to be one of my go-to summer dishes, and I hope it becomes one of yours too!
Imagine this: Delicious chicken meatballs flavored with your favorite pesto and fresh parmesan cheese simmered in a quick and easy CREAMY basil pesto sauce. Toss with pasta (and a little secret ingredient), more cheese and voila! Dinner is on the table and you didn't break a sweat.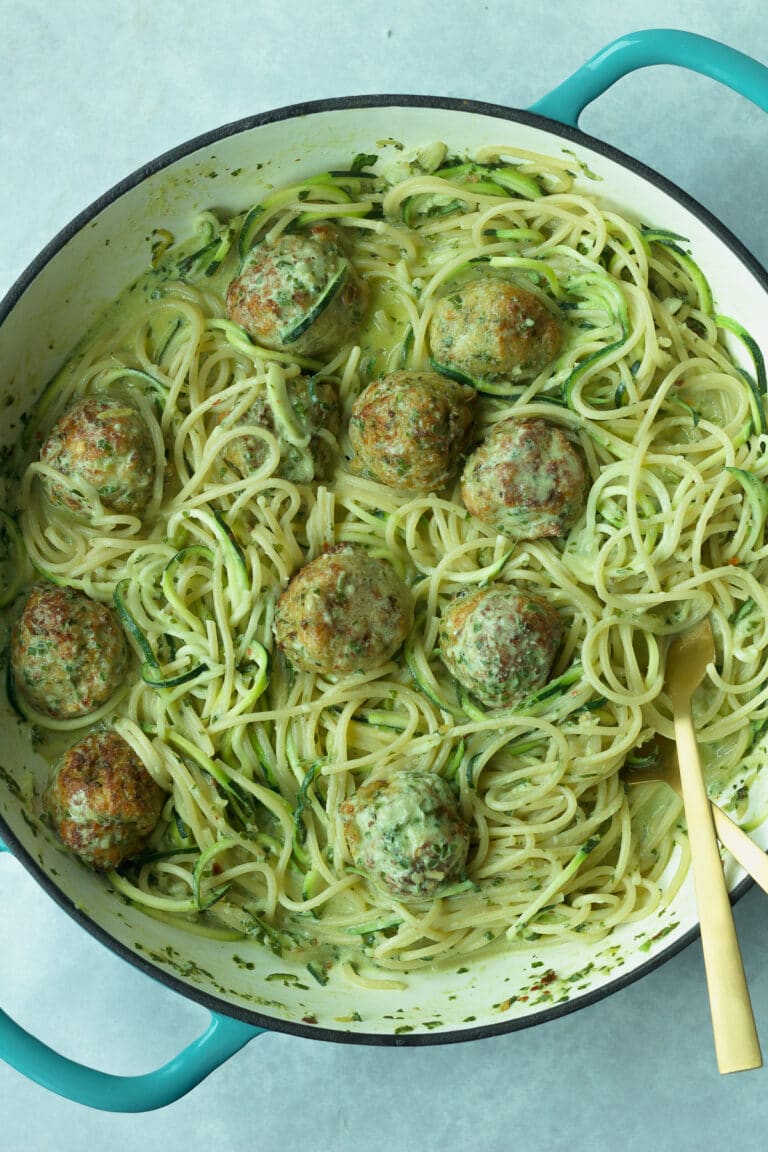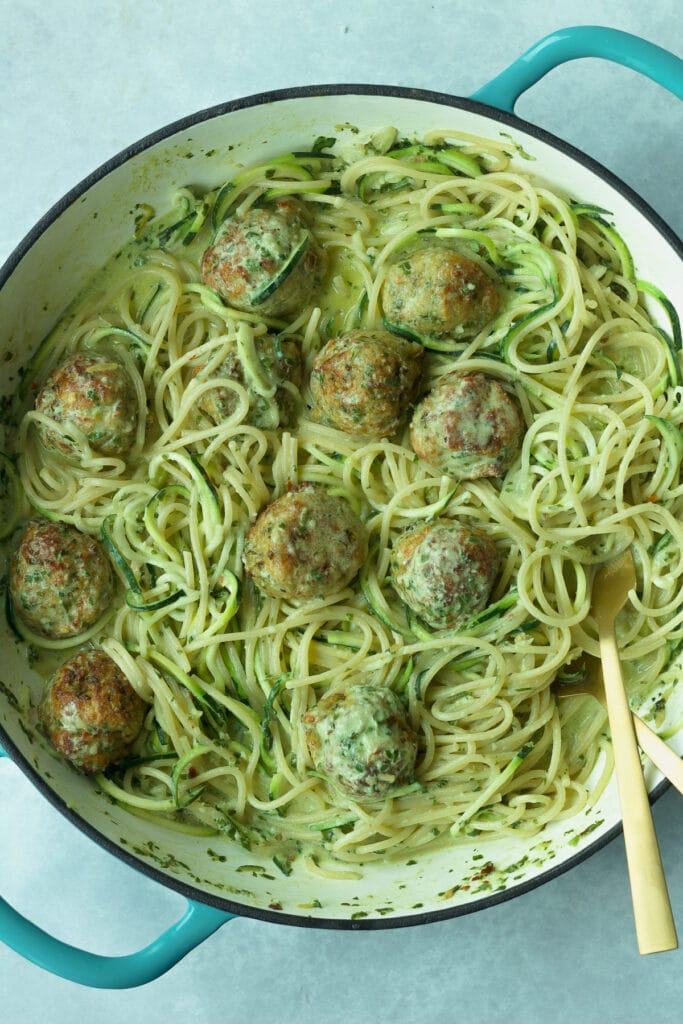 My little secrets
I'm pretty sure any kind of creamy basil pesto sauce is a winner, but this one is especially wonderful because it's so so easy. If you've got some butter, half-and-half and pesto...you've got a basil pesto cream sauce!
But this dish is extra special:
The chicken meatballs are made with the usual suspects: breadcrumbs, egg, etc. But then you just throw in a few tablespoons of pesto and you've got the most flavorful little bites ever. So easy and delicious. And bonus - the meatballs are amazing on their own. Don't be afraid to make a double match!
The noodles are half noodle, half zoodle. Eeeek! I don't always replace my carbs with a vegetable, but in this dish especially, I find that zucchini mixes in perfectly. You'll barely taste the vegetable but this dish has 2 whole zucchini in it. If that's not your jam, just use a full pound of pasta, but I highly suggest giving it a try.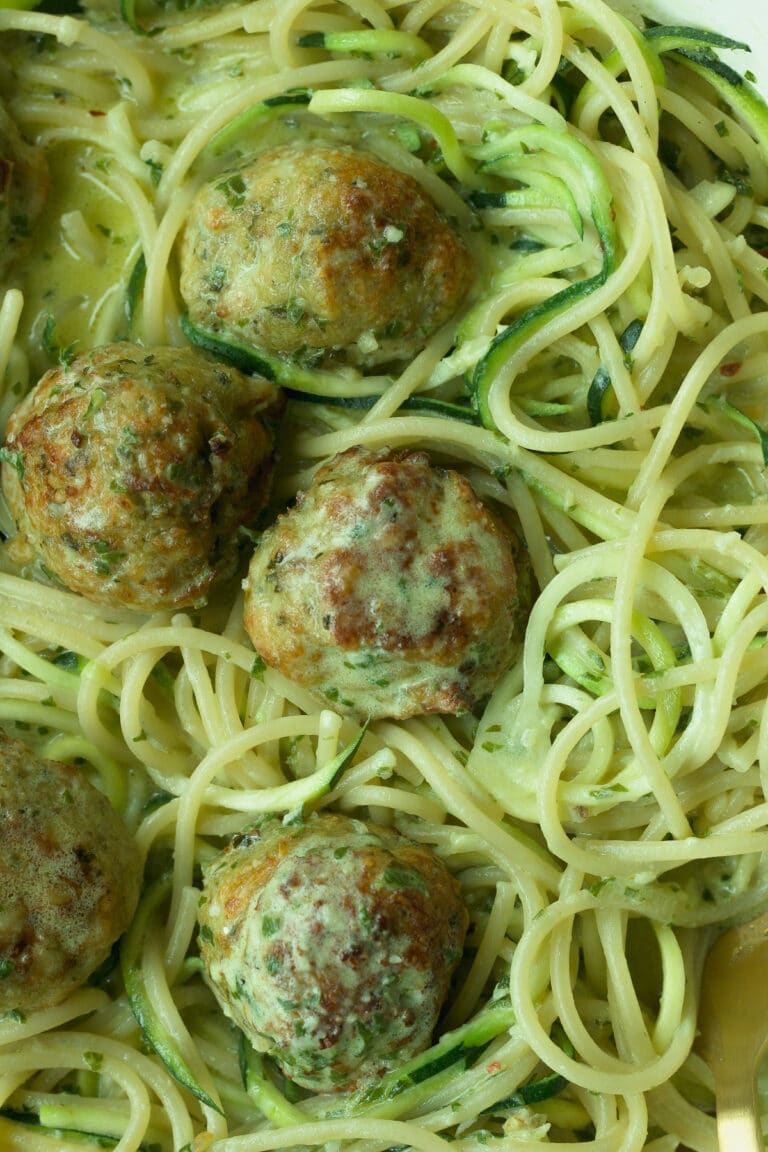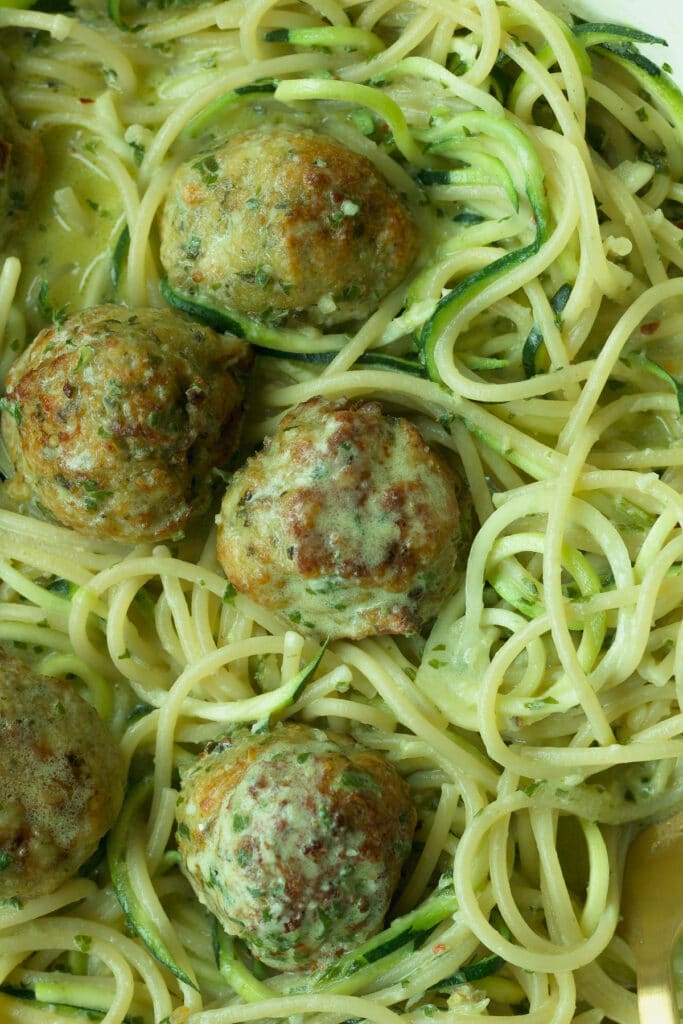 What you'll need
It's a pretty simple list - I'm telling you, this will be a go-to recipe for ya!
Pesto: Ahh the star of the show. The pesto does double duty in this recipe as it is in the meatballs AND creamy pesto sauce. You just need a couple of tablespoons for the meatballs, but it adds all the basil, garlic and lemon flavors you need. And then in the sauce, mixed with some creamy half-and-half, it's absolutely perfect.
Grated parmesan: Another workhorse, you'll add parmesan to the meatballs and pasta. I feel like I don't have to explain myself here, so I won't. I always push for freshly grated, but if you prefer to use the pre-grated kind please go for container you find next to the "fancy" cheeses vs. the bag of big shreds. The latter just won't melt in the way you need it to.
Ground chicken: I really like chicken meatballs with this dish, but you can definitely use ground turkey or even ground pork for this. For turkey, try to find a mix that has a little extra fat like an 80/20 or 85/15 if you can find it. If not, just add another tablespoon of olive oil to keep them from getting too dry. I think ground beef might be a bit heavy for this type of pasta, but honestly it would still work. Moral of the story: Use what you have and/or love! (P.S. You could also forget the meatballs all together and throw in some shrimp instead.)
Breadcrumbs: I've used regular and panko - both work great!
Egg: Gotta bring it all together.
Garlic cloves: A few cloves added to the sauce really amp up the flavor. I use 2 cloves, but please please measure with your heart!
Butter: The start of the creamy sauce, I like to use butter instead of olive oil. However, you can use oil if you prefer. Or try a mix of both!
Half-and-half: This is the base of the creamy pesto sauce. I really like the way half-and-half + parmesan + pasta water come together as a slightly lighter sauce, but if you want something even creamier go for heavy cream. You definitely won't regret it!
Pasta: The beauty of this one is that pretty much any kind of pasta will work with this recipe. Spaghetti, linguine, penne, bowtie, you name it! If you really want to lighten things up - replace half the pasta with zoodles (spiralized zucchini = zucchini noodles = zoodles!). Just drain your cooked pasta OVER the zucchini to quickly "cook" them before adding everything to the sauce. You will barely taste the zucchini, but what a way to get some more vegetables in, huh?
Substitute: If you don't feel like pasta, try serving this over rice or with crusty bread to sop up that beautiful creamy sauce.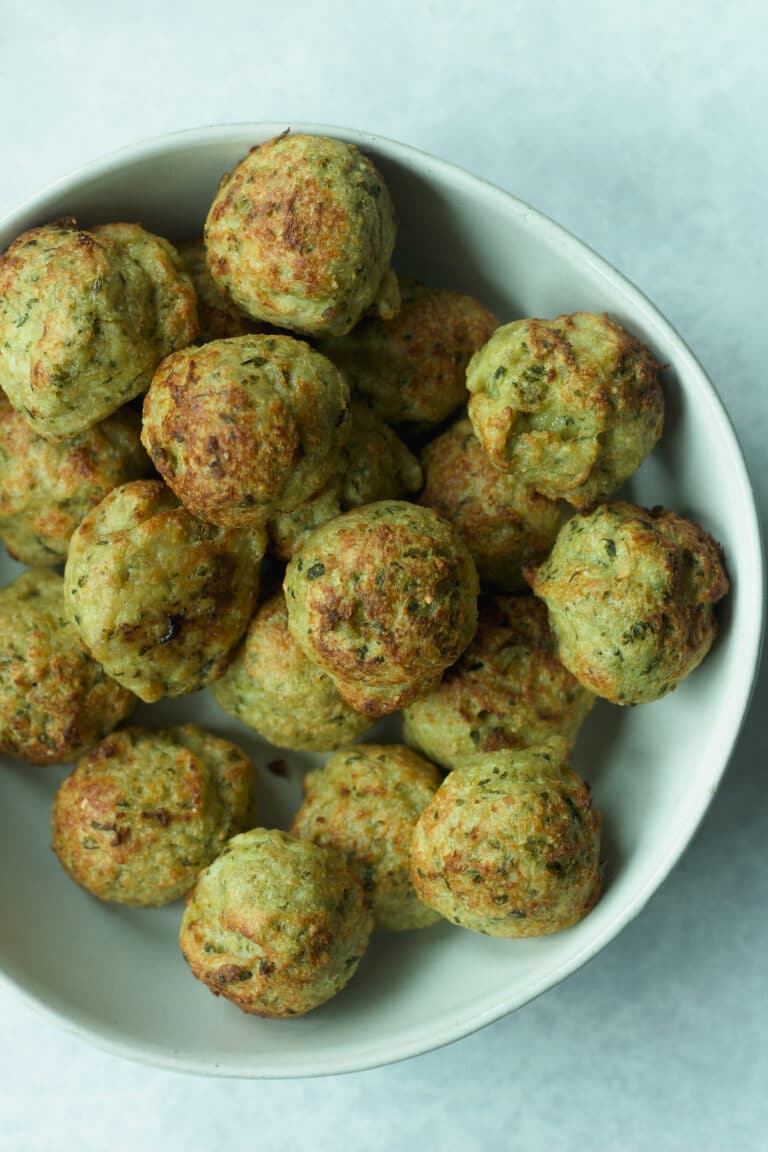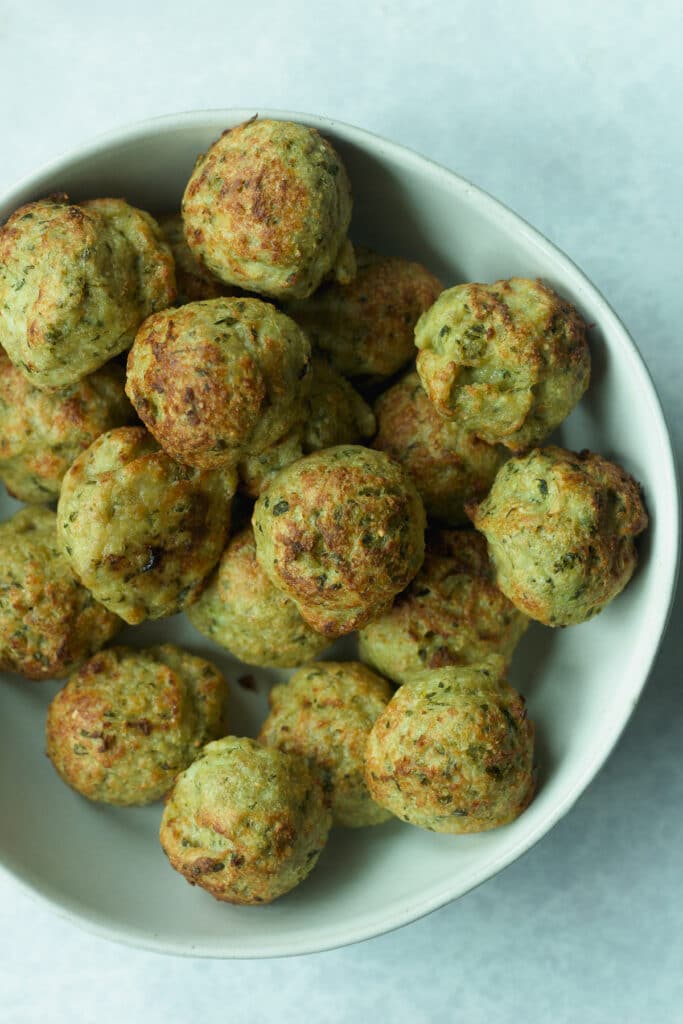 Here's the game plan
Even though this recipe has a couple different components, I promise you it comes together pretty darn quickly.
First, make your meatballs!
This is made easy by throwing some pesto in with your ground chicken, egg and breadcrumbs and parmesan. Pesto is the one-stop flavor shop here. Mix everything up and roll into balls. From there you have a couple of options to cook them - bake, air fry or pan fry. Either way you do it, I like to fully cook these meatballs separately from the sauce (also great because you can make a double batch and freeze half for later!)
Boil your pasta (or get rice or bread ready)
While the meatballs are cooking, get your pasta ready. Use your favorite shape and get it into super salty boiling water (the usual). If you're going to use zucchini like I did, go ahead and spiralize that and place it in a colander. Once the pasta is done, reserve a cup of pasta water (so important!!) and then drain the rest of the pot over the zucchini. The heat will soften the noodles so you don't have to really cook them!
Make your basil pesto cream sauce
This sauce is seriously SO easy. Just saute some garlic and red pepper flakes in butter for a few minutes. Add half-and-half (or heavy cream) and pesto and whisk everything to combine. Once it comes to a simmer and thickens up a bit, you'll add in your meatballs and simmer everything for a few minutes.
Put it all together
Add your pasta (and zucchini!) to the pan with sauce and meatballs and toss, toss, toss! Add in pasta water a little at a time, along with grated parmesan, to make a perfectly creamy, yet light, sauce. Done!
Serve with extra parmesan, red pepper flakes and basil, and maybe a house salad? Or not - we all know pasta is perfect on its own.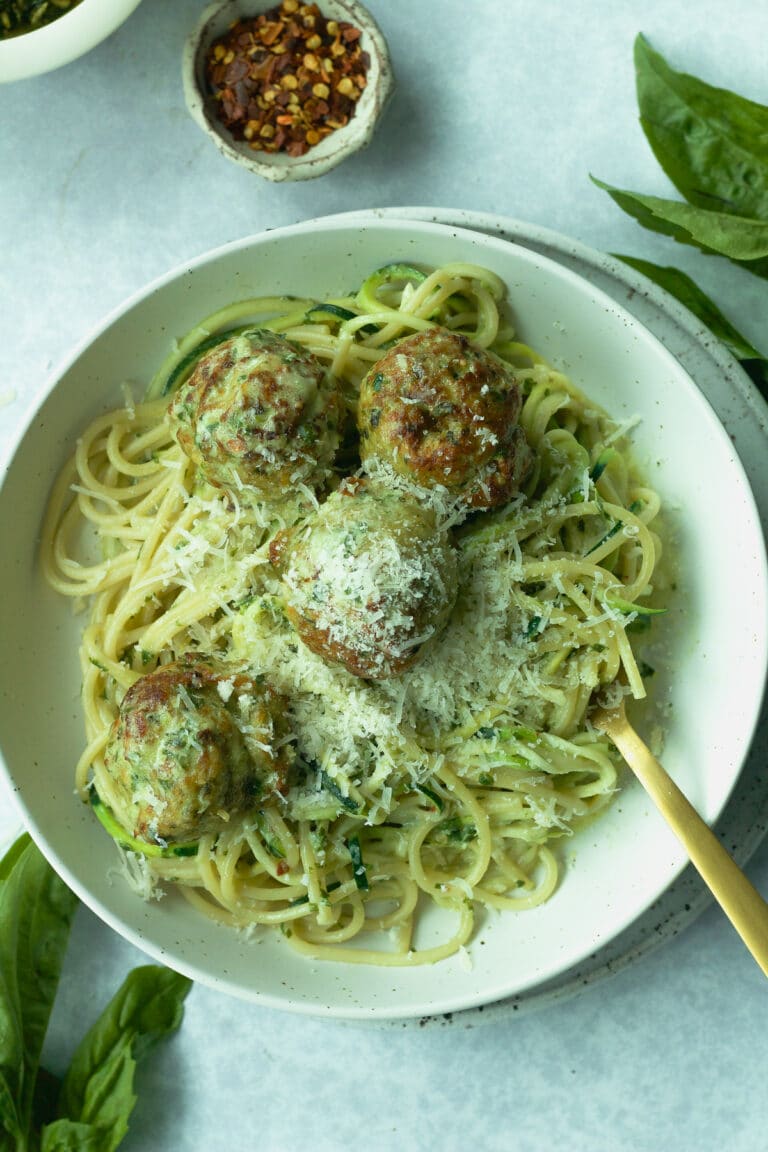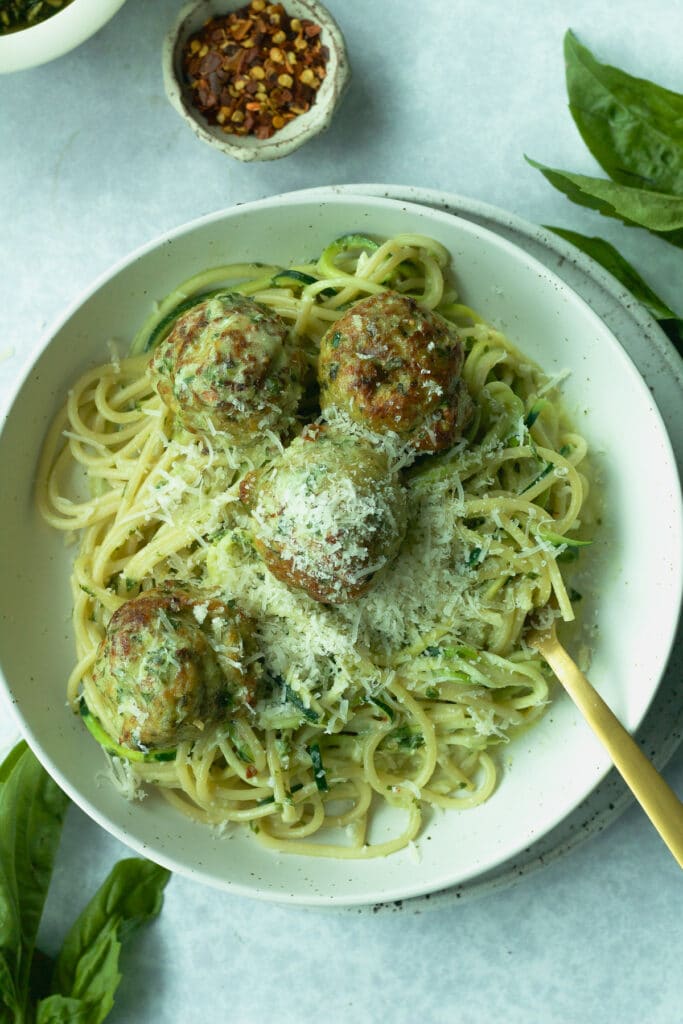 More summer pasta ideas!
Brown butter burst cherry tomato pasta
Pesto orzo with fried zucchini and chickpeas
One pan baked tomato and feta pasta
Orzo with slow-roasted tomatoes and feta
Marinated cherry tomato zoodles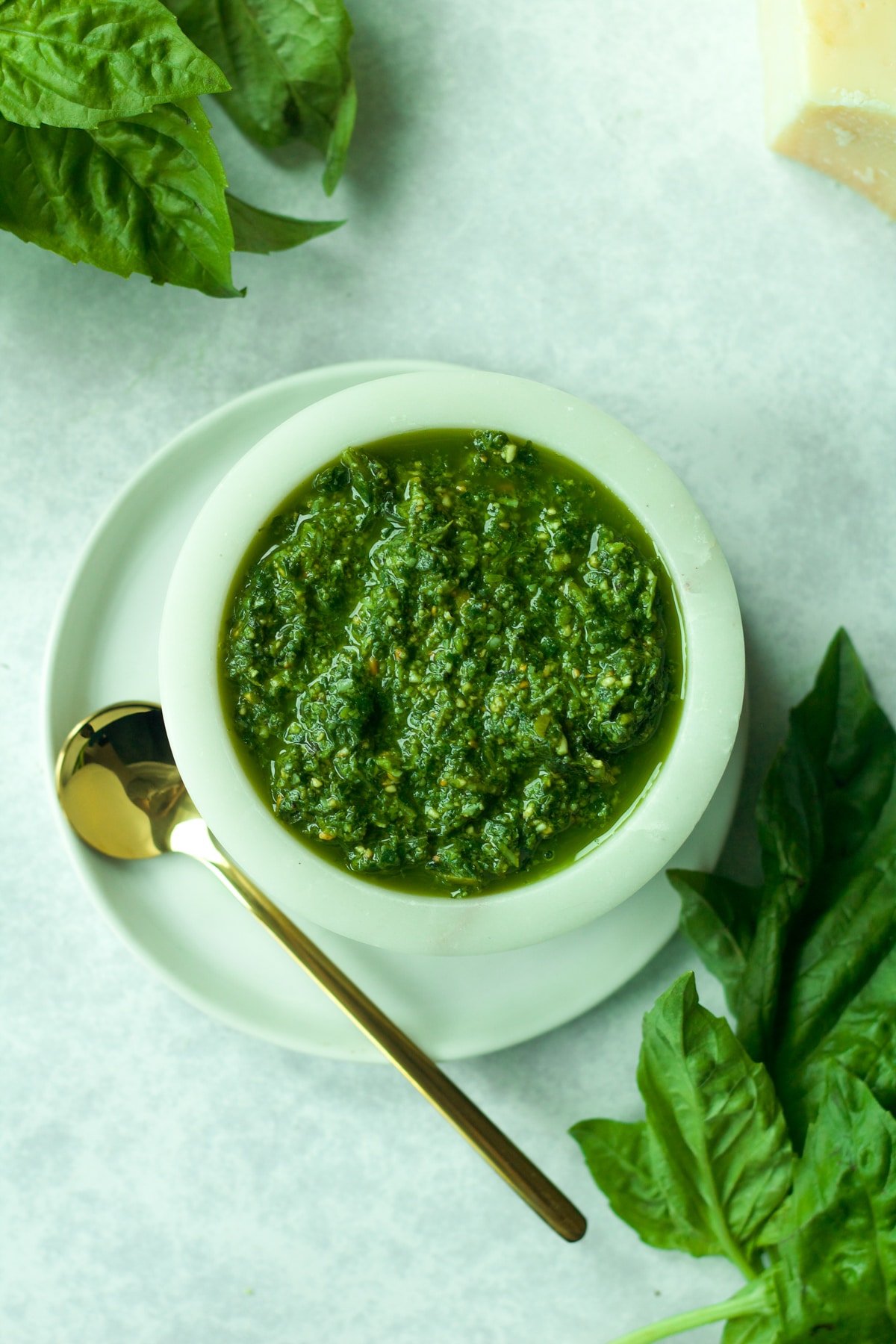 Need ideas for leftover ingredients?
Basil
Half-and-Half
Also, if you want to double the meatball recipe you can use the extra in this other popular herby meatball recipe!!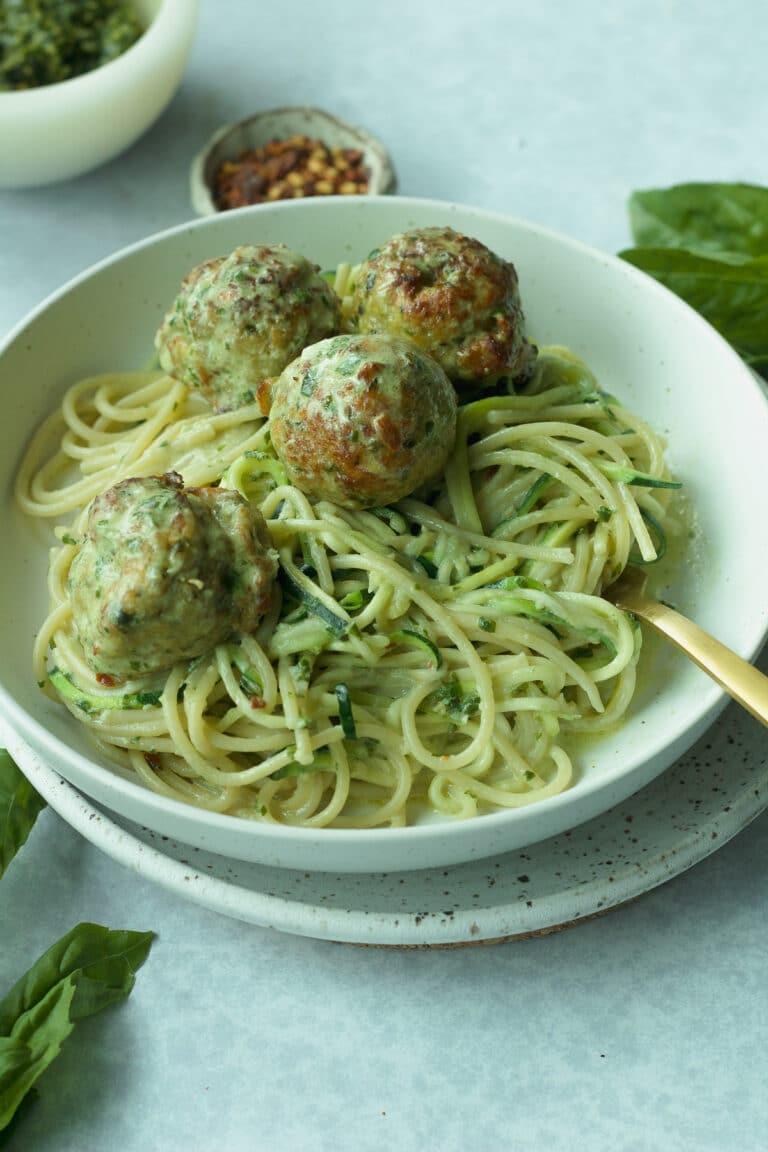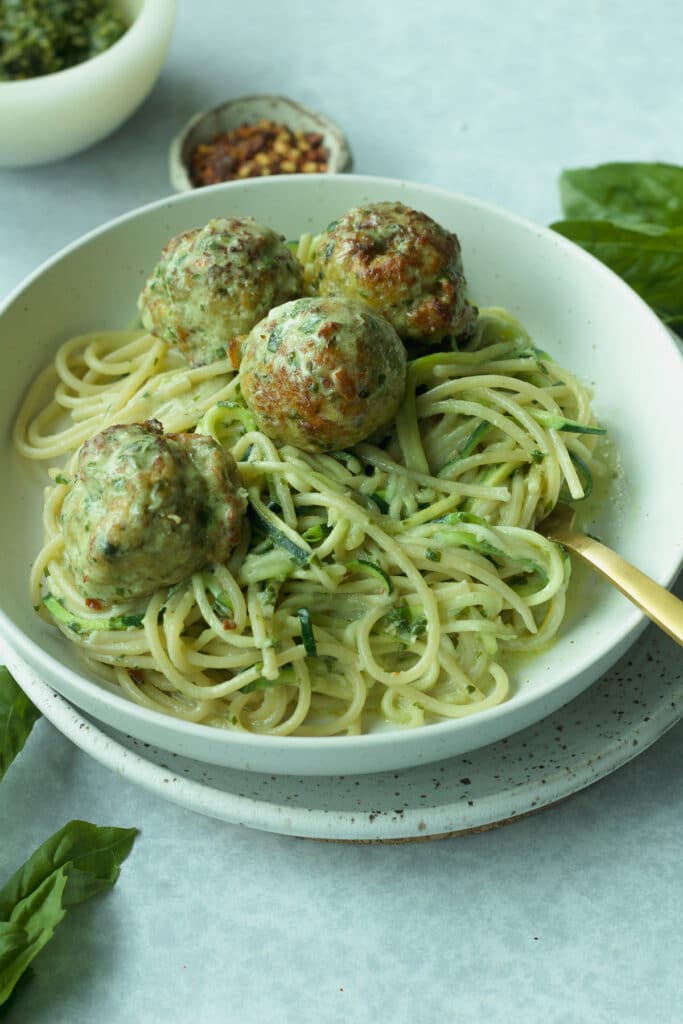 Print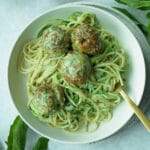 Creamy pesto chicken meatball pasta
---
Description
Easy pesto chicken meatballs simmered in a quick basil pesto cream sauce. Toss with your favorite pasta (and a special healthy ingredient!), serve over rice or with crusty bread. Use my go-to (nut-free!) pesto or your favorite store-bought to make things even easier. A great meal for busy weeknights!
---
Pesto chicken meatballs
1

lb ground chicken

1

egg

½ cup

breadcrumbs

¼ cup

grated parmesan

2 tablespoons

pesto (store-bought is fine!)

1 tablespoon

olive oil

½ teaspoon

salt
Basil Pesto Cream Sauce
3 tablespoons

butter

2

garlic cloves, minced

½ teaspoon

red pepper flakes

1 cup

half-and-half

¼ cup

pesto

½

lb pasta (I used linguine, but any kind will work!)*

2

medium zucchini, spiralized

⅓ cup

grated parmesan + more for serving

½ cup

basil leaves for serving
---
Instructions
You have a couple of options when it comes to cooking the meatballs: Baked, air fried or pan fried. If you are baking, preheat your oven to 400. If air frying, preheat air fryer to 375. If pan frying, heat 1 tablespoon olive oil in a large skillet (use whatever you'll make the pasta sauce in later!) over medium heat. 
In a large bowl, add 1 lb ground chicken, 1 egg, ½ cup breadcrumbs, ¼ cup grated parmesan, 2 tablespoons pesto, 1 tablespoon olive oil and ½ teaspoon salt. Use your hands or a fork to mix until everything is just combined - try not to overmix!
Using a cookie/ice cream scoop or a regular ol' spoon, roll mixture into balls (about 2 tablespoons per meatball). To cook:

Baked: Place meatballs on a large baking sheet. Drizzle or brush with a little olive oil and bake for 20 minutes.
Air Fryer: Spray basked with oil. Place meatballs in a single layer and spray with a light layer of oil. Fry for 8 minutes.
Pan fry: Place in heated, oiled skillet in a single layer. Cook, turning occasionally, for 12-15 minutes or until browned on all sides and cooked through. Remove from pan. 

Cook ½ lb pasta in a large pot of salted water until al dente. Reserve 1 cup pasta water (don't forget!!) and then drain over 2 spiralized zucchini in a colander. 
Heat a large skillet over medium heat. Add 3 tablespoons butter.
Once butter is melted, add 2 minced garlic cloves and ½ teaspoon red pepper flakes. Cook for 2 minutes until garlic is softened.
Add 1 cup half-and-half and ¼ cup pesto and whisk to combine. Bring to a simmer and then add the pesto chicken meatballs. Let cook for 5 minutes over medium-low heat. 
Add drained pasta and zucchini and toss everything to combine. Add reserved pasta water, ¼ cup at a time until you get a saucy consistency you like. Add ⅓ cup grated parmesan and toss again. Keep tossing and adding pasta water as needed until it looks good to you.
Serve with extra grated parmesan, torn basil leaves and more red pepper flakes, if desired. 
This pasta is obviously best right after it's made, but leftovers do heat really well! Add a splash of water or half-and-half when rewarming.
Notes
You can definitely use a full pound of pasta if you don't want to replace any of the pasta with zucchini.
Instead of pasta you can serve this basil pesto cream sauce with rice or fresh, crusty bread.
If seafood is more your thing, try this pasta with shrimp! Just toss about a pound of shrimp in 2-3 tablespoons pesto and a little drizzle of olive oil. Sear shrimp off until just barely cooked and then remove from pan. From there, add your butter and garlic and proceed with the recipe, adding the shrimp back in at the end. So yum!
Prep Time:

10 minutes

Cook Time:

30 minutes

Category:

Dinner

Method:

Stovetop

Cuisine:

Italian