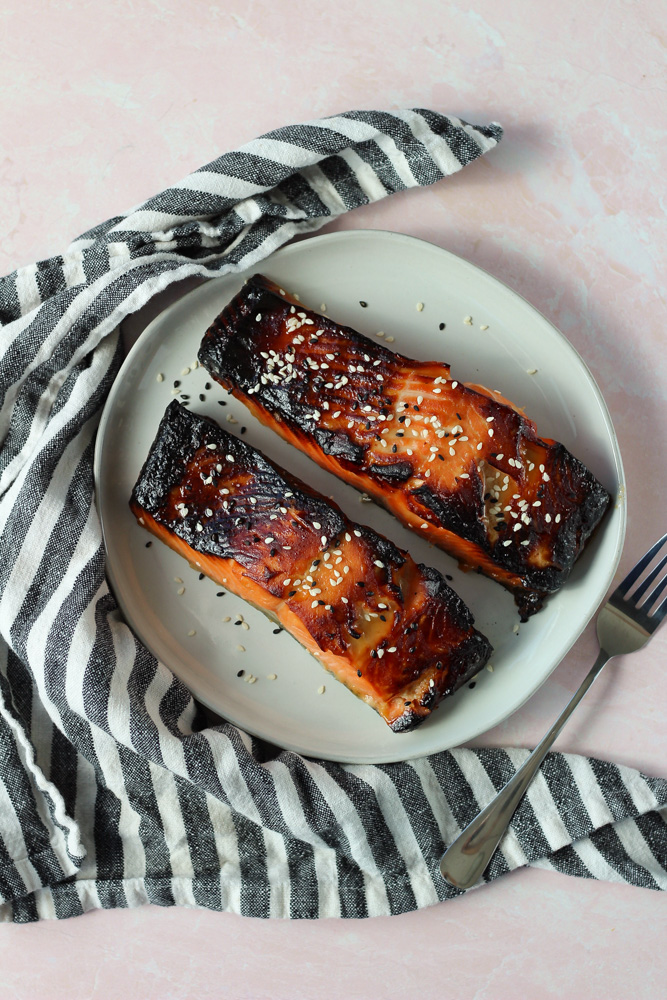 Print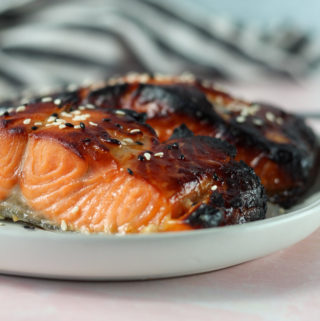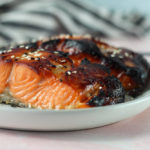 Broiled honey miso salmon
Author:

Mansee

Prep Time:

5 minutes (+ marinating time)

Cook Time:

10 minutes

Total Time:

15 minutes

Yield:

4

1

x
---
Description
One of the easiest, most flavorful salmon recipes ever! Marinated in miso and honey, and then broiled until charred on top and perfectly cooked on the inside.
---
⅓ cup

white miso

⅓ cup

honey

2 tablespoon

mirin

1 tablespoon

rice vinegar

1 teaspoon

sesame oil

1 ½

-

2

lbs salmon, cut into

4

filets
---
Instructions
Whisk together miso, honey, mirin, rice vinegar and sesame oil.
Place salmon in a large dish and pour marinade all over. Make sure it's well coated, and then turn the salmon so it's flesh-side down in the dish. Cover and let marinate in the fridge for at least 4 hours, up to overnight.
Turn broiler on high.
Place a wire baking rack in you baking sheet, and cover rack with foil (for easy cleanup!).
Place salmon skin-side down on rack, leaving room between each piece. Brush a little more marinade on and place in oven. Broil for 8-10 minutes, depending on how thick your salmon is. Keep a close eye on it, and if desired, rotate pan during cooking for even browning.
---
Hellllloooo new favorite dinner!
(Do I say that a lot? I'm sorry. Food is great, though!!)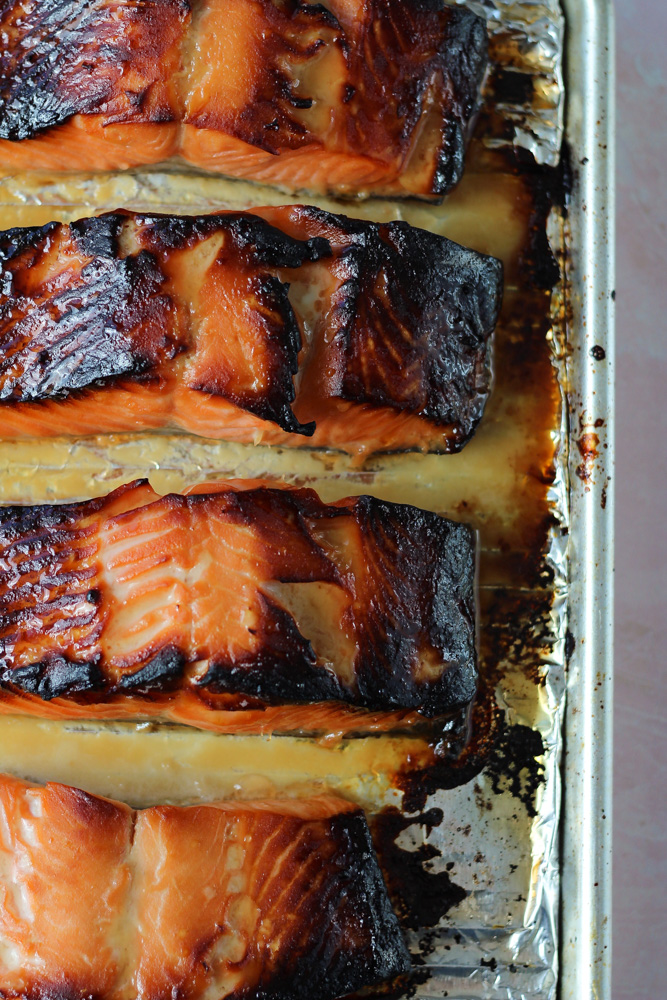 I, like most millennial weirdos, don't have cable. This is not a problem 95% of the time because, again, like most millennials, have every streaming service out there.
Honestly, there are only two things that make me wish I had a "normal" TV situation.
Weekend morning cooking shows.
The former I make work with a weird antenna thing that mostly works but could technically make me miss the Oscars at some point, which is a HUGE problem.
The latter I make work with episodes of America's Test Kitchen on Amazon. Also, random episodes of Barefoot Contessa on Hulu! But my new favorite thing is watching ATK on Saturday morning before I get up and start actually cooking.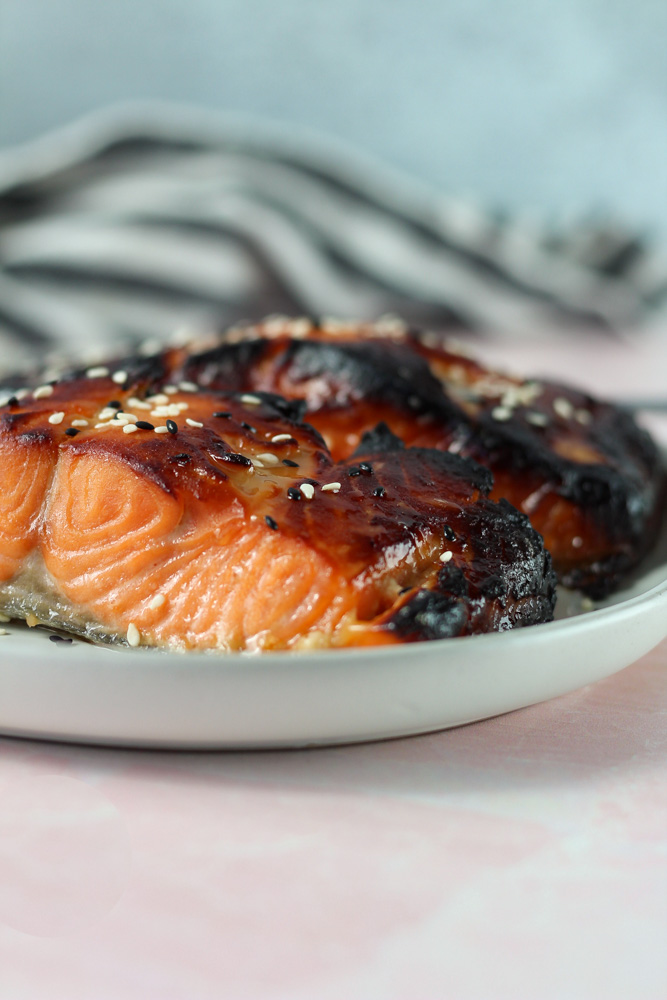 And that's where I first saw a recipe for the miso marinated salmon that inspired this dish. I added a a couple more ingredients to amp up the flavor a little bit, but it's still such an easy dish to throw together! Unfortunately, because of the marinating time, it's not a super quick dinner. But! Because the marinade is literally a dump and stir situation, you can easily get this started the night before or even the morning of before you head to work.
Then you just throw it under the broiler until the top gets super caramelized and the fish is juuuust cooked through. Depending on how thick your fish is, this can take anywhere from 8-12 minutes. Just keep an eye on it, and use a meat thermometer if you're worried (145 degrees is recommended, but if you like your salmon more medium-rare like me, go for 125).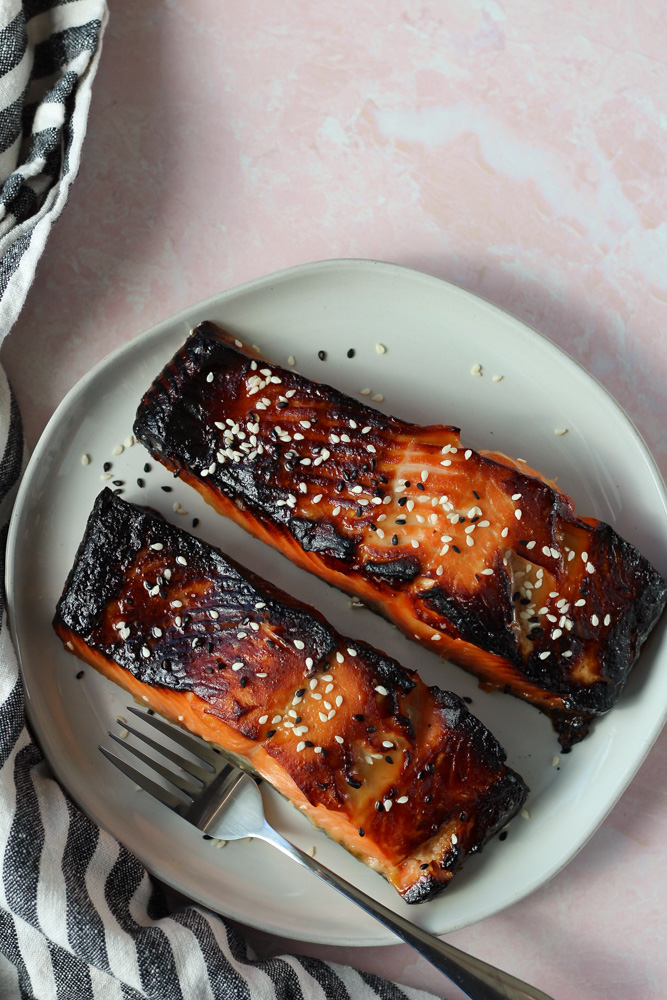 If you think mine looks a little extra caramelized, you're 100% right. My broiler is not to be trusted, but I promise this was still some of the most delicious salmon I've ever eaten. The honey makes it brown super quickly, but it was absolutely not burnt. PROMISE PROMISE.
I hope you give this one a try. It's great for entertaining during this holiday season, but also perfect for a random Tuesday night dinner to make up for the fact that you're eating nothing but cookies the rest of the week....this holiday season.