Super easy creamy poblano chicken enchiladas made with shredded chicken (use leftovers or store-bought!), perfect summer corn and CHEESE, topped with the most delicious homemade creamy poblano sauce and...more cheese! This is a great way to use up leftovers and comes together in just about an hour.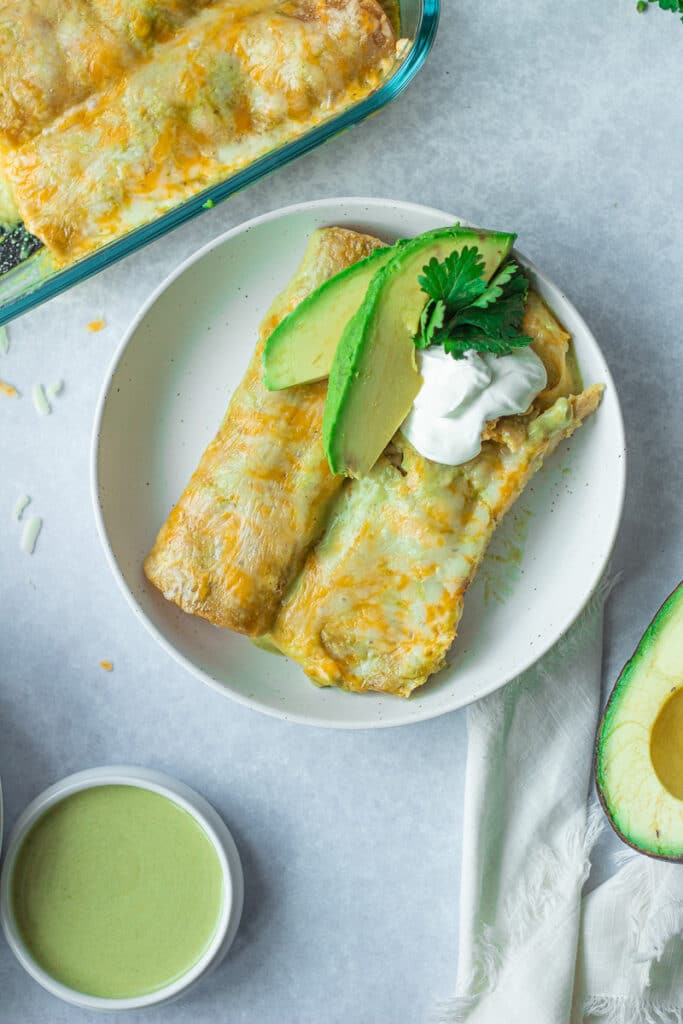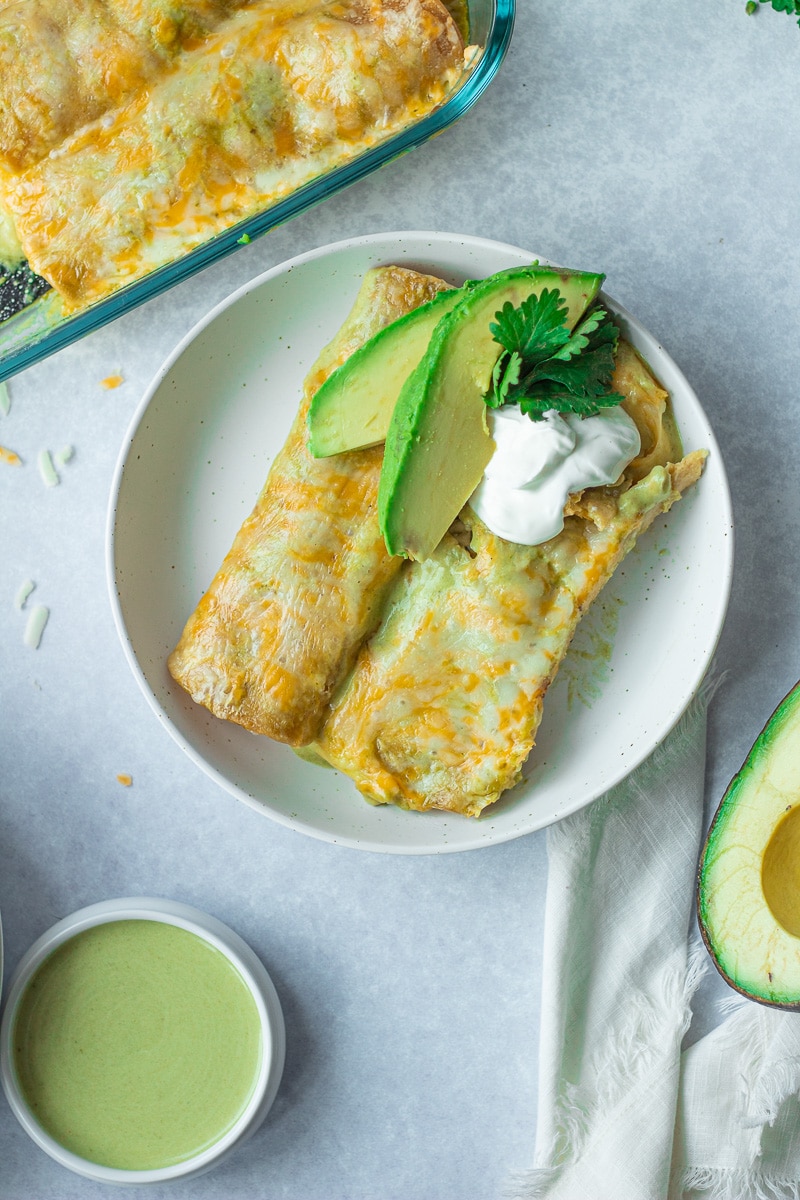 Print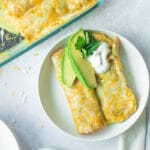 Creamy poblano chicken and roasted corn enchiladas
---
Author:

Mansee

Total Time:

1 hour

Yield:

4

1

x
Description
Super easy enchiladas made with shredded chicken (use leftovers or store-bought!), perfect summer corn and CHEESE, topped with the most delicious homemade creamy poblano sauce and...more cheese! This is a great way to use up leftovers and comes together in just about an hour.
---
2 tablespoons

oil (olive oil or neutral is fine)

1

medium onion, diced 

4

garlic cloves, grated or minced

2

poblano peppers, deseeded and diced

¼ teaspoon

ground cumin

¼ teaspoon

ground coriander

2 tablespoons

flour

1 teaspoon

salt

1 cup

chicken stock or water

1 cup

heavy cream

2 cups

cooked, shredded chicken

1 cup

corn kernels (grilled, roasted, frozen, it all works)

2 cups

shredded cheese (see notes)

¼ cup

chopped cilantro

8

corn or flour tortillas
---
Instructions
Preheat oven to 350.
Heat 2 tablespoons oil in a medium-sized saucepan over medium-high heat. Once oil is hot, add 1 diced onion and saute for 5-7 minutes until onions are softened and start to brown a little. 
Add 4 minced garlic cloves and 2 diced poblano peppers and saute for another minute. Cover, reduce heat to medium and let cook for 5 minutes. Remove cover and stir. Let cook for another 2 minutes, uncovered, until peppers are totally soft.
Add ¼ teaspoon each of ground cumin and ground coriander and stir to combine. Sprinkle over 2 tablespoons of flour and stir to coat the peppers and onions. Let cook for 1 minute.
Slowly add 1 cup of chicken stock or water, stirring constantly to incorporate. You should see the stock/water start to thicken immediately. Add 1 teaspoons salt and let sauce simmer for 5 minutes.
Turn off heat, carefully transfer sauce to blender and blend until smooth. Return to pot and add 1 cup heavy cream. Stir to combine, and taste for seasoning. Add more salt if needed. Spread ½ cup of sauce in a 9/13 pan. Set aside. 
In a large bowl, combine 2 cups shredded chicken, 1 cup roasted corn, ½ cup shredded cheese and ¼ cup chopped cilantro. Add ½ cup of the creamy poblano sauce and stir to combine. 
To assemble, add ⅛ of filling mixture (about ¼ cup) in each tortilla. Sprinkle with a little more cheese (you want to use about ½ cup total with all 8 tortillas) and roll up. Arrange seam-side down on top of sauce in pan.
Pour remaining sauce evenly over enchiladas. Top with remaining 1 cup shredded cheese. Bake for 20-25 minutes, uncovered, until everything is cooked through, cheese is melted and bubbly and tortillas are a little bit crispy on the edges. 
Let cool for 10 minutes before serving. Serve with avocado, sour cream and more cilantro if desired!
Notes
You can use any type of cheese you love: cheddar, pepper jack, a Mexican blend, etc. I always prefer shredding my cheese myself (it melts better!), but pre-shredded absolutely works in a pinch.
This dish is a perfect way to use of leftover chicken, whether it was cooked in your kitchen or your local store. Just shred it up, and you're good to go!
For extra credit, you can broil the poblano peppers before adding to the sauce. Totally not necessary, but will add some extra fun charred flavor to the sauce if you're into that! Just be sure to scrape off the really blackened parts of the skin - it'll make your sauce a little bitter. 
Prep Time:

10 minutes

Cook Time:

50 minutes

Category:

Main

Method:

Oven

Cuisine:

Mexican
Keywords: enchiladas, poblano sauce, easy meals, homemade enchiladas
I don't make enchiladas often - or really ever - but when I do I make them creamy poblano chicken and corn special.
Not special in a "oh there are 75 ingredients and this takes half a day to make" way, but rather in a "let's roll up some leftovers and smother them in a delicious creamy sauce" kind of thing.
Let's go!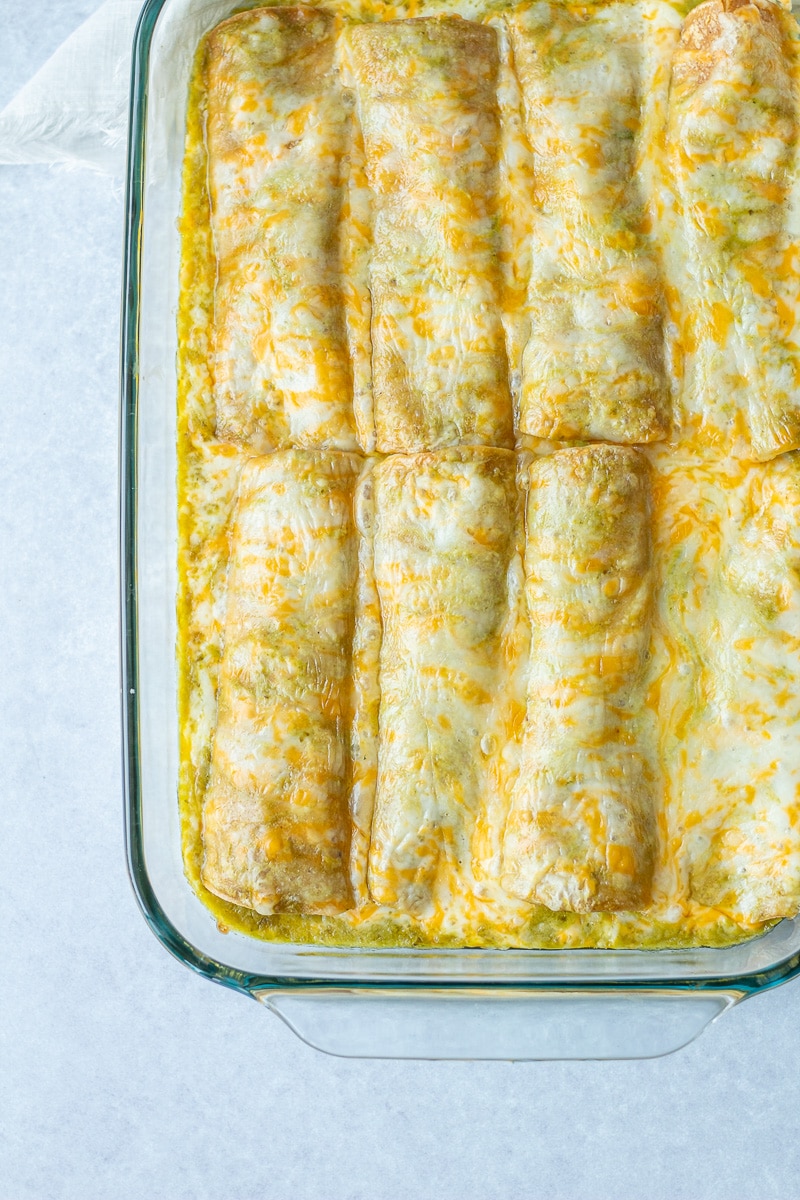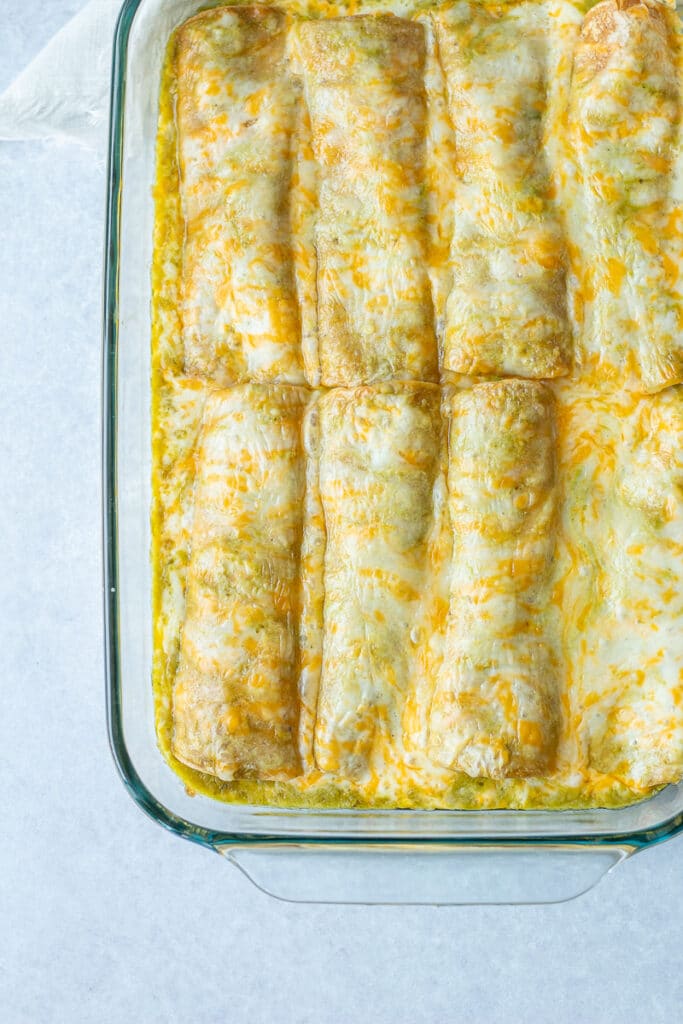 Creamy poblano sauce
You all know my love for a creamy green sauce. Exhibit A, B and C thankyouverymuch. So it was only a matter of time before a creamy sauce found its way to some enchiladas, right?
Honestly, making this sauce is probably the most labor-intensive part of this whole dish. But even this only takes a little chopping and a few minutes.
To start you'll saute some onions until they soften and just start to brown. After that add in garlic and poblano peppers. Let them go until those peppers cook down. After you add in some flour and stock, let it simmer for a few minutes before blending everything up and stirring in some cream. BAM now you have the most delicious creamy sauce you'll want to pour on EVERYTHING.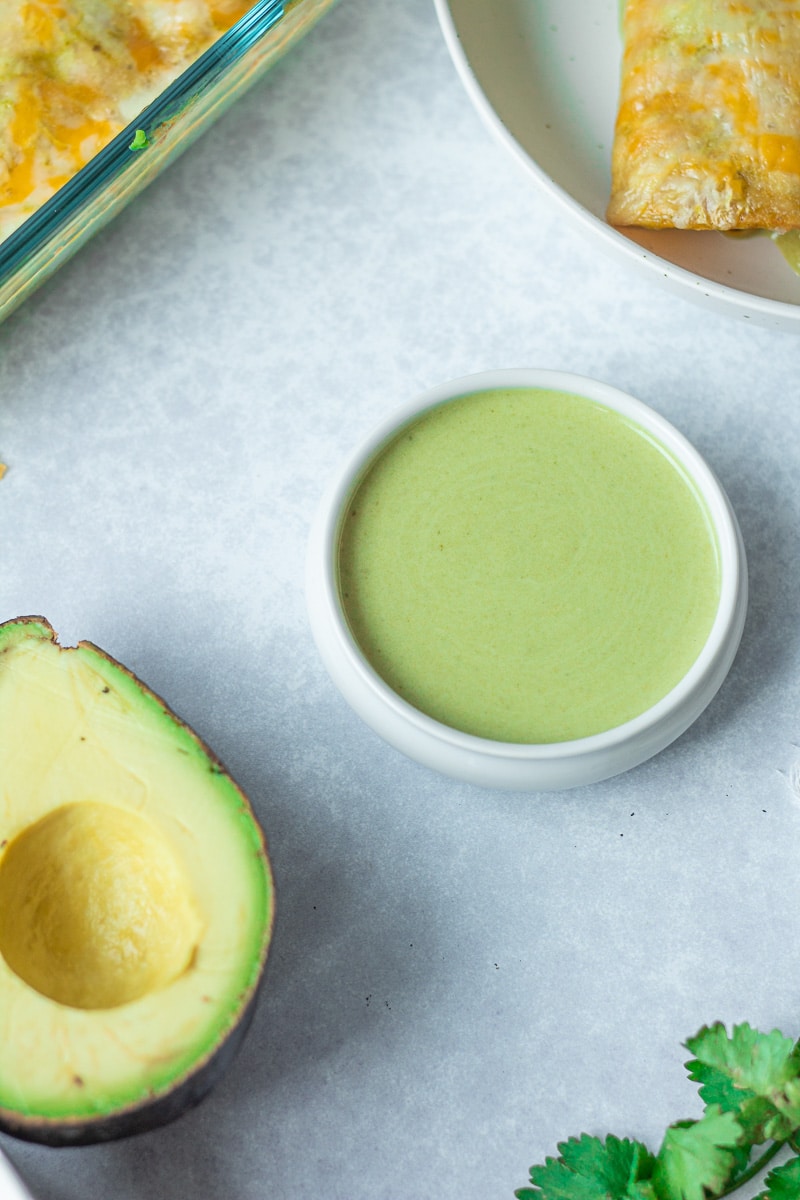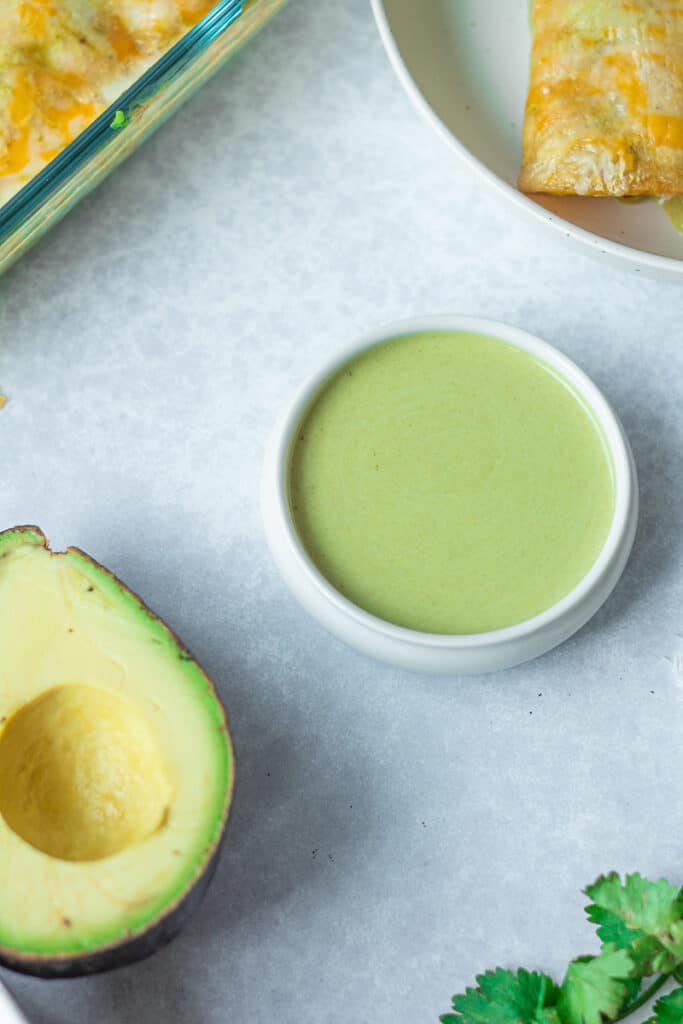 Chicken and corn enchiladas
Maybe not the most traditional of enchilada fillings, but delicious nonetheless!
Chicken: This is 100% without a doubt the time to use leftover chicken you have on hand. Whether it's one you roasted yourself (or maybe poached??) or you picked one up at the store, anything goes here. You just need some sort of cooked chicken.
Corn: I love love LOVE the frozen roasted corn from Trader Joe's. I always have it on hand to include in dishes like this, or this salad which is one of my all-time favorites. Use any frozen corn you have OR if you're taking full advantage of summer corn season, throw some fresh kernels in here. You can add them raw or throw them on the grill first - dealer's choice!
Cheese: I like to think the beauty of some enchiladas is that you can really use any kind of melty cheese you want. I am a huge fan of the "jack" variety (aka colby jack and monterey jack), but a good ol' mexican blend will work too if you don't want to shred your own cheese (although I do ALWAYS suggest taking the few minutes to shred your own cheese, if possible!). Actually, pepper jack would be awesome here too. Just find a cheese you like and pile it on, okay?
Tortillas: Flour and corn both work. I prefer corn.
Toppings: I like avocado, sour cream and cilantro but you do you!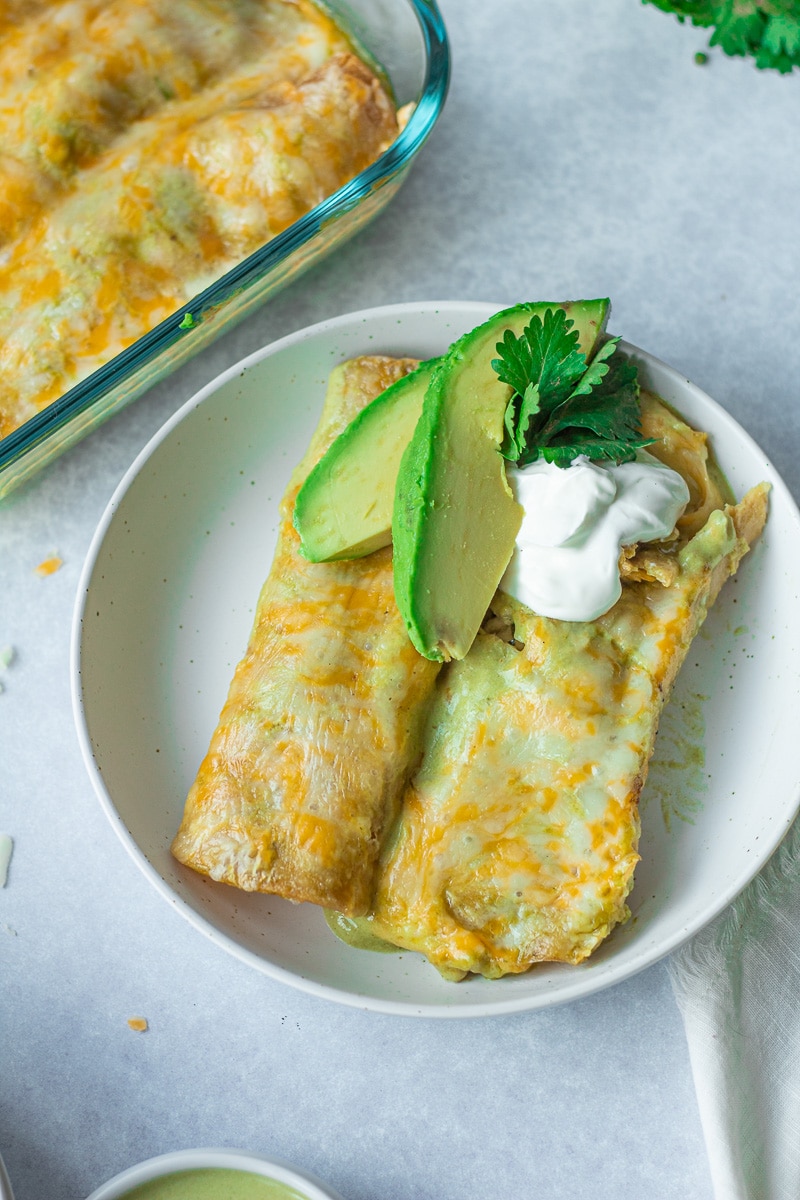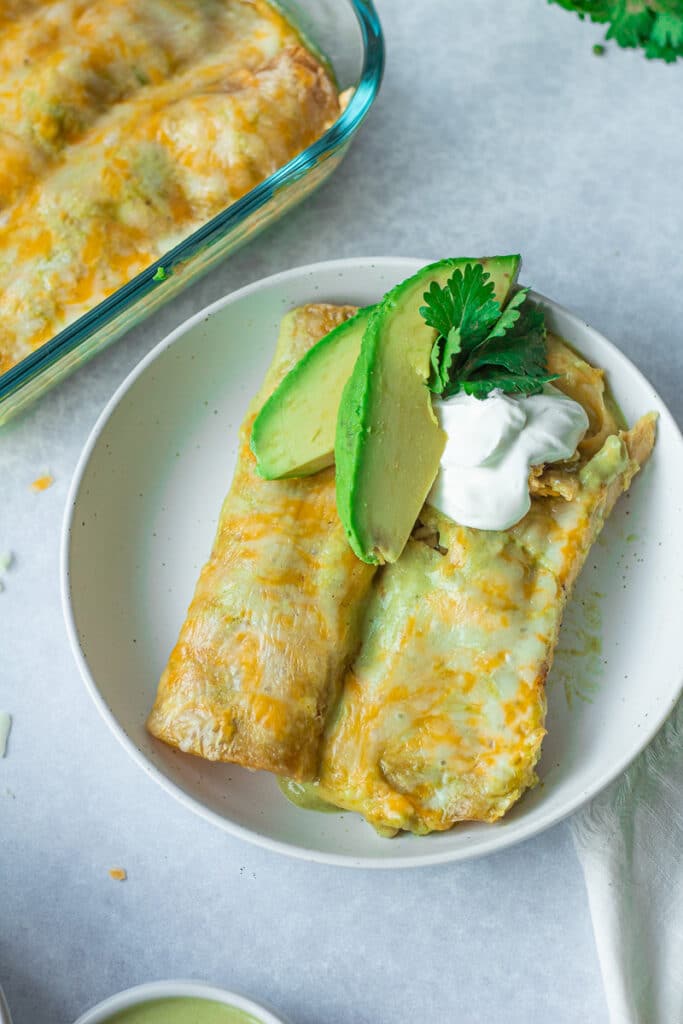 How to make enchiladas
You probably don't need me to spell it out, but I'm happy to!
Make your creamy poblano sauce as stated above. Once done, you'll add a little bit to the pan you'll bake your enchiladas in and set both aside.
Mix up the filling. Add the chicken the chicken and corn to a large bowl, along with SOME of the cheese, sauce and cilantro. Mix it all up so it's really well combined.
Divide the filling between 8 flour or corn tortillas and roll them up! They don't need to be rolled super tightly, but you want things to be snug. Arrange them seam-side down in the pan as you go.
Now for the fun: Pour the remaining creamy sauce over it all. Pour evenly so it gets into all those little pockets. No worries if it pools a little on the side - those will be super delicious once baked.
Top with the remaining cheese and bake - uncovered - until bubbly. You're just warming everything up and melting all that cheese, so it'll only take about 20ish minutes.
Let your enchiladas cool for at least 10 minutes before you serve so you 1. don't burn your mouth off and 2. let them set a little so they don't fall apart - although they will still be delicious.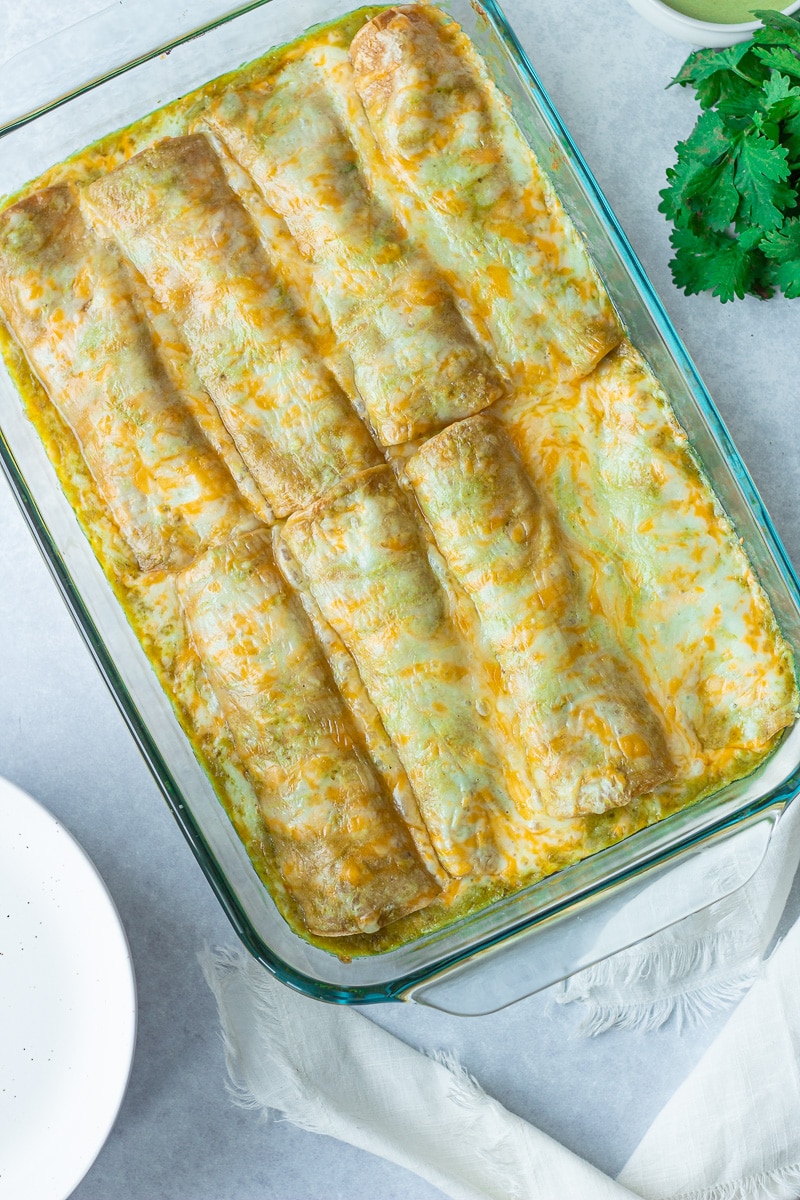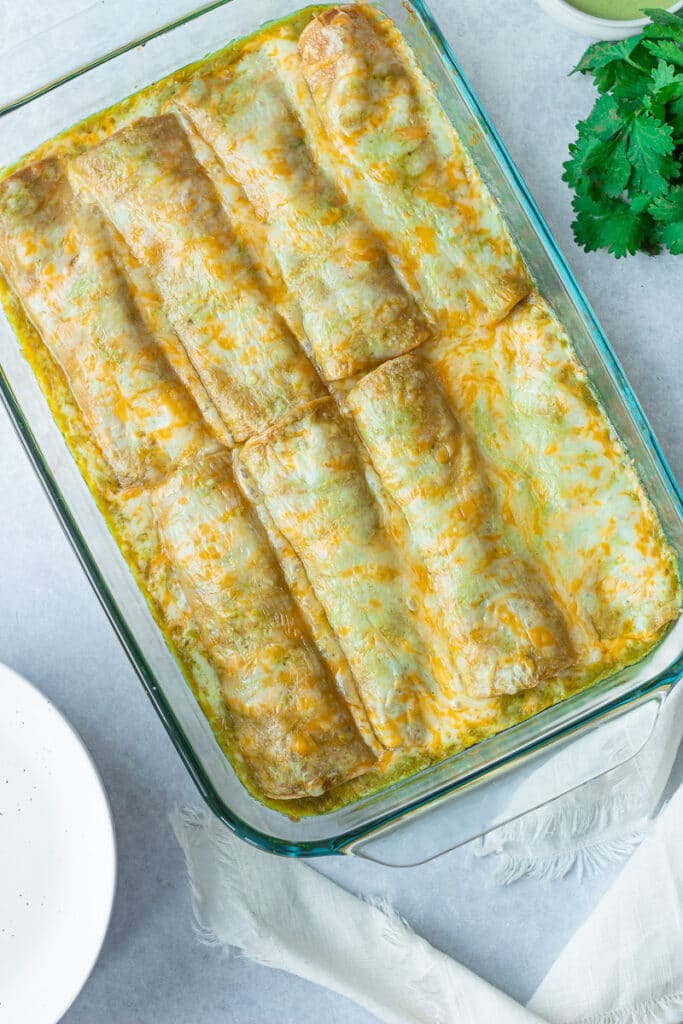 And that's it! Easy peasy creamy poblano chicken and corn enchiladas (that's how the saying goes, right?)!