A spicy, slightly messy Peruvian-style roast chicken dinner. Super flavorful and served with a spicy green sauce, this chicken is meant to be eaten with your hands. Butterfly your chicken to cut down cooking time and make this a quick-ish weeknight dinner!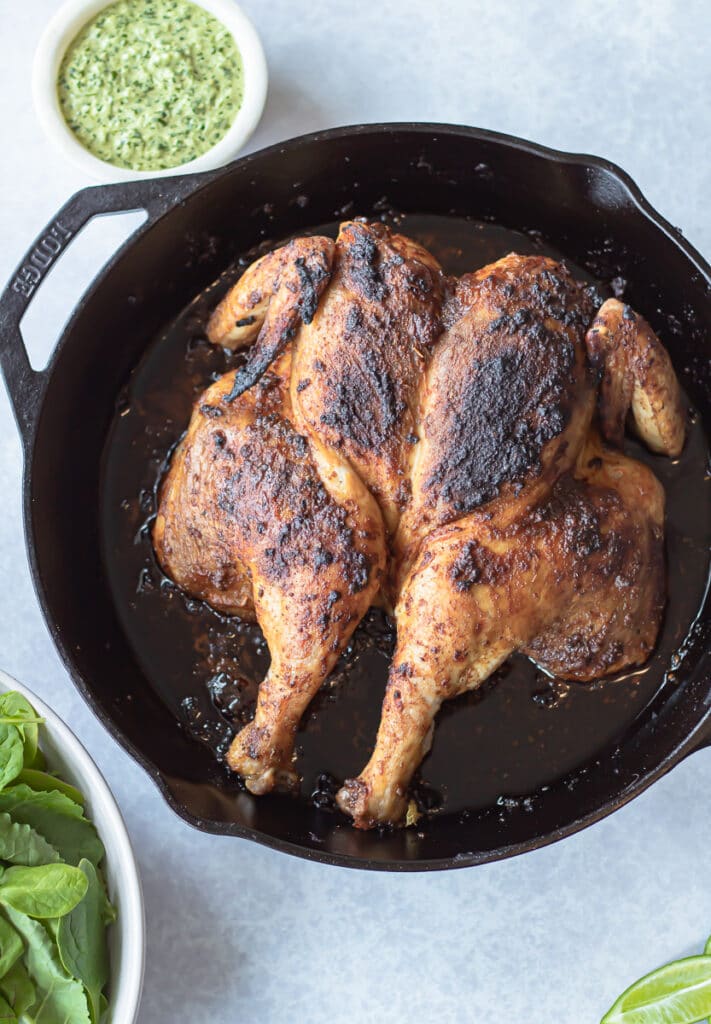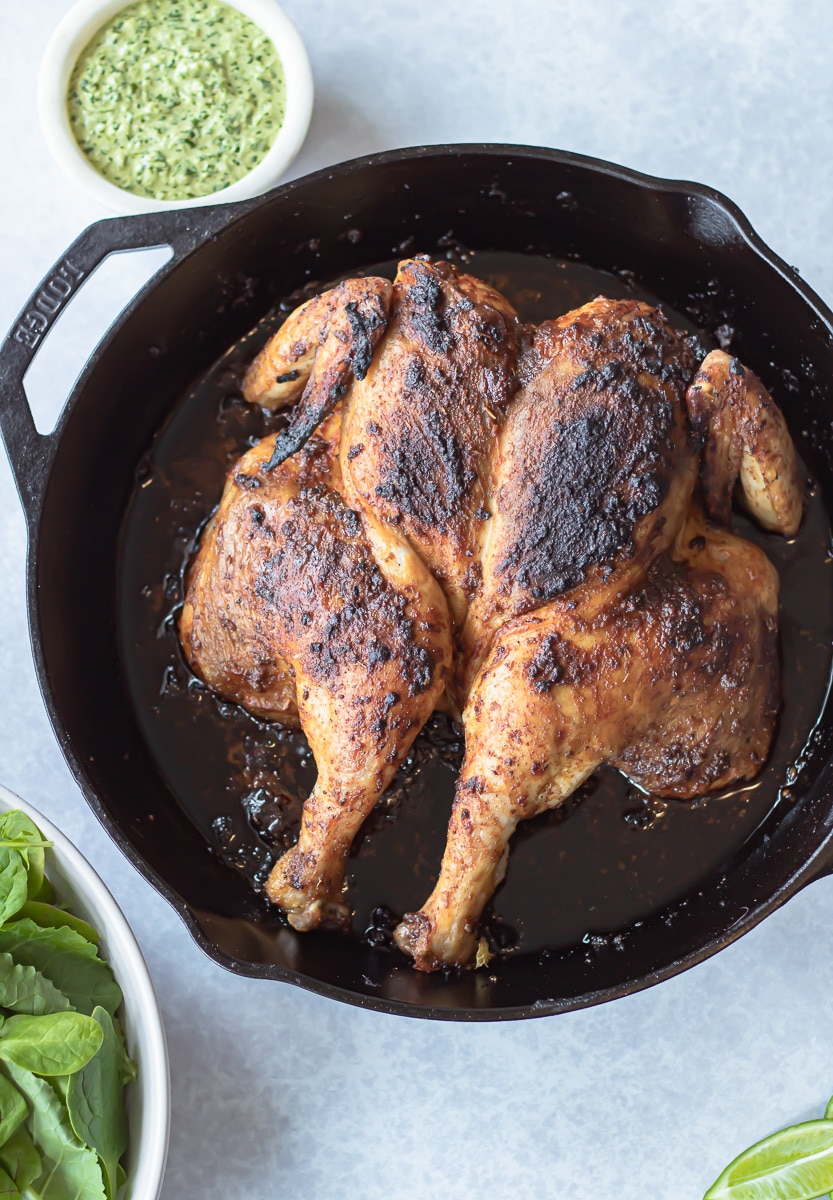 Print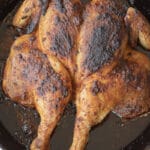 Peruvian-style roast chicken with spicy green sauce
---
Author:

Mansee

Total Time:

1 hour

Yield:

4

-6

1

x
Description
A spicy, slightly messy Peruvian-style roast chicken dinner. Super flavorful and served with a spicy green sauce, this chicken is meant to be eaten with your hands. Butterfly your chicken to cut down cooking time and make this a quick-ish weeknight dinner!
---
6

garlic cloves, minced

1 tablespoon

brown sugar

1 tablespoon

ground cumin

2 teaspoons

paprika

2 teaspoons

dried oregano

2 teaspoons

salt

1 teaspoon

smoked paprika

3

-

4

lb whole chicken, butterflied (if desired)*

3 tablespoons

olive oil

2 tablespoons

lime juice
Spicy Green Sauce
1 cup

cilantro leaves and tender stems

1

jalapeno, roughly chopped

2

garlic cloves

1 tablespoon

lime juice

1 tablespoon

olive oil

½ teaspoon

salt

¼ teaspoon

ground coriander

½ cup

mayo or greek yogurt
---
Instructions
Preheat oven to 400.
Combine 6 minced garlic cloves, 1 tablespoon brown sugar, 1 tablespoon ground cumin, 2 teaspoons salt, 2 teaspoons paprika, 2 teaspoons dried oregano and 1 teaspoon smoked paprika in a small bowl. Stir well to mix garlic with all the spices. 
Place chicken on baking sheet or cast iron (basically whatever you are going to roast it in. Use your fingers to gently separate the skin from meat without tearing it. Rub 1 tablespoon of the garlic/spice mixture on the meat (under the skin), doing your best to get it everywhere (it won't be perfect, it's fine).
Combine remaining spice mixture with 3 tablespoons olive oil and 2 tablespoons lime juice. 
Brush this mixture all over both sides of chicken.
Roast chicken for 30-45 minutes (depending on size of your chicken), or until skin is deeply browned and meat registers 155 degrees. If I remember, I like to baste the chicken once or twice while it's cooking. No biggie if you don't though. Let sit for 10 minutes before carving. 
While chicken roasts, combine 1 cup cilantro, 1 jalapeno, 2 garlic cloves, 1 tablespoon lime juice, 1 tablespoon olive oil, ½ teaspoon salt and ¼ teaspoon ground coriander in blender or food processor (I like to use a stick blender).
Blend or process until everything is combined and very, very finely chopped.
Add ½ cup mayo or greek yogurt and combine until smooth.
Taste and adjust seasoning as needed. 
Carve chicken and serve with spicy green sauce.
Notes
If you choose to not butterfly your chicken (or have your butcher do it), no worries! Just add some extra cooking time depending on how big your chicken is. If the skin starts to burn, cover loosely with foil.
The spicy green sauce is supposed to be spicy, but you can absolutely dial down the heat by removing the seeds and ribs of the jalapeno. Or just use half!
Prep Time:

15 minutes

Cook Time:

45 minutes
I didn't realize I had ZERO roast chicken recipes on this site until like 5 minutes ago. Whoops.
I mean, I do have this "cooking for one" roasted chicken breast (that I love), but no big ol' roast chicken. Weird because I make/eat one like twice a month.
Again, whoops.
This is such a good one though, so I'm thrilled to break that streak with a spicy, messy roast chicken that is basically what I want to eat every day for the rest of my life.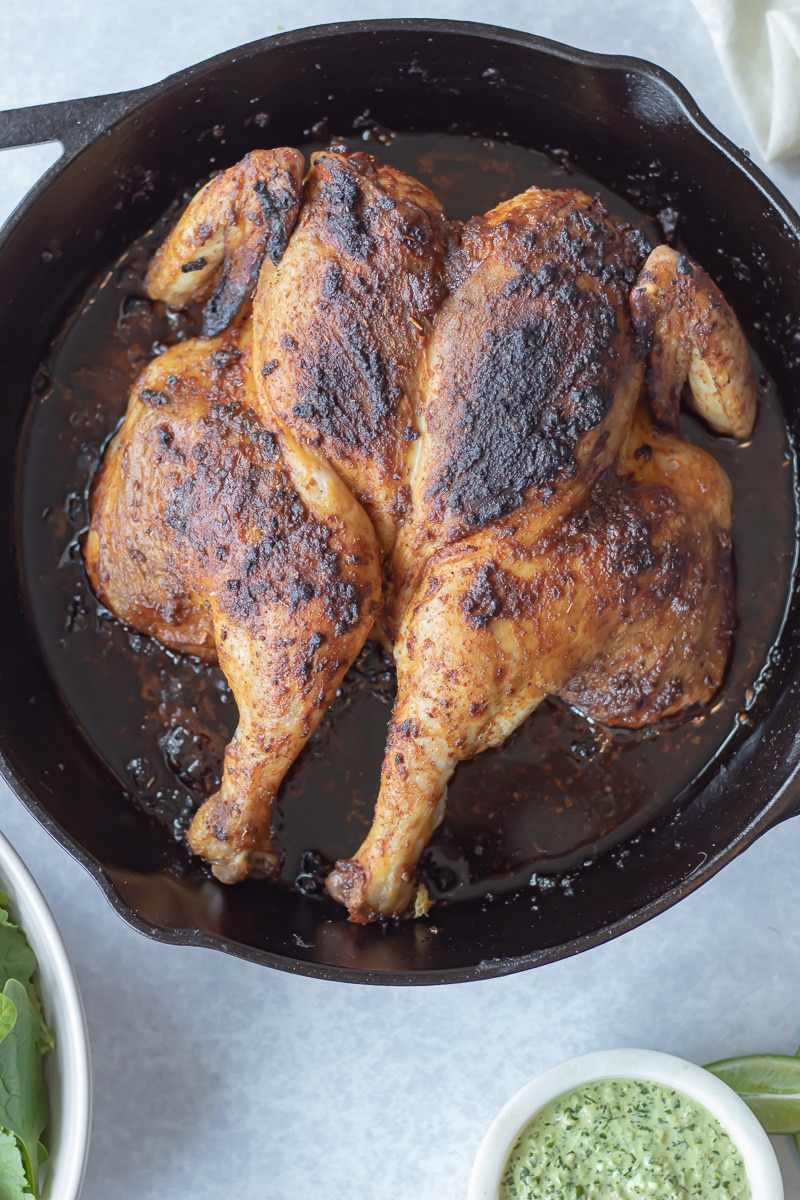 What is Peruvian-style roast chicken?
Well. So glad you asked. Also called Pollo a la Brassa, this is a type of rotisserie chicken popular in Peruvian (duh) cuisine, especially in Peru. It's defining factor is a delicious, smoky spice rub that seasons the meat before it's cooked. I take a few liberties with my version (of course), but the more traditional versions are just as cumin and paprika heavy. It's going to feel like a lot, but I promise the flavor payoff is worth it.
I also like a lot of citrus, so I take some of the spice rub and mix it with lots of lime juice (lemon would work too!) and olive oil and then brush that all over the skin. OMG.
You know how much I love an almost-burnt situation with my food (i.e. this salmon), so I didn't worry about the color this guy got. However, if you're concerned about the rub burning, just loosely cover the chicken with foil the last 10ish minutes of cooking.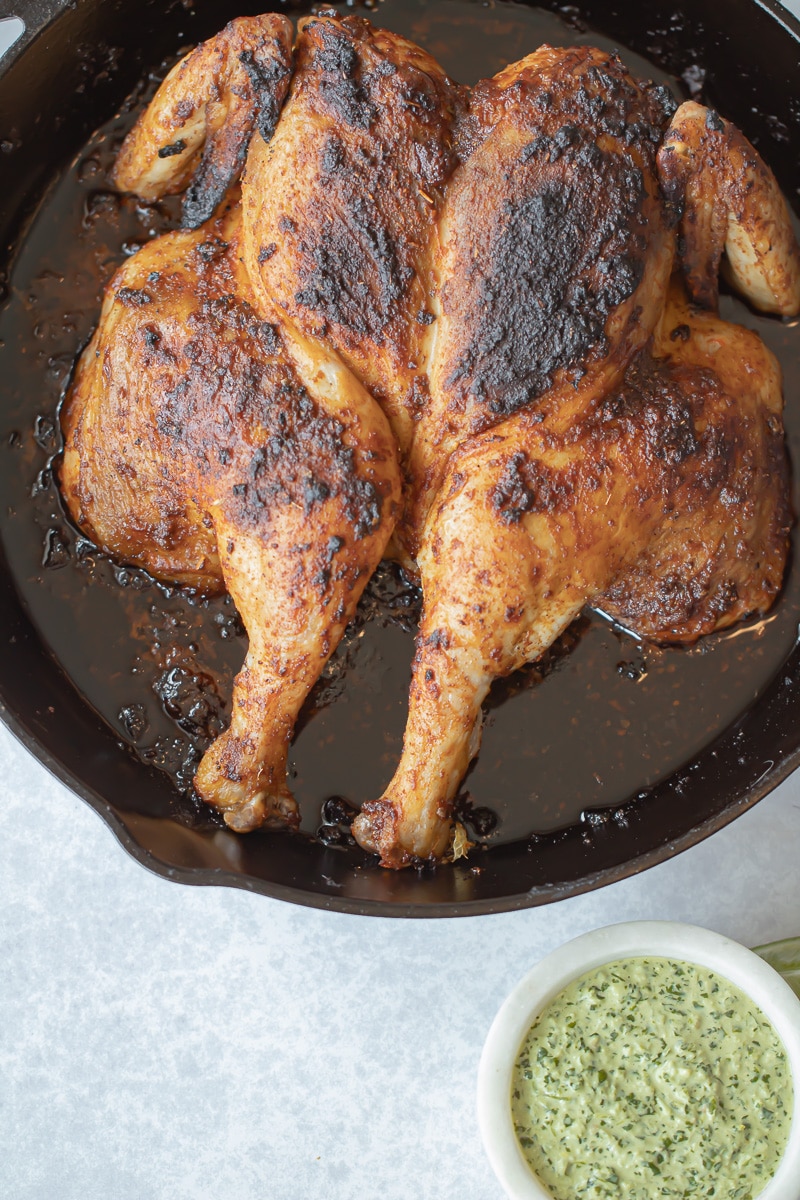 How to butterfly a chicken?
I'm no expert, but basically all you're doing is cutting out the little chicken's backbone (sorry dude) so you can lay it somewhat-flat as it cooks. There are tutorials all over the internet, so spend a few minutes watching some videos and you'll get the hang of it.
Pros: More surface area for the chicken skin to caramelize and get crispy. AKA less soggy skin! Also, takes less time to cook so we're in weeknight dinner territory over here.
Cons: Not terribly fun to do. If you're not comfortable with kitchen shears or don't have a super sharp knife for the job, ask the folks at the meat counter at your local store if they'll do it. 9/10 times, I think they will. If not, just roast this normally! It might take a little longer, and you'll lose some crispy skin but it will still be absolutely delicious and I promise you won't regret it.
What to serve peruvian-style roast chicken with
The MOST delicious spicy green sauce. You guys know I'm completely obsessed with creamy sauces (as evidenced here and here and, oh look, here), and this is no different. Throw some cilantro, jalapeno, garlic and yogurt (or mayo if you want to be more traditional) into a blender/food processor while your chicken cooks and you're good to go.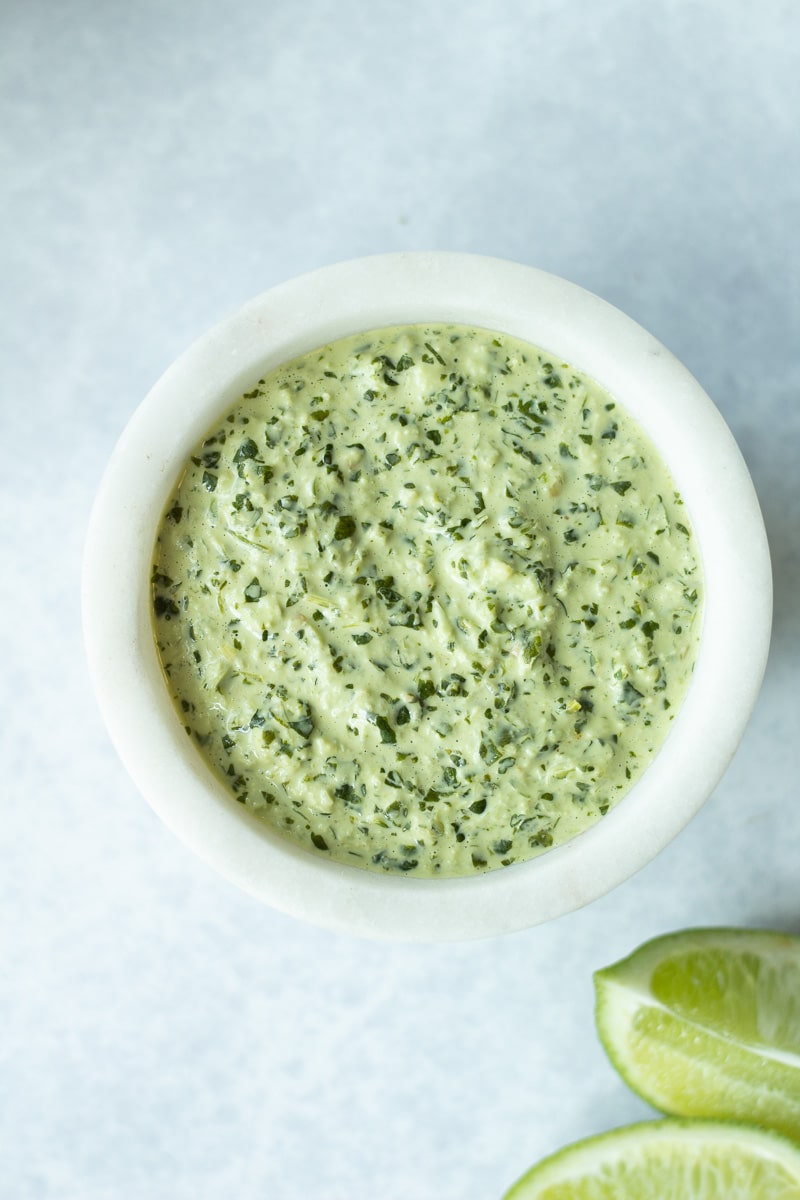 If this all sounds like...a lot? I get it. But I'm telling you it's a flavor bomb. The chicken is so perfectly smokey, and then this sauce is spicy yet cooling. It's the best combo. Traditionally, I believe this roast chicken is served with french fries (yum), but a simple salad or even some roasted vegetable will be great. Throw some potatoes, cauliflower or broccoli in the oven with the chicken (I'd use a separate pan!) and you're good to go. Utensils optional.
Just promise me you'll dip ALL the things in that spicy sauce? Great.