A bulgogi-inspired way of cooking ground beef for easy beef bulgogi bowls that will be a sure weeknight dinner hit! Keep these ingredients on hand for a fresh, delicious and quick meal to pull together on the busiest of days. This dish is inspired by Marion's Kitchen so you know it's good!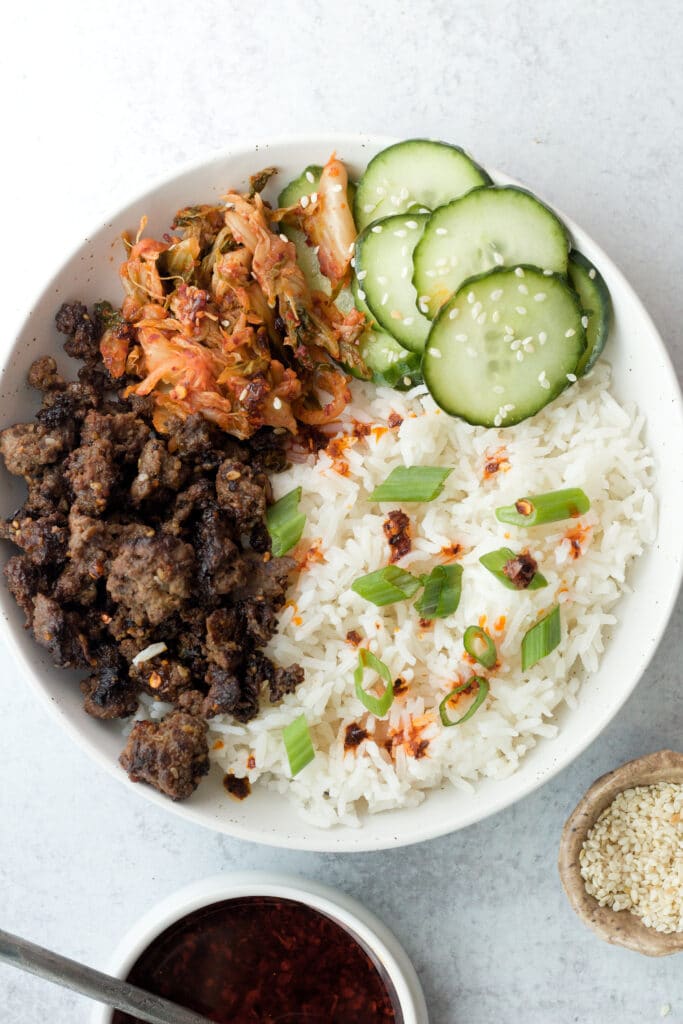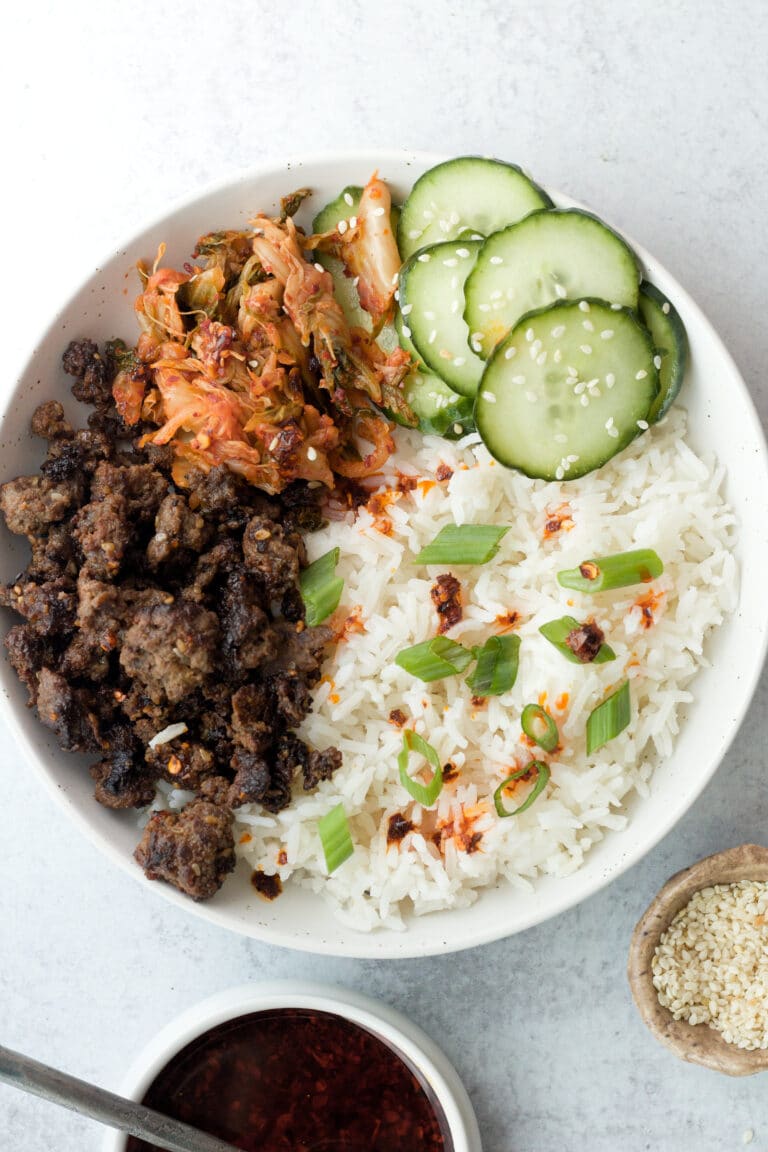 I am so unbelievably excited to share today's recipe with you!! I know you guys come here for quick, easy, weeknight-friendly meals (you're busy - I get it!) and I think this might be one of the quickest and easiest.
Recently, I've become absolutely obsessed with Marion's Kitchen. Her videos bring me SO much joy and her recipes are just amazing. If you're looking to dive into more Asian-inspired dishes, she's your gal.
This recipe is for her budget friendly bulgogi, which I tweaked EVER so slightly and then turned into ground beef bulgogi bowls with lots of rice, kimchi and super simple quick-pickled cucumbers.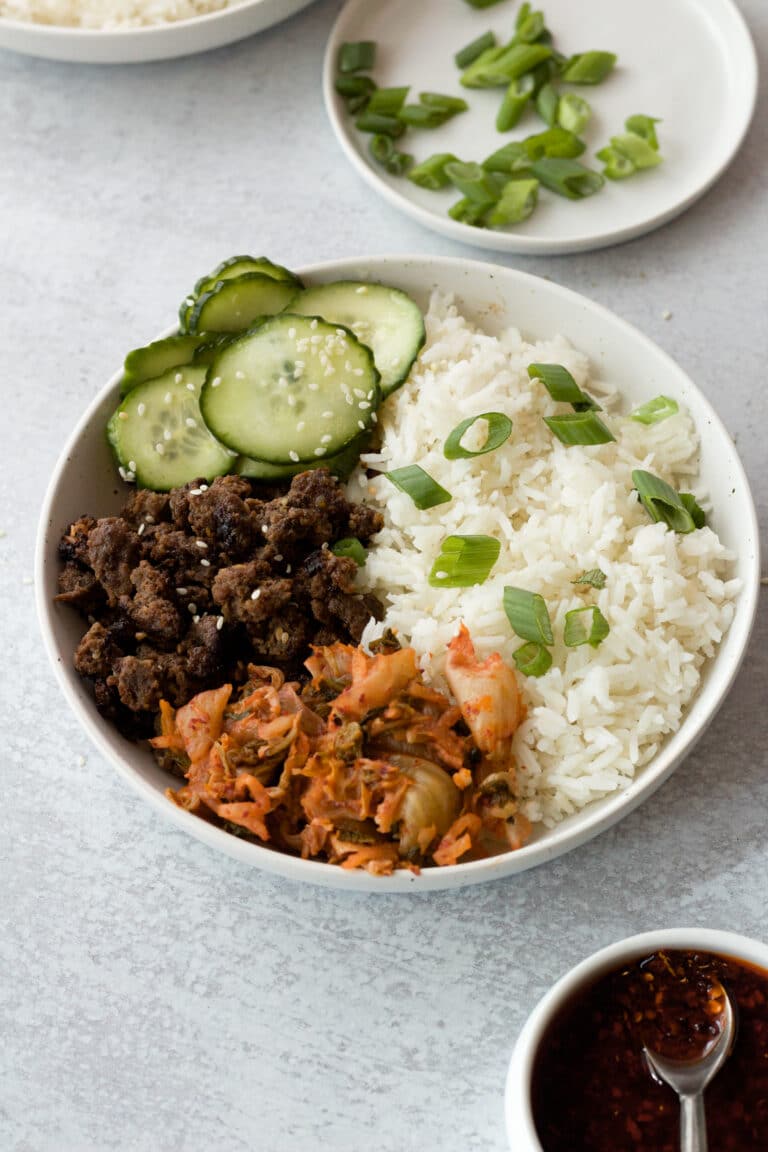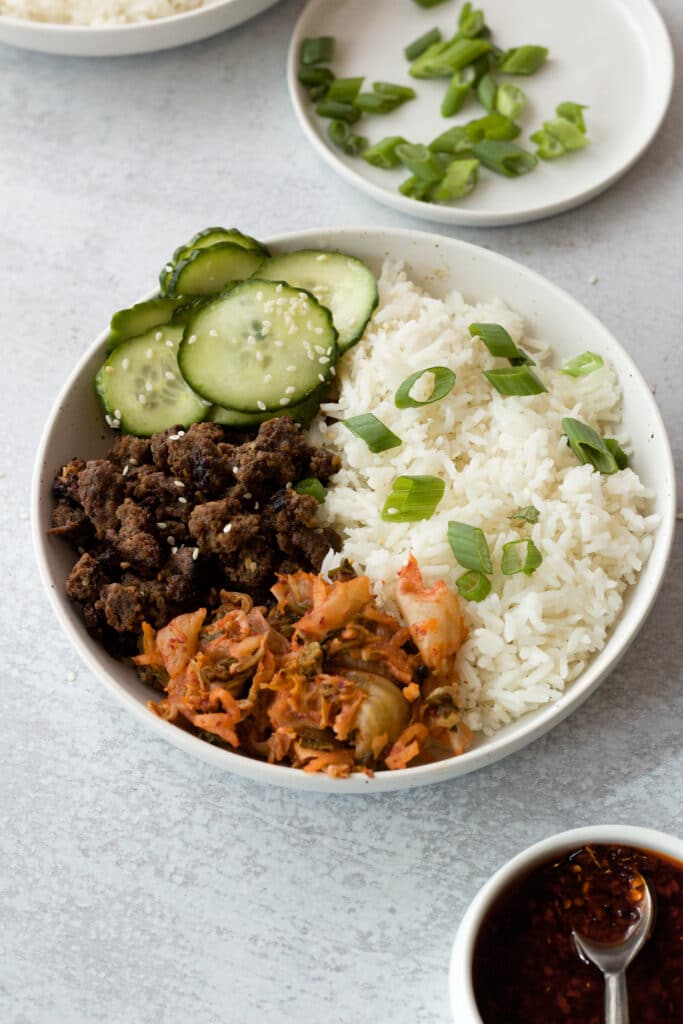 Quick, easy and DELICIOUS
Need I say more?
I mean, I will. But I don't have to, right?
Beef bulgogi bowls are the BEST weeknight dinner. You're cooking just enough to make it feel fresh, but you can also rely on a lot of store-bought ingredients (helllllo toppings) to pull it together. Because we're using ground beef, you barely need to marinate it, and that helps everything come together super fast.
Once you've got the ground beef bulgogi down, the rest is totally up to you! Obviously for these bowls you'll likely need rice, but you can use cauliflower rice if you prefer. Or forget the bowl and create lettuce wraps. OR do the best of both worlds and turn this into a salad-sort of thing with chopped up lettuce as the base with all the toppings you desire. Any way you go, it'll be quick and it'll be perfect.
Speaking of toppings, we're making a quick-pickle cucumber that is the perfect crunchy accompaniment to the hot, crispy beef and fluffy rice. Because we're literally just pickling them for a few minutes, they are still clearly cucumbers (rather than pickles). But they get just tangy enough to make a difference. I also love kimchi in my bulgogi bowls, and the combo of slightly pickled cucumbers and the fermented kimchi is just so amazing. But if kimchi isn't your thing, I have some other topping suggestions below too!
I also LOVE drizzling on a little of my homemade garlic chili oil to add some extra spice.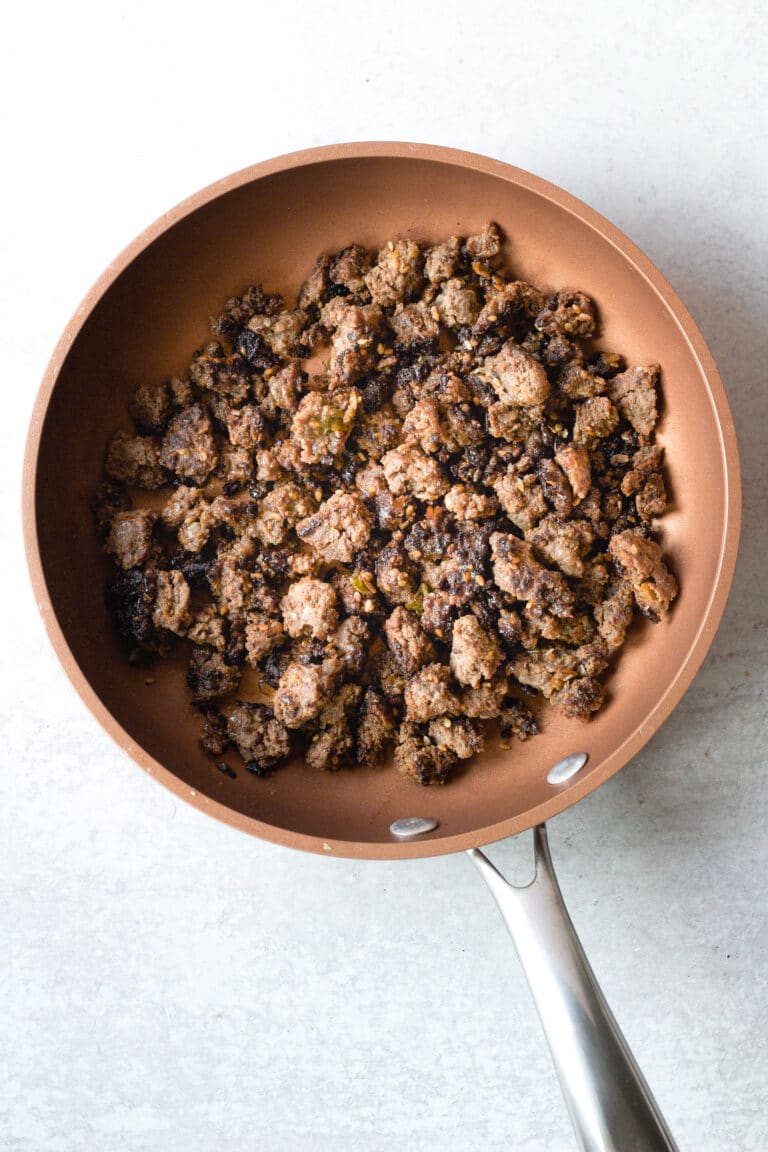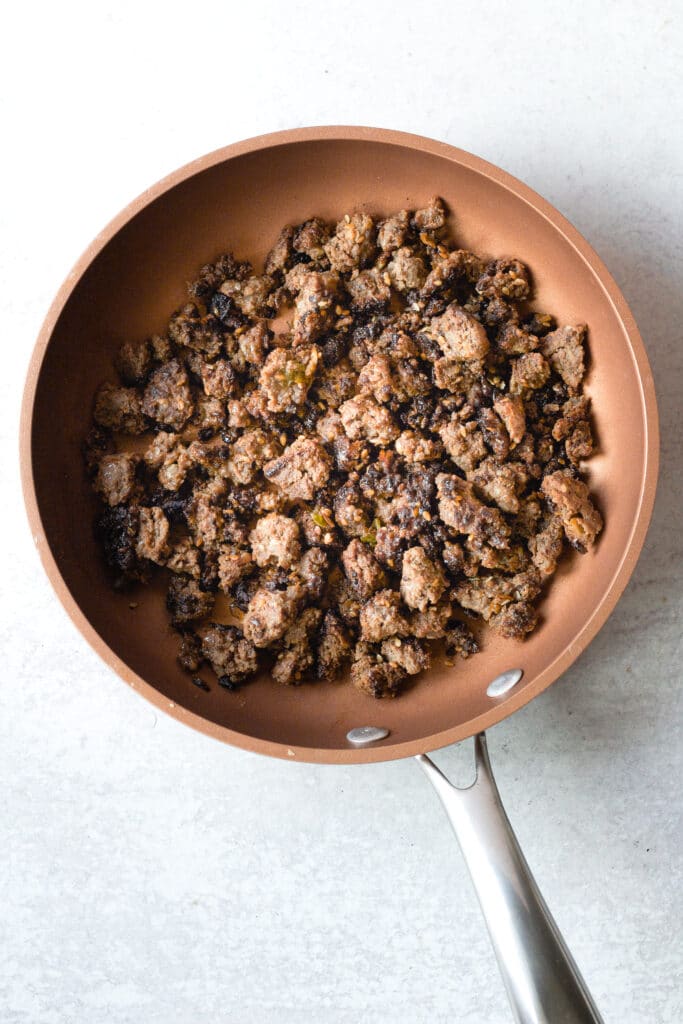 What you need to make ground beef bulgogi
It's not a ton, but everything here has a purpose and adds to the flavor. I've added substitution ideas where appropriate, but none of these ingredients are hard to find so I really hope you try to get your hands on them!
Pear: Traditional bulgogi marinades use Asian pears to add sweetness and tenderize the meat. Since we're using it to marinate ground beef, you don't need to worry about tenderizing the meat too much, but the pear does help break down the meat and also give off the perfect amount of sweetness. I have been able to find Asian pears at my local grocery store, but if you can't get your hands on one a regular pear will work! Alternatively, you can substitute the pear with a tablespoon of pineapple juice (or grated pineapple if you want!) to get a similar effect. I've tried grated apple and it just doesn't taste the same to me, so I would definitely go with pineapple over apple if you can't do the pear.
Garlic: OF COURSE. You know I often love to grate garlic into dishes vs. mincing because I just think it's easier. Here, I really do suggest you grate it so that it mixes in really evenly.
Soy sauce: Just a few tablespoons adds great flavor and salt!
Mirin: In Marion's recipe she uses brown sugar to replace white sugar and mirin to make this recipe even easier. I really love mirin though and always have it on hand, so I use it along with some white sugar to this marinade. If you're not familiar, mirin is a type of rice wine that adds sweetness and amazing flavor to dishes. I love to add it to stir fry sauces, dips and more. If you can get your hands on a bottle, I highly recommend grabbing one!
Sesame oil: As always, a little goes a long way. But the taste can't be beat! While we're here, you'll also throw in some sesame seeds.
Green onions: I know it feels like a lot for this amount of beef, but the green onions add flavor you need here! Thinly slice them and add the whole bunch (light and dark parts!) to the meat.
Ground beef: Ground beef is what makes this a true weeknight wonder. Other cuts of meat often need more time to tenderize, but in this case we're mostly just marinating ground beef to quickly flavor it. To avoid overworking the meat, I add all of the marinade ingredients to the bowl, combine it really well and THEN add the meat. This way you can just stir it together to combine the meat with the marinade and not worry about overmixing (although in this dish, the ground beef is pretty forgiving so it's okay if you do go a little crazy).
To turn this into beef bulgogi bowls:
Quick-pickle cucumbers: While you let the meat marinate for a few minutes (that's all it needs!), thinly slice up some cucumber and toss it with vinegar, sesame oil, sugar and salt. They'll get lightly, but perfectly, pickled and are so refreshingly crunchy with this dish!
Rice: This is a great time to pull out those frozen bags of rice for truly the quickest meal you've ever made. If you do make the rice from scratch, I'd start that first as it will take the longest! Alternatively, you can serve this in lettuce wraps or with cauliflower rice if that's more your jam.
Toppings: These ground beef bulgogi bowls are basically a blank canvas for you. Once you have your rice and beef on there, the options for toppings are endless. I am a big fan of kimchi (which is also traditional) and chili oil for this dish. It's simple, but I always have them on hand and they are total flavor bombs. Other suggestions:
Thinly sliced cabbage
Shredded carrots
Radishes
Soft-boiled eggs
Chili garlic sauce or Sambal Oelek
Spicy mayo
Cilantro and/or more green onions!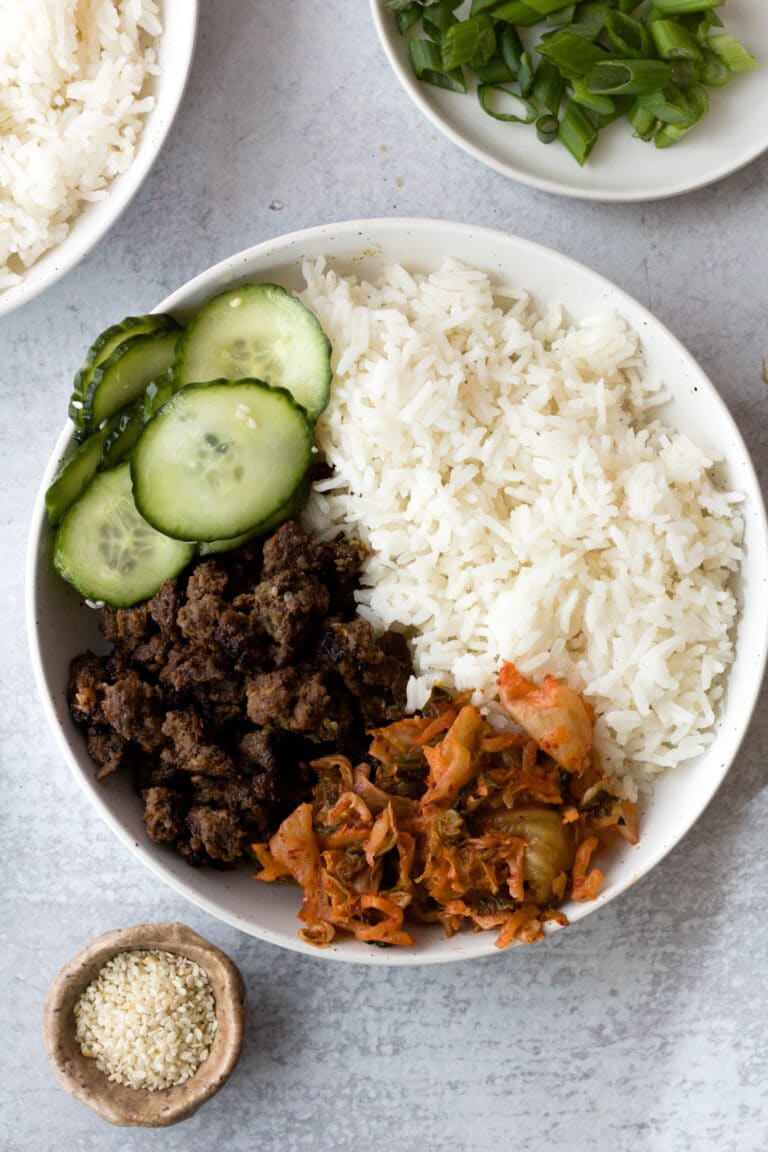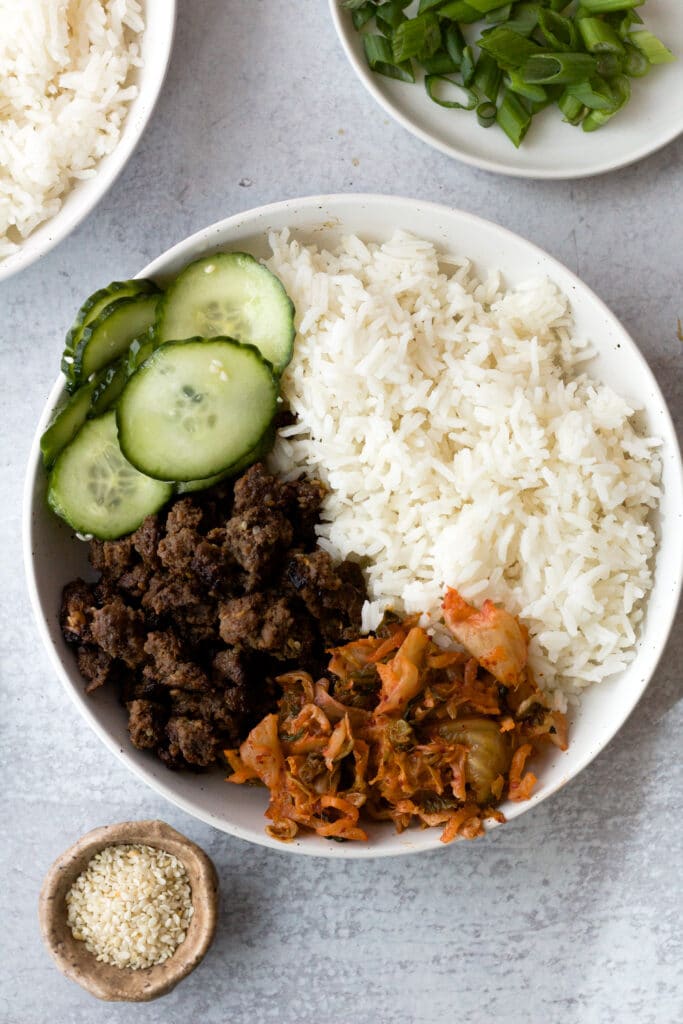 Prepping for a weeknight win
The beauty of this dish is that it truly comes together so quickly, so I really believe you can make this from start to finish on a busy night. BUT, I am also completely aware that some days are an extra flavor of crazy so don't fret - you can totally prep some of this advance!
While you don't want to let the meat marinate for TOO long, you can mix up the marinade ahead of time and let it sit for up to 3 days in the fridge. When you're ready to cook, just add the ground beef and mix it up.
The quick-pickle cucumbers can be made in advance and will stay good for up to 5 days. Obviously they will continue to pickle the longer they sit, but that's great!
Prep your rice! Make a big batch and keep it in the fridge to use throughout the week. Or, portion it out and freeze in small bags or containers. Then just take out what you need from the freezer. I always have little pre-portioned bags of rice in the freezer for quick meals. Either way, to reheat I like to add a couple drops of water to the rice as it warms up. This softens it and makes it taste fresh.
This is truly one of my favorite meals to make these days. It's so quick, easy and versatile!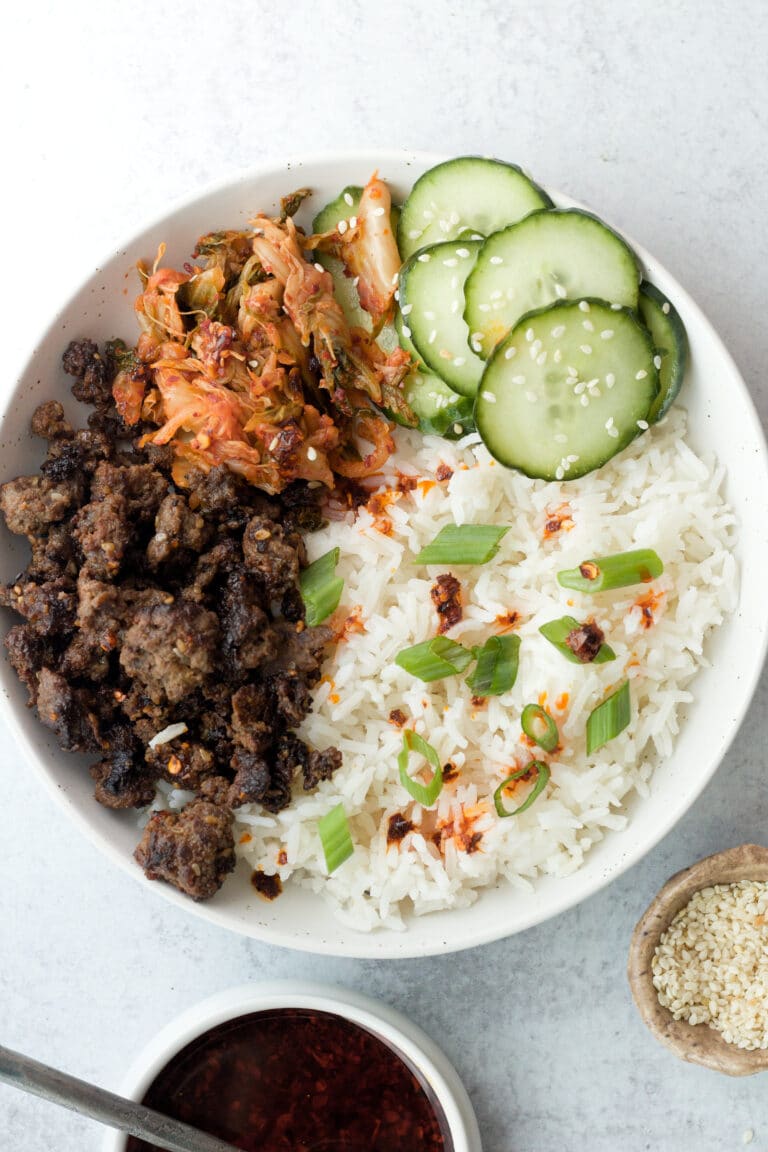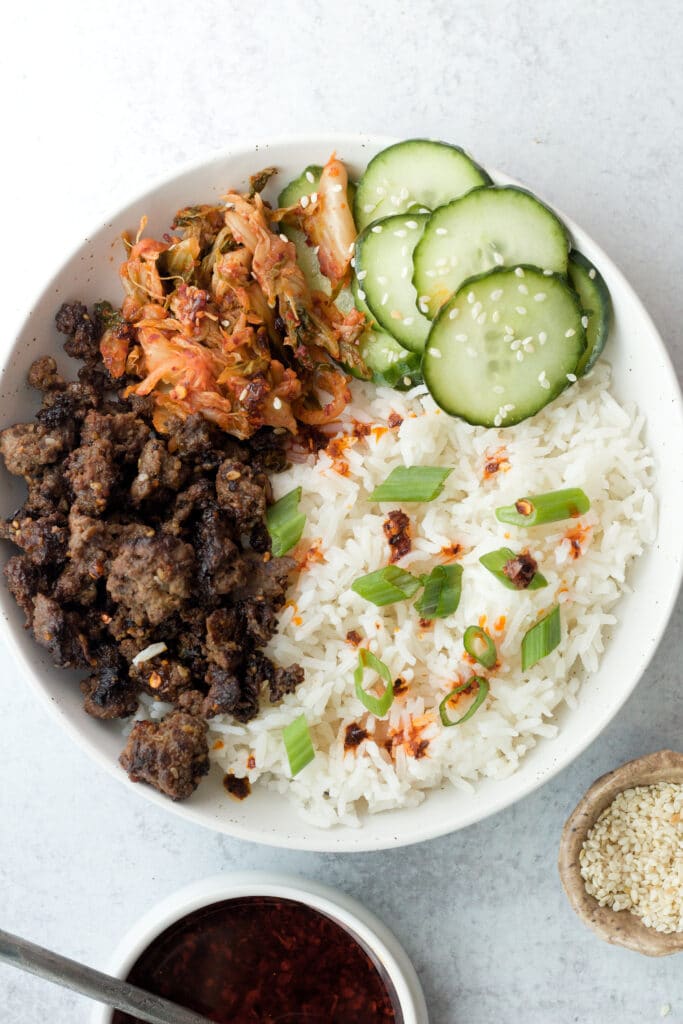 Print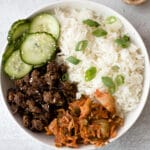 Ground Beef Bulgogi Bowls
---
Author:

Mansee

Total Time:

25 minutes

Yield:

4

1

x
Description
A bulgogi-inspired way of cooking ground beef for easy beef bulgogi bowls that will be a sure weeknight dinner hit! Keep these ingredients on hand for a fresh, delicious and quick meal to pull together on the busiest of days. This dish is inspired by Marion's Kitchen so you know it's good!
---
Ground beef bulgogi
2 tablespoons

grated pear

4

garlic cloves, grated

3 tablespoons

soy sauce

1 tablespoon

mirin

1 tablespoon

sugar

1 tablespoon

sesame oil

6

green onions, thinly sliced (dark and light green part)

1 tablespoon

sesame seeds

1

lb ground beef

1 teaspoon

neutral oil
Quick-pickled cucumbers
1

english cucumber, thinly sliced

2 tablespoons

rice vinegar

2 teaspoons

sesame oil

2 teaspoons

sugar

1 teaspoon

salt

1 teaspoon

sesame seeds
To serve
Rice
Kimchi
Chili oil (Marion has a great homemade recipe for chili oil as well!)
---
Instructions
In a large bowl, add 2 tablespoons grated pear, 

4 grated garlic cloves, 3 tablespoons soy sauce,

1 tablespoon mirin, 1 tablespoon sesame oil and 1 tablespoon sugar. Whisk to combine. 

Add 6 thinly sliced green onions and 1 tablespoon sesame seeds and stir together. Add in 1 pound ground beef and use a fork or your hands to combine everything. Mix everything really well to ensure the meat combines with all the flavorings really well. Set aside to marinate while you prepare the cucumbers.
Thinly slice 1 english cucumber into a bowl (I love a mandolin for this, but a knife works perfectly!). Add 2 tablespoons rice wine vinegar, 2 teaspoons sesame oil, 2 teaspoons sugar and 1 teaspoon salt. Mix well to combine. Add 1 teaspoon sesame seeds and toss together. Set aside. 
Heat 1 teaspoon neutral oil in a large frying or cast iron pan over high heat. 
When oil just starts to smoke, add marinated beef mixture to pan and immediately push it into one layer. Reduce heat to medium-high and let cook for 5 minutes.
Using a spatula, flip beef over in large chunks and start to break apart. Let cook for another 2 minutes and then use the spatula to break the meat up even further.
Continue flipping and breaking the meat until it is browned, caramelized and fully cooked. 
To serve, add rice to bowls. Pile on ground beef bulgogi, your quick-pickled cucumbers and other toppings of your choice (I love kimchi and chili oil). Enjoy!
Ground beef bulgogi recipe slightly adapted from Marion's Kitchen.
Prep Time:

10 minutes

Cook Time:

15 minutes

Category:

Dinner

Method:

Stovetop

Cuisine:

Korean
Need ideas for leftover ingredients?
To be honest, you probably won't have too many ingredients leftover (yay!) but you might find yourself buying a few things - like the toppings for instance - you otherwise wouldn't. Here are a few ideas for ingredients like that!
Kimchi:
Chili oil
Pear