My go-to salad dressing, this lemon garlic vinaigrette is a staple in my kitchen. It's super versatile and goes with just about any salad you enjoy, including my house salad. It also makes a great marinade for meats and seafood, and is perfect for drizzling on roasted vegetables!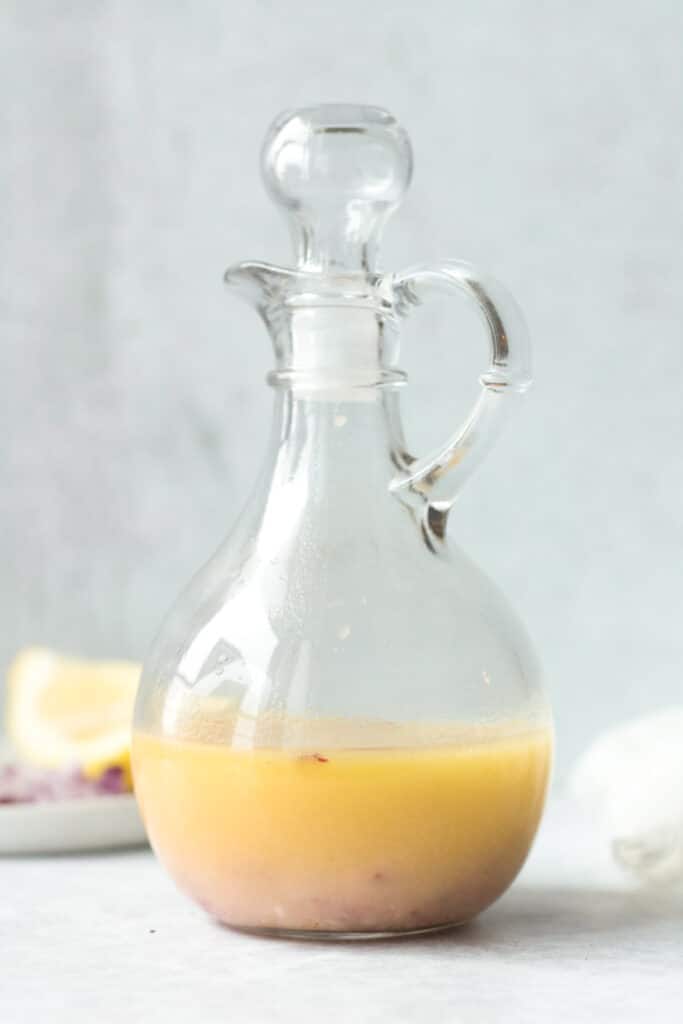 Print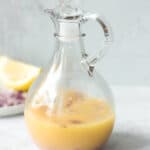 Lemon garlic vinaigrette
---
Author:

Mansee

Total Time:

10 minutes

Yield:

~½ cup
Description
My go-to salad dressing, this lemon garlic vinaigrette is a staple in my kitchen. It's super versatile and goes with just about any salad you enjoy. It also makes a great marinade for meats and seafood, and is perfect for drizzling on roasted vegetables!
---
2 tablespoons

minced shallot

1

garlic clove, grated or minced

3 tablespoons

lemon juice

1 tablespoon

water

¼ cup

olive oil

1 teaspoon

dijon mustard

½ teaspoon

sugar

¼ teaspoon

salt

¼ teaspoon

black pepper
---
Instructions
Combine all ingredients in a  jar with a tight-fitting lid and shake!
Alternatively, you can combine all of the ingredients except for the olive oil and stir. Slowly whisk in the olive oil to emulsify.
Keep stored in an air tight container in the fridge for up to 2 weeks. 
Prep Time:

5 minutes

Cook Time:

5 minutes

Category:

Sauces

Cuisine:

Global
Coming in hot with a recipe that's probably really basic but also really helpful: Lemon garlic vinaigrette aka my everyday salad dressing.
There is exactly zero shame in store-bought salad dressings, but I do think it's good to have a back-pocket type of recipe for those days when you're either out of the bottled stuff or just looking for something a little lighter (I find store-bought dressings to be a bit on the heavy side - even the oil-based ones!).
This lemon garlic vinaigrette is my absolute go-to for so many reasons:
I always have the ingredients on hand
It's great with any type of lettuce
It's SO easy to throw together (especially if you have a jar laying around)
It lasts in the fridge for a while (up to 2 weeks!)
It's great in non-salad application too - use it as a marinade, sauce and more!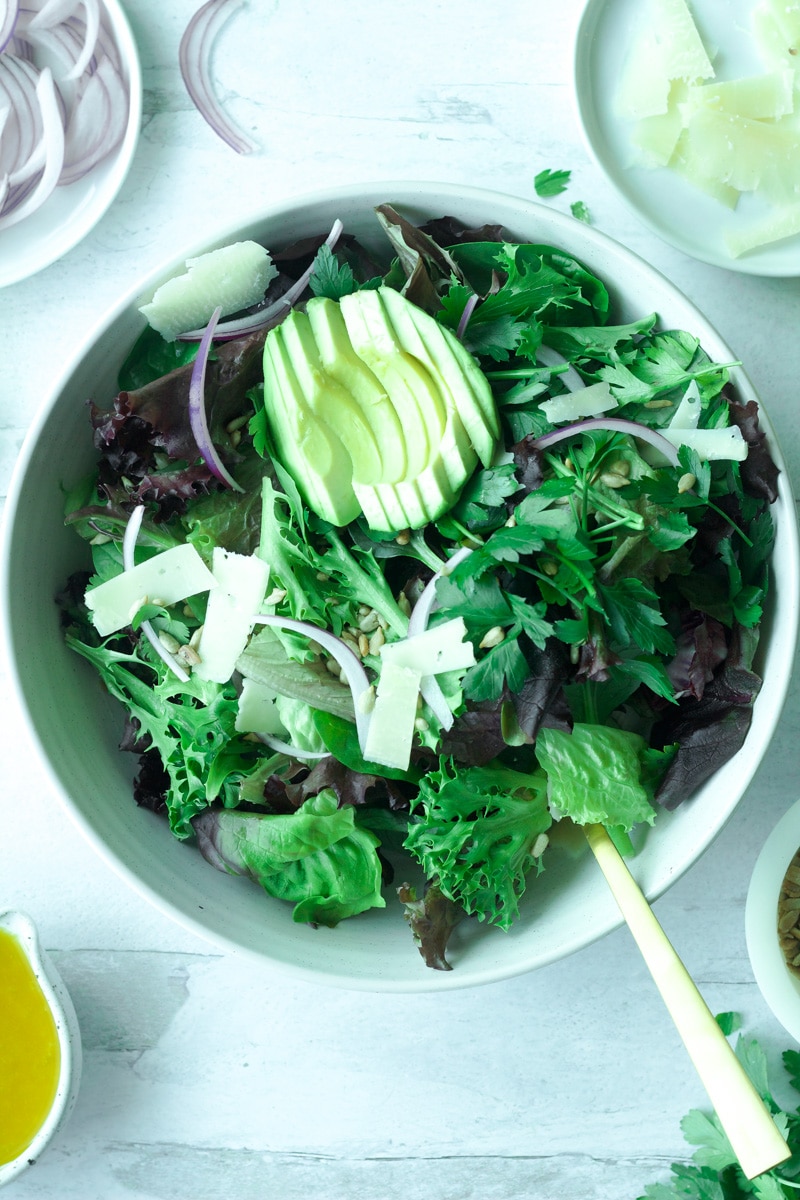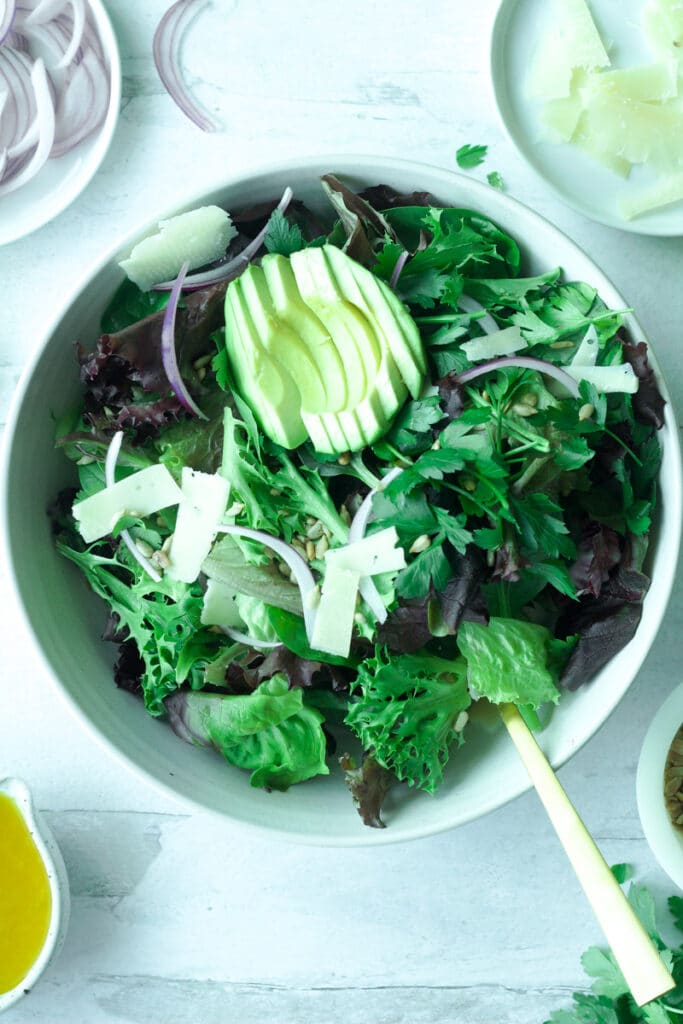 Lemon garlic vinaigrette ingredients
Easy to find and easy to keep on hand. Yay!
Shallot: You only need a little bit, but I like to take the extra step to add some finely minced shallot. It adds great flavor and makes this vinaigrette better than just oil + vinegar. If you don't have shallot, you can easily replace with a little onion if you'd like. Basically any kind of onion works, just make sure it's finely minced.
Garlic: Like the shallot, a little goes a long way. Because it stays raw, one good clove is all you need here (hi, welcome to the only recipe of mine that calls for just ONE clove of garlic). You can mince this or grate it in.
Lemon juice: Freshly squeezed juice is a must. Bottled has a bit of a strange taste that won't work well here.
Water: I picked up this tip from this article. The water helps mellow out some of the harsher flavors (shallot! lemon!) and bring everything together.
Dijon mustard: Just a dab to emulsify and add a little extra flavor.
Sugar: Again, just a little to balance things out.
Salt + pepper: DUH.
Olive oil: Use your favorite olive oil, whatever you like to keep on hand! Note: Many vinaigrette recipes use a 3:1 oil to vinegar/lemon ratio, but I find that to be waaaaaay too oily. I prefer something closer to 1:1. But you can flex the amount of oil (or lemon juice) based on your taste!
Optional add-ins: If you feel like it, throw in some chopped herbs like parsley, dill or chives.
Make it creamy: Sometimes if I'm feeling sassy, I add a tablespoon of mayo to make a delicious creamy lemon garlic vinaigrette. Greek yogurt or even some canned coconut milk work here too!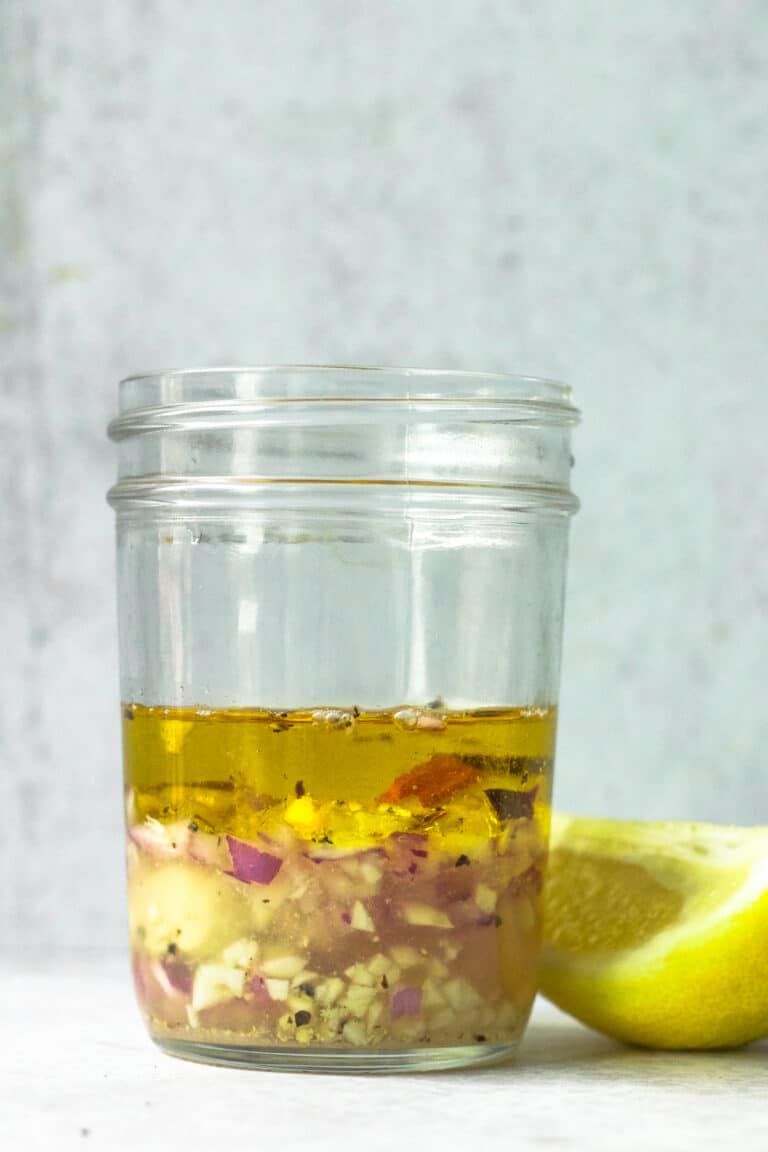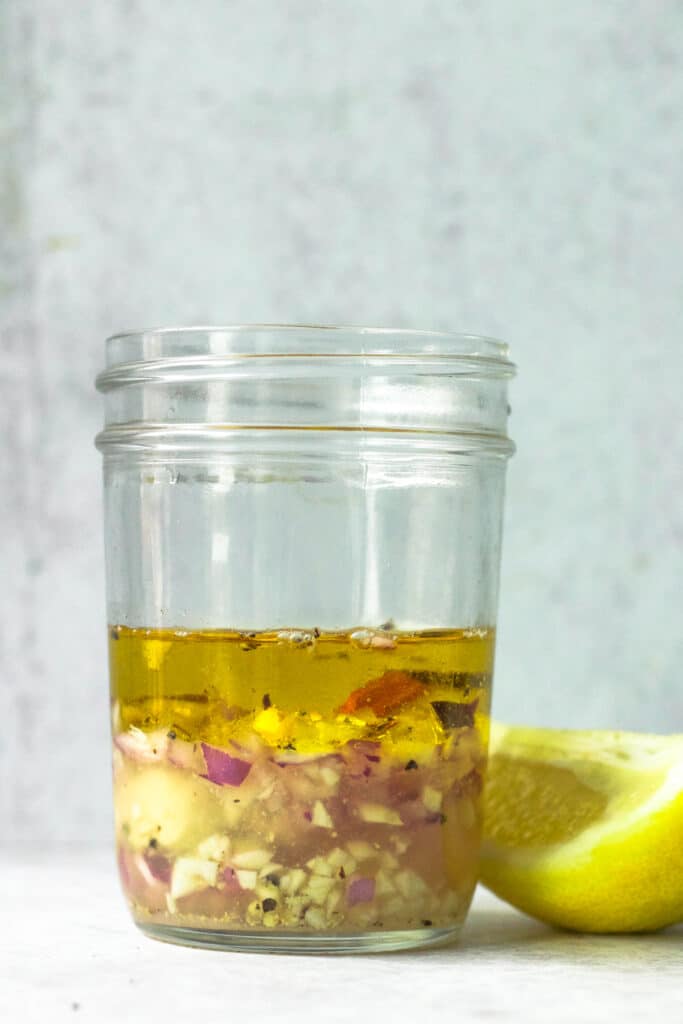 Easy as 1, 2, 3...
Making this vinaigrette takes basically no time at all. Just grab all your ingredients and go!
Mince the shallot and garlic. You want both to be as finely minced as possible so the final dressing isn't chunky and you get that flavor in every bite! I like to use a grater for the garlic, but a good mince works just as well.
Add the lemon juice, water, mustard and spices. Just throw it all in there and mix it up.
Pour in olive oil. Whisk in the olive oil. Don't worry about being too careful with it, just whisk while you pour it in so everything combines.
Alternative: Throw everything (oil and all!) into a jar with a tight-fitting lid. Shake to combine. You can store the finished vinaigrette in the fridge in this jar as well. Just shake again before using.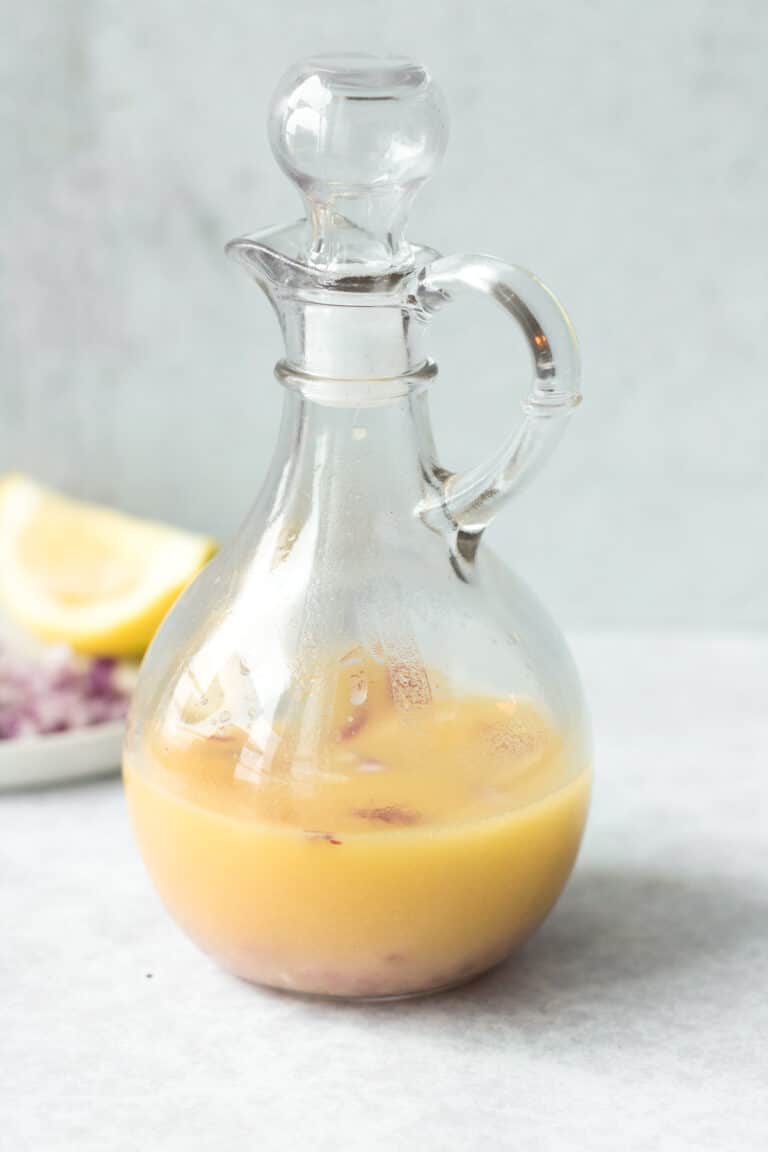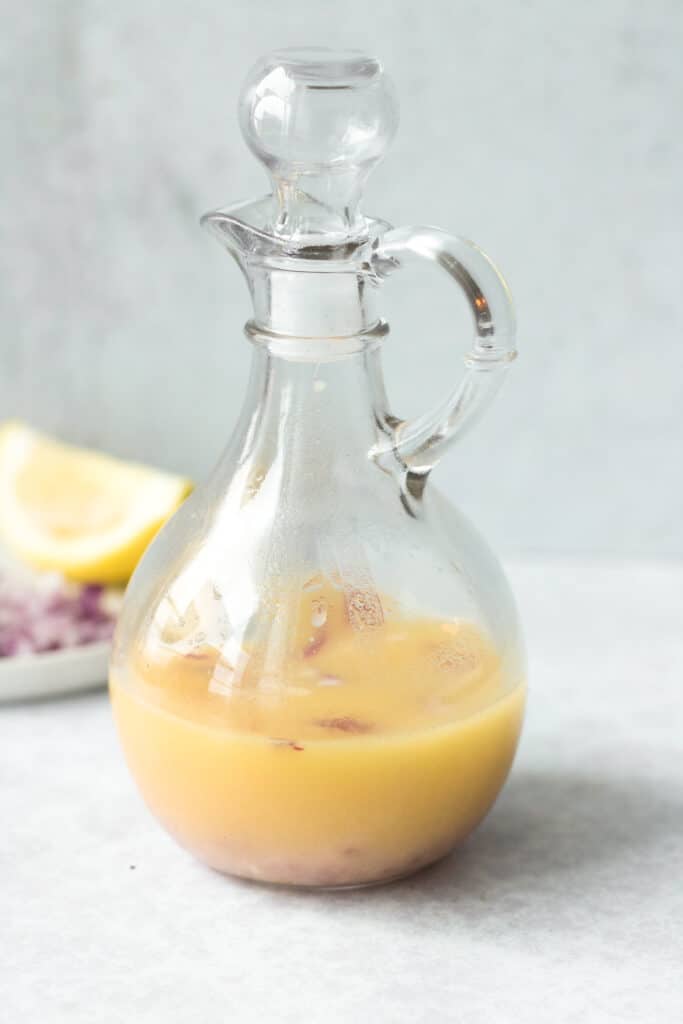 How to use this lemon garlic vinaigrette
Let's get the obvious out of the way: It's a salad dressing. Use it for your own version of a house salad, or pretty much any other salad you want! The flavors here work with just about any kind of lettuce, any kind of protein and all the add-ins you can think of.
If you're not in the mood for salad, try this vinaigrette drizzled over baked or grilled chicken, shrimp or fish. Try it over this roasted chicken dinner for one, or replace the sauce in my autumn sheet pan dinner with this simple dressing.
It's also great added to these rosemary bacon beans or my roasted artichoke and marinated white bean salad. You can also use it to brighten up basically any roasted vegetable - cabbage, cauliflower, broccoli, brussels sprouts, carrots, you name it. Roast em' up and then drizzle this lemon garlic vinaigrette all over the warm vegetables. Delicious!