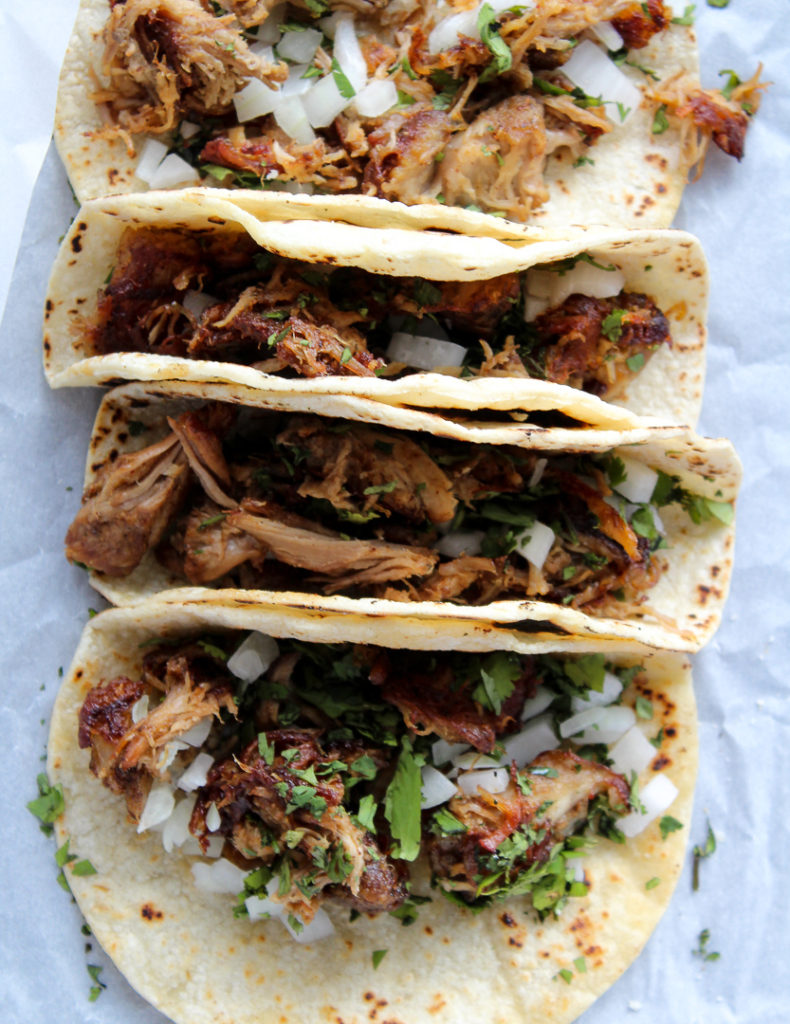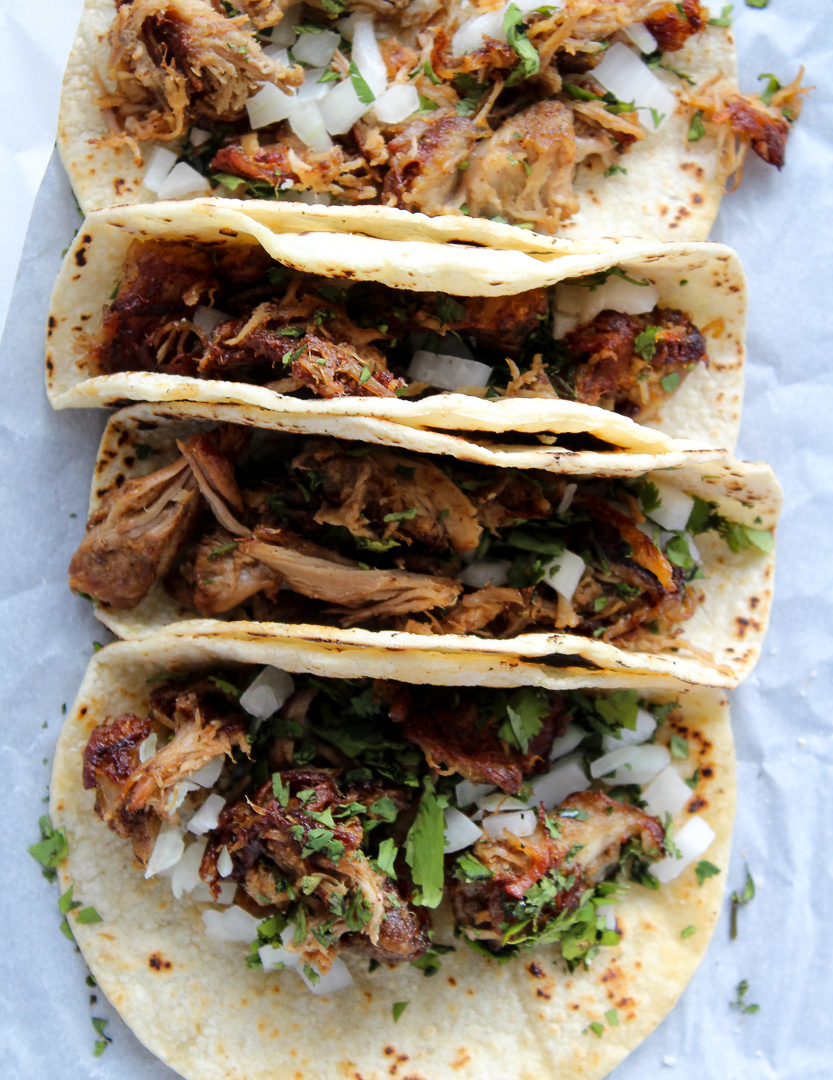 I don't know why, but for some reason almost every time I have people over the for first time, I make tacos. Or something like them.
Basically I make something that can be considered a "filling," a couple of "toppings," and then we either wrap it up in a tortilla or pile it in a bowl. Either way it's always fun and always delicious. And maybe something refreshing to drink on the side? OKAY.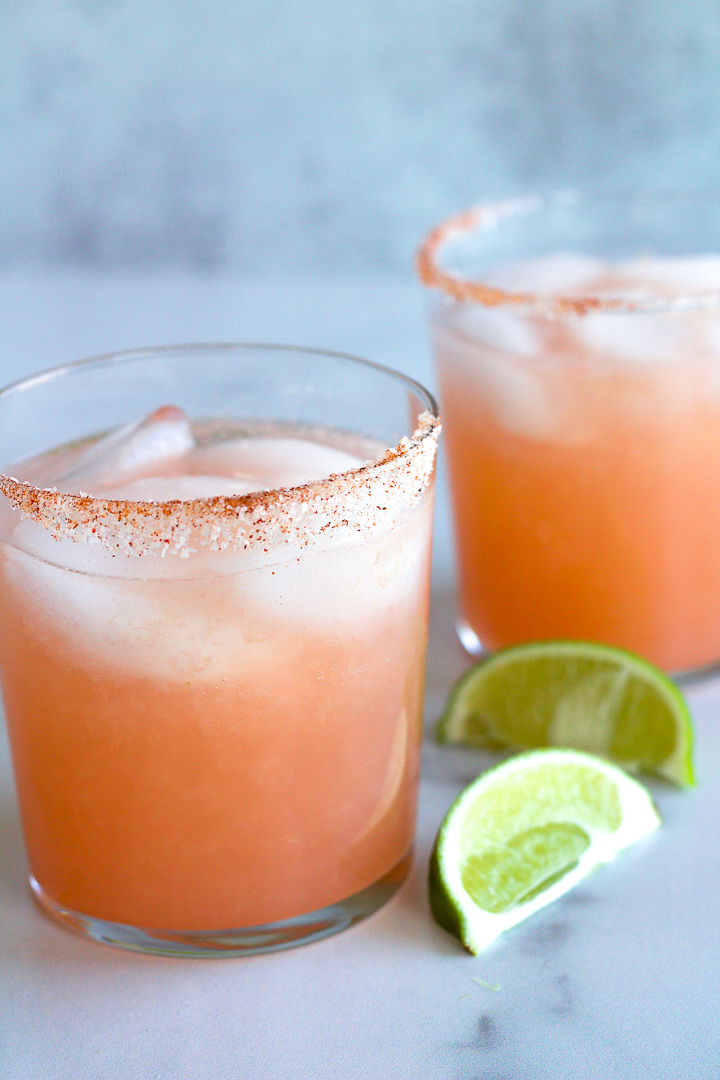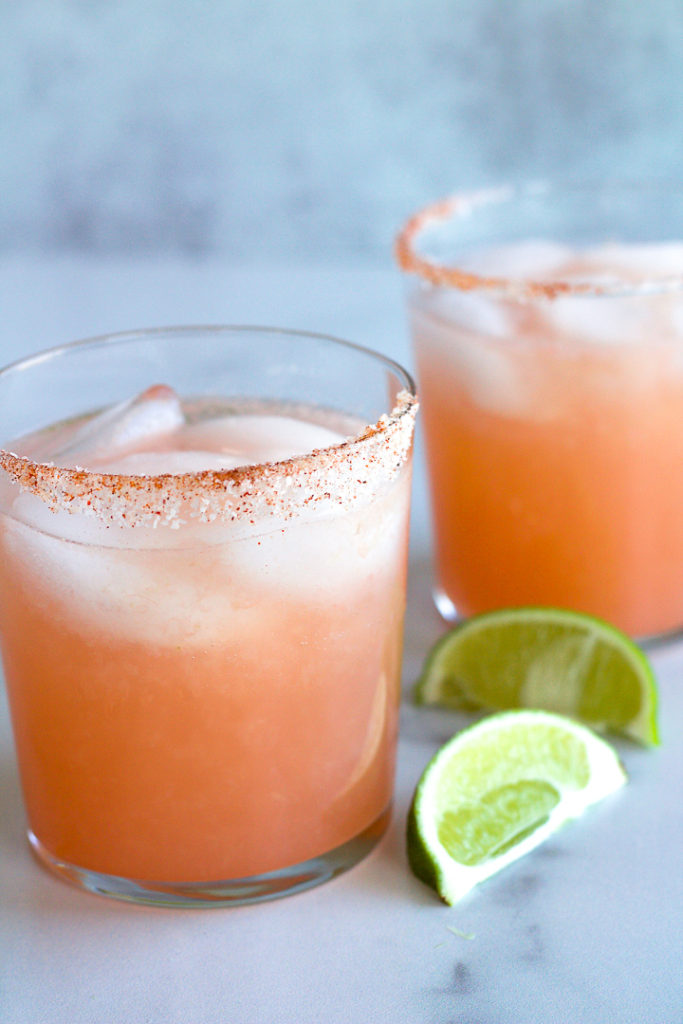 I think the main reason I turn to a menu like this when I'm entertaining someone for the first time is that I'm very comfortable with this menu. I don't have to worry about something not turning out, because these are tried and true recipes and I make them again and again...even just for myself!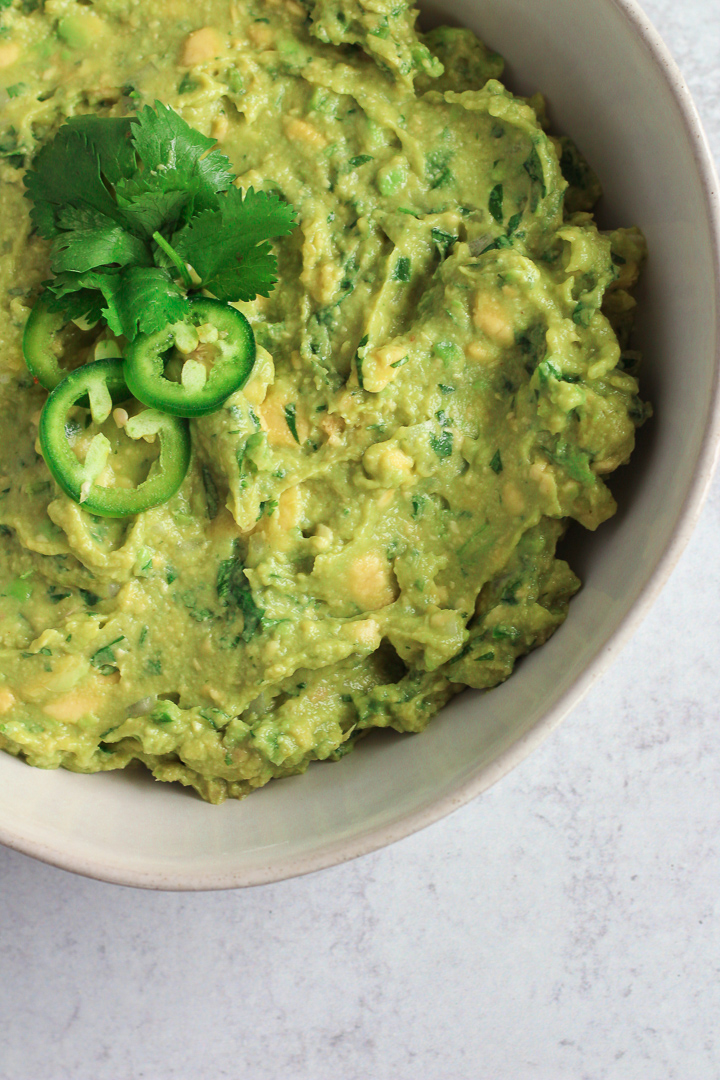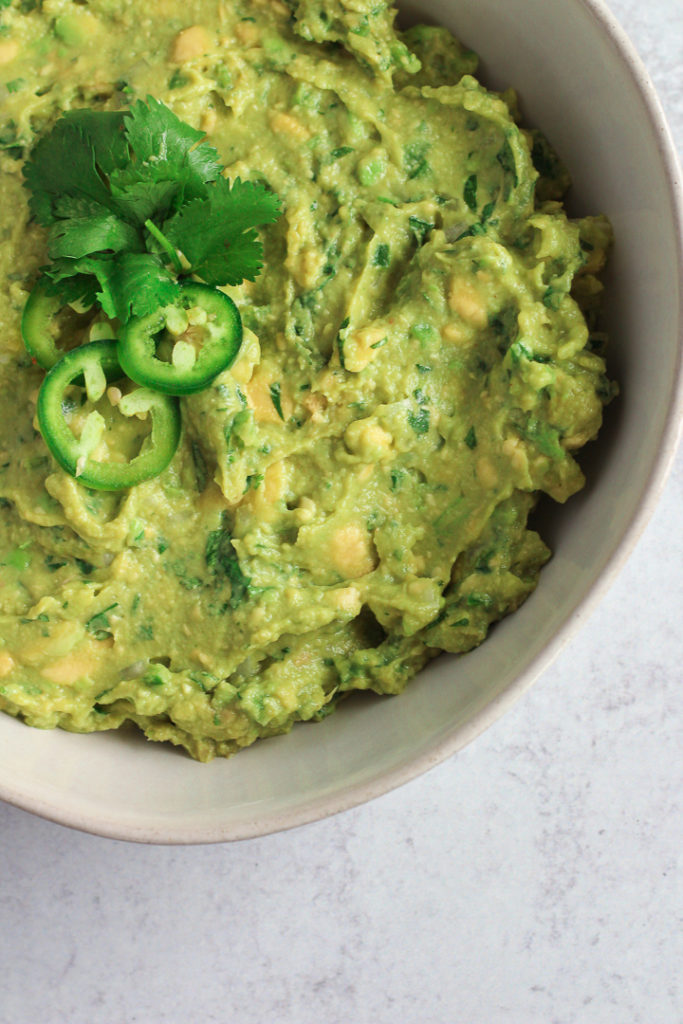 Keep reading for my menu, how I prep and general tips and tricks!
Menu:
I generally like to have one meat and one vegetarian option available, depending on how many people are coming over. Four people who all eat meat will probably be fine with the carnitas, but 10 people will probably appreciate the options.
The beauty of a taco party, in my eyes, is that you don't actually need much more than the actual tacos. I rarely make a side, instead I just make sure my salsas, guac, etc. can be carried throughout the party. Just make sure you have more than enough chips so your guests can munch on them when they first arrive, and then again after dinner because you can't just let a bowl of guac sit there, right?!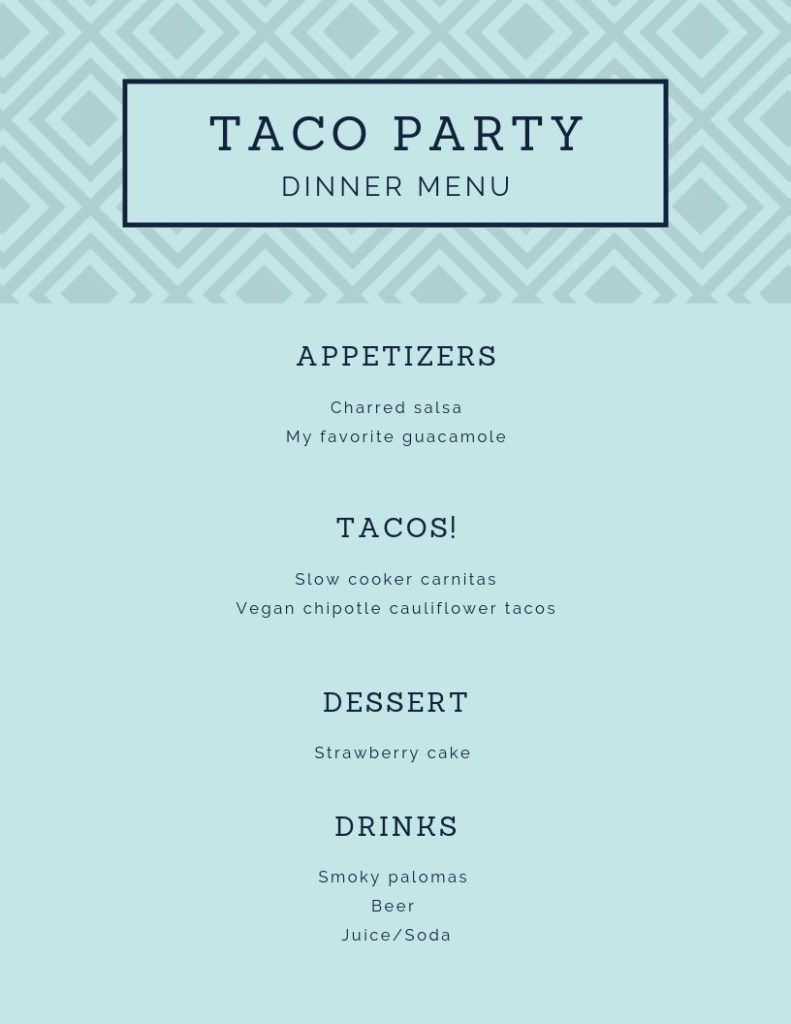 Recipes
Prep
Almost everything on this menu can be made ahead of time, with just a few last-minute finishing touches that you'll do after your guests arrive.
The day before:
Cook carnitas - My slow cooker carnitas take a little while (obviously), but they are perfect to make ahead of time. When they're done cooking, shred the pork and then let cool before storing in the fridge. Make sure to save some of those juices as well!
Make charred salsa - I think salsa gets better as it sits, so making a batch the day before is ideal.
Bake strawberry cake - Do this the night before, and let it cool overnight. You can keep it on the counter, loosely covered all day before your party. If you want to make your own whip cream, you can make that now too and just keep in the fridge!
Make chipotle marinade for cauliflower- It doesn't sound like a big deal, but you'll be happy to have this ready to go the next day.
The morning/day of:
Make guacamole and pico - Like the salsa, I like to make the guacamole a little ahead of time so the flavors have time to meld. Store the guacamole in a container that will provide the least surface area, tightly tightly covered with plastic wrap (like the plastic wrap should be touching the entire surface of the guacamole). While you are at it, you might as well make pico for the cauliflower tacos too.
Go ahead and chop up extra onion and cilantro so people can add to their tacos as they'd like. You'll be so glad you did! Toss the pico, extra onions and cilantro into the bowls you will serve them in later, cover and keep in the fridge too.
Prep palomas - This is especially key if you're juicing your own grapefruits and lime for this one. The whole ordeal can be a little messy, and you don't need that stress when your guests are here.
Get everything juiced, make your simple syrup and get the chili powder rim ready. Keep everything (but the rim) in the fridge until your guests arrive. Alternatively, if you want to serve these pitcher-style, you can mix everything up and let that sit in the fridge. Easy!
Roast cauliflower - I do this now because I honestly might forget if I put it off until the last minute (100% serious). It's also nice to have this done, so you can have most of all your chopping work done and clean the kitchen (so clutch). When the cauliflower is done, let it cool on the sheetpan and cover with foil. Keep it out on the counter until ready to warm up.
One hour - 30 minutes before guests arrive:
Finish the carnitas - The key to my carnitas is a last minute crisping of the pork. In the recipe, I share a couple of ways to do this, so take your pick! Once you are done, keep on a sheet pan and stick them in a 275 degree oven to keep warm.
Stick the cauliflower in that oven to warm up as well.
Transfer the guacamole and salsa into your serving bowls and go ahead and set up where you want to serve.
Open chips and pour into the biggest bowl you have. Set next to salsa and guac.
Set up your drinks station - Set grapefruit juice, lime juice, simple syrup, tequila and rim out. Grab glasses and set them up right next to all your ingredients, so they're all ready to go. OR just take the pitcher out. If you're serving beer, make sure it's easily accessible. Either at the front of your fridge, or in a bucket of ice.
Find your bottle opener now!!
Pour yourself a drink. DO IT.
After guests arrive:
Direct them to the drinks station so they can pour themselves a paloma, or grab a beer. Juice, soda and water for anyone who would prefer a non-alcoholic option, of course!
Start munching on chips, salsa and guac!
About 10 minutes before you're ready to eat, take the pico, chopped onion and cilantro out of the fridge and set them up where you'll be serving. Grab your plates, napkins, etc.
The very last thing I do for a taco party is warm the tortillas because I truly believe they need to be as freshly hot (is that a thing??) as possible. While everyone is drinking and chatting, grab a friend or two and start cooking your tortillas however you'd like. If you want to do it over an open flame, make use of all your burners and have a friend help! You can also grab a couple of pans and do the same thing. Or one pan - totally works!
Call everyone over and let them assemble their own tacos. Make sure the guac and salsa are nearby as you're eating so people can top their tacos if they'd like, or they can keep snacking through the night (hi. me.).