Chicken meatballs made with garlic, ginger and lots of fresh herbs simmered in a quick thai green curry. Serve with rice or noodles for a filling, comforting meal.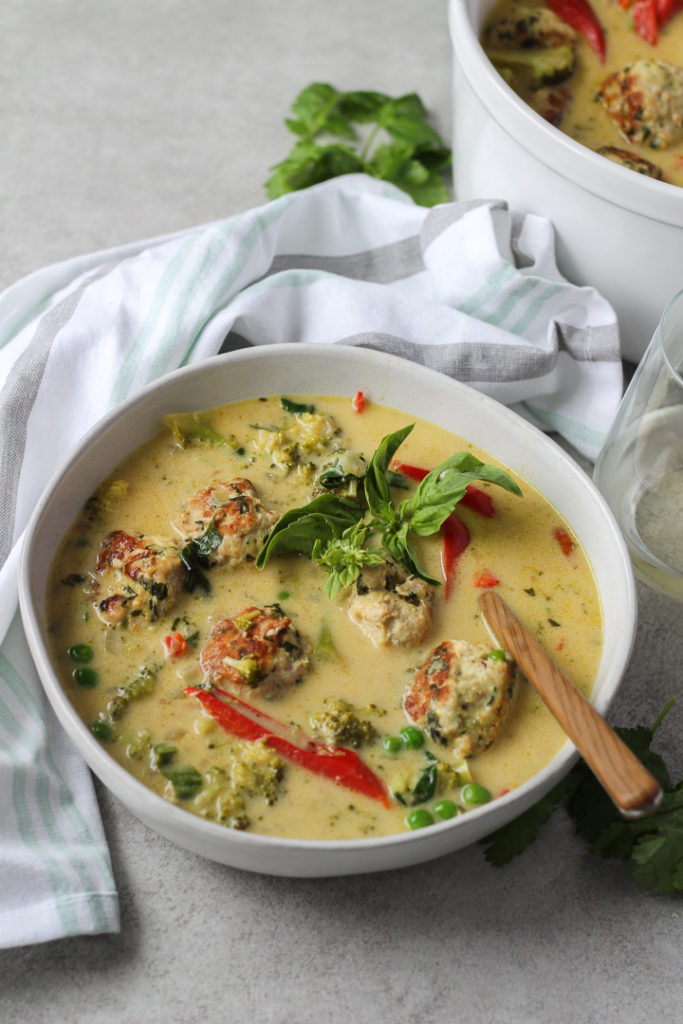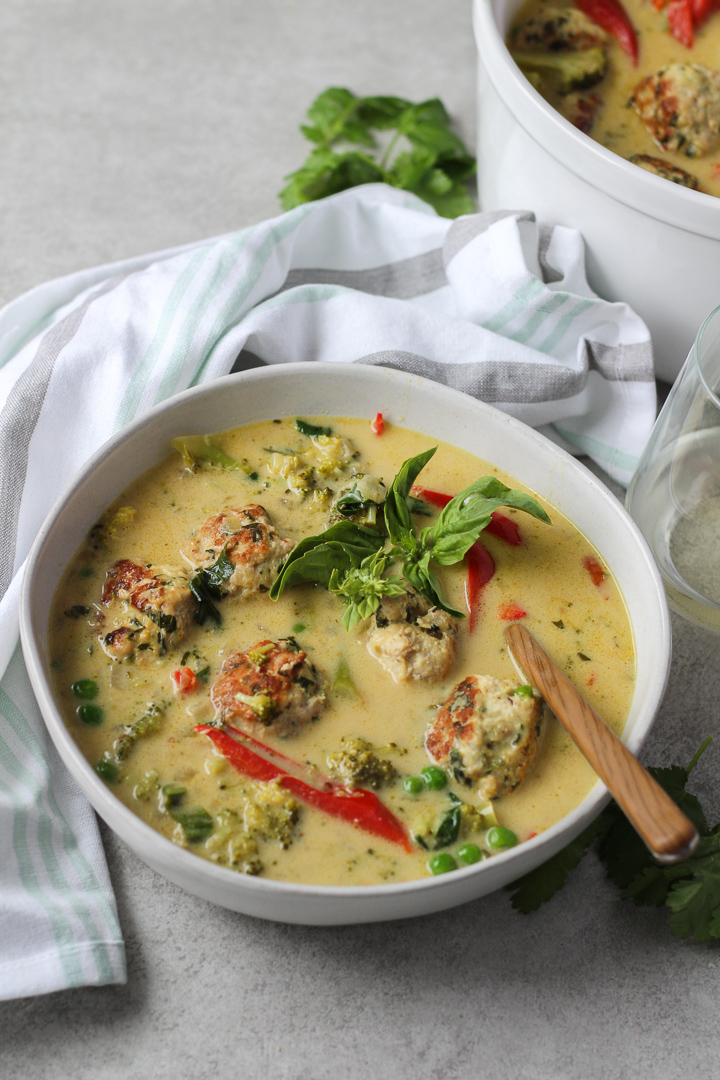 Print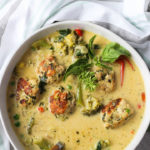 Thai green curry with herby chicken meatballs
---
Author:

Mansee

Total Time:

45 minutes

Yield:

6

1

x
Description
Chicken meatballs made with garlic, ginger and lots of fresh herbs simmered in a quick thai green curry. Serve with rice or noodles for a filling, comforting meal. 
---
1

lb ground chicken

1

lb ground sausage (chicken or pork)

1

egg

½ cup

chopped basil

½ cup

chopped cilantro

⅓ cup

breadcrumbs

1 teaspoon

salt

4

garlic cloves, minced

3

-in piece of ginger, minced or grated

3 tablespoons

oil, divided

1

small onion, thinly sliced

2

-

4

tablespoons green curry paste (depending on how spicy your paste is!)

1

red bell pepper, thinly sliced

3 cups

broccoli florets

2

cans coconut milk

½ cup

chicken stock

1 cup

frozen peas

2 teaspoons

soy sauce

1 teaspoon

rice wine vinegar

½ teaspoon

fish sauce
Garnish: Cilantro, basil, green onions, etc.
---
Instructions
Combine 1 pound ground chicken, 1 pound sausage, 1 egg, ½ cup basil, ½ cup cilantro, ⅓ cup breadcrumbs, 1 teaspoon salt, 1 minced garlic clove, 1-inch worth of ginger and 2 tablespoons of coconut milk (just grab from the cans you'll use for the curry!) in a large bowl.
Mix with a fork or your hands until just combined - do not overmix! Use a large spoon or cookie scoop to form meatballs.
Heat 2 tablespoons oil over medium-high heat in a large dutch oven or saucepan. Add meatballs in a single layer (you'll need to do this in batches) and let cook for about 5 minutes, turning to brown on all side. You're not fully cooking them at this point, but you do want the meatballs to get nice and brown. Set aside on a plate.
Once all the meatballs are browned, add the remaining tablespoon of oil to the pan, along with 1 sliced onion. Reduce heat to medium.
Saute onions for 5-7 minutes, until they just start to brown. Add remaining 3 cloves of garlic and ginger and let cook for an additional minute.
Add 2-4 tablespoons (see note) green curry paste and cook for 2-3 minutes. Add 1 red bell pepper and 3 cups broccoli and let cook for an additional 5 minutes.
Add remaining coconut milk and ½ cup stock and stir to combine. Bring to a boil, then reduce the heat and add meatballs back into the pot. Cover and let cook for 15 minutes, until meatballs are fully cooked.
Turn off heat and add 1 cup peas, 2 teaspoons soy sauce, 1 teaspoon rice wine vinegar and ½ teaspoon fish sauce. Stir to combine and let peas warm through. Taste and adjust seasoning as needed.
Notes
This is a very meatball-heavy curry, but feel free to either cut the meatball recipe in half OR make the full batch and cook half of them separately. They are so good on their own, and great for meal prep! Either cook them in the pan, or in the oven at 375 for 20 minutes.
The amount of curry paste you add is totally up to you. The brand I love (Mae Ploy) is pretty spicy so a couple of tablespoons is more than enough (although I generally do the full 4!). If you're not sure, start with just 2 when you add the paste in. Continue with the recipe and then taste it after step 7. If you think it can use more, just whisk a little more in!
Prep Time:

15 minutes

Cook Time:

30 minutes

Category:

Dinner

Cuisine:

Thai
One of my favorite meals to make after a busy day is a thai curry. I think I love it so much because it sounds like it would be super high maintenance and basically the last thing one would want to make after a long day, but in reality is very simple and quick to come together thanks to widely-available curry pastes.
Over the years I've figured out ways to doctor up those pastes, while still being able to get a meal on the table (aka couch) in record time. So while it's a little more than just whisking it into coconut milk, I promise you won't be stuck in the kitchen for hours with this one.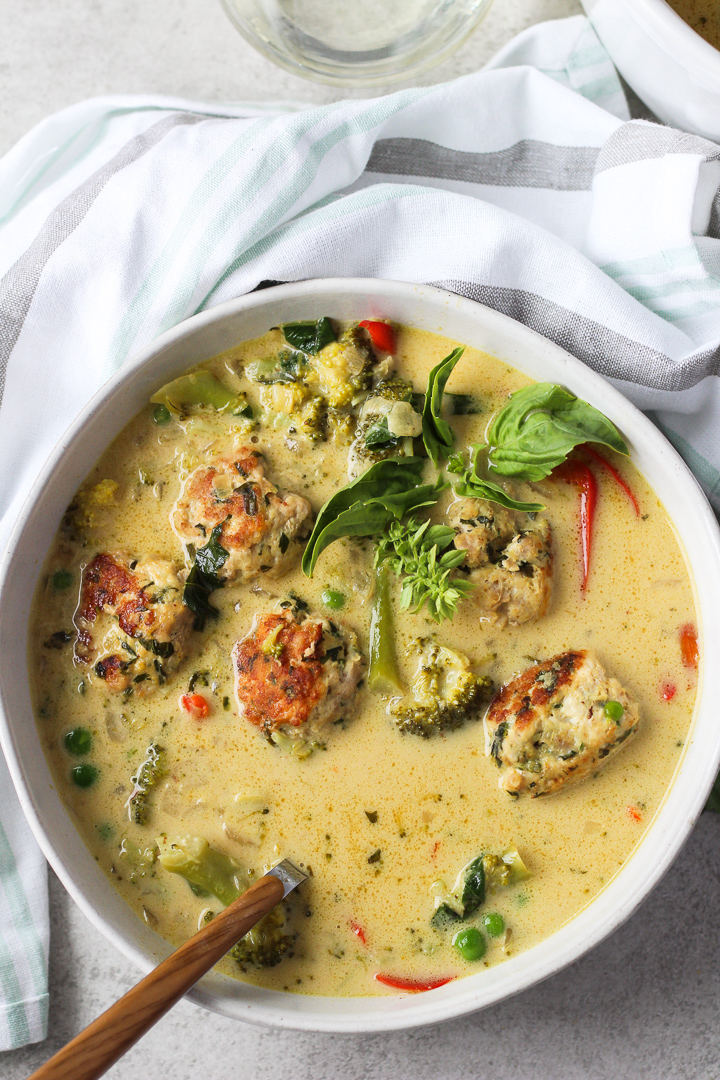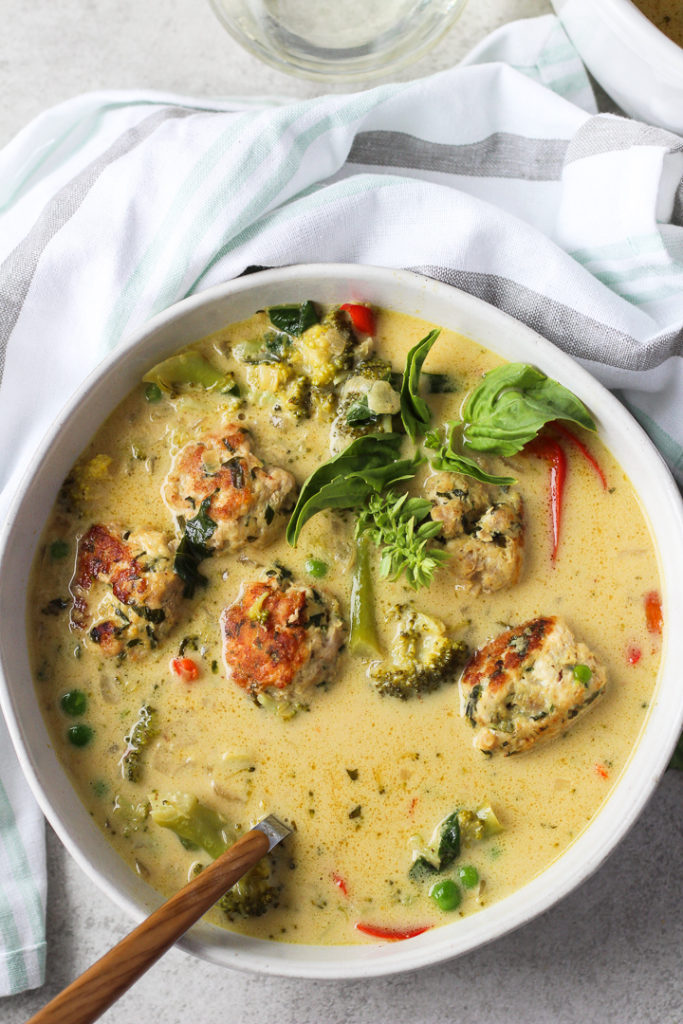 Use up whatever you have!
While the ingredient list may seem long, this is a great recipe to use up what you have on hand:
Ground chicken + sausage: I like to make my meatballs with a mix of chicken and sausage. This recipe makes a super meatball-heavy curry, but you can also add just half the meatballs to the curry and freeze the rest. They are SO good on their own and great for meal prep. (P.S. I should note, if you're looking for a meat-free curry, you can throw in these pan fried herby chickpeas instead!)
Normal meatball things (aka egg, breadcrumbs): Gotta get those guys to stay together!
Herbs: I love a mix of basil and cilantro for these, but feel free to substitute with other herbs you love. Green onions, mint and parsley would all be great. You just want about 1 cup of chopped herbs, all in.
Garlic + ginger + coconut milk: These ingredients do double duty as you'll add a little to the meatballs and the rest in the curry. Just a few tablespoons of coconut milk in the meatballs keeps them so tender!
Thai green curry paste: I always have this on hand, and highly suggest you do as well. It lasts forever in the fridge and makes curries like this come together so quickly. My favorite brands are Mae Ploy and Thai Kitchen - I can find both at my local grocery store, but I also highly recommend checking out the brands at any local Asian food stores near you.
Vegetables: This is where you can use up what you have! I think onions are a must, but the rest is up to you. I use bell peppers and broccoli here, but I've also added mushrooms, zucchini and even cabbage! Frozen peas are a great last-minute addition as well.
The flavor agents: There are a few ingredients I add to all my Thai-inspired curries right at the end to really amp up the flavor: Soy sauce, rice wine vinegar and fish sauce. You can substitute the vinegar for lime juice if you'd like, and totally leave out the fish sauce if you must (although I PROMISE it does not make the curry taste like fish - it literally just adds deliciousness).
Prep + store this green curry
The meatballs can be made in advance and stored in the fridge for up to 3 days or in the freezer for much longer if needed. If you're keeping them in the fridge to make the curry later, just sear them off as stated in the recipe. If you're going to freeze them, I'd cook them fully (to make this easy, you can also just bake them at 375 for 20-22 minutes) and then freeze. Add the frozen meatballs to the curry straight from the freezer and just let them warm up there.
This meatball curry obviously tastes fantastic when it's first made, but you'll also be happy to know it lasts for days in the fridge. Feel free to make a huge batch and have it for lunches throughout the week. If curry everyday is too much for you, this recipe can easily be cut in half. Although I highly suggest making all the meatballs - they're super good on their own!
Hope you guys love this one as much as I do! If you do, I think you'll love these recipes as well:
Green curry spaghetti squash bowls
Slow-roasted curried salmon and coconut braised greens
Red curried sweet potatoes and chickpeas with coconut rice
Curried chicken and chickpea stew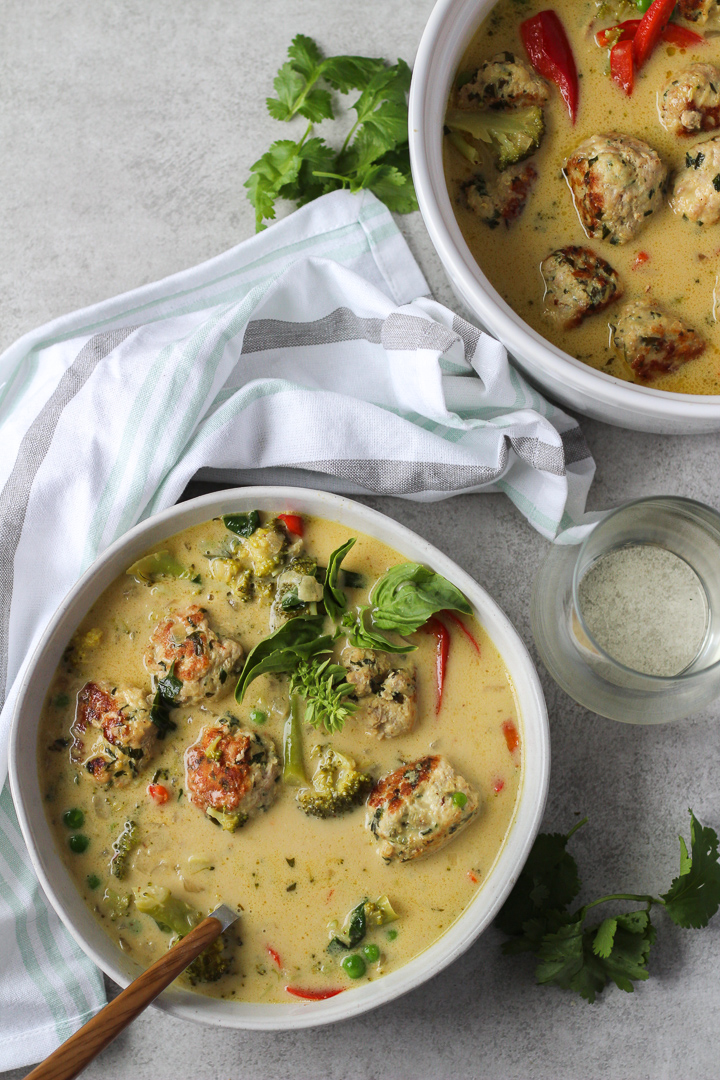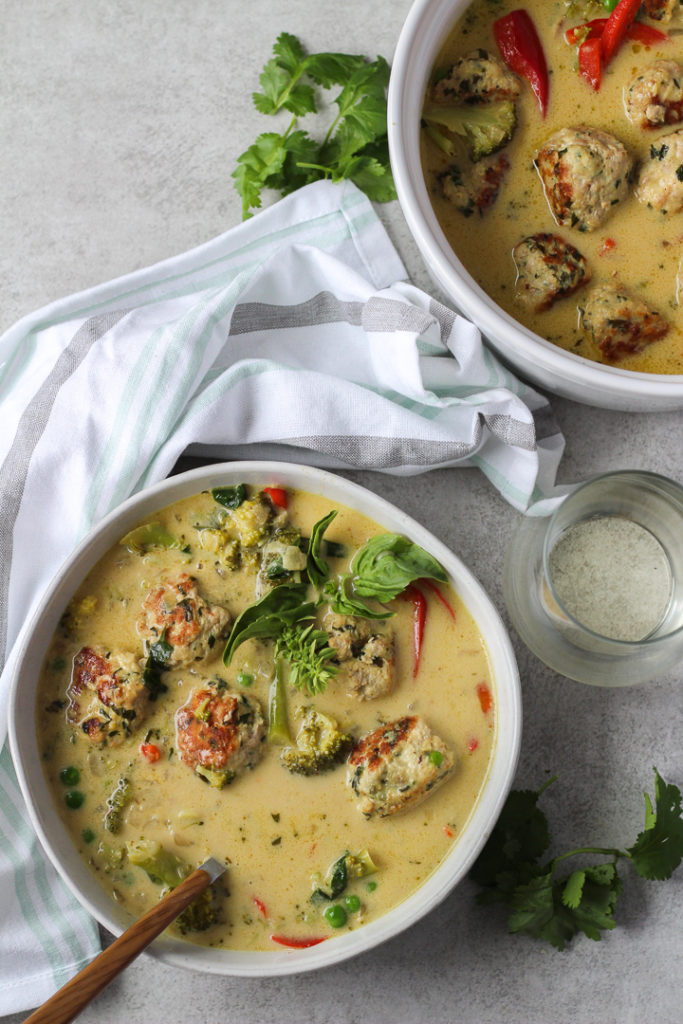 Need ideas for leftover ingredients?
You shouldn't have too many leftover ingredients with this one, but you might have some extra herbs to use up, along with the curry paste.
Herbs (basil + cilantro):
Green curry paste: