My tips for reheating leftover roasted potatoes to keep them crispy and delicious, and avoid soggy or chewy potatoes.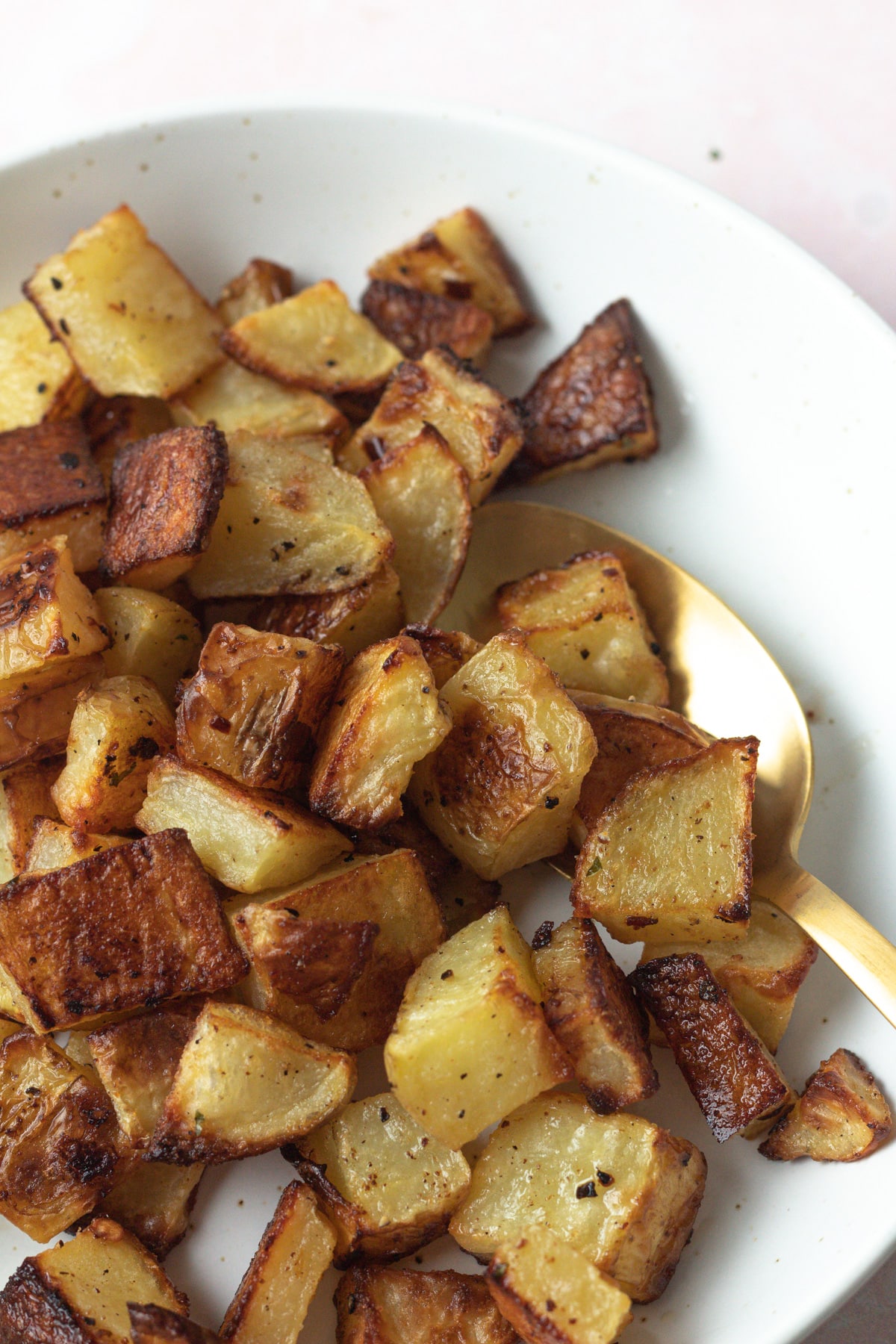 If there is one side dish I think most people can agree is always a hit, roasted potatoes might just be it. Perfect roast potatoes go with just about any main course and can be spiced in so many different ways. 
While they are obviously best when you first make them, leftover roasted potatoes are not a lost cause! Because I'm generally cooking for one, I am a pro when it comes to reheating leftover food the next day.
All of these methods are easy ways to reheat leftover roast potatoes and can be used with room temperature or cold roast potatoes.
The different methods to reheat potatoes
In order from the best way to reheat leftover potatoes to not-as-great (although these are all easy ways to reheat and recommended!):
Air Fryer
If you have an air fryer, I think it is the best option to reheat leftover roast potatoes. Not only does it take less time, but you actually have the possibility of getting extra crispy potatoes at the end. You can even quickly reheat frozen roast potatoes with this method. Win-win!
Method: Place potatoes in basket or tray (depending on the type of air fryer you have) in a single layer. Cook at 370 (or anywhere between 350-400) for 3 minutes. Open and shake basket or toss potatoes and then cook for another 2 minutes. If needed, add an additional 1-2 minutes.
Regular oven or toaster oven
While this common method takes a little time, it is a great option and the best way to reheat your potatoes if you don't have an air fryer but want similar, great results. Reheating in the oven is a great way to ensure you keep the crispy skin and don't end up with soggy potatoes.
Method: Preheat oven to 400. Arrange cooked potatoes on a baking sheet in a single layer (if desired, line with parchment paper). Cover pan with aluminum foil and place in hot oven. Cook for 20 minutes, and then remove foil and let them go for another 5-10 minutes or until they are the crispy potatoes you are looking for.
Stovetop
This is a good method if you either don't care too much about having crispy potatoes and/or would like to repurpose your leftover roast potatoes. I often use this reheating process when I have a really small amount of leftover potatoes and need to bulk them up with other ingredients.
Method: Heat a little olive oil in a frying pan over medium-high heat. Add potatoes, toss to coat in oil and then reduce heat to medium-low and cover pan. Let cook for 2-3 minutes until potatoes are warmed through. Remove lid, increase heat back to medium-high and let cook for another minute or two or until potatoes are a little crispy again.
You might have noticed that I didn't include instructions for reheating roasted potatoes in the microwave here. And that's because that method is almost guaranteed to turn crispy potatoes into soggy potatoes, chewy potatoes or sometimes even dry, mealy ones. If you happen to have a convection microwave, that can sometimes be okay, but in general I suggest taking the extra time to reheat roast potatoes in either an oven or on the stove for the best results.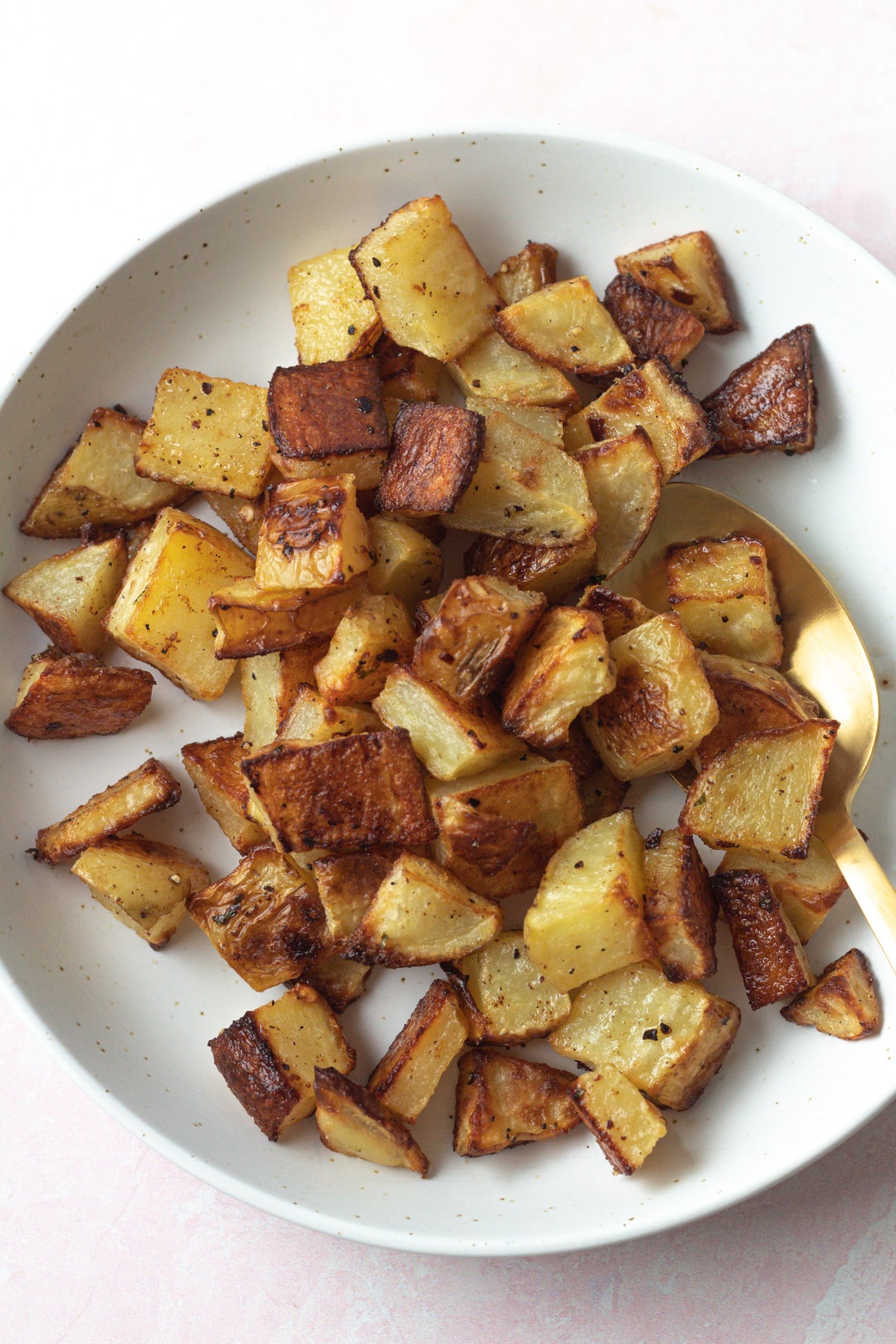 Ways to use up leftover roast potatoes
Aside from just eating them as-is, you can repurpose your potatoes into something a little new!
Make leftover roast potato hash: Saute some onion, garlic and any kind of pepper you have (bell pepper, poblano, or jalapeno if you like spice!). Once softened, add potatoes and cook as directed above. If you'd like, you can also add some extra spices (I often use my house seasoning!). Serve with a fried egg and avocado. This is great with leftover sweet potatoes too!
Add them to a salad or grain bowl:
Put them in a taco or wrap:
Dip and drizzle away!